Brownie Sullivan, Father of Michelle Lichtenberg, Passes Away at 99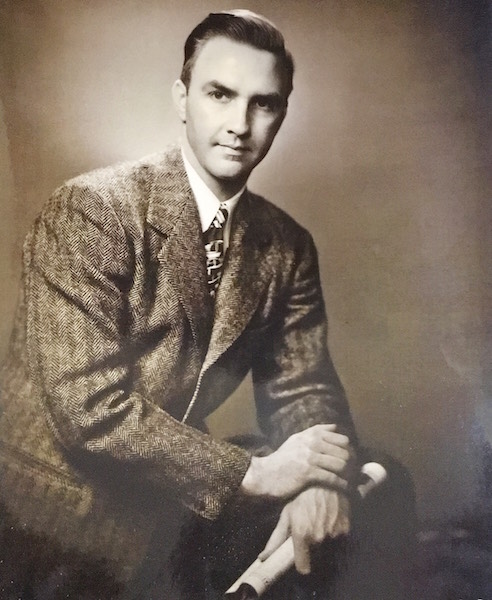 Below is an obituary for Robert Browning Sullivan, father of Michelle Lichtenberg of Scarsdale:
Robert Browning Sullivan, known to many as Brownie, died peacefully in his Bethesda, Maryland home of 55 years on February 24, 2017. He was 99, and was born on August 2, 1917 in Cleveland Park, Washington, D.C. home of his parents, Esther Price Swett Sullivan and Robert Young Sullivan, M.D. Brownie attended John Eaton School, and Western High School, where he was the football team captain.

Brownie was a 1939 graduate of Dartmouth College, 1942 graduate of Dartmouth Medical School, and a 1944 graduate of Georgetown University Medical School. Brownie was also a two year "graduate" of the Trudeau Sanatorium in the Adirondacks as a survivor of tuberculosis.

After two years of a pediatric practice, Dr. Sullivan went on to pursue child psychiatry. In addition to his private practice that spanned five decades, Dr. Sullivan was the Director of Child Center of Catholic University during the 1950's and was on the Georgetown Medical faculty for over 25 years. During the last ten years of his professional career, Dr. Sullivan was the Psychiatric Director of Regional Institute for Children and Adolescents (RICA) in Rockville, MD. Dr. Sullivan retired at 75 years of age.

During his psychiatry residence at the University of Minnesota in 1949, he met Leone Mary Stevens, who would become his beloved wife of nearly 55 years. They married November 3, 1950, and Leone passed away June 30, 2005.

Brownie had lifelong friends, stemming from his boyhood in Cleveland Park which developed into the "Poker Boys" and "Les Savants". An avid athlete, he particularly enjoyed football and tennis. He was a 50-year member of the Edgemoor Club and retired from tennis at 91. As a youth, Brownie played the trumpet and was the bugle boy for President Hoover, playing taps during the Civil War ceremony in 1930 in Washington, DC, and for several summers played reveille and taps at the Lantern Hill Boys Camp in Connecticut. A self-taught pianist, Brownie had a mean stride-style in the tradition of Art Tatum.

Dr. Sullivan is survived by his children: Mark Gregory Sullivan of Bethesda, Timothy John Sullivan of Washington, D.C, and Michelle Sullivan Lichtenberg of Scarsdale, NY and two grandsons Andrew Browning Lichtenberg of Brooklyn, NY and Alexander Robert Lichtenberg of Brooklyn, NY. One son, Gregory Stevens Sullivan, predeceased Dr. Sullivan.
An armchair philosopher and theologian with a twinkle in his eye and a playful sense of humor, Brownie was a gentleman and a scholar and much loved by his family and friends.
Memorial contributions can be made to Montgomery Hospice, 1355 Piccard Drive, Suite 100 Rockville, MD 20850 or montgomeryhospice.org.
BLOG COMMENTS POWERED BY DISQUS