Third Man Arrested for Berwick Road Burglary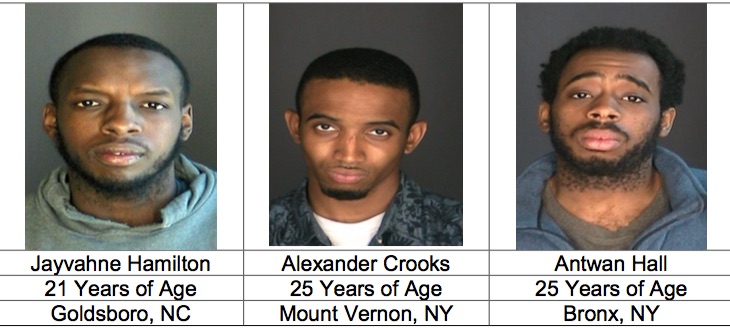 The Scarsdale Police Department, along with the Westchester County District Attorney's Office, announced the arrest of a third suspect in the burglary of an occupied residence on Berwick Road in April 2017.
Around 2 am on April 19, 2017 residents of Berwick Road in Fox Meadow were awoken by the sounds of two men running through their house. According to Captain Thomas Altizio of the Scarsdale Police, the husband and wife heard the suspects making noise and confronted them. The husband grabbed one of the suspects, attempting to detain him – and the wife chased the other one out of the house. After both suspects fled through the front door, the residents called 911. None of their injuries were serious enough to required medical attention.
Two men were previously arrested and charged. Alexander Crooks was arrested by the Scarsdale Police on June 13th, and Antwan Hall was arrested on May 16th. Both Crooks and Hall were charged with Burglary 2nd Degree, a Class "C" Felony and remanded to Westchester County Jail. Both were later indicted by a Grand Jury on Robbery 2nd charges as well.
Now the Scarsdale Police have arrested a third suspect. On October 10th, detectives from the Scarsdale Police Department, and Westchester County District Attorney's Investigators traveled to Goldsboro, North Carolina to apprehend Jayvahne Hamilton, the third participant in the Berwick Road burglary. Mr. Hamilton was extradited back to Westchester by Detectives, and was arraigned in Scarsdale Justice Court on a charge of Burglary 2nd degree and remanded to the Westchester County Jail.
According to Scarsdale Captain Thomas Alitzio, "Our investigation determined that the burglary victims on Berwick Road were randomly selected, and not specifically targeted. The three suspects were in the area removing property from unlocked vehicles in driveways just prior to the burglary. For reasons unknown, they decided to enter the residence on Berwick. I think it is important to stress that residents lock cars that are left outside, lock their homes and close their garage doors. Making a home more difficult to enter and eliminating opportunities for theft in the driveway will reduce your chances of becoming a victim."
The arrests of all three defendants are the result of a collaborative ongoing investigation by the Scarsdale Police Department and the Westchester County District Attorney's Office into the April Berwick Road Burglary. Scarsdale Police Chief Andrew Matturro would like to thank Westchester District Attorney Anthony Scarpino for his agency's support and assistance throughout this investigation.

Chief Matturro stated that this case has always been a top priority for the Scarsdale Police Department, and although limited information was released during the ongoing investigation, this case made progress on a daily basis. Detectives assigned to this cased tracked down the remaining suspect, Jayvahne Hamilton, who had fled New York, to Goldsboro, North Carolina. With the assistance of the Goldsboro, NC Police Department, he was taken into custody and returned to New York. Additional charges against Mr. Hamilton are expected to be added at a future court proceeding.
BLOG COMMENTS POWERED BY DISQUS