STEP Celebrates 50 Years of Changing Lives for the Better
Details

Category: People
Published on

15 November 2016

Written by

Joanne Wallenstein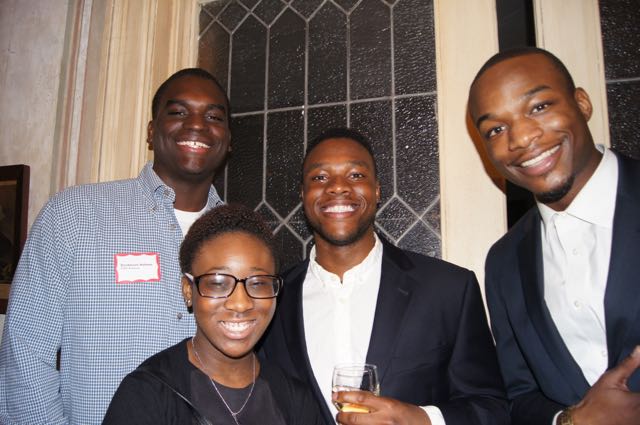 Scarsdale STEP (Scarsdale Student Transfer Education Plan) celebrated 50 years of success and honored their alumni, host families, Board members and beloved teacher Rashid Silvera at a well-attended event at the Scarsdale Woman's Club on Saturday evening November 12.
Many of the forty students who came to Scarsdale to study along with representatives from their host families were in attendance and shared stories of how their experiences here have shaped their lives.
Some of the impressive STEP alumni who were in attendance have made substantial contributions to society. The Honorable Ojetta Rogeriee Thompson, who graduated SHS in 1969, is now a federal appeals court judge with the U.S. Court of Appeals for the First Circuit. Reverend Josephine Reed Fuchess (SHS '72) was one of fourteen children born to Mississippi sharecroppers and went on to become an ordained minister. Queen Booker went from SHS in 1982 to earn an undergraduate degree from Harvard, and then got advanced degrees from Wharton and the University of Mississippi. She worked at the Ford and Kellogg Foundations, the U.S. Department of Agriculture and currently teaches at the Minnesota State's Department of Management. Two of her sisters were also STEP students.
Legendary Social Studies teacher, Eric Rothschild who launched the program in 1966 was at the center of the event and received kudos for changing the lives of so many in a positive way.
In her introductory remarks, Nan Berke who hosted STEP student Robert Lee and now serves as a STEP Co-Chair said, "In its own small and incredibly optimistic way, STEP seeks to give everyone the same chance to succeed by opening up the gift of an amazing education to students of color from underserved areas. I have seen time and again the incredible generosity and open-heartedness of this community in trying to make this program work. Host families provide a stable Scarsdale home, the high school is fully committed to helping our students succeed academically and socially, doctors, dentists and tutors volunteer resources for our student and our board provides extensive support to the student from college counseling to taking our students to cultural events.... In return our students always touch our lives in ways that are immeasurable. STEP students widen us, and make us better, and introduce new perspectives."



In his remarks, STEP student David Lee said, "I'm honored to be a part of such an awesome accomplishment... for 50 years; this program has not only changed lives but also caused a generational shift filled with hope, prosperity and most importantly, opportunities to be someone far greater than what cultural standards had set out for them. I know I speak for myself and my fellow STEP alum that we are eternally grateful for the impact this program has had on our lives. I also want to give homage to Mr. Eric Rothschild, your tenacity and willingness to do what was right has lived on for half a century and it is because of you that we can all sit here today and celebrate. We stand on your shoulders."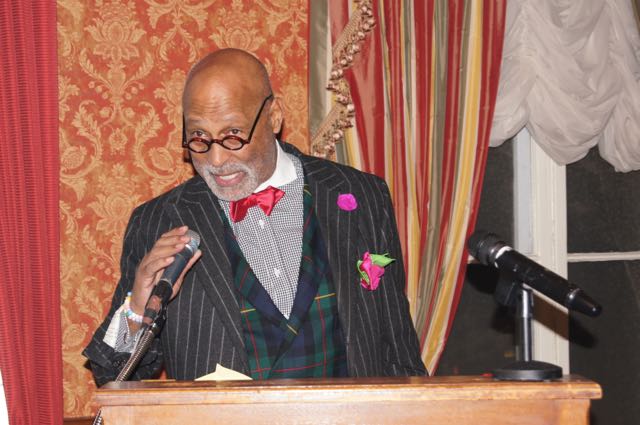 SHS teacher and STEP honoree Rashid Silvera, served as a mentor to many STEP students. He told the story of his journey to the Scarsdale Schools, where he was eager to teach curious, engaged students who asked questions. He said his connection to Eric Rothschild was "beschert," and credited Rothschild with helping him make his way to his position at SHS in 1981. About the community and the students he said, "You allowed me to share the majesty of your generosity," and added, "I shine when you shine and you shine where they shine." He announced that he will retire this year but promised that he would never be out of reach. About the current political environment he said, "People are satisfied with less than truth," but vowed, "We are better than that." He quoted W.E. DuBois who said, "Either America will destroy ignorance or ignorance will destroy the United States." Saying goodbye, he said, "I pray that I have not borrowed more than I have repaid."
Vote for the Citizens Nominating Committee on Wednesday November 16
Details

Category: People
Published on

10 November 2016

Written by

Joanne Wallenstein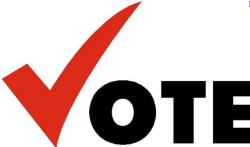 Residents are encouraged to vote in the election for the Citizens Nominating Committee on Wednesday November 16 at Scarsdale Village Hall from 7:30 – 9 am and 2-9 pm. Two candidates from each of Scarsdale's voting districts will be elected to serve on the Citizen's Nominating Committee that will nominate candidates to serve as Village Trustee, Mayor and Village Justice.
Scarsdale's Non-Partisan System promotes the election of candidates who are qualified by reason of their civic, rather than political, abilities and experience. Village residents elect a Citizens Nominating Committee (CNC), which in turn selects a slate of candidates for the village offices of trustee, mayor and village justice. The system encourages the active participation of all residents. The Non-Partisan System is not the only way candidates can run for village office; under New York State election law, any person who obtains the prescribed number of signatures on a nominating petition can run for village office.
Here are the names of the candidates who are running from each district:
Edgewood: Ron Sannicandro, Ryan Spicer

Fox Meadow: Paul Diamond, Timothy Foley, Marc Greenwald, Judy Wenjing Kerr, Hamsa Shadaksharappa

Greenacres: Daniel Brown, Jonathan Klein, Jon Leslie

Heathcote: Laura Kaplow-Goldman, Peter Tesler

Quaker Ridge: Michael Gorelick, Mary Beth Gose, Ron Schulhof
In order to vote you must be eighteen years or older, a U.S. citizen, and a resident of Scarsdale for at least 30 days before Election Day, November 16, 2016. You do not need to be a registered voter.
If you cannot vote at Village Hall, you can mail in your ballot. You can download the mail-in ballot from the Procedure Committee website at: www.ScarsdaleProcedureCommittee.org or obtain one at Village Hall or the Scarsdale Library. Mail-in ballots should be mailed to P.O. Box 284, Scarsdale 10583, and must be received by the Scarsdale Post Office by 5 P.M. on November 16, 2016, the day of the election.
Check your mail for more information about the candidates or click here to learn more online.
The election is Wednesday November 16 at Village Hall.
Village Calls for Candidates to Serve on the Board of Architectural Review
Details

Category: People
Published on

01 November 2016

Written by

Joanne Wallenstein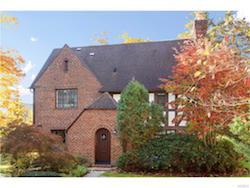 The Personnel Committee of the Village Board of Trustees has announced two vacancies on the Board of Architectural Review (BAR); one vacancy as a regular member and one vacancy as an alternate member.
Appointments to the Board of Architectural Review are for a three-year term. The BAR's basic purpose is to preserve the character and appearance of the Village. The BAR reviews all applications involving construction of buildings, or additions to, or reconstruction of existing buildings affecting the exterior appearance.
Trustee Jane Veron, Chair of the Personnel Committee, encourages residents to apply for these positions by submitting their names, together with a listing of community service and relevant professional background. Architects and design professionals are preferred.
Applications may be submitted in one of two ways:
• Via the Village Website – Click on this link:
• Via Village Hall – Applications are available in-person or online here and should be directed to Trustee Jane Veron at Village Hall, 1001 Post Road, Scarsdale NY 10583.
To review the guidelines for membership, terms of office, and member responsibilities for Scarsdale's Citizen Boards, Councils, and Committees, click here:
Please contact the Village Clerk, Donna Conkling, at 914-722-1175 or via e-mail dconkling@scarsdale.com for further information.
Scarsdale Residents Greet Hillary's Return to Westchester at 3am on Election Day Morning
Details

Category: People
Published on

08 November 2016

Written by

Joanne Wallenstein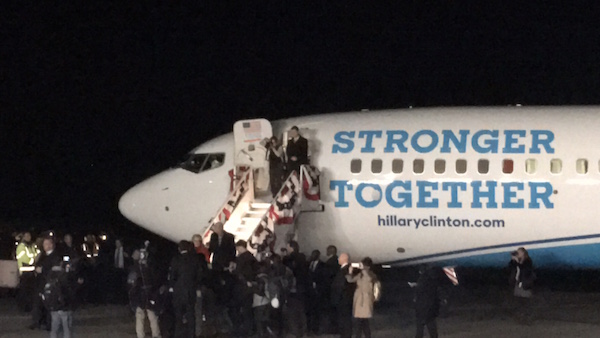 About 500 fans stayed up late – or perhaps woke up very early – to greet Hillary Clinton's plane when it touched down at Westchester Airport at 3:30 am on Election Day morning, November 8. Hillary had completed her final campaign tour and was returning to her home in Chappaqua to watch the returns.
Greenacres resident and Hillary supporter Michelle Lichtenberg was in the crowd and braved the dark and cold to see Hillary. She said, "I wanted to be there to see the Westchester resident who will hopefully be our first female president."
With Michelle were BK Munguia, wife of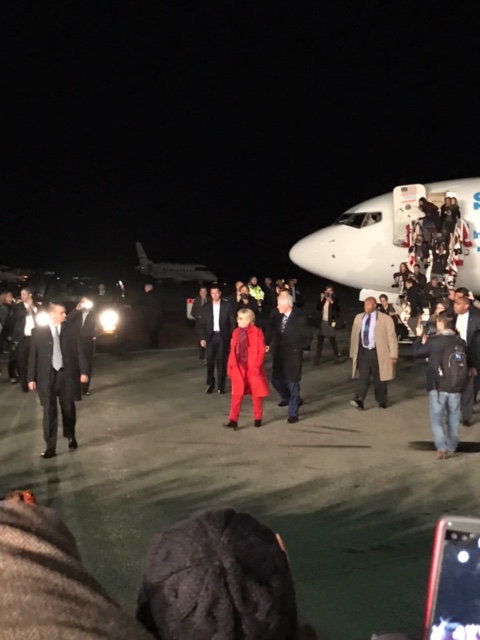 Scarsdale Mayor Jon Mark, former Scarsdale Mayor Carolyn Stevens and Paula Wittlin. Also at the airport were former school board members Mary Beth Gose and Suzanne Seiden as well as Jeff and Susie Stern and Diane Greenwald. Former Scarsdale resident Anna Decker actually shook Hillary's hand and forwarded us this photo of Clinton in her signature red pantsuit. All had worked hard for the campaign.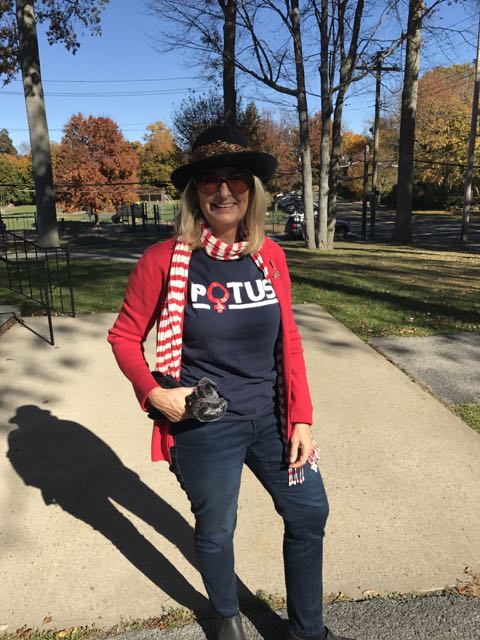 Scarsdale Bowl Committee Seeks Recommendations
Details

Category: People
Published on

24 October 2016

Written by

Joanne Wallenstein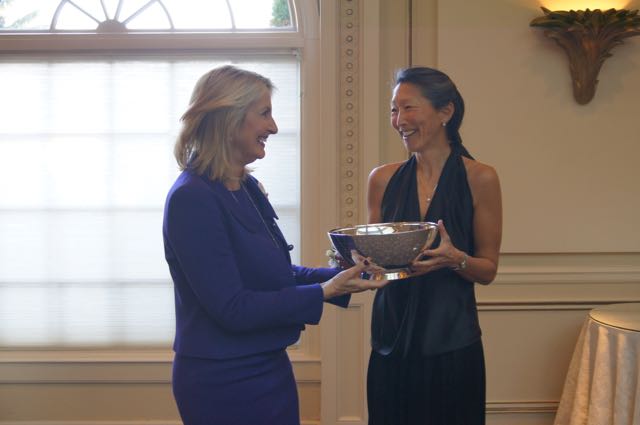 The 2017 Scarsdale Bowl Committee will begin its work in early December to select the 2017 recipient of the Scarsdale Bowl and is seeking recommendations from the community for a possible honoree. The Scarsdale Bowl, under the sponsorship of the Scarsdale Foundation, has been awarded annually since 1943 to an individual, or in rare instances, to a husband and wife, who has given "unselfishly of his/her time, energy and effort to the civic welfare of the community." The founding donors of the Bowl believed that "many who serve generously and voluntarily, without office, honor or publicity, are those deserving of having their names permanently inscribed on the Scarsdale Bowl."
David Lee is serving as chair of this year's Scarsdale Bowl Committee. The members of the committee serve staggered two-year terms. The newly appointed Class of 2018 consists of Norman Alterman, Diane Baylor, Kate Conlan, Lee Fischman, Mona Longman, Suzanne Seiden, and Margaret Smith. The continuing Class-members of 2017 are Beth Ehrich Berkley, Jonathan Bradlow, Fran Galloway, Gary Katz, Janet Korins, Eli Mattiolli, and Jyoti Ruta. Evelyn Stock, Scarsdale Foundation trustee, will serve on the committee as the liaison, and Robert Jeremiah is serving as secretary/treasurer. Emily Sherwood, president of the Scarsdale Foundation, is an ex-officio, non-voting member.
The Scarsdale Bowl will be awarded at a dinner on Wednesday, April 26, 2017, at The Fountainhead in New Rochelle. The ceremony will pay tribute to the 2017 honoree and to the spirit of volunteerism, central to the civic life of the Scarsdale community.
The Bowl Committee enthusiastically welcomes community input. It will hold its first meeting December 4, 2016 and requests that residents contact any member of the committee with suggestions of potential recipients. Recommendations are requested by November 18, 2016, although suggestions will be accepted at any time prior to the Committee's December meeting. Suggestions should be emailed to the Committee at: scarbowl@gmail.com. Questions may be directed to David Lee at (914) 725.3240.
Additional information about the Scarsdale Foundation and the Scarsdale Bowl can be found at www.scarsdalefoundation.org.