Scarsdale Varsity Players Compete at the Disney Girl's Soccer Showcase
Details

Category: People
Published on

04 January 2017

Written by

Joanne Wallenstein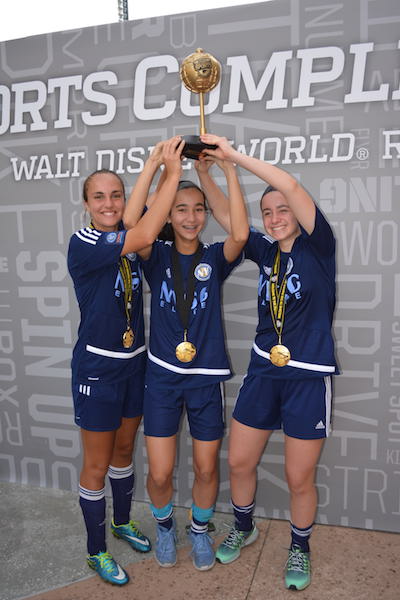 Nayumi Parente, Carly Rubin and Allison Stafford, all on the Varsity A soccer team at Scarsdale High School, are also members of a club soccer team that competed at the Disney Girls Soccer Showcase in Orlando over New Year's weekend and won a championship in their age group. The team, New York Soccer Club Elite 2000 Sapphire, won its U-17 bracket against top teams from Colorado, Kentucky and Florida and then, in a thrilling contest prevailed over the winner of the other U-17 bracket, New Jersey-based STA Morris United, by a score of 1-0.
A total of 346 girls teams from throughout the United States competed in the 2016-2017 Disney Girls Soccer Showcase at the ESPN Wide World of Sports Complex in Orlando. This year's event featured teams from 36 states, in age groups ranging from U-15 to U-19, representing the highest level of girls' soccer in the country. More than 200 college soccer coaches attended the tournament and watched the games to identify and observe potential talent for their programs.
Parente, a striker, Rubin, a mid-fielder, and Stafford, a defender, are each key members of NYSC Elite 2000 Sapphire, which won its first game against a team from Kentucky 2-1, tied its second game against a very physical opponent from Colorado 1-1 and won its bracket with a convincing 4-0 win over a team from Jacksonville, Florida. Taken together with their 1-0 victory in the championship game, the team collectively outscored its opponents by 8-2 over the course of four games. The fact that they surrendered a total of only two goals was especially noteworthy.
The experience was a memorable one for all three girls and the closeness and camaraderie among all the players was great to see. Each of the girls is looking forward to continuing the season during the spring of 2017, which will include a trip to Richmond, Virginia in March to compete in the Jefferson Cup, another high profile national girls soccer tournament. And when the 2017-2018 school year begins in September, they each expect to continue their soccer career at Scarsdale High School, hoping to carry over some of the magic they brought to the 2016-2017 Disney Girls Soccer Showcase toward their goal of a third straight section championship for the Raiders.
A Near Win for the Scarsdale Girls Varsity Basketball Team
Details

Category: People
Published on

21 December 2016

Written by

Emmeline Berridge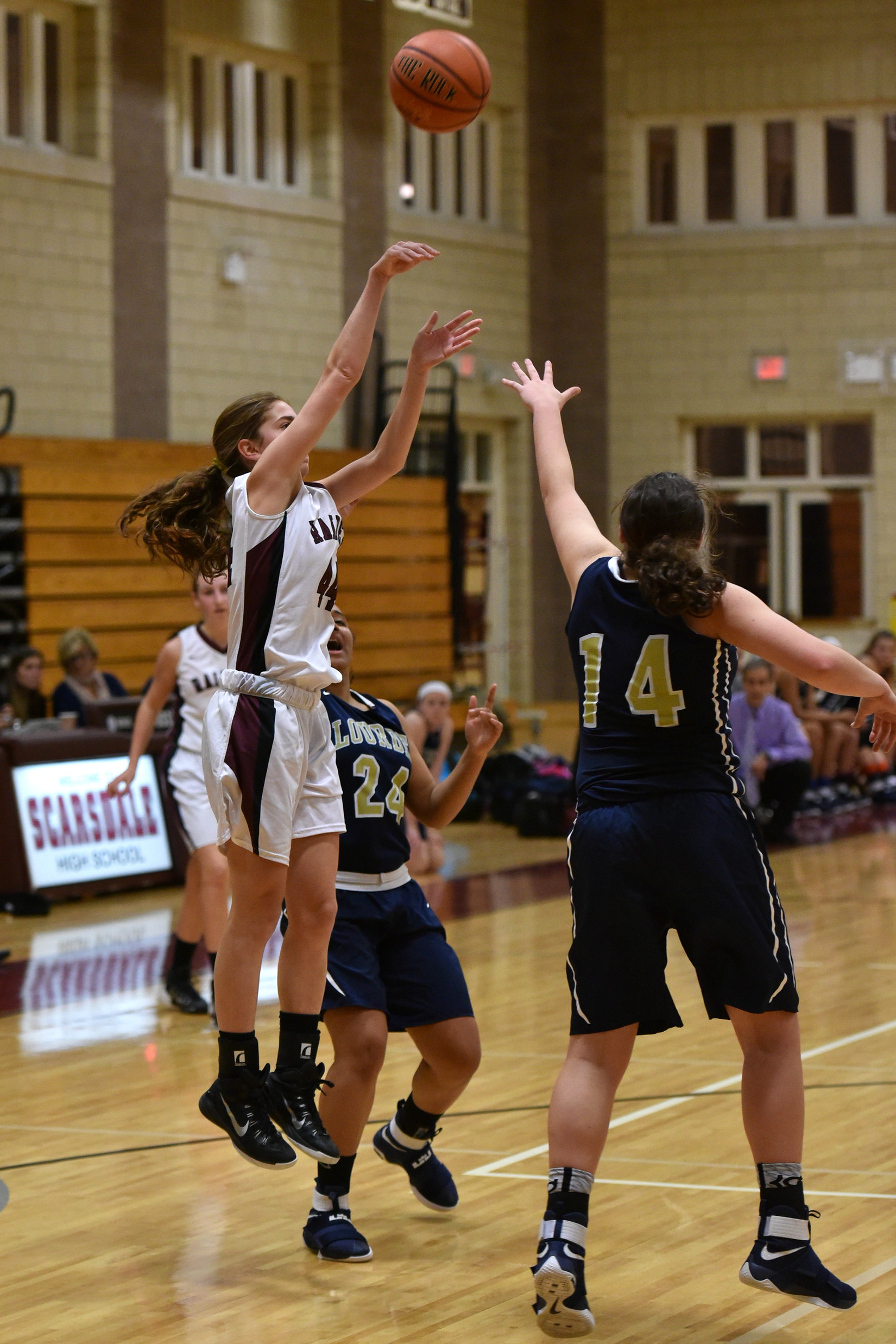 On Monday night 12-19 the Girls Varsity basketball team faced off against Our Lady of Lourdes school. Although official rankings are not out yet, Lourdes is projected to be ranked within the top 15 teams in the state. With a 0-3 record thus far, the Scarsdale Raiders were eager to prove that their new team is a force to be reckoned with. The team came out strong, leading by 5 after the first quarter. By the end of the half, the score was tied 25-25. The third and fourth quarters were back and fourth, Scarsdale ultimately losing by 9 due to bonus foul shots. Although a loss, the Raiders showed their tenacity on the floor and their ability to compete with strong teams. Junior Guard Lily Steckel had a breakout game, scoring 13 points. The team is starting to play as a unified group, utilizing the strengths of their diverse roster. The Raiders will play against Ursuline after the break at home on January 4th.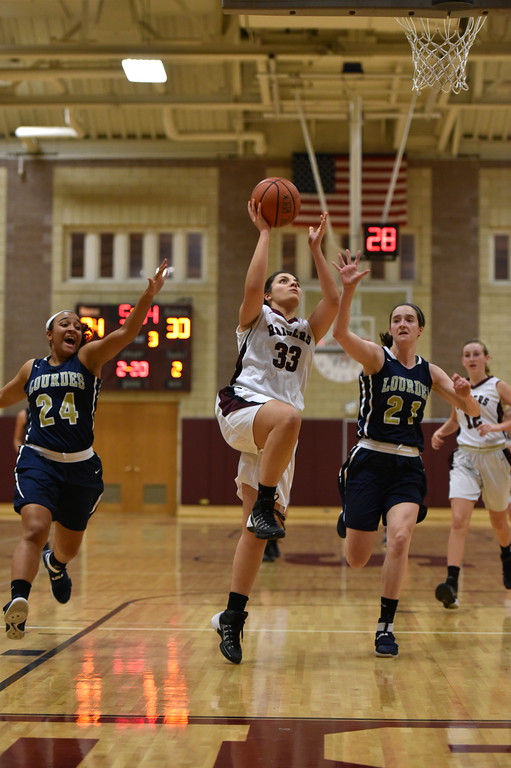 Photos by Jon Thaler. See more here!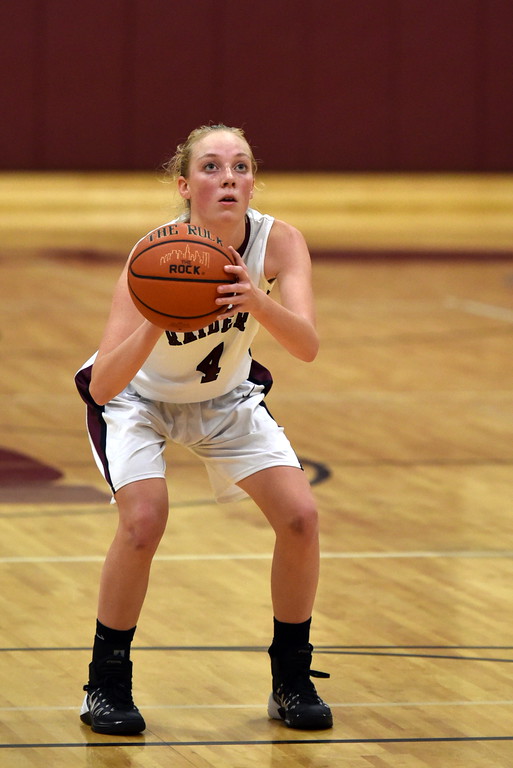 17 Year-Old KenKen Whiz Publishes Her First Book
Details

Category: People
Published on

07 December 2016

Written by

Joanne Wallenstein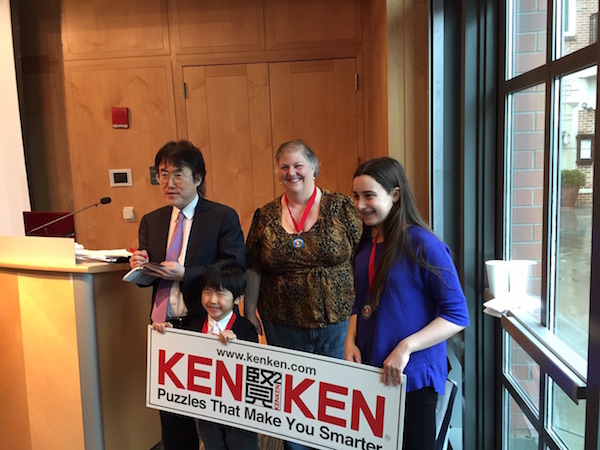 Do you solve KenKen puzzles? One Scarsdale teen does far more than do the puzzles ... she has become the U.S. Student KenKen Champion and has just written a book explaining how to solve the puzzles. Ellie's Grueskin's dad introduced her to the puzzles that appear on the New York Times crossword puzzle page when she was only ten. Since then Ellie has honed her skills, attended tournaments and ultimately risen to be the U.S. Student Champ.
For those of you who are unfamiliar with the game, KenKen is similar to Sudoku in that both are based on logic and arithmetic operations. Within the puzzle, the solver must use the indicated operations to find the target number and not repeat a number in any row or column. The numbers of rows and columns in each KenKen dictate which numbers you can use; in a 3x3 puzzle, you can use digits 1-3, in a 4x4, you can use digits 1-4 and so on.
The KenKen Puzzle Company runs Championships twice a year and students and adults of all ages are invited to come. Traditionally, there are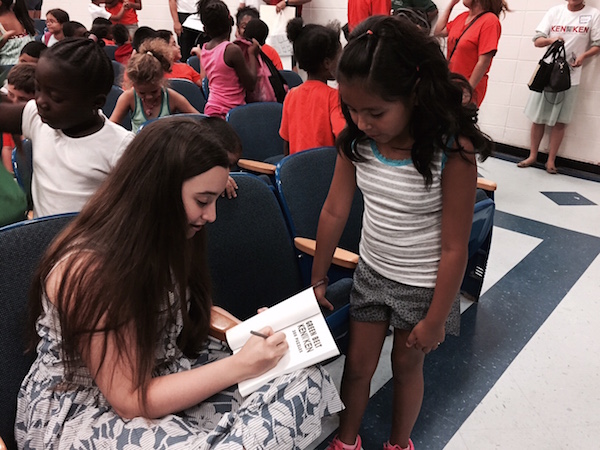 about three rounds with different sets of puzzles where the competitors receive points for completing the puzzles along with bonus points for finishing with extra time. This is followed by a Championship round of the top three contestants from the three rounds. There will be an international tournament on December 18th in New York City and Ellie encourages everyone to register! You can see the details here: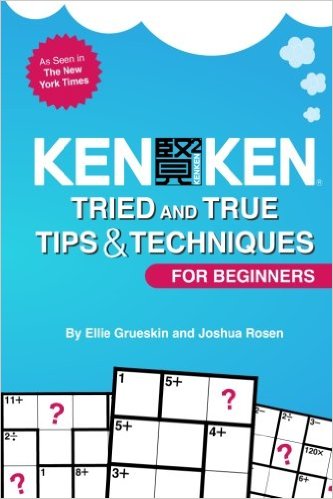 The story behind her new book is surprisingly simple. She worked for the KenKen Puzzle Company during the summer of 2015 and her boss, the President of KenKen, asked her if she would be interested in writing a book in order to teach beginners how to solve KenKens. The book is co-authored by Joshua Rosen, a teacher who uses KenKens in his math curriculum. At this point, it is the only book that provides a guide to solving KenKens for beginners.
Fortunately for Ellie she did not have to search for a publisher because the KenKen Puzzle Company publishes its own books. You can buy your copy of KenKen for Beginners here:

Ellie is currently a junior at the Hackley School in Tarrytown. Her favorite subjects in school are math and history because she finds them both to be the most applicable to her own life. Outside of classes, she's a swimmer on the school's varsity team, an editor for the literary magazine, an officer for the soup kitchen club, and a student leader for the peer tutoring program.
For those of you who would like a few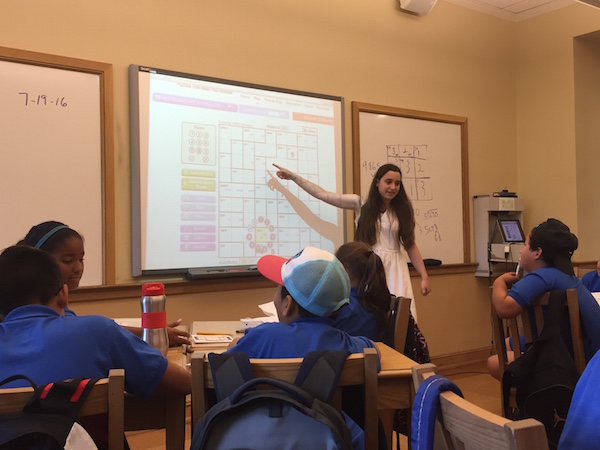 tips on solving KenKen, here is what Ellie suggests:
Use the process of elimination when possible. For example, if you're doing a 4x4 and you know three of the numbers in a row or column, then you know the fourth number!

Start with 3x3s and gradually advance to 4x4s and 5x5s--the beginning sizes will help solvers develop techniques and stamina necessary for the more difficult KenKens.

Each puzzle has one unique solution. So while it may seem like there are many possibilities for each puzzle, only one is correct. I'd advise that you try out as many options as possible before coming to a conclusion.
Greenacres Neighborhood Association Urges School Board to Move Forward on School
Details

Category: People
Published on

13 December 2016

Written by

Joanne Wallenstein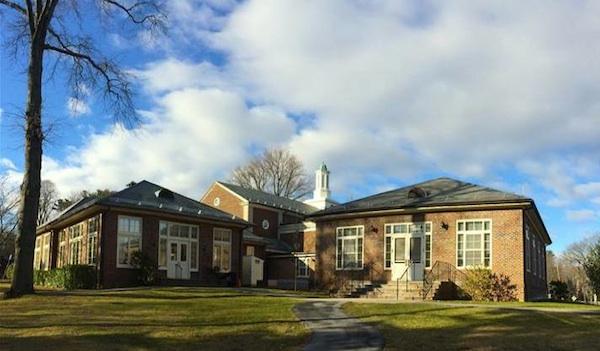 (This letter was sent to the Scarsdale School Board by the GNA. A shorter version was read at the meeting by Linda Doucette Ashman)
On behalf of the Greenacres Neighborhood Association, I want to address two topics:
(1) First, I want to share concerns expressed by members of our association regarding Greenacres School and,

(2) Second, I want to, again, invite the School District Administration and Scarsdale Board of Education to participate in a moderated forum with the sole purpose being for the District to present an update and timeline for work to be done at Greenacres School and engage in a conversation with residents answering their questions and listening to their views.
Concerns:
The primary concerns that we have heard are: (1) lack of information on plans for moving forward with the Greenacres School, (2) lack of sense of urgency to address the Greenacres School all together and (3) continued delay of structural work at the Greenacres School to ensure parity with other Scarsdale schools.

(1) Lack of Information:
The District notified the community in September that it was choosing to "pause" the work underway regarding the Greenacres School. This came as a surprise to some residents. For approximately two years, the District has held meetings, engaged architects and other stakeholders to study the school and proposed options and solutions and convened two Building Committees to evaluate priorities for the educational needs of the building. Now the community is faced with silence. Despite an assurance to the contrary, there have been no communications from the District setting forth goals, plans or even a timeline on the next steps to be taken with regards to the Greenacres School. Concerns are now being raised that the lack of a publicly articulated "Going Forward" plan may result in no plan for addressing the Greenacres school in the foreseeable future.

(2) Timing:
We all are well aware of the thoughtful process that District Administration undertakes when it comes to budgeting for the District facilities' needs (including its assessment/analysis of existing debt/ bonds and what is retiring). This process is long and meticulous and integrated into the District's annual budgeting process which will begin shortly. With no public "Going Forward" plan on Greenacres, residents are concerned about where the Greenacres School work fits in to the District's overall timeline. These are issues that must be discussed and resolved now if the Greenacres School is to be addressed during the next wave of School District projects scheduled for the next 5 years.

(3) Delay:
As we all know, the process of determining what to do with Greenacres School began years ago. The School District created a list of District's priorities and the Greenacres School was put last as the work needed was too significant to be combined with other facility upgrades. These conversations and decisions predate the current School District Administration and most, if not all, of the members of the Board of Education.

We are now approaching the end of 2016. Another year has passed and still no closure to the process for deciding what is needed for the Greenacres School and how these needs will be addressed. If our community is to have any hope of an updated or new Greenacres School in the next five to seven years, the District needs to act now. It can start with the one step the District itself identified in its September, 2016 letter – "to coalesce the community around a shared vision/option that focuses on Greenacres students and their learning". The budget process begins shortly. Once that process begins, more doors will be closed for Greenacres and the project will be furthered delayed by yet another year.

The Greenacres School work deserves a place at the top of the District's priority list now. Our neighborhood community has repeatedly been told to be patient and wait while other schools in the district received the attention. Residents in our community have consistently supported initiatives at other schools, expecting that, when the time came, the entire Scarsdale community would support Greenacres School solutions in order to ensure parity in structures across the District.
To demonstrate that the District intends to commence any work on the Greenacres School initiative during 2017, we request that you: (1) develop and implement a "Going Forward" plan on next steps and (2) inform the Greenacres community and the Scarsdale community at large on what those steps are. It is critical that the School District and Board of Education develop and provide a 21st century learning environment for Greenacres children. To this end, we again reiterate our offer to host and moderate an event in either January or February of 2017 for the School District to do this and allow the residents opportunities to ask questions and share their views. We look forward to hearing from you and working with you on this endeavor.
Thank you.
Sincerely,
Andrew Sereysky
President,
Greenacres Neighborhood Association
Scarsdale Forum Presents Panel on the Global Economy
Details

Category: People
Published on

02 December 2016

Written by

Joanne Wallenstein

The Scarsdale Forum invites all Scarsdale residents to attend its December 8th Public Forum and Membership Meeting on Thursday December 8th 2016 at 7:30pm in the Scott Room of the Scarsdale Public Library, 54 Olmsted Road. This event is free and open to the public.
The Scarsdale Forum, which is dedicated to education the public on all matters of civic importance, is pleased to present a panel discussion on "The Global Economy-What Lies Ahead" featuring a panel of Scarsdale Residents Norman Bernstein, Timothy Foley, Mayra Rodríguez Valladares and Robert Selvaggio (biographies below).
The US election resulted in a largely unexpected victory for Donald Trump. Analysts, legislators, and pundits are now in a frenzy trying to predict what a Trump presidency might mean for all sectors of the US economy and a wide range of international initiatives. At the same time, a slowdown in the Chinese and Mexican economies, uncertainty surrounding BREXIT, and challenges in the Middle East will also have a significant impact on the US economy.
The panel will present on the economy, financial sector reform, Obamacare, and US environmental policies. After a brief presentation, panelists will encourage comments and questions from the audience.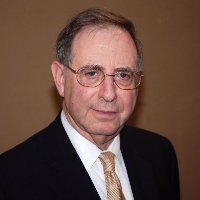 Norman Bernstein is a member of N.W. Bernstein LLC. He has forty years' experience as a business transnational lawyer and litigator and more than twenty years' experience in environmental law. His practice focuses on Federal trial court and appellate litigation, environmental problem solving including advice on new environmental regulations and their business impacts, Comprehensive Environmental Response, Compensation, and Liability Act (CERCLA) cost recovery, structuring environmentally challenged deals to control risk, cost effective environmental cleanups, environmental rule makings, and defense or prosecution of environmental related claims. His B.A. is in History from Columbia College and his LL.B and J.D. are from Columbia Law School.
Timothy Foley is the Political Director for the Committee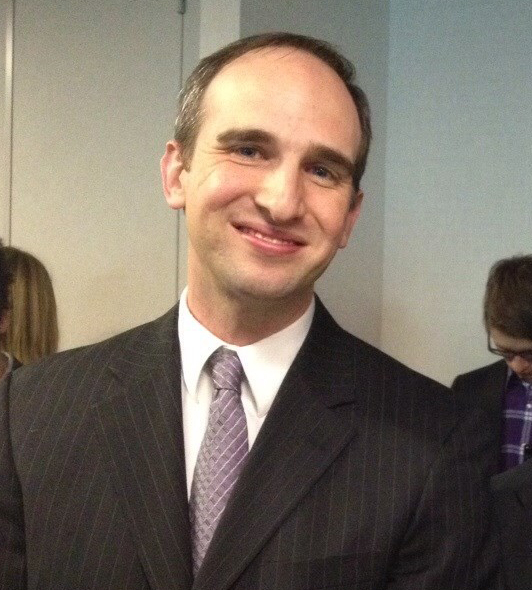 of Interns and Residents/SEIU Healthcare, a labor union for resident physicians, as well as the Secretary-Treasurer for the SEIU State Councils in both the New Jersey and the Maryland-DC regions. He sits on the steering committee for the Metro New York Health Care for All Campaign, a New York City-based multi-constituency health care justice coalition, as well as for the Save Our Safety-Net Campaign, a community-labor coalition that focuses on the issue of hospital closures that disproportionately affect lower-income families and communities of color. His AB in English is from Harvard College.
Stephan Meili is a Managing Director at Citi leading the Convergence Risk effort for the investment and corporate bank. Previously, he was Global Head of Market Risk for Securitized Products Trading and Municipal Derivatives at Barclays. Stephan has over years of financial markets experience in Europe, US and Asia ranging from risk management (market, credit and operational risk) and asset management to quantitative modeling for investment banks, asset managers and consulting firms. Furthermore, he has represented banks at industry forums and conferences on financial regulation and has taught courses on derivatives, regulation and risk management at the Federal Reserve Bank and at Columbia University. He holds a MS in Finance from Northwestern University and a degree in economics and business administration from the University of Basel, Switzerland. He is also a CFA, FRM and CAIA charterholder.
Mayra Rodríguez Valladares is Managing Principal of MRV Associates a capital markets and bank regulatory consultancy. She has over 25 years' experience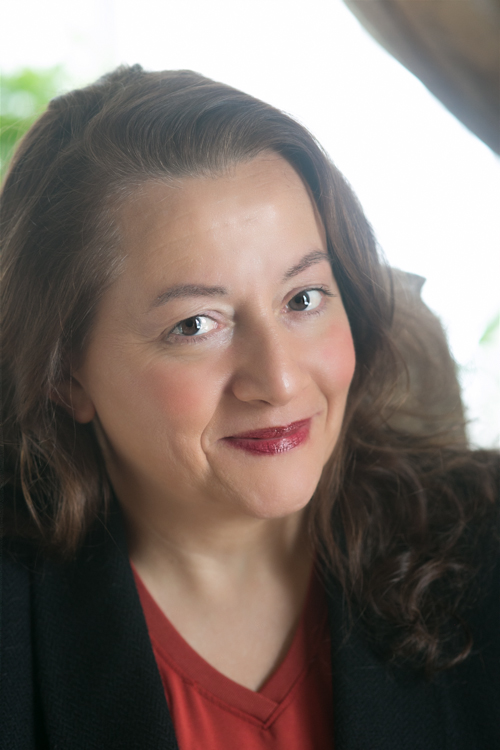 working with financial institutions and bank regulators globally. She has over 80 publications about bank regulations, capital markets, and commodity markets. She holds an AB in Russian and Soviet Studies from Harvard and Radcliffe Colleges, an MA in International Relations from The University of Pennsylvania, and an MBA from The Wharton School. She is a Raoul Wallenberg Fellow from Hebrew University.
Robert Selvaggio is Co-Owner and Head of Analytics at Rutter Associates. Rutter Associates provides advisory services in the areas of market risk management, credit risk and credit portfolio management including analysis of Collateralized Loan Obligations (CLOs) and other structured products, economic capital and risk adjusted performance measurement, valuation and model review of exotic derivatives and hard-to-value assets and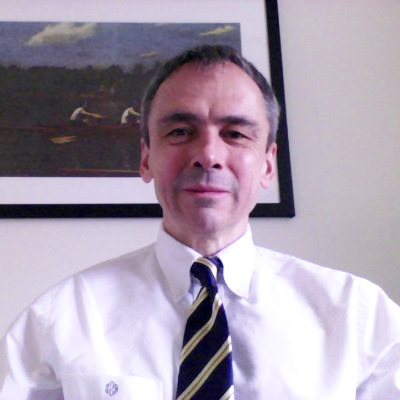 liabilities, and litigation support. He has a BA in Economics and Mathematics from the University of Pennsylvania and a PhD in Economics from Brown University.
In addition to the panel, there will also be a demonstration by the Forum's Sustainability Committee of easy zero-waste practices for your home and office.
The portion of the evening dedicated to Forum members will include votes on a previously released reports. All reports are available on their website www.scarsdaleforum.com; or, you can contact our office for reprints at info@scarsdaleforum.com or (914)723-2829.
Scarsdale residents who wish to vote on reports may join Scarsdale Forum prior to the December 8th meeting.