School Board VP Bill Natbony Urges the Community to Reach Consensus
Details

Category: Schools
Published on

20 June 2017

Written by

Joanne Wallenstein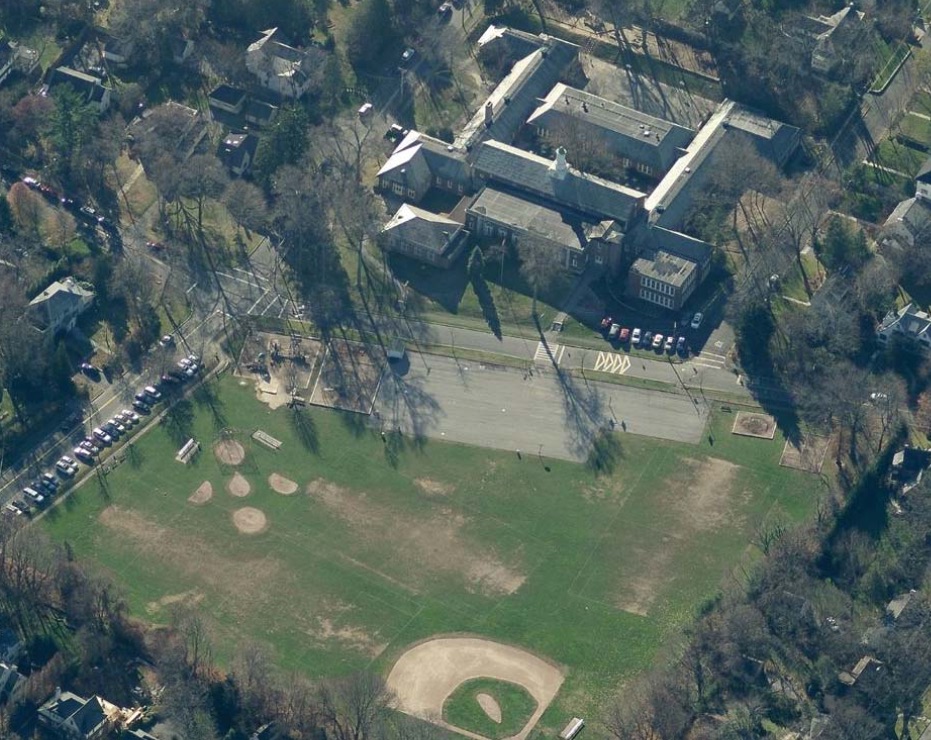 The Scarsdale School District held a public forum on facilities planning on the morning of Tuesday June 20th. Bill Natbony, School Board Vice President, made the following comments at the opening of the session:

Before we begin this forum, I wanted to add a few additional comments on behalf of the Board. We appreciate your attendance and look forward to continuing to listen as our facilities review process continues.
The community and the Board continue to receive and review large amounts of data and analyses. The Board has asked that additional analyses take place regarding longer term cost comparisons of a new school vs. renovation, how to address construction in terms of where the students will be, and concerning traffic and drop off/pick up issues. These analyses are underway.
This Board prides itself in listening to community viewpoints as an important process of exercising its fiduciary and educational responsibilities. As such, you should assume correctly that if you have written the Board, your comments have been heard. In addition, while we took a pause, re-grouped with new architects and are considering new proposals, the Board is fully aware of past comments. We understand there are those who want to preserve the Green in a Greenacres. We understand there are those who believe a new Greenacres building is the better option both financially and educationally. We understand there are those that believe renovation is appropriate and financially prudent. We understand that any construction project must address the interim educational and safety issues as relate to our children. We understand that any renovation or new construction needs to be done safely. We have heard about the issues regarding traffic and drop off and pick up. We understand the need for a more detailed understanding of long term cost comparisons. We have heard your comments at numerous prior public hearings and meetings and through your previous letters and emails. These are not lost on us and are appreciated.
Each of you is welcome and entitled to your time to address questions to BBS today and to address the Board whether here or at our regular public meetings. We would, however, urge you to recognize that this Board has been listening for many months and is familiar with the comment history. We are and have been listening. We will listen to everything you have to say, and will read everything you send us, irrespective of whether we have heard it before. We do value your input. I would note, however, that what might be particularly helpful to the Board and BBS would be comments or thoughts that are new. Thank you for coming.
Finally, I feel the need to comment on what I personally continue to perceive as an "us" versus "them" philosophy within the community -- the "us" and "them" being those in favor of a new school versus these in favor of substantial renovation. As Board members, we have been elected to serve our entire community. To us there is no "us" and "them". We need to reach determinations that are fiscally and educationally prudent for our community as a whole. That's what we intend to do. The Greenacres determinations, however, are not binary in nature. At least to me, if the Board ultimately decides to build a new school, and the community does not support that decision, that does not automatically mean that a $20 million or $30 million renovation is prudent. Similarly, if the Board ultimately decides on a substantial renovation and the community does not support it, that does not necessarily mean that Greenacres will get a new school. The Board will gather the data believed necessary for its determinations and ultimately decide on various facilities issues, including the future of Greenacres, in a manner that recognizes its responsibilities to all of our students, staff and community members. On behalf of the Board, we urge our community, through the public forums scheduled, and through other forms of public comment, to engage in reasoned and respectful dialogue with the Board, Administration and BBS and ultimately come together, if possible, to support the Board's ultimate determinations that you have entrusted to us, whatever they may ultimately be. We strongly urge the community to stay informed through the detailed information contained on our website, including copies of the various presentations and handouts, and by subscribing to receive emails from the School District through our website.
Together we can continue to make great things happen in Greenacres and in our District as a whole.
Thank you.
Architects Propose Facilities Projects for December Bond Referendum
Details

Category: Schools
Published on

14 June 2017

Written by

Joanne Wallenstein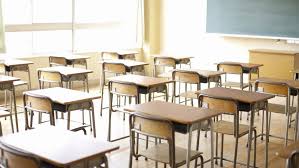 (Updated 6-15) How much of the proposed $60mm- $70 million bond will go to the Greenacres Elementary School? At the June 12 meeting of the Board of Education, Superintendent Thomas Hagerman invited newly selected architects BBS to present their findings and recommendations for district-wide upgrades and renovations, including additions to Greenacres.
Hagerman explained where he thought the funds should go saying, "People feel like there was a promise that was made that all of this money would go to Greenacres and I'm not sure where that came from. Even with KG&D, (the former architects) this issue of life and safety was front and center at all of our board meetings and presentations ... we understand that Greenacres is the priority beyond that. But this is the one time that we have without inflating the annual budget , taxes, or other kinds of things to attend to these issues that really are "musts." We're talking about roofs and boilers; code issues. These are things that we simply cannot walk by at this moment." He continued, "While Greenacres is a major priority, it is important to look at this across the entire district" stated Hagerman, "What we are compelled to do as the school district, the stewards of both the buildings and the budgets and all of those things, is that we have to attend to this work, especially the safety and code work, at this time, along with Greenacres. It is just an absolute must."
As to why he decided to dismiss former architects KG&D, Hagerman explained that much of the concern about Greenacres came from a study that KG&D did that found that Greenacres had 25% less square footage per student than the other schools, a study which the board stated came from old building plans rather than actual measurements. When BBS took measurements of Greenacres, they did not find the situation to be nearly as critical. To those who complained that the administration instructed the architects not to pursue plans for a new building, Hagerman insisted that BBS did an independent evaluation of the hundred year-old school and found Greenacres to be "as sound as other buildings" and suitable for renovation, saying, "The district has never given any direction in terms of a renovation or a new building."
He turned over the floor to BBS who then provided details of the top priority items for each building in the district, explaining that ventilation, security systems and ADA compliance and accessibility were issues at almost all the schools. In addition, they recommended routine maintenance and repair of items such as piping, electrical systems, and roofs. In total they identified $101 million in projects including $45 million in facilities needs and another $56 million in spatial needs. The administration and Board of Education will need to decide what projects should be included in the bond and what can be funded from the general operating budget in upcoming years.
One of the administration's goals appears to be equity among all the elementary school facilities, so the proposal includes the addition of cafeterias, storage space, maker spaces and music rooms to provide each school with equivalent facilities. The plan is to build cafeterias at Edgewood, Fox Meadow, Greenacres and Heathcote Schools. The cost for new construction at the four elementary schools – not including Greenacres – is $4.9 million at Edgewood, $6 million at Fox Meadow. $6.6 million at Fox Meadow and $1.5 million at Quaker Ridge. Additional funds would be spent in each school to upgrade classrooms, hallways, bathrooms and more. The architects had originally proposed the addition of a large cafeteria/learning commons at the middle school but that is now on hold after discussions with the stakeholders.
At Greenacres, the architects are proposing $6.3 million in facilities work to the existing school and $23.3 million in new construction costs. The two additions would add 15,000 square feet to the building, with a one-story addition on Putnam Road and a two-story addition on Huntington Avenue. The proposed site diagram shows that a raised crosswalk would extend across Huntington Avenue from the school to the field. The existing blacktop would be used for 20-25 parking spaces.
Traffic site plans have not been worked out as yet. Early in the meeting Dr. Hagerman said that parking and traffic were not the architects' issues but later at the meeting Roger Smith from BBS said that a traffic plan would be included.
Responding to concerns that the site was too small for further additions, Smith said that he had discussed the project with his contact at the State Education Department and believes this is a "doable" project. Smith said the work schedule would be up to the construction management firm, but estimated that it would span three summers. He believed the internal renovations could be done during the summers with construction of the additions during the school year.
The architects' presentation also included a preliminary estimate for the cost of a new school. The estimate shows that a new 74,000 square foot school at $500 a square foot would be $37 mm in "raw cost" and $52 mm in "project cost." It does not provide any details on the $15 million difference between raw and project cost in the estimate. It also adds another $7.1 million to demolish the old building and do site work to create filed, playgrounds and parking on the former site of the school for a total project cost of $59mm. To date, no detailed estimate for a new school that includes financing and energy savings have been provided. Many have asked the district to produce a detailed comparison of the long-term costs to repair and maintain the old school versus the expense to build a new school.
The members of the Board of Education were polled on the issue of tax neutrality .... Would they support a bond that exceeded $60 or $70 million to address more of the identified needs?
The consensus among the members was cautiously positive overall, with a sentiment that if the additional debt would further the community's mission they would consider taking on additional debt. Here are excerpts from their statements:
Art Rublin: I prefer that we not be locked into a bond that simply replaces existing debt service. These projects are good investments. I would like to know the numbers on an annual basis. Even if we pass a tax neutral bond, the budgets for the next 3-4 years will be high to meet all our needs.
Scott Silberfein: I would like to hear more public comment on that. I think we need to have more discussion about learning commons and food service at the four elementary schools. In principal if there is a justifiable reason I am not against going over it.
Bill Natbony: I need more debt service numbers. It depends how much we are talking about. I don't want to be locked into a number – but I have heard from people who are concerned about their taxes and we have heard from a fair number of people who support investing in education.
Nina Cannon: In general I would prefer tax neutrality but if a $70-$80 million bond embraces what we are trying to do as a whole I would consider a non tax-neutral bond.
Chris Morin: A tax neutral bond is somewhat like the tax cap as a boundary – but the scope of what we are trying to do is even more important. We should not let the big numbers be more scary than they should be. $20 million of extra spending would be a 1% tax increase – but it is well within what we do every year. The value of the projects and its impact is what we should consider.
Lee Maude: My taxes went up 9% for two years in a row when I moved here. I have always been afraid that if taxes go up too much, empty nesters will leave and we will have crowded schools. I am still trying to get my head around the bump outs at Fox Meadow and Edgewood. What do we need vs. what do we want? The food service idea is new – Greenacres is our priority ... it does not have enough bathrooms. I want to be sure that Greenacres gets the school that they really need.
Assistant Superintendent Mattey said that the administration will retain a financial advisor to do the analyses requested by the board, including financing options for renovations and new construction and to provide numbers on the impact of varying levels of debt service on tax rates. It is unclear about when these analyses will be provided
At the end of the meeting, the board presented a schedule that will lead to a bond referendum in December. Two public forums will be held in on Tuesday June 20 from9 to 11am and 7 to 9 pmfor residents to ask further questions to the architects. You can watch the meeting online here:
Here is a list of the larger projects proposed for the elementary schools – besides Greenacres:
Edgewood: A learning commons, a kitchen, new instrumental music and chorus rooms, added storage.
Fox Meadow: A learning commons and kitchen with storage and bathrooms.
Heathcote: A new dining commons and kitchen with storage, expansion of offices, new maker space, new main vestibule.
Quaker Ridge, Interior and space redesign of lower level rooms, creation of a maker space, entry vestibule and storage.
Proposal for the middle school and high school are in redevelopment after community feedback.
Facilities upgrades were rated on a range of one to five, reflecting their priority. Here are the top five most expensive projects recommended for each elementary school and their priority:
Edgewood:
1A Replace Abandoned Forced Air Systems (2) $2,500,000
3 Replace Boilers and Burners $400,000
2 Replace Roofing $377,076
3 Utility Transformer Enclosure $300,000
2 CCTV Cameras $225,000
Fox Meadow:
3&1A Improved Ventilation $2,500,000
2 Replace Boilers and Burners $400,000
2 CCTV Cameras $225,000)
1A H&V Unit Repair and Replacement $200,000
3 Replace Old Panelboards $150,000
Greenacres:
Classroom Unit Ventilators $1,200,000
3 Athletic Field Work $1,000,000 (note this work is due to the construction)
3 Replace Roofing $568,000
2 Replace Boilers and Burners $400,000
3 Roof Insulation $343,000
Heathcote:
3 Replace Roofing $2,412,384
3&1B Provide Air Handling Unit for Gym $450,000
2 Replace Boilers and Burners $400,000
2 CCTV Cameras $225,000
3 Old Panelboards $200,000
Quaker Ridge:
1B Provide Fresh Air for 15 Classrooms $715,000
3 Replace Roofing $660,812
2 Replace Old Steam UV's $360,000
2 CCTV Cameras $225,000
3 Replace Old Panelboards $150,000
Greenacres: Renovation Proposal Raises More Questions than Answers
Details

Category: Schools
Published on

31 May 2017

Written by

Joanne Wallenstein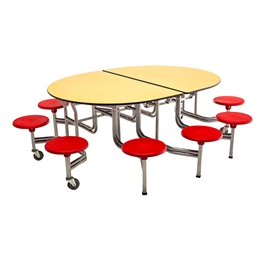 (This article was written by Joanne Wallenstein) A proposal by the new district architects, BBS, for an approximately $60 million renovation of the Scarsdale schools has the community buzzing. Questions abound about the process used to decide where the funds would be spent, the rationale behind the proposal, the specifics of the proposal and the accelerated timeline for consideration of the next bond offering, targeted for December 2017.
Communications between the school board, the administration and the community were put on hold in September 2016, when, after much discord the superintendent declared a moratorium on all discussion about the future of the Greenacres School.
The silence lasted until February 2017 when a new district architect, BBS was selected and charged with reproducing a district-wide facilities plan, similar to the one that was done in 2014 by the former architects. An RFP for the work was posted belatedly on the school website and can be viewed here. The RFP called for the firm to "Provide services which develop creative and innovative approaches in the renovation of older buildings while maintaining their historical character, when appropriate.... and to "Provide services which develop creative and innovative solutions for 21st century educational facilities."
Now after all of this downtime, the superintendent is proposing to move forward at breakneck speed with a proposal to renovate the elementary schools, replace the house dining rooms with a large cafeteria at the middle school and do modest renovations at the high school, which is now undergoing a big upgrade.
A previous school board had promised this next bond to the Greenacres School which is in need of extensive upgrades. The school was passed over for work in the prior bond because the need was thought to be too big to handle without a substantial outlay of funds.
According to prior administrators and reports, the Greenacres School had already been extended to the maximum allowable footprint, ruling out any additions to the tight site.
The community was also previously told that there was persistent moisture in the basement of the school that needed to be remediated with dehumidifiers, the roof was leaking, there was inadequate space for recreation and many of the classrooms were tight. The lack of bathrooms on the second floor of the school where there are three classrooms also posed problems.
In December 2016 the Superintendent dismissed the former district architects, KG&D, saying he didn't have confidence in them and promised that the new architects would provide more reliable measurements, engineering reports and solutions.
However, their presentation on May 22 seemed to raise more questions than it answered.
For Greenacres School the architects proposed not one, but two additions to the existing school. Since no measurements, renderings or aerial site views were provided, it's difficult to ascertain the scale, but it appears that these two additions extend practically to the street on both Putnam Road and Huntington Avenue. If the site was already maxed out, how would this be feasible? When asked, Roger Smith of BBS said they were proposing an addition that is "justifiable at the state education department."
Another piece of information that was shared by one of the firms who had competed to do work in the district was that if the cost of a renovation were close to 50% of the current value of the building, the state education department would recommend construction of a new building.
This concept was also discarded by BBS, who said, "Can the body of the building and its bones do what you need to do? I think the existing building is wonderful and can be used. The lower level is the wrong space. We can make a monumental change to that building at half the expense of a new building."
Residents also understood that if 50% of the building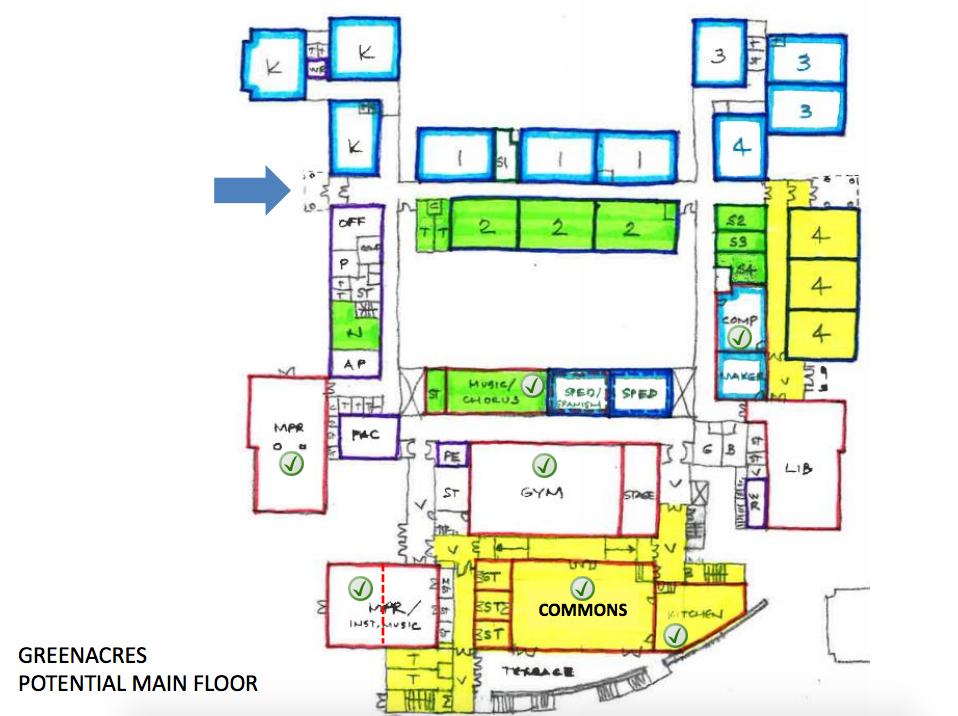 were renovated, the entire building would need to be brought up to current code. Again the architects saw no problem getting around this requirement. When asked what parts of the building would receive new HVAC, they replied that only the additions would be air conditioned. The air quality in the balance of the building would be improved with unspecified upgrades to the existing ventilation system, which does not currently provide enough fresh air to meet standards.
Though the community was expecting a solution for Greenacres, instead the architects proposed to add cafeterias or commons to Greenacres, Edgewood, Fox Meadow and Heathcote and called for large cafeteria in the courtyard of the middle school to replace the lunchrooms in the four houses. This has served to subvert the discussion from the problem at hand, which is Greenacres.
The 2015 Greenacres Feasibility Study included a list of nine evaluation criteria for the school.
They are:
Initial Construction Cost

Building Condition Evaluation

Educational Adequacy

Operational issues and costs

Future expansion capabilities

Aesthetic considerations

Historical and community significance

Safety and security

Accessibility

Sustainability
Though a few of these were addressed the proposal from the architects did not consider some important criteria.
Missing from the proposal was the design or educational rationale for the decisions. How would these new commons function? What would the space include? How could these lunchrooms be repurposed for use during the morning and afternoon hours? What kind of collaborative learning spaces would they include? At the middle school, where the four-house system is well-liked, parents are concerned about the prospect of a central lunch area where kids could easily be bullied or ostracized. No one I spoke to knew where the idea to close the four individual dining rooms originated. Could it be to save money?
There was no consideration of the costs to operate a renovated building that would be part new and part old; holding over many aging systems that have already been extended beyond their useful life. What of the roof, the pipes, the electrical systems, the ventilation and the windows in the remaining portions of the building? Both the members of the Board of Education and those who spoke at the meeting asked the administration to provide a detailed financial analysis of the costs to finance, build and maintain a renovated vs. a new building. According to the NYS Education Department, a new building can be financed over 30 years, while financing for renovations are limited to 15 years. Dr. Hagerman insisted that the architect's recommended a renovation and resisted calls for an analysis of a new building.
Sustainability was not considered including a mandate for efficient building systems including geo thermal heat, solar energy, thermal, LED lighting and environmentally friendly materials.
This same 2015 feasibility study discussed the NYS Model Program as a benchmark to determine " spaces that represent the ideal or model for what is minimally required." The roughly drawn sketch from BBS ignored Model Program requirements and included no measurements or justification for the rooms that were to be renovated, added or removed.
One item that was not considered a district priority by the building committees in 2015 was lunchrooms, an item that stands at the center of the BBS proposal.
The presentation from BBS caught the community off guard and also seemed to come as a big surprise to the members of the Board of Education. It appeared that the superintendent and assistant superintendent had closely guarded their conversations with the architects and failed to collaborate with or communicate with anyone on the Board of Education. The work of the prior building committees who investigated needs at each school were not discussed.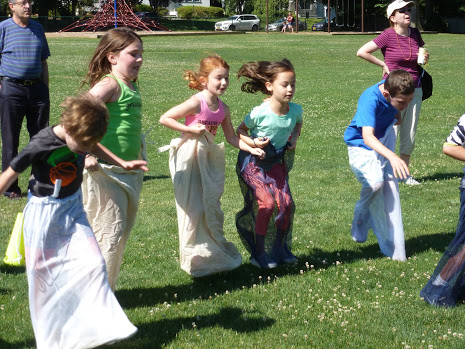 The proposal has raised concerns among parents of young children, some who are yet to enter kindergarten, and would attend the school during the estimated two and half year renovation. Despite assurances that their kids will be shielded from environmental hazards like lead, dust and asbestos, these parents are alarmed. The proposal does not include provisions for trailers, so the children would be on site while the work is done.
However, the proposal does have its fans. Members of a group who live adjacent to or near the Greenacres field across the way from the school who waged a fierce campaign to prevent construction of a new school on the field, saw the proposal as a victory, as it would maintain the school on its current site.
Scarsdale Values Excellence and Innovation
Details

Category: Schools
Published on

06 June 2017

Written by

Joanne Wallenstein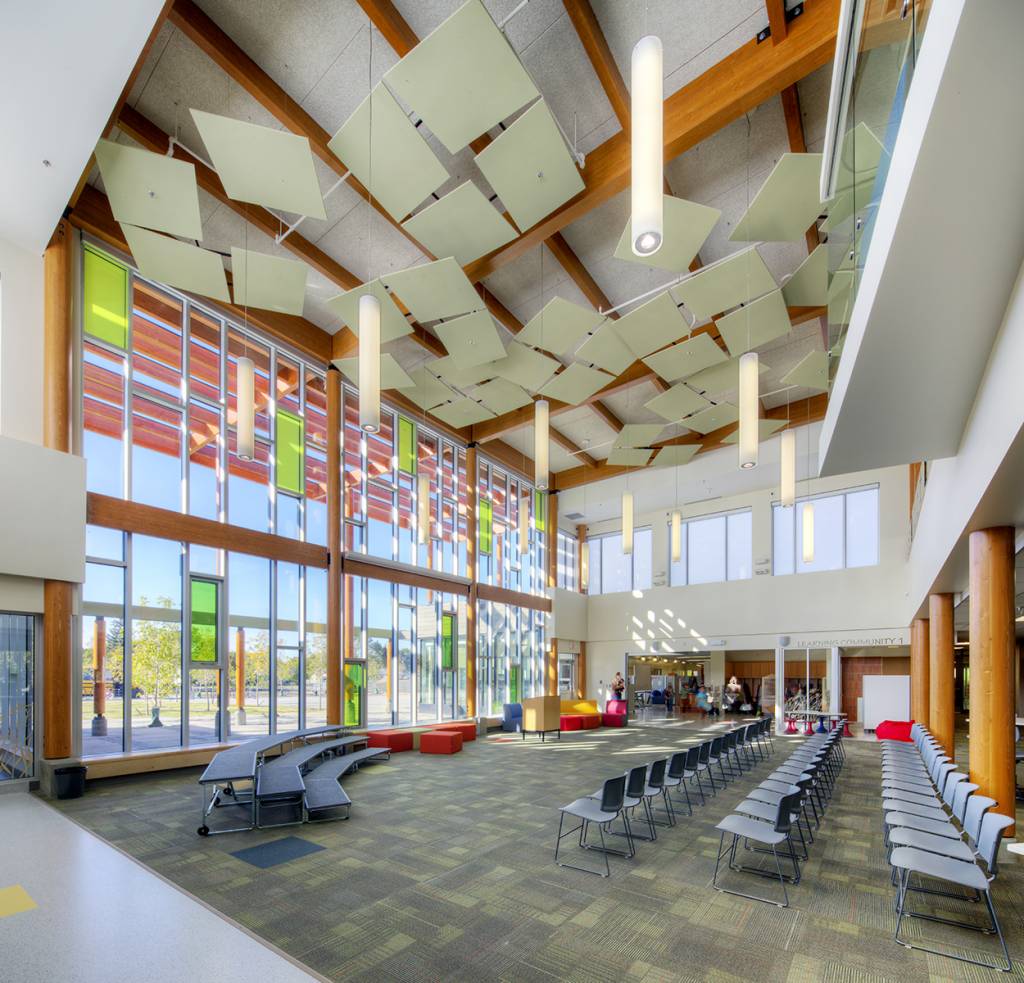 As the community struggles to come to consensus on the future of Scarsdale's school facilities, perhaps it would be helpful to remind ourselves of our shared values and frame the decision around these tenets. If we can agree on what we value most, we can evaluate our options and agree to a course that aligns with this vision.
As a 27-year resident of Scarsdale (with no children in the schools) here are the values that I believe we share:
Excellence in Education: Scarsdale's brand is our first rate school district. That's what draws the vast majority of people from all over the country and the world to town. They want the best in public education for their children and believe in the lifetime value of a Scarsdale education. Year after year students have record admittance rates to the most selective colleges and universities where they use their critical thinking skills to launch them into interesting and challenging careers.
Innovation: Scarsdale has a history of innovation in education at all levels. A few examples include:
The implementation of the Singapore Math program that has proven to be an effective way to teach math to elementary school students. Educators from all over the world have visited the district to see it in action.
The unique four-house system at Scarsdale Middle School, that provides tweens with the benefit of a small-school experience within a larger environment. It allows for stronger relationships between teachers and students, a more intimate and individualized learning experience and promotes a feeling of belonging at a time in life when some can feel alienated.
At the high school the Civ Ed program again provides entering freshmen with a community during their introduction to high school. The world language exchange programs and music trips give students the chance to meet students from faraway places. The new STEAM curriculum introduces students to coding, design thinking and engineering, before they will encounter these subjects in college.
District wide, the Center for Innovation incubates and fosters the development of new programs at all levels by awarding grants for research to faculty members.
Helping each child to achieve his or her personal best: Another value is providing each child with the opportunity to learn and grow in line with his or her own development. Our special education program allows many to be mainstreamed into regular classrooms while receiving extra support. At the high school, there are courses to accommodate all kinds of learners – from AT to skills classes and everything in between.
Collaboration: The District has a history of collaborative decision-making, calling on parents, teachers, community residents, board members and school administrators to work together to identify issues, analyze options and set priorities. Through the use of committees, task forces and public forums, issues are discussed, views are exchanged and eventually the community comes to consensus on the best course of action.
Non-Sibi, meaning "Not for Oneself Alone" continues to be the district's motto. Paramount is the district's goal to educate students to make a positive contribution to society and to serve others.
What does all of the above have to do with our facilities? Everything!
In order to continue our tradition of excellence school facilities should provide an ideal environment for learning, meeting current building and safety code and conforming to model program requirements as outlined by the state education department.
To continue to be leaders in innovation, the district should provide facilities that enable flexibility and inspire creativity. Current educational design thinking emphasizes the importance of light-filled rooms that bring the outside in, flexible spaces for both small and large group exercises, design labs and maker spaces, multi-purpose ergonomic furniture, ample space for recreation and imaginative play along with fresh air, safe water, accessibility and ease of entrance and exit to school buildings.
The district can do more than teach design thinking – we can live it by building sustainable facilities for the future, that utilize energy-saving systems like solar power and geothermal heating and cooling. These green buildings will demonstrate to students what it means to be an environmentally responsible citizen and safeguard resources and save money down the line.
In terms of collaboration and Non-Sibi, the community can come together and agree to do what's best for the children who are here now and those who will move here in the decades to come. That means providing them with a safe environment that enhances learning and will endure for the next 50-100 years.
We cannot risk their health by exposing them to a lengthy renovation of a one hundred year old building that could pose environmental dangers and will disrupt learning at a critical time in their lives. We must put the needs of young families before a shrinking group of self-interested homeowners who are concerned about a school in their backyards. These folks have tied the community in knots and shown that they can't see the forest for the trees. A green Greenacres School would be a boon to their home values as well as those of everyone else.
Scarsdale now has its chance to maintain its stellar reputation and set new standards for excellence. The funding is available and the community has demonstrated time and time again that they support progress, innovation and first-rate schools. All we need now is the commitment of the school board and administration to lead us into a bright future.
Architects Present Plan to Add Learning Commons to 5 Scarsdale Schools
Details

Category: Schools
Published on

23 May 2017

Written by

Joanne Wallenstein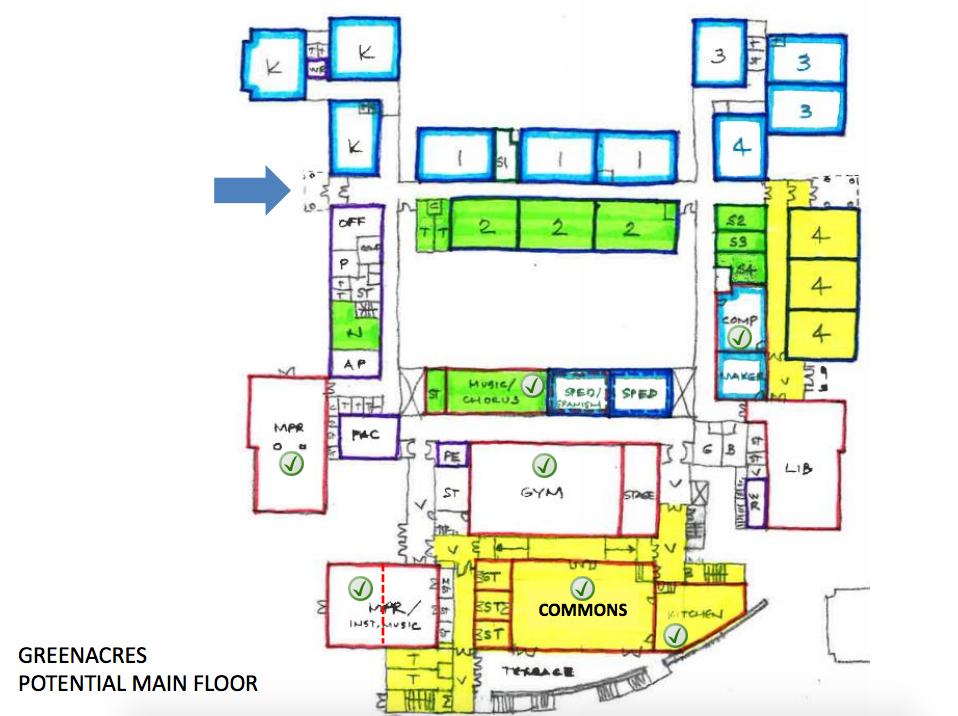 After months of anticipation, the new district engineers and architects, BBS, unveiled their plans for updates to all district facilities at a three hour meeting on Monday night May 22, 2017. The audience was largely from Greenacres, as the school had previously been the focus of discussion for the next bond offering. However, the administration sought to shift this dialogue to a conversation about equity and parity in the elementary school experience and to provide an assessment and propose update to all district buildings.
To that end, BBS toured all the buildings, spoke to the people who use them and said that they reviewed reports from the prior architects and engineers. The consensus was that all the district buildings have been well maintained and are in good shape. They identified issues that do need to be addressed and assigned priorities to them based on the immediacy of the need, with priority 1A given to those items that pose life/safety issues and are out of compliance with code. They found that 11.6% of the needs that should be addressed are priority 1A and 1B. The chart below indicates their findings. Many of the items are small and can be taken care of by the district.
The ventilation systems at all district schools were found to be out of compliance and fails to provide enough fresh air to the facilities. In some of the buildings the air handlers were disabled and in others they were not working properly. Other than assigning these items a priority the architects provided no data about air quality at any of the schools and indicated that they had not tested it but were told by the district that these tests had been done.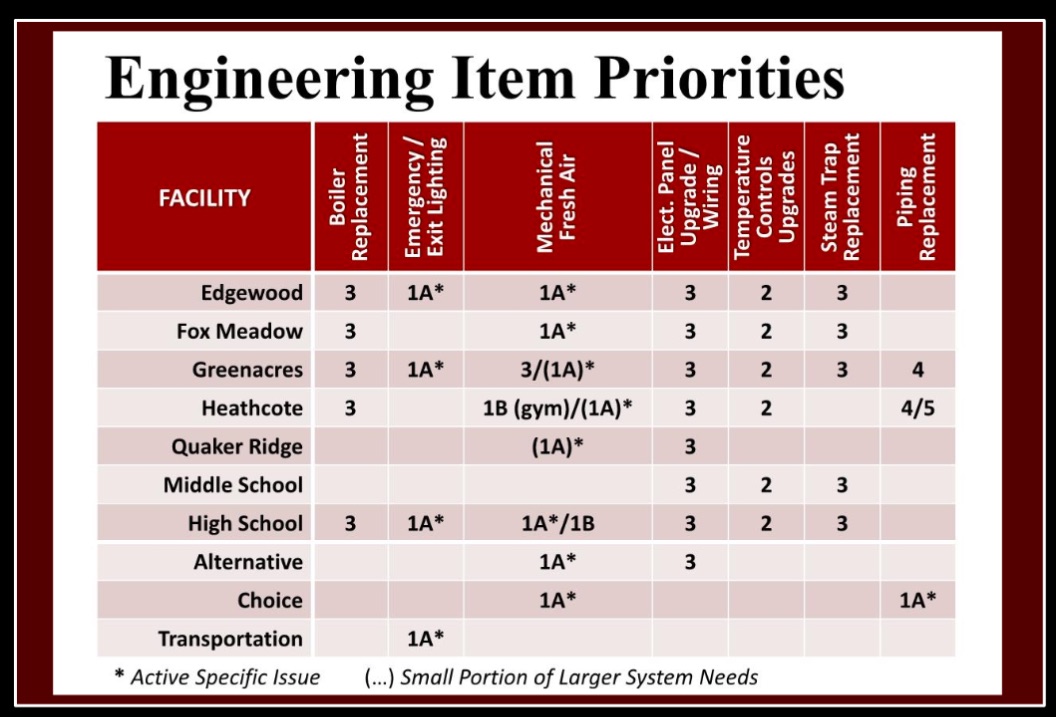 Their findings differed from a 2015 report from engineers that found that many of the building systems at Greenacres School had been extended beyond their useful life and needed to be replaced. For instance, the 2015 report found that all the sanitary piping was in poor condition, while BBS did not flag this system or many others for replacement.
About the sanitary piping, the 2015 report said, "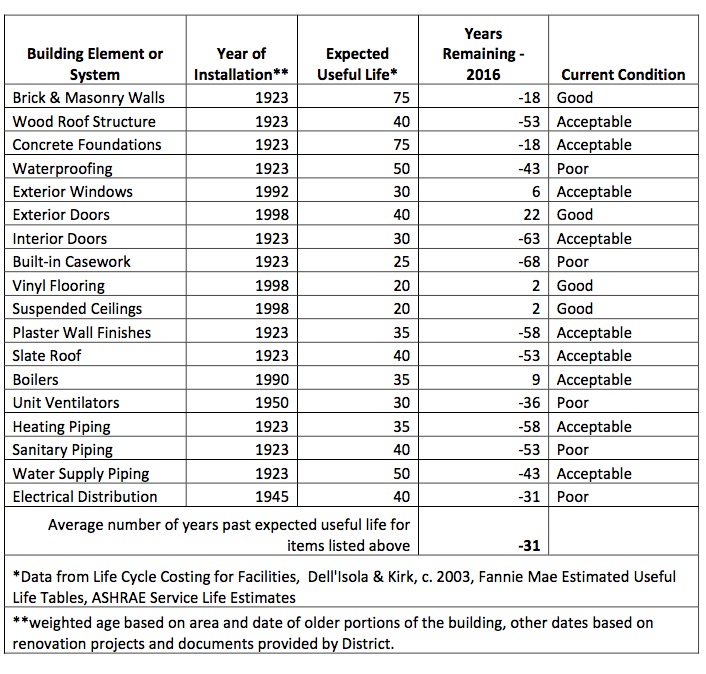 The school did experience the collapse and failure of the main sewer pipe that exits the building a few years ago. This type of failure can be very disruptive and costly to repair in an emergency situation. Given the age of the building and the expected useful life of building materials and systems these types of failures are likely to continue. As a result the long term recommendation is to completely replace all of the original piping and plumbing systems that have not already been updated."
In addition, in 2015 KG&D and their engineers also cited poor ventilation but they claimed that upgrading the current units to provide enough fresh air to meet code was not feasible. The report says, "The amount of fresh air brought into the classrooms is far below current standards. If the same unit types were upgraded to provide the current code compliant amount of fresh air, the system would be quite loud and will have a big impact on noise levels making it difficult for students to hear an instructor. ... These requirements coupled with the age of the existing systems leads to the recommendation to complete replace the building's heating and ventilation system with a hot water system with energy recovery ventilation mechanical cooling and digital controls."
BBS provided a spatial analysis of all district building identifying "spatial conflicts" which they sought to solve by adding a learning commons with food service to four of the five elementary schools. These commons would include new kitchens so that lunch could be served at all elementary schools. At Heathcote, where an additional multi-purpose room is now being built, and there is already a separate auditorium and a gym, the architects proposed the addition of another learning commons with kitchen service to that room.
The audience seemed most perplexed about a proposal at the middle school to close the individual dining rooms in each of the four houses and build a large learning commons/cafeteria in the courtyard at the entry level.
For each of the schools, the architects provided rudimentary floor plans showing proposed additions, interior construction and upgrades to existing classrooms. No dimensions, renderings, elevations or design ideas were presented so it was difficult to know what an upgrade to a classroom might entail. Here is an outline of the proposed new construction:
At Edgewood, the architects proposed the addition of an instrumental music room and an expansion of the existing multi-purpose room so that it could accommodate half the student population for lunch. A new kitchen and toilet rooms would be added on.
At Fox Meadow, a learning commons, kitchen and toilets would be added to the lower level, facing out onto the field and surrounding the courtyard. Architects proposed that this space would have a separate entrance allowing it to be used for community events when school is not in session.
Greenacres would receive the most new space, with the architects proposing additions on both the Huntington Avenue and Putnam Road sides of the school, expanding the building's footprint closer to the roads on both sides.
On Huntington Avenue, the addition is similar to KG&D's option B1, with a two-story addition covering the gym and extending out toward Huntington Avenue. On the first floor that addition would include a learning commons, kitchen and bathrooms, and above that on the second floor there would be four fifth grade classrooms. The current fifth grade classrooms would be converted to an art room and several smaller spaces. Architects proposed moving the art room upstairs due to conditions in the basement and to integrate it into the floor plan of the rest of the school.
On the main floor of Greenacres, the footprint would be expanded out toward Putnam Road for three fourth grade classrooms. On the other side of the hallway there would be a computer room and maker space and three smaller rooms for small group instruction.
Architects said that the new portions of the school would be air conditioned but did not specify if there would be upgrades or replacement of the mechanical systems in the remaining portions of the building.
At Heathcote, a learning commons with kitchen will be added on to the new multi purpose room which is currently under construction at the school. Changes would be made to the office and entry to include security vestibules.
Quaker Ridge, which already has a dedicated cafeteria would not have any new construction, but the lower level music rooms would be reworked to include rooms for support services.
At the middle school the architects found that more rooms were needed for health and language classes and proposed that the individual dining rooms in each of the four houses be closed and converted to classrooms. Instead, students from all four houses and all three grades would eat in a large commons to be built in the courtyard behind the lower entrance to the school. In addition they proposed moving Choice, the middle school's alternative school, into three classrooms opposite the gyms. A security vestibule would be built at the bus entrance to the school and the retaining wall there would be rebuilt.
At the high school, the architects proposed adding architectural features that would make it easier to navigate around the large school and to reconfigure the offices and learning resource rooms.
Both the Board members and community had many questions for the architects. Lee Maude opened with a question about the air quality, asbestos and mold that was reported to be present at Greenacres. The architects replied that they did not observe asbestos or notice any order but they did see dehumidifiers present to mitigate moisture. About the air quality they said, "We understand you did air quality studies and they came up with acceptable results."
Nina Cannon asked a question about long term solutions to the humidity and was told that students would be removed from the lower level of the school and commercial dehumidification was needed. To a question about a space for language instruction, the architects said that one of the special education rooms could be used depending on the number of sections that were needed in fourth and fifth grades.
Art Rublin asked about the cost to build new structures vs. renovate the existing structure. The architect replied that a new building would be "2X the cost of the renovation." The architect added, "Can the body of the building and its bones do what you need to do? I think the existing building is wonderful and can be used. The lower level is the wrong space. We can make a monumental change to that building at half the expense of a new building."
Lee Maude questioned BBS about the size of the classrooms at Greenacres when compared to NYS model classroom sizes. The rudimentary sketches that the architects provided showed no square footage. The architects replied that Greenacres classrooms were not much smaller than classrooms at the other schools, though "some may be a bit smaller than the highest recommendations." They said, "we can get more efficiencies where we need to."
Rublin asked where the kids would be during construction and was told that new construction will be segregated from the existing space and that the kids would be in the building. The architect said, "All construction projects in schools are required to have testing of existing materials. Lead paint removal would be done in the summer." It was estimated that construction would take at least a couple of years including two full summers.
Scott Silberfein questioned the extension of the footprint of the building on both sides when the district had previously been told that the school was maxed out on the property. He asked, "Do we have the right information?" The architect responded, "We are proposing something that is justifiable at the state education department. I won't comment on previous architects. I think it is a justifiable addition."
Community members were also given the chance to comment:
Mary Beth Evans asked the Board to provide data on the investment the district has made in all buildings since 2000. They had provided one for the last ten years. She asked about the role of the building committees and educators. Had they contributed to the discussions with the architects? She questioned the educational vision behind the proposal,asking, "What is the educational philosophy and vision behind the plan? What's educationally appropriate? What about the house system at the middle school? What about 21st century learning, flexible spaces, the breakdown of classroom walks, fluid use of libraries? How does that vision align with the plans in the short and long term?" Referencing surveys that are to go out to parents at each of the schools she continued, "Will residents without kids in the schools have a chance to give input?"
Jennie Robinson from Dobbs Terrace said, "Is there an objective standard for classroom size per child? The classrooms at Greenacres are very small. 21st century classrooms are important. I urge the board to make sure about the class sizes we are talking about."
Ron Shulhof commented, "I did not hear anything about healthy and sustainable buildings.
I want to be sure that these ideas are considered and part of your presentations to the district."
Tony Corrigio of Brewster Road was concerned about keeping the children in the school during the renovation. He said, "I will have three kids in Greenacres during the proposed renovation. I am very concerned about the proposal. I thought we would have a full discussion and now we were told that that will cost 2X to build a new school and we're not addressing it. Are we looking at 20 years or 100 years? Greenacres needs the most work. Every wall in there has an inch of lead based paint. The work that will expose the kids. Can we have an independent inspector with the power to shut this down if we see an infraction? Forget the law – it's our kids! Let's see the new school and have a fulsome, thoughtful discussion on a new school vs. a renovation."
Mitch Kahn of Brewster Road said, "Does the new school estimate take into account all that has to be done at Greenacres? What about operating costs? Are there efficiencies over the next 10, 20, 50 years? The other architect did not say that a new school costs twice as much – this seems disingenuous."
Diane Greenwald of Oak Lane said, "(Tonight) I heard a lot of value to consistency across our district. Consisitency has never been a primary goal. Excellence and innovation has always been a value. We want to look at flexibility, collaboration, interdisciplinary opportunities, light and spaces that promote focus. I am concerned with considering what came before. As a member of the steering committee for the 2014 bond we did come up with priorities – we recommended that Greenacres be significantly understood in this bond. What about the facilities master plan that was done in 2014 – and how these priorities match up? This might help you determine district priorities. Also, the Heathcote School has unique architectural that needs to be specifically designed. It's a very specific site and cannot just be added on to. At the middle school I am concerned about the house system. Being 13 is hard and the hardest place it is to be a student is lunch. People who know students (in their houses) individually provide support. I hope some of those things are thought out."
Harriet Sobol added, "The Heathcote School is a national treasure; I hope if you do build a new school it will be of that quality. I would support a new school even though I am old."
Lynne Clark was brief, saying, "I thought I would hear whether we were going to consider a new school? Will we?"
Andrew Sereysky, who heads the Greenacres Neighborhood Association said this "caused a ripping apart of the community. I would urge the architect and the board to realize that we need to address renovation vs. new construction. Come to Greenacres – Greenacres is the focal point of what's going on. Come prepared to answer questions. Come to the school and make it easy for people to understand the basis of a decision. Open it up so everyone can understand it."
David Schwartz of Oakstwain Road said, "I was hoping to see more options and a cost benefit analysis of renovation vs. a new school for a longer term horizon... a proper financial analysis. We need a chart showing investment in the last 20 years – not the last 10 years. What will be the size of the new classrooms?"
Barbara Wenglin commented, "This feels like groundhog day. We have been at this for two years. I find it encouraging that the school is in good shape."
Michael Levine asked, "Your recommendations are not consistent with the recommendations of the previous architects? Why?"
Kyle Shirley of Donellan Road said, "Given the level of community involvement – I find it breathtaking that there was no information about a new school – and no financial proposal and no willingness to do it! This is a financially sophisticated community. Give us a reasonable, fleshed out, proposal."
Jon Krisbergh of Greenacres Avenue asked, "Why is this going to be less money than the B1 renovation we saw before?"
Lee Maude summed up and said, "Thematically things came back to the question of educational philosophy and equity and how we balance that. What is the concept of the learning commons that came from the administration and the architects? There is a desire to understand the costs and how we apportion that. I think there is a need to understand why we're not looking at an option for a new building at Greenacres. What led to tonight's presentation? We would also like to see the air quality reports."
The administration has set an aggressive timeline to come up with a plan for a December 2017 bond offering. Community forums with the architects are scheduled for the morning and evening of June 20th so that residents can ask questions about the proposed plans.
As they exited the auditorium on Monday night, many had concerns about the proposals. They felt that the materials that were presented were merely sketches and did not provide enough information to make any decisions. Without estimated costs they did not feel that they could weigh the merits of the plans and they also wanted to hear more about the educational rationale behind the addition of learning commons to five schools. Some called for a cost benefit analysis of the renovation versus a new school. The administration may have to provide more detailed plans, renderings, cost estimates and financing plans to get the community behind these ambitious facility plans.