Administration Answers Questions about the Proposed 2018-19 School Budget at Two Public Forums
Details

Category: Schools
Published on

15 March 2018

Written by

Joanne Wallenstein

As the proposed 2018-19 budget moves towards completion, the members of the School Board and Administration met with various members of the community this week at a forum hosted by the League of Women Voters of on Monday morning and at a budget forum at SHS on Tuesday am. After the heated meetings about the 2018 bond, these sessions seemed tame, attracting some questions but few fireworks.
As it now stands, the proposed budget is $156,899,407mm which represents a 2.09% increase over the 2017-18 budget and would translate into a 1.98% increase for Scarsdale residents and a 3.53% increase for those in the Mamaroneck strip. For the average Scarsdale homeowner, with a home value of $1,595,700, this would mean a $482 tax increase. In Mamaroneck, the increase would be $767.
These numbers do not include $250,000 that was approved last week for a Director of Security at $125,000 and another $125,000 to make building improvements and technology upgrades to enhance security at district schools. The Board has not yet decided whether to fund these from reserves or raise the 2018-19 budget. If they add the $250,000 to the budget, the budget would increase another .18%.
Though the overall student population is projected to be flat, demographers are estimating that the elementary school population will rise by 43 students while the middle school will have 48 fewer students and the high school will be down by 9 students. The budget calls for the addition of two contingency elementary school teachers – (one special ed) and a .4 FTE to teach STEAM courses at the high school, depending on enrollment.
At the League meeting, the administration was asked what they would do if more classes break than anticipated and if additional teachers are needed. Though they thought it was unlikely, they did say that these decisions depend on timing. If additional students move in before mid-August, then the district is committed to ensuring that classes in K-3 remain at 22 students per class, with grades 4-5 at 24 students.
For instance, there is currently a fourth grade inclusion class at Greenacres taught by two teachers that exceeds the cap. If that class splits next year, Assistant Superintendent Drew Patrick said the district would need to hire another teacher.
However, if children move in during the year and cause classes to exceed recommended sizes, sometimes the district will leave the class intact as not to disrupt the children and their relationships with one another and the teacher.
They said that funds would have to be found in other budget lines to pay for salaries. There was concern as the district is practicing tighter budgeting and the fund balance is estimated to decrease from $23.4 million as of June 30, 2017 to $18.8 million as of June 30, 2019. Reserves were impacted by a decision to use over $2 million in 2017 to make up for a shortfall of funds on the 2014 facilities projects.
At the League meeting, Lynne Shain, Assistant Superintendent for Curriculum shared some of the curricular initiatives that are underway in the schools:
One is to teach critical thinking skills, so that students can "Transfer and apply what they are learning to new, non-standard situations." Quoting educator Tony Wagner she said, "It's not what you know, it's what you can do with what you know that counts." Therefore, the district is giving kids more opportunities to solve non-standard problems.
Another set of initiatives involve consideration of the "Whole Child,'" with a series of health and wellness initiatives.
The district is also working to ensure consistency in the curriculum across classrooms and schools. They are using the Teachers College Reading and Writing program as well as Singapore Math and are in the process of building more math leaders among teachers.
For the sciences, the district has found that teaching science via lecturing is not as effective as an inquiry approach to science where children engage in activities and experimentation.
In terms of technology, all sixth graders will have an iPad with them all day in school and can take them home to charge. Elementary school students use chrome books and iPads that are left at school at night. Shain calls this "transformational, making students into workers and experts because they can look things up."
The League inquired about the level of funding for capitol improvements in the proposed budget which is 1.3% and is a decrease over last year. Dr. Hagerman said that the passage of the $65 million bond addressed many of the district's facilities needs and he questioned the recommendation that districts spend 2% of their budget on facilities improvements, especially in a place like Scarsdale where salaries account for such a high percentage of the school budget. Mr. Mattey added that funds for facilities are also included in other budget lines, such as the principals' discretionary spending.
Dr. Hagerman said the district was still looking into additional facilities expenses such as air conditioning and parking, though he added, "We think that much of the parking issue is "behavioral."
A question was asked about the district's forward plan on facilities and educational needs for the future. Dr. Hagerman –answered, saying, "There is a lot going on thinking about 21st century classrooms – rooms, furniture and technology. He said, "We are grappling with this." He also said the administration is trying to centralize the use of grants to fund some experimentation with space, such as Edgewood Room 18 where new furniture was installed. Furthermore, he added that the learning commons at the high school and planned spaces for elementary school students foster collaborative learning and seamlessly integrate eating and learning for all age children.
At the public forum, two residents questioned plans to replace the turf field at Butler Field with another synthetic surface. Ron Schulhof said he had safety concerns about the turf which is made of "crumb rubber," that is made from tire and car tires. He said that kids get scraped and burned from the turf and that it emits harmful gases. He asked the Board to do some research on the surface and find out if the risk to the kids was worth it.
Darlene Lefrancois-Haber, a doctor at Montefiore agreed saying that "Injuries are much more frequent on turf fields," and said, "It would be reckless to proceed with this." She said that the "EPA is conducting a major survey and we now have the data." She told the board that the turf is filled with "carcinogens, lead, chemicals and heavy metals that are prohibited from being disposed of in landfills." She urged the board to "Do what's right for the kids."
Leah Dembitzer from the LWVS of Scarsdale questioned the impact next year on a budget for this year that is $1.3 million below the tax levy limit. Stuart Mattey replied, "It doesn't put us behind but it doesn't jeopardize us going forward."
The Board will meet again on March 19 and discuss the budget at 7:30. They will adopt the budget on April 16 and the budget vote will be held on May 15.
Add a comment
School Board Approves Increased Funds For Security
Details

Category: Schools
Published on

08 March 2018

Written by

Laura Halligan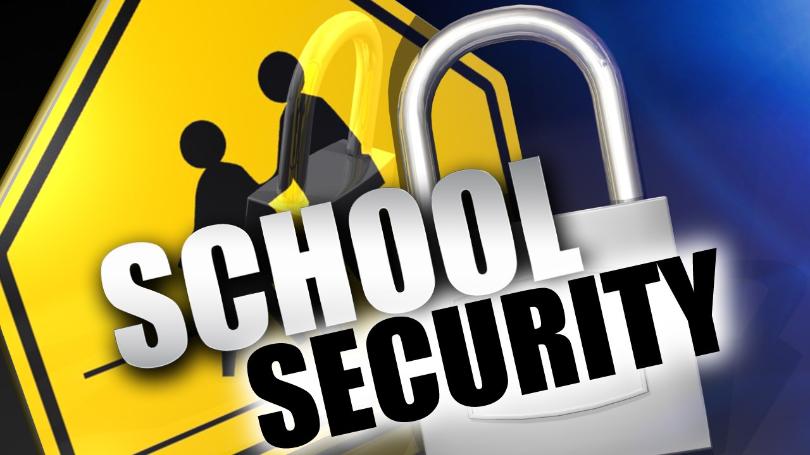 As Scarsdale struggled to recover from a state of emergency this past Monday, the Board of Education took a look at safety and security in the school district. The tragic events in Parkland, FL certainly have brought school safety to the forefront of national discussion, but Scarsdale has focused on it for years.
In fact, Scarsdale Board of Education President Bill Natbony opened this week's board meeting by saying, "The administration and board take the matter of safety very seriously, and processes and procedures have long been in place, and continue to be reviewed and revised as needed." But, what began as a timely overview of the district's safety efforts culminated in the board approving a request to spend an additional $250,000 to enhance security throughout the district and hire a new director of security to coordinate the effort.
The discussion about school safety began with board members and administrators reviewing the Westchester Putnam School Boards Association's "Safety Resolution Template," a form letter to federal and state officials that addresses government action on mental health treatment, gun control and promotion of safety measures at schools. Board Member Nina Cannon said, "It's important that the board take a stand. We're at a very pivotal moment; there is momentum for change." She continued, "To the extent we can increase... resources for mental illness and gun control, we should take a stand and I think we have backing from the community as well. " The board decided to consider the template and discuss the topic at the next meeting.
After reviewing a number of business issues, the board and administration again took up district security and safety efforts. Scarsdale Schools Superintendent Thomas Hagerman began the presentation by stating, "I want to assure the community that our thinking about safety, security and emergency preparedness did not start two or three weeks ago with a shooting in Parkland. It has been something that we've been thinking about, and attending to, and making pretty drastic changes for many years." He continued, "We are in a day and age now where violence and threats of harm... can affect you no matter where you live."
Assistant Superintendent for Business and Facilities Stuart Mattey then presented an overview of the district's work with an outside school security consultant, Altaris Consulting Group. Specifically, Altaris has assessed Scarsdale's emergency plans, response times, practices, policies and procedures, and provided an updated emergency management plan.
Looking to next steps to enhance security, the school administration proposed that Altaris continue to work with building and district-level teams on opportunities for improved security measures, and that the district would continue communication/coordination with local law enforcement, and make recommendations for funding to support a variety of building and technology safety projects on a school-by-school basis. Those recommendations include funding to support building and technology improvements (at a cost of $125,000) and hiring a director of security who would devote 100 percent attention to security matters (at a cost of $125,000).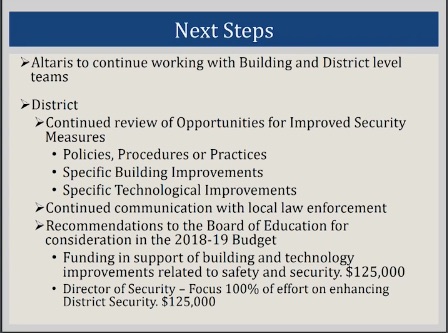 Natbony followed up by saying, "I'm pleased to see there are some funds for security in the budget... My question is that half (of the proposed amount) is designated for a director of security... I wonder if that is something that Altaris is suggesting. Is that a best practice that we see across schools? Do we spend money on a person who is doing consulting work that Altaris does, as opposed to an expenditure of funds for something more concrete?"
Mattey responded, "It is very challenging to make sure that 100 percent of our time is focused on something as important as security. If someone has a question about security and I'm not available... we need to have someone here with expertise ... someone on staff who understands buildings, (faculty) and protocols on a deeper level. "
Natbony continued, "I get that, but am still having trouble separating Altaris' role and a director of security's role, when we may be able to spend that money in a number of different ways (to enhance security)."
Board Member Lee Maude continued, "This is a very emotional topic... and everyone's very concerned, but we've been through the budget process, we have a budget book, and this is not in it... I'm going to ask if this is so important, is it more important than something else in this budget that you'd like to take out?" She also asked whether a school resource officer (SRO) would be a viable alternative to a director of security, and what were best practices across school districts.
John LaPlaca a representative from Altaris, then explained that SROs, assigned by local police departments, do not get involved in detailed security work for school districts. Typically present in high schools and/or middle schools, they are ambassadors of the police department and help students to feel comfortable with a uniformed police presence.
La Placa said, "There are a lot of moving parts when it comes to emergency planning and training that go on in a district... Even though we're accessible 24 hours a day... there's still a lot of legwork that needs to be done building to building. There are many things that have to be done, on a daily basis, a monthly basis, an annual basis that we need to coordinate with a point person."
Cannon and Natbony countered by asking about the roles of SROs in other Westchester districts and if it was better to have a dedicated SRO in light of the initiatives the district already has in place.
LaPlaca responded, "(Expanding) the SRO program would be very beneficial, it will certainly help with prevention efforts and improve relationships (among) law enforcement and students, faculty and parents... But they are completely different from directors of school security." He continued, "Many districts are considering security officers because safety and security is as important as many of the other things you do right now. (Considering) the risks that schools are faced with... there should be someone dedicated to manage the function in collaboration with consultants like us."
Hagerman added that the Scarsdale Police Department has provided the district with access to an SRO, but that the officer isn't fully assigned. "We're talking about... an individual who really knows teachers and buildings quite well, and does the high level work on processes and procedures, keeping us safe all the time."
He continued, "I hear you saying that we're at the end of our budget process, but we are waiting for community input on things and we've been getting a lot of community input around the issue of safety. We wanted to come to the board with some ideas for real changes that we would (have) a high impact for the district."
Board Member Pam Feuhrer then stated: "I think that this is a position that has been a long time coming and I support this. We're always looking for ways to improve. Now, we have detailed ways, with a consultant's overview, (and) keeping best practices at the forefront of our discussions, but we need someone on the ground, on a daily basis, to implement these changes."
After continued discussion about the pros and cons of an SRO versus a security director, Natbony said, "If you do have someone who's a designated security person, in charge of implementing... at least you have a way to enforce policies. I'm beginning to see the advantage of that."
LaPlaca and Hagerman then asserted that a director of security would evaluate and supervise safety drills and processes, and report back to the district's safety team on performance and problems. The director would be able to focus on particular, major scenarios, such as bomb threats, while ensuring compliance with basic rules and protocols, such as the importance of wearing nametags.
The public was then invited to comment. Tanya Singer (Montrose Road) said, "I know we're in communication already, but it's not enough. (We should be) beefing up the safety committee with broader input from the community before the ink dries on the consultant hire. There are things we know about vulnerabilities and we can share our point of view in a more structured way." She also asked about specific provisions for emotional health services in the budget stating, "There's a huge issue around stress and anger management; there has to be a lot of intelligence out there." Singer concluded her remarks by saying, "I think the community will support efforts to ramp security efforts up. Do we have to wait so long for security vestibules? Can we expedite that? Parents are here to help; we all want the same thing. Leverage us... the focus should be on a comprehensive and accelerated plan."
Richard Pinto (Overhill Road) said, "What I've heard tonight is encouraging and well thought out. I have one observation... when you don't have communication, that's where a lot of issues happen... From a holistic view, a security director should outline the communication process. When Trustee Veron posted to Scarsdale Moms about power outages, it calmed people down (because of her role in the village). Social media is where we are, and parents are on Facebook, so whether it's working with page admins or assigning someone to post, communication is something that needs to be considered as part of the multilevel process. If you do emergency planning without communications, there will be problems."
La Placa responded, "I agree with (Mr. Pinto's) statement. Many people get their information from social media. One of the things we teach is to get information out there and often. The community wants to know the district is on top of things."
* * *
The Board then proceeded with its scheduled 2018-19 budget study session #4, which featured a full review of the draft budget. The budget was relatively unchanged since the previous study session, save the new request for a $250,000 security allocation. With all board members recognizing the importance of safety and improving security within the district where possible, it unanimously approved allocating the funds in the proposed budget. The district is now asked to determine if the cost will be simply a budget add-on, of if another line item will be reduced by $250,000. Several board members suggested reducing reserves to cover the cost, thereby having no impact on tax levy or other planned expenditures.
Add a comment
School Board Considers Budget Process, Staffing and 2018-19 Calendar at Feb. 12 Meeting
Details

Category: Schools
Published on

14 February 2018

Written by

Joanne Wallenstein

Though voters approved a $64.9 million Scarsdale Schools bond, the words of the League of Women Voters, who opposed the bond, are still on the minds of some members of the Board of Education. In a statement made before the vote, the League concluded that "the process for the development of this Bond was flawed and thus undermined the League's confidence in the result."
At the February 12, 2018 meeting of the Board, Board member Art Rublin, who has decided not to run for a second term said it was a "good thing" that the bond passed, but had reservations about how the Board engaged with the community.
He said, "I think we would be making a mistake if we interpreted last Thursday's vote as a community endorsement of how we went about putting the bond package proposal together, or a community endorsement of how we have been conducting our business with respect to our treasured Scarsdale school district. As an initial matter – I think it is noteworthy that over one-third of voters – almost 700 voters – voted No. That No vote is larger than many of the total Yes votes Scarsdale has seen on budgets. But holding aside the number of No votes: I share many of the concerns that Mr. Morin has raised regarding the process we undertook with respect to the bond proposal – and I believe many other Yes voters do as well. While I reached a different conclusion than the League of Women Voters of Scarsdale with respect to supporting the bond proposal, I believe that the League raised some good points regarding flaws in our bond development process. And I believe that the recommendations that the League made for a new bond process if the bond failed are well worth our taking seriously with respect to all of the work we do."
He continued saying, "I think we can do a much better job reaching out to the community and working to incorporate input. To be sure, we always have two period of public comment at our business meetings; we had a number of public fora regarding the bond proposal; and we invite people to write to us. But I don't think we should rely on formal settings like our Board meetings, when people have to make childcare plans and such to drive here and then have to speak on television for no more than 3 minutes. And I think that too much of our outreach beyond Board meetings – for example, the Greenacres Building Committee and District-wide Facilities Committee convened in the middle of last year -- came too late in the process, when arguably the die was cast. Using the budget we are discussing right now as an example – I think it would be good if we could find ways in the short term to do outreach outside the Board room to solicit community members' views BEFORE we propose a Budget to the community. Another example – just as focus groups were used for the Superintendent search before Dr. Hagerman was brought on, perhaps focus groups should be organized to solicit community members' views regarding the District's search for a new Assistant Superintendent for Curriculum and Instruction – to supplement the survey sent to parents last week."
Rublin's comments sparked considerable discussion among the Board members and Dr. Hagerman about whether the agreed upon budget planning schedule allowed ample opportunity for public input. During the public comments section of the meeting, Leah Dembitzer, speaking for the League of Women Voters of Scarsdale asked, "Do you have any board meetings schedule between March 19 and April 16? She was inquiring about whether there would be any opportunity for public comment between the last budget study forum on March 19 and the formal adoption of the 2018-19 budget on April 16.
Board members had varying opinions on the need for more outreach. In a long discussion, here are some of the comments that were made, however, you can watch the discussion yourself here.
Lee Maude suggested that Board President Natbony send out an email asking for input, and he agreed, saying, "Perhaps this is the time to let the community know that we look forward to hearing from individuals. At these forums we hear the same people speak, and they speak for themselves." Chris Morin said, "We should solicit input. There is not much that is controversial. I will be surprised if there are hot button issues here." Nina Cannon said, "We have our meeting tonight – we don't meet again until March 5. There are ways to get input. The community would like the opportunity to speak before we say this is set in stone." Pam Feuhrer thought that in the weeks between the March 5 meeting and the March 19 forum, groups like the LWVS, Scarsdale Forum and PT Council would have time to formulate their statements and present them on March 19. Commenting on the need for more meetings, Board Vice President Scott Silberfein said, "We have been here for two hours talking about the budget. I think we've already had two hours of discussion."
Dr. Hagerman believed that the budget recommendation already represented the views of the community and was concerned about receiving comments about a budget that was not yet finalized. He said, "For us, the budget discussion starts as soon as we pass the prior one. We talked about food services for the better part of two years. These pieces represent the larger community view. We feel like this represents the best thinking of the community after internal vetting."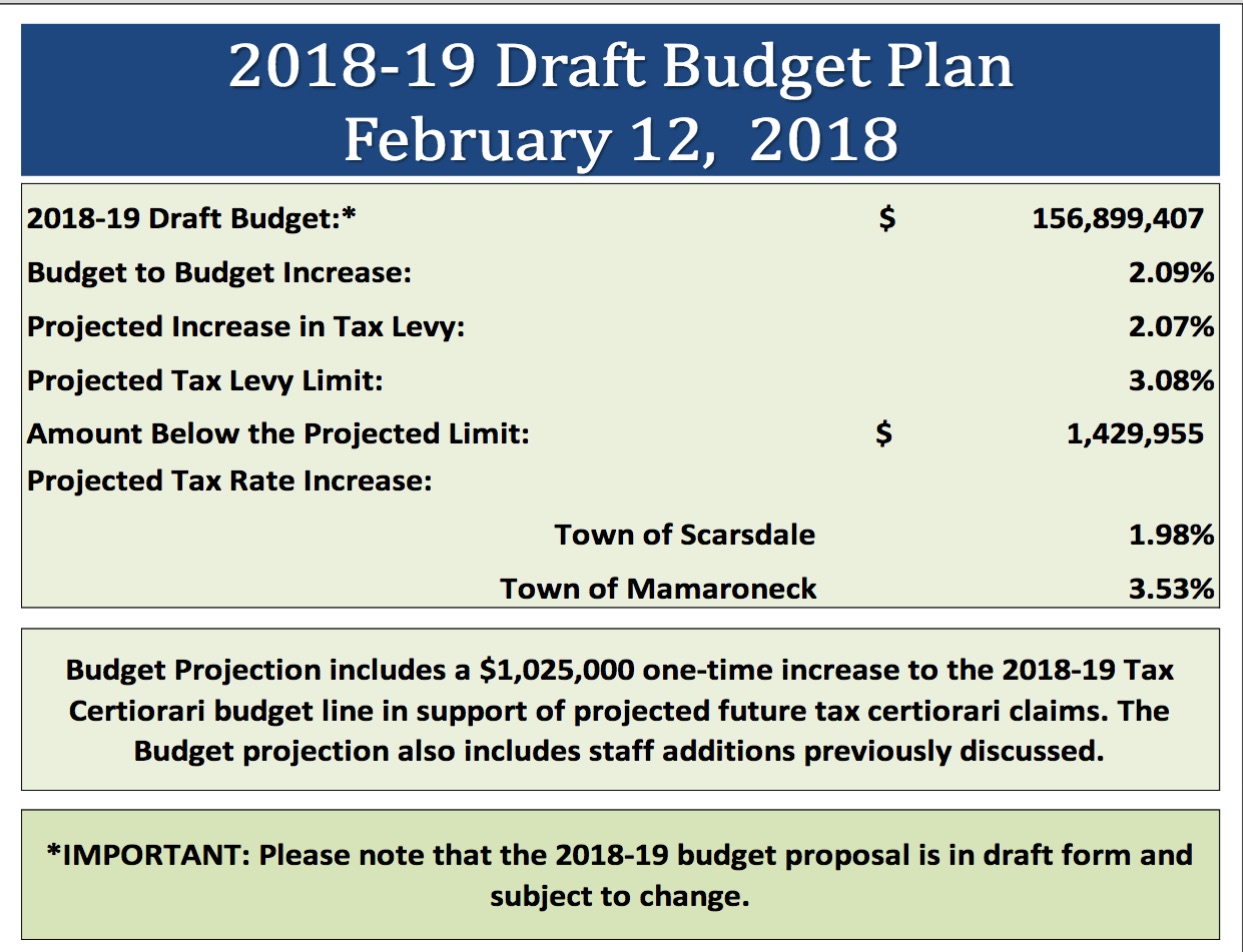 The conversation than turned to the 2018-19 budget which has now been modified and is currently estimated to go up 1.98% for Scarsdale residents and 3.53% for those in the Mamaroneck strip.
A question arose about including $220,000 in the budget for two provisional elementary school teachers to maintain class sizes at 22 students for grades K-3 and 24 students for grades 4 and 5. As it stands now, if enrollment rises between the time the budget is finalized and the August 15 deadline and more teachers are needed, the expense would have to be absorbed from other budget lines.
Rublin commented on the fact that there was the potential for five elementary school classes to go above the cap next year and said, "In terms of additions, I think it might be good to have some extra full time employees (FTE's) to maintain class sizes.... I am concerned about a tweak in our policy that permits co-taught classes to go 2 students over. I am concerned about going over 24 in these classes. ... We would need to come up with $220,000.... Mr. Mattey doesn't recommend using the surplus to fund additional positions. I would hate to spend money on Butler Field if we don't have $220,000 to fund teachers."
Commenting on the two contingency FTE's, Chris Morin said, "I have no concerns." Pam Feuhrer said, "Stuart – you will take that money from somewhere else –if it's (the enrollment) is more on August 15. I don't want to put the $220,000 in if we don't have to. But I don't want to adjust the facilities budget to hit a specific budget number.
Lee Maude objected, saying, "I have seen sandbagging – or very conservative budgeting with reserves in some areas. I have seen us have to find the money, and the money is there. I have seen some transfers. There always seems to be enough. I am concerned about over taxation and creating these "phantom positions." Once they were in, they got used. In terms of co-taught classes going above the cap, I am comfortable with that. The children are going at their own pace. There are two teachers in the room. I don't share Art's view."
Bill Natbony said, "Keeping class size is a priority. I understand Art's concern about adding contingent positions, and added, "I share Ms. Maude's view on class size."
In other business, the administration proposed a second version of the 2018-2019 school calendar which you can see here:
It calls for the staff to return to school on Wednesday August 28 and Thursday August 29, with school opening on Tuesday September 4, the day after Labor Day. Since school would not end until Wednesday June 26, 2019, there would be a long winter break, extending from Monday December 24 through Monday January 7, 2019.

Proposed 2018-19 School Calendar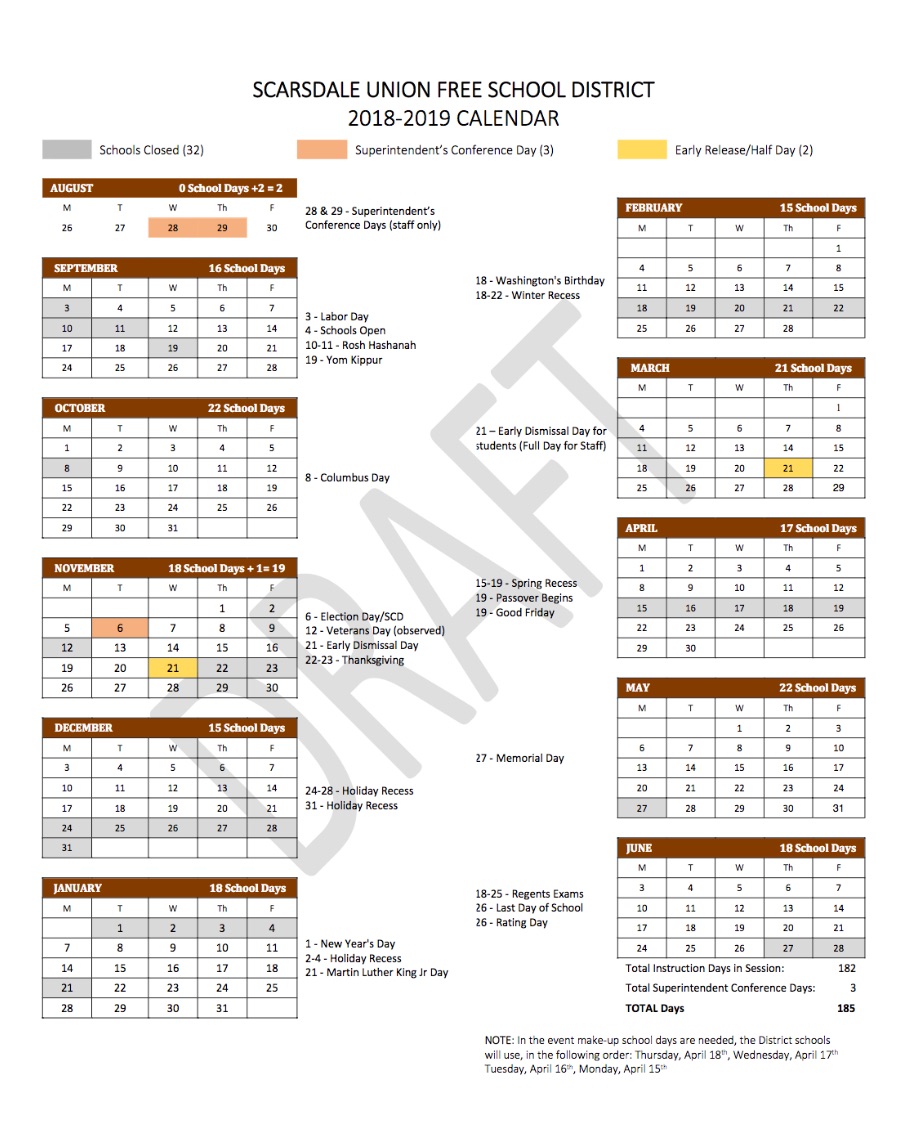 Add a comment
Why the Revolving Door at the SHS Athletic Department?
Details

Category: Schools
Published on

27 February 2018

Written by

Joanne Wallenstein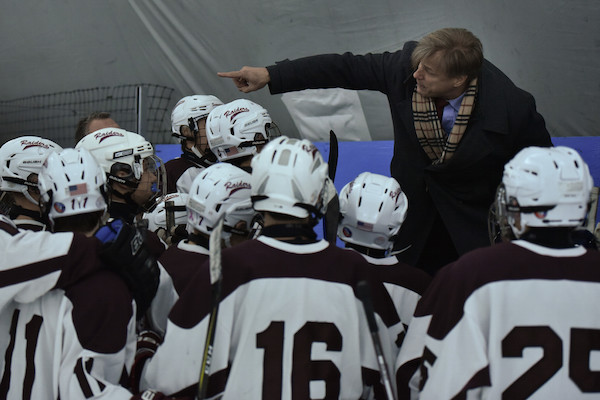 What's going on with the coaches at Scarsdale High School? Are the departures a string of unrelated incidents or part of an organized shift in policy? It's hard to know.
In the past few weeks, the SHS Athletic Department has undergone a major upheaval. On February 8, SHS Boys Varsity Basketball Coach Billy Murphy was dismissed suddenly with only a few games remaining in the season.
That same day the community learned that sisters Genette and Gail Zonghetti, who coached the girls' lacrosse team, had also been fired. Head Field Hockey Coach Sharon Rosenthal, who coached for 18 years and attended the Scarsdale School herself, resigned in protest as the Zhongettis served as assistants for field hockey. That left the lacrosse team with no leadership for the spring season and the future of the field hockey team in question. With lacrosse coaches in demand all over Westchester, the Zonghettis received multiple offers to coach and accepted positions at Bronxville just a few days later.
And if that wasn't enough, on Tuesday February 20 we learned that head ice hockey coach Coach Kevin Wright would not be returning for another season. Did he resign for personal reasons or was he pressured to do so?
Why the revolving door? We asked some SHS parents whose children have been involved in the athletic program for their views on the reasons behind the departures.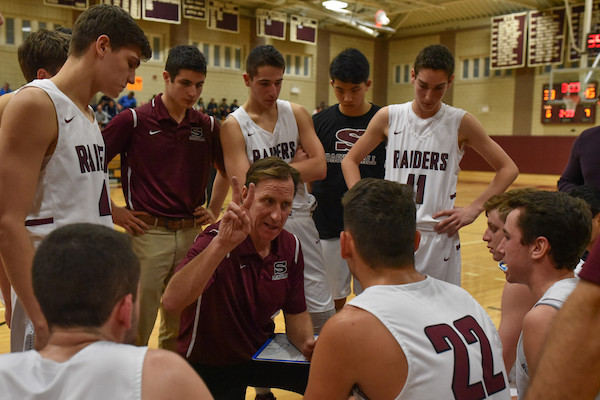 Kathy Coleman, a former President of sports booster organization Maroon and White answered our questions about the situation:
Why do you think that the school is losing so many coaches in such a short period of time? What are the issues that are arising?
I believe each situation had its own unique circumstances and its unfortunate, from a perception standpoint, that the changes happened in two clusters. Some of these terminations may have been justified but I believe the root of this is parent complaints. When I say parent complaints, I am not referring to someone who makes one call. I am referring to people who continue up the chain of command in an effort to get their way. By itself, parent input is not a bad thing; parents should have the opportunity to provide feedback. While I was co-president of M&W, we worked with Ray and the district to establish an evaluation system for coaches. It was designed so that the students could send an evaluation and the parents another. We strived to avoid having the parents completing the students' form. I'm not sure this has been followed through on but I could be wrong. I recall that some coaches were hesitant about putting this in place but we argued that you would now hear about the positive experiences as well as the negatives. Typically, all anyone hears are the negatives. We felt this would provide Ray with good data for evaluating and training coaches and we certainly didn't expect any changes based on the initial set of reviews. I don't believe any of the actual changes were based on these reviews but I mention them because I think it is important that this be put in to place and used in the future to avoid the circumstance we now find ourselves in. This would set exceptions for coaches and for parents and students, as well. If a termination happened following the system, it wouldn't be a surprise to everyone.
As far as you know, are there new rules or policies regarding the conduct of coaches?
Nothing new that I'm aware of. I will say that in the past, it seemed that coaches were just renewed for the most part when in reality, they are on one year contracts. I don't think the general public realizes this when reacting to the changes. But you can appreciate that a coach with several years of service would expect to be renewed absent of any feedback about their performance.
Do you think these decisions were made by Ray Pappalardi or the school administration? Do you think that the coaches were given the opportunity to state their side of the issues?
Based on what I read from some of the coaches, no, they weren't given the opportunity to state their side but what employee is during a termination? By the time you get to that conversation, there is no turning back which is why its important to have feedback, evaluations and expectations going forward. And, no, I don't believe this is all Ray's doing.
Has the school given answers as to why so many were terminated?
No, and they don't have to and I support that. Again, just because they all seem to have happened at the same time, doesn't mean they are all identical circumstances.
Are parents assuming a more active role in evaluating the coaches and supervising teams?
Yes, I believe there are too many parents too involved in influencing and the district needs to draw a line in the sand on this. Set a policy of expectations and stick by it. The district has a very qualified and capable Athletic Director, let him do his job.
David Stafford is the father of a Varsity Soccer player and a keen observer of the SHS atheltic program. He said, "In my view a high school coach should try to meet three objectives – create a positive environment for the players such that they enjoy their experience; treat all team members respectfully and fairly; and get the most out of the talent on the team in the pursuit of wins. Sometimes these three objectives can conflict. High school sports are competitive – it's not rec league anymore and especially in a place like Scarsdale where sometimes parents get directly involved, reconciling these three objectives can be difficult. I don't have any insight on the circumstances of any of the recent departures, but stability within leadership is important. The recent spate of coaching departures is unsettling for those of us in the community who view high school sports as an important aspect of the academic experience."
Bob Koch is a Scarsdale dad who played football and lacrosse as a Scarsdale student. He is passionate about high school sports and has been a coach and is a founding board member of the Scarsdale Youth Lacrosse Association. His son is on the Varsity Hockey Team. Koch had much to share; here is what he said:
"The school is not losing any coaches. The school has decided that the coaches who are re-hired each year are not good fits for our programs. Despite the coaches claims that they were not given any reasons for their dismissals I believe the comments and complaints over the years were likely communicated to the various coaches. Perhaps not at the time of firing but as I stated the school can decide to go in another direction just as the coaches can make that same decision. This happens in any business. You need to believe that these decisions were either made because of some major action or because of a pattern of behavior not consistent with what our AD believes represents our schools. The timing of some of the decisions might be called into question but I believe easily justified. The administration isn't trying to fire coaches."
About the role of parents in the program, Koch said, "I don't think Scarsdale parents are more active than other towns. If there are constant complaints from starting players, bench player and upper and lower classmen and you can see a pattern of behavior there should be a venue to voice those grievances. Issues about playing time, strategic decisions and cuts are sometimes hard to deal with for our kids but when the other parts of the coaching seems to be working we don't hear that much about it. If you couple consistent bad behavior with these player issues than parents will get more vocal.
I would also like to add that prior to any parent involvement, players should advocate for themselves. Especially when it relates to playing time, cuts and feelings of being singled-out. Our coaches should have honest and constructive answers to help our players develop and improve our sports programs. Some of these decisions may not end up changing a player's status but players, parents and the administration need to respect the coaches. This assumes the coaches are assessing players on skill and attitude and not other personal issues."
I do think coach turnover occurs and when there is a new Athletic Director it can become acute. I think Harrison had a new Athletic Director a few years ago and turned over several coaches.
With that said, I think there were many things at play in Scarsdale that can be improved. I only have parts of stories but I think many would agree that some of the coaches actions warranted dismissal (pay to play, 1on 1 coach "tutoring", drinking while driving (whether 1 or 5 beers), players being called out to play with mono?
At what point do we cross the line? It's not all spelled out and it can't all be spelled out. I do believe our coaches were dismissed for reasons far more egregious than the issues mentioned here. With Hockey Coach Wright, I think he wanted to try out coaching high school hockey and realized he could not give 200% to the players and the program. Despite the drama about his ejection, it was the right call for all involved.
Our sports programs should be designed to create winning teams but all players should feel supported and receive the tremendous life lessons from their athletic participation. That sometimes means persevering through tough choices. Kudos to our basketball players who bounced back and finished the season on a strong note. There were life lessons from that experience for sure."
What are your thoughts on these unexpected exits. Are parents too involved? Are coaches not receiving adequate support? How will the district attract top rate talent in the future?
Post your comments below.
Add a comment
School Bond Referendum Passes with 65% Voter Approval
Details

Category: Schools
Published on

08 February 2018

Written by

Joanne Wallenstein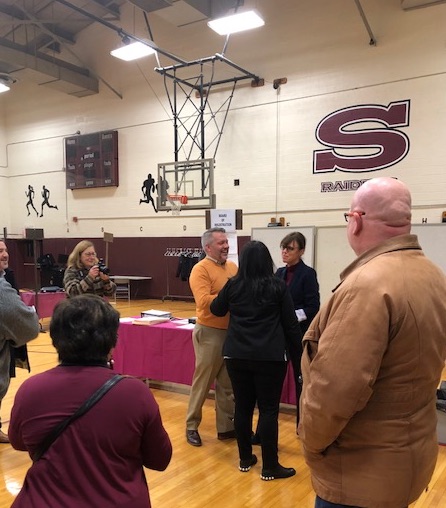 After a protracted and contentious community debate, the $64.9 million bond to finance a renovation and expansion of Greenacres Elementary School and infrastructure improvements at all district schools passed with 65% voter approval.
Participation in the referendum was high, bringing out a total of 1,920 votes, with 1,253 voting yes and 667 voting no. These counts include100 absentee ballots.

Voting was brisk, especially in the evening hours when a PTA presentation about vaping brought parents to the school.
Scarsdale School Superintendent Dr.Thomas Hagerman and six of the seven board members were present along with PTA leaders, Stuart Mattey, John Trenholm, Eric Rauschenbach, Jerry Crisci, Rachel Moseley and Vicki Presser. Former School Board President Suzanne Seiden supervised the vote. All appeared relieved and pleased to hear the results. Dr. Hagerman thanked the volunteers "from the bottom of my heart" and said he appreciated their efforts on behalf of the children of the district.
Board President Bill Natbony thanked everyone who worked hard and said there were "tough projects in front of them" and that he "looked forward to working with all community stakeholders in the spirit of making Scarsdale Schools better."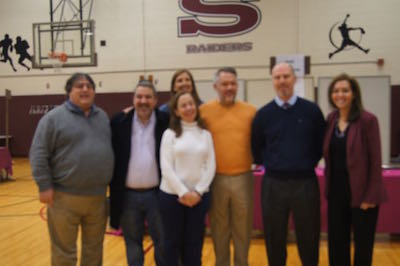 This was Dr. Hagerman's second bond referendum in his three and a half years in Scarsdale. In December 2014, the community passed an $18.12 million referendum with an 82% approval rate on 908 votes. This year, more than double the voters turned out to vote on the largest bond referendum in Scarsdale's history, which passed by narrower margins than usual.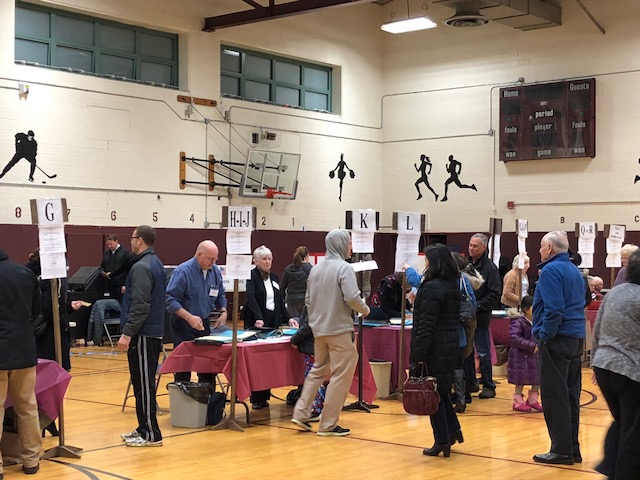 Add a comment