Former Dean Michael Gibbs Leaves Lasting Impact on Scarsdale High School
Details

Category: Schools
Published on

26 July 2017

Written by

Emmeline Berridge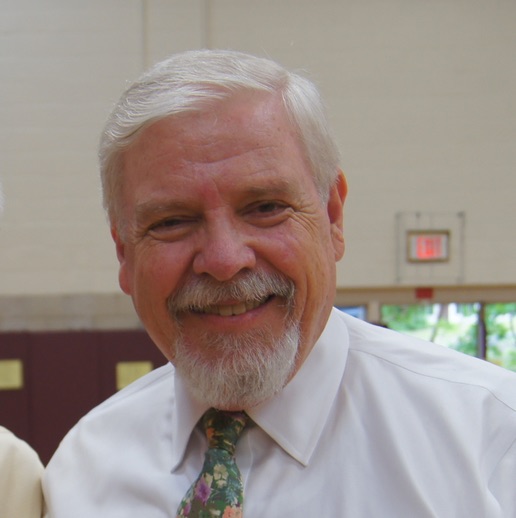 Anyone who has met Dean Michael Gibbs will likely note his warm smile and jolly disposition. Gibbs has been a dean of counseling at Scarsdale High School for over 30 years. "Dean Gibbs has been pivotal in my high school career thus far," noted rising Junior student Emma Cahaly. "He has not only helped me to get to know the high school, but he is also such a supportive mentor." Many of Gibbs' students echo the same sentiments, pointing out his welcoming approach to the incoming freshman and his desire to cultivate relationships with each of his 300 students. Gibbs finished his final year at the high school this past year (2016-17), and he has retired effective the end of the school year.
Gibbs' impact on the Scarsdale community is palpable. Besides providing a mentor for students to talk to, Gibbs has created an atmosphere of meaningful relationships and respect through his Civic Education program. Civic Education, commonly known as "Civ Ed," is a mentoring program between upperclassmen advisors and freshmen students. Dean Gibbs takes a hands-on approach with Civ Ed, ensuring that the group creates a cohesive community that supports one another. "Civ Ed has changed my high school experience and my view on high school in general," mentioned rising Senior Lily Steckel. "Dean Gibbs has done such an amazing job creating a community in the school where I feel comfortable. It is so easy to feel alone in a school this big." It is clear to see how much Dean Gibbs' students have learned from him. However, I was curious to know what Gibbs has learned from his experience at Scarsdale. As I had the chance to sit down with him and ask this question, Gibbs said he has learned that "this extraordinarily gifted student body has most of the answers they need within themselves, and if they trust themselves to ponder those answers they will find them." Gibbs also mentioned that this idea is easier said than done. "Ignorance frightens you. And what you don't know scares you. And things outside of your control scare you." This acute awareness of the minds of high school students contributes to Dean Gibbs' success as a counselor.
When I asked what his plans are for retirement, he said that he will travel with his wife. But first, he hopes to "let the alarm clock ring on the first day of the school year, hit snooze, and go back to sleep." This luxury is well deserved for the many years of impactful contributions to Scarsdale students and faculty. As the counseling department loses its oldest member, a new face will join the team of deans. Dean Aaron Mooney, previously a Senior Assistant director for regional enrollment at Miami University of Ohio, will replace Michael Gibbs in the fall. Mooney was a school counselor at Bishop Chatard High School in Indiana prior to working at Miami of Ohio.
Gibbs' presence at the High School next year will be greatly missed by his students and colleagues. His enthusiastic approach to learning and forming relationships within the high school set him apart from a conventional counselor. When asked what advice he would give to his students for the coming years, Gibbs said that "If you stop and think, you've got it. At least that's what I think. And that's a cool thing to have learned from you guys." Finally, Dean Gibbs added this remark to end our conversation: "People ask me all the time, because I work in a high school, are you afraid for the future of our country? And I say no, not at all. I am confident that if these kids are going to be our leaders, then we have nothing to worry about."
School Board Speeds to a Decision on Greenacres -- But Is It The Right One?
Details

Category: Schools
Published on

11 July 2017

Written by

Joanne Wallenstein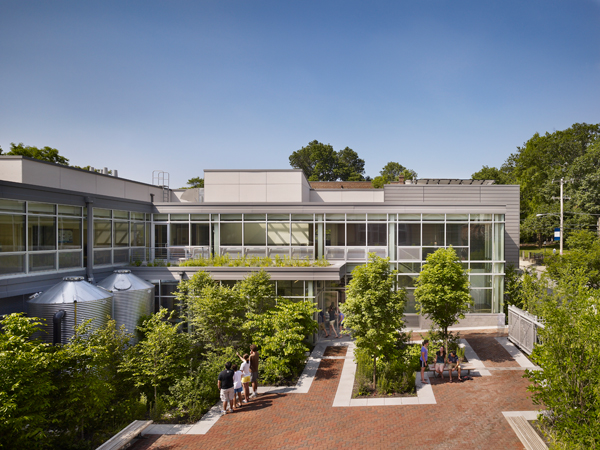 (This is the opinion of site founder Joanne Wallenstein) The Scarsdale School Board and administration have reached a hasty decision on proposed projects for a $64.88 million bond referendum for the Scarsdale schools, now planned for December, 2017.
After a five hour discussion at a daytime meeting on July 6, the school board gave the administration the go ahead to continue to pursue a $33 million renovation and expansion at the Greenacres School as well as $29 million in priority 1,2 and 3 items to other district schools. A list of which projects would be included in the $29 million was not available at the meeting. The plan calls for $7 million in facilities work to the existing Greenacres school building for a total of $40 million on Greenacres alone.
The decision brought some closure to a lengthy discussion about the future of Greenacres School and removed the option of the construction of a new school on the field. The administration presented documentation, questions and answers, rough layouts and numbers to back up the proposal. Dr. Hagerman and Assistant Superintendent Stuart Mattey argued that they had answered the outstanding questions about Greenacres and that the solution presented by BBS addressed community needs.
But have they answered all the questions and do they have the right solution?
At the previous meeting on June 20 then Board Vice President, now President Bill Natbony, asked the administration for three analyses in order to make a decision on Greenacres:
They were:
A long-term comparison of the costs of a new school vs. a renovation at Greenacres including financing, state aid and energy savings. Maintenance costs for the renovated building should also be factored in.

An analysis of where students will be sited during a renovation, whether it be inside the school, in trailers or in other locations.

A traffic study detailing the mechanics of student drop-off and pick up at a renovated Greenacres School.
At the time, Natbony assured the public that the board was listening to them and some Greenacres residents were pleased that this information would be provided to facilitate sound decision-making. However, at the July 6 meeting, though the school board supported the administration's recommendation, they did so without the benefit of any of the promised analyses.
New vs. Renovation:
The analysis of the long-term costs of a new school versus a renovation turned out to have numerical errors that misstated the differences in the long-term costs of a new building at varying interest rates. In addition, though the board was given an estimate by a competing architecture firm for a new school at a cost of $44 million, and an estimate from former district architects KG&D for $52 million, the administration chose instead to do their analysis using a cost of $60 million which was over $800 per square foot. The administration previously said that they had retained a financial advisory firm to produce the analysis, but the questionable numbers were provided by the administration, with no input from financial advisors.
Several residents who work in construction and real estate believed that $800 a square foot far exceeded the true cost of a new school. However, even with this erroneous analysis and questionable underlying assumptions, the board voted in favor of a renovation and to dismiss any consideration of a new school arguing that it would be too costly.
Student Placement During a Renovation:
The Board previously requested a more thorough analysis of the logistics and costs of educating children during the 26-month to three-year renovation. If the kids were to be inside the school, how would they be protected from construction hazards? If they were to be in trailers, what would be the cost of those trailers? Or if they students were to be sent elsewhere, where would they go and at what cost? At the meeting, the architects put a placeholder of $1.5 million in the budget for trailers but did not specify how many students would need to be displaced or for how long.
Traffic, Pick-up and Parking:
Student safety was one of the key issues at the school identified in a 2015 feasibility study. The siting of the school across the street from the playgrounds and fields has been a perennial problem at Greenacres, along with the lack of a proper drop-off and pick-up driveway. Again, the administration provided no such analysis. Roger Smith at BBS indicated that he had not even examined the issue, when he said, "I think you pick up your little ones on Putnam Road." In fact, children are dropped off and picked up at all three entrances to the school on Putnam Road, Huntington Avenue and Sage Terrace. Furthermore, an earlier site plan had shown a row of parking spaces on Huntington Avenue, which would require students to cross the street and traverse a parking lot to get to the play areas opposite the school. This issue was not discussed and the Board voted yes despite the lack of this deliverable. With school out of session, the analysis will need to wait for the fall.
What other contradictions and conflicts surfaced at the meeting?
Though the administration previously acknowledged that the existing building had significant issues with moisture, and photos of bubbling and paint and leaks surfaced last year, they now claim there have been no problems since 2011.
Here is the wording from an update from the administration along with photos from the prior engineers report:
What About Moisture or Mold in the Building?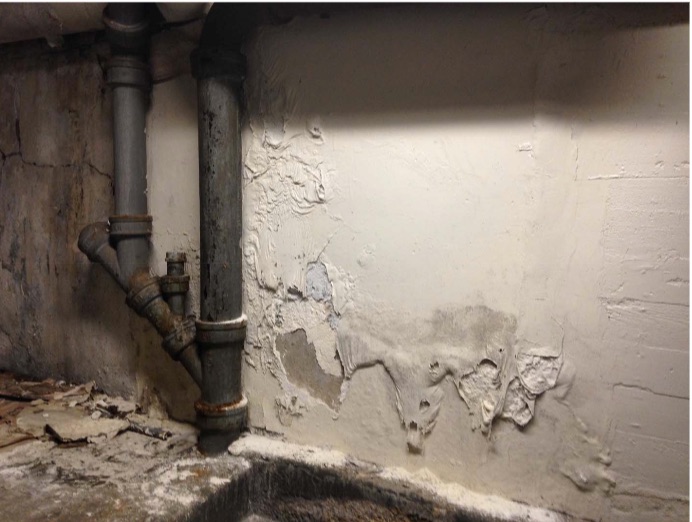 "A major challenge facing Greenacres is moisture. The dirt crawl spaces and basement underneath the building generate significant humidity, which is controlled through the constant use of dehumidifiers. Without this continuous monitoring and mitigating, this moisture could result in serious issues affecting air quality, structural integrity, and maintenance. It should be noted that repeated testing by both District staff and outside consultants has shown that there is no significant mold problem at this time. Concerns about mold throughout the District are addressed with inspections from outside experts."
Justifying the current renovation plan, the administration says they will now move all students out of the lower level and address the issue with commercial dehumidifiers. As owners of old houses, many residents are questioning why the district would spend $37 million renovating a school with a leaky and possibly moldy foundation.
Pipes: Earlier this year the district released reports showing unacceptably high lead levels in the water at Greenacres and several other schools. These were remediated by placing filters on sinks and water fountains. The new plans do not call for the replacement of all the pipes in the building. Therefore, the water supply in the school will continue to be problematic.
Building Structure: Architect Roger Smith maintains that Greenacres' "Old bones are in good shape." When a resident asked for a report to back up the claim about the condition of the 100-plus year old building he was told that there are no reports and the claim was based on "intensive visual inspection."
Fire sprinklers: The FAQ distributed by the district includes a question about the lack of fire sprinklers but fails to provide an answer. See page 27. The administration says since the old school is grandfathered by the state, the district is not required to bring the rest of the building up to code and fire sprinklers will not be installed in the existing portions of the building. However, an earlier report from KG&D seems to contradict this claim, saying, "If a substantial renovation is anticipated any renovation that has a "work area" that exceeds 50% of the building (Level 3 Alterations as defined by the NYS Code) will trigger upgrades to meet most of the current code as if you were constructing a new building."

Priorities at other buildings:
The Superintendent repeatedly stated that the responsible way to spend this bond would be to do a limited renovation to Greenacres and spend the rest on repairs at the other schools. To that end BBS did an extensive facilities survey and graded proposed repairs on a scale of 1-5, with one being the highest priority. However, no justification was given for which priority 2 and 3 items were chosen for the bond. While previous facilities decisions were the work of representative building committees, decisions on these priorities were made solely by the administration.
BBS Architects initially said only Priority 1A items were required to meet code, regulation or law; but now Dr. Hagerman is saying that the districts needs to do all Priority items 1, 2 and some 3s "for health and safety" reasons.
In fact, the total of the priority 1 and 2 work proposed for all schools except Greenacres, comes to $18.6 million. If the district could do a $70 million bond offering, there would still be $51 million for a new school at Greenacres. This was not discussed.
In addition, many of the repairs at the other buildings are traditionally funded out of the district's operating budget. There is little precedent in Scarsdale for using bond offerings to solely fund repair work. Bonds have been used to pay for improvements and additions as detailed in the administrations handout at the meeting.
Building design and setback: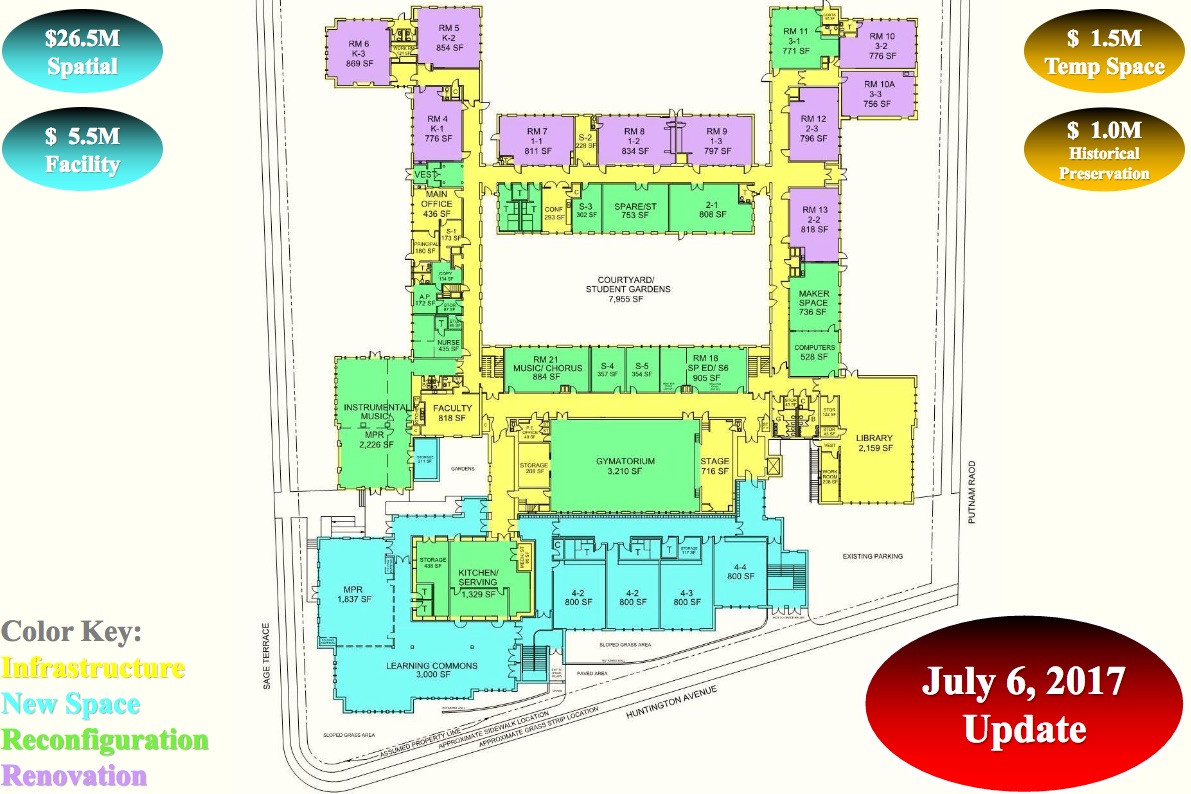 Architects BBS provided no building elevations or design details for the addition at Greenacres. From the site plan it was evident that the mass of the building would greatly increase, the gym will be surrounded by new classrooms and have no windows and there would be far more interior spaces without natural light or cross ventilation.
The building will extend to the curb along Huntington Avenue and Sage Terrace, despite the requirement for 30-foot setbacks for homes in the neighborhood. The three-story building along Huntington Avenue will loom over the street and there will be very limited space to enter or exit the school. Despite the lack of detail the Board voted affirmatively to move ahead with the renovation.
The decision was cheered by a group of residents who had argued to save Greenacres field. But representatives from the League of Women Voters, environmentalists and parents of children at the school were surprised that the board had voted to eliminate consideration of a new school without weighing what they considered to be vital information.
They point out that the main theme of this bond proposal is to ensure student "health and safety," yet, the prime health and safety issues at Greenacres will not be addressed by the renovation/expansion. Greencres will still have traffic issues; students will still need to cross a road to access the playground and navigate what is to become a parking lot to access the play area.
It's not clear whether a bond that fails to address many key issues at Greenacres School will be supported by Greenacres residents or the wider community.
The next meeting of the Board of Education will also be held when many are out of town, this time on August 24.
The Centennial Graduation at Scarsdale High School
Details

Category: Schools
Published on

26 June 2017

Written by

Joanne Wallenstein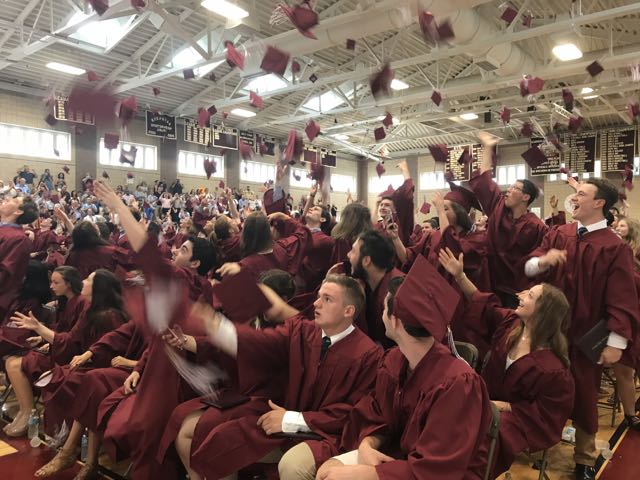 Threats of thundershowers brought the graduation for the SHS Class of 2017 indoors but did not dampen the spirits of the happy seniors and their family and friends. Almost 400 students graduated in the 100th commencement exercise at Scarsdale High School on Friday June 23, 2017. Due to the weather, each student was given two tickets for admission to the gym, with the overflow crowd watching the ceremonies on a large screen in the auditorium. In the end, the rain did not start until well after the ceremony, giving everyone a chance for family photos outside.
The class assembled for the last time for a group picture,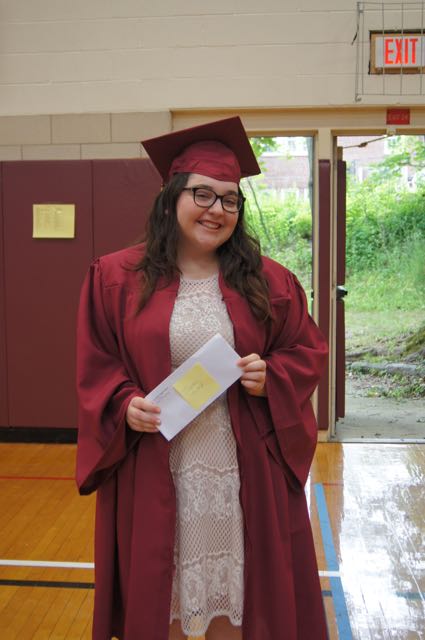 and SHS Senior Caroline Kaufman was presented with the Henry David Thoreau award for marching to the beat of a different drum. Sabeen Khan explained that the class would mark the centennial by burying a time capsule in the new courtyard to be built at the school. She had collected memorabilia including ten memes from the freshmen class, a Raiders jersey from the sophomores and the New York Times from the juniors. The seniors voted to include an iPhone. The time capsule will be unearthed one hundred years from now in the year 3017.
Lee Maude, who is just completing two years as President of the Scarsdale School Board welcomed the crowd and congratulated parents on the "extraordinary effort that that got (your) kids here today. She told students that they will take the Scarsdale High School experience with them and advised them to work collaboratively, to maintain lifelong relationships with friends, teachers, coaches and mentors and to use what they have learned to "engage in the world as a productive and informed citizen." She asked them to "listen, consider all views and engage in civil conversation" and to live the motto, "Non Sibi." Maude also encouraged the grads to wander off the beaten path, try new subjects, experience the unknowns and "all that life has to offer."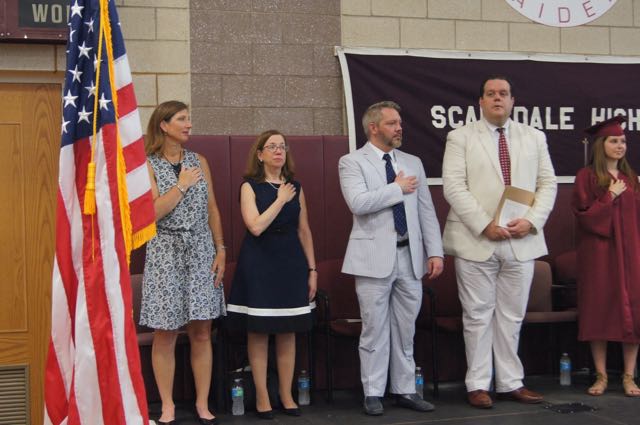 Class Treasurers Chloe Suzman and Zach Gelles introduced the class faculty advisor Eileen Cagner and Heather Waters, calling them the "dynamic duo" who led the class with patience and passion.
The advisors' enthusiasm for the class was clear. Waters exclaimed, "You did it, and you did it with style!" They complimented the students on their dance moves, their sense of community and service to others. They advised them to be kind to themselves and to others and to be nice and stay positive. Quoting from Willy Wonka, the senior class play, Cagner said:
"If you want to view paradise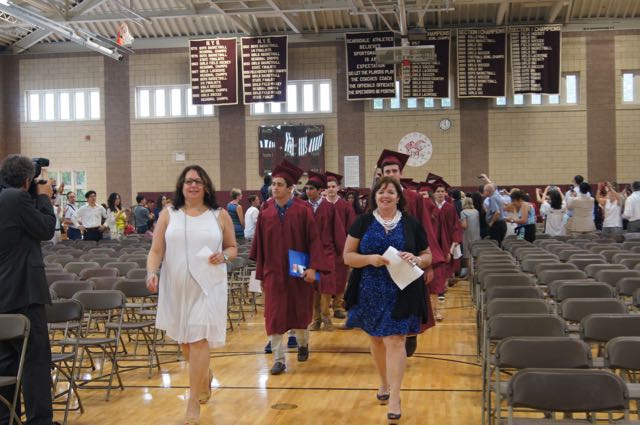 Simply look around and view it
Anything you want to, do it
Wanta change the world?
There's nothing to it"
Class President Alex Lane noted the inclusivity of the class, saying, "We found a way to come together. We went beyond our core group of friends and bonded with others." At the prom he noticed, "Crazy inclusivity and togetherness." He said, "I hope that wherever you end up you find a way to feel exactly as I do now. I hope your find a web of special people. I am grateful that you have been part of my web."
SHS Principal Ken Bonamo looked back on Scarsdale history 100 years ago, explaining that women did not have the right to vote, less than a third of adolescents were in school and the word "teenager" had not yet been invented. He told the students that they would be called on to face the next big problems and said that commencement marked "the beginning of the phase when more will be asked of you to make the world a better place." He continued, "All of us gathered here today have the shared hope that you will have a life of intellectual engagement, a life filled with purpose, a life filled with love... Leave a legacy of love... Look at yourselves and love what you see. ... Infuse love in your work, in your relationships and in your self regard. Bonamo parting words were, "I wish you all a wonderful graduation day and health and happiness in the future."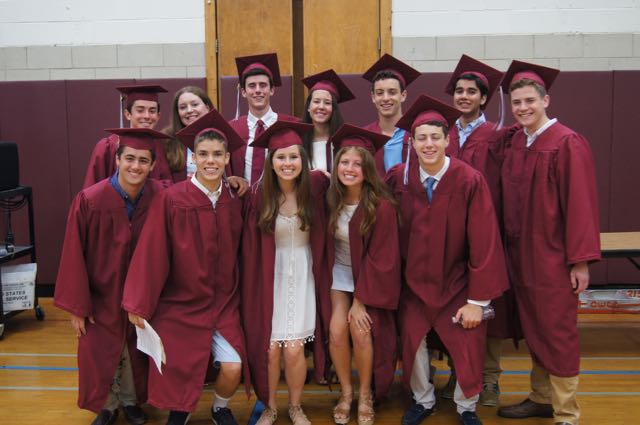 With that, Superintendent Thomas Hagerman asked, "Have these seniors met the requirements for high school graduation imposed by the Regents of the State University of New York, the Commissioner of Education and the Board of Education?" He certified them as graduates of Scarsdale High School, bid them to go forth and with that, each students was given his or her diploma.
Watch the ceremony online here:


School Board Gives Administration Approval to Move Forward with a Massive Addition to Greenacres School
Details

Category: Schools
Published on

06 July 2017

Written by

Joanne Wallenstein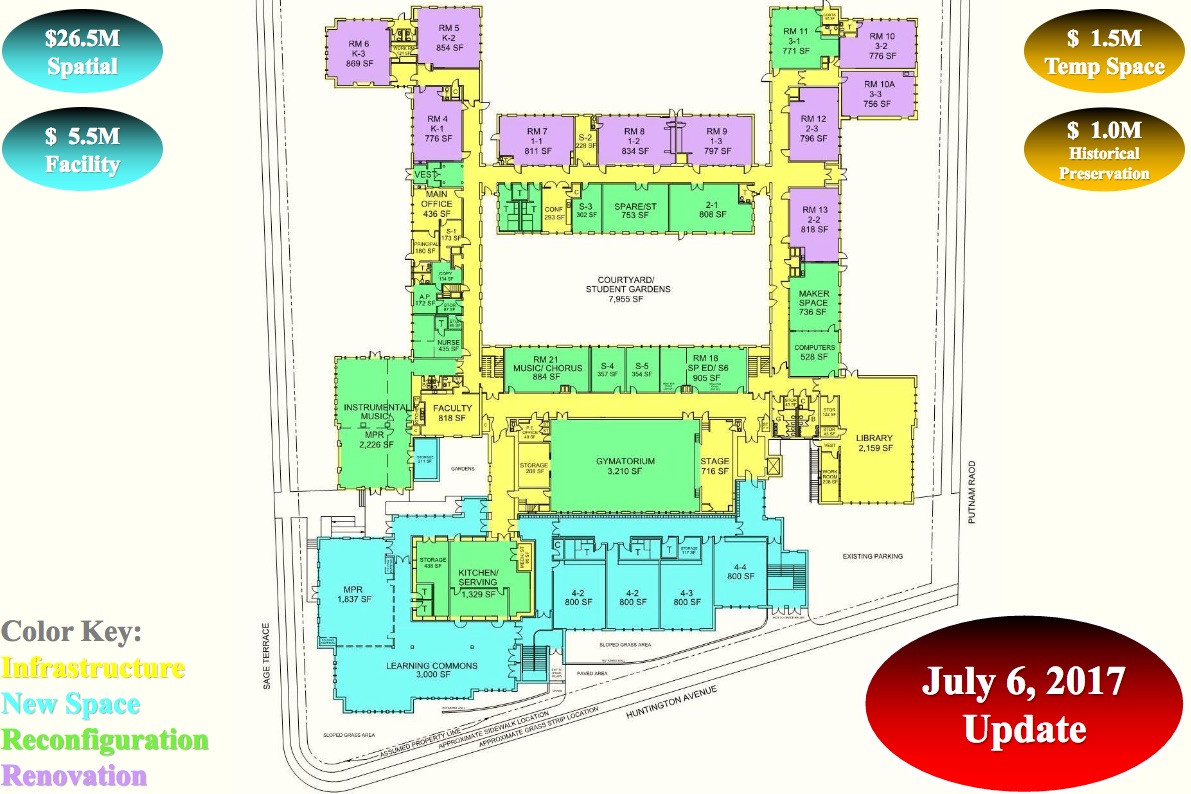 Ending years of debate, the Scarsdale School administration won the support of the school board for their recommendation for an expansive renovation and addition at Greenacres School at their July 6 meeting. The proposal for a tax neutral $64.8 million bond offering targeted for a vote in December 2017 will include $34 million for a renovation and expansion at Greenacres and $29 million for district wide upgrades.
District architects presented revised floor plans for the Greenacres School which would extend right to the sidewalk on Sage Terrace and Huntington Avenue. The last iteration of the plans had included the addition of three classrooms on Putnam Road. However, this new plan calls for the addition of four classrooms beyond the gym on Huntington Avenue instead. A 3,000 square foot learning commons, an 1,800 square foot multipurpose room and a kitchen would be added on the corner of Huntington Avenue and Sage Terrace, engulfing and expanding the newer multi-purpose room. The estimated cost for the work at Greenacres is $34 million. Though no designs or elevations were shown, the architects said that the look of the building would reflect the architectural elements of the current building.
The new renovation schematic was posted on the district's website at the eleventh hour – on the night before the July 6 meeting. Residents had little time to evaluate it or debate the merits of this very large addition to the school before the meeting the following morning. It was highly unusual to consider a project of this size at a July meeting of the board when many are out to town. Several of the speakers as well as the League of Women Voters asked for more time to study the plans but in the end the Board opted to move forward without affording time for community input.
The July 6th proposal addressed parents concerns about safety by including $1.5 million for trailers to be used to house students where needed during the renovation. Roger Smith, principal of BBS said these trailers could be used to accommodate up to eight classrooms or for other activities like gym or lunch.

The balance of the bond, or about $29 million, will fund infrastructure work at the other schools, most rated priority 1 or 2 on a recent district-wide facilities survey done by BBS. Items to be included are air handlers in classrooms, boilers, roofs, upgrades for ADA compliance, removal of asbestos tile, electrical upgrades and more. The administration to did not provide a comprehensive list of which projects would be funded at each school
A new item is security vestibules at all district buildings – which cost only $708,000 – a negligible amount of the overall bond. This new proposal eliminates the addition of lunchrooms and kitchens at Edgewood, Fox Meadow and Heathcote which received little enthusiasm from the community.
Safety: Hagerman and Mattey sought to answer many of the objections raised by the community and the board about risk to the children during the proposed renovation. They assured parents that all NYS safety guidelines would be followed and that there would be regular testing of the building during lead and asbestos abatement. They said that both BBS and the construction management firm have managed billions of dollars of school construction.
New vs. Renovation: The two attempted to respond to residents who asked for a long term analysis of the costs of a new school vs. a renovation by providing several analyses of the net present value of scenarios at varying inflation and discount rates. The analysis assumed a cost of $800 a square foot for the new building, a number that some claim is far above the cost of current school construction projects. In addition, Greenacres resident David Schwartz who works in finance took a look at the analysis and found that it was wrong. Mattey admitted that he had graduated from business school 20 years ago and said he would need to correct the numbers which vastly overstated the differential between a new and renovated school. However, even without an accurate analysis of the cost of a new school vs. a renovation, the School Board voted to approve the renovation.
On the issue of tax neutrality, Dr. Hagerman concluded that the board did not favor a bond that would raise school taxes and therefore limited his proposal to a $64.8 million bond referendum that would not raise taxes. He argued that building a new school at Greenacres would preclude the district from taking care of a lengthy list of facilities items "that must be addressed to avoid code violations, provide safer and healthier building environments and upgrade aging building heating, electrical, plumbing and roofing systems." He continued, "To not include these items in a bond issue would jeopardize not the integrity of our buildings but also the future instructional initiatives which must be funded through the general budget."
Hagerman also downplayed the importance of the learning environment saying, "21st century learning is 99% about the teachers. Though the space supports it, we are talking about the teachers. This is a secondary concern."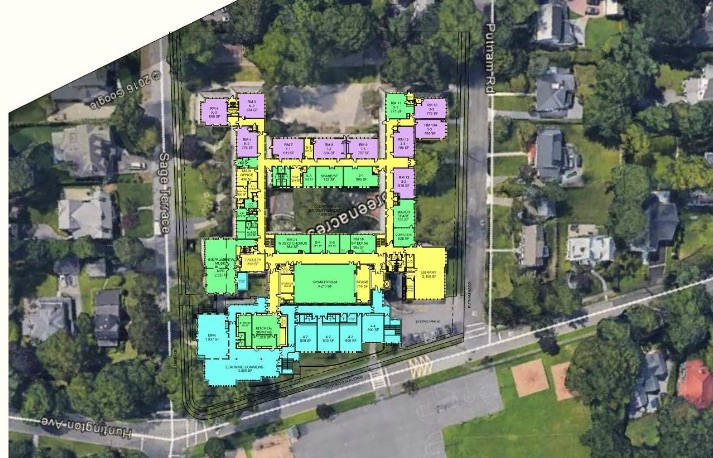 Public Comments:
During the public comments period, Tony Corrigio of Greenacres said, "I think there are two ways to avoid civil war here. If you pursue renovation get the kids out of the building. Three years in trailers? Are they safer there? It costs some money, maybe $4-5 million. And don't say there's not enough money when there was money for kitchens and cubbies in other schools to get everyone to vote for the bond." Turning to the evaluation of the cost of a new building he said, "You know what they say about financial analysis... garbage in garbage out. $60 million for a new building ... that $810 per square foot. It's unsubstantiated and bogus. Dr. Hagerman and BBS are compromised. Get another architect to do a proposal. Get real answers from real experts. It's a $45 million renovation with kids in the trailers. This is a 100 year decision to be made. Make sure that your priority is these kids."
Harriet Sobol said, "Those with and without children have the same position. I don't know anything about finance but I do know something about education: we are missing an opportunity to educate people about the difference between when our children went to school and today."
Mona Longman remarked, "My friend is a real estate broker and she tells me that suddenly all of the houses in Greenacres are coming on the market. Having meeting during July 4 when many are out of town and the next meeting in August is not right. The school is landlocked and now you are increasing the footprint even more. It was 8-10 feet from the road and it's even closer now. This is a neighborhood and there is no setback! What is this going to look like?"
Board Remarks:
When the Board was given a chance to pose questions, Natbony asked more questions about the cost differential of a new school vs. a renovation, saying, "Is it $5 million or $20 million, that's what I need to know."
Art Rublin asked why some of the classrooms in the proposed project would be far smaller than in the plan for Option B proposed by former district architects KG&D. Roger Smith replied saying that the minimum state requirements for a renovation are 900 square feet for a kindergarten classroom and 770 square feet for upper grades. He explained that the new classrooms would be 800 square feet.
Scott Silberfein asked how long the renovation would take and Smith estimated 26 months, spanning three summers. He said they moved the new classrooms to Huntington Avenue so that the existing classrooms on Putnam Road would not be affected during the construction.
Smith was also asked if the estimate of $800 a square foot for a new school could be high. He defended that figure saying there would be costs to demolish the old building and re-grade the site for fields.
Questioned about closing Huntington Avenue, Dr. Hagerman said he reviewed a legal opinion from the Village Attorney and said the matter would have to be presented to the state transportation committee and then be passed by both the state assembly and state senate. He said that these requests are not often approved.
Asked about drop off and pick up, parking and traffic, Smith said they had moved the construction off Putnam Road where he believed the children were dropped off and picked up. He said these issues needed further study.
Lee Maude asked for a better understanding of the energy performance contracts and it was explained that the district spends the funds on energy improvement initiatives like solar panels and achieves savings down the road from lower energy bills.
Nina Cannon asked if the Greenacres project would include the replacement of sanitary piping, steam heating and electric and was told that these would "not be touched in this renovation. They are not in the bond project." She also inquired about the status of a sustainability committee than had been formed in the spring. She also asked Dr. Hagerman, "Can we do a separate bond for air conditioning?"
At the conclusion of the discussion, Board members were asked to give their views on authorizing the district to move forward with the renovation plan. Six out of the seven gave Hagerman the green light.
Pam Fuehrer said that the plans met the district's objectives for educational excellence and adequacy and said she did not favor going above tax neutrality. She said , "Frankly I think It would be irresponsible not to support the recommendation to include all of the priorities for health and safety in this bond."
Nina Cannon said, "I support the administration's proposal. It has been proven from a financial standpoint and allows us to maintain all of our buildings. Of course I am concerned about safety, lighting and design but I support going down this path. "
Lee Maude emphasized that the Board has been listening and that she was "impressed by the change in design." She said, "I worked with KG&D and usually schools are built because of enrollment issues. I have not seen buildings torn down because of age. Teachers' relationships with our students are most important. It's no surprise that I accept your recommendation."
Art Rublin was the lone dissenter, saying "I am not there yet. I am not comfortable having this meeting during the day in July. I am concerned about rushing the process more than we need to. There are questions about classroom size, questions about drop off pick-up and parking ; these are important concerns. I think that the school building as proposed would be a better building than it is now – and I think that there are a lot of positives."
Chris Morin was in Iceland but gave Bill Natbony a letter to read in support of the renovations. He said that the board had previously voted to explore renovations and the facts they received support that decision. He said, "The renovation will exceed the needs of the students."
Scott Silberfein, who was elected Vice President of the board prior to the meeting concurred with the others, and said, "Me too. We can work on traffic, safety and parking later on. I am confident that we need to continue to pursue the process. A renovated Greenacres building will be educationally exceptional."
Newly elected Board President Bill Natbony summed it up, saying, "The District has substantial needs. This gives priority to the needs of Greenacres and accounts for other needs. There has to be a pressing need to exceed tax neutrality. Our architects say we don't need a new building. There remain implementation issues. What construction will be done while kids are in the schools? Should we look into moving them? I don't see a December vote set in stone. We should move forward with a bond and as a community we should come together and support the decision."
Parents with children in the school were surprised at the speed of the process and pressed the Board for more time to resolve many issues. Paulina Schwartz said, "This is renovation plan number four and the size of the addition keeps growing. It is the worst plan so far. If you think it is charming you don't go out to the property line and cover the building. You end up with a 100 year-old building with old lead pipes, old air handlers and no place for drop off and pickup. This is monstrous and it will be ugly. I was offended by the FAQ's. This is the largest renovation project the district has ever undertaken with the youngest kids in the oldest building. The safest way is with the kids outside the building. Where is the parking? Drop off and pick up? Where is the plan? The parents of GA don't want this plan. This is no better than what we have now."
School Board VP Bill Natbony Urges the Community to Reach Consensus
Details

Category: Schools
Published on

20 June 2017

Written by

Joanne Wallenstein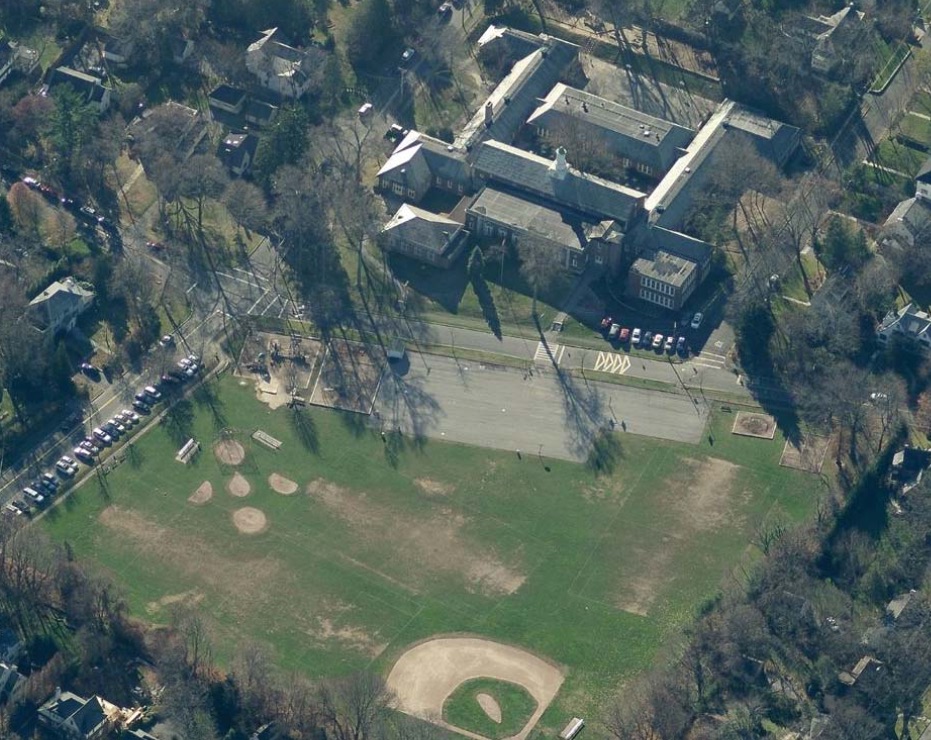 The Scarsdale School District held a public forum on facilities planning on the morning of Tuesday June 20th. Bill Natbony, School Board Vice President, made the following comments at the opening of the session:

Before we begin this forum, I wanted to add a few additional comments on behalf of the Board. We appreciate your attendance and look forward to continuing to listen as our facilities review process continues.
The community and the Board continue to receive and review large amounts of data and analyses. The Board has asked that additional analyses take place regarding longer term cost comparisons of a new school vs. renovation, how to address construction in terms of where the students will be, and concerning traffic and drop off/pick up issues. These analyses are underway.
This Board prides itself in listening to community viewpoints as an important process of exercising its fiduciary and educational responsibilities. As such, you should assume correctly that if you have written the Board, your comments have been heard. In addition, while we took a pause, re-grouped with new architects and are considering new proposals, the Board is fully aware of past comments. We understand there are those who want to preserve the Green in a Greenacres. We understand there are those who believe a new Greenacres building is the better option both financially and educationally. We understand there are those that believe renovation is appropriate and financially prudent. We understand that any construction project must address the interim educational and safety issues as relate to our children. We understand that any renovation or new construction needs to be done safely. We have heard about the issues regarding traffic and drop off and pick up. We understand the need for a more detailed understanding of long term cost comparisons. We have heard your comments at numerous prior public hearings and meetings and through your previous letters and emails. These are not lost on us and are appreciated.
Each of you is welcome and entitled to your time to address questions to BBS today and to address the Board whether here or at our regular public meetings. We would, however, urge you to recognize that this Board has been listening for many months and is familiar with the comment history. We are and have been listening. We will listen to everything you have to say, and will read everything you send us, irrespective of whether we have heard it before. We do value your input. I would note, however, that what might be particularly helpful to the Board and BBS would be comments or thoughts that are new. Thank you for coming.
Finally, I feel the need to comment on what I personally continue to perceive as an "us" versus "them" philosophy within the community -- the "us" and "them" being those in favor of a new school versus these in favor of substantial renovation. As Board members, we have been elected to serve our entire community. To us there is no "us" and "them". We need to reach determinations that are fiscally and educationally prudent for our community as a whole. That's what we intend to do. The Greenacres determinations, however, are not binary in nature. At least to me, if the Board ultimately decides to build a new school, and the community does not support that decision, that does not automatically mean that a $20 million or $30 million renovation is prudent. Similarly, if the Board ultimately decides on a substantial renovation and the community does not support it, that does not necessarily mean that Greenacres will get a new school. The Board will gather the data believed necessary for its determinations and ultimately decide on various facilities issues, including the future of Greenacres, in a manner that recognizes its responsibilities to all of our students, staff and community members. On behalf of the Board, we urge our community, through the public forums scheduled, and through other forms of public comment, to engage in reasoned and respectful dialogue with the Board, Administration and BBS and ultimately come together, if possible, to support the Board's ultimate determinations that you have entrusted to us, whatever they may ultimately be. We strongly urge the community to stay informed through the detailed information contained on our website, including copies of the various presentations and handouts, and by subscribing to receive emails from the School District through our website.
Together we can continue to make great things happen in Greenacres and in our District as a whole.
Thank you.