SHS Choir Sings and Experiences Italian Culture During February Trip to Naples and Rome
Details

Category: Schools
Published on

28 February 2017

Written by

Josie Blatt
Twenty-six students from the Scarsdale High School Chorus sang and toured in Naples and Rome and soaked up the culture of Italy during the February break. I was among the group that was less than half the size of the chorus that travelled to England in 2015. With such a small choir, every voice was important, and we had to shift voice parts quite a bit. For example, only two tenors signed up for the trip, so several altos had sing tenor parts. The trip was chaperoned by SHS Chorus Teacher John Cuk, his wife and Scarsdale Middle School Chorus Teacher Celia Cuk, SHS Tech Director Steve Bogardus, and his wife Cathy Bogardus.
On Saturday, February 18, 2017, we departed for our week-long performance tour in Italy. Upon arrival in Rome on Sunday morning, the choir traveled by motor coach to Naples, where we went on a walking tour of the city and checked in at the hotel NH Ambassador Naples. The next day, we toured the Teatro di San Carlo, the oldest Opera House in Italy, and The Naples Conservatory of Music, where we would perform Gabriel Fauré's "Requiem" with one of the Conservatory's chamber orchestras that night.
We also performed four a capella pieces at our concert that night in Naples: "Weep, O Mine Eyes" by John Bennet, "Ubi Caritas" by Maurice Duruflé, "Nelly Bly" by Stephen Foster, and "Rockin' Jerusalem" by André J. Thomas. Those four songs, along with the Fauré "Requiem" made up our program at our concert in Naples, our exchange in Rome, and our concert in Rome. Soloists on "Requiem" were Caroline Kaufman '17, Sofus Rose '17, Elias Hairatdis '19, and Christina Coco '19.
On Tuesday, we visited the nearby ancient ruins of Pompeii, then travelled to Rome. That night, after checking in at The Building Hotel, we attended an Opera Serenades Concert at the Palazzo Doria Pamphilj. The next morning, we went on a walking tour of Rome, stopping at the Piazza Navona, the Trevi Fountain, and the Spanish Steps. Then, we visited a Roman High School at the top of the Spanish steps, La Scuola Sacro Cuore, for an exchange with their choir who performed for us after we performed for them. All of us were in awe of the beauty of their school. After the exchange, we went to the San Lorenzo in Lucina Church, where we rehearsed with a local chamber orchestra for our final concert that night. The next day, we toured the Colosseum, the Roman Forum, and St. Peter's Basilica in the Vatican City. We also got the opportunity to sing a few of our a capella songs inside the Pantheon. This concluded our tour.
Each day, we had free time for lunch, shopping and exploration on our own between rehearsals and performances. However, we all had dinner together every night. We were welcomed with open arms by both orchestras, the Roman High School Choir, our tour guide, Maria-Laura Giorgi, and the organist who played with us at both concerts. We were able to speak with all of these people, and learn so much about them and their music. The trip was not only a wonderful musical and cultural experience, but a great bonding opportunity for our small group.
All of us quickly became comfortable with each other and made friends across grades, something we may not have had the chance to do without this trip. On this subject, Rachel Meiselman '20 expressed, "I liked how although we all come from different friend groups, we were able to bond over the music. Singing on the bus and through the streets of Rome are some things I'll never forget."
Annie Radin '20 reflected, "At first, I was kind of nervous to go on the trip because I had never done something like this before, but the moment we got off the plane I only felt excitement. We were able to learn about and experience the Italian culture. My favorite part was recognizing how universal music can be, especially when we sang with an Italian school choir." Emily Chase '17 discussed the musical demands of the tour: "Traveling and singing with such a small group was a really special experience. We all took the singing aspect of the trip very seriously, and with a smaller group we had to really depend on each other. We had to trust that the people around us would sing out and support us if we got lost or confused. All of us could also tell how hard Mr. Cuk was working because he had to figure out how to get the orchestras and our chorus to collaborate. It was a much greater challenge than I anticipated, and without the support from the group and Mr. Cuk's persistence, it would not have worked out so well."
Choir Director Mr. Cuk discussed how impressed he was with this particular group: "Maria-Laura (our tour guide) loved that this group asked questions and were bright, and dug into the culture. I've been with groups where they could care less and just wanted to shop and sleep, but this group soaked in every moment."
Personally, besides of course spending time in Italy with my friends, and eating some excellent food, my favorite thing about the trip was that it helped me grow stronger as a choir member, and realize what I am capable of musically. There were moments in some songs where I would be one of only 3 or 4 people singing a certain part. When singing in the larger choir at school, it's easy to feel like other people can cover me on parts I am unsure of, or that I can go on cruise control during a song I know very well. However, with such a small group I had to sing out and be present at all times, and I had to be sure to ask questions if I didn't know my part. I also really enjoyed the camaraderie among the choir. Right before our last concert, one of the sophomores suggested that we all circle up and let the seniors reflect on what this trip and chorus in general means to them. It was so touching to hear what everyone said, that I even started crying at the thought of leaving the SHS Choir next year.
Overall, the trip was an amazing experience, and we are all so grateful to have had Mr. Cuk to lead us through it.
Josie Blatt is a senior at Scarsdale High School.
A High School Student's Thoughts on the New Schedule
Details

Category: Schools
Published on

22 February 2017

Written by

Joanne Wallenstein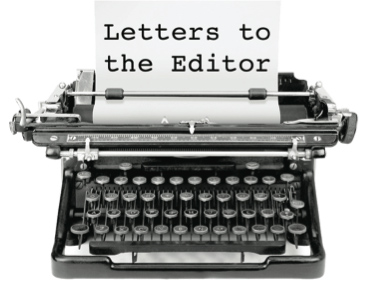 This letter was sent to Scarsdale10583.com by Mira HIgh, a freshman at Scarsdale High School:
"I am a freshman at Scarsdale High School and like many other students, I am concerned about the extra seventy-five minutes that will be added to the school week starting in September. It is said that each class will be extended by two minutes in order to give students more class time to work on assignments and with teachers. I believe that this will prove ineffective because many teachers dismiss class a few minutes early anyway and two minutes are not long enough to get much work done. This also isn't enough time to speak with a teacher because there is usually a line of students waiting to speak with them and two minutes would allow for only one or two students to actually meet with them.

Instead, this time could be split into two extra periods a week and be used for supervised study sessions where a small group of students can work on homework or class projects together. Or students can meet with teachers during this period for extra help. This could also be a great opportunity to introduce new classes that are hands-on and are not currently offered at the high school, such as, cooking, home economics, woodworking, and metalworking classes. I believe that these hands-on classes are more beneficial to students than an extra two minutes per class that wouldn't be properly utilized anyway."
Architects Make Proposals to the Scarsdale Schools
Details

Category: Schools
Published on

07 February 2017

Written by

Joanne Wallenstein
Five architectural firms, selected from 18 respondents to an RFP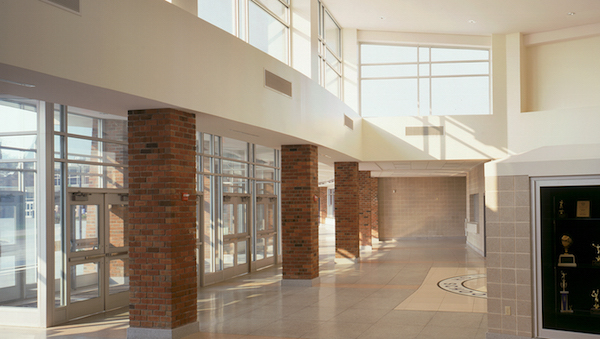 for a district architect for the Scarsdale Schools, made proposals before the School Board and administration at two meetings last week.
When Superintendent Thomas Hagerman announced that the district would not work with architect's KG&D on projects beyond those approved in the $18.2 million 2014 bond, observers wondered what the future would be for the renovation and design of Scarsdale's facilities. With $60 million in debt expiring this year, the community had been told that the district would move forward with addressing Greenacres Elementary School and other needs identified in a district-wide facilities plan. However plans for Greenacres were put on hold in the fall of 2016 when the community became polarized about renovating the existing school or constructing a new school on the field across the street.
Now the Superintendent has announced an ambitious timeline to retain new architects, assess district-wide needs, formulate plans for Greenacres and pass a bond referendum in December 2017 or January 2018.
Toward that goal the Board interviewed five firms with a variety of capabilities and strengths on February 1 and February 3, 2017. This week, they will invite back two finalists on February 7 and plan to make a decision and appoint the new architects at the February 13 meeting of the Board of Education.
Each firm was given an hour to present before the board and respond to questions. Some of the firms emphasized their engineering expertise while others promoted their design capabilities, knowledge of state regulations, sensitivity to sustainability and ability to build consensus in the community.
Burton Behrendt Smith
First up was Burton Behrendt Smith from Patchogue, NY who highlighted their engineering skills and promised to investigate leaks, water infiltration issues and asbestos. They called themselves experts in forensic architecture and problem solvers who could get to the source of a leaky building. They proposed the use of energy performance contracts to save district funds down the line and said they would be a "fresh set of eyes on existing facilities," to analyze district priorities.
In terms of helping the district decide between renovation or a new building they said they would investigate both options and even explore possibilities for community use of the existing school should a new school be built.
CS Arch
Tom Ritzenthaler of CS Arch was up next. The firm is based in Newburgh and Albany and is one of the largest firms in the state with 85 on staff. Ritzenthaler said their expertise with the NYS Education Department could help the district maximize state building aid and get the plans approved in a timely manner. Their focus is to improve the education of children. He also vowed to enhance building security. When asked how their firm would help evaluate a decision on Greenacres, Ritzenthaler said, "The building needs $27-$28 million of work in repairs. And that's without addressing the comprehensive improvement to educational delivery in that building. If you get to 50% of the building value you should look at a new building. Even the state education department would say that."
Asked about sustainability, he replied, "Our standard design practice is to be as sustainable and energy efficient as possible. We consider glass, HVAC, and fresh air. Air quality is very important to the educational process."
He conveyed the need to build trust with the community, recounting what happened when the roof of the school at Webster Avenue in New Rochelle collapsed. The firm was able to have the situation resolved quickly, while the children were relocated to another building and did not miss a day of school.
Geddis and Dattner Architects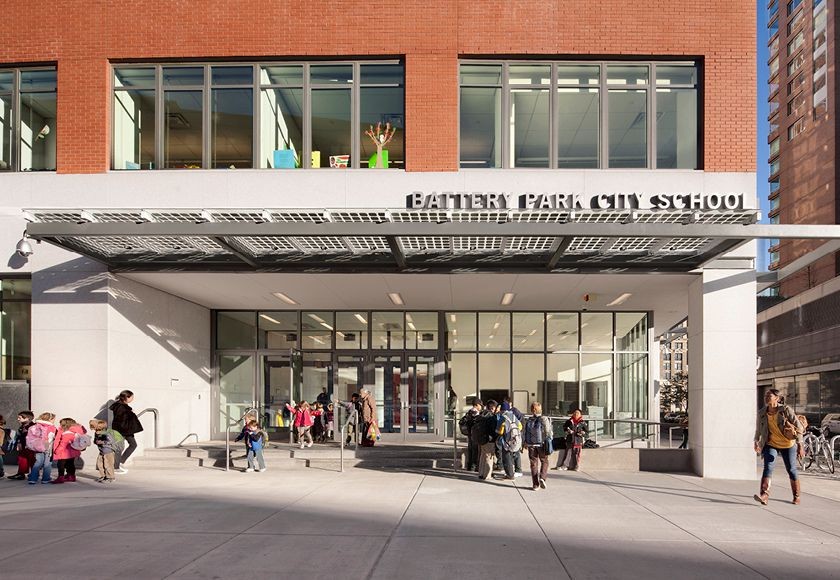 Barbara Geddis of Geddis Architects of Southport CT partnered with Daniel Heuberger from Dattner Architects of NYC. They called themselves "out of the box thinkers, and noted that Dattner wrote the "Green Book on Sustainable Schools." Dattner was selected to design the renovation at the Scarsdale Library and is familiar with the stakeholders in the community. They both emphasized their experience with clients in the public domain, their focus on preservation and history and innovation in education.
Geddis said, "We start from the inside out and think about the learning environment." Rather than designing in terms of individual classrooms they design pods with multiple spaces by grade or multiple grades as well as small group instruction spaces, self-directed and individual learning spaces. They explained that they do their best to avoid designing long hallways which are a waste of space, and can instead be used for group learning, storage and have window seats with views.
They showed their work which included beautiful renovations and new construction. Dattner designed and eight story high rise school at Battery Park City which was one of the first green schools in New York City and includes photovoltaic panel arrays and an extensive energy and weather monitoring system. The self-guided energy use signs make the building itself a part of the learning environment.
Asked how they would approach Greenacres, Geddis said, "We are rooted in history and we start with a bias that anything can be transformed. If the site is extremely difficult then it's the perfect project for us. ... we have never taken anything down. – except where there is mold and air quality issues."
KSQ Design
More creative thinking came from KSQ Design. Mark McCarthy, formerly of Perkins Eastman joined the firm in 2016 and discussed their philosophy. He said, "We make vibrant communities possible." He said he had toured Greenacres and understood the challenges. He discussed the importance of collaborative learning spaces and called outdoor spaces an extension of the learning environment. When making design decisions they factor in comfort, natural light and fresh air and design spaces that will encourage students to make connections. He said, "A great school inspires one to dream," and said when making decisions they need to consider design for today and for 40-50 years from now.
At a project at West Patent Elementary School, they built in many sustainable features such as solar tubes, rainwater gardens and voltaic arrays for solar power. Solar radiation preheats the air before it goes into the ventilation system, using passive solar energy to reduce costs.
In terms of Greenacres he said, "We are not rooting for a new school. We are rooting for a long-term relationship." He added, "We will find an idea that will galvanize the community toward one particular solution."
He said that in Bedford the firm had "a community summit.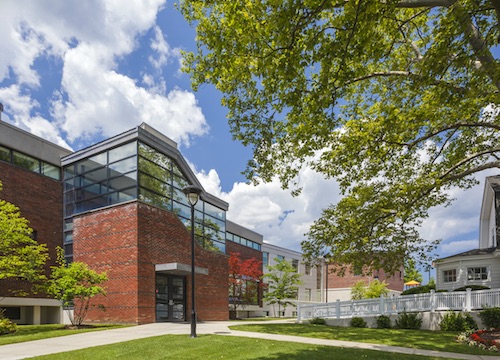 We engaged the community and had them break down into small study groups." He added, "We are available, we are close by and we try to communicate as much as possible."
Peter Gisolfi and Associates
Peter Gisolfi and Associates, the former architect of record for the Scarsdale Schools was invited back as well. They designed the large Fountain House addition to Scarsdale Middle School along with the new gym, the two-story library and the science wing at Scarsdale High School. They are both architects and landscape architects based in Hastings on Hudson.
They showed some dazzling work of a school and community center with a shared indoor pool overlooking the Hudson in Peekskill and an extension at Rye Country Day School. A project at the Hackley School involved extensive outdoor work including a freshwater pond and raised pathway through a marsh. At Cornell University, White Hall, one of the original historic buildings was totally redesigned on the inside, leaving the façade intact. They also showed the LEED certified Darien Library that was visited by the committee who looked into the redesign of Scarsdale Library.
They ended by offering to understand the needs of the district and to provide technical excellence and imaginative thinking.
The School Board will meet again at 7 pm on Tuesday February 7 to hear more from the two chosen finalists.
New District Architects Selected for the Scarsdale Schools
Details

Category: Schools
Published on

14 February 2017

Written by

Joanne Wallenstein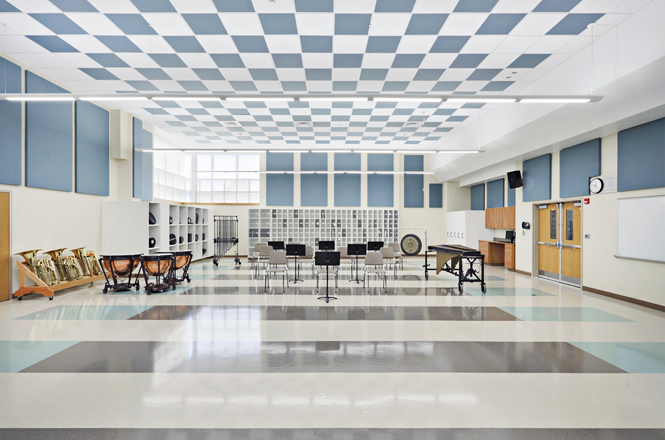 The Scarsdale Schools has selected a new architectural firm to handle all the districts building needs. At the February 13 meeting of the Board of Education, the board voted unanimously to appoint BBS Architects and Engineers from Patchogue, praising their "ability to dream and think big and to handle the nuts and bolts of what we (the district) need on a daily basis."
In making the decision, the board and administration checked many references and said all were "outstanding." Board President Lee Maude and Board Member Scott Silberfein visited schools in Rockville Center and Garden City that BBS designed and said, "their architecture reflects their town and their way of thinking." Maude said they visited a school in Garden City where they saw a beautiful addition of a music room.
BBS will be charged with a district-wide facilities master plan and with assessing conditions at the Greenacres Elementary School and making recommendations for a renovation or a replacement. According to Board member Nina Cannon, the firm will "go above and beyond to meet our demands and involve all the stakeholders in the process to move it forward in a positive way." See more here:
Concluding the discussion, Board President Lee Maude said, "I hope as we go forward we're not scared of the facts. Let them bring us the facts – good, bad or ugly in terms of actual costs of new vs. renovation ... let them show it to us. Let the facts take us to the right decision."
Below find the press release from the Scarsdale School District about the appointment of BBS.
Scarsdale, February 14, 2017: The selection of BBS came after an intensive process which began in December 2016, when a Request for Proposals (with a due date of January 18) was sent to 48 school architects in the region and advertised in the New York Times. A total of 18 architectural firms submitted formal proposals.
The RFP encompassed architectural and engineering services for the planning, design, and construction phases for all upcoming capital projects, including the possible major renovation/replacement of Greenacres Elementary School. Specifically, the RFP sought the following services:
-Planning, design, and construction phases to address various renovations and improvements at the District's numerous facilities
-Developing creative and innovative approaches in the renovation of older buildings, while maintaining their historical character, when appropriate and as needed
-Developing creative and innovative solutions for 21st century educational facilities
The 18 proposals were then vetted by District administrators for adherence to qualifications listed in the RFP, as well as other desired qualities. Because all New York public school districts' major capital projects must be approved by the New York State Education Department, firms without experience in that process were excluded. Additional consideration was given to design aesthetic, renovation and new construction experience, collaboration and problem-solving skills, and time and resources available for the District's current and ongoing needs.
After multiple reference calls, a top tier of candidates emerged: BBS Architects & Engineers, KSQ Design, Peter Gisolfi Associates, CS Arch, and a partnership between Geddis Architects and Dattner Architects. These candidates were recommended to the Board of Education for interviews.
The interviews were held over the course of two evenings in Board Meetings open to the public. Interviews were slated for approximately 45 minutes a piece, and included an introductory presentation and follow-up questions by the Board of Education. After the last of these interviews, the Board of Education adjourned into Executive Session for discussion leading to the employment of a corporation.
On Friday, February 3rd a public notice went out to the community, stating that the Board of Education would be interviewing "finalists" the following week on Tuesday, February 7th. As a result of the interview sessions, overwhelmingly positive reference checks, and full consensus of the Board and District administration, BBS Architects & Engineers was invited back for a follow-up interview.
Dr. Thomas Hagerman, Superintendent of Schools, noted: "With over 60 professionals on staff, BBS set itself apart from most of the competition with its in-house engineering abilities, technical strengths, project approaches, and master planning experience. During their initial interview, BBS illustrated 12 different major projects that demonstrated their capacity to build new buildings and to renovate extensively, and explained the processes they used to actualize each of these projects."
Dr. Hagerman further noted that reference checks generated outstanding reviews of BBS, highlighting their ability to work with the district and community throughout project development, quality of design work, and budget adherence. In addition, Board Members and District administration had the opportunity to visit elementary, middle and high school projects which further illustrated the capabilities of this firm, including examples of complex renovations and new construction, additions of award-winning elementary spaces, and examples of collaborative learning design.
BBS returned to Scarsdale last week for a second visit and more intensive Q & A with the Board of Education and Administrative Cabinet. Dr. Hagerman reported: "At this meeting BBS again demonstrated its knowledge of working with a variety of facility needs, including how to improve instructional spaces to meet a district's changing needs, and a strong competency in a host of infrastructure challenges. In addition, they provided a clear and impressive community-based approach to project development--from beginning to end.
"Finally, although not a primary consideration for this decision, BBS costs were the lowest among all interviewees. With the scope and scale of capital work in the District over the next many years, there is no doubt that the community, as it does in all areas, expects fiscally prudent stewardship in this area."
School Board Changes Course on Meetings with Architects
Details

Category: Schools
Published on

30 January 2017

Written by

Joanne Wallenstein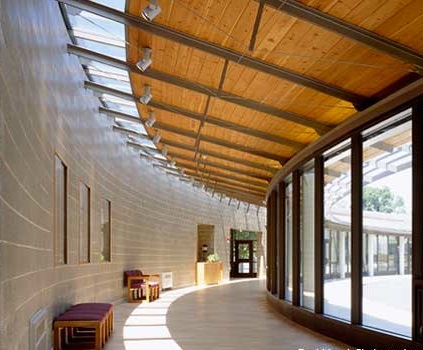 (This article was updated on Tuesday January 31 at 5:29 pm)
The Scarsdale School Board has revised their plans and will permit community members to attend two meetings with prospective district architects on Wednesday February 1 at 6 pm and on Friday February 3 at 8:30 am. The Board had originally planned to hold these meetings in Executive Session, but has now opened them to the public.
A district wide email sent out on Tuesday says the following:
"The Board of Education of the Scarsdale Union Free School District will hold two Special Meetings to review presentations by architectural firms on Wednesday, February 1, at 6 p.m., and Friday, February 3, at 8:30 a.m. in the Board Conference rooms in the Board of Education wing of Scarsdale High School, 2 Brewster Road, Scarsdale; the Board may enter into Executive Session at these meetings to discuss matters leading to the appointment of a corporation.
A special note from the Scarsdale Board of Education:
These meetings were originally scheduled as Executive Sessions. Upon further reflection, the Board of Education has decided that the interviews with the candidate firms for District Architect should be open to the public. They will be held in the Board Conference rooms of the High School. Members of the public will be permitted to hear the presentations and any Board members' and administrator's questions. Members of the public will not participate in the actual interview itself, and there will not be any public comment opportunities during these interview sessions. The Board will not be deliberating about the architect candidates at these meetings. Board of Education deliberations will occur at separately scheduled Executive Sessions.
The Board of Education values community engagement and participation. Recognizing that the selection of an architectural firm will have significant impact on issues of importance to the community, the Board agrees, in this particular circumstance, that it is important for the community to hear from the prospective candidates about their qualifications and experience. However, the ultimate decision concerning the appointment of a District architect remains entrusted to the Board of Education.
For additional information, contact the Public Information Officer, Victoria Presser, at vpresser@scarsdaleschools.org."
In response to questions from Scarsdale10583 as to why these meetings were not originally open to the public, we received this email from Board VP Bill Natbony on Monday January 31:
"The Board of Education will be interviewing a number of firms as part of its process resulting in the appointment of a new District Architect. Your e-mail requests that the public be invited to those interviews. Ultimately, the proposed contractual agreement requiring the expenditure of monies for a new District Architect will be discussed and voted upon at a public meeting of the Board.
Under Section 105 of New York's Open Meetings Law, however, the Board may hold Executive Sessions, which are not open to the general public, to address, among other things, "the...employment history of...a corporation" and "matters leading to the appointment, employment...of a particular person or corporation". The interview process for a new District Architect will involve these specified matters and the Board will be conducting interviews within its Executive Sessions. During these interviews, the Board will not be making any decisions about the plans for Green Acres or expressing any option preferences regarding alternatives for Green Acres.
The Board and Administration will keep the community informed as to the status and progress of the architect selection process through the District website, Board meeting reports and other direct communications from the Administration.
Conducting the interview process within the Board's Executive Sessions is consistent with how the Board has proceeded with respect to its appointment of other corporations, including the District's auditing firm and attorneys.
We appreciate your interest and communication regarding Board matters."
In the past, the Board of Education sought to build consensus for facilities plans by involving the community every step of the way. A building committee was formed to identify needs and the community was invited to listen to proposals. In this case, it appears that the administration and the Board were leaving the public in the dark about what they are hiring the architects to design and whom they will retain to do the work.
However, they apparently had a change of heart about their decision and have now invited the public to attend.