Administration Announces Schedule for Next Round of Capital Projects: Including Greenacres School
Details

Category: Schools
Published on

09 May 2017

Written by

Joanne Wallenstein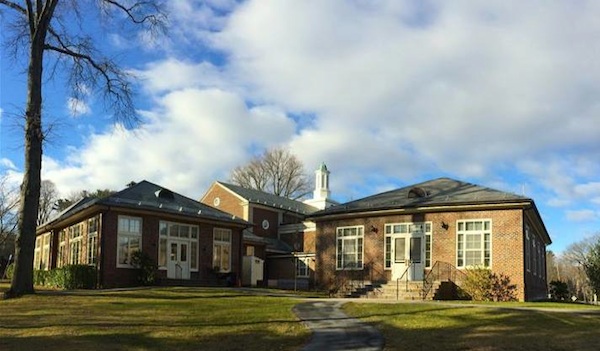 Ending months of speculation about plans for the Greenacres School, Scarsdale's School Superintendent Thomas Hagerman and Assistant Superintendent Stuart Mattey announced that the district's new architects, BBS, would make an extensive presentation of their findings at Board of Education meeting on May 22, 2017.
The two emphasized that BBS had embarked on a full study of all district facilities and would consider next steps at Greenacres among other priorities. Hagerman told the Board that the district has been working with architects from BBS over the past few months to analyze all district facilities, combining reports provided by previous architects and engineers with their own findings about space utilization and a comparison of all the K-5 buildings to formulate design options for all district buildings. They said that BBS has conducted interviews with teachers and administrators to thoroughly understand the buildings and usage of the current space. The Superintendent promised a far reaching plan to address all district needs for decades to come from building systems to program needs. According to Mattey, "Last year we heard about ventilation at Greenacres – that turned out to be at all the buildings. We will have one comprehensive list. We have slotted two and a half hours to go through each district building and certainly Greenacres as well."
Asked by Board member Pam Fuehrer whether the architects would present design options for the Board to consider, Dr. Hagerman replied that the architects were "formulating innovative possibilities to address spatial utilization conflicts," and would come to the Board with their recommendations. She said, "When will we deliberate on choices? When are dollars attached and when will we deliberate on choices?" Hagerman replied, "On May 22 they will make a recommendation. They are coming to us with their best thinking.... They have produced reams of paper and diagrams.... They will have one comprehensive list analyzed in terms of engineering and spatial needs."
Discussing input from the community, Stuart Mattey said that the former building committees had already been contacted and would meet again in the next few weeks. When asked for clarification on who was on these committees, Mattey said the committees will include administrators, teachers and two representatives designated by the PTA.
Dr. Hagerman said that after each presentation from the architects residents would be surveyed for feedback. He said they were currently speaking to a PR firm with expertise in the area of surveying residents.
In order to hold a bond referendum in December 2017, Mattey provided the following timeline for formulation of projects for the district's next capital improvement plan:
May 22nd – BBS will give an in-depth presentation of their findings and present recommendations.
June 12th – BBS will return to the monthly board meeting with work refined by feedback after the initial presentation.
June 19th – A public forum will be held in the morning for a repeat presentation of the June 12th work with opportunity for community comment.
July 6th – The Board of Education will hold their re-organizational meeting and include time with the architects to narrow the scope of their work. At the July 6th meeting, the administration will put together a district wide community group to go through the priorities before they are handed back to the Board of Education for an August 24th meeting.
August 24th- Board meeting
October 16th - In order to meet the December referendum vote the board will adopt the proposed project.
Board member Scott Silberfein asked Dr. Hagerman, "What about the vision? Has this been conveyed to the architects? Hagerman replied, "They have spent hours and hours with us. They have captured the district wide vision.... They are taking a holistic approach to the building imbued with philosophy. They will be talking about model elementary school classrooms and conflicts where vision is not aligning with space. We are not talking about how much it costs. We want to put out the big ideas. Lets not talk about costs at the start."
Board President Lee Maude raised the issue of community comment at the May 22 meeting. She said, "Will we have comments? I would want comments after they hear the presentation. Maybe the start time should be earlier?"
Prior to the discussion about the May 22 meeting, several residents had commented to the Board on how the uncertainty about the Greenacres School was affecting home sales.
Raff Ezratty, a 22-year resident of 97 Garden Road said, "I am considering moving onto my next stage of life but I have discovered that Greenacres was discussed for a year and a half and I was told there would be some answers as of September. I am troubled because I spoke to Greenacrse Neighborhood Association who told me they have attempted to speak to Dr. Hagerman and I am shocked that they were unable to speak with him; the uncertainty factor is a tremendous issue. I have had people who were interested in our home but would not consider it because of the uncertainty at Greenacres. I ask that the board provide a timeline. Greenacres should not be unfairly affected."
Jon Krisbergh of Claremont Road said, "People in the community are anxious. They are uncertain about a renovation that may put their kids at risk. This is not just about what we will do – but if we will do the right thing. If we go down the route of renovation, no one is going to want to move in."
Elana Ezratty also from 97 Garden Road said, "I am a resident and a realtor. During our time here we have experienced several renovations that have all improved education here. Uncertainty is having a negative affect on the Greenacres housing market. Either a fantastically new 21st century school or a renovation will be an asset to the entire community. I urge you to make a decision and issue a timeline." She continued, "The new residency requirements are causing stress. We have to allow residents to be able to renovate their homes without having to move their children to another school. Residents get great satisfaction when renovations are done. Residency restrictions are making it difficult for people to embark on these projects."
Ira Hassan who lives next door to the Greenacres School at 35 Sage Terrace and had previously advocated saving Greenacres Field told the Board. "I have changed my posture on what I prefer. I am indifferent at this point. Whatever is decided will give people a reason to move here. The uncertainty is killing the real estate values. Eight realtors have told me that people in Manhattan are saying not to move to Greenacres.... we need a new school. Whatever the decision is – and I ask that you move it along. I would ask that we just decide."
Florence Alkalay a realtor from Stratton Road said, "I have a fabulous listing in Greenacres. We had 30 showings but the feedback is, "It's a great house but we don't know what's going on in Greenacres." Property values are important to everyone in this room. We all want our houses to be able to be sold. I got a call today and the clients said, "Please don't show me anything in Greenacres. People don't know what's happening." A decision has to be made quickly. Where are the children going to be during the renovation or the new construction? In trailers? They are petrified about that. There is a lack of knowledge on the part of the population here and among buyers."
Paulina Schwartz from Oakstwain Road said, "I don't think we're terrified of the trailers. I think the parents are much more worried about the kids being inside the school during construction. You won't be able to sell keeping the kids in that building."
Students Envision Cities of the Future at Design Thinking Expo
Details

Category: Schools
Published on

03 May 2017

Written by

Joanne Wallenstein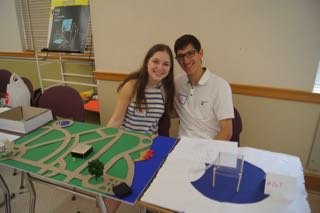 On April 27, the City 2.0 Class, taught by Maggie Favretti and Fallon Plunkett held a Design Expo to showcase their work on improving urban environments. The students came up with creative ideas to improve transportation, solve urban problems and improve the urban experience.
Each group built a prototype to demonstrate their concept and were available to present their ideas to visiting parents, staff members, students and the press. We toured the rooms and were very impressed with the research and design thinking behind the concepts.
Here are a few of the projects we saw: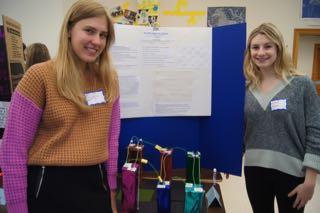 Morgan Cochrane and Jessica Cohen shared their model for moving more quickly around crowded city streets. They envisioned an elevated cable car system to transport pedestrian north and south and east and west. Elevators would lift users up to the elevated system powered by solar energy.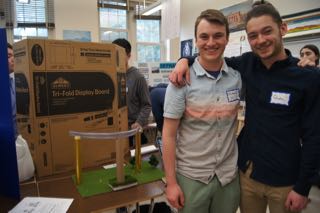 Michael McCormick, Owen Hall and Harrison Novick proposed to move the subway from below ground to above ground in an elevated system of clear tubes where the train system would be powered by magnets. This would be safer, decrease congestion and improve energy efficiency.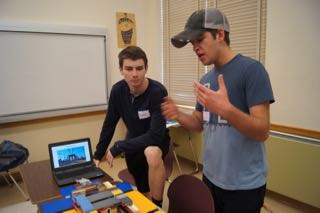 If you've ever been stalled in traffic on one of the tri-state areas bridges, you'll appreciate this project redesignsing a bridge to expand the number of lanes and to provide dedicated lanes for emergency vehicles. Andrew Shemberg, Matt Stern and Arlen Tzamarot built a nine lane, multi-level bridge to solve the eternal issue of traffic.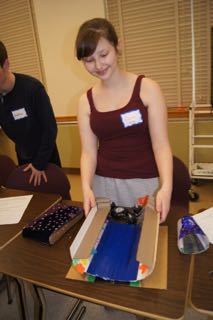 Remi Bernstein, Claire Gillespie and Melinda Orengo also considered transportation, coming up with a new concept for a tunnel. They envisioned an oval-shaped tunnel to provide more open space and light with white and yellow lights in the ceiling to simulate the night sky. The tunnel would also include wide paths for pedestrians and bikers.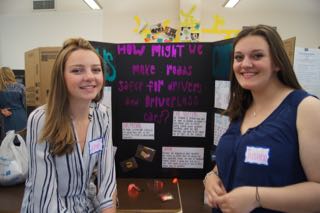 Justine Lionti and Sophie Pendrill approached driving safety by envisioning roads lined with sensors to guide driverless cars. These would decrease the incidence of accidents and save money.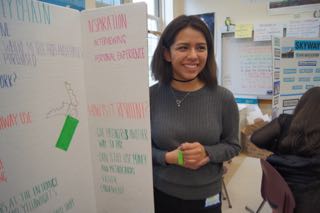 Emily Rodriguez demonstrated her key fob EZPass for public transportation, which would allow the user to swipe their fob to enter the system and have funds deducted from their account. Imagine how much easier that would be than fumbling for your metro card.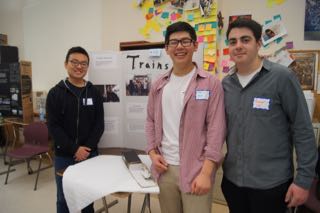 Afraid of catching a cold – or something worse – while riding the subway? This team (Jinyi Huang, Matthew Li and Michael Litton) envisioned self-cleaning trains designed with Parx Plastics, which are anti-bacterial materials that clean themselves, preventing the spread of germs between riders.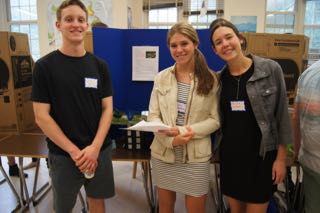 Linked multi-use sustainable rooftops would increase green space in the city and provide areas for gardening and recreation. Caitlin D'Ambrosio, Alex Quill, Christina Siekierski displayed their model for linked roofs where users could plant vegetable gardens, enjoy picnics or even musical performances.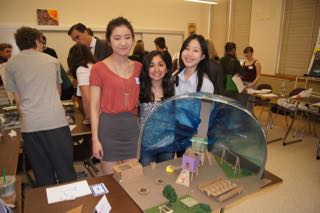 Wen Yi See, Catherine Zhao and Zoya Binyaminov visited Russel Sage Park in Queens to see how it could be redesigned for better use. It's currently cold and unfriendly. They proposed adding grassy areas, picnic tables and barbeque pits and even installing charging stations so that residents could relax in their neighborhood park A large, moveable glass dome could descend and cover the park at night and clean the entire area with UV rays.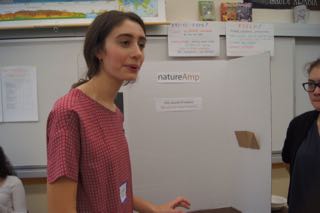 Lilah Cooperman and Olivia Leone presented a plan to echo and amplify the sounds of nature in park spaces, increasing relaxation and decreasing city noise.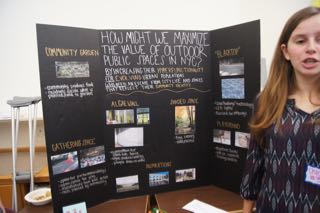 Chloe Suzman and Harris Gelblum designed a multi-functional energy generating public park. Built with algae walls and solar roadways, park fixtures and seating would be made of a fungus that comes from mushrooms called mycelium that can be reshaped and reworked into new fixtures as the need arises.
This exercise in design thinking produced an impressive range of projects to improve the urban landscape. Let's hear it for the cities of the future.
Girls Lacrosse Team Faces Challenging Season; Mehlman and Nicholas Each Score 100 Career Goals
Details

Category: Schools
Published on

14 April 2017

Written by

Emmeline Berridge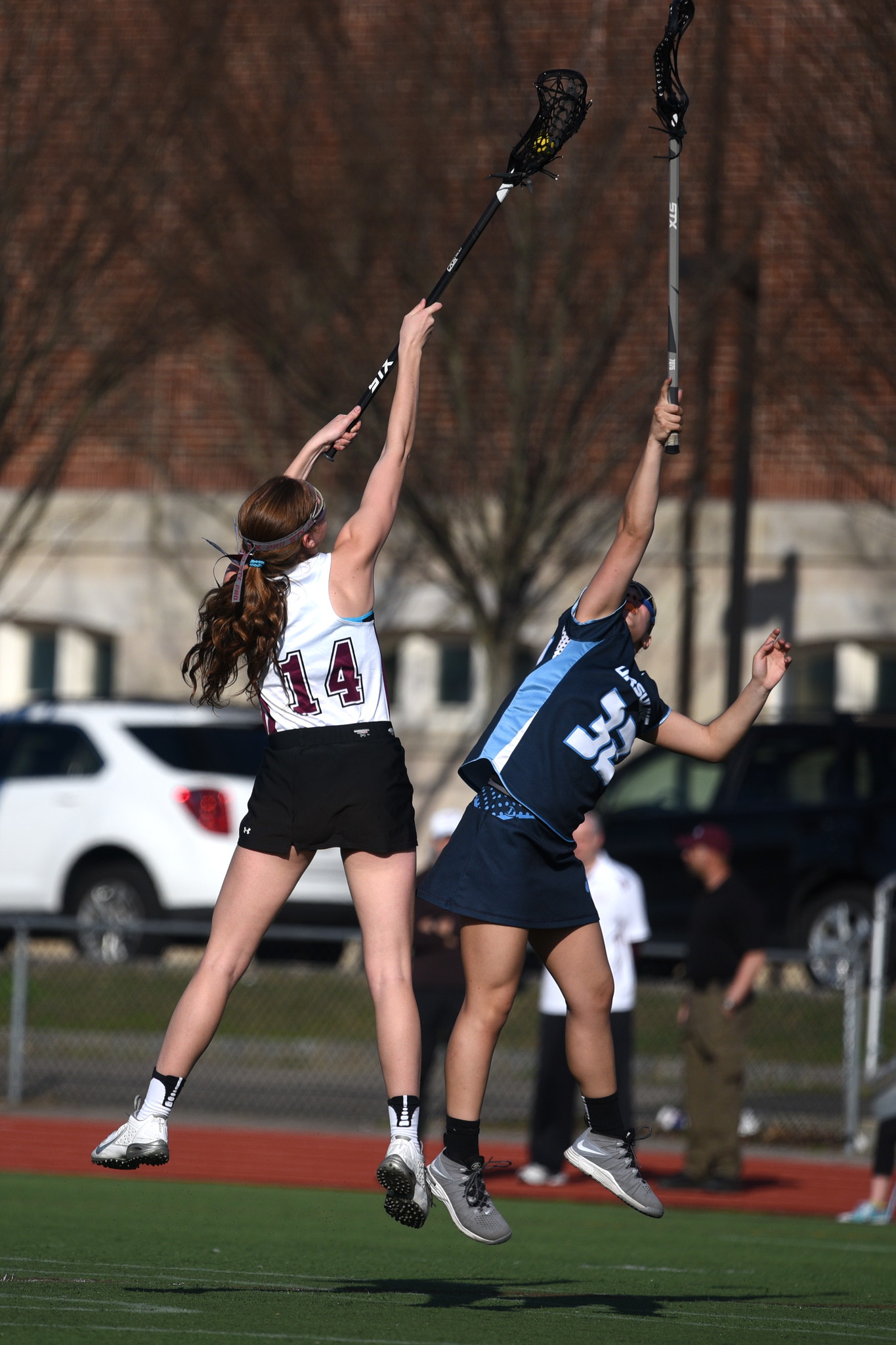 The Scarsdale Varsity Girls Lacrosse team headed into the 2017 season with a radically different approach than last season. Last year the Raiders started the season with an 8-0 record, but failed to make it past the first round of playoffs. This year, instead of tallying easy wins early in the season, the coaches compiled a difficult schedule, planning games with the best competition in the section at the start. As a result, a 2-3 beginning to the season is not as discouraging as it may seem.
The Raiders began their season against Bronxville, the three time Class C section 1 champions. Beginning the game with an early four-point deficit, the Raiders were able to bring the game within two goals going into the second half. The Raiders ultimately lost by five, with a final score of 18-13. As the first game of the season, the team showed potential and recognized their areas for improvement. Junior Lily Steckel and Senior Captain Erin Nicholas stepped up, both totaling three goals and one assist. Senior Captain Jilly Mehlman tallied one goal and two assists. Sophomores Aliza Mehlman, Emma Schwartz, and Chessy Greenwald scored three, two, and one goals respectively. Goalie and Senior Captain Angie Burns had nine saves.
The Raiders went into their second game of the season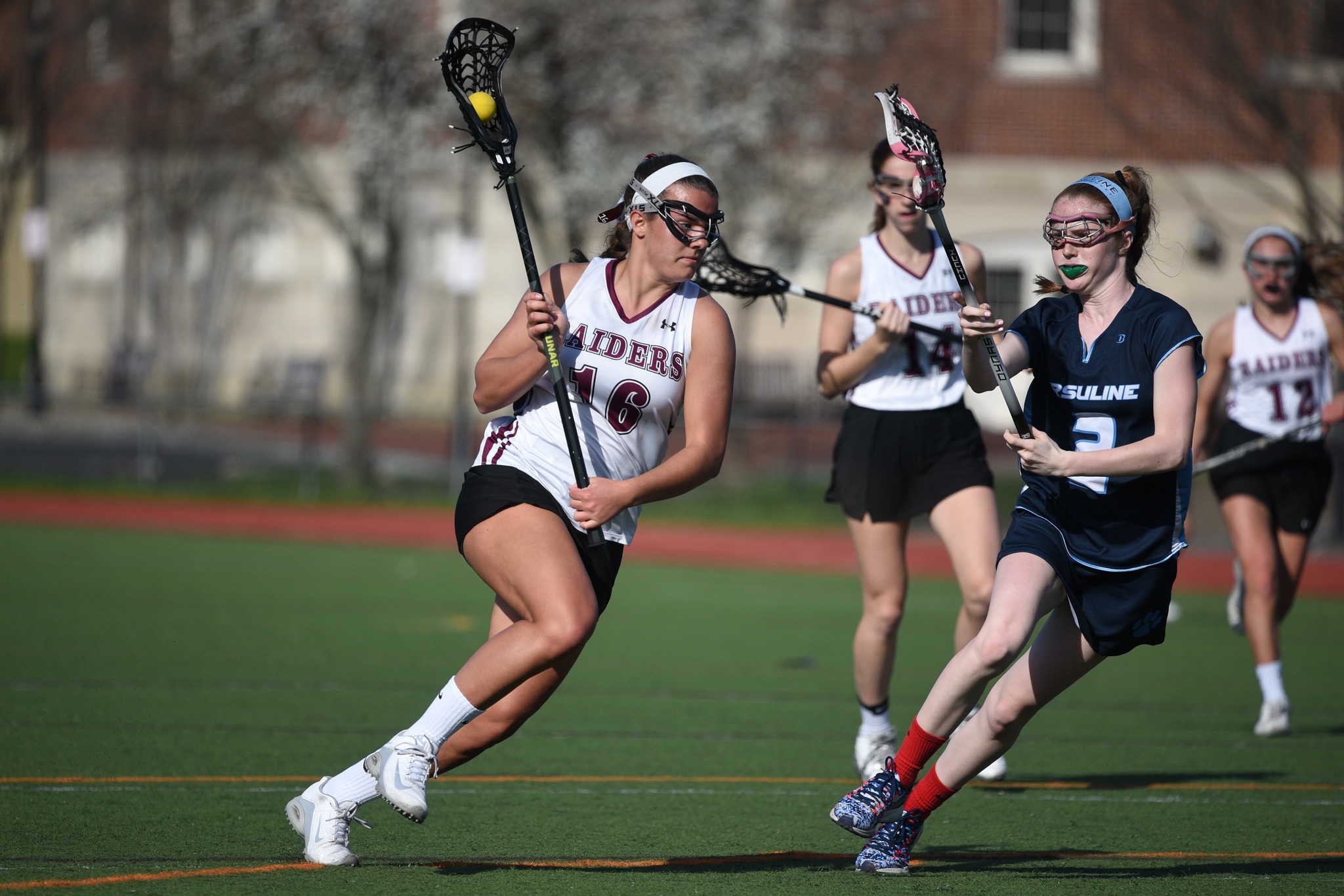 against Mahopac with a vengeance, as Mahopac knocked them out of the Section Quarterfinals last year. This game, played in pouring rain and gusting wind, was eerily similar to the outcome of last years' matchup. Scarsdale came out strong early, leading by three going into the second half. Scarsdale was still leading 8-5 with eight minutes left in regulation play. A string of Mahopac goals got them up by one, and Scarsdale was unable to come back in the last seconds of possession. The final score was 9-8 Mahopac.
A formidable opponent on Scarsdale's difficult schedule was the defending Section 1 Class A Champions, North Rockland. Although another loss, Scarsdale demonstrated their ability to play in a close game situation against a tough opponent.
Contributions from Sophomore Sam Felder's two goals, Erin Nicholas' two goals, Jilly Mehlman's three goals, Lily Steckel's single goal, and Chessy Greenwald's one goal left the final score at 11-9 in favor of North Rockland. Senior Captain Emma Coleman led the defense with three interceptions. Chessy Greenwald expressed the importance of team camaraderie and cohesiveness in close games. "The North Rockland game showed everyone that we can compete with all of these strong teams, but we have to work together if we want to win. We have talent on the field, but if we don't work together nobody is going to get anything done".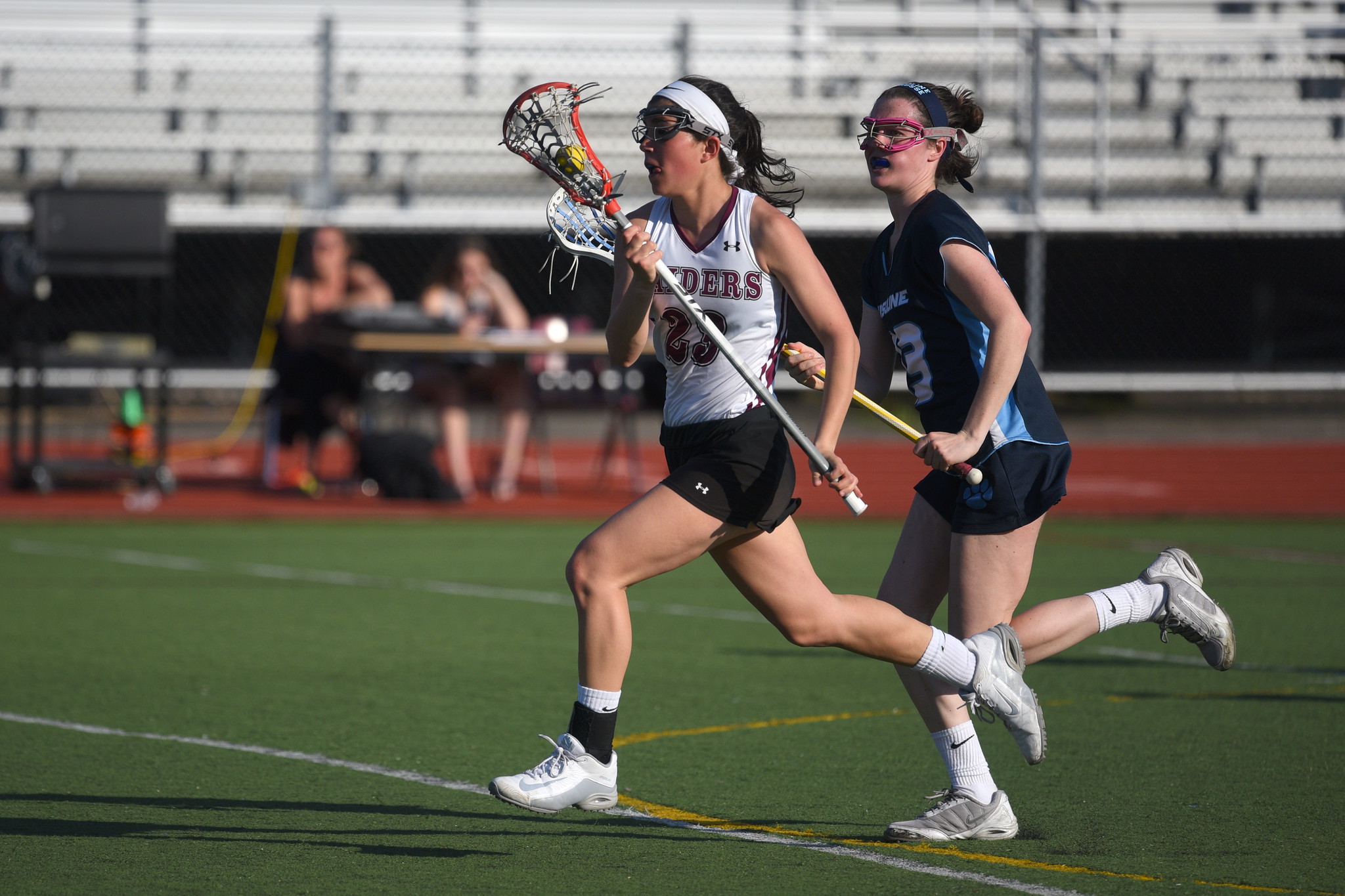 Scarsdale had their first league game against White Plains. The Raiders dominated the game, winning 13-3. Notable offensive contributions included three goals from Lily Steckel, and two from both Erin Nicholas and Aliza Mehlman. Goalie Angie Burns had 14 saves, and the defensive end had a shutout in the first half. Jilly Mehlman netted her 100th career goal during this game, an impressive accolade earned by few High School Varsity players. Jilly had six goals total in the game. Sister Aliza Mehlman assisted three of Jilly's goals.

In their second league game of the season, Scarsdale defeated Ursuline 19-6. In this game Erin Nicholas scored her 100th goal. As it is rare to have one 100-goal scorer on a team, it is even more rare to have two in one senior class. The offensive dominance of Nicholas and Mehlman over the course of their high school careers has been pivotal in Scarsdale's program development and its improved reputation in Section one competition. Lily Steckel had another three goals for the Raiders, and Aliza Mehlman scored four. Steckel noted the importance of these league wins with regards to upcoming games. "It feels great to get these wins under our belts so that we are more confident going into the next few weeks". Scarsdale will face off against Mamaroneck this Tuesday April 18th away at 5 pm. After defeating the Tigers in a thrilling overtime regular season win last year, the Raiders return, hoping for a similar outcome. Steckel notes the potential of the team going forward, "We have the ability to do well this season, and hopefully playing against tougher competition will help us achieve our goals".
Article by Emmeline Berridge, Photos by Jon Thaler: See more here:
Scarsdale Schools Registrar Enforces Strict New Residency Requirements
Details

Category: Schools
Published on

24 April 2017

Written by

Joanne Wallenstein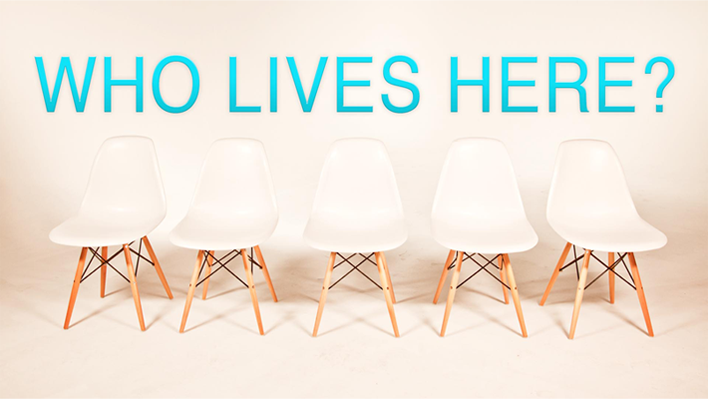 At the end of the 2016 school year the Board of Education adopted new rules concerning registration of students in the district. Policy 5152, title "Admission of Non-Resident Students," was debated at length by the Board of Education and the Superintendent because it stipulated the conditions under which residents, who were moving into and out of the district or renovating their homes, would be required to pay tuition to have their children remain in school.
This enforcement of this new set of rules came as a surprise to new and existing residents as well as some realtors who found that if their clients were not in their homes by the start of the school year, they would be required to pay a full year of tuition.
At the same time, parents who were separated or divorced received inquiries from the District Registrar about their domestic and custodial arrangements.
Why this change? In the March 16th issue of the 'Dale Dispatch' Scarsdale Schools Superintendent Thomas Hagerman provided the following explanation for the new policy. He said, "Another aspect of this centralization of registration that has gotten some attention from the community is the verification of residency that is required when families move, have outdated leases or other paperwork, or have disruptions in family life such as divorce or separation. Although many people believe that owning or renting a property in Scarsdale is sufficient for school attendance, New York law dictates that physical residency is actually the standard, so this does need to be confirmed, sometimes along with custodial arrangements. While we understand this can seem intrusive, particularly to families in transition, we do have an obligation both legally and to our taxpayers, to ensure that students in our schools live in Scarsdale .... Unfortunately, there are more nonconforming residency situations than most people realize, representing thousands of dollars of cost to the families and taxpayers of Scarsdale."
Separated and Divorced Parents
Helen Morey, a Heathcote resident and mother of two school-age boys, grew alarmed, when shorty before the Christmas holiday in December, she received a letter from the district demanding verification of her custody arrangements within four days. In her own words, here are her thoughts on the actions of the district.
"After receiving a demand letter from the Scarsdale Superintendent to provide my entire divorce decree within the 5 business days before Christmas, 2016, else be subject to 'a full investigation', I contacted the office. After much argument back and forth, Dr. Hagerman finally and formally accepted a signed affidavit of custody sufficient to preserve my children's Scarsdale residency and attendance in the Scarsdale School District.
Subsequently, I contacted several individuals across the NY State Board of Education and related Albany offices and found that Scarsdale schools are not following several legal protocols designed to protect students and families, including:
1. Posting the complete list of documents and criteria publicly (on the web site, etc.) to prove residency in the case of new residents, relocating within the village residents, or divorcing residents.
2. School districts are explicitly NOT permitted to require submission of a judicial custody order or order of guardianship - the exact document that Dr. Hagerman's office initially demands and prefers. Only an affidavit is legally allowed.
3. While school districts have the individual right to charge tuition and a requirement to make a determination within 4 business days, school districts do NOT have the right to demand the tuition be paid in full within those same 4 days else threaten to remove a child from school such as happens here in Scarsdale. In fact, the findings have a 4 day window and following that school districts must publish and adhere to the state laws regarding a contested finding, only at the conclusion of which could tuition be demanded should the district succeed in it's decision and motion.
Lastly, it seems odd that the role of a district superintendent should be so consumed with the pursuit of residency proof, including the hiring and management of a private detective force. I would like to understand from the Scarsdale Board of Education what the specific remit is for the office that would make such work the focus at the expense of further improving and streamlining our school system."
Newcomers to Scarsdale
While it used to be enough to have a contract of sale to enroll children in school in the summer, for those moving in after the first day of school, the district is now requiring proof of the house closing and of residency.
Here is the new rule:
A child whose parents have contracted to buy or leased an apartment, house or condominium in the District, but have not moved into the District, may attend the school of the District for up to three months, upon the payment of tuition.
A mother of three children who moved here from California in the late summer had a contract of sale but was not able to actually move in to her house until September 30th. In order to enroll, the district required the family to pay an entire year of tuition for each of the children up front, with the promise of a pro-rata refund upon closing. This was a considerable hardship for the family who had just used up their resources to purchase a house. But that was not all. Even when they had closed the district sought to verify that they were in the house. The woman was outraged when a representative from the district appeared at her door to inspect the house to confirm that they had actually moved in. When there did not appear to be sufficient furniture on the first floor, she demanded that she be allowed upstairs to check the beds. The resident found this level of intrusion objectionable and refused the request.
Moving Out While Renovating
Another new provision, specific to Scarsdale, that residents should keep in mind pertains to temporarily moving out of your home while it is under renovation.
Here is what the regulation says:
A students whose parents own a house in the District which is unoccupied, may be permitted to attend the schools of the District, without the payment of tuition, for up to one academic year from the date that the house became unoccupied, under the following conditions:
a. The house had been occupied, and resided in, but the student and parents for the three years directly prior to the house become unoccupied and the house is required to be unoccupied for a major home construction or remodeling, and

b. The student's parents continue to own the house throughout the period that the house is unoccupied and do not purchase another residential property.
Therefore, this means that if you decide to renovate a home, and have not already lived there for three years prior to the renovation, you will need to pay tuition while you are out of the house. Both residents and realtors find this new regulation puzzling, as the homeowners are presumably paying real estate taxes on the home that is under renovation, have a valid Scarsdale address and ought to be permitted to send their children to school.
Commenting on the new policies, Anne Moretti, Associate Real Estate Broker with Julia B. Fee Sotheby's said, "The District's new residency requirements need to be more clearly defined and enforcement more carefully handled. Incoming homebuyers with signed purchase contracts should also have some grace period within which they can move in without paying tuition. The District should answer the questions Joanne has outlined in this article, and the community should be better informed on our policies."
We sent Dr. Hagerman a series of questions about this new policy a few weeks ago but have not received a response.
Specifically, here is what we asked the Superintendent:
-In your note in the Dale Dispatch you said, "There are more nonconforming residency situations than most people realize, representing thousands of dollars of cost to the families and taxpayers of Scarsdale."
-Can you tell us how many non-conforming students you found in the schools last year before you instituted the new policy? At what cost to the district?
-The policy for current residents who move out of their home while it is being renovated says that in order not to pay tuition they had to own the home for three years directly prior to the house becoming unoccupied. Why the three year requirement?
-Some divorced parents with joint custody have said that the district requires their children to live at the Scarsdale address for a certain percentage of time in order to attend the schools. Can you elaborate? Is this district or state policy?
-Does the district require divorced parents to provide the district with their divorce agreements and custodial arrangements?
-A few parents have reported that the district has retained private investigators to verify residency in the district. Is that true? If so, what was the cost of that so far this school year?
-In reviewing residency requirements for districts in our area, is the new policy in Scarsdale similar to what you see? Does the district have some discretion on how the law is interpreted?
When we receive responses to the questions we will share them with you. In the interim, we thought it would be helpful to make you aware of these new regulations so that you will not be caught by surprise if your own situation changes.
What do you think of these new policies?
Please comment below and include your first and last names.
320 Students Participate in the Annual Speech Contest at SMS
Details

Category: Schools
Published on

05 April 2017

Written by

Josie Blatt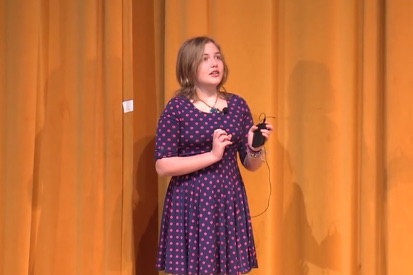 Scarsdale Middle School students learned the power of oratory at the annual Speech Contest on Wednesday, March 22, 2017, with 320 seventh and eighth graders participating in the event. Their moving presentations ranged from personal stories of the loss of a parent to global issues such the Syrian refugee crisis.
The event was the culmination of weeks of activity. Throughout the month of March, every seventh and eighth grade student works on writing and/or performing a speech in their English class. Students select one of six categories of speeches: Oratorical Declamation, Personal Experience, Original Oratory, Poetic Interpretation, Dramatic Interpretation, and Humorous Presentation. After memorizing and performing their speeches for their English classes, students can opt to compete in the Speech Contest.
At the Speech Contest, speakers compete in two preliminary rounds with 6 to 8 students in each room, judged by 2 to 4 judges who give scores from 0-100. Students with the highest scores advance to the final round of their category, with 5 students in each final round. In the final round, judges rank the finalists from 1 to 5, one being the student whom they think should win. The winner from each category performed in an assembly for the entire Middle School on Monday, March 27, 2017. Judges were parent volunteers, previous finalists of the contest who are now in high school or college, and members of the SHS Speech and Debate team.
Approximately one third of contest participants this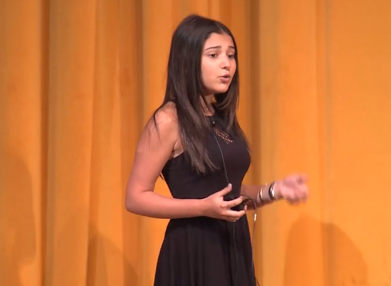 year competed in the category of Oratorical Declamation. In this category, students select speeches that have already been given. Then, they write a brief introduction and perform the speech, interpreting it in their own way. Oratorical Declamation is the newest category, having been added to the Speech Contest in 2014. This year, honorable mention went to Natalie Schonfeld (Popham 8), tied for third place were James Klein (Fountain 8) and Justine Karp (Butler 7), second place went to Natalie Dowd (Cooper 8), and first place went to Katie Berdon (Cooper 8). Berdon's winning speech was holocaust survivor Elie Wiesel's "Perils of Indifference", an address he delivered at the White House in 1999. In her introduction, Berdon noted, "I was struck by the parallels between his plight from all those years ago, and the Syrian refugee crisis happening today."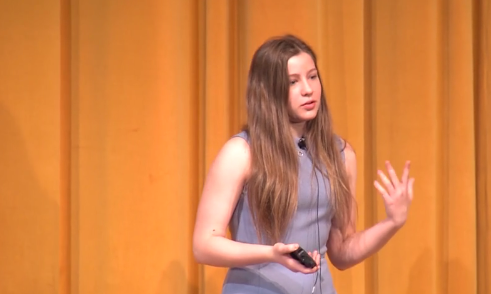 In the category of Personal Experience, students write their own speeches, presenting a story about an impactful experience in his or her life. Honorable mentions went to Alan Zeng (Popham 8) and Jacob Haftel (Popham 8), tied for second place were Lucas Seiffert (Popham 8) and Eric Rodriguez (Popham 8), and the winner was Danielle Eforo (Cooper 8). In her speech, Eforo told the tragic story of the loss of her father when she was 9 years old, and how it impacted her life. Eforo's father was a volunteer firefighter, an EMT, and a social worker. Danielle said, "I decided I needed to help people, just like how my dad did. I started to stick up for my friends when they were teased, I ran bake sales for fundraising, I donated my clothes, I even signed up for a community service organization called Lion's heart."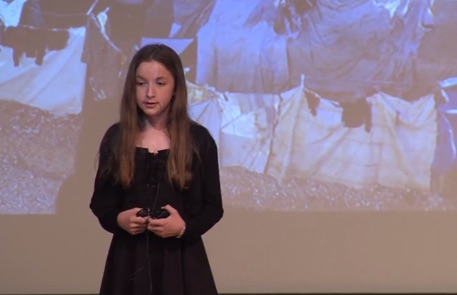 Original Oratory is another category in which the speakers write their own speeches. Students select a topic they are passionate about, and write and deliver an informative, persuasive speech. In the contest, honorable mentions went to Adam Wasserman (Popham 8) and Samantha Kefer (Fountain 8), third place went to Jacob Rosewater (Cooper 8), second place went to Simran Ruta (Popham 8), and first place went to Alexa Doyle (Fountain 8). Doyle's winning speech argued that we must allow Syrian refugees to enter our country. Doyle made effective use of the ability to present images on a slideshow in this category. She showed the tragic photograph of 5 year-old Omran Daqneesh, a Syrian boy who was rescued from a building hit by an airstrike. Doyle questioned, "Many of you are here today because of America letting in your ancestors in the 1800s and 1900s. And now because of that, we are a bigger, better, and stronger nation. Our country was built off of refugees, so why are we closing our doors to the people who need us the most now?"
In the category of Poetic Interpretation, students select one long poem, a section of a novel written in verse, or several shorter poems to perform and interpret in their own way. This year, honorable mention went to Dylan Tuchman (Popham 8), tied for third place were Emily Yacoub (Butler 8) and Andrea Cardiel (Fountain 8), second place went to Karen Lee (Popham 8), and the winner was Mia de la Fuente-Akersveen (CHOICE). Fuente-Akersveen performed "Today Means Amen" by Sierra DeMulder. The poem is an uplifting spoken word poem that emphasizes the importance of every person in the world. In her introduction, Mia said, "Spoken word poetry is a rather new form of literature that had yet to be explored. It discusses so many topics and it truly is a beautiful art form."
Dramatic Interpretation is similar to Poetic Interpretation.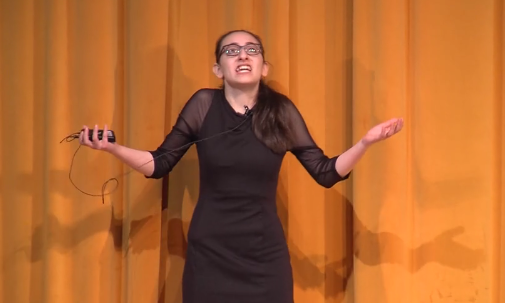 However instead of performing poems, students perform an excerpt from a novel, a short story, or a play, and embody the characters from their selection. The excerpts can be serious or humourous. Honorable mentions this year went to Aanya Schoetz (Butler 8) and Kate Rosier (Cooper 8), third place went to Vivian Guo (Popham 8), second place went to Cooper Cohen (Fountain 8), and first place went to Danielle Degani (Popham 8). Degani's excerpt was from the play "The Prisoner of Second Avenue" by Neil Simon. Degani embodied the character Edna, who just found out she had been robbed. In her introduction, Degani explained, "Edna is baffled by the fact that she has been robbed, because she was only gone for five minutes."
In the category of Humorous Presentation, students write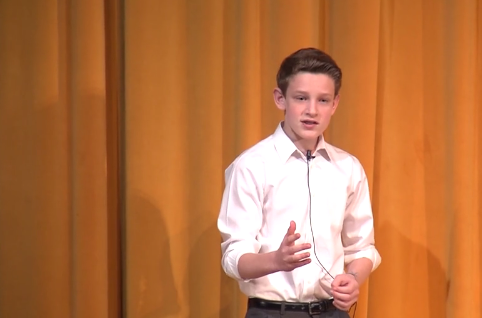 and perform comedic speeches about topics that everyone can laugh about. Honorable mentions went to Benjamin Koch (Butler 8) and Katherine Barlow (Butler 7), tied for second place were Zachary Loeser (Cooper 8) and Thomas Gibney (Butler 7), and the winner was Joshua Bock (Butler 8). The topic of Bock's winning speech was social media. Bock summed up posting on social media in these comedic lines: "So here's how it works. First, you find something to post that people actually care about. In the unlikely event that you get past that first stage, now you have to find a caption. This is done by locking yourself in a dark room for an hour and trying to think of clever puns, even though in the end you know you're just gonna settle for a hashtag and call it a day."
The contest was run by Fountain 8 Social Studies Teacher Will Maldarelli, and Computer Teacher Doug Rose.
This article was written by Josie Blatt, a senior at Scarsdale High School and a member of the Speech and Debate team.