Technology Education Report: From BlueBots to "Life Hacks", What's New with STEAM in Scarsdale?
Details

Category: Schools
Published on

26 January 2017

Written by

Heather Gilchriest Meili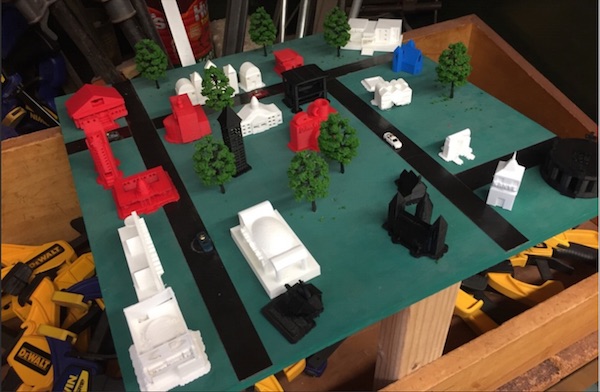 Some pretty amazing things are new, with much more to come, as revealed in Director of Instruction Technology and Innovation Gerald Crisci's "Technology Education Report" at the 1/23/17 School Board meeting. Assisting him with the presentation were three members of the "STEAM Team", SHS teachers Lisa Yokana (Art), Jeremy Szerlip (Science), and new hire Brian McDonald (STEAM).
With a windy nor'easter bearing down on the area, the School Board curtailed the scope of their agenda Monday evening to focus on the STEAM presentation. Due to weather, no doubt, community attendance was sparse, but it is well worth residents' time to view the presentation on video here and/or review the presentation document, as they reveal an exciting expansion of the education offered to all Scarsdale students.
Those who follow educational topics in our district may recall that recent surveys indicated that "STEAM" headed the majority of parents' priority list in educational investment, and that World Language surveys even had some write-in requests for "Java, "C++" and "Python" rather than world languages. No question, this is a educational need on parents' minds. Scarsdale has been laying the groundwork for this expansion for some time, connecting with organizations such as Princeton Unversity, the New Media Consortium, and the Museum of Science Boston to gather information on cutting-edge STEAM education trends.
Dinner Table Topics?
Most are aware that the new Design Lab construction is in process at the high school, but what else is planned from Kindergarten on up? What are BlueBots and who's dreaming up Life Hacks? What might parents expect to start hearing about over the dinner table?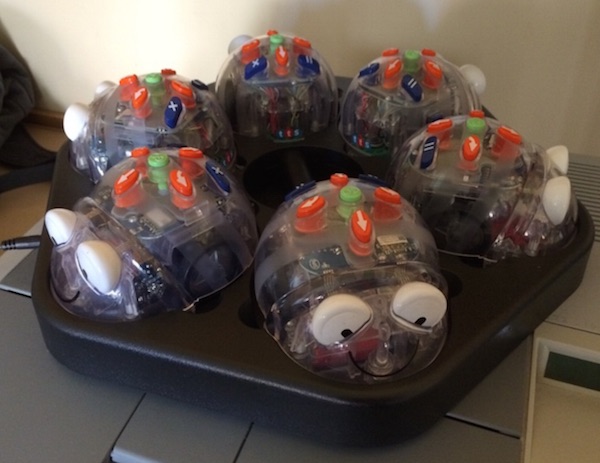 Kindergarteners and first graders ought to be bringing home tales of their explorations with BlueBots, adorable light-up "bug" robots that they can program to follow instructions. As they progress through the elementary years, their experiences with the BlueBots will help them transition onwards to more traditional programming with Kodable and then Tynker.
Middle schoolers consider coding everyday stuff, as they've had a coding quarterly in sixth grade for three years now, although expansion to seventh and eighth grades is under consideration. The Technology quarterly helps spark interest in various after-school offerings, and traditional engineering projects, such bridge building, foster design thinking that the high school offerings will expand upon.
In high school students' interest and options are exploding.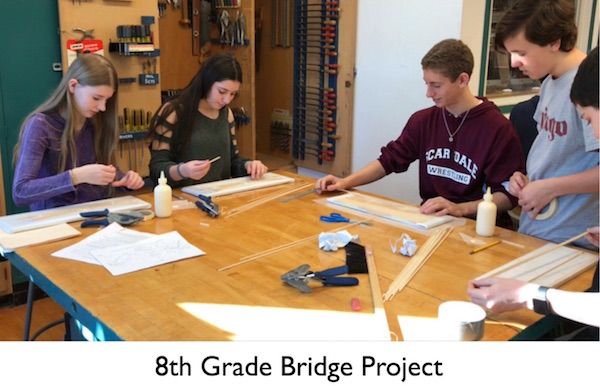 STEAM teacher Brian McDonald noted that he's recently opened the current Design Lab space before and after school and he now has four 3D printers running constantly so that students can complete their projects.
Students already have concrete work to display - one clever "Life Hack" recently completed in the Intro to Design and Fabrication class was a flat shoe-sole meant to be velcro-attached over cleats to allow for safe driving without having to remove sports gear. (Ongoing work at the Design Lab can be viewed here.
The 270 students who have completed the new introductory level engineering courses can consider choices among next year's second level courses: Design for Modern Production, Physical Computing/Wearables, Robotics, and Design/Build.
Another interesting development both middle and high schoolers may mention is the addition of an Engineer in Residence. SHS graduate Giancarlo Paternoster, who studied mechanical engineering at Lehigh University, is now sharing his knowledge of tools and materials science with interested students and reportedly they're excited by the connection with a young alumnus.
Queries from the Board
School Board members had questions once the presentation was complete.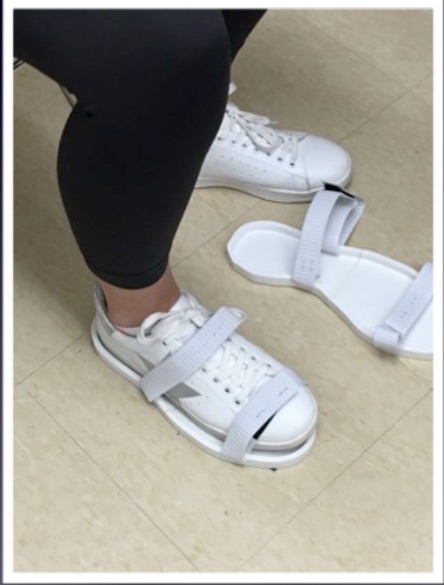 Board President Leila Maude asked if the STEAM group was meeting with colleges to make sure Scarsdale is staying in line with colleges' goals for students. Lisa Yokana, who teaches Art, Architecture, Introduction to Engineering, and Introduction to Design and Fabrication, replied, "Yes, the collaboration with Princeton was especially useful," and mentioned that they keep in contact with other schools and alumni as well.
Board Vice President William Natbony asked how the Design Lab would tie in to the current initiatives as it comes to fruition. Ms. Yokana explained, "We have designed it as a flexible shell so it can easily change as our needs and technology shift and change. We're bursting at the seams in our current room and the new space will only get our kids even more excited."
Ms. Maude raised the issue of how things would change as the students engage with the STEAM curriculum earlier and earlier. Mr. Crisci explained, "That's why we're starting with BlueBots, starting with physical objects appropriate to the age....Every year we'll have to recalibrate our program, make sure that in the next two to three years it's ready for those moving up.... One goal is to have common language around design, just like the common language of the scientific method, incorporated as they go starting from early on."
Board Member Arthur Rublin expressed his appreciation for the plan keeping Scarsdale on the "cutting edge of education K-12" and Superintendent Dr. Thomas Hagerman concluded the evening by thanking Mr. Crisco and his team for their "dynamic and informative presentation."
Again, it is well worth the time to view the presentation in its entirety, available through the Scarsdale Board of Education website here.
Middle Schoolers Learn to Stand Up and Be the Change
Details

Category: Schools
Published on

18 January 2017

Written by

Joanne Wallenstein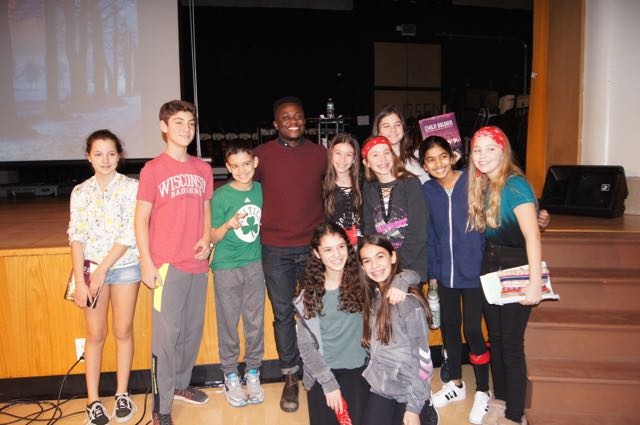 The entire student body of the Scarsdale Middle School was involved and engaged in exploring how they could "Stand Up and Be the Change," at the 13th annual Human Rights Conference on January 12. Teachers Meghan Lahey and Jane Strobel and the faculty of SMS organized a full day of speakers and activities for the students, demonstrating how they could be instrumental in making the world a better place.
Representatives from local organizations along with those from organizations that reach all the way to Africa participated. The great hall of the school was filled with cans of food that students had been donated to the Food Bank for Westchester and students assisted with evaluating the cans and sorting them so that they could be distributed to those in need.
I stopped by a music class where there was an African drumming demonstration and then visited Ms. Cassano's art class where the children were making symbolic paper hands for the Youth Uplift Challenge for Students Rebuild, Save the Children and Global Nomads Groups. For each hand created, the Bezos Family Foundation donates $1.90 to Save the Children's youth empowerment programs in Nicaragua and Indonesia.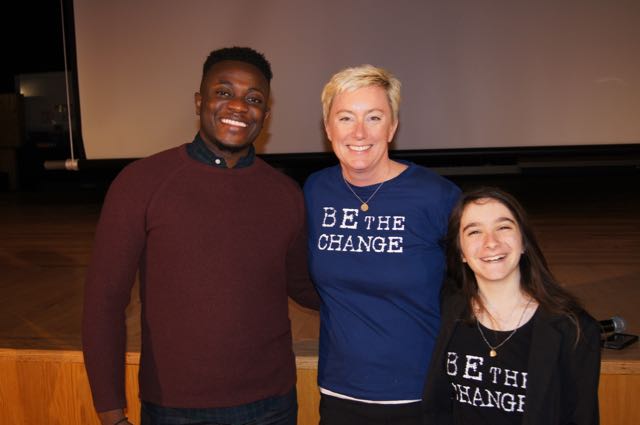 At 10 am, the whole seventh grade class gathered in the auditorium to hear Michel Chikwanine recount his personal journey from the Democratic Republic of the Congo to Canada. The son of a human rights activist, Chikwanine was kidnapped by rebel soldiers at age five, and given a gun. He was instructed to use it and ended up killing a good friend. After a few days he escaped and was eventually found and hospitalized. When his village was overrun by conflict, his family moved to a plastic tent in a refugee camp in Uganda. They were ultimately able to get official refugee status from the United Nations and relocated to Canada. Chikwanine did an excellent job or relating to the kids and showing them what it was like to live in a rural, war-torn community.
The schedule included many more inspirational speakers and activities to give Scarsdale students a global perspective on human rights.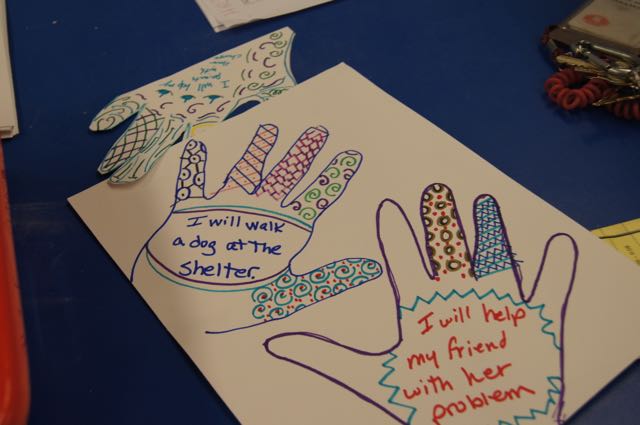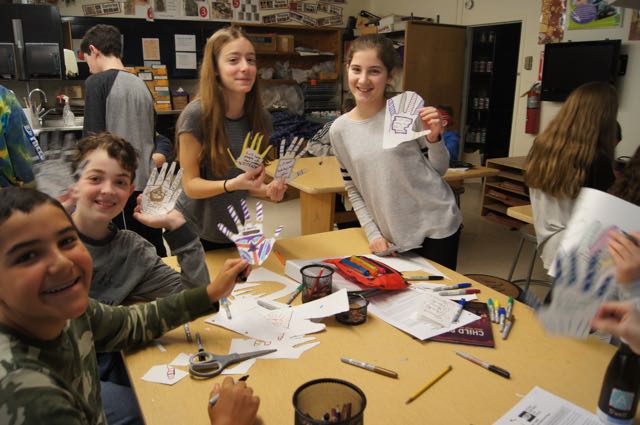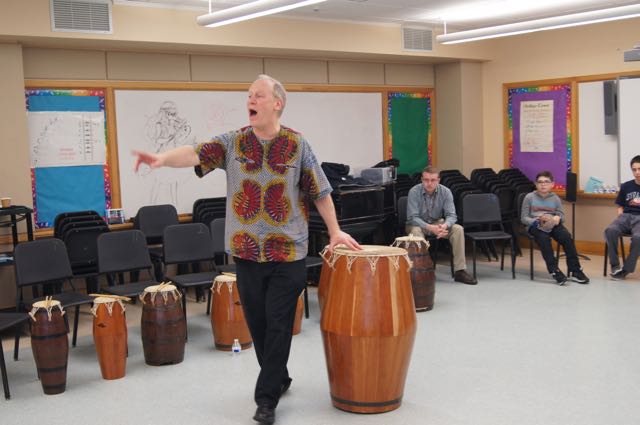 SBNC Election on Tuesday, January 10
Details

Category: Schools
Published on

04 January 2017

Written by

Joanne Wallenstein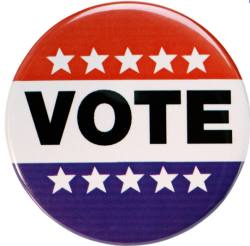 The election for the Scarsdale School Board Nominating Committee will be held on Tuesday, January 10, 2017 with polls open from 7–10 AM and 2–9 PM in the lobby of the auditorium at the Scarsdale Middle School.
The SBNC Administrative Committee is seeking the election of two candidates in each district. In the event of a snow day, the election will be held on Wednesday, January 11, 2017.
The School Board Nominating Committee plays an integral role in shaping the excellence of the Scarsdale schools. By involving a wide breadth of community members, the SBNC helps fulfill its mission of evaluating and choosing the most qualified nominees for Scarsdale's Board of Education. Since September, the Administrative Committee of the SBNC has been recruiting SBNC candidates. Serving on the SBNC is a manageable time commitment and is one of the most interesting and impactful volunteer opportunities in town.
The ten 2017 SBNC candidates elected on January 10, 2017 will join twenty others on the committee serving staggered three-year terms. By the end of March, the SBNC will nominate three candidates to run for the Scarsdale Board of Education to fill the seats currently held by Scott Silberfein and Christopher Morin. Both Silberfein and Morin are completing their first three-year terms and are eligible for re-nomination. All Scarsdalians are welcome to propose Board of Education candidates to the SBNC. The SBNC Board of Education candidates, along with any other candidates who may choose to run, will stand for public election in May at the same time as the school budget vote.
The following candidates are on the ballot this year for the SBNC:
Edgewood: Ruth Berkowitz, Felicia Block and Elizabeth Massey
Fox Meadow: Katherine Cutlip, Jason Kofman, Daniel Shefter, Susanne Vleck and Gunesim Williams
Greenacres: Mitchell Kahn, Amy Lewis and Amy Nadasdi
Heathcote: Lawrence Patrizio and Sanford Plachter
Quaker Ridge: Greg Alkalay, Colleen Brown and Cindy Iver
A mail-in ballot is available for those who choose not to vote in person. Copies of the mail-in ballot are available to the public in hard copy at Scarsdale Village Hall and the Scarsdale Public Library and in electronic form on scarsdalesbnc.com. Completed mail-in ballots must be sent to: SBNC Administrative Chair, PO Box 172H, Scarsdale, NY 10583 and received in the SBNC PO Box no later than 4 PM on Tuesday, January 10, 2017. Submit your mail-in ballot now if you will not be voting in person.
Any resident of the school district may vote who is (i) a US citizen; (ii) 18 years of age or older; and (iii) a resident of the school district for 30 days prior to the election.
District Staff Additions Contemplated as School Budget Season Begins
Details

Category: Schools
Published on

12 January 2017

Written by

Heather Gilchriest Meili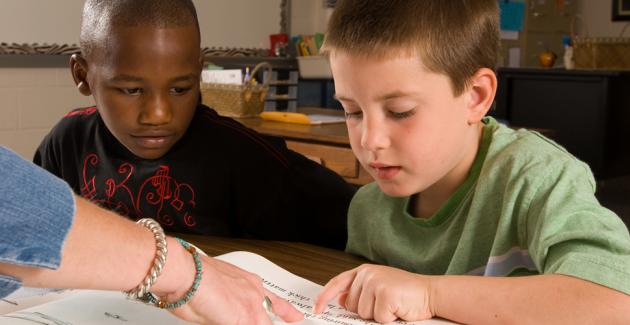 With the annual district Budget process underway, the school board meeting of Monday, January 9th addressed questions of staffing, one of the most important drivers of the budget. Superintendent Dr. Thomas Hagerman characterized the evening's focus as, "Putting people first, as we are a people business."
Most district families are likely to find proposed additions to next year's school staff that will enhance their students' educational experience in significant ways. Interestingly, these additions would only just bring district-wide staffing back to the levels customary before the upheavals of 2009-2010.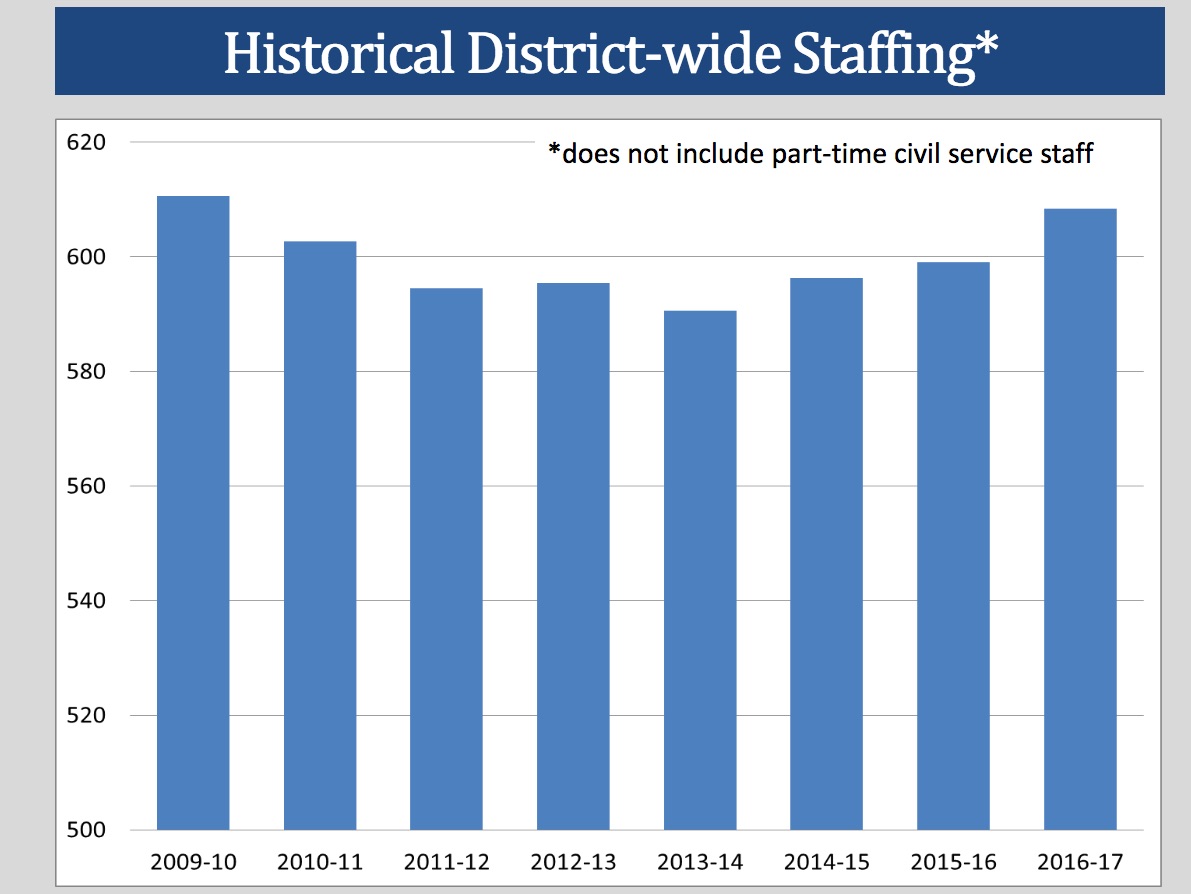 Departures:
Before examining the additions contemplated for the 2017-2018 year, Drew Patrick, Superintendent for Human Resources and Leadership Development, shared the news that six longtime teachers have announced their retirement at the end of this year. From the High School, they are Steven Boyer, Elise Levine, Anita Occhiuto, and Howard Rodstein; from the Middle School, Joanne Harris and Caran Pullen.
Early Elementary Reading: Key Foundation
Following upon last year's successful addition of a half-time reading support specialist for each elementary's 1st grade, Assistant Superintendent for Curriculum, Assessment and Instruction Lynne Shain outlined a new target of one full-time reading specialist (meaning an additional 0.5 position) plus an additional 0.5 Learning Resource position for a new total of three interventionists at each elementary school (1 Reading Specialist and 2 Learning Resource teachers.)
Erik Rauschenbach, Director of Special Education and Student Services detailed the value of the program, reporting it has already increased the number of students reading at grade level. The new staffing would allow the reading specialists to begin a year earlier with Kindergarten students and continue support through the early grades as needed. This would have the additional effect of allowing the Learning Resources teachers to concentrate more fully on the older elementary students and their particular needs. Dr. Hagerman remarked, "This is based on the premise that reading is the foundation for all content areas including math and science, so we give it the utmost support in terms of the work that we're trying to do...and as early as possible."
Mr. Rauschenbach outlined further benefits of the reading support, expecting it to help more students to be prepared with higher-level reading skills as they transition to middle school. He also expressed a hope that there would be less need for students to transition out to schools such as Windward: "We will look at whether we see fewer kids leaving their home district for that help."
School Board President Leila Maude asked for a sense of what comparable districts around our area provide: "Were we behind and are we catching up?" Ms. Shain replied, "Absolutely."
Phys Ed for All
Ray Pappalardi, Director of Physical Education, Health and Athletics, also approached next year's staffing with the goal of meeting the needs of the full student population. He reported that a certain subset of students is not well-served with any current offering. An additional Physical Education teacher is proposed to allow the addition of an Adventure Curriculum focusing on social/emotional skills, confidence, and interdependence. This curriculum would build on the successful Challenge Course already in place at the Middle School. This additional full-time position would also allow the full use of every Physical Education space at the High School throughout the day.
Steaming Ahead with STEAM
Scarsdale's new STEAM curriculum at the high school is only a year old but it looks like it is already serving an eager population with more in the pipeline. Jerry Crisci, Director of Instructional Technology and Innovation, reports that with one full-time STEAM teacher on board, 270 students enrolled this year in 14 sections of the beginning courses: Intro. Engineering and Intro. Design & Fabrication. In order to complete the planned sequence, a second teacher is requested in order to teach the 2nd year options: Robotics, CAD, Design to Build, and Wearable Technology. Additionally, this position would take on the coordination of student work in the D-Lab and help grow the program's reach throughout the school. Community members eager to know more about the program should plan to attend the next Board Meeting on January 23rd which will be primarily focused on the STEAM curriculum.
Additional Staffing: Nurse, Custodial
Rounding out the proposed staffing is a request for an additional Nurse at the High School. With a guideline of 1 nurse per 700 students at the High School level, Scarsdale's current ratio of 1/1500 is not in line with accepted recommendations. Furthermore, Mr. Rauschenbach explained that with the stricter concussion management requirements now in place, the expansion of activities that continue beyond the school day, and the pool of students coming up with more intense allergy and chronic illness needs, a second nurse would be very much advisable. From a budgetary point of view, the elimination of nurse subs brought in during high demand will offset the new cost to some degree.
And in the realm of Facilities, the additional 25,000 square feet at the High School which have been added as part of the Bond Project will now require the addition of two additional cleaners. It is expected some of the cost of these positions will be offset by the decreased need for overtime.
A New "Zero" Period at SMS?
One piece of the first draft budget which has yet to be fully sketched out is the question of the "zero" period before the school day which is being considered for a possible introduction of Mandarin for incoming 6th graders. Ms. Shain's office recently surveyed incoming 6th grade families about their interest in an additional World Language in this 7:30-8:10 am time slot. With 140 families replying (a 36% response rate), 87 had no interest, and 22 wanted Mandarin. (While there was some interest in Latin, Italian, German, and ASL, none of these choices approached the number needed for one class section, set at 18.)
Board members discussed this option from several angles:
Scott Silberfein questioned how the early morning start and additional academics worked with the new focus on Wellness, while Dr. Hagerman countered with the thought that part of Wellness is learning to manage stress.
Board Vice President William Natbony questioned how costs might rise as the program tiered up to more levels in future. Ms. Shain noted that a monitor or chaperone to be in attendance during that early time period might need to be added to the budget.
Christopher Morin wondered whether the plan was a rather expensive and complicated way of using taxpayer money to serve 22 students.
Dr. Hagerman expressed confidence that the interest in Mandarin, like the interest in an expanded STEAM curriculum, was deeply rooted enough not to disappear.
Before concluding the discussion for the evening, Dr. Hagerman suggested it would be worth a face-to-face discussion with the interested families to gauge their commitment.
The Bottom Line for 2017-2018?
While still very much in draft form, nonetheless the proposed 2017-2018 budget looks like good news for the community at large. It provides significant new benefits and opportunities for students and brings staffing in line with pre-crisis levels while remaining under the tax cap of 1.49%.
(insert Budget Page)
Note: the Staffing Recommendations Report with full details can be found on the District webpage, and the community is invited to join in the process with questions and comments at the multiple meetings which will take place through the winter and spring; all dates listed in the Report.
And Greenacres:
Ms. Maude noted that most communications to the Board since the last meeting were on the topic of Greenacres, so it seems that the neighborhood must be eager for news of next steps. Assistant Superintendent for Business Stuart Mattey indicates the process is moving along with an ad running in the New York Times last week and responses due January 18th.
The most energetic public comments of the evening came about Greenacres from Mitch Kahn of 198 Brewster: "The first thing I came to ask for is the RFP for the architects for Greenacres; I don't know why it hasn't been given to us publicly....I know it's been asked for in emails....We should know what we're asking the architects to do."
Dr. Hagerman acknowledged, "The RFP has been requested by a couple of different folks. We have deliberately not sent it out....We're waiting to get to the conclusion of the process where we have the bids in and we have an opportunity to vet the architects before we scare people away who might not be otherwise interested in Scarsdale." He also clarified, "This was not an RFP that was specific to Greenacres....It was for a District Architect and so it was very open-ended."
Does that mean that the vigorously expressed and varied views of the Greenacres community actually have the potential to deter firms from work in our District? Is it time for residents to bite their tongues and await a new analysis of the school building from the Board and Administration's new choice? Or perhaps the community should work to build some agreement before new architects come on the scene.
As Mr. Kahn noted, "The teachers at Greenacres - about a month and a half ago - gave a presentation to Dr. Hagerman and I believe Mr. Mattey about their concerns about Greenacres School....Perhaps the Board should convene with them so they have an idea before we start down this road."
Dr. Hagerman confirmed, "The Board are very much aware of the concerns of the teachers and the principal."
In that case, perhaps the community should also be aware of the concerns of the teachers and the principal who work in the building providing our children's education every day, experiencing first-hand the building's capabilities and limitations. Maybe the PTA can lead the way and bridge this information gap?
In any case, the suspense will not last much longer; Mr. Mattey expects to have interviews in February and a recommendation thereafter.
Superintendent Announces Search for New Architects for Greenacres School
Details

Category: Schools
Published on

14 December 2016

Written by

Joanne Wallenstein
Residents who hoped that Superintendent Hagerman would make a recommendation to address issues at the Greenacres School were handed news of a another setback at the Board of Education meeting on December 12. The project is back to square one as the Superintendent announced that he had dismissed architects KG&D, who had been selected after a search by the district in 2013 to design options for the school. He questioned the "pillars" upon which the architect's recommendations were made and said he wanted to go back to the drawing board to reexamine the data and address the right problems. He proposed an RFP to replace them with a new firm, but was unclear about what the new firm would be charged with designing.
In the past few months, during a "pause" in the discussions about the school, the administration sought to discredit the architect's work, question the accuracy of their measurements and minimize the risks posed by structural and air quality issues and persistent water infiltration at the school. The administration also voiced concerns about making Greenacres any more up to date than the most dated sections of Scarsdale's other elementary schools and repeatedly denied that any of the problems identified by architects and engineers at Greenacres were any worse than any of the district's other oldest facilities.
In a presentation about the school, Assistant Superintendent Stuart Mattey said that the administration had already addressed air quality issues, water and mold infiltration and the aging infrastructure though many in the audience and some of the board members still had serious questions about the feasibility of the building. When questioned about the air quality at the school Mattey said that testing was done in three to four rooms where there were damp ceilings and "nothing unusual was found." He said that Greenacres is no more or no less out of compliance than other buildings. When asked, "Does it meet code? Does it have the proper air exchange levels?" He replied, "No it does not." An email to Mattey requesting the actual air quality reports was not answered.
About a persistent leak in the ceiling and walls of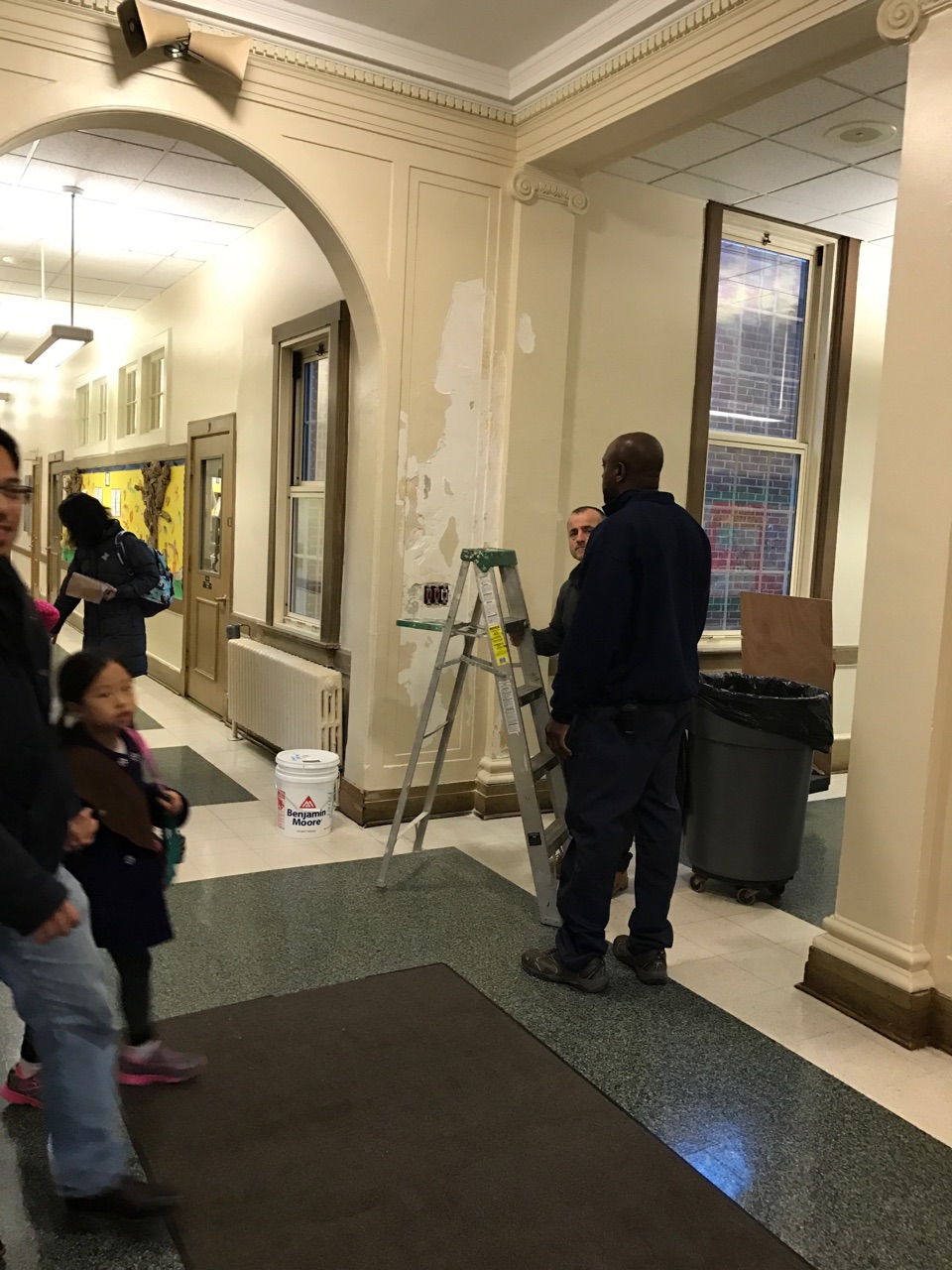 the school, Mattey said that workmen had been trying to address it for more than six months and thought they had resolved it but it is still showing dampness. He assured everyone that there is a similarly damp area in Fox Meadow as well.
In order to address the claim that Greenacres classrooms are smaller than those in the other elementary schools, the administration recently re-measured all the district's elementary school classrooms and Mattey presented slides showing a comparison of classroom sizes at the five elementary schools by grade. These did show that Greenacres had the smallest classrooms overall, however some rooms in Fox Meadow were also small. None of the rooms at the school met the threshold for model classroom size, and again, the administration illustrated the fact that many other classrooms in the district are not up to model size. See the data here:
Mattey has not yet completed measurements of the overall buildings to measure square footage of usable space per student. That is, the measurements did not include common spaces such as multi-purpose rooms, music rooms, cafeterias, auditoriums, gyms, bathrooms, libraries, maker spaces, rooms for occupational therapy or learning resources.
The 2015 Greenacres Feasibility study claimed that Greenacres had 26% less space per student than the average of the other schools and Mattey said he would provide updated numbers at a later date.
Board Member Art Rublin challenged Dr. Hagerman and Stuart Mattey on some of their statements. He said that the engineers report from Greenacres showed that "Fresh air is far below current standards, the ventilators are vintage, have far outlived their useful life and are incapable of bringing in enough fresh air to meet code."
Dr. Hagerman said, "Old systems require deferred maintenance or replacement. But our schools are not that different from one another."
Rublin then asked about water infiltration in the basement and from the roof and Mattey said, "We have a hundred year-old building but we believe it's been resolved." Pressed further, Mattey added, "It's an existing condition. The building is built where it is. It will always be a challenge if the building remains there. Is it a solution? Is the water gone? No."
Rublin continued saying that the architects estimated it would cost $27 million to update the current Greenacres School while it would cost $5.95 mm at Heathcote, $2.99 mm at Quaker Ridge, $3.5mm at Fox Meadow and $6.1 million at Edgewood. Dr. Hagerman discounted the wide disparity in these numbers as well, saying that the architects had done an intensive look at Greenacres but not at the other schools. Rublin replied, "The numbers are pretty stark."
Conversation then turned to regulations which that require the district to bring the entire up to compliance with present air quality and fire codes. Board President Lee Maude said that if substantial construction was done to the building, the entire building would need to be brought up to current code. Nina Cannon asked if the Board was obliged to provide buildings that meet code. Mattey said that our buildings are only required to meet the code as of their building dates. Scott Silberfein pointed out that at Heathcote plans for the new multipurpose room were redesigned because the new HVAC would have had to be brought into more of the building and require upgrades to areas that were not under construction.
Rublin then said, "This all started when in 2014 the steering committee, BOE and administration said that Greenacres was excluded from the bond because, the school would require funds far in excess of what was available in the $18 million 2014 bond. Greenacres was promised that either a substantial renovation or a new school would come in the next bond. I believe the studies are still accurate. There are substantial problems with the facilities that are impeding the curricular and physical education program. All of the classrooms are too small. Students spill out in the hallway to do group work. Indoor recess is a problem. There is a scarcity of multi- purpose space. Occupation therapy and instrumental music share space in the basement. Infrastructure problems remain in the building Water, air quality and mold are indeed issues. Antiquated ventilators do not provide code compliant ventilation. Greenacres is the school in the district with the most need of work. Even classroom size issues are more substantial. Other schools have more spaces. Fox Meadow has a new kindergarten wing and Edgewood will have an expanded library."
Rublin continued, "I am concerned about switching architects almost three years in but I will accept the Superintendent's recommendation on that. It is very important that the new architects present the Board with both a renovation and a new building option. The issues are significant enough that both options should remain on the table for the Board. From everything I see I think that a new building is a better option but I am willing to look at a renovation option. One way or another we owe it to Greenacres school children and the community at large to provide the children of Greenacres with a school facility that has adequate space and sound infrastructure and allows the full delivery of the curricular program."
Mattey reviewed the timeline for an RFP to select a new architect though the details of the RFP were not shared with the audience. The administration plans to release the RFP on December 16 and advertise for proposals in the Journal News and the New York Times. Proposals will be due on January 18, 2017. Firms will be invited for interviews with the board between January 23 and February 7 and the new architects will be appointed on February 13, 2017. Dr. Hagerman added that design schemes would be delivered to May and a bond would be planned for the fall of 2017.
Dr. Hagerman did not define the parameters of the work for the new architects and did not provide a budget. It remains unclear what the district is charging the architects with doing and whether or not they would design a new school. The RFP will not be reviewed by the community before it is issued. However, he did say, "Now folks are thinking that we're minimizing this to the extent that we intend to do nothing. This is false. I have been hearing that we're only providing paint and curtains. This is not true. We need to be sure that we are addressing the right issues. We know that there are classroom issues. Code issues. We know that there are bathroom issues. But we need design issues that address those." It is interesting to note that in his comments he did not mention the need for more common or multi-purpose spaces, a suitable lunchroom, auditorium, larger gym or many of the features of the other elementary schools.
During the course of the meeting many residents spoke about Greenacres.
Linda Doucette Ashman, the Vice President of the Greenacres Neighborhood Association invited the Board and Administration to a forum at Greenacres to discuss the project with residents. The statement urged the Board to provide the community with information, a timeline and a plan to address structural issues at the school. The statement can be read in its entirety here:
Mona Longman, a former Greenacres PTA President said... "We were told "it has been determined that the Greenacres School building requires a higher level of repair, renovation, and/or construction than could be included in this current bond." We were assured that the anticipated school bond revolving in 2017 would include either a major renovation or new building for Greenacres along the lines of what transpired for the Post Road Elementary School in White Plains." ..."I learned that an engineering firm determined that much of the school's infrastructure was 'vintage', and the ventilation system is not code compliant. The system is supposed to be able to bring in enough fresh air from the outside, however, the amount is not adequate. Specific problems areas included the old multipurpose room where the air handling system is not functioning, the basement computer and music rooms, which are not ventilated at all, and even the ventilation in the school's corridors were not code compliant. Many of the other components of the school's infrastructure are long past their useful life. The report found that waterproofing, sanitary piping and electrical distribution is in poor condition. The foundation leaks terribly and the school requires multiple dehumidifiers to prevent mold and mildew. Also, the two story section of the school should have code compliant fire dampers, but does not. These are just a handful of facts anyone can learn just by a quick scan of the engineers report."
I read this report in disbelief. Do I really care if a few classroom measurements are off, when I learn my neighborhood's school has all these problems and may not comply with today's code? Should this be okay in a school in a neighborhood like Scarsdale? We are talking about a school where 5-11 year olds spend more than 6 hours a day five days a week.
Early in this same report, it is estimated that it would take close to $25 million dollars just to bring Greenacres up to the level of the other schools (the as-is option). Is that what our board of education really aspires to provide our community with? And considering that much of the building has either no ventilation or inadequate ventilation, how can work be done with students and staff in the building. And as a Scarsdale taxpayer, I hope we're not going to spend close to half the cost of a new building just to keep us from being the worst school in the district."
Andrea Seiden of Greenacres Avenue said, "I am here to ask the administration and the school board to move forward with their charge of doing what's best for the district's children. ...The school is too small and lacks the necessary facilities to provide the children with a first class education....All the mechanical and structural elements of the building have exceeded their useful life. In addition, constant remediation is required to keep the current building dry and safe. Water seeps in through the foundation of the building. Repairing the current infrastructure to bring it up to code would be far more expensive than building a new school. The air quality is not up to code and there is not enough fresh air in the classrooms, especially in the basement."
"Given the state of the facilities, it would be foolhardy to spend taxpayer dollars on an addition to a building that is not sustainable for the next 50 or 100 years.
We ask that the Administration and the Board take a hard look at the decision before them and fulfill their promise to move forward with the passage of a bond in May 2017 that will finance the construction of a new school at Greenacres and other district facilities needs."
Paulina Schwartz of Oakstwain Road said, "I looked at the report that came out today. The net usable square footage of the space has not been re-measured. It will be important when you look forward. Greenacres is the fifth out of five. The air quality and fire protection are not up to current code and that is concerning. Fire protection is important and the building has no sprinklers. I hope we will not skimp on things that are important."
Commenting after the meeting, Schwartz said, "I found the Board's attitude towards meeting current building codes disturbing. Fire codes keep our kids safe if there is a fire. Air quality codes require fresh air to be brought in to classrooms so kids don't get sick. To hear board members act as if these codes are not relevant is disappointing. The state creates these to keep kids safe and our district is saying that they do everything they can to make sure that they have to follow it as little as possible (keeping all projects from triggering code compliance). In my opinion, the physical safety and well being of the students is not where we should be saving money."
Nathan Boynton said, "We worked really hard to get into your school district. We believed that the community supported education. It has been incredibly disheartening to me to watch my community try to walk this back. I am not going to reiterate why it's not a good a idea to cut open a school. Go ahead and build a new school. It does not need to be fancy. If not, I am going to see a community that was balancing a budget on my kid's safety. There is flexibility to build something simple and cost effective. I would implore people not to send young kids into a construction zone. I hope we can stay here."
Maureen Ryan said, "I am going to bring a new perspective. I don't have children at all. I don't even find your children fascinating. We moved here because we felt that a community that supports education is important. I live in a 1925 Tudor but when my husband goes to work I want him in a state of the art building. I want my husband to be safe and I want him to be able to get out. Those kids are going to work. We should not be slapping band aids on an old building. The kids should be in the best situation possible."
Mitch Kahn of 198 Brewster Road said, "We are mostly high achieving people here. Why would you measure yourself against the lowest standards? Level up, not down.
Look at the schools and model to the best.... Also, why is there no public discussion among the board members? I thought these meetings were to hash out differences. I am hoping to hear that discussion."
Kyle Schurle of Donellan Road said, "There are risks to renovation. The school will still be on the wrong side of the street. We haven't gotten to the mold issue. There are heath risks and air quality issues. There are questions about educational adequacy during the period of the renovation. What justifies taking any of those risks? Does B1 provide a superior facility or value? C1 is superior. Why don't we have a sophisticated financial analysis of these two options – with consideration of the finances of a new versus a renovated building. If it is done, it will be crystal clear that B1 is a terrible value for Scarsdale overall. What are the top three arguments for B1 or C1? I honestly analyzed this objectively and I don't see why this is even a close call."
Others still spoke in favor of renovating the school.
Val Greenberg of 121 Brite Avenue told the board that the "B1 opponents are as passionate as ever. The numbers are out there" She noted that a review of district water fountains found that the three oldest schools had the safest water. She said, "Our school is beautiful. It works well. It might need a few tweaks."
Meredith Gantcher of 164 Brewster Road said "Every parent cares passionately about the school their child is in. I have friends with a child in the middle school and they have a litany of complaints about the middle school. I was recently with friends in Edgewood who said, "Why are people in Greenacres complaining about a band aid solution for Greenacres. Isn't Edgewood getting a band aid now?... I am concerned about all the children. Do what's fiscally responsible for all the children. To ensure that all children get the best education we can afford. We have to do what's right for everyone within the budget that we have."
Barbara Wenglin said, "The committee to save Greenacres School while preserving the full Greenacres field is still active, awake and engaged. More than half do not live adjacent to the school. Represented are families with young children and empty nesters. Lawn signs remain reflecting widespread community support. Our members have been patient and attentive. With new architects on board we hope that demolition costs, environmental concerns along with the water table of the field will be considered as well. Safety concerns of renovations have been addressed. We share budget concerns of the stressed village tax climate with the reval, and the proposed library renovation. Greenacres' population is declining. These numbers will change as Greenacres expands and enhances its footprint. We question whether Edgewood and Fox Meadow will need to be torn down."
John Singer from Montrose Road reminded the Board that the idea of the model program came from KG&D. He said, "Think about whether or not this is a Scarsdale standard. I think it is somewhat arbitrary. We have the highest achieving elementary schools in the state." He also said that "There's work going on now at the high school. Asbestos can be removed during vacations.... there is fear mongering going on out there."
Final comments included the following:
Gabe Oestreich of Brewster Road suggested that the board share the information they share with the architects with all the people in the community and include links to meetings where issues were discussed on the district website.

Jon Krisbergh said, "One of the problems last time was that KG&D got off to the wrong start. We want to make sure that we know what this new architect will be tasked with? That should be shared. What is in the RFP? Is a new school going to be an option for them to consider? Art – your engagement tonight was good to see. There was a good back and forth."
Rona Muntner of Fairview Road spoke in favor of the new architect, asking for new eyes on the situation. "Making lateral and backward comparisons to other schools is important and useful to make informed decisions going forward. We moved to Scarsdale for the innovation and creativity of our schools. What are tomorrow's standards? What is going to sustain our community going forward. Let's use what we learn from the past to create something more amazing for the future."
After leaving the meeting Munter added, "Essentially the Board said that Greenacres is completely broken but all our schools are at least somewhat broken so it is okay not to fix Greenacres."