First Day of School Photo Gallery
Details

Category: Schools
Published on

06 September 2016

Written by

Joanne Wallenstein
A cool breeze ushered in the first day of school in Scarsdale, on Tuesday September sixth. Kindergartners found their way into classrooms for the first time, middle schoolers boarded buses, and high schoolers arrived on foot and by bus, with a lucky subset driving their own cars. It was a big day for eager students and their parents as the 2016-17 school year officially began.
Here are photos of kids around town. Add your kids to the gallery by emailing their photos to scarsdalecomments@gmail.com.
Thanks to the Moms for the photos: Robyn Bedil, Elizabeth Brew, Sandy Gaffner, Heather Gilchriest, Sharon Ho, Tina Lin, , Valli Musti, Lisa Nelson, Claire Paquin, Paulina Schwartz, Michelle Sterling, Stacie Waldman and Simone Wiener.

New SHS Counseling Head Sees Role Beyond College Prep
Details

Category: Schools
Published on

31 August 2016

Written by

Adam Regenstreif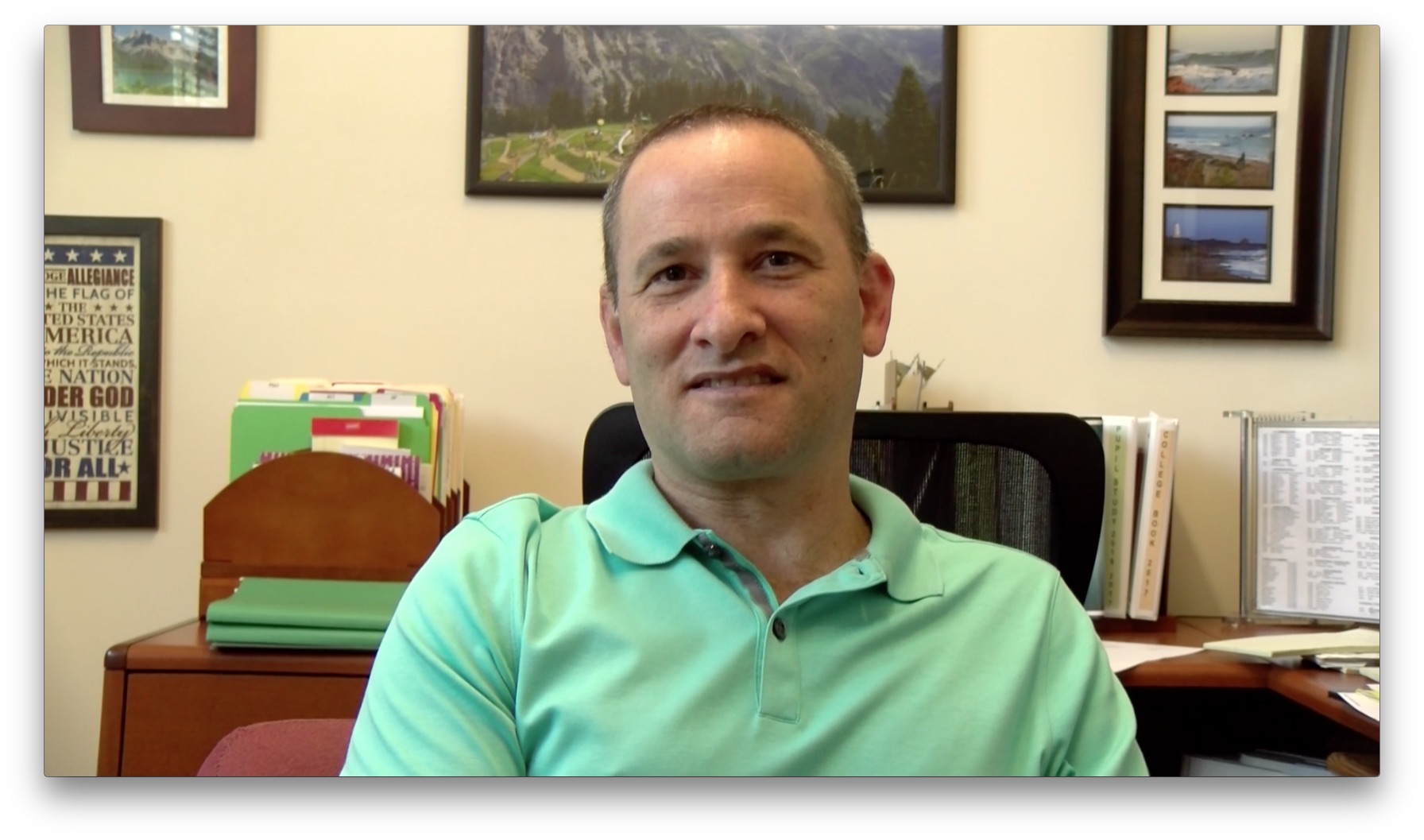 It's not lost on the new counseling department chair of Scarsdale High School that many if not most students see the key role of his team as helping them in the college admissions process. Oren Iosepovici, however, has a bigger vision for his deans.

His goal for the department is to reinforce the support available to students from when they enter as freshmen to their departure as college-bound graduates.

"I see that as all of our roles, to allow the students to see us as a person who's there for their journey every day in high school, whatever issues that might come up," Iosepovici said in an interview in his office at SHS, adding that the counseling department is ready to help students with more than college-related issues. "One of our biggest challenges has been and continues to be supporting students in every respect, and allowing them to see their high school experience as an opportunity for learning and growth, and yes, making mistakes, rather than simply as a stepping stone to college."

Iosepovici, a counselor at SHS for nine years, is taking over from previous department head Andrea O'Gorman, who has assumed the responsibility of an assistant principal.

He explains his role simply as manager of the department. "We run a number of programs throughout the year, so I coordinate that. I see my role also as one basically to support all the deans in their ongoing work with students, faculty, and parents." However, Iosepovici stresses that his work does not stray too far from that of the deans. "As department head, I have the same exact responsibilities that any other dean would, just a smaller case load," he says. Regular deans have between 180-200 students.

"This new role causes me to examine issues from a completely different perspective," Iosepovici explains, about taking on the position. "The difference is that as individual counselors, the nature of our job is to see things from the confines of our office. As director, I must have a slightly more global approach." Iosepovici believes that being both a department head and a dean is important to his relationships with the students. Were he only the department chair, he wouldn't very well be able to interact with, and talk to, students everyday. By experiencing the daily high school life and day-to-day school rhythms, he believes he is better able to engage and help his students.

College is the culmination, not the essence

Iosepovici said that a big goal of his term is diverting the counseling department's spotlight from college admissions to creating a rich high school experience. The counseling office becomes especially hectic by the time college admissions season comes around - usually starting in junior year. Iosepovici recognizes the need to help students as much as possible but he seeks to make the counseling department more than just an aid for applications. "The college process is not the essence of our work, but it is simply the culmination of it," he says. "I can tell you unequivocally that our reason for joining this profession was to be there for students in every respect. That includes personal and social issues that play a role in all our students' lives."

Iosepovici and the rest of the counseling department want to remain as clear, visible and helpful as possible, he said. They aim to be approachable, knowledgable, and easy to talk to. He wants graduating students to feel like they all can trust at least somebody in the SHS staff by the time they've left the building. "I think there's more to being a teenager," Iosepovici says. "I think there's more to high school. I really hope that students see the high school experience much like I did, much like many adults have, as a time to grow, make mistakes, have fun.

"We value education, right? Then let's value all of it, not simply education as a means to the college process."
Grad Bag Outfits Hundreds of College Students for Dorm Room Life
Details

Category: Schools
Published on

10 August 2016

Written by

Joanne Wallenstein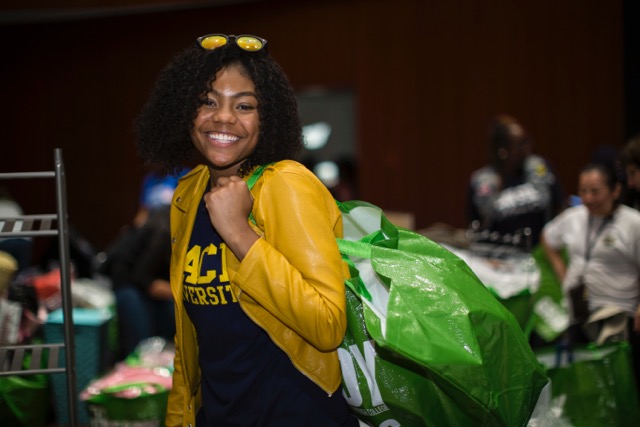 At Let's Get Ready's annual Transition Day workshop, Grad Bag distributed a record-setting amount of new and lightly-used dorm room essentials. In a single day, Grad Bag gave away over 200 comforters, 500 decorative and bed pillows, 150 rugs, 250 bunches of hangers, 230 blankets, 275 sheet sets, 150 desk and standing lamps to hundreds of incoming college students.
Founded in 2012, Grad Bag is a green initiative to reuse college dorm supplies. The organization collects and redistributes lightly-used items that too often end up in landfills and delivers them to first generation college freshmen from low-income households. Each year since its founding, Grad Bag has multiplied its reach. The organization now operates in both New York and Boston, collecting from 13 colleges in the Northeast.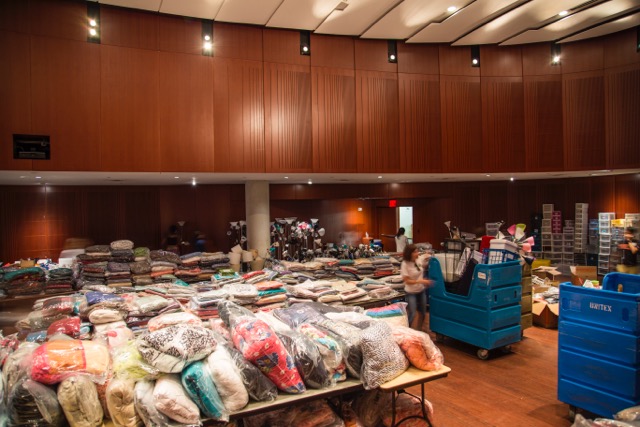 To distribute the goods it collects, Grad Bag works with Let's Get Ready (LGR) that was started by a Scarsdale High School graduate 15 years ago. LGR provides low-income high school students with free SAT preparation, admissions counseling and other support services needed to gain admission to and graduate from college. Services are provided by volunteer college students who also serve as role models and mentors.
This year, the LGR's New York Transition Day workshop was held at Barnard College. Early on the morning of August 2nd, many hands helped load 4 truckloads of goods. Upon arrival in Manhattan, the trucks we were met by an additional crowd of people to unload and set up the Grad Bag "store." Hundreds of happy students from LGR and other local inner city college prep organizations left the workshop with bags full of dorm room supplies.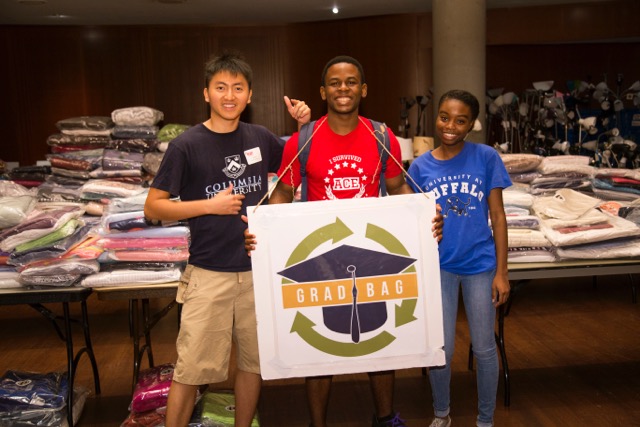 Grad Bag was founded by Tara Tyberg and Liz Gruber, both of Scarsdale, in 2012. When moving their children out of their college rooms, Tyberg and Gruber realized that there were a lot of dorm room items college kids have no use for once they've graduated but are in fine workable condition. The pair contacted their friends and neighbors—parents of recent college graduates—to gather items that would otherwise be thrown away.
Each May, Grad Bag works with local colleges to collect items that would otherwise be thrown away. In June and July, the items are cleaned and and packaged and in early August, they're distributed. At each of 2 two "community folds," 30 to 40 volunteers from Westchester Reform Temple (WRT), Scarsdale Synagogue and the greater community fold and package sheets, comforters, blankets and towels and more.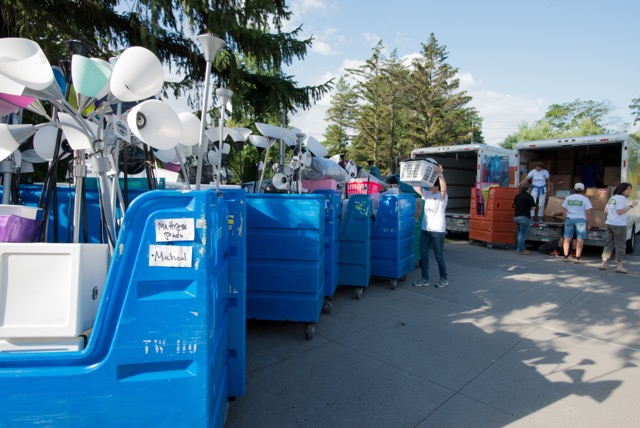 Since 2013, WRT has been Grad Bag's partner and New York home. WRT graciously allows Grad Bag to use many empty classrooms over the summer months for the work of getting everything in close-to-new condition that's ready to distribute. The very generous donations of laundering and trucking make it possible for this grass-roots effort to exist. This year Stanley Steemer donated their services and cleaned over 150 rugs.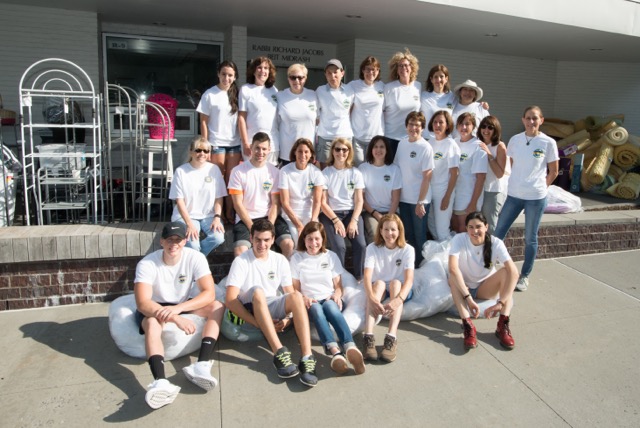 Enrollment Steady at Scarsdale Schools with Increases at Greenacres and Edgewood
Details

Category: Schools
Published on

25 August 2016

Written by

Joanne Wallenstein

School district administrators, teachers and parents closely watch the number of students moving in and out of Scarsdale during the summer to gauge enrollment for the fall. Will classes split and will new teachers be required? We asked the new Assistant Superintendent for Human Resources Drew Patrick what to expect in September, and here is what he shared:
What will be the total enrollment for the district in September – and how does that compare to the estimated figures from the end of the school year?
As of now, we believe the total enrollment will be 4,773. In June, my predecessor reported an expected enrollment of 4,802. My understanding is that variation- roughly 29 students- is well within an expected range of variation, given the unknown K enrollments at the time of the projection.
Have additional sections been added at any of the elementary schools? If so, which ones and which grades have split?

Yes, we added a grade 3 section at Greenacres, and a grade 1 section at Edgewood. (Note: Grade 5 at Greenacres already has four sections.)
Have any students been moved to other schools to accommodate enrollment at one school vs. another? How about faculty children?
It is not the district's practice to move students between elementary schools to adjust for enrollment. The BOE sets the attendance zones, and any family living within that zone attends that school. The only exceptions relate to families spending, say, 5 years in one school before moving. The district has allowed students to finish 5th grade in their original school when they move to another attendance zone within the district. Yes, we have had to move a couple of faculty children. Those are the only students we would move, based on the policy for attendance of non-resident faculty member children.

Are there any sections with the maximum number of students? If so, how many? Do you anticipate that these classrooms will receive more students during the year?
Yes, we are at max enrollment in grades K and 5 at Fox Meadow, grade 2 at Greenacres, and grade 2 at QR. We don't expect more students at this point, but families do come and go throughout the year.
We also spoke to Greenacres Principal Sharon Hill about total enrollment at the school, where a renovation or new construction is under consideration. She reports that the total number of classes has grown from 19 to 20. Third grade has split from three to four sections and Emily Cohen from Fox Meadow will be teaching one of the third grade classes at Greenacres. In order to accommodate the bump in students, the Spanish room will become the fourth third grade classroom. However, the Technology room, the Library, and LRC and ENL will remain intact.
Greenacres to Accomodate New Classroom Sections this Fall
Details

Category: Schools
Published on

13 July 2016

Written by

Joanne Wallenstein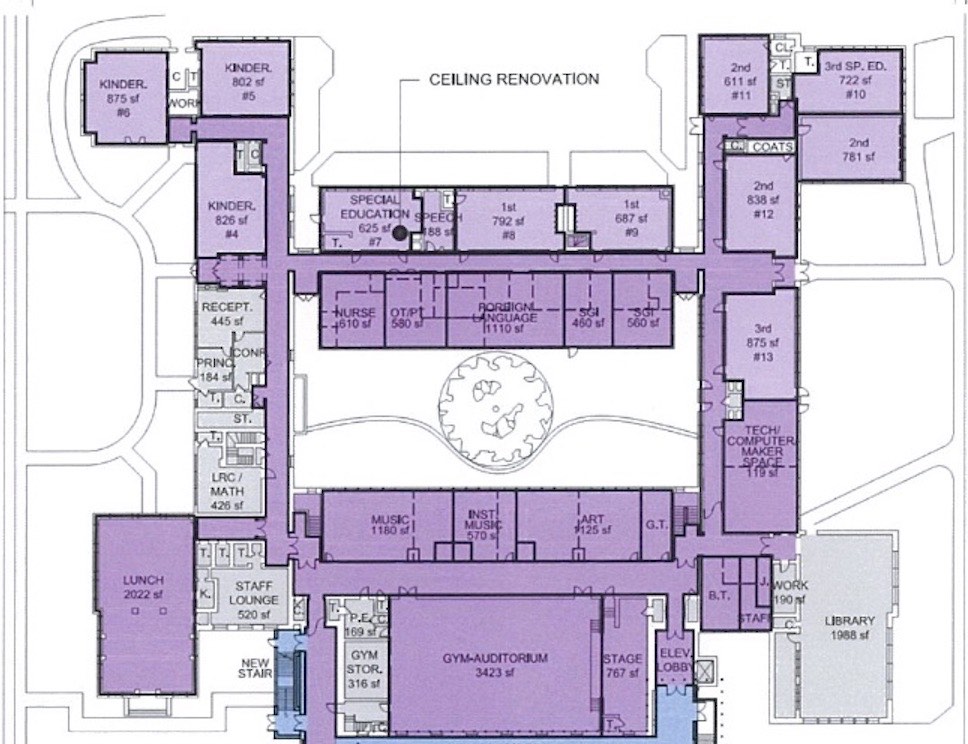 Last week we reported that additional sections at Greenacres School this fall could require the takeover of a portion of the library for classroom space. That proved to be wrong. Though enrollment will rise at the school, the library will not be used to accommodate the additional students. Instead, the Spanish room will be converted to an additional classroom, and if another grade requires an additional class, the space currently used for the Learning Resource Center will also become a classroom. Greenacres Principal Sharon Hill anticipates that one and possibly two more classes will be added in the fall.

We spoke to Ms. Hill and here is what she shared about the situation for next year:
How many classrooms do you anticipate having at the school next year?
We expect to have 20 or possibly 21 classes at the school.
Which grades will require a new section?
There will be a new section in Grade 3 and possibly in Grade 2.
How many total students are expected and how does that compare to prior years?
The current enrollment for 2016-17 is 395. At this time last year, the enrollment for 2015-16 was 383 and in 2014-15 it was 403.
You mentioned that both the Spanish and LRC rooms may need to be converted to classrooms. How big are these two rooms?
See Floor Plan: Room #10 (722 square feet) and LRC/ELA & Math Rooms. (not clear)
Where would Spanish be taught and what space will be used for the Learning Resource Center?
The Spanish teacher go directly to classrooms instead of students going to her.
How will the additional classes affect the scheduling of lunch periods, art and music – and other specials?
We don't anticipate any impact on lunch or other scheduling.
Were any other options considered?
Yes there have been many iterations which considered the re-purposing of other spaces. It was felt that the current plan is the best solution.