Administration Presents Revised School Budget for 2017-18
Details

Category: Schools
Published on

14 March 2017

Written by

Joanne Wallenstein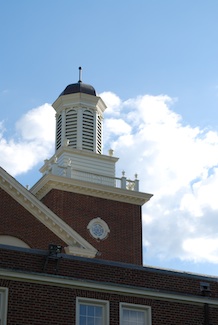 A revised school budget proposal for 2017-18 was presented to the Scarsdale School Board on Monday night 3-12, and will come in at less than a 1% increase in the tax levy over the prior year. The budget includes $1.699 mm in reserve funds from the 2016-17 budget to bring in a total 2017-18 budget of $153,690,765. This is a budget-to-budget increase of 2.15% or $3.236 million, but the use of reserves softens the impact on taxpayers. Though the budget represents a .96% increase in the tax levy, application of the equalization rate will increase Scarsdale taxpayers school taxes by 2.76% and decrease taxes for those in the Mamaroneck strip by 8.40%. See the chart below.

To deliver this budget, Assistant Superintendent Stuart Mattey trimmed $620,000 in expenses from the budget proposed on March 6 in response to questions from board members.
The district finds itself in the enviable position of being able to add teachers and staffing will now be back up to 2008-9 levels. The budget includes 8.4 more full time employees, bringing the total teaching staff to 457 up from 446 in 2009-10. These include 2.5 reading teachers for the elementary schools, added staffing for Special Education, a STEAM coordinator, one additional elementary school teacher and 2 unassigned teachers to respond to shifts in enrollment. Total district enrollment for 2017-18 and expected to decrease by just two students going from 4,779 students in 2016-17 to 4,777 students in 2017-18.
Dr. Hagerman noted that the school budget has been under the NYS tax cap since it was implemented – and indicated that the administration would continue to make this a goal unless it required compromises to the educational program. Mattey noted that the district has become more cost efficient with cooperative purchasing, competitive bidding, self funded insurance, employee recruitment practices and technological efficiencies. A few low enrollment classes have been combined and the school principals have been asked to look for ways they might save money.
The new budget does not include $70,000 in funds to paint the Greenacres School as work will be put off until the district makes a decision on what will be done at the school. Also cut from this version of the budget were the following:
One additional full time elementary school teacher at $110,000. The district is unsure of enrollment will warrant another section and there is already one additional teacher and two contingent positions included in the budget.
The district is working on a continuous project to remove worn floor tiles that contain asbestos. That budget for the coming year was reduced from $225,000 to $125,000. Mattey says the floors are safe but that it's a long-term goal to get rid of all the asbestos tile.
The exterior stairs from Hampton Road to the Fox Meadow School will be repaired – but the district will put off improving the staircase to the field at a savings of $85,000.
Health insurance costs are trending lower this year and therefore the line item was cut by$65,000.
Funds for renovations to the bathrooms at the middle school were reduced from $125,000 to $60,000 which will allow some, but not all of the work to be done.
The technology budget reduced by $30,000
The general carpentry reduced by $30,000
The sustainability budget which was at $60,000 was cut to $30,000
The budget for security improvements, which was originally at $100,000 was reduced by $25,000 to $75,000. Mattey said security improvements would be recommended by consultants and that these were optional opportunities for improvement based on priorities.
The total reductions from the prior week were $610,000.
The board discussed the appropriate level of reserves for tax certioraris in light of recent news that Fenway Golf Course had won a settlement with the Village to reduce their assessment from $13.4 million in 2011 to $7.2 million in 2017. Both the school and the village will need to issue substantial tax refunds to the club. The School Board discussed the need for improved communications with the Village Board so that they would have more upfront information about potential settlements. (Note that the proposed 2015-16 school budget showed that $118,387 had been refunded to Fenway in 2008-9.
Effect of the Equalization Rate
More discussion ensued about the equalization rate. The state has assigned Scarsdale a .89 equalization rate, indicating that the New York Office of Real Property Tax Services (ORPTS) has calculated that the total value of Scarsdale's real estate is assessed at 11% below market. Applying this equalization rate to the school budget will mean a tax rate increase for Scarsdale residents of 2.76% while school taxes for those in the Mamaroneck strip will actually decrease by 8.4%. According to the budget document, "The equalization rate, as issued by NYS for the Town of Scarsdale, has decreased to below 100% causing a shift in each Town's share of the total levy and thus impacting each Town's projected tax rate. These estimated tax rates are based on a projection of final assessments.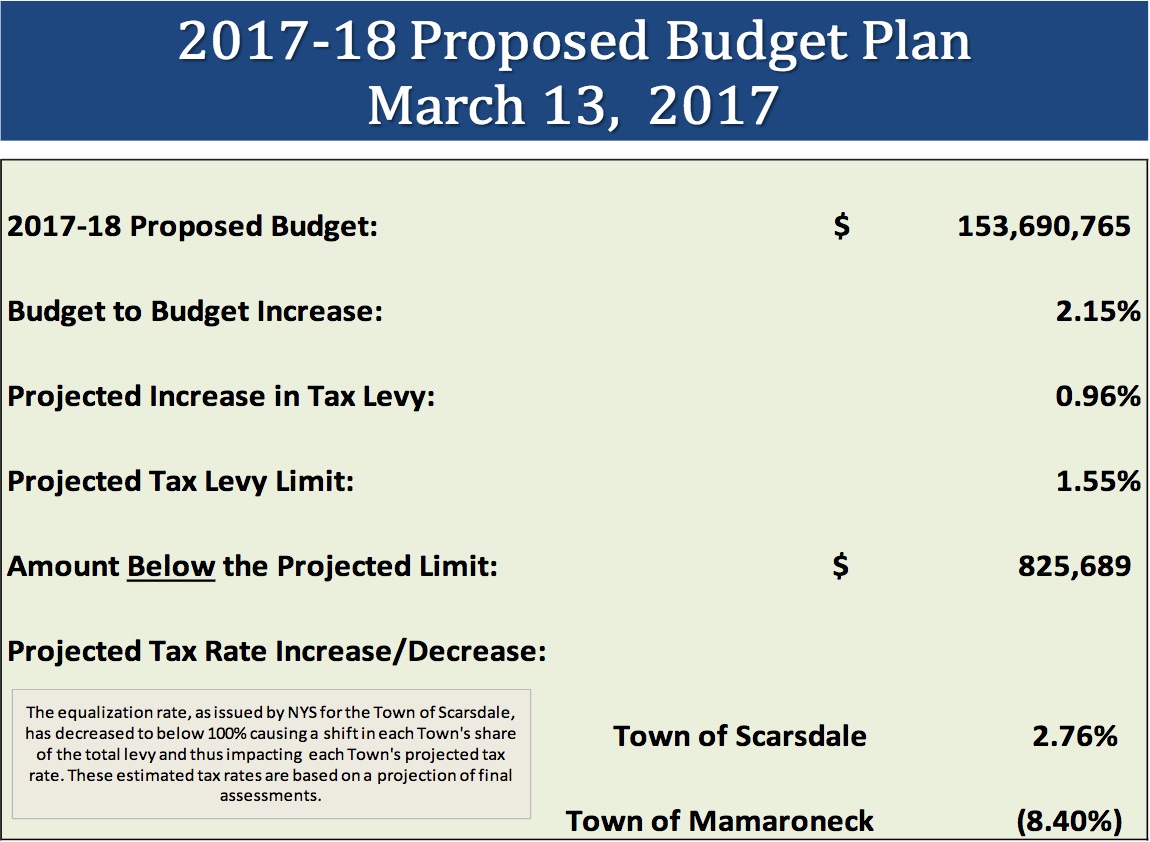 In comments after the presentation, Board members were generally pleased with the results. Nina Cannon said, "Stuart, You have created a fiscally prudent budget that accomplishes what you hoped to do. We'll see a tremendous return on our investments." Bill Natbony said, "I like where we are on capital improvements and the percentage increase. I like the flexibility we have in terms of staffing and enrollment. I like the flexibility we have to use budget transfers." Chris Morin said, "There is a tremondous investment in teaching and a 1% tax increase." Pam Fuehrer expressed reservations about taking funds out of the budget for the middle school bathroom renovations and asbetos abatement. The Board considered putting these funds back in but ultimately decided that if circumstances required flexibility, funds could be taken out of reserves.
Mattey also provided a timeline for providing the Board with a long-term financial plan for the district. He said the 2017-18 budget will provide the groundwork for looking ahead and said that a long-term plan would be presented in the fall of 2017 after the district finalizes their facilities plans.
Proposed 2017-18 School Budget Scrutinized
Details

Category: Schools
Published on

09 March 2017

Written by

Heather Gilchriest Meili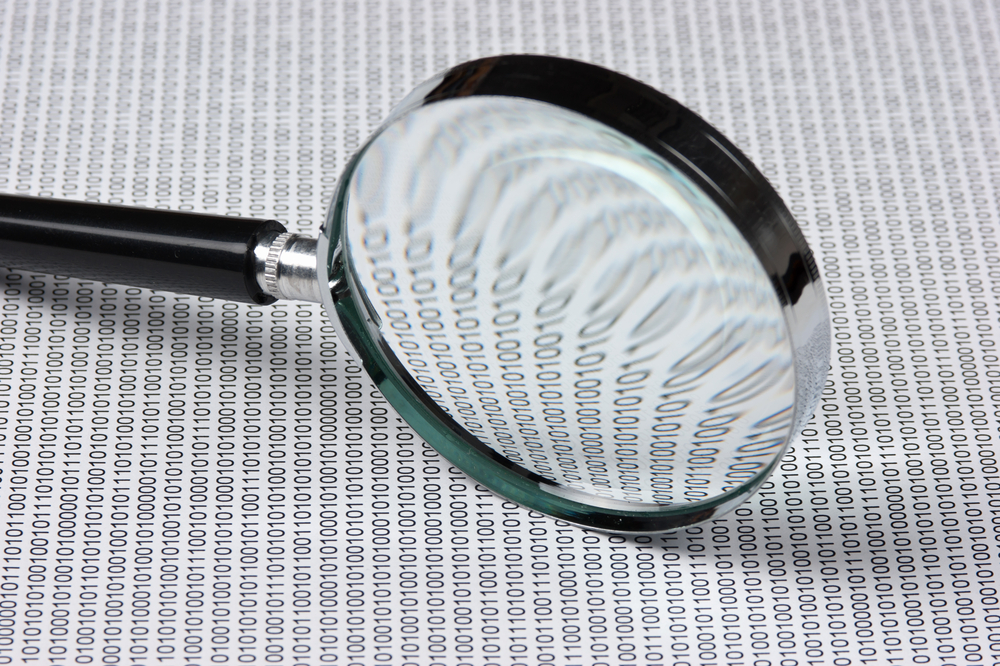 Scarsdale Board of Education's third Budget Study Session for the 2017-2018 school year took place on Monday, March 6th with detailed reviews of all relevant departments' proposals and careful questioning from the Board regarding expenditures both large and small.
So what's the big picture as of last Monday? That's a budget-to-budget increase of 2.56% which would result in a projected increase in tax levy of 1.40%, which is fortunately below the projected tax cap, as detailed below: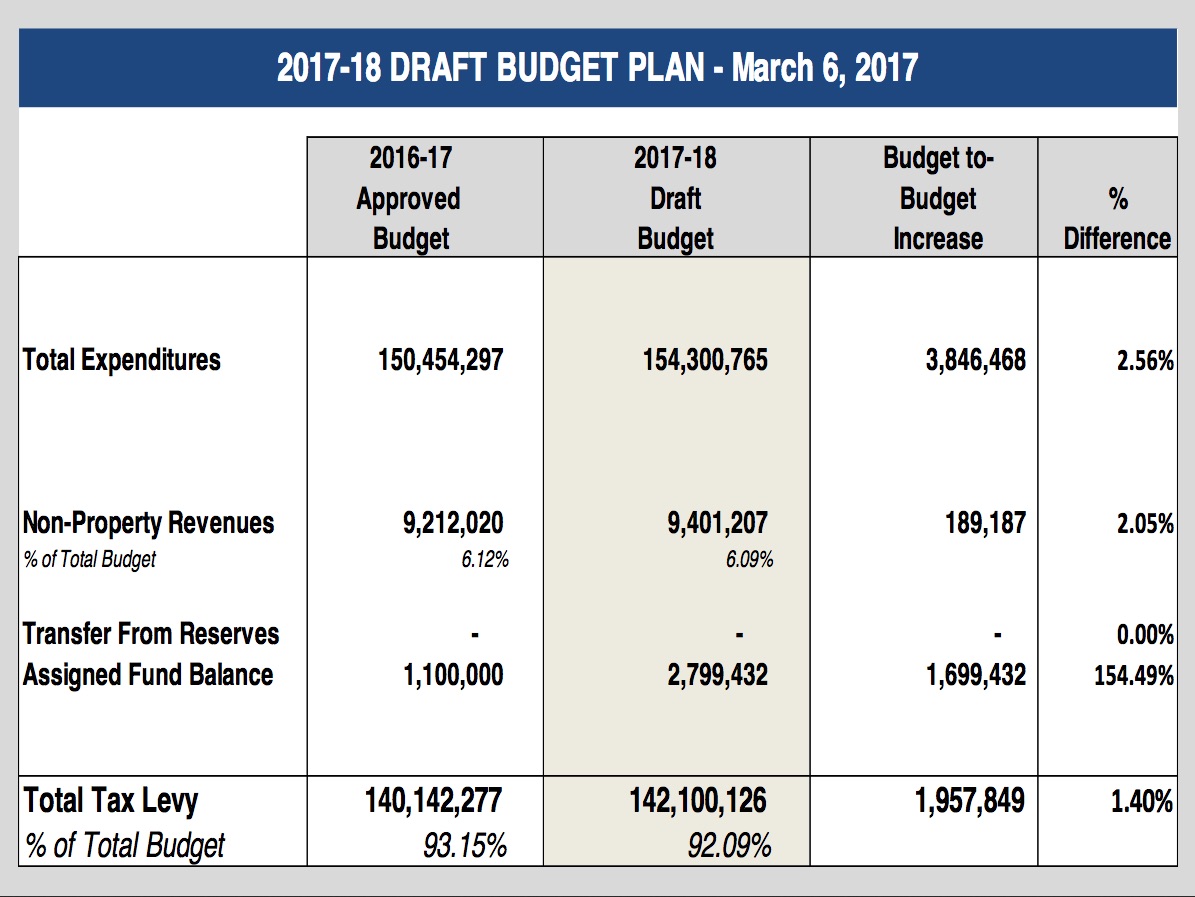 The following chart gives a more detailed look at the increases and decreases that come together to make up this total budget. Notably, staffing expenditures are up as Scarsdale Schools approach once more the staffing levels that were customary prior to the financial crisis. That expense, however, is largely offset this year by substantial savings due to decreased needs in employee pension funding: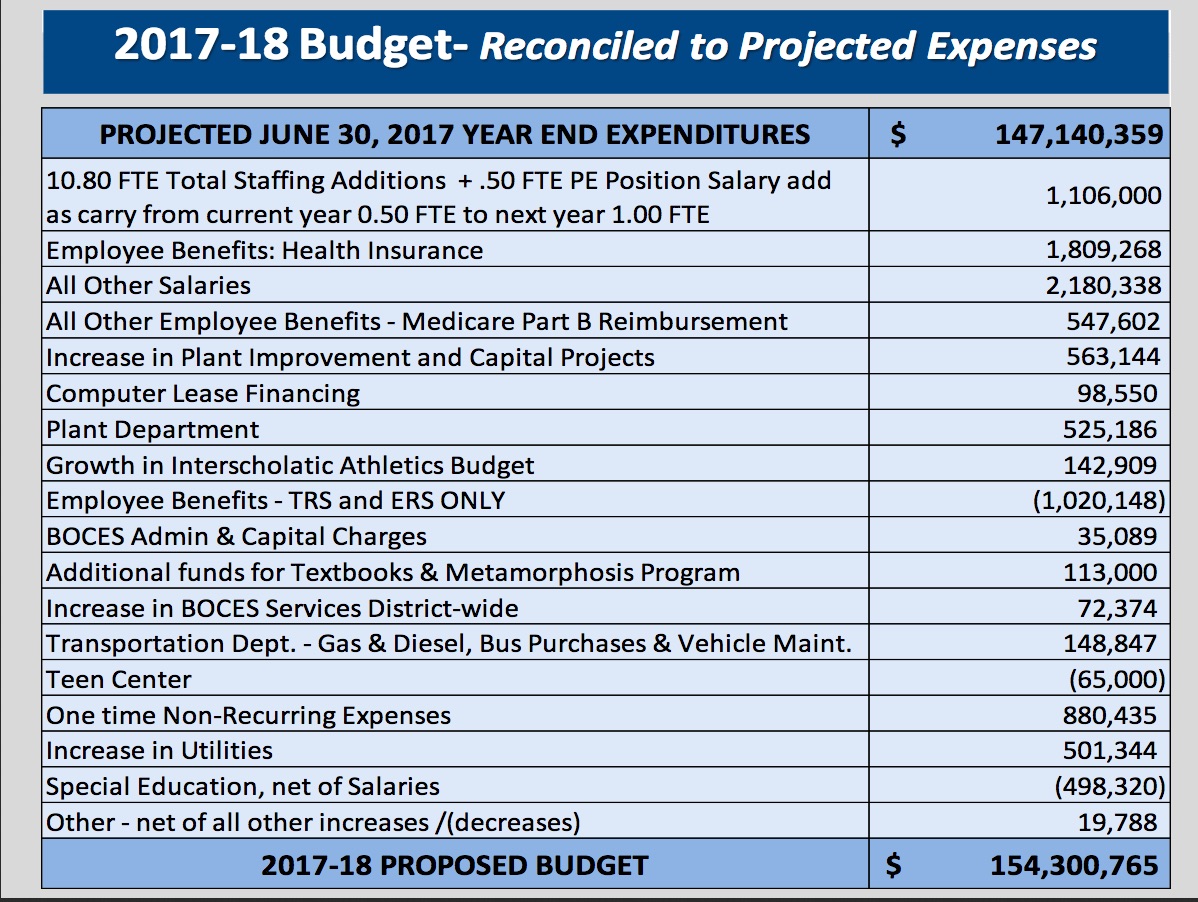 Mandarin is a Go for SMS!
The most warmly welcomed news of the evening came when Lynn Shain, Assistant Superintendent for Curriculum, Assessment, and Instruction, announced that the time during which parents may opt for "zero period" Mandarin for their rising 6th graders had just concluded with 42 students on board. To accommodate this number of students, the budget now contains funding for two instructors to be hired at a 0.2 level each at a total cost of approximately $40,000. Board President Lee Maude noted that it had been a long time in coming but that she hoped the new Mandarin option would "grow roots."
Did You Know???
Here's an arresting fact: district custodial staff clean nearly 900,000 square feet of building space daily! Next year that square footage will increase as the new spaces under construction at the Middle and High Schools come into use, and that means 2 additional custodial hires, at a cost of $92,000.
The additional spaces come with other costs as well. They'll need new cabling installed to accommodate technology ($175,000) and furniture and other equipment ($250,000) in the new SMS orchestra room, and High School Innovation Lab and Learning Commons.
Administrative Demands
One proposed change involving new costs is to reclassify the Teacher-in-Charge positions at the elementary schools as Assistant Principals, i.e. no longer teachers but administrators with a different salary structure. This reflects the changing requirements of the job, which has become more demanding and administrative in nature, according to Drew Patrick, Assistant Superintendent for Human Resources and Leadership Development. The new position would involve more work days through the summer, and come with an ongoing projected increased cost of $75,000 for the five individuals.
Greenacres School in Line for Paint
A line item under Plant Improvement caused some surprise: $70,000 for exterior painting at Greenacres (as well as at Edgewood for $80,000.) School Board member Arthur Rublin twice circled back to this item, asking "Since we're in process with Greenacres, couldn't the paint be deferred for one year while the plan develops?" Stuart Mattey, Assistant Superintendent for Business and Facilities, replied that even should the plan develop for a new school instead of renovation, that would be several years down the road. "The paint has been deferred for a number of years, and the building will be in use for some time."
What Price Sustainability?
Although not large within the overall budget, another item which drew Board scrutiny was $60,000 under Curricular Development set aside for future sustainability efforts, as yet undetermined, following on the installment of the Rocket Composter. Board members Art Rublin and Nina Cannon both questioned the necessity, with Ms. Cannon wondering whether the PTA's could take on some sustainability funding instead.
Teen Center:
Noticeably absent from the proposed school budget was the $65,000 for the Teen Center, which is funded jointly by the School and Village Boards. At a joint meeting of the two boards prior to the school board meeting on March 6 members of both boards discussed their views on continuing to finance the center. Village Trustee Marc Samwick told the school board, "We understand it's not now in your budget. We are concerned as well. We are also stewards of tax dollars. While we are supportive of teens and safe places can this programming be absorbed elsewhere?" School Board member Nina Cannon added, "It was initially supported because it was a student led initiative and there was real engagement from the student body. Now I am unsure if there is real interest among students. We should solicit feedback from students to see if there are using it – and if it wasn't there – where they would go? I am not discounting the value of the program and the effort – but I would like to know if our students and our community think this is needed." Village Trustee Matt Callaghan said, "I have visited it and found the doors locked. The Teen Center is over funded and under utilized. I think the funds are ill spent. I would like to give Scarsdale Family Counseling two more counselors instead."
However Village Trustee Bill Stern continued to support the Teen Center. He said, "To argue that money goes to family counseling instead is not good. It's like saying – wait for the kid to get into trouble and then we'll help them. The Teen Center is a tool that's available to help kids avoid drugs. If you save one kid it's worth the money." Carl Finger agreed. He said, "We gave them guidance and they made substantial progress. We are guilty of lukewarm support. It is hard to grow an organization this way."
School Board President spoke of other budget priorities. She said, "This is my fourth year on the board and it feels like we're kicking the can down the road each year.
We have a lot of capital expenditures, and we're increasing staff. These funds could go to a reading teacher that could help a lot of kids."
At the school board meeting that followed, speaking about the Teen Center, Board Member Art Rublin said, "It is a difficult issue but I don't think the school district has a role to play in the Teen Center in 2017. I don't think it makes sense for the district to spend monies on a center we have no relationship with."
Financial Strategy
While some proposed expenditures drew questions, overall the School Board found plenty to praise in this third Draft Budget. Money spent on the proposed additional Reading Specialists at each elementary were "well justified" in Mr. Rublin's view, and Ms. Maude approved of them as well. Board Member Chris Morin supported initiatives to bring capabilities in-house, such as the $63,000 earmarked to fund the Metamorphosis program, which would train certain of our own elementary teachers to be math instruction leaders within each school, reducing the use of outside math consultants from 3 to 1.
As the Budget Study drew to a close, the discussion trended towards the best financial strategy going forward. Both Ms. Maude and Board Vice President Bill Natbony noted that with the very significant savings in pension costs at this time, there was the opportunity to address needs that might go unfunded in a less favorable year. Mr. Morin expressed caution about recurring expenses, and also drew attention to the fact that the biggest line item in the budget was the contracted extension of the school day, which was decided in contract negotiations and lies outside of the budget process currently under review. As the discussion wrapped up, Superintendent Dr. Thomas Hagerman spoke in support of his 10-15 year plan: "Every year we will need to accomplish some of the plan in our yearly budget, but there shouldn't be a lot of surprises if we follow the plan. We're trying to get away from surprises."
You can watch the meeting in it's entirety here. The fourth Budget Session is scheduled for Monday, March 13 at 6:30 pm
A High School Student's Thoughts on the New Schedule
Details

Category: Schools
Published on

22 February 2017

Written by

Joanne Wallenstein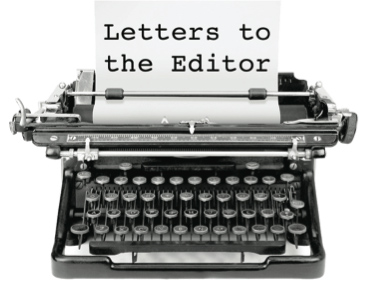 This letter was sent to Scarsdale10583.com by Mira HIgh, a freshman at Scarsdale High School:
"I am a freshman at Scarsdale High School and like many other students, I am concerned about the extra seventy-five minutes that will be added to the school week starting in September. It is said that each class will be extended by two minutes in order to give students more class time to work on assignments and with teachers. I believe that this will prove ineffective because many teachers dismiss class a few minutes early anyway and two minutes are not long enough to get much work done. This also isn't enough time to speak with a teacher because there is usually a line of students waiting to speak with them and two minutes would allow for only one or two students to actually meet with them.

Instead, this time could be split into two extra periods a week and be used for supervised study sessions where a small group of students can work on homework or class projects together. Or students can meet with teachers during this period for extra help. This could also be a great opportunity to introduce new classes that are hands-on and are not currently offered at the high school, such as, cooking, home economics, woodworking, and metalworking classes. I believe that these hands-on classes are more beneficial to students than an extra two minutes per class that wouldn't be properly utilized anyway."
SHS Choir Sings and Experiences Italian Culture During February Trip to Naples and Rome
Details

Category: Schools
Published on

28 February 2017

Written by

Josie Blatt
Twenty-six students from the Scarsdale High School Chorus sang and toured in Naples and Rome and soaked up the culture of Italy during the February break. I was among the group that was less than half the size of the chorus that travelled to England in 2015. With such a small choir, every voice was important, and we had to shift voice parts quite a bit. For example, only two tenors signed up for the trip, so several altos had sing tenor parts. The trip was chaperoned by SHS Chorus Teacher John Cuk, his wife and Scarsdale Middle School Chorus Teacher Celia Cuk, SHS Tech Director Steve Bogardus, and his wife Cathy Bogardus.
On Saturday, February 18, 2017, we departed for our week-long performance tour in Italy. Upon arrival in Rome on Sunday morning, the choir traveled by motor coach to Naples, where we went on a walking tour of the city and checked in at the hotel NH Ambassador Naples. The next day, we toured the Teatro di San Carlo, the oldest Opera House in Italy, and The Naples Conservatory of Music, where we would perform Gabriel Fauré's "Requiem" with one of the Conservatory's chamber orchestras that night.
We also performed four a capella pieces at our concert that night in Naples: "Weep, O Mine Eyes" by John Bennet, "Ubi Caritas" by Maurice Duruflé, "Nelly Bly" by Stephen Foster, and "Rockin' Jerusalem" by André J. Thomas. Those four songs, along with the Fauré "Requiem" made up our program at our concert in Naples, our exchange in Rome, and our concert in Rome. Soloists on "Requiem" were Caroline Kaufman '17, Sofus Rose '17, Elias Hairatdis '19, and Christina Coco '19.
On Tuesday, we visited the nearby ancient ruins of Pompeii, then travelled to Rome. That night, after checking in at The Building Hotel, we attended an Opera Serenades Concert at the Palazzo Doria Pamphilj. The next morning, we went on a walking tour of Rome, stopping at the Piazza Navona, the Trevi Fountain, and the Spanish Steps. Then, we visited a Roman High School at the top of the Spanish steps, La Scuola Sacro Cuore, for an exchange with their choir who performed for us after we performed for them. All of us were in awe of the beauty of their school. After the exchange, we went to the San Lorenzo in Lucina Church, where we rehearsed with a local chamber orchestra for our final concert that night. The next day, we toured the Colosseum, the Roman Forum, and St. Peter's Basilica in the Vatican City. We also got the opportunity to sing a few of our a capella songs inside the Pantheon. This concluded our tour.
Each day, we had free time for lunch, shopping and exploration on our own between rehearsals and performances. However, we all had dinner together every night. We were welcomed with open arms by both orchestras, the Roman High School Choir, our tour guide, Maria-Laura Giorgi, and the organist who played with us at both concerts. We were able to speak with all of these people, and learn so much about them and their music. The trip was not only a wonderful musical and cultural experience, but a great bonding opportunity for our small group.
All of us quickly became comfortable with each other and made friends across grades, something we may not have had the chance to do without this trip. On this subject, Rachel Meiselman '20 expressed, "I liked how although we all come from different friend groups, we were able to bond over the music. Singing on the bus and through the streets of Rome are some things I'll never forget."
Annie Radin '20 reflected, "At first, I was kind of nervous to go on the trip because I had never done something like this before, but the moment we got off the plane I only felt excitement. We were able to learn about and experience the Italian culture. My favorite part was recognizing how universal music can be, especially when we sang with an Italian school choir." Emily Chase '17 discussed the musical demands of the tour: "Traveling and singing with such a small group was a really special experience. We all took the singing aspect of the trip very seriously, and with a smaller group we had to really depend on each other. We had to trust that the people around us would sing out and support us if we got lost or confused. All of us could also tell how hard Mr. Cuk was working because he had to figure out how to get the orchestras and our chorus to collaborate. It was a much greater challenge than I anticipated, and without the support from the group and Mr. Cuk's persistence, it would not have worked out so well."
Choir Director Mr. Cuk discussed how impressed he was with this particular group: "Maria-Laura (our tour guide) loved that this group asked questions and were bright, and dug into the culture. I've been with groups where they could care less and just wanted to shop and sleep, but this group soaked in every moment."
Personally, besides of course spending time in Italy with my friends, and eating some excellent food, my favorite thing about the trip was that it helped me grow stronger as a choir member, and realize what I am capable of musically. There were moments in some songs where I would be one of only 3 or 4 people singing a certain part. When singing in the larger choir at school, it's easy to feel like other people can cover me on parts I am unsure of, or that I can go on cruise control during a song I know very well. However, with such a small group I had to sing out and be present at all times, and I had to be sure to ask questions if I didn't know my part. I also really enjoyed the camaraderie among the choir. Right before our last concert, one of the sophomores suggested that we all circle up and let the seniors reflect on what this trip and chorus in general means to them. It was so touching to hear what everyone said, that I even started crying at the thought of leaving the SHS Choir next year.
Overall, the trip was an amazing experience, and we are all so grateful to have had Mr. Cuk to lead us through it.
Josie Blatt is a senior at Scarsdale High School.
New District Architects Selected for the Scarsdale Schools
Details

Category: Schools
Published on

14 February 2017

Written by

Joanne Wallenstein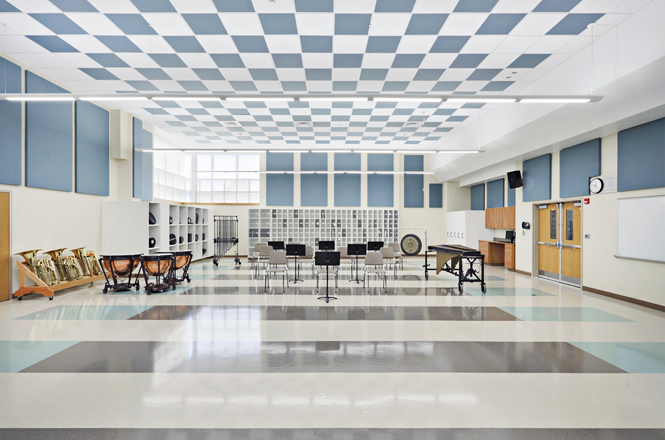 The Scarsdale Schools has selected a new architectural firm to handle all the districts building needs. At the February 13 meeting of the Board of Education, the board voted unanimously to appoint BBS Architects and Engineers from Patchogue, praising their "ability to dream and think big and to handle the nuts and bolts of what we (the district) need on a daily basis."
In making the decision, the board and administration checked many references and said all were "outstanding." Board President Lee Maude and Board Member Scott Silberfein visited schools in Rockville Center and Garden City that BBS designed and said, "their architecture reflects their town and their way of thinking." Maude said they visited a school in Garden City where they saw a beautiful addition of a music room.
BBS will be charged with a district-wide facilities master plan and with assessing conditions at the Greenacres Elementary School and making recommendations for a renovation or a replacement. According to Board member Nina Cannon, the firm will "go above and beyond to meet our demands and involve all the stakeholders in the process to move it forward in a positive way." See more here:
Concluding the discussion, Board President Lee Maude said, "I hope as we go forward we're not scared of the facts. Let them bring us the facts – good, bad or ugly in terms of actual costs of new vs. renovation ... let them show it to us. Let the facts take us to the right decision."
Below find the press release from the Scarsdale School District about the appointment of BBS.
Scarsdale, February 14, 2017: The selection of BBS came after an intensive process which began in December 2016, when a Request for Proposals (with a due date of January 18) was sent to 48 school architects in the region and advertised in the New York Times. A total of 18 architectural firms submitted formal proposals.
The RFP encompassed architectural and engineering services for the planning, design, and construction phases for all upcoming capital projects, including the possible major renovation/replacement of Greenacres Elementary School. Specifically, the RFP sought the following services:
-Planning, design, and construction phases to address various renovations and improvements at the District's numerous facilities
-Developing creative and innovative approaches in the renovation of older buildings, while maintaining their historical character, when appropriate and as needed
-Developing creative and innovative solutions for 21st century educational facilities
The 18 proposals were then vetted by District administrators for adherence to qualifications listed in the RFP, as well as other desired qualities. Because all New York public school districts' major capital projects must be approved by the New York State Education Department, firms without experience in that process were excluded. Additional consideration was given to design aesthetic, renovation and new construction experience, collaboration and problem-solving skills, and time and resources available for the District's current and ongoing needs.
After multiple reference calls, a top tier of candidates emerged: BBS Architects & Engineers, KSQ Design, Peter Gisolfi Associates, CS Arch, and a partnership between Geddis Architects and Dattner Architects. These candidates were recommended to the Board of Education for interviews.
The interviews were held over the course of two evenings in Board Meetings open to the public. Interviews were slated for approximately 45 minutes a piece, and included an introductory presentation and follow-up questions by the Board of Education. After the last of these interviews, the Board of Education adjourned into Executive Session for discussion leading to the employment of a corporation.
On Friday, February 3rd a public notice went out to the community, stating that the Board of Education would be interviewing "finalists" the following week on Tuesday, February 7th. As a result of the interview sessions, overwhelmingly positive reference checks, and full consensus of the Board and District administration, BBS Architects & Engineers was invited back for a follow-up interview.
Dr. Thomas Hagerman, Superintendent of Schools, noted: "With over 60 professionals on staff, BBS set itself apart from most of the competition with its in-house engineering abilities, technical strengths, project approaches, and master planning experience. During their initial interview, BBS illustrated 12 different major projects that demonstrated their capacity to build new buildings and to renovate extensively, and explained the processes they used to actualize each of these projects."
Dr. Hagerman further noted that reference checks generated outstanding reviews of BBS, highlighting their ability to work with the district and community throughout project development, quality of design work, and budget adherence. In addition, Board Members and District administration had the opportunity to visit elementary, middle and high school projects which further illustrated the capabilities of this firm, including examples of complex renovations and new construction, additions of award-winning elementary spaces, and examples of collaborative learning design.
BBS returned to Scarsdale last week for a second visit and more intensive Q & A with the Board of Education and Administrative Cabinet. Dr. Hagerman reported: "At this meeting BBS again demonstrated its knowledge of working with a variety of facility needs, including how to improve instructional spaces to meet a district's changing needs, and a strong competency in a host of infrastructure challenges. In addition, they provided a clear and impressive community-based approach to project development--from beginning to end.
"Finally, although not a primary consideration for this decision, BBS costs were the lowest among all interviewees. With the scope and scale of capital work in the District over the next many years, there is no doubt that the community, as it does in all areas, expects fiscally prudent stewardship in this area."