School Board Considers New Policy for Non-Resident Students
Details

Category: Schools
Published on

19 April 2016

Written by

Joanne Wallenstein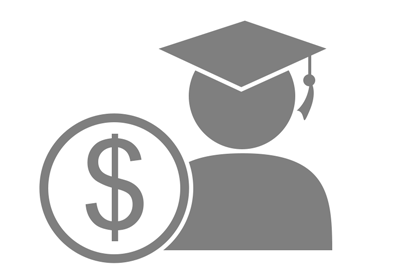 Scarsdale School Board members wrestled with some sensitive issues at their April 18 meeting regarding the presence of non-resident children in the schools. Questions abound: Should children who are living out of the district while their home is renovated be permitted to attend schools tuition-free? What about children whose parents have signed a contract on a home but have not moved into it at the time school begins... and what if a family moves out of Scarsdale after their child completes junior year at Scarsdale High School? Should the student be permitted to finish senior year at the school?
In order to assess the opinions of Board members on these and other residency issues, Dr. Hagerman surveyed them in March, but said that their responses "were all over the map," and therefore the issue required further discussion. Hagerman indicated that the current policy was "handcrafted" and he was looking for direction from the Board to use when drafting revised policies with the district's attorneys.
The April 18 Board of Education Agenda included information from the New York State School Boards Association on residency which you can review here. It defines residency as "both one's physical presence as an inhabitant and the intention to reside within the district." Furthermore, a person can have only one legal residence and "therefore where someone owns or rents property both within and outside a school district, only one of the properties can be considered his or her legal residence for purposes of attending school within a particular district.
However, in practice, the district has been more flexible in permitting children to remain in school, even when circumstances require them to sleep out of the district.
According to the current policy, if a student becomes a non-resident during one semester, they can complete that semester tuition-free, but tuition would have to be prepaid for the following semester. In practice, some families do move out of the district for a home renovation that spans two semesters. It is not known whether or not these families pay tuition. In most cases, the family owns a home and is paying Scarsdale taxes while the home is under renovation, though they are not technically "residents."
This year only seven families are paying tuition, which is $20,961 for grades K-6 and $27,696 for grades 7 -12.
The discussion at the meeting was lengthy. Proposed revisions to the current policy can be read in pages 66-68 of the April 18 meeting agenda. The first issue involved the question of permitting fourth graders whose families have moved out of the district to pay tuition for fifth grade. The second involved allowing students who have completed eleventh grade and become non-residents to pay tuition to complete their senior year.
For fourth graders, if the family moves to another elementary school district in Scarsdale, the Board favored permitting the student to remain in their own school, provided it did not cause a section or class to break into an additional section. If the family moves out of the school district, the Board favored permitting the student to stay for fifth grade provided they pay tuition.
And for those whose parents move away after a student completes 11th grade, the board favored permitting the student to complete 12th grade as a tuition-paying student.
What about students who are living out of the district while their home is under renovation or uninhabitable?
Chris Morin said, "We could have a simplified policy but still be generous. To some it would seem unfair if they have a vacant house but are required to pay tuition."
Suzanne Seiden said, "If people are renovating and staying elsewhere I don't think we should charge tuition. And also, we should not have to hire investigators to find out where kids are sleeping. I don't think it makes sense to charge if someone is out of the house."
Pam Feuhrer agreed, saying, "We should not penalize those who are renovating."
Scott Silberfein said the state law says "Intend to reside there, that's the law. We should not charge tuition if a renovation goes on too long. I don't think we can legislate every situation. I don't have a problem with people who are paying taxes."
Bill Natbony pointed out that it would be hard for the district to investigate the whereabouts of residents. He said, "It would be difficult for the district to be the enforcer. Are we supposed to send investigators out to see where the family is staying?"
Seiden outlined her thoughts on the revised policy saying, "Make sure we are compassionate. We should not change a rule in response to a few bad actors. The rule should following common sense.
Art Rublin asked the Board to "Welcome input from people in the community," and Bill Natbony asked that "The new policy should not change expectations for current families in the district."
Dr. Hagerman responded to Rublin and Natbony saying, "If we open this up to the community, this will never get done. It is the Board's job to set policy. And if it is adopted it should be in effect immediately. I want to be clear about grandfathering this."
The Board did not reach consensus about a proposed policy change for those who have a home in contract, but have not moved into it at the beginning of the school year. Those families would need to prepay tuition until they move in, and if they move in by October 15, the tuition would be refunded.
Dr. Hagerman's next step will be to work with the district's attorneys to draft a new policy which will be reviewed by the Board of Education.
Scarsdale Debaters Are State Champions
Details

Category: Schools
Published on

14 April 2016

Written by

Justin Cooper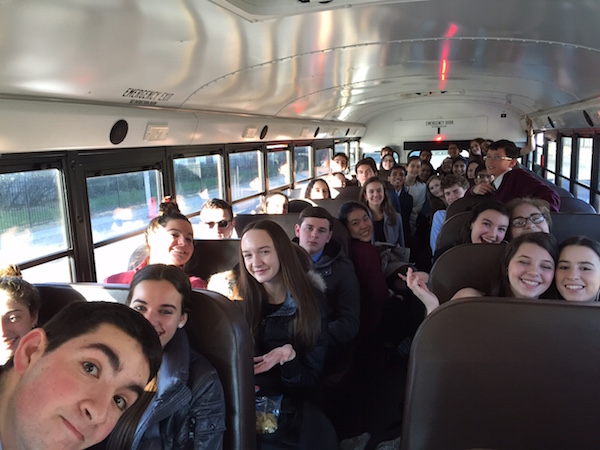 It's 7:15 am on Saturday, April 9. 55 anxious Scarsdale High School students pile onto a bus headed for Hofstra University. Some are singing, some are mumbling to themselves, and some are dead quiet, staring out the window. Towards the end of the bus ride a freshman confesses to one of the seniors that she is really nervous. "It's good that you're nervous," he assures her. "It means you care."

This past weekend was the New York State Championship for the Scarsdale High School Speech and Debate Team. Students work tirelessly throughout the year in the hopes of qualifying for the State tournament. This year, Scarsdale saw one of its most successful State Championships in history. The debate team took third place overall. The Lincoln-Douglas Resolution for the tournament was, "Resolved: The United States ought to promote democracy in the Middle East." In Novice Lincoln-Douglas Debate, Will Mussoff '19 and Sanjana Bhatnagar '19 both reached the octofinal round (top 16), and in Intermediate Lincoln-Douglas Debate, Natalie Isak '18 reached the semifinal round (top 4). In Varsity Lincoln-Douglas Debate, Scarsdale dominated the field, with Zack Gelles '17 reaching the octofinal round, Gillian Zipursky '17 reaching the quarterfinal round (top 8), Lauren Singer '17 reaching the semifinal round, and Zoe Ewing '17 winning the tournament, becoming the New York State champion in Varsity Lincoln-Douglas Debate.

The speech team on the other hand had its most successful State tournament of all time. For the first time, the speech team won first place overall at the tournament. The team's coach, Joseph Vaughan, said, "After seeing how the category blocks were split up, I was confident that we could win going into the tournament." In JV Prose/Poetry, Lindsay Gelles '19, Kate Levin '19, and Ethan Underweiser '19 reached the quarterfinal round (top 24), Paige Barlow '19 reached the semifinal round (top 12), and Natalie Rosier '18 placed 2nd, missing first place by a very narrow margin. In Original Oratory, Alexander Maddon '17 reached the quarterfinal round.

In Declamation, Natalie Rosier was declared the New York State champion. She is the first Scarsdale High School student to win the State Championship in this event. In Varsity Prose/Poetry, Justin Cooper '16 reached the quarterfinal round, Zach Kapner '17 reached the semifinal round, and Daniel Altabet '16 reached the final round, ultimately placing 5th.

In JV Extemporaneous Speaking, Scarsdale had an amazing showing. Clara Enders '17 reached the quarterfinal round and Niharika Desiraju '19, Ishwar Mukherjee '19, and Dermot Kantor '18 reached the semifinal round. Scarsdale had two finalists in JV Extemporaneous Speaking, and they finished top two overall, with Arjun Ravi '18 placing 2nd and Zoe Landless '18 capturing the title of state champion. This is the third year in a row that Scarsdale has won the JV Extemporaneous Speaking title, with Zach Kapner winning it in 2015 and Justin Cooper winning it in 2014. When asked why Scarsdale is so successful in JV Extemporaneous Speaking, Vaughan said, "We focus heavily on structure while other teams focus more on the news and current events side of Extemp." In other words, while other teams solely work towards building a knowledge base, Scarsdale also focuses on knowing how to apply that knowledge.

In Varsity Extemporaneous Speaking Keshav Rastogi '17 reached the semifinal round. Scarsdale also had two finalists in this event: Zach Kapner and Justin Cooper. Kapner ultimately placed 6th and Cooper placed 1st, becoming the New York State champion in Varsity Extemporaneous Speaking. His question in the final round was: "Is Brazil doing enough to contain the Zika Virus?" He is the first Scarsdale High School student to win this event since 2003.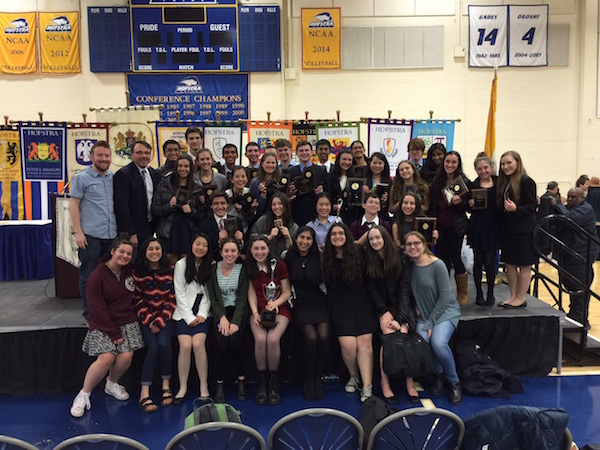 Even though the State tournament marks the end of the season for most competitors, several Scarsdale High School students are still going. At the end of April, Zack Gelles, Gillian Zipursky, Zoe Ewing, and Samara Jacobson '16 will compete at the Tournament of Champions at the University of Kentucky in Lincoln-Douglas Debate. Additionally, for the first time, several of Scarsdale's speech students have qualified and are attending this tournament. Zach Kapner will be competing in Extemporaneous Speaking and Prose/Poetry, Daniel Altabet will be competing in Humorous Interpretation and Original Oratory, and Justin Cooper will be competing in Extemporaneous Speaking, Prose/Poetry, and Original Oratory. "I don't really know what to expect for how our speech students will do because the judge pool and the competitors are ones we don't normally face," said Vaughan. "I do feel confident that our debaters could clear to outrounds, however." Furthermore, Daniel Altabet will be attending the National Individual Events Tournament of Champions in May, competing in Original Oratory and Humorous Interpretation. He will be Scarsdale's first student to attend this tournament. Also in May, Zach Kapner and Justin Cooper will be attending the Extemporaneous Speaking Tournament of Champions at Northwestern University. Scarsdale is looking for a repeat performance from last year, as Cooper reached the final round in 2015.

To end the year, Scarsdale has two National Championships to look forward to. First, the Catholic Forensics League Grand National Tournament will be held over Memorial Day weekend in Sacramento. Scarsdale has qualified Natalie Rosier and Zoe Landless in Declamation, Zach Kapner, Keshav Rastogi, and Clara Enders in Extemporaneous Speaking, and Justin Cooper in Original Oratory. Then in June, Scarsdale will be flying down to Salt Lake City for the National Speech and Debate Association National Tournament. Scarsdale has qualified Keshav Rastogi and Arjun Ravi in International Extemporaneous Speaking, Zach Kapner and Zoe Landless in Domestic Extemporaneous Speaking, Justin Cooper and Daniel Altabet in Original Oratory, Ismail Ameen in Informative Speaking, and Caroline Kaufman in Dramatic Interpretation. "Our students don't take their talent for granted," Vaughan concluded. "They know how hard they have to work to achieve success at Nationals, and I am confident they will put in that work."
Guide to Debate Terminology:

Prose/Poetry - a 10 minute event where the speaker performs a selection of prose and a selection of poetry, alternating each round between prose and poetry.
Extemporaneous Speaking - a 7 minute event where the speaker has 30 minutes to write and memorize a speech that answers a question about domestic or international current events, without Internet access.
Original Oratory - a 10 minute event where the speaker writes a speech entirely in his or her own words on a topic that he or she is passionate about.
Declamation - a 10 minute event for Freshmen and Sophomores only where the speaker presents a famous speech from the past.
Junior Varsity - freshmen and sophomores only
Varsity - juniors and seniors
Magic Numbers: School Budget to Come In Under Tax Cap
Details

Category: Schools
Published on

31 March 2016

Written by

Joanne Wallenstein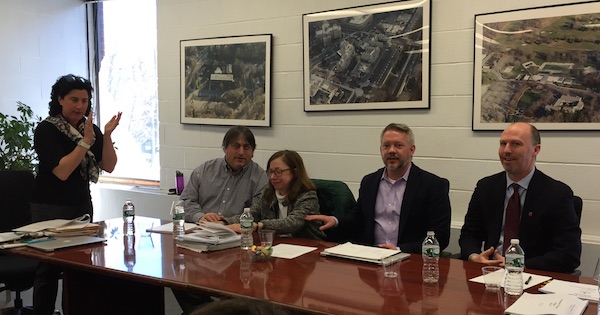 Gone are the days of the 5% school tax increase. The proposed Scarsdale School budget for 2016-17 will come in below the tax cap. The $150,207,366 budget is $2.1 million higher than the 2015-16 school budget, but will only cause a .63% increase to tax payers, which is below the adjusted tax cap of .81%.
According to School Superintendent Thomas Hagerman and School Board President Lee Maude, planning the budget was a collaborative process between the administration and the school board. Commenting at a forum hosted by the League of Women Voters of Scarsdale on Tuesday March 29, Board member Bill Natbony commented, "It's a refreshing process .... we are all on one team."
Though the tax increase is low, the budget includes funds for new staff, new initiatives and improvements to district facilities.
What went into reducing the budget increase? Factors included decreases in the budget for utilities and the phone system, retirements of longtime teachers and administrators and lower contributions to benefit and retirement plans. The district's contribution to the Employee Retirement System will go down from 18.12% of salary in in 2015-16 to approximately 15% and contributions to the Teachers' Retirement System will go down 11.6%, from 13.26% in 2015-16 to 11.72% next year. The decreases will save the district $476,319 and are a result of more favorable investment returns for the funds.
Staffing
Though the school population is estimated to go down by 6 students from 4,808 to 4,802, additional teachers and staff will be hired.
Here's the breakdown:
2 new elementary school teachers to accommodate enrollment changes
1 new teacher for elementary school language instruction
1 world language teacher at the middle school
1 pre-engineering teacher to support the new STEAM curriculum at the high school
1 special education teacher, a psychologist and an aide to staff a new program for students with emotional disabilities at the high school.
1 physical education teacher at the high school
.2 position to teach English as a new language.
Overall, there will be a total of 10.4 new additions to the professional staff, with 8.8 teachers. The budget shows that the 8.8 new teachers will cost the district $913,000 or $103,750 each. In addition to the new additions, the district will need to replace19 members of the professional staff who have announced their retirements at the end of the school year. The new emotional disabilities program is expected to allow more students to receive services at the school rather than go outside.
Plant Improvements
The total budget for plant improvements is $2,620,240 and includes the following projects for the 2016-17 school year:
Edgewood
Repair of stairs at southwest entrance
Upgrade of the fire alarm system
Middle School
Replacement of the bleachers
Upgrades to the music room that were not funded by the bond offering

Bus Depot: Replace fencing and repave parking area

District wide repaving, roofing and masonry work
Here is a chart of the costs: (page 30)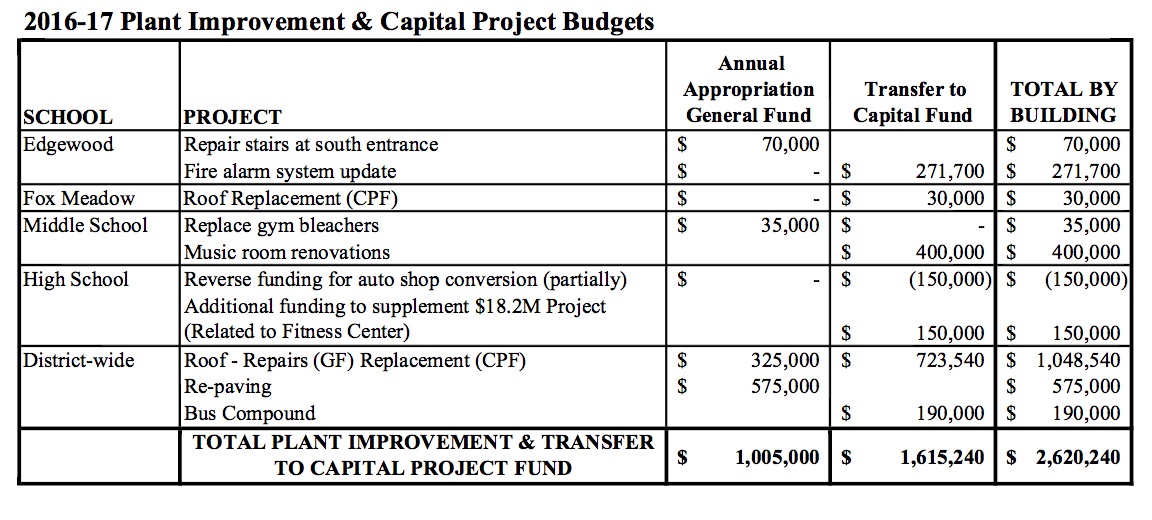 The district is also planning a major renovation at the high school and several other district schools to be funded by an $18.2 million bond that was approved by the community in December 2014. Additional funding will come from the Scarsdale Schools Foundation who is seeking to raise $2.6 mm for a Design Lab and Fitness Center at SHS. The district is still waiting for approvals from the NYS Education Department to begin the construction, but hopes to start this summer. According to a report from Ass't Superintendent Stuart Mattey, some of the projects in the original scope of work will be deferred or cut. He said, "Because preliminary bids for these projects have come back over budget, some smaller pieces of the projects had to be scaled back or deferred, including auditorium and kitchen renovations and receiving area reconfiguration at the High School, music room renovations at the Middle School, and a portion of the Heathcote renovation."
Here are some other items included in the proposed 2016-17 school budget:
$400,772 in special funding for staff and curricular development for program improvement

$50,000 for the Center for Innovation

$275,410 for Professional Development

$60,000 for sustainability initiatives and school gardens.
Funding for the Teen Center is maintained at $65,000.
Fund Balance, Reserves and Surplus
For those who are concerned about the undesignated fund balance, it is projected to be close to the state maximum level of 4% or $3.75 million. The fund balance is used for "protection against unanticipated deficits from the self-insured health plan, and an additional $1.65 million infusion into the tax certiorari reserve to insulate the District against a high number of potential tax certiorari proceedings." In past budget seasons, the district was challenged by some who thought the reserves were too high. However, Ass't Superintendent Mattey reported that this year the district received a letter from a rating agency expressing concern about the level of reserves, so Scarsdale is watching it closely.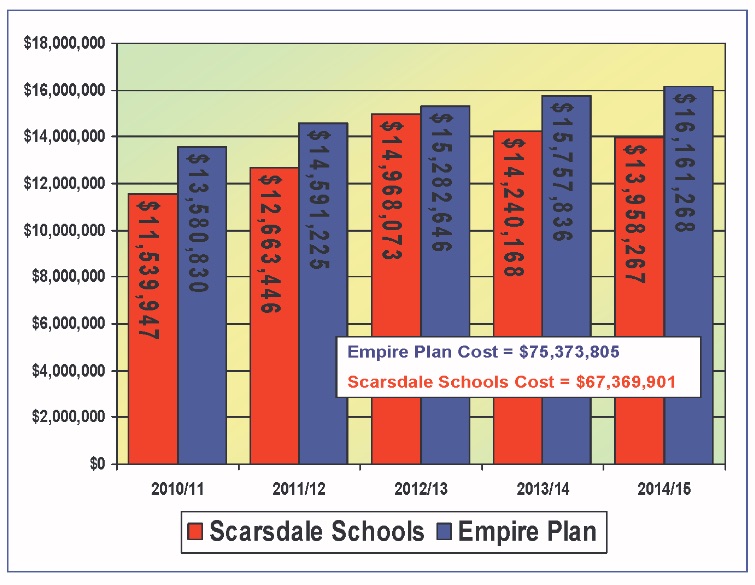 And following a decision from the Governor, Scarsdale once again can maintain a Health Insurance Reserve for the district's self-insured health plan. That will be funded at $3.75 million. An analysis included in the budget shows that the self-insured plan has saved the district an estimated $8,000,904 over the Empire Plan over the last five years. See page 139 of the budget.
$1.1 million in surplus funds from the 2015-16 budget will assigned as revenue in 2016-17 to reduce a tax increase.
The entire budget can be reviewed here.
Mark your calendars to remember to vote on Tuesday May 17th.
New Hires for the District and an Update from the Scarsdale Schools Education Foundation
Details

Category: Schools
Published on

06 April 2016

Written by

Joanne Wallenstein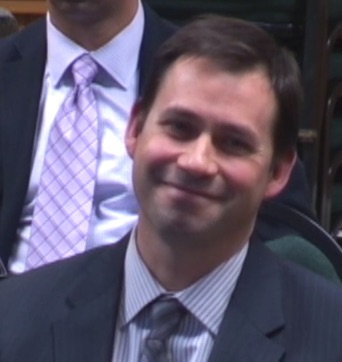 The Board had a 6 pm meeting with the Scarsdale Schools Education Foundation preceding the April 4 meeting of the school board. Though we were not able to attend, we asked foundation Executive Director Stephen Seward for an update on the fundraising efforts to raise $2.6 million for a Design Lab and the Fitness Center at Scarsdale High School.

Here is what Seward shared: "We have now raised over $1.6 million toward our capital campaign goal of $2.6 million. While we still have a significant way to go, and will need the help of everyone in Scarsdale to reach our goal, we are confident that we will be able to raise the remaining $1 million and enable the District to build a Design Lab and new Health and Fitness Center. We are grateful to everyone who has pledged their support and especially to those in the community who have hosted house parties to help explain our goals and spread the word. Looking ahead, our plans include launching a community campaign -- including a mailing to all residents to seek their financial support."
Greenacares: The Board has invited architects from KG&D to come to a meeting on April 18 with responses to questions about the options for the Greenacres Elementary School.
New Hires and Appointments:
Interim Assistant Superintendent of Human Resources Bernard Josefsberg announced that the district will have a new Superintendent of Human Resources and Leadership Development, beginning July 1, 2016. After an extensive search and selection process the district has offered Andrew "Drew" Patrick the position. He is currently the Assistant Superintendent for Curriculum Instruction at the Bedford Central Schools, a position he has held since 2008.
Patrick has impressive credentials as an educator and administrator. He began his career as a science teacher at Clarkstown South in 1999 and moved to the Bedford Schools in 2002. From 2004-8 he was Bedford's Science and Technology Coordinator before moving into his present position. He holds a BS from the University of Rochester, a masters in science and geology from the University of South Carolina, a masters in educational leadership from Bank Street College and is currently pursuing a doctorate in educational leadership at Manhattanville College.
Josefsberg called the selection process "vigorous" and repeated a few of the comments that were made by parents, teachers and administrators who interviewed Patrick. He was called, "innovative, honest and practical," with a "strong sense of humanity, warmth and intellectual rigor. "He understands the importance of human capital."
Josefsberg said Patrick has "Wonderful recommendations from those who met him here and from colleagues who have worked with him." Superintendent Thomas Hagerman said "Patrick bring a rich set of skills," and that "Drew resonated with every single group." He added, "I think he is going to be a transformation agent in the district."
Josefberg also announced the following appointments:
Anna Buonanno: Chemistry Teacher at the HS
Merav Harris: Psychologist at the MS
Bill Maldarelli: Social Studies department at the Middle School
Emma Wixted: House Counselor in Popham House, Middle School
Robert Weldon: World Language, High School
Dr. Hagerman then announced a change to policy 5152 which regulates the attendance of non-resident students in the schools. Beginning September 2016, the district will no longer permit the children of interscholastic coaches to attend Scarsdale Schools tuition free.
50 SHS History Students See Hamilton on Broadway
Details

Category: Schools
Published on

21 March 2016

Written by

Joanne Wallenstein
Though many of their parents can't figure out how to get tickets, 50 lucky SHS juniors who take AT US History got to see the show "Hamilton" on Broadway and meet the set designer last Wednesday. Teacher Adam Weisler saw the show in September and was "simply astonished, by its energy, by how completely engrossing it was, and (as a history teacher) by the innovative genius it took to transform what many might consider to be less-than-scintillating historical events (for example, the negotiations over the federal government's assumption of state debts after the American Revolution) into extraordinary entertainment."
In 2014 Weisler took his AT U.S. History students to see Bryan Cranston in "All the Way", about a key period in the life of Lyndon Johnson. As Cranston had just completed "Breaking Bad", many of the students were quite familiar with him. The show was wonderful, the kids enjoyed it, and it set the stage for a terrific conversation in class the next day about the historical events it portrayed.
So after he saw Hamilton, he reached out to the group sales manager at the Nederlander Theatre who agreed to hold a block of 50 tickets for a March matinee. Weisler "got terrific cooperation from Assistant Principals Sue Peppers and Chris Renino at the high school who, by email in early July, approved the trip, and checked that the date I had in mind posed no conflict with the school calendar for the coming year."
This is Weisler's third year teaching AT US History where the class spends a considerable amount of time on Alexander Hamilton, so he didn't need to make any adjustments to the curriculum in anticipation of the trip in March.
According to Weisler, "We discuss Hamilton in the classroom as an individual (his compelling personal biography, which I became familiar with in detail in 2004, when the now-famous biography of Hamilton by Ron Chernow, upon which the show is based, was published), as a party leader, and as a financial visionary. And students read rather comprehensively about Alexander Hamilton in chapters from two Pulitzer-Prize winning books."
Weisler explained:
"We read several chapters from Chernow's "Washington, a Life" which, in profiling Washington as President, discusses Hamilton, his work as Treasury Secretary and his rivalry with Thomas Jefferson. Students also read a chapter on Hamilton's duel with Aaron Burr in the book "Founding Brothers" by the historian Joseph Ellis. To say that I did not know when I bought the tickets in July and outlined the trip for my students in September exactly what kind of cultural phenomenon "Hamilton" would become in the months leading up to our March 16th matinee would be a colossal understatement. I had absolutely no idea! We were simply very, very lucky to have secured the tickets when we did.
Consequently, between the accolades the show has received and the buzz that has surrounded it around it, by the time March 16th arrived we had a bus filled with extraordinarily excited kids, and two very happy parent chaperones who joined us as well.
Janet Korins, the mother of one of the students in our group (Caroline Kaufman) has a cousin, David Korins, who was the set designer for "Hamilton." I corresponded with Janet during the weeks leading up to March 16th and she said that David was aware that our group was coming (I told her where our seats were) and that, although he was busy at work on another show, he would do his best to meet our group.
When the show ended, David came up to our seats, said a quick hello to Caroline, and introduced himself to me, so that I could introduce him to the students. He was incredibly kind and gracious, spending twenty minutes in "Q and A" (which I understand the people on Broadway call a "talk-back") explaining to the students how he came to work on the show, the process (including meticulous historical research) by which the sets were created, some of the key features of the set and the reason for them, and answering more general questions about the overall production.
We spent the next day in class discussing and reflecting on what we had seen the day before. I showed students the "60 Minutes" profile of Lin-Manuel Miranda (which, concerned that we might see his understudy, I hadn't shown them prior to our trip) and the cast's recent appearance at the White House, and opened the floor to questions and subsequent discussion about the history we had seen portrayed in "Hamilton," as we recalled the ways in which the show dramatized individuals and events we had covered in the course earlier in the year.
As I told the students, I had already seen the show, so the real joy and privilege for me as a teacher on March 16th was not so much the show itself, but seeing in their faces - before, during, and after "Hamilton" - how genuinely excited they were to have the experience. That was wonderful!"