Enrollment Steady at Scarsdale Schools with Increases at Greenacres and Edgewood
Details

Category: Schools
Published on

25 August 2016

Written by

Joanne Wallenstein

School district administrators, teachers and parents closely watch the number of students moving in and out of Scarsdale during the summer to gauge enrollment for the fall. Will classes split and will new teachers be required? We asked the new Assistant Superintendent for Human Resources Drew Patrick what to expect in September, and here is what he shared:
What will be the total enrollment for the district in September – and how does that compare to the estimated figures from the end of the school year?
As of now, we believe the total enrollment will be 4,773. In June, my predecessor reported an expected enrollment of 4,802. My understanding is that variation- roughly 29 students- is well within an expected range of variation, given the unknown K enrollments at the time of the projection.
Have additional sections been added at any of the elementary schools? If so, which ones and which grades have split?

Yes, we added a grade 3 section at Greenacres, and a grade 1 section at Edgewood. (Note: Grade 5 at Greenacres already has four sections.)
Have any students been moved to other schools to accommodate enrollment at one school vs. another? How about faculty children?
It is not the district's practice to move students between elementary schools to adjust for enrollment. The BOE sets the attendance zones, and any family living within that zone attends that school. The only exceptions relate to families spending, say, 5 years in one school before moving. The district has allowed students to finish 5th grade in their original school when they move to another attendance zone within the district. Yes, we have had to move a couple of faculty children. Those are the only students we would move, based on the policy for attendance of non-resident faculty member children.

Are there any sections with the maximum number of students? If so, how many? Do you anticipate that these classrooms will receive more students during the year?
Yes, we are at max enrollment in grades K and 5 at Fox Meadow, grade 2 at Greenacres, and grade 2 at QR. We don't expect more students at this point, but families do come and go throughout the year.
We also spoke to Greenacres Principal Sharon Hill about total enrollment at the school, where a renovation or new construction is under consideration. She reports that the total number of classes has grown from 19 to 20. Third grade has split from three to four sections and Emily Cohen from Fox Meadow will be teaching one of the third grade classes at Greenacres. In order to accommodate the bump in students, the Spanish room will become the fourth third grade classroom. However, the Technology room, the Library, and LRC and ENL will remain intact.
Grad Bag Outfits Hundreds of College Students for Dorm Room Life
Details

Category: Schools
Published on

10 August 2016

Written by

Joanne Wallenstein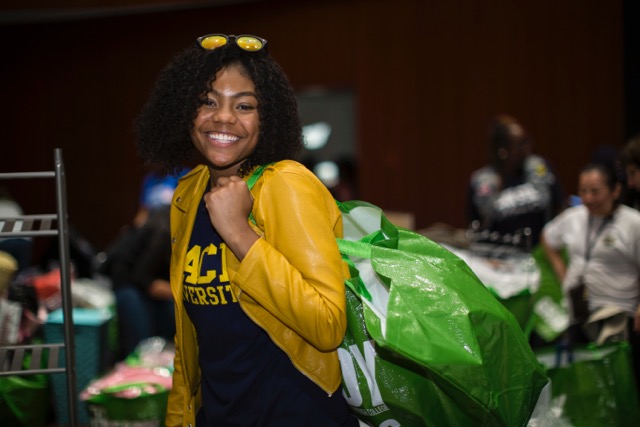 At Let's Get Ready's annual Transition Day workshop, Grad Bag distributed a record-setting amount of new and lightly-used dorm room essentials. In a single day, Grad Bag gave away over 200 comforters, 500 decorative and bed pillows, 150 rugs, 250 bunches of hangers, 230 blankets, 275 sheet sets, 150 desk and standing lamps to hundreds of incoming college students.
Founded in 2012, Grad Bag is a green initiative to reuse college dorm supplies. The organization collects and redistributes lightly-used items that too often end up in landfills and delivers them to first generation college freshmen from low-income households. Each year since its founding, Grad Bag has multiplied its reach. The organization now operates in both New York and Boston, collecting from 13 colleges in the Northeast.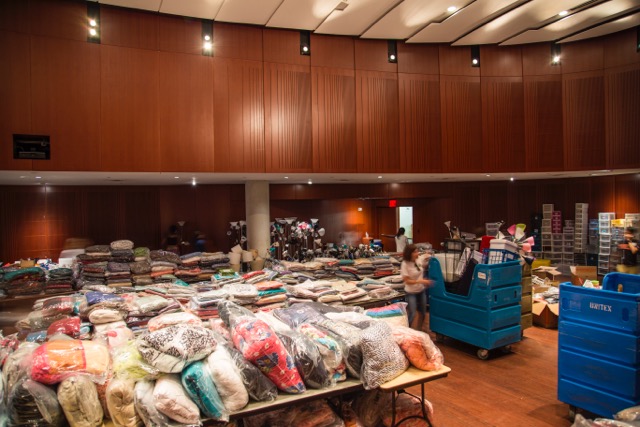 To distribute the goods it collects, Grad Bag works with Let's Get Ready (LGR) that was started by a Scarsdale High School graduate 15 years ago. LGR provides low-income high school students with free SAT preparation, admissions counseling and other support services needed to gain admission to and graduate from college. Services are provided by volunteer college students who also serve as role models and mentors.
This year, the LGR's New York Transition Day workshop was held at Barnard College. Early on the morning of August 2nd, many hands helped load 4 truckloads of goods. Upon arrival in Manhattan, the trucks we were met by an additional crowd of people to unload and set up the Grad Bag "store." Hundreds of happy students from LGR and other local inner city college prep organizations left the workshop with bags full of dorm room supplies.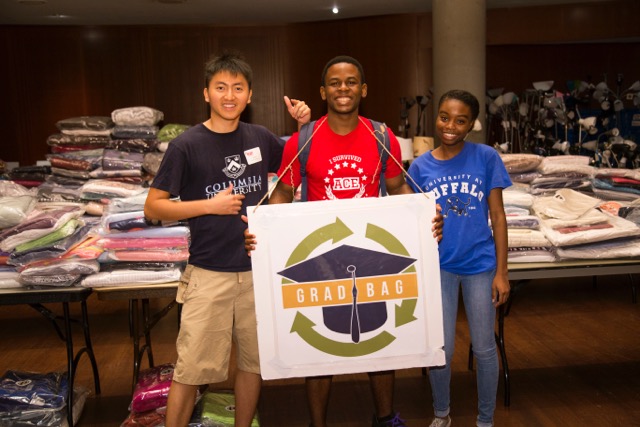 Grad Bag was founded by Tara Tyberg and Liz Gruber, both of Scarsdale, in 2012. When moving their children out of their college rooms, Tyberg and Gruber realized that there were a lot of dorm room items college kids have no use for once they've graduated but are in fine workable condition. The pair contacted their friends and neighbors—parents of recent college graduates—to gather items that would otherwise be thrown away.
Each May, Grad Bag works with local colleges to collect items that would otherwise be thrown away. In June and July, the items are cleaned and and packaged and in early August, they're distributed. At each of 2 two "community folds," 30 to 40 volunteers from Westchester Reform Temple (WRT), Scarsdale Synagogue and the greater community fold and package sheets, comforters, blankets and towels and more.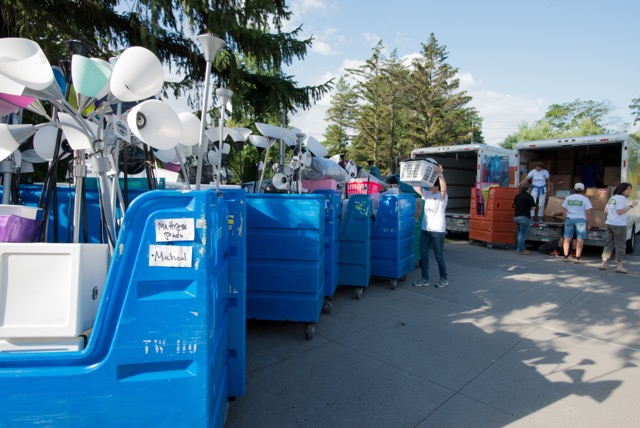 Since 2013, WRT has been Grad Bag's partner and New York home. WRT graciously allows Grad Bag to use many empty classrooms over the summer months for the work of getting everything in close-to-new condition that's ready to distribute. The very generous donations of laundering and trucking make it possible for this grass-roots effort to exist. This year Stanley Steemer donated their services and cleaned over 150 rugs.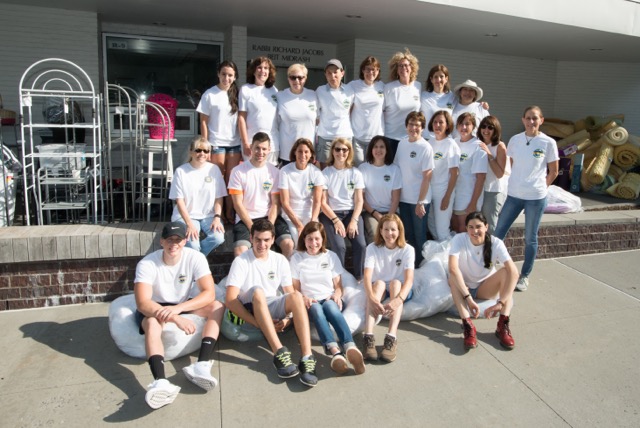 Board Re-Elects Maude and Natbony and Ponders Decision-Making Process for Greenacres
Details

Category: Schools
Published on

06 July 2016

Written by

Joanne Wallenstein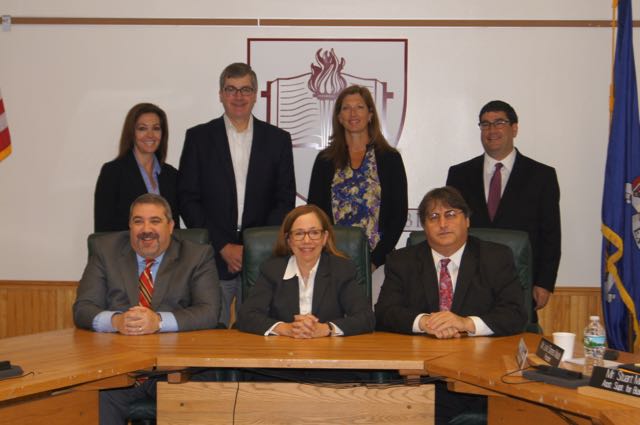 In an unusual move, the Scarsdale Board of Education re-elected Lee Maude and William Natbony to serve second terms as President and Vice President of the Scarsdale School Board for the 2016-17 school year. In nominating Maude, School Board member Art Rublin said she would "provide continuity" for the Board as they continue to implement the transition plan outlined by Superintendent Hagerman in 2015. Similarly, Board Member Scott Silberfein endorsed Natbony for Vice President saying he "has proven to be a valuable leader." Both were re-elected unanimously.
Lee Maude announced that the Board had signed a 4-year contract with Superintendent Hagerman, ensuring his continuity as well. She said, "We completed an annual assessment of Dr. Hagerman and gave him a "highly effective" rating. We are very excited and look forward to the next four years with Dr. Hagerman."
Though the discussions behind these decisions are not public, several factors may have contributed to the decision. By many counts, the board had a very successful year. In May, the proposed 2016-17 school budget, which required a very minimal tax increase, received resounding support from the community. In June, the Board announced that they had agreed on a 4-year contract with the Scarsdale Teacher's Association that provided for reasonable salary increases and more teaching time. Though there were many contentious discussions with residents during the school year about Mandarin and the Greenacres School, Maude managed the conversations and kept the community on track.
This coming year, the Board will face decisions about building projects approved in 2014 that have come in over budget, will evaluate a district-wide facilities master plan and come to a decision on whether to renovate the existing Greenacres School or build a new one on the field across the street.
Given that Maude and Natbony have the most seniority, perhaps the consensus was that the existing team was in the best position to manage another year.
The Board also made key appointments and welcomed new board member Nina Cannon and the newly hired Assistant for Personnel, Drew Patrick to the table. Treasurer Jeff Martin, who had been out for several months, was also back at the table.
Greenacres: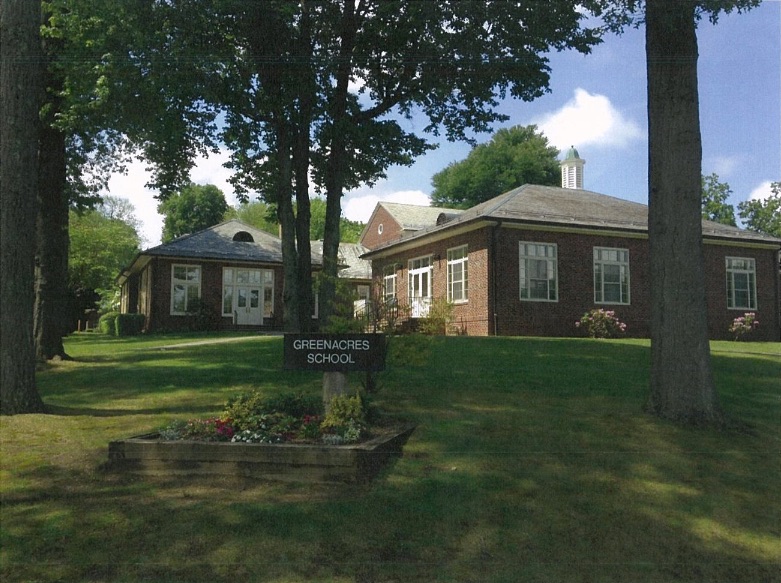 During a discussion about additional funds needed to renovate the central district office, it came to light that the funding request also included money to buy classroom furniture for Greenacres and Heathcote Schools where additional sections were needed to accommodate increased enrollment.
Though details were not provided, it sounds like the third grade at Greenacres will go to four sections, leaving the school short one classroom. Emily Cohen, who taught second grade at Fox Meadow will move to Greenacres in the fall to teach the additional third grade class. Mattey said that there are plans afoot to craft a classroom out of a portion of the library. The fifth grade already includes four sections, and two grades have inclusion classrooms to accommodate special needs students from all over the district. Undoubtedly Greenacres will be very crowded this fall. We are waiting to find out how much of the library will be lost, if the temporary classroom will have windows and if an additional section will pose challenges for scheduling lunch, gym, art and music. Stay tuned for more information.
Lee Maude said that prior to the meeting she "polled the board independently to ask if they wanted to have a discussion about Greenacres today." Since there was no new information, she said that this summer the Board would "look at Greenacres with respect to the rest of the district and the needs of all the buildings."
Stuart Mattey said they will put together a list of the level of need at each building and will prioritize some of them before handing it off to the district-wide building committee. About Greenacres, he said he got a list of the field conditions yesterday and is awaiting a third party analysis of the costs.
Both Bill Natbony and Chris Morin asked if there was a way to quantify the future savings from a new building vs. an old one. He wanted to have a better sense of cost savings there might be for Option C1. Mattey said the district's fiscal advisors might be able to help with this. Chris Morin said, "We need an analysis of the present value of both options so that we can do a comparison."
At the conclusion of the meeting, Lee Maude said, "We have sent questions to KG&D and are waiting for a response from them on the model program. We will follow up on the cost savings, terracing and other questions."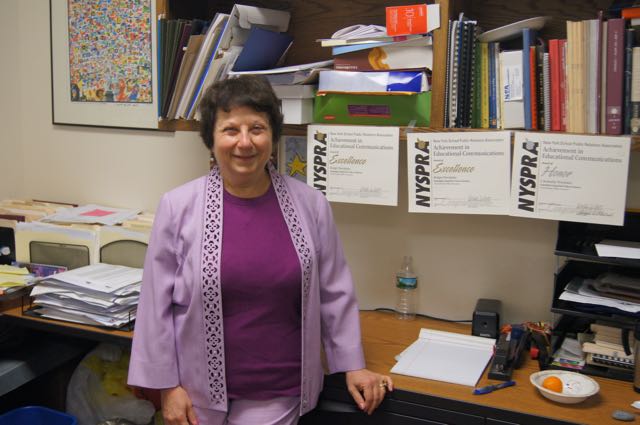 Several people spoke at the meeting, for and against various building options for Greenacres.
Madeline Hauptman of Brewster Road said, "My house backs onto the field.... I am an artist and I work from home. The trees in my yard are important to me. There is a line of trees separating my yard from the field. It will be a tremendous disservice to take down those trees." She continued, "If you implement this design there will be a tragedy. There is no sidewalk on Brewster Road. Kids will walk between the cars. There will be fumes. My daughter says that people who live near idling cars get ill from the fumes. There will be one drop off point where now there are three. Coming down Brewster without sidewalks is dangerous." Referring to the rendering of Option C1 presented by the architects, she said, "The artist rendering is fake. That rendering looks like the field is 12 acres – but it is in fact 2 acres. It's a third of what is there now. The drawing is deceptive. I think you need to look at what it will be like – not some artist's rendering."
Barbara Wenglin said that after two years, the majority of residents still prefer option B1. She concurred that the renderings were misleading and complained that the "Pro C" group used "nasty rhetoric." She said, "We appreciate civil discourse." She said, "Yes I live near the field. Open green space is to be preserved ..... we must maintain it."
Gay Seuss of Kingston Road said, "My property abuts the field. I was outraged to see the plan to build a road on the field. The road is outrageous."
Meredith Gantcher of Brewster Road, said, "At the end of the day we all share similar goals for a first class education. We all know that it's teacher-student ratio, and quality of the teaching staff that matter. Infrastructure is critical but it is not the ultimate goal.... The latest C1 design demonstrates how awkward it is to build a school in our neighborhood. It squeezes the design and compromises gym and cafeteria spaces. There is only one entrance. Now you have budget convertible space. You will have kids smacking into a wall. If you believe that spending the money is worth it, then go design that school...you tried to come up with a compromise solution, but you can't have it. The highest and best use is as it exists."
Rachel Krisberg from Greenacres Avenue said she is a former teacher with a child going into kindergarten and a three-year-old. She said, "As a parent I think that C1 is the best option. I can't imagine teaching when a renovation is going on and being exposed to the noise, the construction and risk. If we are putting the children first, putting the kids in a building with a renovation going on is a risk."
Leslie Shearer of Brewster Road favored Option B1. She said it retains the green field and said, "If we spend $40 million renovating we'll get essentially a new building. The entire town benefits from the decision." About the construction she said, "Disruptions happen! Sometimes SHIT happens. In the end you will benefit from a reconstructed building."
Paulina Schwartz of Oakstwain told the board she had reviewed the architect's chart outlining how much of the model program is met by Option B1 and Option C and found that the calculations are off for classroom sizes in grades K, 1 and 2. She said these rooms are too small and there is no flex space. She also noted that Option C1 has an extra classroom for years where there is an additional section. She said, "I think C1 is a great compromise. There are things that can be tweaked. But we get everything that we deserve and meet the model program.
In additional business, the Board agreed to retain two consultants:
Assistant Superintendent Lynne Shain announced that the district had been unable to find a suitable replacement for World Language Chair Sarah Wittington who retired in June. In the interim, they have hired a teacher to assume her instructional duties (.6 position) and will retain Wittington as a consultant for the coming school year to manage the department, participate in discussions about changes to the foreign language program at the middle school and supervise and evaluate world language teachers at the elementary schools. She will work up to 4 days per month at $835 per day.
Stuart Mattey said that the district would retain security consultants to develop a district-wide safety and security plan to ensure uniformity across all schools. He said, "though each building works well on its own," the consultants would, "make sure we use best practices and meet all the mandates" and be the "go-to person for security issues." The consultants will meet with the building principals to do an assessment of where we are now and work on training for all situations. Mattey recommended the Altaris Group because they have "an understanding of school culture, are cognizant of how our buildings operate and don't come at this from a military perspective." The Board approved spending $41,800 to retain Altaris.
Greenacres to Accomodate New Classroom Sections this Fall
Details

Category: Schools
Published on

13 July 2016

Written by

Joanne Wallenstein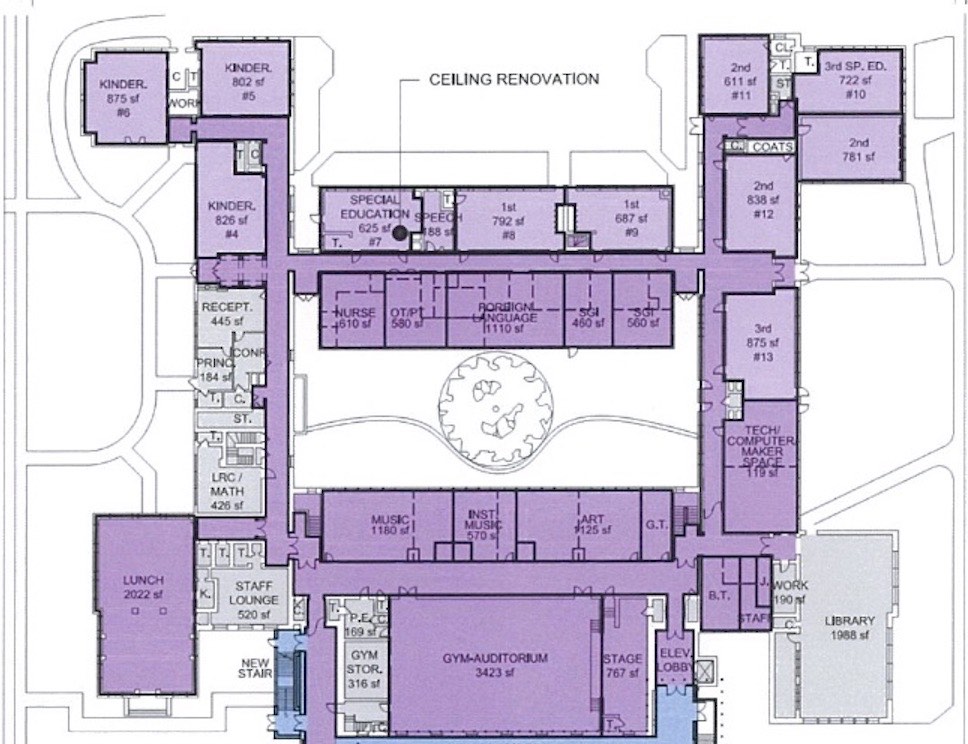 Last week we reported that additional sections at Greenacres School this fall could require the takeover of a portion of the library for classroom space. That proved to be wrong. Though enrollment will rise at the school, the library will not be used to accommodate the additional students. Instead, the Spanish room will be converted to an additional classroom, and if another grade requires an additional class, the space currently used for the Learning Resource Center will also become a classroom. Greenacres Principal Sharon Hill anticipates that one and possibly two more classes will be added in the fall.

We spoke to Ms. Hill and here is what she shared about the situation for next year:
How many classrooms do you anticipate having at the school next year?
We expect to have 20 or possibly 21 classes at the school.
Which grades will require a new section?
There will be a new section in Grade 3 and possibly in Grade 2.
How many total students are expected and how does that compare to prior years?
The current enrollment for 2016-17 is 395. At this time last year, the enrollment for 2015-16 was 383 and in 2014-15 it was 403.
You mentioned that both the Spanish and LRC rooms may need to be converted to classrooms. How big are these two rooms?
See Floor Plan: Room #10 (722 square feet) and LRC/ELA & Math Rooms. (not clear)
Where would Spanish be taught and what space will be used for the Learning Resource Center?
The Spanish teacher go directly to classrooms instead of students going to her.
How will the additional classes affect the scheduling of lunch periods, art and music – and other specials?
We don't anticipate any impact on lunch or other scheduling.
Were any other options considered?
Yes there have been many iterations which considered the re-purposing of other spaces. It was felt that the current plan is the best solution.
Architects Present Plan to Build a New School and Save Greenacres Field; Bids for District-Wide Construction Rejected
Details

Category: Schools
Published on

22 June 2016

Written by

Joanne Wallenstein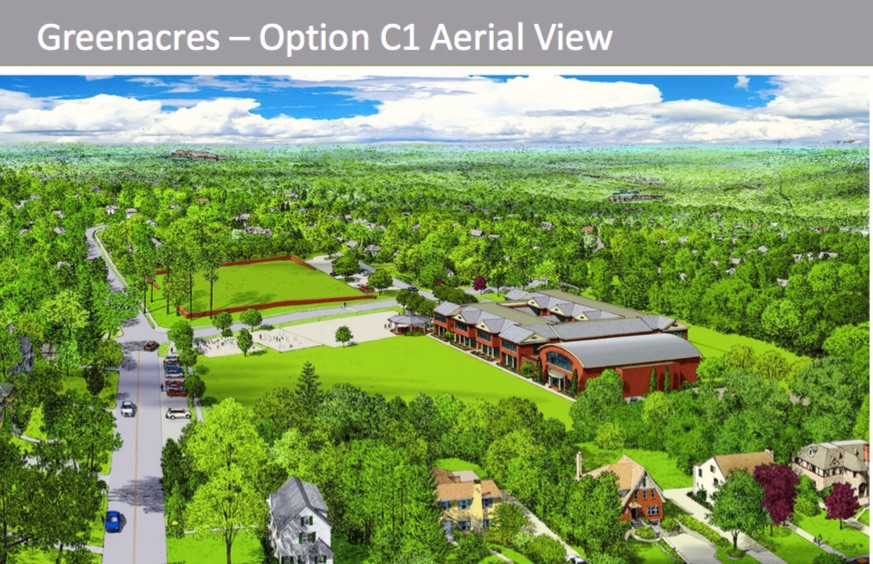 Though scores of residents came to the Board of Education's last meeting of the year on June 20 with the intention of learning more about the Greenacres School, they waited hours before seeing new options for the school and were not able to comment on the plans until well after 11 pm.
The Board had pressing business to attend to and struggled to keep the audience at bay to allow the board to stick to their agenda. It wasn't easy, as there were several other factions in the audience who wanted to make their views known. A group of softball players and their parents wanted answers on why Coach Scagnelli's contract would not be renewed next year. Board President Lee Maude said that the Board could not discuss personnel issues but Jay Houseman of Thornwood Place persisted, saying, "We implore you to reconsider your decision to allow the people in the back of this room to speak .... We want an open line of communication with you and Ray Pappalardi. This is hurting my daughters chances of being recruited ..... He (Coach Scagnelli) doesn't play by the rules but he is an excellent coach."
Others saw the meeting as a platform to raise concerns about the village-wide property tax revaluation. Bob Berg and Brice Kirkendall-Rodriguez both addressed the board about the potential effects of the revaluation on raising funds to finance capitol projects for the schools. Berg went as far as to suggest that the School Board bring a lawsuit to void the revaluation. When his three minutes was up, he was repeatedly asked to sit down.
Mayra Kirkendall Rodriguez brought up another issue that was not on the agenda, urging the Board to reconvene the World Language Committee to consider adding more foreign language offerings to the curriculum. She made a long list of suggestions on how the Board should go about studying the issues and publicizing the program to district parents. She ended by referring to Dr. Hagerman's upcoming trip to Singapore, saying "Please have a Singapore sling on us – I think after tonight you may need one."
These comments, along with departing words for retiring Board Member Suzanne Seiden, the announcement of a new contract with the teachers, a discussion of the rejection of all of bids for approved building projects from the $18.2 mm bond (see detials below) and the introduction of new hires for the 2016-17 school year delayed any discussion of Greenacres until late in the evening.
When architect Russ Davidson of KG&D finally did make his presentation, he explained that he had renderings and site plans for option B1 – the renovation of the existing school, and an alternative plan for a new school across the street. The new option C1 would be a two-story school with a smaller footprint to preserve more green space and play area. The school would be on the West side of the field, parallel to Brewster Road. According to Davidson, the school would be a bit less expensive than Option C and have the least impact on adjacent homes.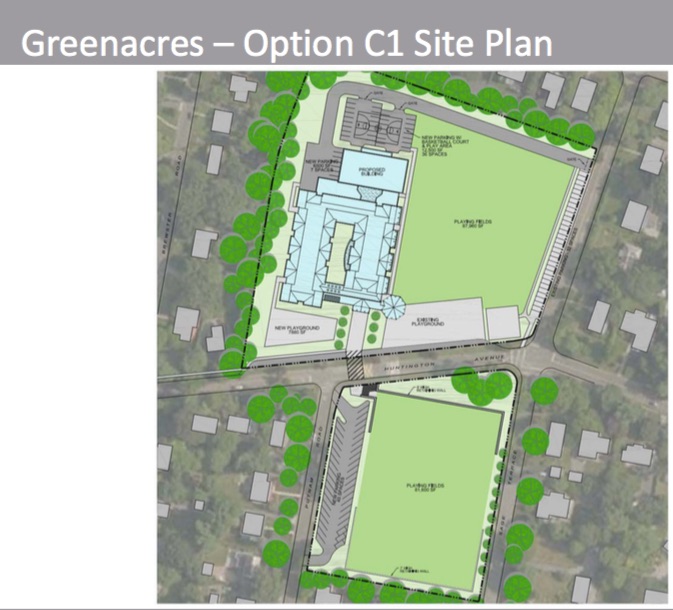 The exterior of the school would look like a series of "linked houses," with covered porches facing the field. The entry would be a covered gazebo and the school would also include a large covered play area. A full service cafeteria would be adjacent to the gym. The two areas could be joined to make an even bigger assembly space and includes a large indoor stage. Classrooms surround a central courtyard to bring light into both sides of each room.
Another feature of the site is a long access driveway extending from Montrose Road to the rear of the new building. The paved lane would run parallel to Kingston Road and could be used for deliveries and service vehicles. The site of the current school would include a playing field with a 6-7 foot retaining wall to level off the area.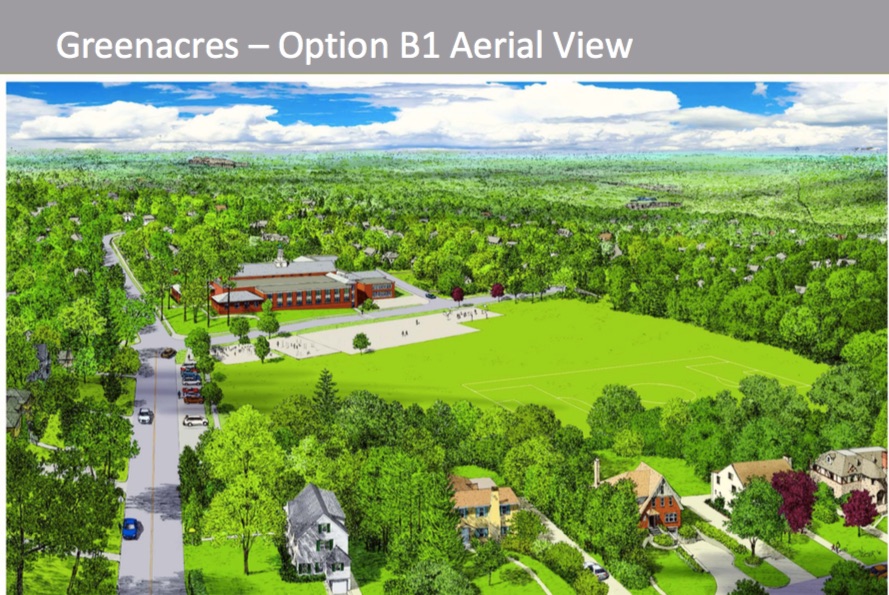 Davidson's plans for B1, or the renovation, now includes $1.4 million for six temporary trailers to be used as classrooms during the construction. He said that kids could be in the existing building while the addition is under construction as it will be done on exterior space. However, there is work involved to renovate the heating and ventilation systems in the existing classrooms, and thus the need for the trailers. The design includes a stair tower extending from the second floor down to street level. Davidson said, "The addition fits naturally into the neighborhood." About the two plans, Davidson said, "These are your two best options."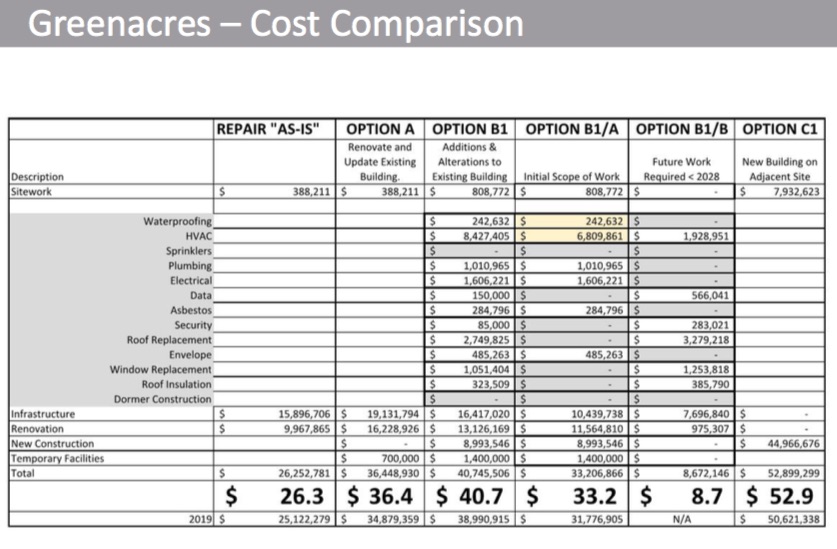 Which of the two buildings would best meet the district's needs? Davidson presented a chart showing how the two options conformed to the "model program" or state education department targets. In the chart below, red boxes indicate a shortage of space, yellow for similar and green for an overage. Option B1 fails some of the criteria as some of the rooms are smaller than optimal standards. It is interesting to note that the new Option C1 offers 25,000 more square feet of green space than the prior Option C and addresses the concerns of those who valued the blacktop area with 34,204 square feet of blacktop to the current 35,540 square feet.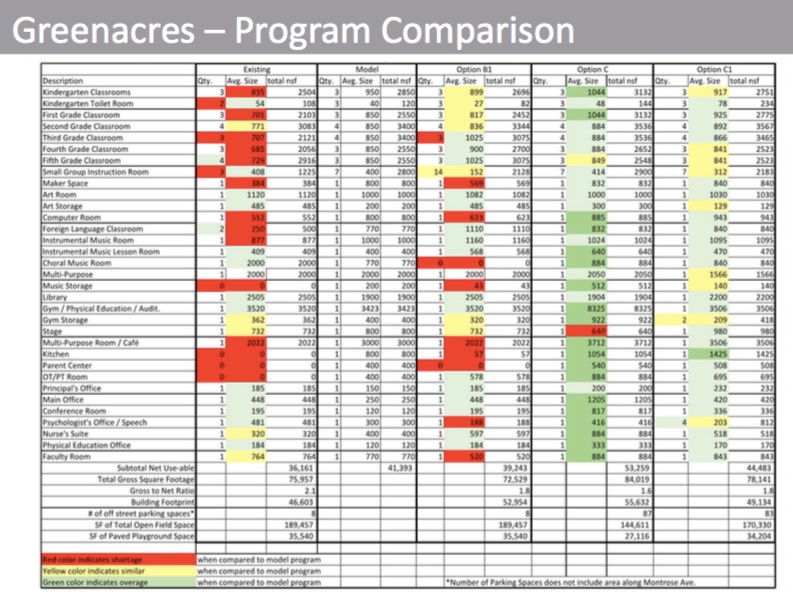 The new building is estimated to cost $12 million more than a renovation – with an estimate of $40.7 for B1 to $52.9 million for C1. Davidson did say that the new building would be heated and cooled by a geothermal system that uses 50% less energy than traditional buildings and would yield considerable savings in energy costs in the future. These cost savings could narrow the expense gap between the two options. In addition, the state permits 30 year financing for new construction vs. 15 years for renovations, which would again impact the annual debt costs for the two options.

Dr. Hagerman asked the audience to examine these two options with an open mind. He said, "We considered all factors ....including green space and a 21st century building." Referring to the many messages he was receiving he said, "Stop the robo texting and really consider the options. We went line by line addressing the issues that had been brought to our attention." In discussing robo texting, Hagerman was referencing a petition that was circulated before the meeting that asked the Board to take Option C off the table. The "Google Forms" doc was a widget that facilitated the easy submission of emails to the Board. Their inbox was flooded and they struggled to respond to each one for which there was an email address.
Board President Lee Maude sought answers to the safety questions raised by parents at the prior meeting., specifically about asbestos, lead and dust. Davidson assured the board that construction companies follow "section 155 regulations for occupied school buildings," that require a separate ventilation system for the construction area and the occupied building as well as a hard wall between the two. Furthermore asbestos abatement is prohibited while the children are in the building. Davidson says in all their years of practice they have not had a lawsuit concerning the health effects of school construction.
Despite Dr. Hagerman's plea for residents to look at their options with an open mind, most who spoke echoed their prior positions, adapting their comments to incorporate the new information presented. Meredith Gantcher asked why trailers were necessary at Greenacres if none would be provided for students during construction at the other schools. She said the standards should be the same across all elementary school districts. She also wanted to know how drop off would be accommodated at the new building and asked for construction timing for the new options.
Ira Hasson, who lives next to the current school, said that now that Davidson had cleared up concerns about construction safety, there would be no reason for the district to spend $10 million more on a new school and lose two baseball fields when the old school could be safely renovated. Vivienne Braun told the Board that a renewed effort to gather signatures in support of Option B1 had yielded far more support than the campaign to build a new school. She said, "What is the difference between the renovations for Edgewood and similar work for Greenacres? Why is it safe there and not in Greenacres? I don't understand the need for temporary classrooms in Greenacres."
Madeline Hauptman of Brewster Road read a lengthy statement from architect Aaron Lamport who lives in Greenacres. He suggested a proactive outreach effort on the part of the Board to communicate safety procedures for the renovation. He supports Option B1.

Valerie Greenberg said she finds the school to be beautiful and said that all issues with the school will go away with the renovation. She does not believe that new was necessarily better.
Jon Singer of 8 Montrose Road said that classroom size is not tied to educational performance. He said that the classroom sizes in the other schools do not meet these targets and argued that applying the model program to the other schools would require massive changes and the demolition and rebuilding of the other schools. Mike Greenberg agreed that everyone would be demanding a new school.
Mark Lewis, an empty nester spoke in support of the new school, saying the children of Greenacres need a new school that meets the needs of today and tomorrow. He chided the board for doing their consent agenda before giving the audience the opportunity to speak. He said, "People have to go to work and have small children at home."
Tony Coriggio of Brite Avenue said "C1 is spot on. It takes the "save the field" argument off the table.... Take into account the energy and maintenance savings." Coriggio urged the board to get the facts out to the public and to not be swayed by a robo campaign.
Andy Taylor of 37 Walworth Avenue supported the new school, saying that C1 is the only option for Greenacres. He said a facelift of an old school was not optimal and posed questions about the safety and hidden costs of renovating an old building. He said in the long term, it would cost more to run and maintain the old building than to build a new one. He called B1 a "fatally flawed, stop gap measure."
John Krisbergh of Greenacres Avenue told the Board that all of Scarsdale would support "a great new school that we can all be proud of."
David Fenigstein pointed to the deficiencies in B1 in terms of the model program. He told the board to take a look at the energy savings and to consider the advantages of having the school on the same side as the playing fields.
Rona Muntner of Fairview Road questioned the parity issue. She said, "We are one community and can share in the resources. Each school comes up for renovation when needed."
Mitch Kahn of Brewster Road said, "The grounds are school property. I understand there is a baseball game that has been going on there for 50 years, but that's not for kids... To me the "Save the Field" people started with saving the field, so you got an option that saved the field. Then they went to Save Greenacres. Now they are being altruistic and worrying about other areas of Scarsdale and raising concerns about the cost. You guys see through this. You know where they live and you can see what their real concern is. The cost of a new building will not be that different in the end. Do what's right for the kids."
Though people debated the pros and cons for a new school, it was apparent that external factors could have a big impact on the decision. Earlier in the meeting, Assistant Superintendent Stuart Mattey announced that the district had not received any acceptable bids for the work planned at the High School, Middle School, Edgewood and Heathcote Schools. This work was approved by voters in an $18.12 million bond in December 2014. However, the State Education Department delayed their approvals, forcing the district to put the projects out to bid in May. Due to the timing and an uptick in the economy, the bids that were received were 33% higher than estimated and the district did not receive any bids at all for general contractors for the $7 million project at the high school. At their final meeting of the year the Board passed a resolution rejecting all the bids as they exceeded the available budget.

As a result, Stuart Mattey and Russ Davidson said those projects would need to be streamlined and bundled together to get more favorable pricing. The increase in pricing for these projects could affect the district's ability to pay for the renovation or the construction of a new school at Greenacres. The work was scheduled to begin this summer, but will clearly not begin on time.
Furthermore, the reval has spurred dissent from taxpayers and some wonder whether this could impact residents' willingness to fund new construction projects down the line.
The meeting ended at 12:21 am and there was no timeline or proposed resolution to the issue of the Greenacres School.
At the conclusion of the meeting, Lee Maude thanked her fellow board members for a great year and thanked Board Vice President Bill Natbony for being her wingman.

You can watch the meeting and the presentation here. What do you think of the district's options? Share your thoughts in the comment box below.