From Scarsdale BOE: Greenacres and the World Language Survey
Details

Category: Schools
Published on

20 October 2016

Written by

Heather Gilchriest Meili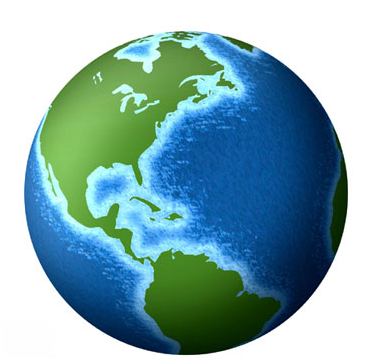 The future of both Greenacres School and the World Language program were once again key topics at the School Board meeting which took place this past Monday evening.
Superintendent Dr. Hagerman alerted the community to expect his second "Facilities Update" email, which was in fact released later Monday evening. The full text of that email is re-printed below. This is one piece of the overall communication plan which has been recently developed to provide accurate information to the community regarding the status of Greenacres as well as the district-wide Facilities Plan. Additionally, Dr. Hagerman's email provides a link to a complete archive of all materials that have been generated throughout the Greenacres process.
Is this communication plan reaching throughout the community as intended? Robert McFarlane of 1247 Post Road, a 16 year resident and empty nester, had this to say on behalf of himself and his wife Carmella: "I don't know what others are experiencing...we sent one written communication to the board (on the subject of Greenacres) and received two responses of thanks for our comment, several weeks apart. So we must be in the email records. Yet we received nothing telling us where to look for further information, and no information has been sent to us. In our opinion, the communications we have received from outside the Board and many of the comments at public comment meetings have been highly prejudicial on one side or another, and at the moment we feel we have no solid or reliable information on which to really form an opinion."
Wendy Shi of 198 Brewster Road received the latest update, but points out that although the increased community outreach is welcome, the future of Greenacres School should be "a decision about what's best for children present and future" rather than which plan is the most popular. Similarly, Katharine Miao of 51 Walworth Avenue favors more decisive action: "I wish there had been more of a consensus but the board needs to make a decision one way or another."
Paulina Schwartz offered this comment on the email Dr. Hagerman sent out this week. She said, "To say that the space issues at Greenacres are minor is understating the degree of the problem. Note that the Greenacres Feasibility Study included the following five facts:
-The model program is used as a benchmark for the design options that were explored as well as a basis for comparison to other schools in the District. Perhaps the most meaningful statistic to emerge from this comparison is the amount of net usable square footage per student:

-Greenacres Existing: 78 square feet of net usable square feet per student
Average: Edgewood, Fox Meadow, Heathcote and Quaker Ridge: 105 square feet of net usable square feet per student

-Greenacres has 26% less overall useable net square footage per student than the average of the four elementary schools.

-Scarsdale's other four elementary schools have larger classrooms than exist at Greenacres in all categories.

-This highlights one the major issues with the Greenacres building - there is not adequate space for the full student program. Perhaps the most serious manifestation of this issue is the size of the core instructional classrooms themselves.
A further question is how the current decision-making process and timeline is perceived outside the Scarsdale community. Discussion around the neighborhood turns up stories of residents who know city families contemplating a Scarsdale move who have crossed Greenacres off their list due to the uncertainty surrounding the school.
However, Meredith Gantcher of 164 Brewster Road sees the current pause for assessment and communication as highly valuable to the community and its reputation: "The latest update is a meaningful attempt by the Board to fulfill Dr. Hagerman's charge that the Board of Education must codify and disseminate the information gathered over the last two years by the GA Building committees and the Board while studying the current conditions and needs of the GA School....It's clear that Dr. Hagerman and the Board are making it a priority to dispel damaging myths and rumors that have circulated in the community that have grossly exaggerated problems at Greenacres and needlessly harm the reputation of the entire district. It's clear that Dr. Hagerman is making every effort to inject objectivity and fact-based analysis into the Greenacres discussion...."
Dr. Hagerman also announced an additional element of his communication plan which is to engage survey company Unicom Arc to poll residents on their views. He said, "It's a little more expensive than we had hoped initially so we're probably going to have to pare down from three surveys to something less than that, but we look forward to getting out and engaging the community in that way."
World Language
An already completed survey formed the core of Assistant Superintendent for Curriculum Lynn Shain's update on World Language. Ms. Shain reported that since the survey closed on October 13 they have been evaluating the results. In something of a surprise, given the attention the issue has received of late, the survey received only a 32% response rate (856 families responding out of a potential 2,707.) In Ms. Shain's words: "Many said that they would not want to add a new language to elementary, middle, or high school programs. That is a significant piece of the pie here and we have to do some more analysis of all of this data."
Current 5th grade parents throughout Scarsdale should note the timeline for 6th grade World Language registration has been pushed back to allow further survey analysis. The first parent meeting was originally to take place on November 15. That will be rescheduled and a new timeline will be forthcoming. November 28 is set as the date when Ms. Shain will present all World Language data results to the Board.
As one of the founding members of the Mandarin in Middle School Initiative Team and Co-Chair of the Education Committee of the Scarsdale Forum, Mayra Kirkendall-Rodriguez offered her reaction to the survey's initial findings: "I am very grateful the Scarsdale School Administration created a language survey; it is important to get the response of the community. If the Administration is disappointed that more parents did not respond, I'm not sure that 32% should be considered a low response rate as it's above normal email survey response levels. The Administration should consider carefully how to encourage parents to answer surveys? Instead of concluding people don't want additional languages, perhaps reconsider the method of survey distribution and design. Perhaps by having the surveys distributed through class parents, for example, they would get more attention. Additionally, perhaps make it clear why the survey matters: what action is expected to be taken based on survey results."
Comments
When the Board invited comments from those present on Monday evening, Leanne Freda, PT Council President, stepped forward with warm thanks to the Board in observance of the Governor's proclaimed School Board Recognition week. Addressing those gathered, Ms. Freda noted, "They work extraordinarily long hours in service of out community to ensure that our schools remain on the cutting edge and deliver an excellent education....Throughout the many challenges facing our community they have remained calm, respectful and professional." Accompanied by applause from the room, she concluded: "On behalf of the Scarsdale PT Council, we express our sincere gratitude for your service, commitment and contribution to the students and families of Scarsdale."
Next, Dan Hochvert spoke as a Member of the Board of Friends of Scarsdale Parks, bringing positive news about the improvements made in the former Harwood Park area surrounding the brook between the high school gravel parking lot and the library. He describes its previous state as "terribly neglected...a snow and garbage dump." Yet through volunteers' efforts over the last 2 1/2 years invasive plants have been removed and 600 native plants restored to the area. As a result a mother and baby deer have been observed enjoying the habitat, and students have been observed enjoying a beautiful new pathway to the library.
Switching hats to his role as Co-Chair of the Scarsdale Forum Education Committee, Mr. Hochvert announced the completion of the Committee's draft report on Greenacres which they hope will be useful to the Board and serve to "narrow the gap between the B1's and the C1's."
(Here is the text of an email sent out by the Scarsdale Schools on Monday October 17th)
What is the current condition of the Greenacres School?
At the time that the District's successful 2014 bond was first being considered, the architectural firm KG&D conducted a feasibility study of Greenacres.
KG&D began by giving Greenacres a survey of the entire structure from foundation to roof, and determined that the building had been well-maintained. Careful maintenance has extended the "useful life" (parameters set by experts in the field) of various components of the building, such as the slate roof, windows, and mechanical systems.
Next, a checklist was reviewed of building code compliance issues and expectations, including:
Classroom square footage
Ventilation and air quality
Fire safety
Toilet facilities and plumbing
ADA accessibility (including door widths, obstructions, counter heights, etc.)
Energy efficiency
Although the overall building was determined to be sound, the review did reveal some problematic areas, particularly in light of our goal to provide a 21st century educational environment for our students. One of the issues is the small size of classrooms. Teaching approaches have changed significantly in the last 100 years; for example, classroom desks are no longer set up in rows but in clusters; extra room is needed for science and other projects and use of technology; and special needs inclusion practice requires adequate space for children and their aides.
Moreover, the building has been divided and subdivided over time to accommodate changing programmatic and student needs. Computer labs, student service offices, Maker Spaces and the like are all staples of today's education; however, these additions have resulted in a reduction in traditional classroom space.
Greenacres Feasibility Study Archives
Why weren't these conditions addressed in the 2014 bond?
The original Greenacres Building Committee was convened during the course of Districtwide planning for the December 2014 Bond Referendum. At that time, the Committee reviewed the feasibility study and concluded that the scope of work was too great to be addressed within parameters of the 2014 bond. The Committee recommended that the future of Greenacres would require further study and should be addressed in a future bond.
Is overcrowding at Greenacres an issue?
Although some classrooms are smaller than those at the other elementary schools in Scarsdale, Greenacres students are satisfactorily accommodated. There have been reports that students are forced to sit on the floor due to lack of classroom space for desks/tables and chairs; however, this is not true. It's possible that this misconception arose from individuals seeing or hearing about students sitting on the floor (usually on special rugs), which is a normal part of the school day for younger grades throughout the District. This technique has been found to help focus student attention and, in many cases, allows students to access Smartboards and other technology.
What about moisture or mold in the building?
A major challenge facing Greenacres is moisture. The dirt crawl spaces and basement underneath the building generate significant humidity, which is controlled through the constant use of dehumidifiers. Without this continuous monitoring and mitigating, this moisture could result in serious issues affecting air quality, structural integrity, and maintenance.
It should be noted that repeated testing by both District staff and outside consultants has shown that there is no significant mold problem at this time. Concerns about mold throughout the District are addressed with inspections from outside experts.
To learn more about Scarsdale's facilities, bond updates, and Greenacres information, please visit our Facilities website pages here.
SHS Students to Examine the Refugee Crisis During Exchange Trip to Heidelberg
Details

Category: Schools
Published on

17 October 2016

Written by

Joanne Wallenstein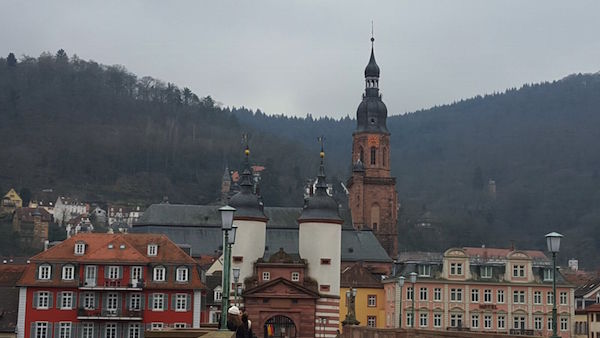 Six Scarsdale High School students will travel to Heidelberg, Germany, to team up with six students from the Elisabeth von Thadden Schule in February 2017. Together, the German and American students will examine issues surrounding refugees in the past and present and develop ways to contribute positively to the effort to reduce the painful effects of relocation.
The exchange program is offered by the SHS Social Studies Department and led by Maggie Favretti, with the goal of bringing young people together to strategize about an important humanitarian issue.
The program has a unique historical context because during World WarII, the founder of the Heidelberg school refused to follow the Nazi program and was executed at Ravensbruck. After the war, the school was reopened in her name in the interest of humanitarian principles. By 1950, the school held a semester-long exchange with Israel (which they still do), and have since added several other exchanges to examine key social issues.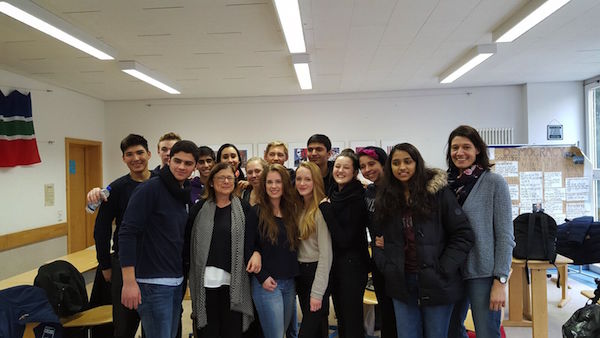 Since Heidelberg is not only a spectacularly beautiful intact medieval city in a lovely and historic region but is also the center for refugee resettlement in southern Germany, it is a perfect place to visit and stay. Students on last year's exchange met a young Iraqi refugee who attends the school and this year, students will meet his brother, too. Their story compelled Scarsdale students to want to do much more. They furthered their efforts by conferring with Holocaust survivors and refugees from the USSR, visiting a synagogue and a mosque, and visiting with people who are in charge of humanitarian outreach in the resettlement camp in the old US Army base.
They also travelled to historic cities, such as Speyer, home of the Shapiro (originally same word) family who now has descendants in Scarsdale. Following the trip, Scarsdale students will host their German friends in mid-March. Last year they toured New York City, met with humanitarian leaders in Bay Ridge, spoke with Holocaust refugees, visited a Harlem neighborhood and met with jazz drummer Phil Young for an "up-close and personal tour."
Together the two groups of students created Students for Refugees, a bi-continental club dedicated to helping to inform young people about the refugee crisis and effective ways to offer direct and indirect help. This year, the club is adding to its membership, and its repertoire of activities. The information meeting about the 2017 Germany/Heidelberg Exchange is Wednesday October 19th, 7th period in room 2N5. For more information, email Maggie Favretti at mfavretti@scarsdaleschools.org.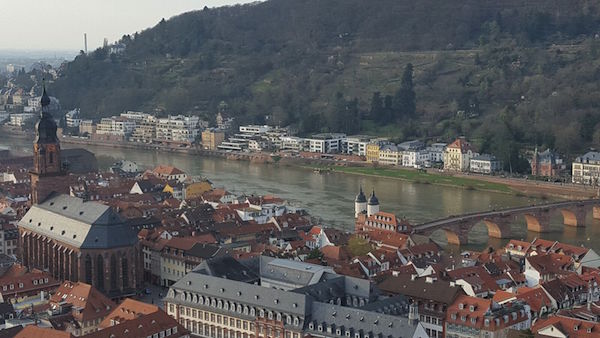 Board Reviews Plans for Scarsdale Education for Tomorrow: Residents Continue to Call for Additional Language Instruction
Details

Category: Schools
Published on

29 September 2016

Written by

Heather Gilchriest Meili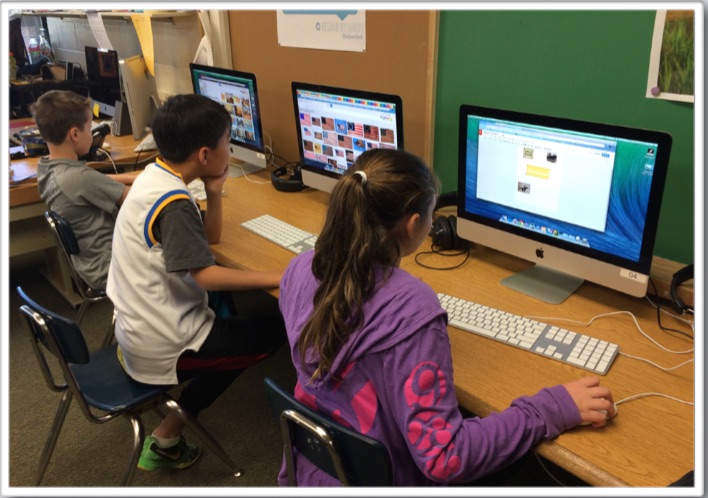 On Monday evening 9/26 the Scarsdale School Board heard from the Administration about an array of initiatives getting under way this school year, culminating with the highlight of the evening, the Education Report. Entitled "Scarsdale Education for Tomorrow Report: The Road Ahead," it was presented by Superintendent Dr. Hagerman along with Assistant Superintendent for Curriculum Lynn Shain and Director of Instructional Technology Jerry Crisci.
Dr. Hagerman announced that there would be several other similar presentations throughout the year which will be announced to the community in advance. He said, "We want to continually point out that we're here about teaching and learning and about students, and this is one way that we feature that and keep that at the forefront of our decision-making."
The Report contained a wealth of detail about the thinking that has taken place in multiple phases since 2009 to arrive at the most up-to-date educational plan that makes up SET 2.0 (Scarsdale Education for Tomorrow). A brief overview can be found here, and the full presentation is available for viewing on-demand on the Board of Education webpage.
Ms. Shain and Mr. Crisci outlined how SET 2.0 maintains the foundation of Scarsdale educational ideals such as "Non Sibi" and "A Classical Education Taught in the Progressive Tradition" and builds on it with a new emphasis on active learning. Active learning is being promoted through areas such as STEAM, Making, Design Thinking, and various collaborative projects. In the classroom, parents may see this taking place through 5th grade Capstone, the high school's City 2.0 class, online publishing, and many other classes and activities. Additionally, these goals are supported by the extensive new K-12 STEAM curriculum and the latest Scarsdale Teachers Institute courses for faculty. (Those who would like to review the new STEAM curriculum will find as link on the main District homepage.)
The very newest part of SET 2.0 to be implemented is a turn toward exploring Global Connections in the classroom in both large and small ways. This is a clear outgrowth of the Scarsdale-initiated GLA (Global Learning Alliance) which brings together educators from high-performing districts around the world, most recently with its 3rd Summit this past August. From the U.S., Columbia Teachers College and Edgemont School District joined with Scarsdale in traveling to Singapore, where select schools from Australia, Denmark, Hong Kong, Sweden, China, and Finland were also welcomed as partners.
Lynn Shain said that the GLA Summit exceeded all expectations of the power of coming together and sharing ideas across borders. Similarly, Dr. Hagerman reported that his first attendance at the Summit was incredibly enlightening both culturally and educationally. One immediate result is that Scarsdale, with Scarsdale students, is working with Singapore's National Institute of Education and the Hwa Chong Institution on an ongoing research project. This project studies intercultural collaborative problem-solving and the seeks the best ways to teach students positive communication strategies that move such collaboration forward.
At the conclusion of the Education Report, each Board member expressed thanks for the huge amount of work it represented, and followed up with questions to clarify their understanding. School Board member Chris Morin made a particularly pertinent observation: "The two biggest sets of decisions we have to make this year are probably about the language program and brick and mortar issues and those are both heavily implicit in both your observations about what you've learned there and what other people are thinking about around the world."
Student Reports:

In other news from the meeting, a key event fast-approaching for District parents is the release of the Individual Student Reports from the spring 2016 state testing, set to arrive through the Parent Portal on October 5. Ms. Shain walked the Board and meeting attendees carefully through the new reports' format. This format was sought by the state PTA, however it may surprise or confuse those accustomed to the previous layout. Although the new format has the benefit of being larger and easier to read, it will also include a percentile giving a comparison of each student to other students, first within the District and then within New York State. Ms. Shain emphasized that Scarsdale itself does not rank students even in the high school graduating class since in a high-performing district like Scarsdale this kind of rank-ordering is misleading. Students who do very well on the state tests may nonetheless find that their percentile within the District is not what they would expect given their performance. However, as the point of the test is to measure their proficiency against a set of standards and not their relative rank, parents and students should focus on the main result and not on these new, prominently displayed percentiles.
Scarsdale TagBoard:

Another item of immediate interest is the launch of the new Scarsdale TagBoard, announced by Jerry Crisci. A TagBoard displays aggregated social media posts and will give our community a deeper look at daily activity in all of the Scarsdale schools. Ms. Crisci encourages the community to check it frequently as the display is constantly changing. Click here and bookmark it: You might see what your child is up to today!
Comments on World Language: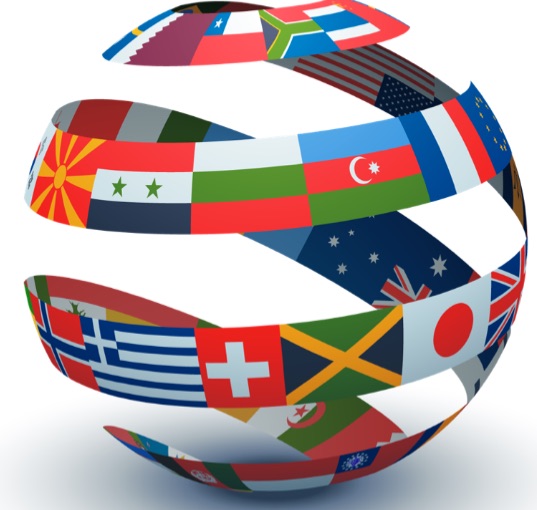 During the two public comment periods provided, the World Language program seemed to be the topic of the day.
Coming to the microphone first, Julie Zhu of 11 Harcourt Road first thanked the District for reopening the World Language question, and then had two main suggestions regarding World Language. First she urged the District to "offer beginning level Mandarin to next year's 7th graders (current 6th grade students)" in order to increase opportunity and also meet enrollment targets. Her second suggestion: "Consider Croton School District's approach to introducing language instruction for next year's grade 5 students. As described at a Board Meeting last year by Mrs. Harriet Sobol, 5th grade students in Croton spend 1/3 of the year getting acquainted with Spanish, 1/3 with French, and 1/3 with Mandarin which allows them to make a much more thorough, informed choice of language for 6th grade."
From Heather Kolb of 5 Wheelock Road: "I want to second what Ms. Zhu said; I also want to thank you for bringing... the World Language Committee back. I'm hoping we can get updates about how you're researching, what you are researching and what kind of steps you want to take and how you came to those decisions. I would also urge if it was possible to put some parents qua parents on the committee, I think that would be really helpful – parents of school age children...My son's a 5th grader and he does want to sign up for Mandarin if it's available."
Co-Chair of the Scarsdale Forum Education Committee Mayra Kirkendall-Rodriguez (19 Fox Meadow Road) addressed several points. First, she invited the community at large to attend Education Committee meetings and provide input on topics such as Greenacres, long-term planning, and World Language. Regarding World Language she stated, "We also would like to know when we might get a little bit of disclosure or discussion on what's going to happen with Spanish. Spanish currently in the elementary school -- I've been here for five years and I repeatedly am meeting non-native Spanish speakers in the 4th grade and 5th grade who cannot speak even the simplest of Spanish. I have neighbors who've just come back recently from Spain and their children are already correcting the teachers. I know that the Hispanics in this community, we are only 5%, but our children are definitely at a disservice because our children will have to take Spanish and...it's not suitable for them. I encourage you also to be thinking about what to do about Spanish."
The final speaker, Paulina Schwartz of 17 Oakstwain Road, presented a fresh perspective on the Mandarin question: "I'm not passionate about language, no one in my family is; we're not going to Chinese school. But I think it's really important that kids who have parents like me get a chance to learn these languages. If my kid were going into the high school in 9th grade – and I'd like them to go to a good college - I'd be really nervous to let them take Mandarin...and I'd probably discourage it. It's unfortunate but I would. I think that in 6th grade I'd encourage them....It's really important to give the kids a chance before everything becomes so high stakes. We're missing a huge group of kids with this Mandarin by offering it only in 9th grade."
Students Look Beyond Scarsdale at Global Citizenship Day
Details

Category: Schools
Published on

04 October 2016

Written by

Joanne Wallenstein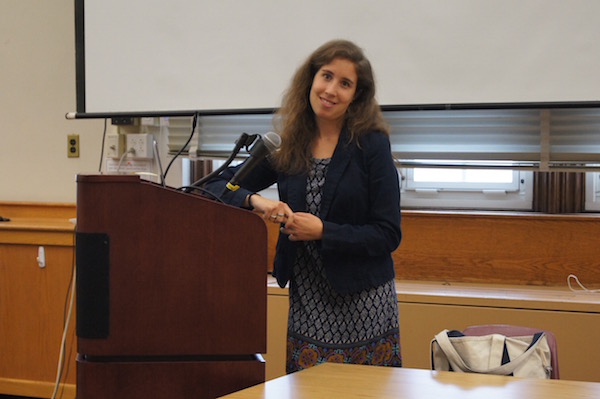 SHS students were treated to an eye-opening day of presentations from visitors, teachers and peers at Fourth Annual Global Citizenship Day on September 28. It seemed as if the entire school was involved in over 40 sessions held throughout the day that addressed far-reaching issues such as global resources, refugees, ethics, education, criminal justice and the upcoming election.
Sessions were lead by special guests, returning alumni, the SHS faculty and students and offered food for thought and inspiration.
I was fortunate to attend three sessions – all of which were moving and resonated with me in the following days.
Kara Hunersen, a 2010 graduate of SHS shared her experiences during her five months as a volunteer in Morocco with the Amal Association for Culinary Art in Marrakesh that runs the Amal Restaurant and Women's Training Center. There, the association helps disenfranchised young woman, some who were victims of rape or slavery, to learn skills to assist them on the road to economic independence. The group now runs one of Marrakech's leading restaurants and offers cooking classes for tourists – all of which support the organization. The women learn cooking, reading, business and life skills to help them launch their own businesses or work for another enterprise and become self-supporting.
It was an eye opening experience for Kara who translated, helped to teach the cooking classes and learned how to live in and navigate Marrakech. She came to appreciate the generosity of the Moroccan people and to appreciate the virtues of patience, respect, trust and perseverance. As she was only a few years older than many of the students in the audience at SHS, she surely motivated some to follow their own dreams and see how they could make a difference in a troubled world.
Next I heard the heart warming story of a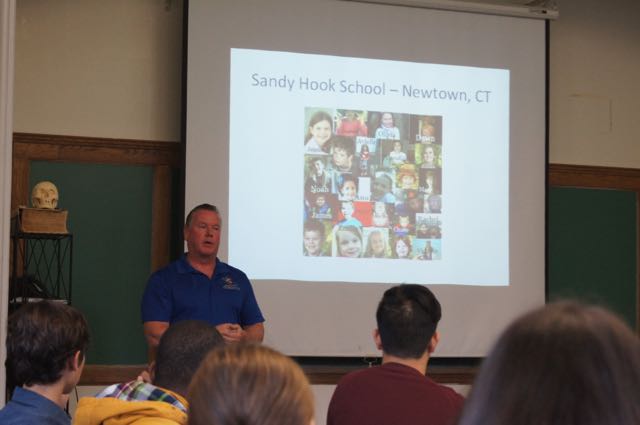 group of firefighters from Elizabeth New Jersey who were moved by their experiences as first responders at the World Trade Center on 9/11 to pay it forward to victims of other national tragedies. Founder of the Where Angels Play Foundation, Bill Lavin explained that the group's first work was to help families in Bay St. Louis Mississippi after Hurricane Katrina by building the state's first handicapped-accessible playground after the hurricane.
Seven years later when 20 children and 6 educators were killed in the tragedy at Sandy Hook Elementary School in Newtown, CT the group went to work on a much larger scale. They founded the Sandy Ground Project with the mission of building 26 playgrounds, one for each of the victims to be built in communities destroyed by the hurricane.
In just 18 months they raised $3 million and constructed 26 playgrounds in three states, each reflecting the personality of the teacher or child who died in the school shooting.
Speaking about the playground dedicated to her daughter Catherine Hubbard who died at the school, Jenny Hubbard said, "This is where we can learn to be happy again."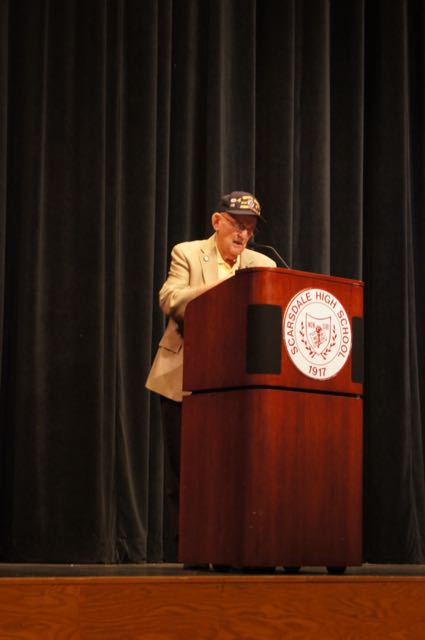 Last I was privileged to see World War II veteran Alan Moskin, who now at age 90 is more than four times the age of many of the students who packed the auditorium to listen to Moskin's eye witness account of the liberation of a concentration camp in Austria in 1945. He described the stench, the starvation and the shock of coming upon a barbed wire compound in the forest filled with "human skeletons and emaciated zombies in filthy striped pajamas, "who were chanting prayers." He handed them cigarettes and they tried to eat the tobacco and choked. He cried when he realized that like him, they were Jews. Moskin told the room that his outfit of soldiers had no idea that camps like this existed and were overwhelmed by the horrific scene they encountered.
According to Moskin, this camp was one of 30,000 death and labor camps spread throughout Europe. The experience has a left a permanent mark on him and he continues to speak out in order to "bear witness for the poor souls that were murdered." To the deniers he says, "There was a holocaust. This is not a myth. Those who choose to forget are doomed to repeat the mistakes of the past."
The ambitious day of events was organized by Social Studies teachers Heather Waters, Carlos Bedoya and Fallon Plunkett. Commenting on the day, Waters said, "As organizers we are most proud of how much it grows each year. The kids were most moved by the survivors and the WW2 vet and we, as history teachers, felt lucky to be able to bring history alive for them. We were able to record the presentations as several speakers are nearing 90. Students were also moved by the many individuals who have been moved to act and make their communities better like Where Angels Play. They also felt fulfilled being able to do something themselves through making the lunches for the Hope Soup Kitchen."
Questions and Answers on Greenacres and Scarsdale's Facilities Master Plan
Details

Category: Schools
Published on

21 September 2016

Written by

Joanne Wallenstein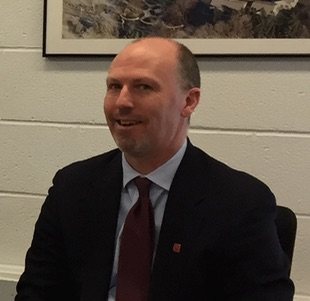 At the September 13, 2016 Board of Education meeting Superintendent Thomas Hagerman and Assistant Superintendent Stuart Mattey recommended that discussions about the Greenacres School be tabled until a master plan for all facilities in the district could be completed. Mattey estimated that in the next five years, $94 million will be needed to maintain all district buildings and facilities, and therefore, the administration asked for additional time to consider the decision about Greenacres in the context of the total plan.
Prior to the announcement, concerned community members were anticipating that the board and administration would come to consensus on plans for Greenacres this fall, in time for a vote on a new bond in May, 2017 to coincide with retiring district debt.
However, this new announcement puts plans for Greenacres on hold until the facilities plan is completed and the board and administration can make a recommendation. It was also suggested that the bond vote might be put off as well.
In December 2014, the community approved an $18.12 million bond to fund renovations and improvements at the high school, middle school, Edgewood and Heathcote elementary schools. Prior to formulating this project list, building committees were formed to consider all district needs and identify priorities. At the time, these committees were instructed not to consider Greenacres School, as it was too large a project for this bond offering and it would be addressed in the 2017 bond. Since that time, the district has undertaken extensive plant improvements and capital projects using money from the annual budget--including roof replacements, paving, fire alarms, bleachers, and work at the bus compound. See more details here:
Therefore, when residents learned that Greenacres would again be put back on the list of potential projects, rather than given priority, they had questions. What was in this $94 estimate? How much would be spent on Greenacres? Was this $94 million for upkeep and maintenance of district schools or did it include upgrades such as air conditioning or cafeterias at the other elementary schools?
Since the format of the Board of Education meetings no longer allows for discussion between the audience and the Board, we sent some follow up questions about facilities to Stuart Mattey and here is what he shared:
About the Facilities Master Plan:
Questions: Pertaining to the facilities master plan, you estimated that there is $94 million in upcoming work on the list. Please tell us the following:
-How much of that work is for Greenacres? (Assuming we don't build a new school)
-Please provide us with a list with the top 20 projects on the master plan so we can understand what the big ticket items are.
Response: The Facilities Master Plan is not yet complete and therefore not yet ready to share out any estimates or details.
About the Greenacres School:
Question: How much money has the district spent to date with architects KG&D on plans and consultations on Greenacres?
Response: The District entered into an agreement with KG&D in the 2014-15 school year for a Greenacres Feasibility Study. They have been paid approximately $74K for that work. There have been no other fees paid directly related for Greenacres although there is an agreement in place for future bond planning which would encompass Greenacres and all other schools. The amount paid to date on that $80K agreement is approximately $48K.
Question: Earlier this year, the district said they would survey the field to ensure proper measurements for the proposed new school (C1) and the remaining field. Has this work been done? What did it show?
Response: Yes, a survey of the Greenacres property was completed. (It showed) a slightly larger slope increase but no major surprises.
About the projects currently out for bid:
Question: At the meeting you explained that for the projects in the $18.12 million bond passed in 2014 only $12 million was available for actual construction, due to soft costs such as fees for a construction management firm etc. Has the district considered retaining a construction manager on staff since so many projects will be underway rather than paying consultants?
Response: The size and scope and complexity of these projects require professional construction management to be dedicated to these jobs.
About the upcoming bond referendum:
Question: At the meeting you said that the district would have the option not to float a one-time bond to replace the expiring date for 2018. Can you give a more thorough explanation of what you meant?
Response: The maturing of older bonds in the 2018-19 school year creates a budgetary hole in the 2019-20 school year where the P&I expenses associated with these older bonds existed. These expenses could be replaced with a new bond (leveraging the P&I for a large project) with similar principal and interest (P&I) structure or a new expense such as a smaller one time capital projects amounting to the same expense as the previous P & I. It could be a combination of the two. The timeline for bond vote therefore is somewhat flexible depending on future discussion.
Mattey provided this hypothetical timeline as an option:

2016-17 Budget debt service related to older bonds = $4.9MM
2017-18 Budget debt service related to older bonds = $4.9MM
2018-19 Budget there is the last payment on debt service for expiring bonds of approximately $4.9 million
2019-20 Facilities Master Plan items (Boilers roofs etc.) amounting to $4.9MM could be funded from the budget as a transfer to capital. One time expense (net impact = $0)
2020-21 Work related to a voter approved bond occurs with related debt service of $4.9MM. (net impact =$0)
2021-21 Debt service related to same bond $4.9MM (net impact = $0)
2022-23 etc. (net impact = $0)
Note: Here is an interpretation of Mattey's reponse: If the district were to wait an extra year before issuing a bond, there would be a one year "gap" in which it didn't have a sizable principal and interest expense. Instead of paying that principal and interest expense in that year, it would pay for some capital project (for example, new roofs). This way, total expenses for capital projects would not fall during the "gap year". The next year, when the bond is issued, the district would pay principal and interest again. By keeping expenses level over time, the district would not have any tax problems (e.g., where taxes fell for a year but then needed to be brought back up to previous levels.) Though it may be delayed, a bond including Greenacres would not cause a tax increase.
Therefore, if the Board does decide to delay the bond referendum and the work at Greenacres, in this proposed scenario construction might only begin in 2020 for completion in 2022-3. In the intervening years, if the school's population swells, new solutions will have to be found for where to educate the kids. And if it's six years before any work is done, all the children who are now in the school will be in middle school and the current stakeholders in the discussion may well have moved on.