More Than a Test: NY State Regent Johnson envisions 'a more just, engaging and child-centered' state ed policy
Details

Category: Schools
Published on

05 June 2016

Written by

Joanne Wallenstein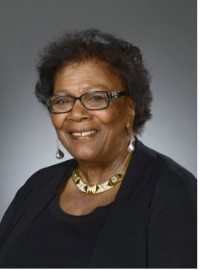 "Our schools have never been about passing standardized tests," said NY State Regent Judith Johnson this past Thursday, June 2nd at the Scarsdale Public Library. Calling that goal "too narrow," Johnson asserted, "The goal of schools is to prepare students to be effective citizens and caring adults."
Regent Johnson was the guest speaker at the Scarsdale Forum's annual meeting. The State Legislature elected her on April 1, 2015 to a five-year term representing Scarsdale and other Lower Hudson Valley school districts on the Board of Regents, the state's educational policy-making body. Johnson's prepared remarks, titled "More Than a Test," were her personal reflections on her first year in Albany.
In his introductory remarks, outgoing Forum president Howard Nadel refrained from reciting Johnson's complete resume of past positions and accomplishments, explaining that to do so would "take up the entire evening." He did note that Johnson had served as Peekskill school superintendent and as President Bill Clinton's Deputy Assistant Secretary of Education. Nadel added that Judith Johnson was known for "bringing diverse groups together" and for being someone who "gets things done." Regent Johnson's full bio can be read here.
This was Regent Johnson's second time in town at the invitation of the Scarsdale Forum. Last year, just 30 days after assuming her new post, Johnson appeared at Scarsdale High School on a Forum panel to discuss the state's widely opposed education mandates, hastily implemented starting in 2010 in order to win federal Race to the Top funds. That evening, Johnson's candid critique of these policies and call for a pause in their implementation earned her a standing ovation from the entire audience of local and area residents. (Scarsdale10583 coverage of that event can be read here.)
Johnson's address to members of the Forum and the Public this past week at the library began by focusing on what she called "quite a year" of changes at the state level. While she stated that "it's too early to take victory laps," she said that the "voices of communities have actually been heard" and that the "rising resistance" to New York's controversial student testing and teacher evaluation policies has resulted in "a new vision of education" at the state level.
Johnson said the voices of parents and educators had an effect, and that area politicians – including Amy Paulin, Steven Otis and Andrea Stewart-Cousins – helped because "they listened." New Regents were elected, nine out of the 17 Regents are now women, and they include five former superintendents – that is, "policy practitioners are now sitting at the table." As a result, the Board of Regents "has changed dramatically."
By way of example, Johnson noted that when she first joined the Board no one was asking questions, such as "what might be the unintended consequences of a policy decision?" She said that she and three other Regents came to be called a "gang" or "the dissidents." Now, however, with new leadership, "it is natural for people to raise questions as part of the conversation."
While saying that she "won't call them accomplishments, yet," Regent Johnson referred to "trends," as well as continued "serious challenges," in the following policy areas:
Student Testing – Johnson stated that this year's state-mandated tests were still those designed by Pearson, whose test questions have been the subject of critique and controversy; however, while the previous state policy was to release only a small fraction of sample test questions, prompting widespread parent and educator complaint, the Department of Education has now just released 75% of the questions and scoring rubrics from this spring's round of tests. Johnson proceeded to make clear her views on standardized tests in general. While a long-time supporter of common standards, she criticized New York's rushed implementation of the Common Core standards, saying that not enough was done to explain and to advocate for the standards. Johnson was also critical of the state's current tests: "What we know how to measure is not the same as what we need to improve teaching and learning." She noted that in the U.S. we have come to "equate standardized tests with achievement;" yet, "no other country tests students as frequently as we do." Johnson emphasized the need for "critical thinking" and "well-rounded learners," adding, "Learning is complex, and assessment should be as well." Finally, while asserting the need for students to demonstrate academic achievement, Johnson then asked: "What else needs to happen" in schools? Johnson stressed the need to create lifelong learners and "effective citizens" who are also "kind, caring and tolerant people."
Student Graduation Standards – In order to graduate with a high school diploma, New York students, including those with special needs, must now pass each of five Regents exams aligned with the Common Core. Johnson stated that as a result many students who have never missed a day of school have been denied a high school diploma. She said that the Regents are now focused on redressing this situation. In March they enacted an emergency regulation allowing students who struggle passing their fifth Regents exam the ability to finish their diploma by gaining certain work-based experience credits. Johnson further stated that the Regents are also creating alternative pathways to graduation. For example, a new "arts pathway" requires that students only pass four of the five Regents exams. In addition, Johnson was emphatic about the need to change the current high school diploma to include a bilingual seal. "We should be teaching two languages from the start," asserted Johnson. Referring to how students abroad graduate knowing two and sometimes three languages, Johnson said, "It's really embarrassing that American kids can't do this." She said the Regents are now working toward introducing two languages to all children.
Teacher Evaluation – Johnson called the evaluation of teachers based on growth in student test scores "scientifically flawed" and "neither a valid nor reliable measure of teacher effectiveness." According to Johnson, state teacher evaluation policy has now been "modified." In December 2015 the Board of Regents voted to suspend until 2019 the use of state reading and math tests as the measure for student achievement growth in teacher ratings, allowing for the use of local achievement measures and goals instead. Johnson asserted that this is "not a victory" because "the entire law was not overturned." While she declined to name Governor Cuomo directly, Johnson referenced the "Executive Office's punitive approach" to teacher evaluation, which, she said, was based on a "flawed theory of action" that "student achievement improves if you fire teachers." Johnson asserted that this approach has already "done damage to the [teaching] profession." She said there are "far fewer applicants" to teacher training programs in New York and warned: "Even in Scarsdale, you may see a shortage of teachers."
Teacher Testing - Johnson also blamed the growing teacher shortage on the state's "one size fits all" approach to certifying new teachers. She explained that applicants who have never been exposed to any of the new Common Core standards must now pass each of three tests that have been aligned with those standards. She further noted that a federal district court judge has already determined one of these tests to have a disparate impact on minorities. Johnson called the resulting drop in the number of graduates from New York teaching colleges "a little unnerving," especially given the fact that a large cohort of teachers is "ready and eligible for retirement."
According to Johnson, the Regents latest efforts are constrained by a continued lack of state funding. She described a State Department that has been "decimated" by budget cuts. When she first arrived in Albany and asked about the research in support of state policy decisions, Johnson said she got "blank stares." When she asked about the State Education Department's research staff, she was told, "there is no staff." Due to continued lack of state funding, Johnson said that the Board of Regents is now in the process of "building a research agenda," including the design of an evidence-based teacher evaluation system, with the help of experts from universities across the country and the financial support of "external partners," such as private foundations.
Johnson then focused on the persistent achievement gap between students of more affluent means and those raised in poverty. She called it "a massive waste of human potential and talent," and asserted, "Ability is not fixed at birth." Johnson noted that historically our public schools have been "a great equalizer;" however, today, "they isolate kids by family income" and "for every ten kids born into poverty, six go into adulthood still poor." She explained that at the federal level the No Child Behind Law (NCLB) of 2001 has been replaced by the Every Student Succeeds Act (ESSA), with considerable power over educational decisions being returned to the states. Johnson then expressed concern that states would continue to use federal Title I funds as intended – that is, to "supplement, not supplant" state and local funds in support of low-income students.
According to Regent Johnson, New York's Board of Regents is now focused on addressing the achievement gap through a "community schools" approach. Such schools remain open for a longer day to address the full range of nutritional, medical, dental and other needs of low-income children that can interfere with their ability to learn. Johnson mentioned examples of community schools already in existence in New York and says she expects that number to rise to "100 in the next few years." She added that volunteers are welcome and are needed to help "honor the goal" of public schools, which is to create "effective citizens and caring adults."
To emphasize the critical importance of the work that lies ahead if state policymakers are to create a "more just, engaging and child-friendly" K-12 education system in New York, Johnson observed, "The children born in 2016 will be 83-84 years old at the turn of the next century." Between now and the year 2100, "change will be immense" and "we're all going to play a role in that change." Thus, what happens to these children "depends on what we decide to do with what has been given to us as a challenge."
As they did when she first visited Scarsdale last year, Regent Johnson's words drew a standing ovation from those in attendance at the Forum event last week.
In response to a subsequent audience question about how New Yorkers might be of help to the Board of Regents, Johnson encouraged residents to continue asking questions of state education policy leaders. She also specifically urged that residents communicate to state politicians their support of a number of proposed bills that would address key problems with current laws, such as Assembly bill A09461, sponsored by Amy Paulin, which would require an expert committee to develop a research-based teacher evaluation plan. (Click here to access one area group's electronic advocacy campaign in support of such bills.)
A video of Regent Johnson's entire speech will be posted on the Scarsdale Public TV website.
Maroon and White Donates $100,000 For Fitness Center at SHS
Details

Category: Schools
Published on

01 June 2016

Written by

Kara Elcik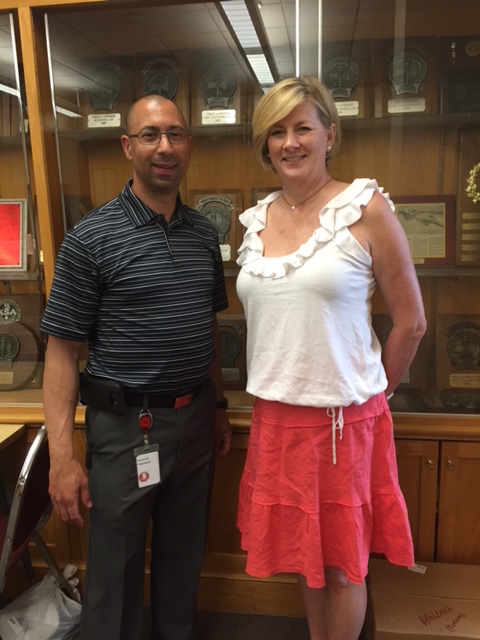 Thanks to a donation to the Scarsdale Schools Education Foundation from Maroon and White, the campaign to build a new fitness center in Scarsdale High School is now $100,000 closer to its goal. The Scarsdale Schools Education Foundation's (SSEF) mission is to reach a goal of $2.6 million to build a Fitness Center and Design Lab at Scarsdale High School.
Since the foundation launched their fund raising campaign just over a year ago, they have raised more than $1.9 million. The SSEF continues to take steps to unite the community in their campaign and raise enough money for the project. We talked to Foundation President Mark Bezos, who provided his insights on the campaign. " We have taken some important new steps in the past few weeks. Most notably, we have invited the entire community to participate in our campaign through the purchase of pavers that will create a 'Bander-snatch Garden' in a courtyard at the high school. Information on how to buy pavers is available on the home page of our website scarsdaleschoolseducationfoundation.org".
The Maroon and White donation is a large contribution to a school that only recently began asking for funds from private donors. Bezos said, "Although many of our peer schools in Westchester have had similar foundations for many years, we recognize that seeking private donations for our schools is a new initiative here. That's why we have made it a point to work very closely with the Board of Education since the very beginning. It is important, for example, that the district's administrators and the elected Board of Education set policy and priorities for Scarsdale's schools. We see our role as providing essential financial support that will enable the schools to accomplish special initiatives that don't fit within the confines of their own budget." This close connection between the Board of Education and the foundation has facilitated strong progress.
Even though the goal for the foundation has not been met, the school plans to begin construction next month. Bezos explained this situation "We are working very hard to provide the needed funds as soon as possible. Construction will begin at the end of this month in any case as there is a good deal of initial work and infrastructure preparation that has already been funded through the bond the voters approved 18 months ago." He continued, "To be successful we will need the participation of as many residents as possible. I would encourage everyone in Scarsdale to speak to one of our board members or our Executive Director." In addition to reaching out to the community, Bezos thanked Maroon and White for their donation and noted that their donation and contributions from others have given the campaign the confidence it needs to be successful in reaching its goal.
In addition to learning about the foundation and funding, we also talked to the SHS Athletic Director Raymondo Pappalardi about the new fitness center. Pappalardi, who is just about to complete his first year in this position noted that students are under a lot of stress and they are looking for a way to manage their stress. He believes this new fitness center is a great solution to stress-relief for all students.
We asked Ray about the center design. "It will be approximately 6,000 square feet. There will be three main sections in the area. There will be an open space for stretching or free movement, a cardio section and then a space for power lifting or weight training. The interesting thing though is that it will be much more inviting and bright. The key features will be the technology that will support learning. We have not decided exactly what equipment will be there but when it gets closer to opening we will be able to decide as the technology keeps changing," Ray stated. These improvements and open space will allow for more students to use the facility comfortably. Ray noted that the current fitness center is very dated and does not provide enough space for students.
A major draw to the new fitness center is what it will allow the Physical Education program to do. Ray explained how the new fitness center will fit with the gym department. "The size of the new space will allow for there to be at least two gym classes in there at a time so it can facilitate a lot more students. We plan on having a gym class in the fitness center every period and possibly allowing drop-ins during school hours which will allow students to use the gym during their frees".
The new facility will not only benefit gym classes but will also benefit athletic teams. The open space in the gym will allow teams to train more easily together during season or during their off season. The center will also house a strength and conditioning coach who will be there to help students and athletes prepare and condition. Ray also pointed out that "Part of the purpose of the space it to help prevent and treat injuries. The space will allow athletic trainers to treat students". This improvement will help promote wellness by teaching athletes prevention exercises they can do to limit injuries or programs to work on improving their injuries.
Overall Ray noted that this fitness center will create an exciting social place for students and will promote fitness and wellness. Ray spoke about his first year at Scarsdale and told us "It has been pretty exciting. It has been busy. I think the most exciting part is when I get to talk to students and get their perspective. We have had some stellar seasons here too. So that has been exciting. I would like to take credit for it but I can't. I really have just been learning about everything that has happened here and how we made decisions. I have focused on looking at what programs we can implement to help all students. We want to look at how we support wellness k-12. No program should operate by itself without looking at the other aspects". Ray is hopeful this new fitness center will help the fitness and wellness program to flourish.
After talking to Ray we spoke with Maroon and White President Kathy Coleman. Kathy explained that the Maroon and White was able to make such a large donation because they have had many successful years of fund raising and were able to trim some of their costs. The Maroon and White raises money from membership dues and by selling Raider gear. Kathy explained how they decided to donate to this project. "One of the things we have been saving for is field lights, but they are a long way away in terms of where are we going to put them. So flash forward and this fitness center comes up and they needed the money to make this work. We had the money to give away and still had a good amount and we thought this gift is what Maroon and White's charter is because it touches every single kid in the High School immediately. There was really no argument or talking anybody into it. We were hoping it would also spur some more people to donate seeing that Maroon and White is behind this program". With the Maroon and White's backing, along with the SSEF's support, construction on the fitness center will begin next month with the goal of completion before school opens again in September.
Large Crowd Turns Out to Weigh in On the Future of Greenacres
Details

Category: Schools
Published on

17 May 2016

Written by

Joanne Wallenstein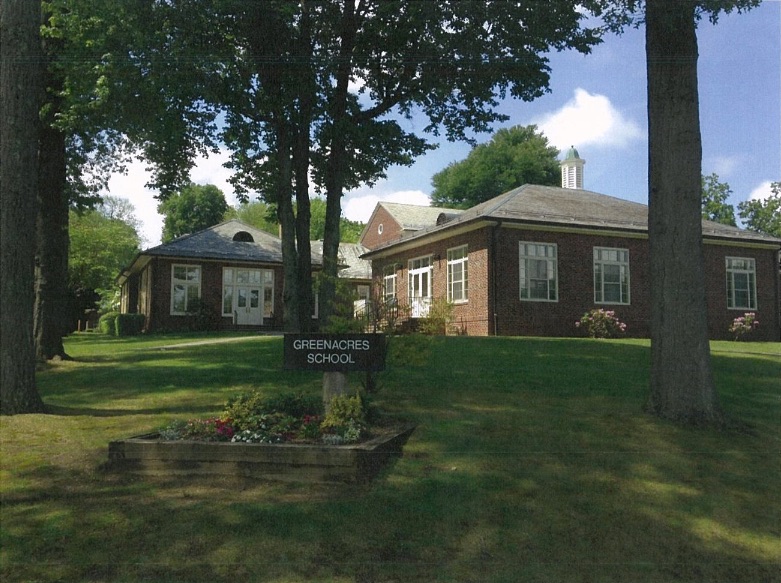 Though School Board President Lee Maude began the public comments section of the May 16 school board meeting by asking alarmed parents to refrain from "hyperbole, exaggeration and rhetoric" about the risks of proposed construction at Greenacres School, by the time the meeting drew to a close at the stroke of midnight, it seemed that the Board had been swayed by these same parents, and as a result, decided to change their course.
The room was packed with many residents who had previously come before the board to urge them to save Greenacres field and a newer group of parents with young children who currently go to the school or will be there during construction.
Many of them had emailed the board and Lee Maude assured them that all members of the Board review every letter they send in. She said, "In the last two weeks we got many, many letters about the Greenacres School. The Board will consider all points of view. The ultimate decision will be made by a bond referendum after a thorough examination of the facts by the board. We will also take into account the debt capacity of the district..... We have a lot to think about .... We will not base our decision on how many letters we receive from one side or the other. We have received many letters about the dangers of construction. Please know that the safety of children is our utmost concern. Many of the letters have made assertions about the hazards of construction debris ... We have received many letters that are alarmists and warning us of litigation."
There were two lengthy periods for public comment and you can watch the four hour meeting in its entirety here. Below are comments from some new voices who raised concerns that we had not previously heard:
Thomas Giuffra identified himself as a resident of 14 years who is an attorney who specializes in lead paint litigation. He said he has a five year-old who will start school next year. He said that kids ages 6-10 years old are the most vulnerable to lead poisoning, not from eating lead paint chips but from breathing lead dust. He said, "I don't want my son to pay the price. Look at the literature, it's no joke."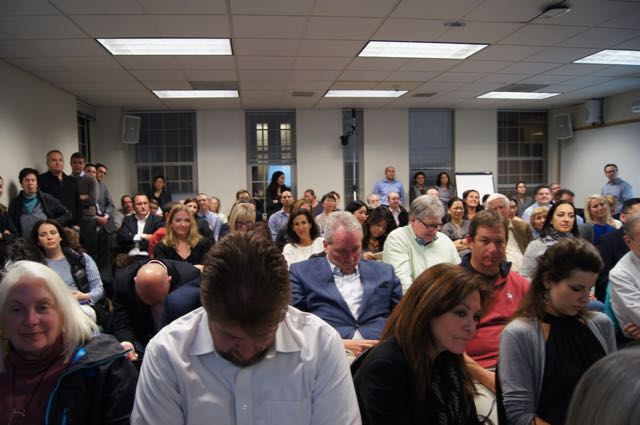 Dr. Katherine Miao of 51 Walworth Avenue said she had not previously gotten involved in the discussion because her family was not affected one way or the other. However she told the board, "I was concerned when I learned that the children would be inside the school." She referred to the Doll and Peto Report written by scientists at Oxford University in 1985, which analyzed the health risks from exposure to asbestos. The article says there is an exponential risk based on the age of the child. A child has 32 times the level of risk of developing cancer from asbestos exposure then their grandparent. More recent literature from Vanderbilt published last year, validated these results and said the risk may even be higher. She said, "I want the safest possible thing for the children."
Tony Corrigio of Brite Avenue said he is the father of three kids who will be in the construction zone. He asked the Board to reconsider option C. He said the footprint of the new building could be smaller and provide more green space. "These kids deserve an equal and safe opportunity to get an education here." The cost of the trailers for option B1 was taken out of the bid." Kids will have a materially higher likelihood of being exposed to a construction accident or mishandling of hazardous materials." Construction is the fourth most dangerous activity, the second most deadly activity in the U.S. You are dealing with electricity, fire, gravity, chemicals. You don't do it under the same roof where there are little kids. To knowingly subject kids to that level of risk is immoral."
Paulina Schwartz of Oakstwain Road quoted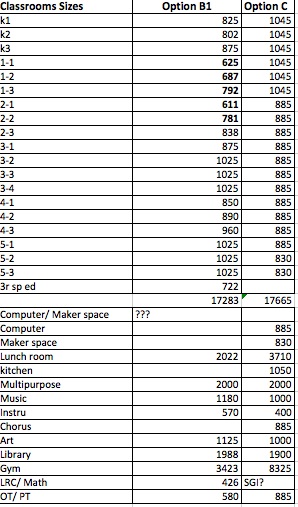 Board President Lee Maude at a March meeting where the board voted to take Option C off the table. Maude said, "it's what the community wants, but I just don't know about the kids over the next 40 years."
Schwartz presented her findings on the classroom sizes in the B1 option. She said that in some classrooms, kids are now sitting on the floor as there is not adequate room for desks for all the children. According to Schwartz, these small rooms will not be expanded during the renovation. Some of these classrooms are as small as 611 square feet. She said that the renovation would meet model program standards by providing new large classrooms for the older kids. However, in her view, the youngest children, who need space to move around, would still be stuffed into inadequate classrooms. She said, "Spending $40 million and getting a gym with no windows with the HVAC in basement? You should be nervous. You should give this community the best you have which is a new school."
Many more echoed concerns about safety, the disruption during construction and argued that the Board should not spend $40 to put a band-aid on the old school.
Also in the room were those who remain passionate about keeping the school where it is, and retaining the blacktop and the open field for both the school and the community. They said that the district has done many construction projects over the years without putting children at risk. They voiced concern about the expense of a new school and wondered if other neighborhoods would also ask for a new school.
Meredith Gantcher of Brewster Road, who was one of the leaders of the "Save the Field" campaign said that parents have "valid concerns." She said, "in light of the panic and alarm" she asked the board to educate the community about the hazards. She argued that kids at the high school would also be at risk during the upcoming renovation and said the "office move" at Greenacres was done with everyone's support. She asked the Board to respond to "rumors and heresay."
Madeline Hauptman asked the board about the water table at the field and questioned whether building there would impact the environment. Mike Greenberg said that if the original school were demolished, all the materials would blow all over the community and pose the same risks as a renovation. Marnie Gelfman said that "Option B1 remains the right choice." She said, "I sympathize with parents who do not want their kids in school during construction. However other renovations took place in occupied buildings without incident. I have confidence that the contractors will follow the law. The total net cost differential is a staggering $60 million. Option B1 is a responsible compromise."
There were two periods of discussion among the board and Dr. Hagerman during meeting. Below are comments made by board members at both times.
In a discussion with the board about next steps, Dr. Hagerman said that they would ask architects KG&D for several iterations of Option C to maximize green space. He wanted KG&D to explore making the new building more "stacked" or vertical and to consider different places to site the building on the field. He wanted to determine how a smaller gym and the elimination of the cafeteria would affect the price. Board members asked for an apples-to-apples comparison of what elements would be in option B1 versus Option C. along with temporary accommodations for Greenacres children if the renovation option was chosen. He said that it was important to make a timeline for the decision and to also bring the wider community into the discussion.
Art Rublin said, "These are school grounds ..... questions should be focused on the kids and what's best for the kids of Greenacres. .... I do think that a new building is not only better for the kids – and I don't think it would necessarily be more expensive in the long run."
Suzanne Seiden said, "I think we need to discuss the principles behind our decision. For me, Greenacres is the priority. The decision should be tax neutral. There is a fairness issue. Other schools have gotten a lot. We must check historical context within which to view this."
Scott Silberfein said, "I appreciate the process. It is incumbent upon us to do an iterative process on Option C. We need to get the facts. I would like to know what can be taken out or changed. We also need to see a version that includes trailers. We need to see how much that really is."
Pam Feuhrer posed questions about financing and energy efficiency said her "frustration with B1 is the small classroom sizes." She asked if that could be changed. She added, "I am concerned about the availability for capitol for the rest of the district for the next 15 or 30 years.
Chris Morin said, "It seems to me we want to know what the new building will cost and what the renovation will cost
Lee Maude said, "Having watched KG and D move from B to B1 ... we have not pushed them on C. What about a 3 story – not a 2 story building. I need to educate myself. I don't have all the facts. What about the water level on the field? I learned allot about the perils of asbestos and lead. And if we do B1, do we need to rent a temporary school for 2 years and is that feasible?
She concluded saying "Big decisions are messy."
Heathcote Kids Work Up Steam
Details

Category: Schools
Published on

23 May 2016

Written by

Joanne Wallenstein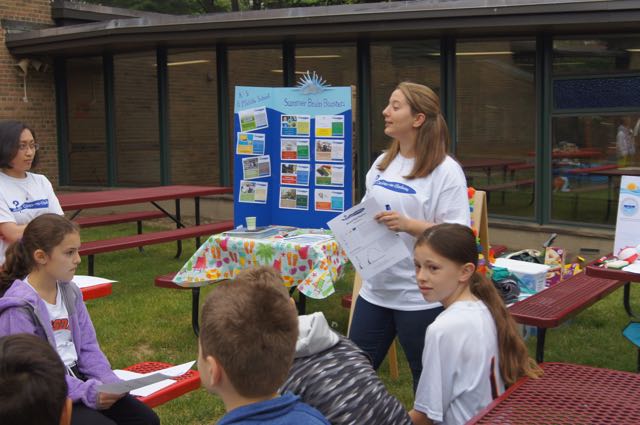 Heathcote kids were treated to a day of scientific exploration at STEAM fair HExpo on Saturday May 21. Students are their families engaged in a wide range of activities to gain exposure to design thinking, building, engineering, robotics, programming, astronomy and even "Beach Physics." Kids were even able to explore the universe in a temporary planetarium that was set up on the stage of the auditorium.
Teachers Christine Boyer and Kathy Leary invited a wide range of local organizations to run workshops for the students. The Westchester Children's Museum ran a structures workshop with Keva Planks, Curious on Hudson led beach experiments on buoyancy, adhesion and cohesion. In the computer room, kids were programming using the language Scratch and we found some very enthusiastic parents and kids building large structures out of cardboard rollers and plastic.
The Heathcote Green Club, led by Lindsay Hicks, asked everyone to sign a pledge to swear off the use of plastic bags. They showed people who to make reusable bags out of t-shirts and also distributed recyclable bags with the pledge. Mayor Jon Mark, who is an alumni of the school stopped by to sign the pledge.
Young Greenacres Families Urge School Board to Build a New School at Greenacres
Details

Category: Schools
Published on

11 May 2016

Written by

Joanne Wallenstein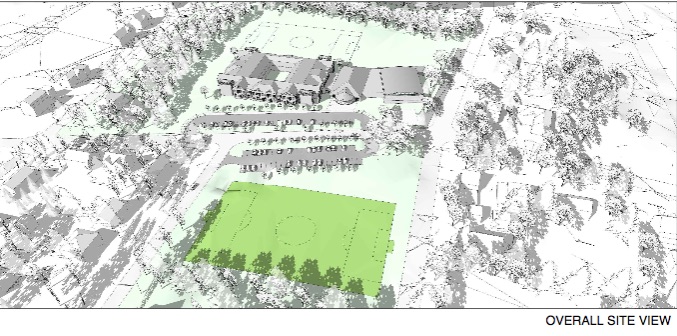 A group of younger Greenacres residents has launched a campaign to urge the Scarsdale Board of Education to build a new school in Greenacres rather than renovate the existing building. Though the conversation about the school has been going on for more than a year, some say they were not aware of the issue and are just now getting informed.
Among their concerns are:
The safety of their children during a renovation

Potential for asbestos, lead, mold and dust to be released during construction

"Putting a band aid" on a 100 year-old school rather than constructing a new one.

Favoring the wishes of older residents to maintain the field vs. their belief that a new school would better serve the children of Greenacres.
To that end, they have organized meetings and drafted a petition to urge the Board to adopt "Option C," which is to build a new school on the current Greenacres field.
Here is a letter from Jennifer Hu Corriggio that includes most of the groups' reasons for adopting their position:
Greenacres Residents May Lose Once-in-a Lifetime Chance for New 21st Century School Over Pressure from Unrepresentative Fanatics
This op-ed morphed from a Mother's Day email I wrote to Greenacres moms about the deep concern I have as a mother for my kids and the future of Greenacres school. I wrote that email as well as this op-ed in an effort to redeem myself, because I have shamefully neglected to be an informed citizen and resident on this most paramount issue until recently. Now that I am better informed, I am furious that the conversation about the future of the Greenacres school has been co-opted by some well-organized and outspoken Greenacres residents, who either have no direct stake in the decision because their children will not be attending Greenacres during or after the renovation/construction time, or who have a very personal stake in preserving the field because they have a view or direct access from their house. Those families with young children who are the most impacted are often the busiest with juggling young kids and careers, so don't have as much time to get educated about the issue. I am in this camp. As a mother of 3 young kids trying to juggle family and career, I feel thankful to survive each day, and hadn't been paying attention to this issue as closely as I should have been. Then there are the countless others who just didn't have the facts straight and signed a petition to "Save the Field" because their friends and neighbors asked them to sign a petition with a catchy slogan but without much substance behind it. So many of those people who signed the petition have recently told me that they regret signing the petition and felt misled. But they can't be blamed too much for signing the petition. After all, the options were constantly changing, and who doesn't love the Greenacres field? Of course we all love it. But this issue shouldn't have ever been about preserving a field, but rather what is the best option for Greenacres students now and for many future generations to come. Let's turn the conversation back to the real priority in this short window of time we have left, and not allow the Board of Education to be bullied into a decision about the future of Greenacres school by efforts led by a vocal few group of residents.
This issue of the future of Greenacres school is going to be decided likely within the next few weeks by the Scarsdale Board of Education, so this is our last chance to get as informed as possible in a very short amount of time. The Board will need to decide soon whether to suggest taking the path of 1) Option B1 - renovating the school, or 2) Option C - building a new school. The reason why the timing is so urgent is because the Board has to make this decision due to the schedule they are on in order to prepare a school budget that will be part a bond vote next year.
Scarsdale has a once-in-a lifetime opportunity to make a difference for generations of Greenacres students in supporting the construction of a new school, to assert its leadership in investing in school infrastructure designed for the 21st century, and we may lose this precious opportunity very soon. I'd like to share a few things that I have recently learned: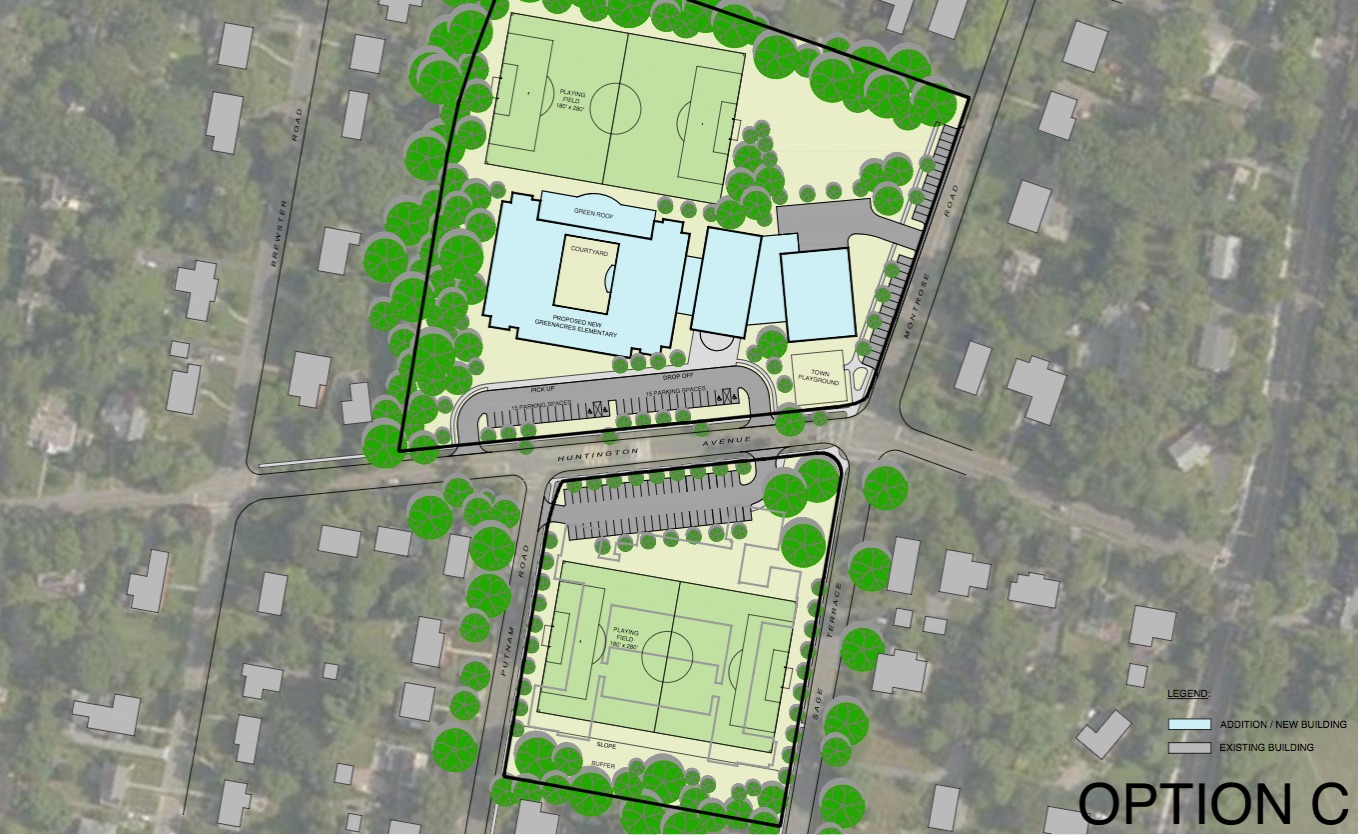 1) The "Save the Field" camp is not calling themselves "Save the School" for many critical reasons. Their argument is based almost entirely on preserving green space rather than critically examining the state of the school or the potential consequences of this renovation/construction. We all love our unique community, and want to keep the "green in Greenacres" but let's face it, we moved here for our kids' education and the school system and not for the Greenacres' field. This is an opportunity to gain a new state-of-the art 21st century school, plus 2 new "green" soccer fields and playgrounds. I felt seriously misled that we would be losing a lot of green space through Option B1. The loss of green space is only a baseball-diamond difference, that can be reduced even more if we continue the conversation on what is best for Greenacres within the construction of a new school (Option C). In their efforts to further distort how much green space will be lost, the "Save the Field" camp also isn't counting the multiple new playgrounds gained in Option C as green space because it's not untouched. But playgrounds are also very important. They make it seem like the new school would be some sprawling, obtrusive school on a pristine field. But the truth is that the new school proposed in Option C would have a smaller square footage footprint than Option B1 because of the more efficient design of a new building.
Plus, the core "Save the Field" camp's concern isn't genuinely about the school, and you can't feign authenticity. The core advocates have time to attend all the Board of Education public hearings because they are retired and have time to organize strategy meetings, take out ads in newspapers supporting their position, make yard signs, put up a website, and run a campaign pressuring their friends and neighbors to sign a petition with very little information. But if you look beyond the rhetoric, you'll find that there's not much substance behind their supporting Option B1. The reason is because they don't have much substance to offer.
2) No one is campaigning around "Save the School" because the school would not qualify for any historical preservation project. Quaint as you may find the building, the original part of the building built 100 years ago is actually a small portion of what currently exists, and the building has been added on in 7 separate piece-meal additions piece-meal in its history to accommodate the growing Greenacres population. Now the footprint can no longer be expanded. Let's stop adding band-aids and additions to a school that is substandard in core ways, and take this unique opportunity to build a new school for close to the same amount of money.
3) The focus on cost is also a bogus argument. It is clear that for the long-term, Option C will be less expensive. Because it would be new construction, the construction costs would be easier to control, and the construction would be more energy-efficient, receive more state aid, and have less insurance costs. This is a tax-neutral decision. Taxes are not intended to be raised for either option. The latest B1 plan is that for $40 million, Greenacres would basically get a new 2-story wing with 6 classrooms and an HVAC system in a "previously moldy" basement that still has a high water table. That's just great. Would you personally invest in this kind of renovation? Then there's a second phase of renovations that will occur approximately 10 years later. By then, we'd probably be planning for additional renovations again. Many of the systems that are "past the end of their expected useful life" as stated by the architects are not included in Option B1 renovations because these systems are still in "good condition."
3) But the school is in worse condition than I had thought, and below standards in classroom size, ventilation, moisture problems, and fresh air access. While the school has been well-maintained, the architects reported that on average, major systems such as walls, windows, flooring, piping are way past their expected useful life. However well-maintained these systems are, how much longer do you expect them to operate beyond their expected useful life systems? Additionally, kids in some classrooms are attending class sitting on floors, and kids sit in the hallways during indoor recess because there is no gym large enough to accommodate the number of kids during indoor recess. Under the proposed B1 renovation, many classroom sizes still cannot be expanded to acceptable national standards. What is the purpose of this renovation if we can't get the school up to acceptable national standards? A B1 renovated school would also never have the infrastructure to accommodate technological changes in the 21st century.
4) The Building Committee itself agreed that the two most important criteria in making the decision about the future of Greenacres school were Educational Adequacy and Building Condition. In the feasibility study, Option C was clearly the better option on these conditions as well as the vast majority of the other criteria. How did we then get to a situation where option B1 has become the favored decision of Greenacres outcriers? Again, well-organized people who distorted, misrepresented, or didn't know all the facts have been the ones most active in spreading the word. It's late in the game but we still have a little time to discuss amongst us why Option C should still be seriously considered. Take a look at the Greenacres Re-Convened Committee Recommendations yourself.
http://www.scarsdaleschools.org/cms/lib5/NY01001205/Centricity/Domain/1105/CommitteeFinalReport.pdf
Which option do you see that has the highest rankings in the vast majority of categories?
5) However, the most potentially catastrophic aspect and deal-breaker for Option B1 is that our kids will have to attend Greenacres during this 2-3 year renovation of this first phase of renovations. (A second one planned in another 10 years or so under Option B1) If you are a parent to young children and nothing else interests you about this issue, then this one should grab your attention. As soon as parents really understand that they will be asked to send their kids to school in a major construction zone for 2-3 years, they will get very interested. In fact, many parents in just the past week have told me that they will REFUSE to send their kids to Greenacres while this level of renovations are going on. This is the issue that will truly awaken Greenacres residents to what is going on in this Option B1/C debate. The architects have already acknowledged that there is asbestos in the building. Does anyone doubt that there will also be lead, mold, or toxic dust? What else are they going to find when they open up those walls? Do you trust the contractors to truly seal off their construction zones to protect your children in a 2-3 year renovation of a 100-year old building? We all know that children are much more vulnerable to exposures of these toxins and that the effects of such poisoning will not likely show up for decades. This is a lawsuit bomb just waiting to go off.
I also don't know if the architects and Board of Education have padded in the high costs of compliance, insurance, contingency plans if they find additional asbestos in the walls during the renovation (they would have to move the kids out of the school last minute or shut it down), and potential legal expenses that Option B1 would require. The budget that is being presented with B1 would not be accurate without this. I guarantee you that parents are not going to sit by the sidelines when they realize what's really going on here. Then the loud barking of the "Save the Field" people will only look like whimpering when you see the ferocity unleashed by parents who will do everything in their power to protect the health and safety of their children. Please, let's don't let this situation get out of hand. The health and safety of our kids should be the top priority, period. Let's make sure that residents really understand what's going on, and get the option to extensively renovate the school while the children are in it off the table. If even one of the 400 Greenacres students develops mesothelioma from asbestos exposure during this renovation 40 years later, it is not worth the risk. We have an alternative option in front of our face to keep the kids safely in place while a new school can be built across the street. That's a rare and unique opportunity that most old schools do not have!
I was also baffled to learn about the aggressive and intimidating tactics that the core "Save the Field" camp has been using, including shouting at Scarsdale Board of Education members at the last March hearing in efforts to pressure them to vote for Option B1. I honestly could not understand why anybody would engage in this kind of behavior, but after reflecting upon it, I think I understand it. Very early on, the core "Save the Field" understood that they have no legal right to the field. It is Scarsdale public property. They would have no standing to sue if they lose their access to the field and they have no guaranteed access or view. So all they can do is bark as loud as possible to protect their selfish interests and pressure their friends and neighbors to sign a propaganda campaign petition. And I believe that most people signed with the intention of expressing that "the field is important to them." But the options were not that clear then, and although they are still morphing, they are now clear enough to see that the obvious direction and choice that the Board of Education should make is to figure out how to get community input for the best possible new school in Option C.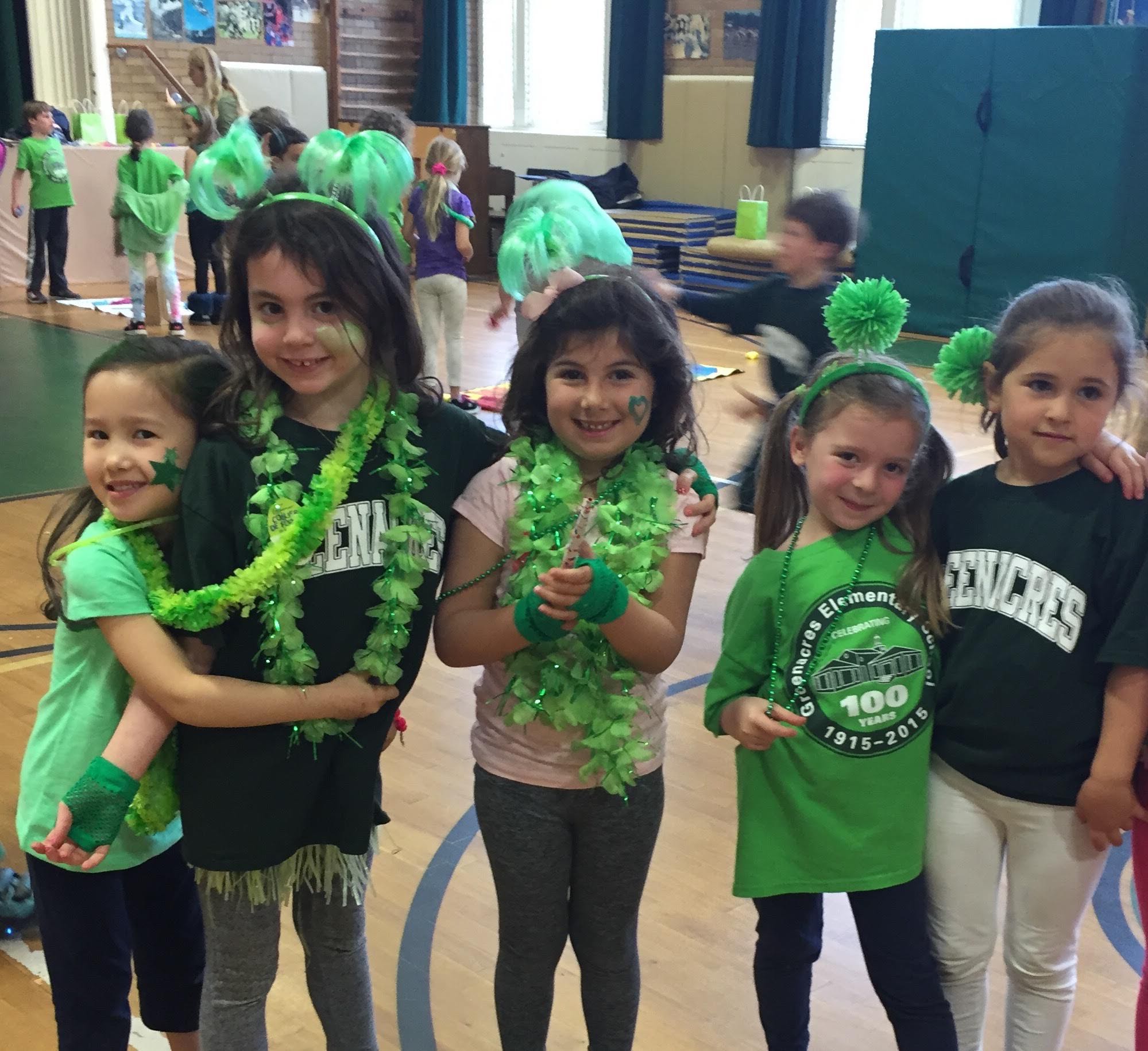 6) Another huge misconception is that these plans are set in stone. The Board had been pressured to consider alternatives to Option B, which was always to renovate the existing school. When they realized how expensive it would be to arrange for temporary barracks for the students to do the renovations, Option B morphed into Option B1 to scale back renovations and keep the children in school during the renovation. Due to pressure from the hardcore "Save the Field" camp, there has not been so much space for discussion about how Option C can also be easily tweaked to accommodate residents' concerns. These are not final architectural plans as some in the community believe. There has been concern voiced about the size of the parking lot and gym. The architects have been clear in stating that those things can be easily changed. One of the parking lots can be altered to create a blacktop so our kids can continue to learn to ride bikes, and play there as they have been doing for years. The facade can be easily manipulated to be architecturally consistent with the neighborhood's charm. The gym can be down-scaled. These are all relatively simple alterations, and we can continue to have this conversation with the architects, Board, and community as long as Option C is chosen. There is not this kind of flexibility in the design of B1.
Finally, I'm shocked and disappointed at how short-sighted this "Save the Field" camp has been. In their relentless pursuit to "Save the Field", they would rather preserve their view and access to a field, and trade the health and safety of our children for a field. Their argument that Option B1 lets us keep the field and get a renovated school for a cheaper cost is full of so many holes it's ridiculous. The architects have shaved off so many parts of the renovation now that the amount of money you would need to spend for that level of improvement would be a clear loser investment of our tax dollars.
The future of the school is not just about them and us. It's about picking the best long-term option for Scarsdale and its residents. The priority should be on the educational capacity of the school, health and safety of its students, as well as long-term value and cost. Who will be the future residents of Greenacres and Scarsdale and what do you think they are going to value? The family that you will be selling your house to is going to be a young family looking to raise their kids in a beautiful suburban community that is famous for its schools. Do you think that this family is going to be more interested that we preserved the Greenacres field or built a 21st century school? It keeps the property value high for all of Scarsdale when our schools continue to live up to their reputation.
Let's do this right, and do it right once. No band aids and no jeopardizing the health and safety of our kids.
In the end, let's not forget that this is decision that will be made by the Scarsdale Board of Education whose focus is on developing policy and guidance on Scarsdale's school system. I hope that they think long and hard about the motto that guides them: The Scarsdale Education for Tomorrow is what distinguishes a Scarsdale graduate. The choice is obvious on which option will give our children the "education for tomorrow" that they deserve. We want a new school! If this option is chosen, the stakeholders in the community will support you.
I urge all Greenacres residents, as well as Scarsdale residents, since it would be an investment of your tax dollars too, to take some time to get more informed on the issue. The publicly available information on these options is confusing, but here is a summary:
Option C:
-a new building with a green, energy-efficient design, outfitted to support 21st century technology for approximately $54 million (note that cost can't truly be pinpointed as proposals keep changing)
-students continue to attend school in current building while new school across the street is constructed
-overall less expensive option when all costs are considered
-less energy, maintenance, insurance costs for the next 100 years
-2 new "green" soccer fields, plus additional playgrounds for the kids
-Option to convert parking lot spaces to a blacktop, adjust the size of the gym, as well as room for input on architectural facade
-possibility of expansion
- a new lunchroom with a kitchen so that hot meals can be prepared on site for students, larger gym, additional music room, security office and larger classrooms up to national standards
- no difference in your taxes
-smaller square footage footprint than B1
Option B1:
-6 new classrooms, renovated bathrooms, and a new HVAC system in a basement with previous mold problems and still high water table for approximately $40 million (note that cost can't be truly be pinpointed as proposals keep changing)
-2-3 years of our children attending a school that will be a construction zone
-high litigation risk for exposing children to asbestos, lead, and other toxins
-high risk of additional renovation expense, including delays and contingency plans
-2 story addition, which would be the 8th one, to the original Greenacres school which would not qualify for any historical preservation project
-no more room to expand
-renovation of a 100 year old added-onto school
-many classroom sizes that still don't meet modern national classroom standards.
-no difference in your taxes
-a baseball-diamond size loss in field space
If you don't believe me in asserting these facts, or anything I wrote about in this op-ed, I invite you to do the research yourself, and let me know where you think I'm wrong. I believe I also just provided more substantive information about the options than the whole website that the "Save the Field" camp has constructed, which you can find here: http://www.greenacresfield.org
I'm the last person who wants to see this community fragmented over this issue. We are all neighbors, friends, and parents of children who are friends. I would like to see sincere, honest community engagement where people can consider the big picture of what is best for Greenacres and Scarsdale. But in the past few weeks, I have had a real eye-opening experience about how a well-run propaganda campaign can be powerful enough to distort community dialogue, and I can not in good conscience not speak out against it.
If you feel ready to sign a petition to support building the new school in Option C, please sign this petition:
http://www.thepetitionsite.com/344/105/564/protect-our-children-promote-our-community/
This is an urgent issue, and as informed citizens, we only have at most a few weeks to communicate our thoughts to the Board before they make their decision. The Board of Education is interested in hearing from new voices about this issue. If you want to express your thoughts about the future of Greenacres school, or ask the Board to delay its decision so that you can take some additional time to better understand the issues, or express your regret for signing the "Save the Field" petition, please email the Board of Education at: BoardofEd@scarsdaleschools.org. Please write them as soon as possible to express your opinion! Additionally, please also attend the Board of Education public hearing at Scarsdale High School on May 16th at 8:00 pm to express your thoughts and participate in the community dialogue.
Jennifer Hu Corriggio