Food Writer Melissa Clark Greets Fans at Barnes and Noble
Published: Tuesday, 11 April 2017 15:00
Joanne Wallenstein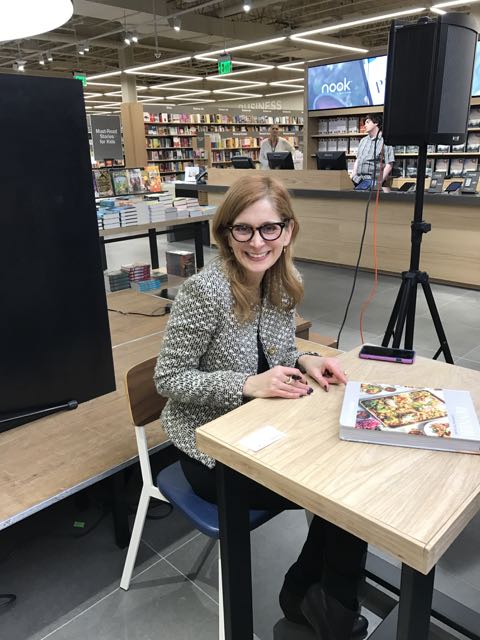 Culinary rock star Melissa Clark visited the Barnes and Noble in Eastchester on Tuesday April 4 to promote her new book "Dinner, Changing the Game" and to share her innovative recipes and love of cooking. She doesn't look old enough to have authored 38 cookbooks, write a weekly column and star in cooking videos for the NY Times and appear frequently on television and National Public Radio.. Though her resume is impressive, she's without pretense and is frank, approachable and down to earth. She must be juggling many plates but she regularly finds the time to shop and cook for her own family.
She explained that putting dinner on the table every night is more than just feeding the family. She elevated food prep to a higher calling, saying that home cooked meals and the rituals around them are good for your family and the community. By purchasing fresh ingredients you support local food producers, practice sustainability, eat healthier meals and demonstrate your love for those at the table. She encouraged everyone to set a goal to cook a bit more – saying, "If you cook one meal a week at home – make it two; or one meal a month, add one!"
And that should be easy with her new cookbook that features colorful spreads of savory meals made with ingredients you can find in our neighborhood. What are some of her current favorites? ... pomegranate molasses, kim chi and anchovies to name a few.
According to Clark's website, "This book is all about options; inventive, unfussy food with unexpected flavor: a sheetpan chicken laced with spicy harissa; burgers amped with chorizo; and curried lentils with poached eggs, to name a few. It's also about adding easy flourishes that make dinner exceptional—stirring charred lemon into pasta, tossing a Caesar-like dressing on a grain bowl, adding fresh ricotta and demerara sugar to stovetop mac and cheese, and lavishing a dollop of chili paste just about anywhere."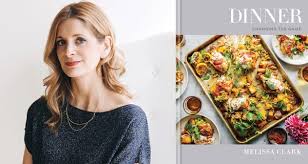 With Passover and Easter the following week, her fans were eager for new ideas and many left with the new "Dinner" cookbook that Clark offered to sign.
She also agreed to share a recipe: So I picked this one from the many mouth-watering offerings in her new book:
Harissa Chicken: - as published on Food52.com.
Serves 3
1 1/2 pounds bone-in, skin-on chicken thighs and drumsticks
1 1/4 pounds Yukon Gold potatoes, peeled and cut into 1 by 1/2-inch chunks
3 teaspoons kosher salt
3/4 teaspoon freshly ground black pepper
2 tablespoons harissa
1/2 teaspoon ground cumin
4 1/2 tablespoons extra-virgin olive oil, plus more as needed
2 leeks, white and light green parts, halved lengthwise, rinsed, and thinly sliced into half-moons
1/2 teaspoon grated lemon zest
1/3 cup plain yogurt, preferably whole-milk (if using Greek, thin it down with a little milk to make it drizzle-able
1 small garlic clover
1 cup mixed soft fresh herbs such as dill, parsley, mint, and/or cilantro leaves
Fresh lemon juice, as needed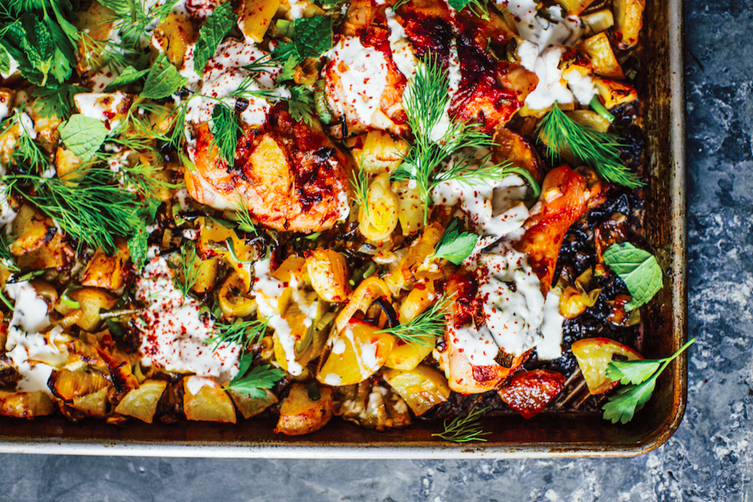 Combine the chicken and potatoes in a large bowl. Season them with 2½ teaspoons of the salt and ½ teaspoon of the pepper. In a small bowl, whisk together the harissa, cumin, and 3 tablespoons of the olive oil. Pour this mixture over the chicken and potatoes, and toss to combine. Let it stand at room temperature for 30 minutes.
Meanwhile, in a medium bowl, combine the leeks, lemon zest, ¼ teaspoon of the salt, and the remaining 1½ tablespoons olive oil.
Heat the oven to 425°F.
Arrange the chicken and potatoes in a single layer on a large rimmed baking sheet, and roast for 20 minutes. Then toss the potatoes lightly, and scatter the leeks over the baking sheet. Roast until the chicken is cooked through and everything is golden and slightly crisped, 20 to 25 minutes longer.
While the chicken cooks, place the yogurt in a small bowl. Grate the garlic clove over the yogurt, and season with the remaining ¼ teaspoon salt and ¼ teaspoon pepper.
Spoon the yogurt over the chicken and vegetables in the baking sheet (or you can transfer everything to a platter if you want to be fancy about it). Scatter the herbs over the yogurt, drizzle some olive oil and lemon juice over the top, and serve.
Get your own copy of this stunning cookbook here.


BLOG COMMENTS POWERED BY DISQUS