Scarsdale Leads the Way in Food Scrap Recycling
Details

Category: Shout it Out
Published on

15 May 2017

Written by

Jon Mark
On May 13, 2017, at Kensico Dam Plaza in Valhalla, Westchester County recognized the Village of Scarsdale with a 2017 Earth Day Award for introducing a food scrap recycling program for Scarsdale residents. The award was presented by Deputy County Executive Kevin Plunkett during a County Earth Day 2017 celebration event. On hand to receive the award were Mayor Dan Hochvert, Trustees Deb Pekarek and Jane Veron, and members of the Village Ad Hoc Committee on Food Scraps Recycling, residents Ron Schulhof and Michelle Sterling.

Trustee Deb Pekarek used the occasion to urge Deputy County Executive Plunkett to consider having the County re-start its food scraps recycling program. The County's program, which included the operation of County-owned food recycling machinery, has been suspended due in part to the lack of volume of collected food scraps. As residents' voluntary participation in food scraps recycling increases, it may eventually be possible to prompt the County to re-activate its program. Having a food scraps re-cycling facility in the County would increase the efficiency of the program by reducing the distance the contractor that picks up the food scraps from the Recycling Center has to travel to get to a composting facility.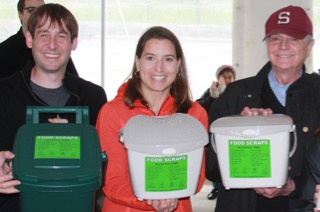 Scarsdale's lead in food scrap recycling has been generating interest in other Westchester communities and a number of them have sent representatives to the Village Secor Road Recycling Center to observe the Village's program. In at least one case, the positive impact of such a visit has resulted in a prompt response. A week ago, Greenburgh Town Supervisor Paul Feiner and members of his staff visited the Secor Road Recycling Center and observed the Scarsdale food scraps program in operation. Yesterday Supervisor Feiner announced that the Town of Greenburgh "will be working with the Greenburgh Nature Center trying to come up with a plan to implement a similar program."

Village residents dropped off over four tons of food scraps at the Recycling Center last week. In the previous week, residents were able to pick up compost generated by the program for free. For information about the Village's program and future compost pick up days, go to this page on the Village web site.
Change the Statistics Around Relationship Violence
Details

Category: Shout it Out
Published on

02 May 2017

Written by

Louisa Blatt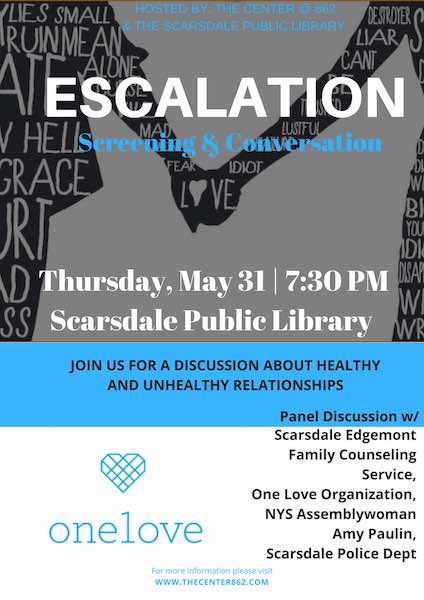 The Center @ 862 invites you to a screening of the eye-opening film, "Escalation" on May 31, at 7:30 PM at the Scarsdale Public Library. A panel discussion with Sharon Robinson, founder of OneLove Organization, Lauren Pomerantz of Scarsdale-Edgemont Family Counseling Service, NYS Assemblywoman Amy Paulin, and Youth Officer Sherri Albano of Scarsdale Police Department will follow. This provocative film provides thoughtful conversation and suggestions on how to talk about unhealthy and healthy relationships with their loved ones. Awareness of the issue is the first step in turning around these alarming statistics.
OneLove Foundation, was founded in 2010 when Yeardley Love, a University of Virginia senior from Bronxville, NY, was killed by her ex-boyfriend. OneLove's mission is to ensure that everyone has information about unhealthy and abusive relationships and understands the danger in these types of relationships and empowers them to leave an unhealthy situation—or help a friend to leave—before it escalates to abuse.
The Center@862 will be working with OneLove to build Scarsdale's own Team OneLove, a community of over 15,000 people nationwide. High school students will be trained to become OneLove facilitators at the Center, 862 Scarsdale Avenue, Scarsdale, NY in early June. These students will organize future screenings of "Escalation" for their peers and moderate discussion groups following these screenings.
It's time to educate ourselves and our children about healthy relationships.
Sculpture Garden Reopens at PepsiCo
Details

Category: Shout it Out
Published on

20 April 2017

Written by

Joanne Wallenstein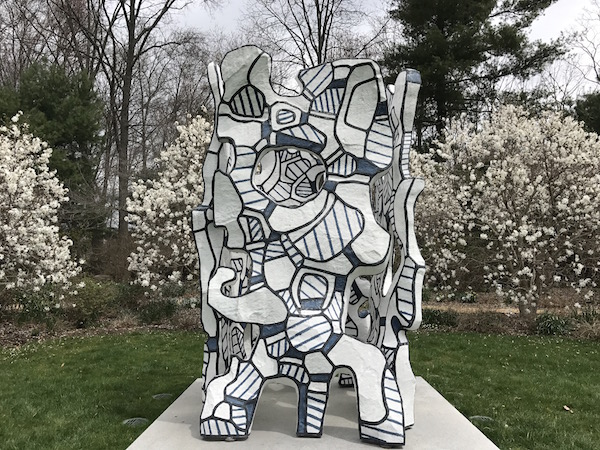 We heard that the sculpture garden at PepsiCo headquarters in Purchase had finally reopened and decided to take a look. Even though it was the Saturday of Easter weekend, we felt fortunate to beat the crowds – who probably did not realize that the garden had re-opened after a four-year renovation of PepsiCo's corporate headquarters.
The spacious garden showcases 46 sculptures including works by famed sculptures such as Alexander Calder, Jean Duboffet, Jean Miro, Henry Moore and Auguste Rodin. The garden is directly across Anderson Hill Road from SUNY Purchase College and an easy drive from Scarsdale. The garden is sited on land that was originally a polo field and is planted with lovely stands of specimen trees, which are all labeled for those who are interested in testing their horticultural knowledge.
The original garden was designed by Russell Page (1902-1985) and since that time has been updated by Francois Goffinet. A winding walkway called "the Golden Path" leads visitors around the 168 acre property and offers a series of viewpoints.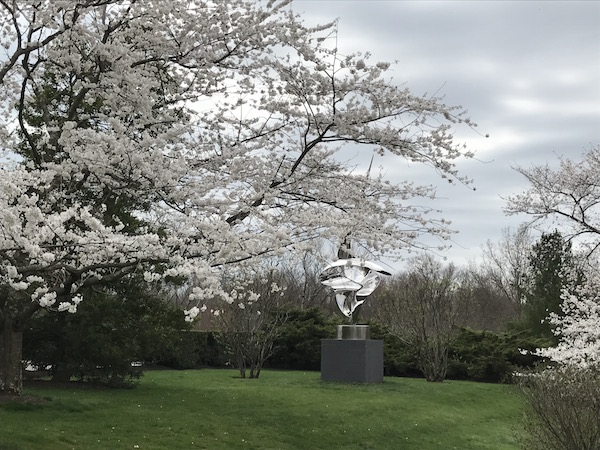 The public is invited to tour the gardens on Saturdays and Sundays from 10 am to 4 pm. There is no fee to enter – and the soda machine at the visitor's center offers Pepsi and water for just $1. Here are the rules – as posted on PepsiCo's website:
To ensure the safety of employees and visitors and to protect both the landscape and the art collection, we ask that everyone who visits observes the following rules:
Refrain from touching the art.

Sunbathing or playing sports is not permitted.

No pets, including leashed dogs.

Refrain from feeding the birds and fish.

No smoking.

All wheeled or motorized equipment such as bicycles, skateboards, rollerblades, Segways, scooters or hover boards are prohibited.

Stay on internal paths and respect all barriers, flags and fencing.

Visitors must adhere to all other posted rules, regulations, waivers, and signs.
Plan a visit soon – it's a great place to take visitors and kids will love the wide-open spaces and monumental sculptures.
The Donal M. Kendall Scuplture Gardens
PepsiCo
700 Anderson Hill Road
Purchase, NY 10577
http://www.pepsico.com/sculpture-gardens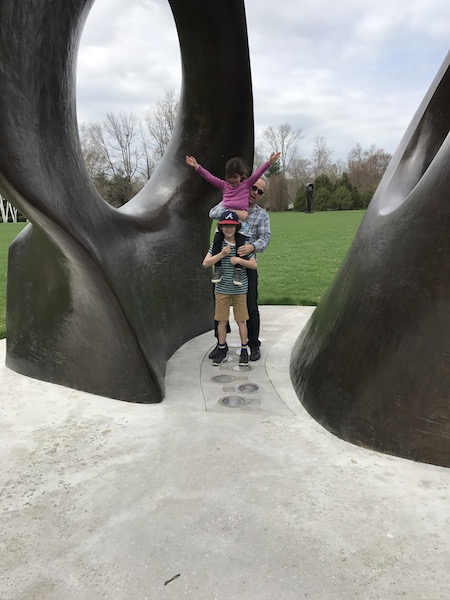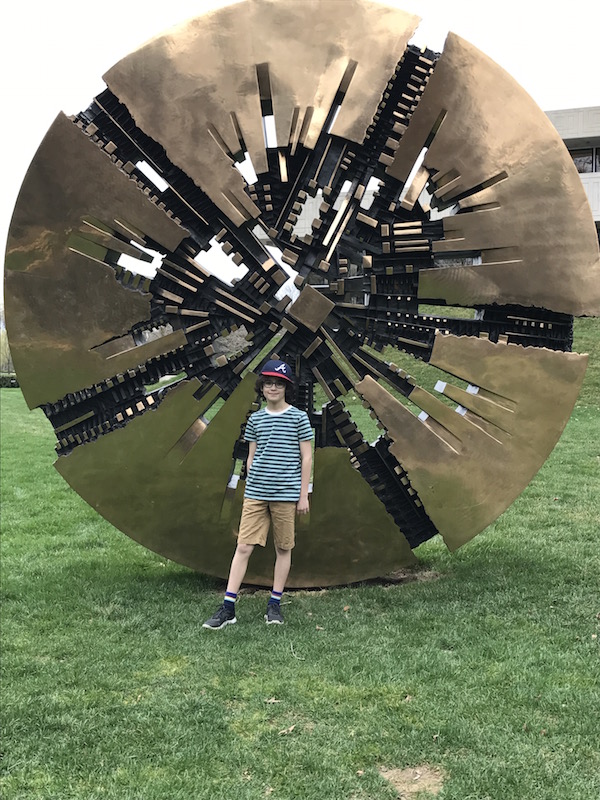 Volunteers Needed for Community Planting Day on Saturday
Details

Category: Shout it Out
Published on

27 April 2017

Written by

Joanne Wallenstein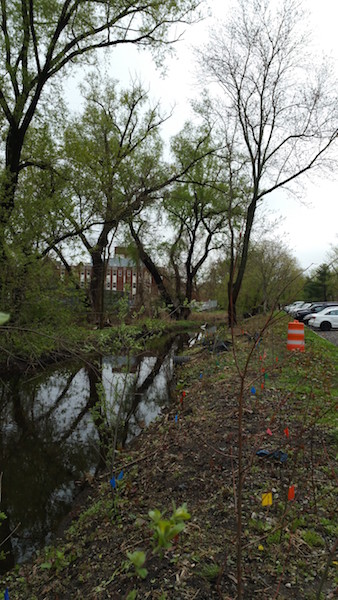 Celebrate Arbor Day and help protect and enhance Scarsdale's natural environment by lending a hand to plant 320 native trees and shrubs along Fox Meadow Brook in the Brewster Road- Harwood Wetland on Saturday, April 29, 2017, from 10:00 a.m. to 4:00 p.m. Pre-registration is required, either in-person at Village Hall in the Parks, Recreation, and Conservation Department, or online. The rain date is Sunday, April 30, 2017.
Individuals, families, youth groups, civic groups, and businesses are welcome to take part in our 3rd Annual Community Planting Day event. Everyone should dress for outdoor planting, including a pair of gardening gloves.
The 3rd Annual Community Planting Day is jointly sponsored by the Village of Scarsdale's Parks, Recreation, and Conservation Department and Friends of Scarsdale Parks with support from New York Department of Environmental Conservation's "Trees for Tribs" program.
South Fox Meadow Brook is part of the Bronx River watershed system that feeds into the East River and the Long Island Sound. The Scarsdale Community Planting Day is part of a comprehensive watershed restoration project designed to preserve and protect and enhance sensitive watershed ecosystems, water quality, tree canopy, and wildlife.
Please join us for a worthwhile day of fun -- make a difference by lending a hand!
For further information, please contact the Village of Scarsdale Parks, Recreation, and Conservation Department at 914-722-1166, or simply pre-register either in-person, or online.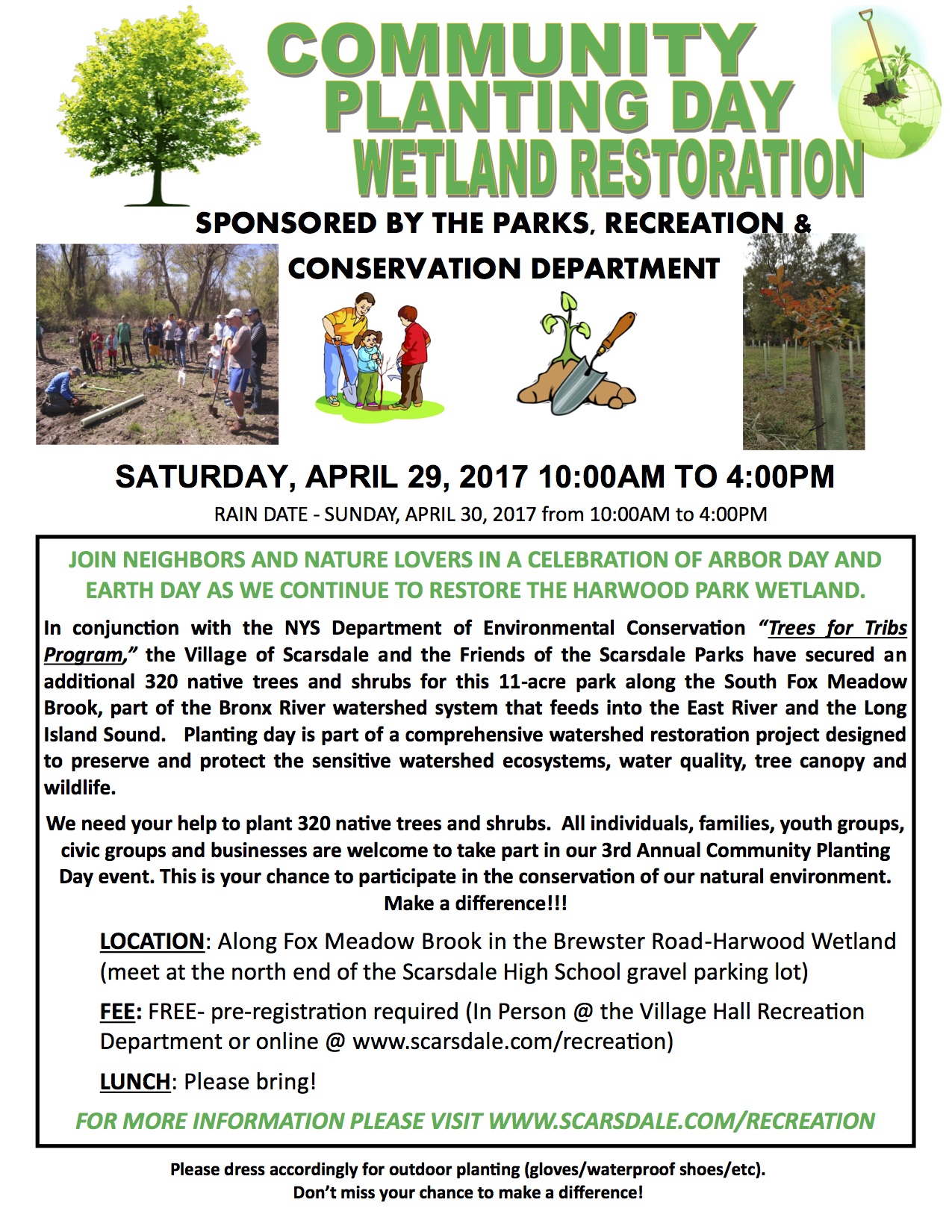 Food Writer Melissa Clark Greets Fans at Barnes and Noble
Details

Category: Shout it Out
Published on

11 April 2017

Written by

Joanne Wallenstein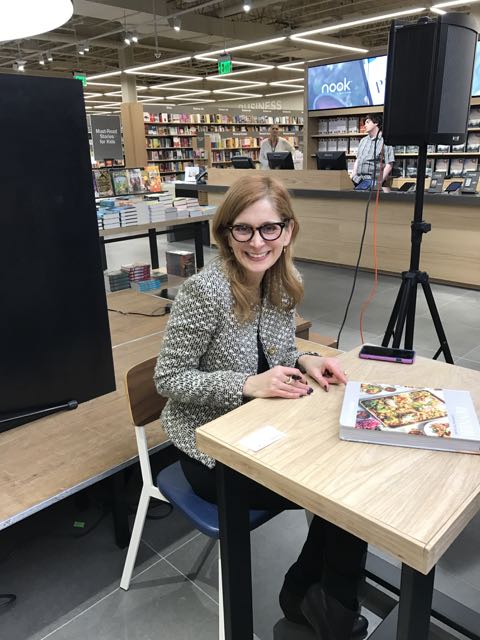 Culinary rock star Melissa Clark visited the Barnes and Noble in Eastchester on Tuesday April 4 to promote her new book "Dinner, Changing the Game" and to share her innovative recipes and love of cooking. She doesn't look old enough to have authored 38 cookbooks, write a weekly column and star in cooking videos for the NY Times and appear frequently on television and National Public Radio.. Though her resume is impressive, she's without pretense and is frank, approachable and down to earth. She must be juggling many plates but she regularly finds the time to shop and cook for her own family.
She explained that putting dinner on the table every night is more than just feeding the family. She elevated food prep to a higher calling, saying that home cooked meals and the rituals around them are good for your family and the community. By purchasing fresh ingredients you support local food producers, practice sustainability, eat healthier meals and demonstrate your love for those at the table. She encouraged everyone to set a goal to cook a bit more – saying, "If you cook one meal a week at home – make it two; or one meal a month, add one!"
And that should be easy with her new cookbook that features colorful spreads of savory meals made with ingredients you can find in our neighborhood. What are some of her current favorites? ... pomegranate molasses, kim chi and anchovies to name a few.
According to Clark's website, "This book is all about options; inventive, unfussy food with unexpected flavor: a sheetpan chicken laced with spicy harissa; burgers amped with chorizo; and curried lentils with poached eggs, to name a few. It's also about adding easy flourishes that make dinner exceptional—stirring charred lemon into pasta, tossing a Caesar-like dressing on a grain bowl, adding fresh ricotta and demerara sugar to stovetop mac and cheese, and lavishing a dollop of chili paste just about anywhere."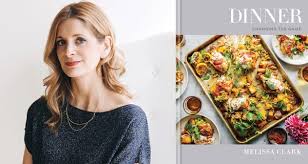 With Passover and Easter the following week, her fans were eager for new ideas and many left with the new "Dinner" cookbook that Clark offered to sign.
She also agreed to share a recipe: So I picked this one from the many mouth-watering offerings in her new book:
Harissa Chicken: - as published on Food52.com.
Serves 3
1 1/2 pounds bone-in, skin-on chicken thighs and drumsticks
1 1/4 pounds Yukon Gold potatoes, peeled and cut into 1 by 1/2-inch chunks
3 teaspoons kosher salt
3/4 teaspoon freshly ground black pepper
2 tablespoons harissa
1/2 teaspoon ground cumin
4 1/2 tablespoons extra-virgin olive oil, plus more as needed
2 leeks, white and light green parts, halved lengthwise, rinsed, and thinly sliced into half-moons
1/2 teaspoon grated lemon zest
1/3 cup plain yogurt, preferably whole-milk (if using Greek, thin it down with a little milk to make it drizzle-able
1 small garlic clover
1 cup mixed soft fresh herbs such as dill, parsley, mint, and/or cilantro leaves
Fresh lemon juice, as needed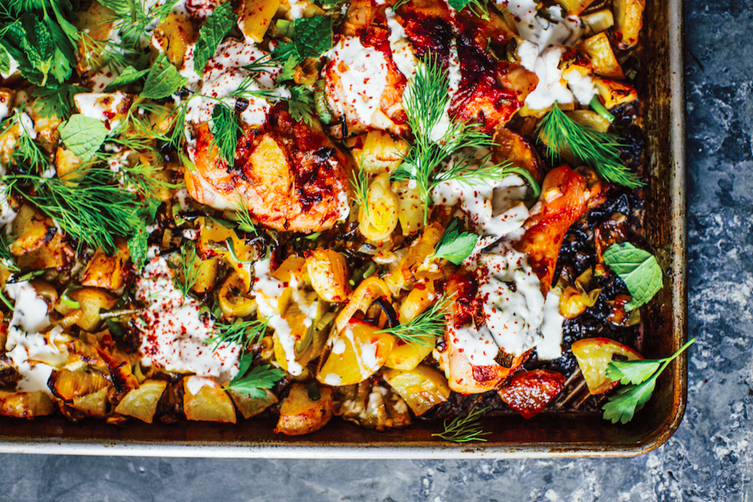 Combine the chicken and potatoes in a large bowl. Season them with 2½ teaspoons of the salt and ½ teaspoon of the pepper. In a small bowl, whisk together the harissa, cumin, and 3 tablespoons of the olive oil. Pour this mixture over the chicken and potatoes, and toss to combine. Let it stand at room temperature for 30 minutes.
Meanwhile, in a medium bowl, combine the leeks, lemon zest, ¼ teaspoon of the salt, and the remaining 1½ tablespoons olive oil.
Heat the oven to 425°F.
Arrange the chicken and potatoes in a single layer on a large rimmed baking sheet, and roast for 20 minutes. Then toss the potatoes lightly, and scatter the leeks over the baking sheet. Roast until the chicken is cooked through and everything is golden and slightly crisped, 20 to 25 minutes longer.
While the chicken cooks, place the yogurt in a small bowl. Grate the garlic clove over the yogurt, and season with the remaining ¼ teaspoon salt and ¼ teaspoon pepper.
Spoon the yogurt over the chicken and vegetables in the baking sheet (or you can transfer everything to a platter if you want to be fancy about it). Scatter the herbs over the yogurt, drizzle some olive oil and lemon juice over the top, and serve.
Get your own copy of this stunning cookbook here.