Marathon Tales 2017
Details

Category: Shout it Out
Published on

07 November 2017

Written by

Joanne Wallenstein
Many from Scarsdale were among the 50,000 plus runners who completed the 2017 NYC Marathon on Sunday November 5. We asked a few residents to share their stories and pictures.
Did you run? Send your pictures and details about your experience to scarsdalecomments@gmail.com.
Former Scarsdale School Board member Lew Leone ran his first marathon on Sunday. Here's what he said: "My first marathon was a blast. The New York City crowds are electrifying and it felt like a 26-mile party. I saw family and many friends along the way. Luckily I had a good friend, Matt Powers, who pulled me through the last 6 miles. That was the most challenging physical effort I've ever endured. Not sure I want to do it again."
Elizabeth and Jim Detmer of Edgewood Road ran the marathon together
and raised over $14,500 for St. Jude's Children's Research Hospital.
Andrea Seiden of Greenacres Avenue helped a disabled man from the Democratic Republic of the Congo run the marathon through Achilles International.
Running the NYC With Freddy by Andrea Seiden

Despite having completed several NYC marathons, I was not confident in my abilities to help someone else cross the finish line -- especially, someone with a disability. But, when Achilles International, an organization dedicated to enabling people with disabilities to participate in mainstream running events, contacted me, it was hard to say no. After a vetting process, I was paired with Freddy Mabika Ntumba from the Democratic Republic of the Congo.
Freddy is a 32 year-old, handsome, quadriplegic man with a full and meaningful life. During our initial conversations, I quickly realized that while he is tethered to a wheelchair and 24-hour care, his spirits and positive nature soar; he continues to embrace life's challenges with gusto and passion. During our 4:30 AM ride to Staten Island, I learned about Freddy as person, not someone who was disabled. He shared much about his life, his motorcycle accident, his girlfriend, family, work, and the wheelchair soccer team that he proudly joined. On the light side, he joked that, "legs can be overrated." And, on a more somber note, he told me about the strides he has made to fight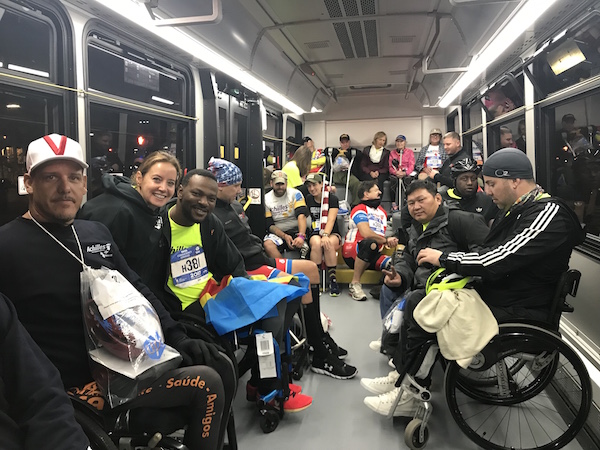 the stigma associated with being paralyzed in Africa. "People actually think that you are cursed." His candor and his easy nature made me feel so comfortable with him.
Nothing could prepare me for sheer joy I experienced during our run together. When I pushed Freddy into the corral of 50,000 athletes in Staten Island, we were overwhelmed by the cheering and well wishes of the scores of runners waiting to start the race. And so were the other Achilles Athletes-- many cried with deep emotion.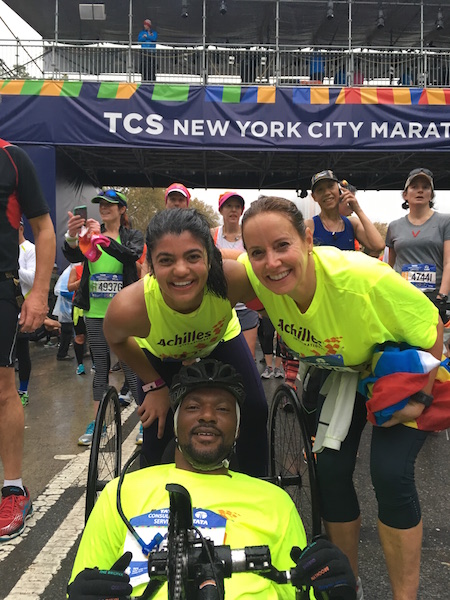 With my co-guide, a young, beautiful and wonderful Pakistani medical student, named Maani, we fed Freddy, gave him water and Gatorade, wiped his face with soaked sponges, adjusted his legs, told him jokes, and pushed him up 5th Avenue when his shoulders froze from exhaustion at the 24-mile mark.
Runners and spectators alike were humbled and inspired by Freddy's willpower to preserve. We could hear the constant drumbeat of encouragement, "Go Achilles," "You got this," which truly propelled all of us to cross the finish line. In times past, I was so self-focused that I counted every passing second, hunkered down with my private play list, and repeated my mantra to finish. I realized that I had missed so much of the race – the spirit of the spectators, the collective energy of the other runners. With Freddy, I enjoyed every moment of the race. There was such power in the day -- that I barely noticed that it took us 6 ½ hours to finish.
When it was all done, Freddy thanked us for helping him to achieve a dream, and I thanked him for a life-changing blessing.
Andrea's son Gregory Seiden, SHS class of '11 ran with "Team for Kids."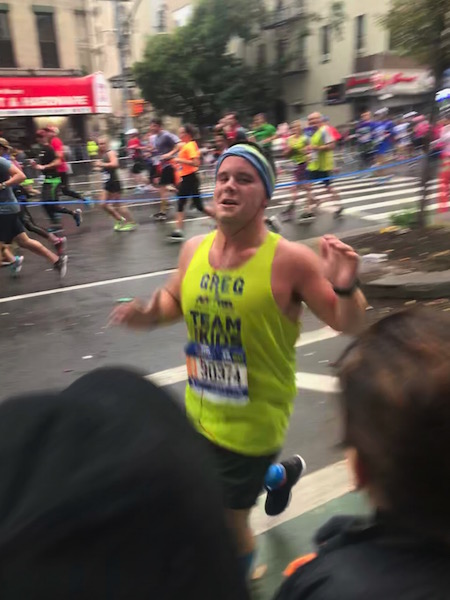 He says, "After finishing the NYC Marathon in 2016, I knew that I wanted to come back and run again. While I told myself I would run again to improve on my time, I gained so much more than just a few minutes off my splits in the process. I ran with Team for Kids, an organization committed to helping NYC youth learn about healthy life practices and the importance of fitness. The time spent training with Team for Kids allowed me to forge friendships, and strengthen my legs ahead of Sunday. As I ran north on First Avenue I was inspired that I was not only feeling strong, but also running for such a great cause. The feeling of pride as crossed the finish line at Tavern on the Green was unparalleled. It was another fantastic race day. I hope to have many more in the years to come."
Margaret Souther, SHS '09 said, "I ran the marathon with Catholic Charities, which raised money that will go towards providing food, education and resources to fellow New Yorkers in need. I was able to raise $4,465, exceeding my original goal by over $1000! What an incredible experience..i'm still looking back at the race and smiling. I loved running through so many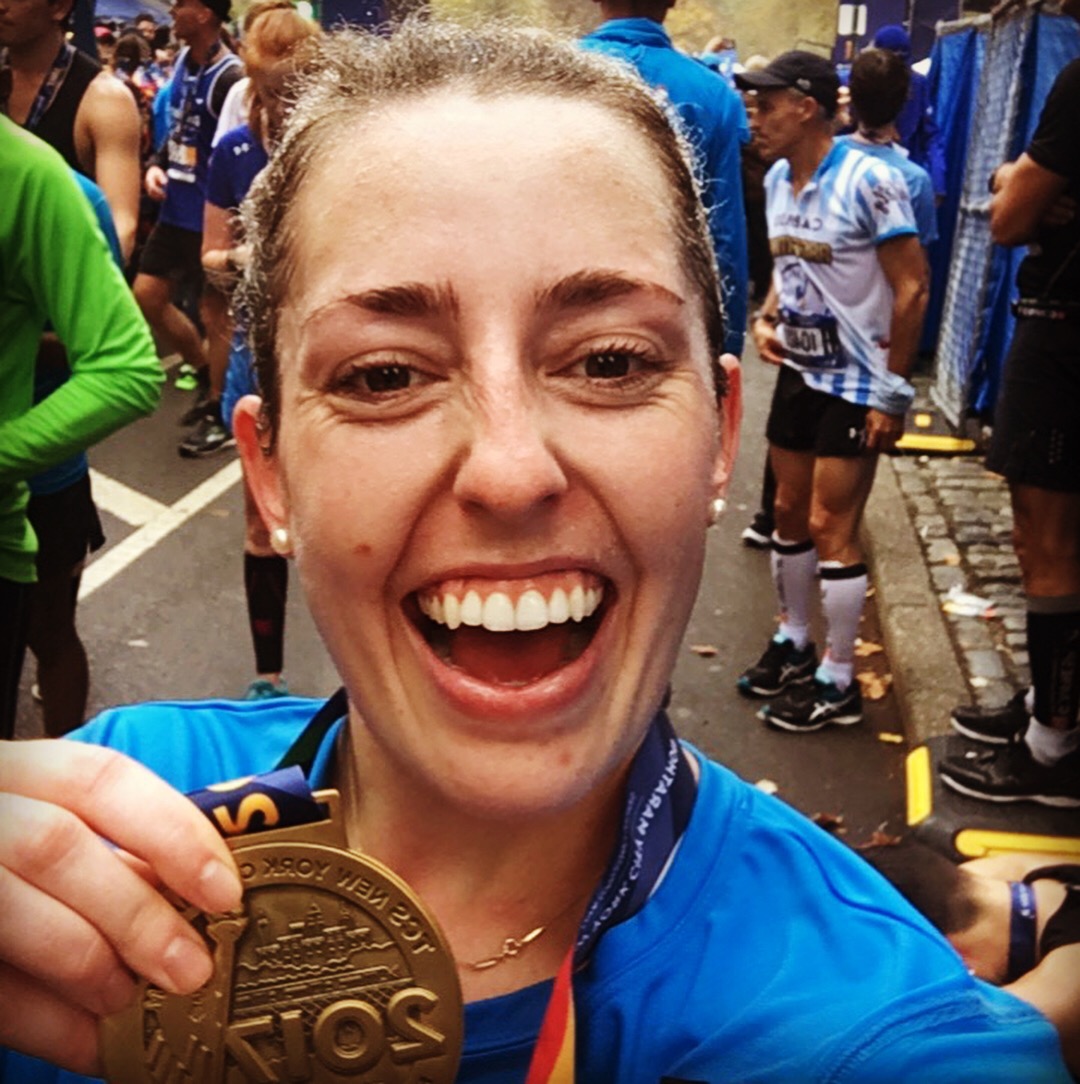 different neighborhoods and feeling the energy from people in all five boroughs. i have to say one of my favorite parts was turning onto first avenue and seeing the sidewalks just packed with people cheering. Definitely got me through the last couple of miles in the race!! Couldn't have done it without the support from my friends and family along the whole way!!!"
Matt Powers and his wife ran as well. He said, "The NYC Marathon is an experience like no other. I found myself at Mile 20, overwhelmed with excitement and ready for the final 6.2 miles. A friend told me Lew Leone was about 5 minutes behind me. Nothing is better than running with a friend like Lew. He caught up to me and we conquered our first marathon finish line TOGETHER. The first 20 were magical, but the last 6.2 were once in a lifetime and a moment I will never forget.
After I crossed the finish, I was then able to wait for my wife (Candice Huffine) to cross the finish line and gave her medal to her! The perfect day."
Did you run on Sunday? Please send your photo and story to scarsdalecomments@gmail.com to share with the community.
Amazing Halloween Costume Display from the SHS Class of '18
Details

Category: Shout it Out
Published on

31 October 2017

Written by

Joanne Wallenstein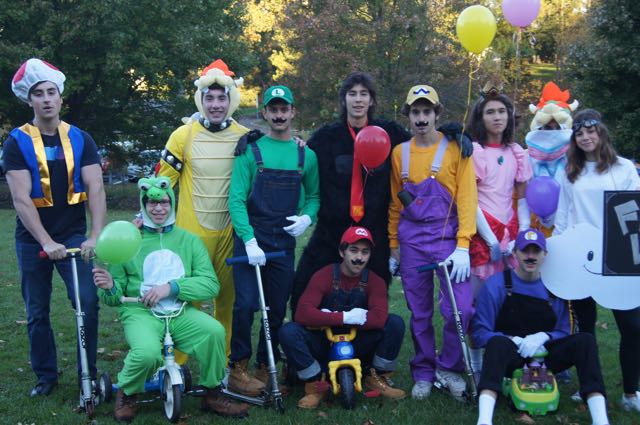 The SHS Senior class of 2018 finally got their turn to celebrate Halloween at school. The spirited group was full of energy at 8 am on Tuesday October 31 when they showed up in colorful and innovative costumes and posed for photos in front of the Brewster Road entrance to the school. There were snakes, CIA agents, revolutionaries, the Grateful Dead, farmers, chickens, elves, devils, surfers, swimmers, lifeguards, the Grady Twins from the Shining and a stunning spread of gold trophies. Karl Marx met Jerry Garcia, the cookie monster greeted the Mario Brothers as the kids paid homage to heroes and heroines, past and present.
Teachers, princiipals and the deans couldn't miss out on the fun. Check out the entire counseling department on inflatable animals, Sue Silver with a kitchen tong through her head and Heather Waters as the Statue of Liberty.
It couldn't have been more fun!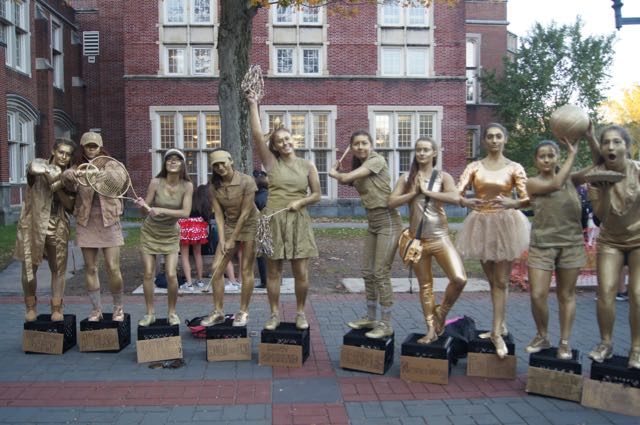 I Am More Scarsdale Opens on Spencer Place
Details

Category: Shout it Out
Published on

11 October 2017

Written by

Joanne Wallenstein
Two Scarsdale women have opened a unique retail store featuring the latest in fashion, athleisure, accessories and jewelry at 6 Spencer Place in Scarsdale Village. The one-of-a kind boutique is owned and operated by Marcy Berman-Goldstein and Abbey Solomon who have stocked the store with a well-curated mix of fashion, including private label couture tops, jackets and pants, as well as various brands of casual clothing, denim, athletic-wear, jewelry, handbags, belts, hats, gloves, scarves and other fun accessories.
On a recent visit we found so many appealing items – soft fur hats and neck warmers, cashmere, trendy vests, leggings, leather jackets and jeans. There was merchandise at all price points for every budget. It will be a great place to find a gift or a special treat for yourself.
Berman-Goldstein is a board-certified Radiologist, specializing in women's imaging. She has retail roots in her family and she assisted her mother grow her award-winning retail business, which has been family owned and operated since 1996, with roles including purchasing, merchandising, sales and marketing. After moving to Scarsdale Berman-Goldstein got involved in volunteer work and decided she was ready for a change. She is passionate about empowering women to have a positive body image and look and feel their best.
Solomon's retail experience includes sales, merchandising and purchasing. Solomon has worked in both women's and children's retail, and has run many successful pop-up sales with various vendors in her home. She has also helped her father's acclaimed family owned and operated retail business, Posman Books, for over 20 years, which was named Best Bookstore by New York Magazine.
Their mission is threefold: identifying up-and-coming and established women-owned businesses and designers; focusing on women clientele to make them feel empowered and confident; and supporting women's philanthropic organizations.
To that end, the two plan to hold informational and inspirational-themed events focusing on women's wellness, including talks promoting positive body image, nutrition and meditation, and will host sessions on health-related topics, including their first scheduled event on Breast Cancer awareness (knowing the risks and importance of early detection and treatment), which will take place on Tuesday evening, October 24, 2017 at 6 Spencer Place. Space is limited so make sure to register on their website here:
Village Trustee Jane Veron says, "I AM MORE SCARSDALE is an incredibly positive addition to the Village Center. It has transformed the former Child's Play vacancy into a trendy, happening spot. The new concept, blending retail with experience, will add vitality and foot traffic to the streetscape. It is a perfect complement to Scarsdale's retail mix."
The storefront was designed by Beth Altschuler Interiors of Scarsdale. Before starting her own interior design firm, Beth worked at Peter Marino Architect. Designing for some of the top luxury brands, she created unique retail experiences around the world. "I am thrilled to bring this knowledge to downtown Scarsdale and wish I AM MORE SCARSDALE great success with their innovative and forward thinking boutique," said Beth Altschuler.
Though the doors are open now, I AM MORE SCARSDALE will celebrate its official grand opening on Tuesday, October 17th. The boutique will be open weekly, from Tuesday through Saturday, and will provide customers with the opportunity to schedule private appointments.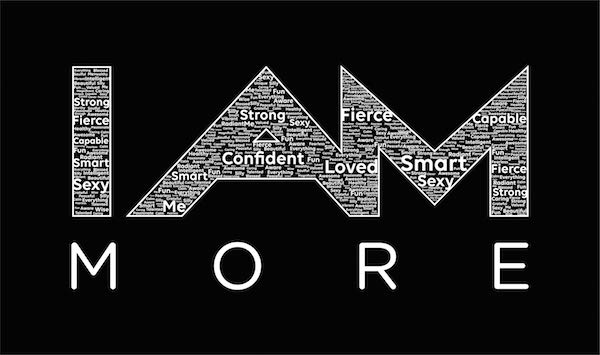 I Am More Scarsdale
6 Spencer Place
Scarsdale, NY 10583
www.iammorescarsdale.com
info@iammorescarsdale.com
Pedestrian Hit on Fenimore Road
Details

Category: Shout it Out
Published on

23 October 2017

Written by

Joanne Wallenstein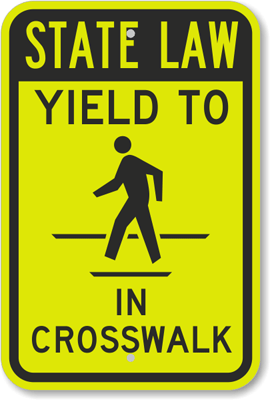 An 84 year-old Ridgecrest West man was hit by a car when he was traversing Fenimore Road at 9:43 am on Thursday October 19. He was crossing Fenimore Road at Brewster Road, going from the south side to the north side of the street. He was in the crosswalk when he was hit by a 2015 Mercedes Benz driven by a 74 year-old woman from Fox Meadow.
The man sustained a head injury and was taken to Westchester Medical Center. As of Tuesday October 24, Mayor Dan Hochvert announced that the man remained sedated in the hospital.

Though there is not a traffic light at the intersection, there is a well-marked crosswalk and drivers are supposed to yield to pedestrians in the crosswalk.
Meet Randy Guggenheimer, President of the Scarsdale Foundation
Details

Category: Shout it Out
Published on

04 October 2017

Written by

Joanne Wallenstein
Randy Guggenheimer has just been appointed President of the Scarsdale Foundation, one of Scarsdale's oldest philanthropic organizations. We asked him some questions about the Foundation and his role in it and here is what he shared:
When was the Foundation established and what is its mission?
The Scarsdale Foundation was established by an act of the New York State Legislature in 1923. Our mission is to promote civic welfare in Scarsdale by providing support for institutions and individuals that encourage educational and human development as well as mutual understanding and (2) recognizing those individuals in our community who through volunteer service continue to set an example of civic responsibility toward the betterment of the community.

Who serves on the Foundation and how are these volunteers selected?
The Foundation Board is selected by a Nominating Committee consisting of Foundation Board trustees and members of the community.

How does the Foundation decide on which groups and individuals will receive funding?
The Foundation Board evaluates grant applications from community organizations on a case-by-case basis. We recently provided grants of $50,000 to the Scarsdale Public Library for their renovation project and smaller grants to the Scarsdale Woman's Club and the Teen Center. We have a robust process for evaluating college scholarship grants based on need for the sophomore, junior and senior years.
Many people in town think that Scarsdale students might not need scholarship aid. Is this a misperception? What has been your experience and what have you learned about Scarsdale students and families?
There is a significant need. For families who have suffered financial setbacks, whether due to divorce, disability, illness or death of a parent, grant money can make a huge difference for students. We can help them avoid taking on additional debt or having to take on an additional work-study job, for example. These students and their families truly appreciate the grants we are able to provide.
How much funding is usually given out to a student? What are the requirements to receive aid and how do students apply?
The Scarsdale Foundation college scholarship grants have grown to around $120,000 this year. We are able to give students on average about $5000, although the awards are tailored to individual need. We spend a lot of time evaluating and trying to understand the need.
What is the Foundation¹s role in producing the Scarsdale Bowl dinner?

The Scarsdale Foundation Trustees annually appoint a Chair of the Scarsdale Bowl Committee. The Chair and the Foundation President together select 14 committee members reflecting the diversity of the Scarsdale community to serve staggered two-year terms. The Committee chooses the honoree and organizes the dinner which is held each April.
What are the qualities of those who are considered to receive the Scarsdale Bowl?
The Scarsdale Bowl Award is the highest honor bestowed on a Scarsdale resident in recognition of his or her volunteer public service in the community.
What is your background? And how did you get involved with the Foundation?
My wife, Liz, and I have lived in Fox Meadow since 1993, where we raised our children, Laura and Brian, both Scarsdale High School graduates. I have been active in Scarsdale community affairs for over 20 years. Liz was a past President of the Board of Education.

I was invited to become a member of the Board of the Scarsdale Foundation in 2013 and have served as the Foundation's Secretary, Assistant Treasurer and Co-Chair of the College Scholarship Committee.
What other volunteer activities have you undertaken in Scarsdale?
I am currently Treasurer of the Scarsdale Forum and previously served as President of the Forum and chaired several Forum committees. I also serve as President of the Scarsdale Historical Society, having previously served as Treasurer. I previously chaired the Governmental Advisory Committee of the Scarsdale Board of Education.
What do you do in your professional life - and how do you find time for your volunteer work?
A graduate of Harvard College and Harvard Business School, I have worked for many years as an investment banker serving the health care industry and am currently a Managing Director at Young & Partners. I am fortunate to have been able to make the time to participate in these volunteer activities.
If you were asked by a newcomer to town why he/she should volunteer for school or village government committees, what would you say?
The volunteer work is very rewarding, both because of the ability to help people in our community and because of the talented and interesting people that you get to work with. The Scarsdale Foundation Board has many outstanding Scarsdale leaders including Tom Giordano, David Karp, Michelle Lichtenberg, Anne Lyons, BK Munguia, Seth Ross, Suzanne Seiden and Jane Veron. I am privileged to work with them .