Over 500 People Celebrate the Year of the Rooster
Published: Tuesday, 14 February 2017 15:38
Joanne Wallenstein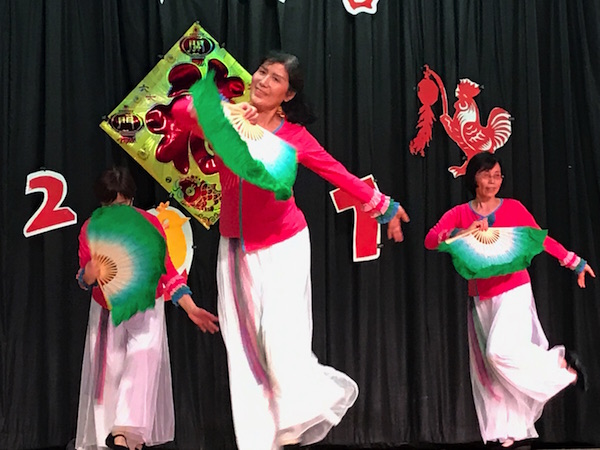 So many people bought tickets to the Scarsdale Chinese Association 2017 Spring Festival, celebrating the Year of the Rooster, that the event had to be moved from the Scarsdale Congregational Church – where it was held last year – to Woodlands High School in Greenburgh. In fact, organizers estimate that 550 people in all attended the event on Saturday February 11, 2017.
Xue Su, the Chair of the Scarsdale Chinese Association spearheaded the day. The association began 12 years ago with only 25 families and has now grown to 250 families.
Guests were served delicious homemade Chinese foods as well as special delicacies ordered from Queens including noodles, fried rice, dumplings and scallion pancakes. Along with the fare were tables where kids could make Chinese lanterns, have their faces painted and solve riddles.
The auditorium featured 18 performances by children, parents and grandparents led by the traditional lion parade and dance. There was bel canto, pop-style, and Chinese opera singing as well as dancing, including ballet, a Spanish bull dance and Chinese traditional dance. A Qibao (Chinese dress) fashion show gave participants a chance to show off their beautiful Chinese costumes. Also on the program was a Kung Fu martial arts demonstration and karaoke.
The event drew candidates for Scarsdale Village Mayor and Trustee. We spotted Dan Hochvert and Carl Finger from the Scarsdale Citizens Non-Partisan Party and Bob Berg and Bob Selvaggio from the Scarsdale Voters' Choice Party. All will be on the ballot for the March 21 election.
Jing Lu, the former Chair of the SCA said, "While such an event entails many hours of many volunteers' devotion, people also cherish this opportunity to have fun together and work toward a common good."
Photos by BK Munguia and Joanne Wallenstein