The Float Pod: Floating Away your Worries and Aches in Larchmont
Published: Thursday, 06 April 2017 08:26
Stacie M. Waldman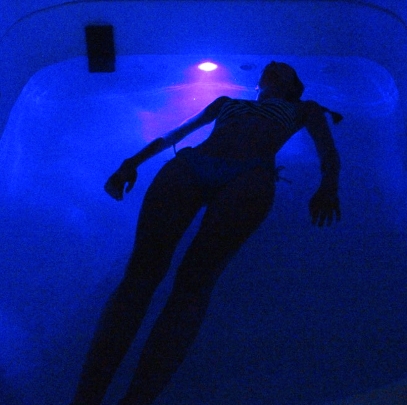 When I first heard about "floating," I have to admit that my first reaction wasn't to run and try it. Like most of us, I'm busy and just getting to the dentist and gym in the same day can prove challenging so I wasn't sure that fitting in one-hour float session would be good use of my time. I was so wrong. I'm a convert. I'm a "floater."
Prime Performance and Development in Larchmont is the closest place to Scarsdale for a float session. Previously available only in the city, Prime Performance co-founders Geoff Rose and Michael Petrina built a float suite and invested in a float pod as they felt it to be a good fit for their performance facility; it complements their work with orthopedic issues and concussions.
I had a chance to talk to Geoff who talked me into coming in to float in all of ten seconds. "There are many benefits of floating," he said. "The sensory deprivation helps tremendously for mental and emotional relief. It promotes total calm, helping with anxiety and depression. The brain is able to enter deeper lower frequency waves like alpha, theta and even delta waves without sleeping. This helps with mental clarity, creativity and problem solving." That was sounding like a yoga/meditation weekend packed into one hour in a float pod.
"Physically," Geoff continued, "the freedom from the force of gravity aids in pain management allowing joints to decompress and promotes healing and recovery associated with inflamed muscles, arthritis, migraines, concussions, and other injuries. There are also benefits from your body's absorption of magnesium sulfate, also known as Epsom salt, a mineral in which our bodies are often deficient. Magnesium offers immediate relief of arthritis pain and inflammation and also aids in heart health, diabetes and nerve function."
So, couldn't I just make a run to Walgreen's for some Epsom salt and run a tub for myself at home with the lights off? "Not exactly," Geoff responded, "unless you're prepared to have a truck deliver half a ton of the stuff. That's how much Epsom salt is used in the float pod water for healing, therapeutic and floating purposes."
I arrived at Prime Performance's studio at the Larchmont train station pleasantly surprised to pull into one of several reserved, convenient, meter-free parking spots. I was shown into the float suite and given helpful instructions and options for different experiences such as music and lighting. I chose darkness and silence for the ultimate sensory deprivation experience. You have complete privacy so you can wear a bathing suit or float in your birthday suit.
I stepped into the tank, pulled the pod door shut and trusted the half-ton of Epsom salt to float me. Soon I felt warm, relaxed and comforted by the therapeutic water. It didn't feel claustrophobic as I had thought it might. My hour was memorable in the sense that I was able to clear my head of to-do lists. My apres-ski-weekend body felt relaxed and stretched. When my hour was up, I felt as if I had just gotten a full body massage. You can end your session early if you choose to do so just by opening the pod door and stepping out of the tank, but an hour seemed like the perfect amount of time to me.
I knew why I'd keep coming back, but I asked Geoff why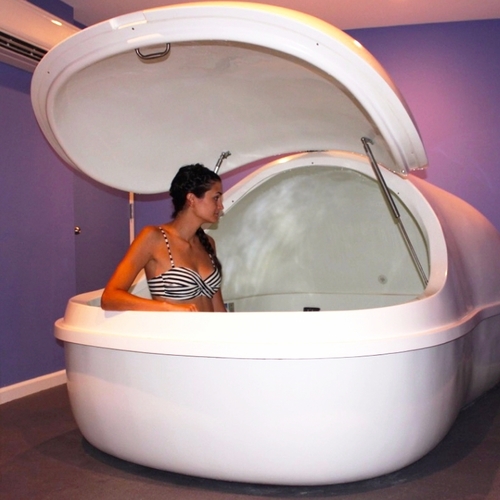 his clients keep coming back. "Many people describe their hour-long float session as a fantastic getaway. Some have called it 'automatic meditation' by being removed from their devices and busy lives. 90% of our clients have reported a great night of sleep the night after a float session." I can certainly attest to that point. "Many of our clients agree that the benefits only increase with each new session. As the 'newness' of the experience wears away they're no longer timid about the floating experience and they can ease into a deep state of relaxation more rapidly."
"The frequency of floating is determined by our clients' lifestyles and goals," Geoff said. "Most of our clients book a session every week or every other week; some people with more physical or mental stresses come more often."
Geoff suggests waiting until a child is 10 before considering a float session. "We have had many youth athletes (12-17 years old) using our float pod as a component of their training and recovery programs and we believe they are beneficial to these athletes."
Prime Performance and Development is located at 6 Railroad Place in Larchmont and is open during the week and on weekends for floating as well as for personal training, athletic training, and conditioning. One session will run you $85 or you can save with a 3-pack intro offer for $160. Regular 6-packs are $420 and there's no masseuse to tip.
Prime Performance and Development
6 Railroad Palce,
Larchmont
www.performbyprime.com
concierge@performbyprime.com
914-732-3130
This is sponsored content from Prime Performance and Development.