Boys Lacrosse Team Practices Yoga to Improve Flexibility and Reduce Injuries
Published: Tuesday, 25 April 2017 10:08
Jordy Love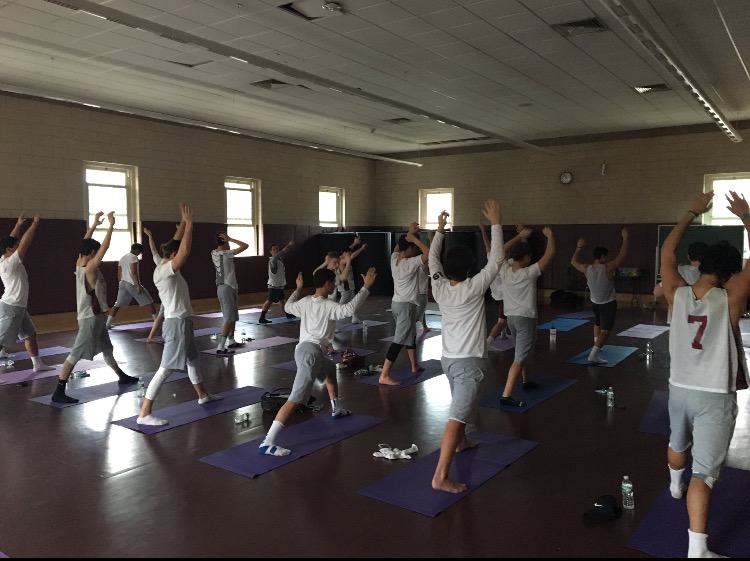 The Scarsdale Raiders Varsity Lacrosse team has won their last three games. What's behind their winning stretch? Yoga.
The new head coach of the Lacrosse Team, James Synowiez and his assistant coach John Felix introduced the team to yoga as a team bonding activity and a way to improve muscle recovery and overall flexibility. Recently many Division 1 Lacrosse programs have added yoga to their exercise regimen in order to help increase strength, flexibility and body awareness, reduce injury, and improve mental toughness and focus. During Spring break, Coach Synowiez brought in a yoga instructor from Yoga Haven for a post practice yoga session with the team.
According to Coach Synowiez, "The experience was very helpful and beneficial to our guys. Some players were sore and our yoga session helped bring awareness to how important stretching is and how it can help muscles recover faster. Furthermore, I believe that it was a fun experience for our team and these get togethers outside of practice continue to strengthen bonds within our team."
For many of the players it was their first time trying yoga. Freshman Oliver Krohn said, "It was a great bonding experience and relaxing to have after a difficult practice". Some of the players have decided to continue yoga to help them through the rest of the season. Yoga Haven will be offering a class to the Scarsdale High School male athletes on Sundays which will include dynamic flexibility training, core stabilization, strengthening and balance work. By focusing on these vital elements, yoga can help athletes recover faster after workouts, open up the tight areas that hinder performance and improve range of motion.
Betsy Kase, the owner of Yoga Haven and a Scarsdale High School parent believes, "the biggest and most important reason to practice yoga is to improve your mind body connection. The brain is also a muscle and also needs balancing. Yoga, a mindfulness practice develops concentration, emotional stability, impulse control and resilience." The practice of yoga by these student athletes supports the district wide Wellness Initiative which aims at reducing the stress levels of Scarsdale's teens.