Election Day: Tuesday November 7th: Important Information for Voters from the LWVS
Published: Wednesday, 01 November 2017 12:49
Joanne Wallenstein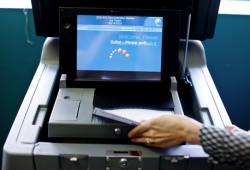 The League of Women Voters of Scarsdale would like to remind the community that Election Day is this Tuesday, November 7th. This year, Westchester County voters can vote for Westchester County Executive, which is a four-year position. Incumbent Robert Astorino (R, C) is being challenged by New York State Senator George Latimer (D, WF, IN, WE, REF).
Benjamin Boykin II (D, WF, IN), Westchester County Legislator for District 5, is running unopposed for re-election. The following additional offices will be on the ballot as well: County Clerk, NY Supreme Court Justice, County Court Judge, and County Family Court Judge.
In addition, voters on Tuesday will be asked to vote on whether New York State should hold a Constitutional Convention. The NYS Constitution requires that every 20 years the people decide if a convention should be held. The ballot question will appear as follows: Shall there be a convention to revise the Constitution and amend the same?
Voters will also be asked to vote on two additional Ballot Proposals concerning pension forfeiture for elected officials convicted of a felony, and Adirondack park maintenance, construction and water testing.
The polls will be open from 6:00 AM to 9:00 PM. Polling locations are as follows:
Election District Location
1, 2 & 19 Greenacres School
3 & 4 Fox Meadow School
5, 11 & 12 Scarsdale Library
6 & 7 Village Hall
8, 9 & 10 Edgewood School
13, 14 & 18 Heathcote School
15 & 16 Quaker Ridge School
17 Crossway Fire House
The deadline for voting by absentee ballot by mail is November 6, 2017, and November 7 if the ballot is delivered IN-PERSON to the Westchester County Board of Elections by close of polls on Election Day.
The Scarsdale League of Women Voters is committed to promoting informed and active participation of citizens in government. We encourage all voters to visit http://www.vote411.org/ and http://www.lwvs.org/ for additional information about the Candidates and Ballot Proposals.