SHS Learning Commons Opens Its Doors
Published: Thursday, 25 January 2018 13:32
Laura Halligan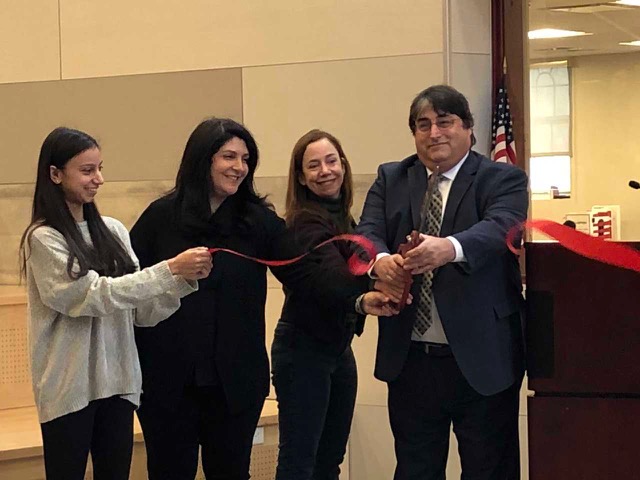 This past Wednesday morning, the Scarsdale School District celebrated the completion of the high school's much-anticipated Learning Commons with a ribbon cutting ceremony and reception.
Scarsdale High School Principal Ken Bonamo welcomed district staff, members of the board of education, teachers, students and residents by saying, "I must tell you, that the day we opened and the days that followed were among my best days as serving as principal because (of) the reactions of students to the space, which were incredibly positive, and, also, opening of a new space of this magnitude doesn't happen every day in the life of a school."
Bonamo reported that his students have taken to the space just as he his colleagues had hoped, and eagerly are taking advantage of the new mixed seating, breakout rooms and food choices. Teachers also are benefiting from the new amenities and i-Lab technology in their instructional and administrative work. As a result, the commons quickly is becoming a new social hub that is expected to strengthen the sense of community in the school. Bonamo said, "(It's) impact on the school, overall, has been transformative. "
Scarsdale Schools Superintendent Thomas Hagerman then commented, "This a very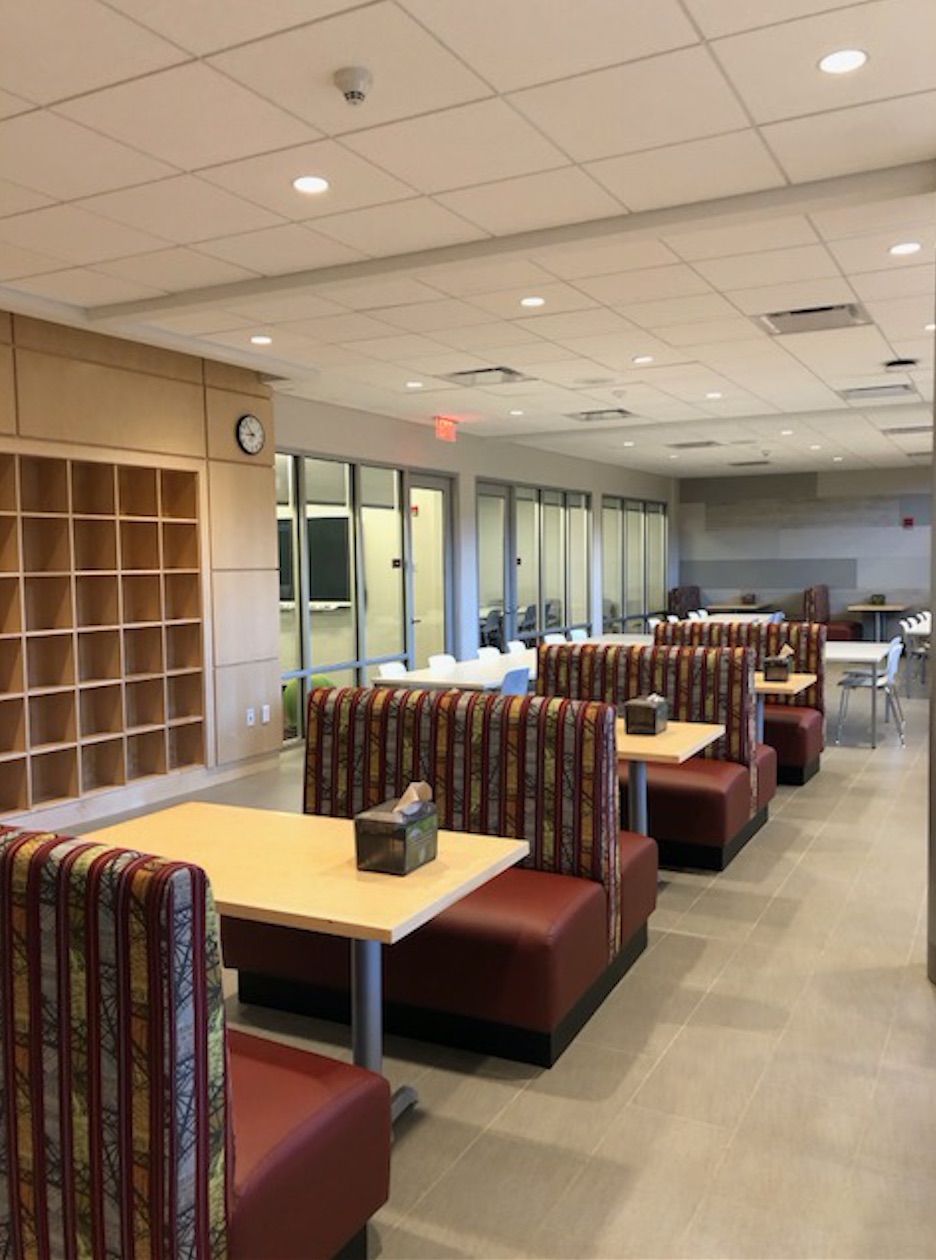 exciting day... a long, long time in the making. In fact, we've been working on this for the entire four years that I've been in the district. But the conception came even earlier." He discussed how the space reflected Scarsdale's strategic vision for education, which "...is rooted in the district's long-standing instructional focus on the whole child, a love of learning, a classical education taught in a progressive tradition... and global connections. More recently, it has evolved to include several forms of active and collaborative learning..." Hagerman continued, "The Learning Commons was conceived and designed as a place to realize and further build upon these aspirations."
The superintendent also noted that the commons provided students with "a place that functions differently than their traditional classrooms" and offered a respite from their often busy, daily academic routines through a comfortable setting. He concluded his remarks by thanking past and current board of education members, 2014 bond steering committee and SHS building committee members, SHS staff members and teachers, as well as the district PTAs for supporting the bond and related projects.
Assistant Superintendent for Business and Facilities Stuart Mattey followed Hagerman at the podium and said, "This is the result of almost five years of work... I think that we can all say, as we look around us, that it was certainly worth it." He thanked all stakeholders involved in shaping the project, notably his predecessor Linda Purvis, who spent many hours on shepherding the process through voter approval of the bond and final design work.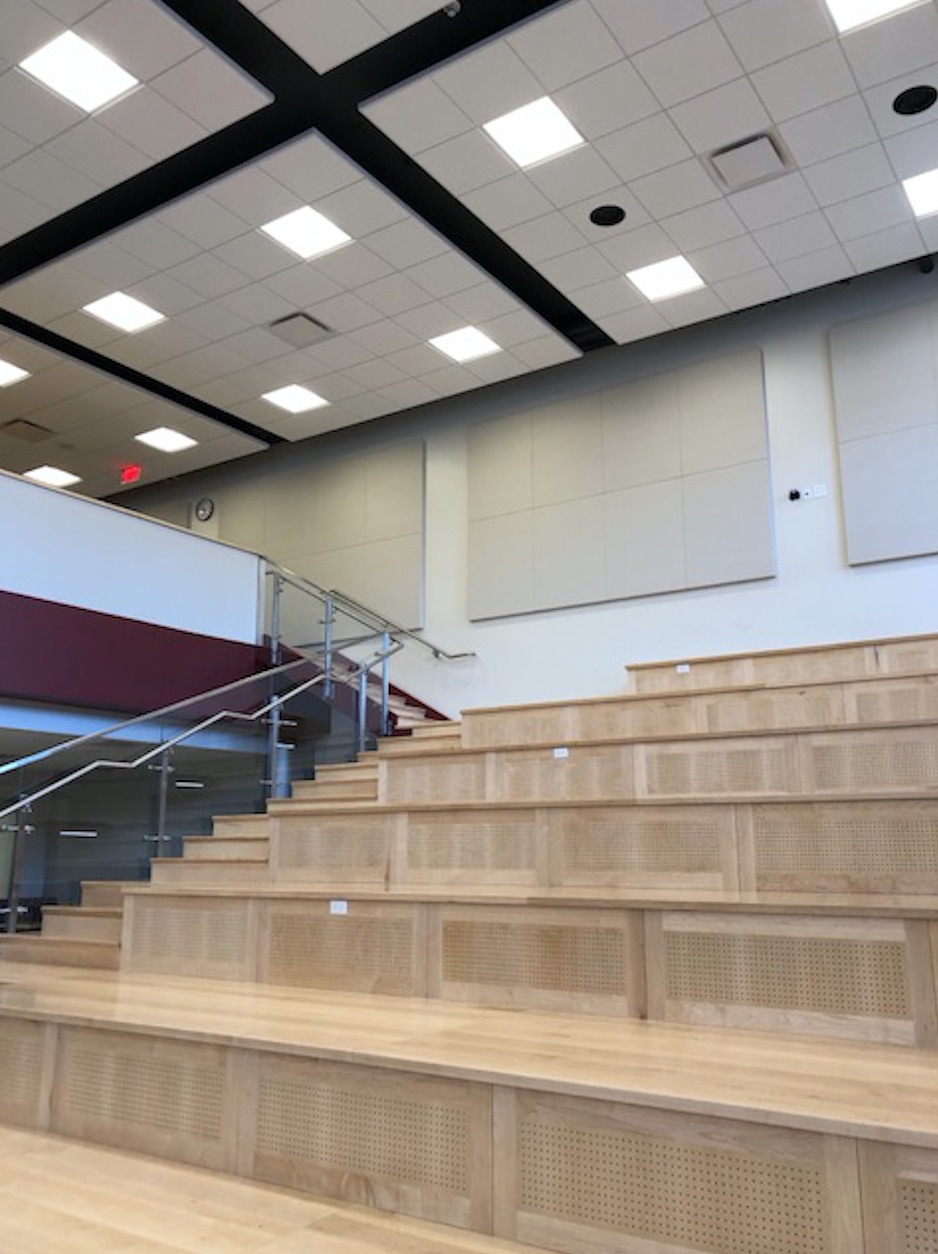 SHS PTA President Beth Zadek spoke next and provided some student comments about the space: "It's amazing; "It feels like I'm hanging out on a college campus;" and, "It's so nice to be able to eat and study and hang out with your friends." In congratulating the district for a job well done, Zadek stated, "When the enthusiasm that students feel is channeled through the parents, and the level of excitement isn't lost by the time it reaches all of us, then you know that the high school's done a good job."
Steven Mounkhall, who teaches English at SHS, was involved in developing ideas on how the space would impact instruction. When addressing the group, he explained how, in just a short time, it has changed student and teacher work. "Since this space has opened, the library is becoming a library again... A Civ Ed group has planned a pizza trivia night for the space; a math teacher reports giving extra help here because his room was being used for a class; a history teacher reports bringing her AT international relations class here for a discussion; ...a physics teacher reports using the space to do some grading; ...a STEAM entrepreneurship class used this space when the students presented their final projects." After discussing the long hours of effort and commitment needed to create the commons, He concluded by saying, "Last week, a student of mine said, 'I feel lucky that I was here when this happened,' and all the work seemed more than worthwhile."
Ezra Levine, student government president, and Amanda Glik, government vice president, represented the student body, and thanked the district administration and staff for their efforts to improve school facilities for students. "We feel so lucky to be part of a school and community that continues to make changes to make this school better for its students... (The new space) is a true testament to your hard work and dedication to the school and the kids who attend SHS."
Scarsdale Board of Education President Bill Natbony closed the festivities by thanking all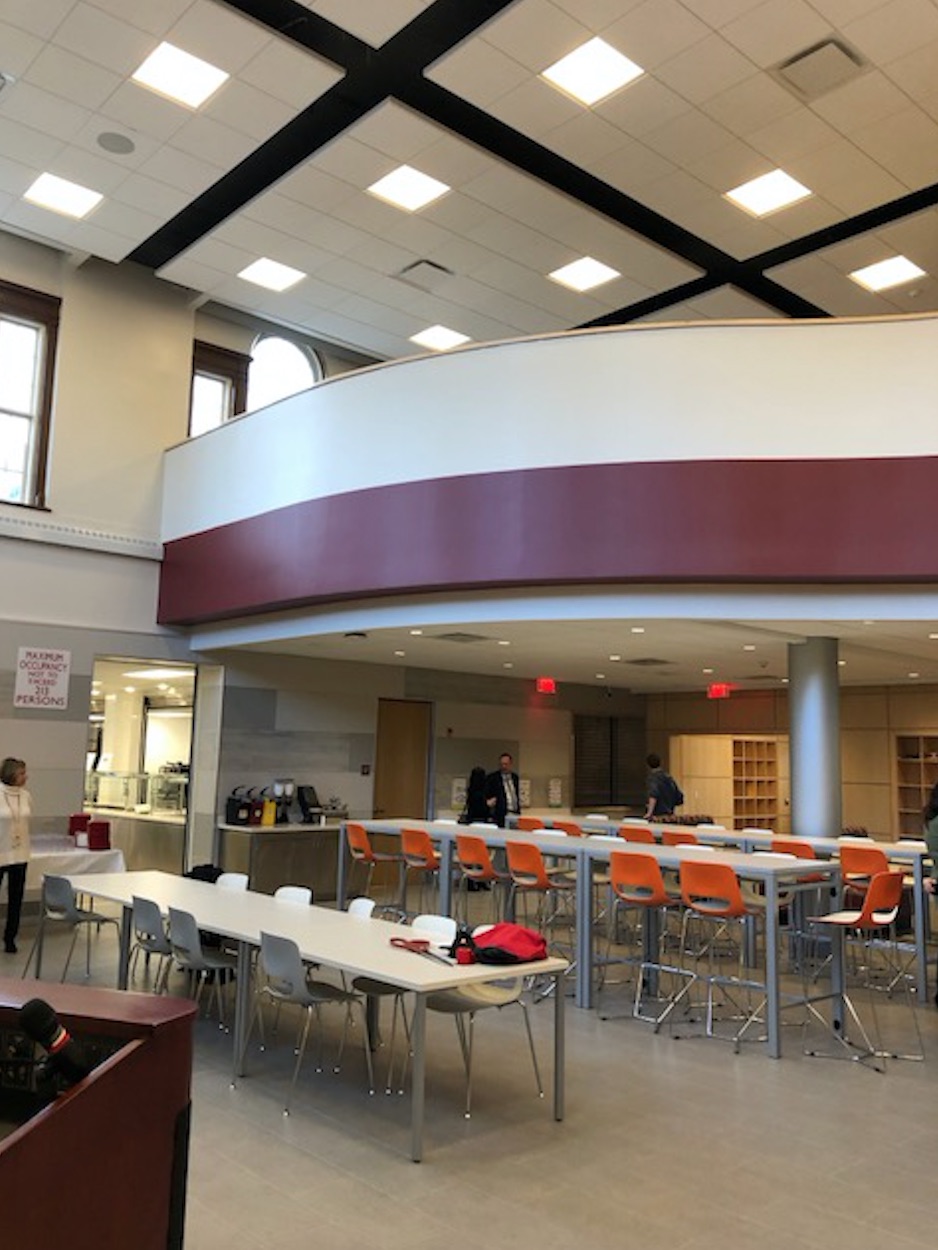 involved in bringing the project to fruition as well as those who are embracing the new space now. In addition, he stated, "(This is) a great new space that was made possible by the hard work of many people and the financial support of our community... Investing in our schools is an important tradition in Scarsdale. And, this kind of special place, admired by all who have been using it, is a shining example of the benefits one receives from such investment."
Laura Halligan, a new contributor to scarsdale10583.com, is a local writer, editor and marketing consultant. She is principal of Pinch Hit Prose and provides communications services to entrepreneurs, small businesses and nonprofits.