The Woman's March on Washington, Our Experiences, Impressions and Lessons Learned: Told from Beginning to Beginning
Details

Category: Neighborhood News
Published on

25 January 2017

Written by

Joanne Wallenstein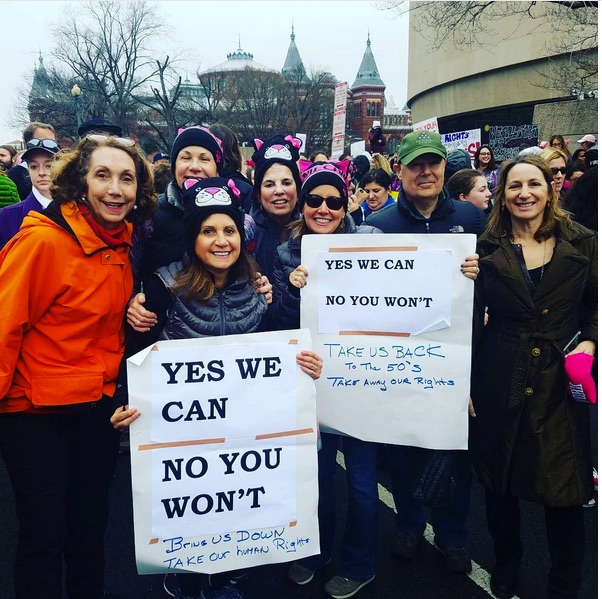 A group of Scarsdale women (and alumni!) joined the grassroots Women's March on Washington last Saturday to show our solidarity and resistance to Donald Trump's polarizing policies and behavior. According to organizers, attendees reached record numbers across the globe with over half million in DC alone. Eight of us wove together our individual and collective experiences using the Continuing Story Form to create a virtual tapestry of this exhilarating experience.
As we boarded Amtrak and were joined by hundreds of women with pink pussy hats the excitement began. PUSSY... We bristled, but it was quickly the new normal! Strangers became friends and our conversation bounced from topic to topic, covering tips on marching; locations of the port a potties and what to do if we could not find one -- including the passing around of Depends (who would of thought!), advice on how to handle pepper spray, writing our contact information on our arms with a Sharpie (it ran like a tattoo gone terribly wrong); designating meeting spots if we got separated; what Melania would wear; and what our protest signs would say. It wasn't all fluff, we also talked about healthcare and what it means to be a feminist in 2017. What a way to start, first I thought Dayenu (this would be enough), but I soon realized that the ride was only the first step in this unbelievable experience. (AS)
As we approached the Mall, we were unsure of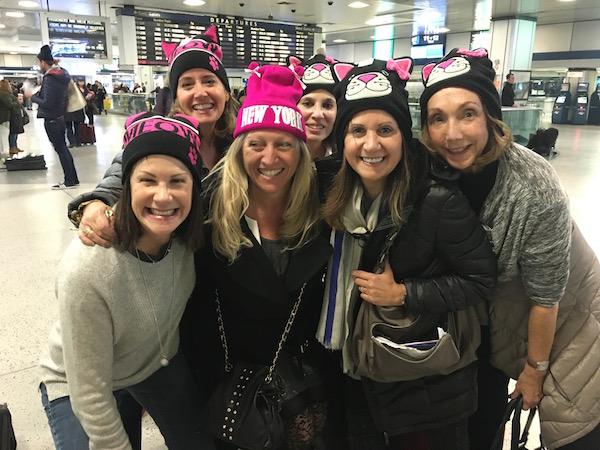 what awaited us. Would we be able to get near the speakers? Would there be violence? Would we be safe? And top of mind—where do we go to the bathroom? But upon arrival our fears were allayed (except for the bathroom part). There were men (never even thought to invite our husbands), women of all ages with their daughters, mothers , fathers, grandmothers, children; even babies. It felt right standing there among like-minded people, focused on a common good, doing their part to make the world a better, more equal place. (SD)
It was a sea of pink. Surrounded by strangers, yet feeling as if we were old friends. We listened to speaker after speaker, holding on to each word, realizing that this is and should be only the beginning of a movement. We all realized that we must be change agents. My only regret was that my children were not with me. (DL)
We were struck by the number and diversity of the speakers ----from veteran feminists like Gloria Steinem and Angela Davis (blasts from my past), to the Circle of Mothers, activists like Michael Moore and Van Jones, celebrities like Janelle Monae, America Ferera, Scarlett Johansson, Ashley Judd and Madonna, politicians -Kristin Gillibrand, Kamala Harris, Tammy Duckworth, and Maxine Waters and many, many lesser known (at least to me) women speaking of their differences (whether Muslim, African American, LGBTQ, disabled, undocumented), their struggles and their hopes and dreams for a fairer world. After three hours of standing and listening, my family (children SHS graduates, sister and niece) and I grew restless, wanting to be literally on the march. However, we agreed that the speakers embodied our cause- just, honorable, diverse, colorful, witty, creative and compassionate. The Resistance Is Strong!! (MF)
Fellow marchers were in their creative groove.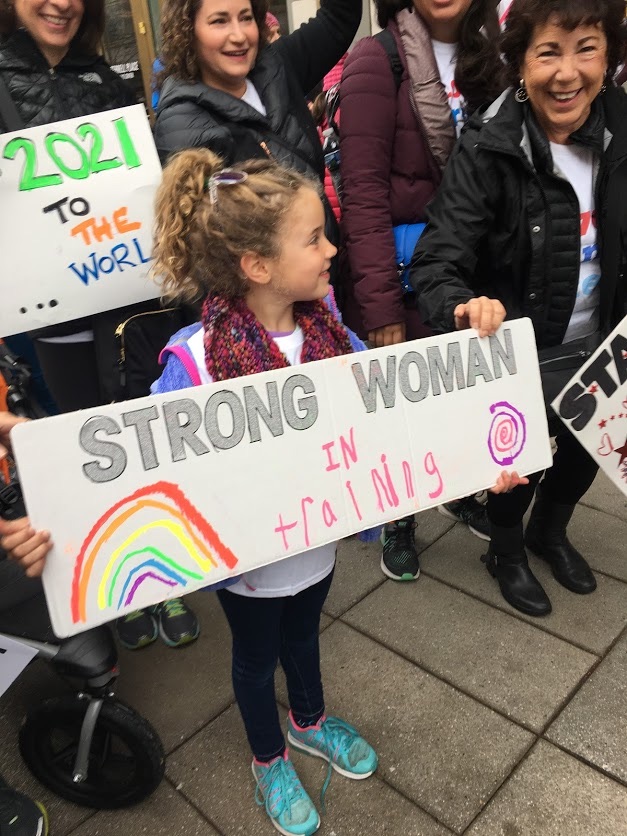 Posters with sayings like "OMG GOP WTF?," "You Can't Comb Over Bigotry," "Free Melania," and "Pussy Grabs Back," are just of a few of the ones that caught my attention and made me pause. During the march, our Scarsdale group began singing protest songs from the 60's including Blowing in the Wind, We Shall Overcome, Imagine, and Give Peace a Chance. But, Woody Guthrie's This Land is Your Land, became our theme. Fellow marchers, who came from other parts of the country and from diverse backgrounds, enthusiastically joined in. We represented the fabric of America: Muslim, Black, White and Asian; men, women and children. It was magical and we felt that we had the power to move things forward. (SE)
When the march was over, I was amazed at how long we'd been in the cold without realizing it . There was a sense of togetherness and love toward my fellow sisters. It was the best and most significant rally that I ever actually witnessed "LIVE". It felt like a journey on the way to meet the Wizard of Oz -- stopping to make conversations among perfect strangers, making new friends, while walking in forward motion -- feeling a sense of togetherness, joy, sisterhood and human empathy. We have our work cut out...but at least we know, we're not alone...and we've already started to make a difference. (DM)
What an extraordinary, powerful, exhilarating day! And, it is abundantly clear that this has to symbolize the beginning of a movement. Our activism didn't end Saturday night. Standing on the Mall that day, we were urged to continue to respond and push back with our words, our actions, and when needed, our wallets. We are the new Tea Party, in a manner of speaking, and I believe that our entire Scarsdale contingent that traveled together are going to play a role. (PN)
I came to DC feeling hopeless and left with a glimmer. He works for us it's true, and WE are the people . As we began to march (or meander because of the enormous throng), we promised each other and those around us that this is just the start of the conversation (though everyone should watch Ashley Judd on YouTube for inspiration). We were reminded that women have the power of the purse and that all of the issues are economic issues. Everywhere we went that day and the next, people were suggesting action plans... call a Congressperson each morning, get involved with Indivisible, a grass roots organization that is modeled on the Tea Party, volunteer, focus on making small inroads. And remember that climate change, equal pay, health care, parental leave (to name a few) are not female issues. We need to bring our sons and husbands and partners and fathers into this conversation. (AD)
Many want us to believe that this march is too little, too late – and that we are powerless. But this is far from reality. The march got us on the road... now the work for change begins! Dayenu!
Anna Decker
Shelley Diamond Effman
Suzi Eisman
Martha Flanders
Debbie Eisenberg Lever
Priscilla Natkins
Danielle Menache
Andrea Seiden
La Riserva in Larchmont: Old World Elegance with a Modern Touch
Details

Category: Neighborhood News
Published on

16 January 2017

Written by

Judie Dweck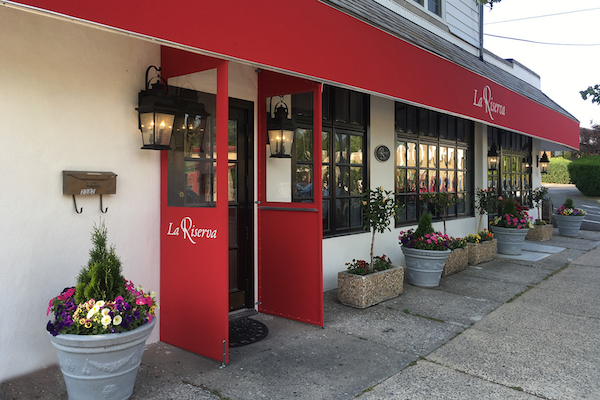 La Riserva opened its doors in 1977 and is still going strong. Recently, a major renovation has added sparkle to this delightful Larchmont landmark. A bright red awning graces the entrance. This cheerful red color adds a lovely glow to the dining room ceilings, as well. New dark wood floors, and modern lighting brighten the atmosphere. Brick archways connect the dining rooms and multi paned windows add charm. The walls are embellished with many interesting photographs of the Vivolo family roots in Accadia, near Puglia in Italy. Framed in gold leaf, they lend a sense of authenticity. Yes, the renovation is complete from the dining rooms, the bar area and even the bathrooms. The Vivolo family has the skill of keeping the traditional and adding fresh new touches to both the space and the menu. The dining rooms seat about 120 guests with an upstairs dining room accommodating about 60.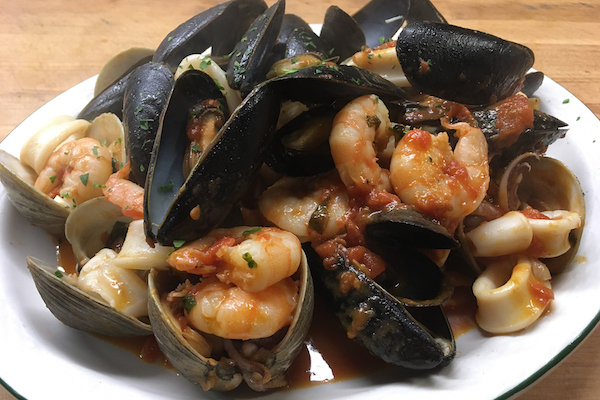 Owners Michael and Margaret Vivolo enlisted the help of the next generation, their son Dean Vivolo and his wife Odelya who worked on the renovation of La Riserva. Dean Vivolo is chef owner of Trattoria Vivolo in Harrison. The result is a busy, festive friendly dining spot that prides itself on using the freshest of ingredients to prepare the regional northern Italian dishes with their signature light sauces. Michael Vivolo was inspired by his mother who cooked for her seven children. It was here that he discovered his love of the culinary arts. He worked in many noted restaurants in Geneva and arrived in New York in 1971. Just a few years later he achieved his dream of opening La Riserva. Vivolo said, " A restauranteur needs to love what he does, be kind and good and feed his guests well" As I dined at La Riserva, I couldn't help but note that everyone who arrived received a personal welcome from their host. Clearly they have many return customers. With their son Dean helping to keep an eye on everything, this family business continues to please and thrive.

A basket of warm bread and breadsticks as well as crusty bruschetta topped with nicely seasoned chopped tomatoes whet our appetites. We chose our selections from the menu of dishes that have been successful through the years as well as several new additions. Imported burrata with long stemmed artichokes, oven dried tomatoes, mixed marinated olives and fresh basil was a tasty beginning. The creamy center of the burrata was a fine foil for the various textures of the vegetables surrounding it. The hearty portion warned me to limit my consumption and leave room for the courses to follow. Next came another newcomer to the menu. Capesante arrived on a rectangle platter. The jumbo, fresh-from-the-sea-scallops boasted a veal demi glace and lemon white wine sauce. Fresh parsley and grilled lemon slices embellished these tender treasures from the sea. Of course, still on the menu are favorites of clams oreganata, spiedino alla romana and calamari fritti. Several classic soups and salads are offered such as minestrone, pasta fagioli, tricolore salad as well as the modern and very popular kale salad with cranberries, walnuts, green apples, grapefruit and gorgonzola cheese.

No Italian meal would be complete without a pasta course. At La Riserva both whole wheat and gluten free varieties are available. Through the years of dining at La Riserva, I especially loved the gnocchi di dolomiti. This is house made gnocchi with sausage and radicchio in a brandy cream sauce, as well as their lasagna, happily are still on the menu. This visit, I enjoyed homemade straw and hay, paglia e fieno cacao e pepe. The thin delicate ribbons of house made pasta, both green and white, were dressed with cracked coarse black peppercorns and parmigiano and pecorino cheeses. This very rich dish truly awakened my taste buds. It was excellent in its simplicity. Future pastas may include penne con gamberoni with jumbo shrimp, grape tomatoes and zucchini or roasted pepper and ricotta ravioli with pesto sauce.

Entrees of meat, chicken and fish are varied.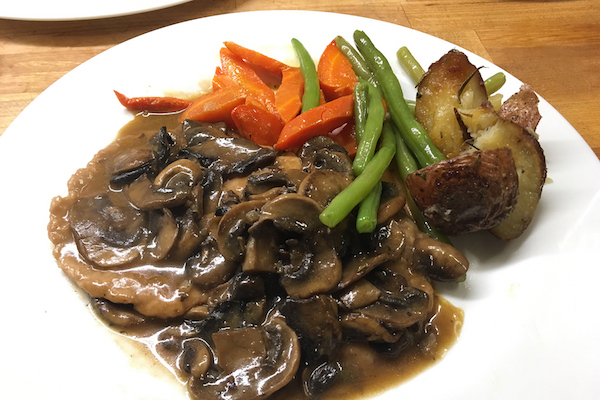 Once again the traditional and the new appear among your selections. Vitello Verbena with fontina cheese and asparagus, Pollo Caprino, grilled chicken with zucchini, tomato and goat cheese and Cornish hen broiled with rosemary, garlic and lemon juice are some of the modern options among the classics of veal parmigiana, veal Milanese and chicken piccata. Very popular these days is branzino. We savored this wild sea bass with lemon, herbs, capers, and extra virgin olive oil. This presentation suited the expression, "You eat with your eyes first." The vibrant colors of the accompanying potato croquette, asparagus and carrots were indeed, eye candy and quite delicious. If you like your fish served whole, try the orata. This sea bream is roasted and stuffed with lemon, garlic and fresh herbs the flavors of which permeate the fish. Classic zuppa di pesce, wild sole francese and salmon romana with artichokes and olives as well as shrimp and scallops with charred tomatoes round out the fish selections.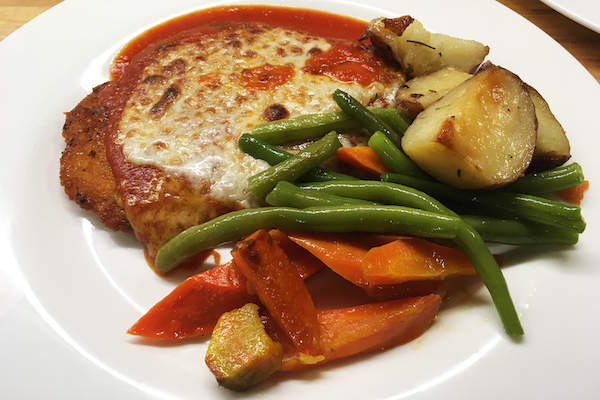 To accompany your meal there is a nice selection of regional Italian and domestic wines. Classic desserts of linzer tarts, tiramisu, carrot cake and tartufo can complete your meal. We enjoyed light homemade cheesecake with fresh berries and freshly whipped cream.

Lunch and weekend brunch are a pleasant way to enjoy a meal at La Riserva, as well.

A meal at La Riserva is an experience in dining that encompasses warmth, a welcome feeling and the divine taste of both classic and modern Italian dishes.

La Riserva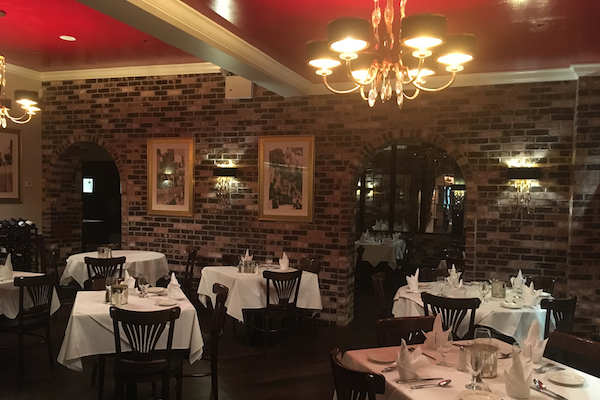 2382 Boston Post Road
Larchmont, NY
(914) 834 5584

Recipe:

Insalata Arugula con Fennel (serves 2)

Ingredients:

1 bunch arugula
1 bulb fennel
8 dried figs
2 oranges, in segments
Salt and freshly ground pepper, to taste
¼ cup extra virgin olive oil
2 Tbsps. aged balsamic vinegar

Directions:

Wash and dry the arugula and place in a bowl. Thinly slice the fennel, either with a knife or on a mandolin. Add the slices to the bowl. Cut each of the figs into quarters and add them to the bowl. Add the orange segments. Season the mixture with the salt and freshly ground pepper. Toss all ingredients lightly with the olive oil and balsamic vinegar. Divide between two salad plates and serve.
Contributor Judie Dweck has been writing about restaurants and food for many publications. She teaches creative cooking to children at Scarsdale elementary schools. Through the years, her articles have appeared in Jack and Jill Magazine, Spotlight, The Pleasure of Cooking and The Scarsdale Inquirer. She balances her restaurant tastings with daily ballet classes.
Appeal to Demolish 12 Dolma Road Tests Scarsdale's Preservation Law
Details

Category: Neighborhood News
Published on

21 December 2016

Written by

Joanne Wallenstein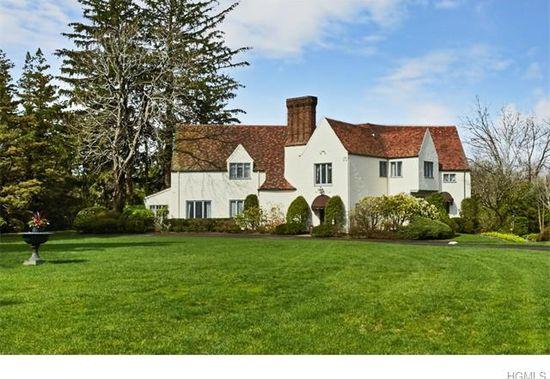 A test case of Scarsdale's Historical Preservation laws regarding an English Cottage style home at 12 Dolma Road has been going on for months at Village Hall. The Committee For Historic Preservation (CHP) denied the owner's application to demolish it in November and they then filed an appeal which was heard by the Scarsdale Village Board of Trustees on December 13, 2016.
At the opening of the meeting, when local architect Bana Choura was present to offer testimony on behalf of the homeowner's application to demolish the house, Trustee Carl Finger recused himself, saying that Choura had recently done work on his own house and therefore his participation at the meeting could be a conflict of interest.
The CHP came to their decision to deny the application on the grounds that the home was associated with events that have made a significant contribution to broad patterns of Village, regional, state or national history and that the building is the work of a master and embodies the distinctive characteristics of a type, period or method of construction that possess high artistic values.
Homeowner Dr. Ed Crane, who wishes to demolish the house, retained Joshua Grauer of Cuddy and Feder who argued vehemently against the CHP's reason's for denying the application and questioned the definitions of the wording in the historic preservation law, claiming that since a "master" could not be defined, it should be thrown out as a criteria for preservation.
Grauer quoted emails between the Chair of the CHP and Architectural Historian Andrew Dolkhart that discussed what the term a "master" might be. He said the meaning of the term "master" is not evident. Furthermore he said no significant event had occurred at the house and also argued that renovations had substantially obliterated its historic design. He said there was nothing artistic about the design or the stucco façade.
He called the CHP decision "arbitrary and capricious," and said the home did not meet the criteria for high artistic value or rise above other homes of this period. He called the decision a "taking" of private property rights. Local architect Bana Choura, a former member of the Committee for Historic Preservation, also presented her opinion that the house was not the work of a master and did not display "high artistic value." She said there were no designated historic districts in Scarsdale and that the house made no more of a contribution to history than any other home in Scarsdale. She also said that the home was badly cited on the rear of the property – though that is not a factor in a preservation decision.
Terry Rice, an attorney retained by the Village to represent the position of the CHP said that Grauer's comments denigrated the work of the committee who he said "Operated in good faith to interpret a difficult law." He said that just because "master" was not defined in the code, it did not mean it should be thrown out as a criteria. He cited several other definitions of master as well. He also argued that even if there waalone should not be a res precedent to permit a demolition, precedents could be overturned and were not a reason to approve the application.
Professor Andrew Dolkhart from Columbia University was invited to speak on behalf of the committee's decision. He wrote Scarsdale's Cultural Resources Survey in 2012 which identified potential homes for landmark status and areas to be designated as historic districts. The report found that 12 Dolma Road was inside a potential study area for historic preservation and was therefore was not called out individually in that report. In fact, the home is pictured in the report twice, in the section recommending that Dolma Road receive further study.
About Dolma Road, the report says, "Dolma Road, running from Murray Hill Road to Birchall Road, is a short street lined with exclusive houses on large lots, most erected between 1926 and 1929 (one dates from 1935), primarily for wealthy businessmen and their families. Dolma Road was largely a project of Walter J. Collet, the Scarsdale builder who w as responsible for the construction of many substantial houses in the village. Collet claimed that he chose the name Dolma in reference to a mountain range in Bengal, India, but just why he made this choice remains a mystery. Along Dolma Road, Collet appears to have been not only the builder, but also the developer. Collet worked closely with the architect Eugene J. Lang who designed nine of the fifteen houses in the study area. Collet remained the builder of the houses designed by other architects. The Dolma Road houses are large buildings in the American, English, French, and Spanish styles so popular throughout Scarsdale in the 1920s. "
It concludes, "Considering the size and scale of the houses along Dolma Road, it is remarkable that they survive with such integrity. A few entrances have been altered and additions have been sensitively made, but the street retains the ambiance of a prime suburban locale of the early twentieth century."
At the meeting, Dolkhart said that home is associated with events that have been associated with broad patterns of Village history, calling it an excellent example of the development of Scarsdale as an upper middle class community in the 1920-1930's. The house was part of that pattern and it was commissioned by Lewis Bowman, a key player in development at that time.
While Grauer and Choura argued that the home was not an excellent example of a Tudor home, Dolkhart pointed out that it was English Cottage style, not a Tudor, with an English Cottage stucco façade and a Tudor revival back. He cited large massing, leaded windows, simplicity of line, illusion of an aged or antique dwelling, the stucco and the pegged half timbers.
Dolkhart read several definitions of a master, including one from the National Register of Historic Preservation that defined a master as "one who had attained great skill." He said Lewis Bowman had a successful career as an architect and found 30 examples of Bowman's work in architectural journals of the day. He said he was "well respected" and called him a regional master.
Refuting Grauer's claim that the home had been bastardized over time, Dolkhart said that it "Maintains its integrity to a high degree," including the stucco façade, tile roof, and massing." He said that only a small addition with an enclosed porch was out of keeping with the home.
The Board of Trustees did not have enough time to deliberate on December 13 and will meet again in executive session on January 10 at 6:15 pm in executive session to consider the appeal.
The trustees had intended to address Scarsdale's preservation laws this year but were unable to do so due to the conflict about the revaluation. The outcome of this case will be significant for both the owners of 12 Dolma Road and the Village of Scarsdale, which is clearly struggling to preserve its history.
It's Time to Put Preservation and Land Use Back on the Agenda at Village Hall
Details

Category: Neighborhood News
Published on

10 January 2017

Written by

Joanne Wallenstein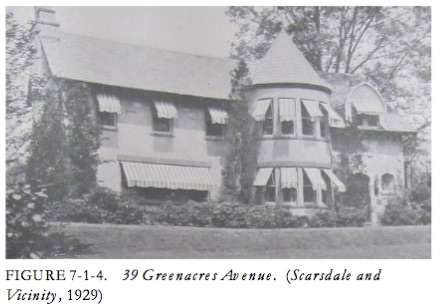 (This is the opinion of site founder Joanne Wallenstein) Though the current Board of Trustees only has a few weeks remaining before the next election, there's still time to renew discussions about historic preservation, land use and the building code to address an alarming number of teardowns in the past two years.
While the Village government was totally consumed with objections to the 2016 revaluation, all discussion of land use was sidelined. Before the controversy over the revaluation erupted, the Board was in the process of examining building code and historic preservation with the intent of addressing complaints from residents whose neighborhoods are being torn apart. However, discussions about the revaluation prevented the board from considering any new policies while more homes were demolished, subdivisions approved and oversized homes built, creating crowding and stress on our infrastructure.
Here are a few items that were being examined and can now be revisited:
In the Cultural Resources Survey produced by Li/Salzman architects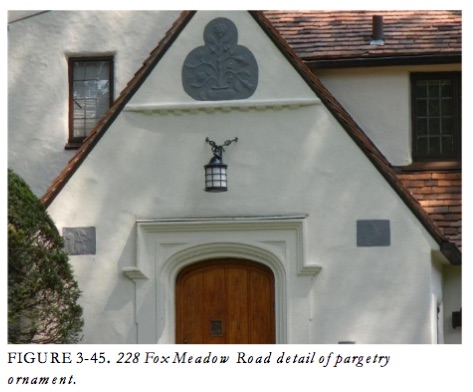 and architectural historian Andrew S. Dolkart in 2012, the architects produced a list of 68 individual homes and buildings that they believed were worthy of preservation, and defined 12 study areas or "groups of buildings that give a distinctive character to the Village." They said these study areas, "include groups of buildings of high quality and with architectural integrity relating to their original design, create cohesive neighborhood ensembles," that have the potential to be historic districts.
The Village Government never took further steps to preserve either the individual properties or districts, and should now renew discussion of this vital issue.
In 2015, the Board of Trustees passed a six-month moratorium on the use of gravel surfaces to meet lot coverage requirements as a means of limiting the size of homes and auxiliary structures on village properties. Because gravel could not be counted as a pervious surface, it limited the installation of impervious surfaces such as pools, tennis courts, patios and long driveways that count in the lot coverage calculation. However, it was very unpopular with a group of vocal builders, who persuaded the trustees to let it lapse. At the time, Trustee Carl Finger said, "There is little doubt that expansion and overbuilding of lots must be faced if we are to maintain the community aesthetic. The combination of teardowns and expansions infringe on the streetscape, land, open space, and light."
Lot coverage laws continue to be a means of limiting home size, and this is another topic that should be revisited by the Board of Trustees.
Also to be reviewed are the floor area bonuses to builders who include certain features in new homes. These bonuses can add an additional 1,500 square feet of space to a 3,500 square foot home, greatly increasing it's bulk. The bonuses were concessions to builders at the time the Floor Area Ratio code was passed, but they seem to have had some unintended consequences.
Here are the details from a 2015 article on Scarsdale10583 about exemptions to the floor area ratio (FAR) requirements that are outlined in section 310-103 of Village code.
"Local builders and architects have grown adept at using these exemptions to build homes that are far larger than the ones the trustees originally envisioned when they enacted this code in 2003 and 2008.
The exemptions allow some full basements, dormered attics, garages and the space above them all to be exempt from the maximum floor area rules.
For instance, many of the new homes have front facing garages with rooms above the garage. In this case both the garage and the room above it are exempt. If a typical two-car garage is 20 x 20 feet, the space above it could be 400 square feet, and that space is exempt from the FAR.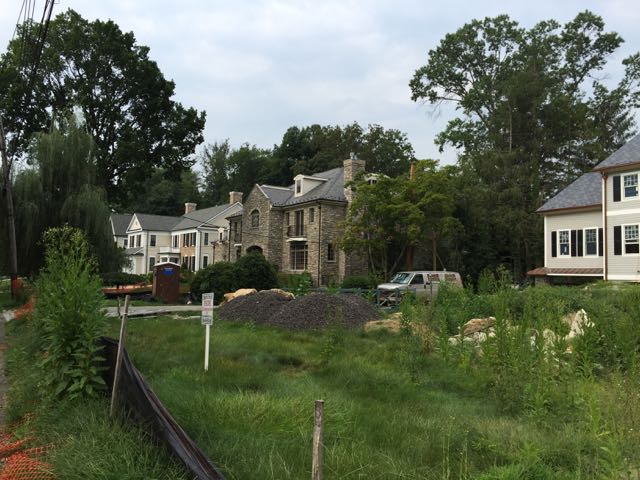 For basements, if the foundation wall of the basement is not more than 3 feet above grade on the front of the house, the entire basement does not count in the calculation. That means that if a house is on a sloped property, it may have a full finished basement with full-length windows on the side and back of the house.
The area under dormered roofs on the third floor of a house does not count either – if builders extend the dormers for less than 1/3 of the linear footage of the front, and set the dormers beyond 5-feet of the sidewalls on the back. This allows third floor spaces that add considerable square footage to a house."
In my view, it would relatively easy to strike these bonus provisions from the code, thereby scaling back permissible home sizes.
The trustees could also consider barring any more subdivisions. The Village continues to approve subdivisions of home lots to permit two and sometimes three homes to be built in place of one. This causes additional curb cuts, limits available street parking and puts stress on neighbors. With so little open space already, perhaps it's time to limit subdivisions?
Lately builders have been constructing houses on steeply sloped properties by excavating rock and building tall retention walls to create flat backyards. The excavation of rock ledges causes a change in the topography of the neighborhood and can lead to issues with slides and water runoff to neighbors.
Current Village Code Chapter 277-2 permits rock removal, saying, "A permit for excavation under this chapter shall be granted by the Village Engineer only if the Planning Board determines that the proposed excavation will not impair the usefulness of the property involved or any surrounding properties for the purposes for which zoned, will not interfere with or overload any existing or planned drainage facilities of the village, will not endanger any road, street or highway within the limits of the village and will not produce or enlarge areas from which water will not drain." Currently the code does not limit the amount of rock that can be removed or the length of time that rock removal can occur. Rock removal can be loud and disruptive and perhaps the trustees should consider limiting how much rock can be removed and how long the contractor has to remove it.
Trustees could consider revising laws about rock removal and excavation as well as further limit the height of retention walls that obstruct views and sometimes cause neighbors to end up looking at stonewalls out their windows. Current code limits retaining walls to five feet in front of a house and four feet in a side yard but permits walls of up to seven feet in rear yards if it's more than 50 feet from the street.
In addition to these code changes, the Village should also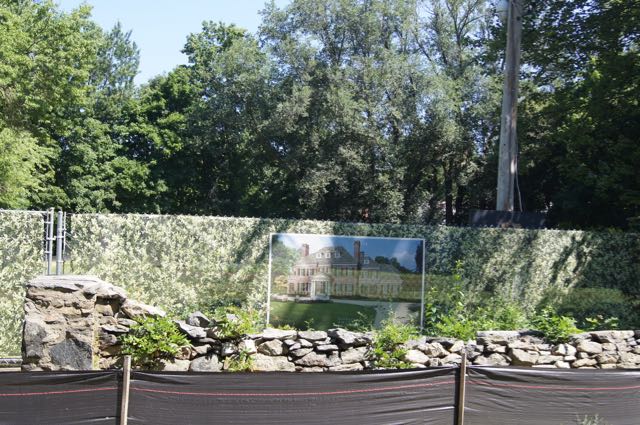 consider using the fees that have already collected from the subdivisions to buy back open space. There are many privately-owned tracts of land where homes have been demolished to reduce property taxes while the builder awaits a new buyer. Why not buy back some of these lots and create pocket parks?
In my view, by passing preservation laws, limiting the size of new homes, ending subdivisions, re-examining Village building code and buying vacant lots the Village can do a lot to preserve historic homes, maintain open space, discourage overbuilding and safeguard the character of the Village for generations to come.
Letter to the Editor: Board Process Lacks Transparency
Details

Category: Neighborhood News
Published on

14 December 2016

Written by

Joanne Wallenstein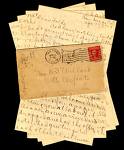 As a longtime resident of Greenacres and what is fondly referred to as an "empty nester", I have remained interested in the fate of our elementary school. With the understanding that the School Board based upon a careful investigation, would move forward with the passage of a bond in May of 2017 to finance the construction of a new school at Greenacres, I attended the Monday night meeting of the Scarsdale School Board.
I was troubled at the meeting by the lack of process transparency, predetermined thinking, and double talk. My eyes were opened once again this year to a clear need for greater community oversite/involvement and accountability.
Here are my 4 key takeaways:
1. There was no clear articulation of why the existing architect who was vetted by the Board and had extensive school design experience was terminated. Furthermore, what would be the fate of the engineering company that was brought on board?
2. The Board informed us after much discussion that there was to be a new RFP process. Despite the fact that the RFP has not been issued yet, it appears that the Board has short listed and communicated with certain firms. Which firms has the Board talked to? How were these firms identified? And, most critically, what it the program or scope of work with respect to the Greenacres Elementary School that the new firms will submit design proposals against. Will it be a renovation? New school? Both?
3. It appears that there was a predetermined agenda and meeting outcome. When the cumulative impact of the Greenacres deficiencies were presented (e.g., classrooms too small, poor air quality, mechanical systems well beyond their useful life, waste of energy, a shortage of usable public/collaborative learning space) the response was to underscore examples of isolated issues in other schools. However, it is undisputed that none of these schools have the total impact of the problems that face Greenacres.
4. From the discussion, it appears that the Board wants to limit renovation in the Greenacres School to avoid having to bring the entire school up to current code and safety standard compliance. Net, the fixes could simply be a band aid and Greenacres students will ultimately be subjected to buildings with outdated safely codes and live through a potentially hazardous renovation process.
Despite what seems to be two years of investigation and, now a restart, one of the Board members stated that she liked direction of this process. I do not share her enthusiasm. There should be greater transparency on these issues and the direction that the Board intends to take. It appears that the Board already had a preordained agenda, as opposed to being straight with community members.
I am tired of officials not doing what they say, and not saying what they do -- without clear evidence for acting to the contrary. It is critical that we do what is in the best interest of our community's young students and begin to work in an open and honest manner.
Andrea Seiden
72 Greenacres Avenue
Scarsdale, NY 10583