Food Scraps to Free Compost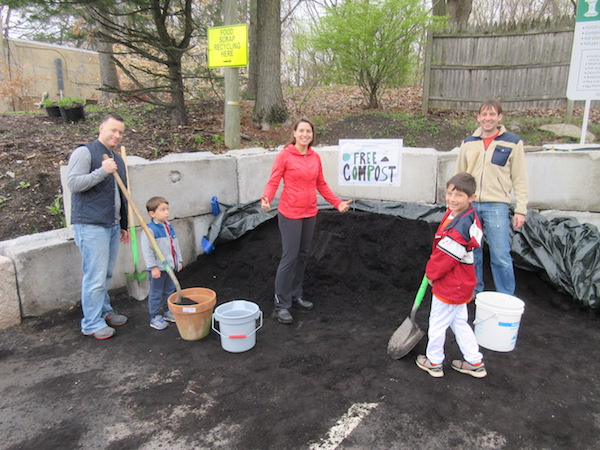 In a successful Earth Day display of a lo-tech solution (compost) to a high class problem (food waste), five cubic yards (about two tons) of compost made from food scraps were made available to residents today – for free at the Scarsdale Recycling Center at 110 Secor Road. As residents helped themselves to the compost – some called it "black gold" – residents Ron Schulhof and Michelle Sterling who spearheaded getting a pilot recycling program started, noted that 90 days ago, the compost was food scraps.

The compost give-away was a tangible, beneficial return from the food scraps recycling pilot program that began in January 2017. Under the voluntary program, participating residents collect food scraps at home in small plastic buckets. The collected food scraps are then taken by the residents to the Secor Road Recycling Center to be dumped into large bins designated for the purpose. A contractor picks up the food scraps from the Recycling Center and carts them to a composter out of town. The compost given away today was the product of that process. Reception of the program has been strong with hundreds of residents now participating and depositing more than a ton of food scraps at the Recycling Center per week. The response to Saturday's free compost was also enthusiastic. The Recycling Center opened at 8:00 am with a line of cars waiting to pick up compost. By 10:00 am more than half the compost had been picked up to be spread by residents on home gardens and lawns.

Residents not yet participating in the food scraps recycling program and who wish to do so, can purchase a home collection kit for $20 (cost) at the recycling center. More information about the food scraps recycling program can be found here.
This article was contributed by former Scarsdale Mayor Jon Mark. During his tenure, Scarsdale enacted Westchester County's first food scrap recycling program.