Reclaiming South Fox Meadow Brook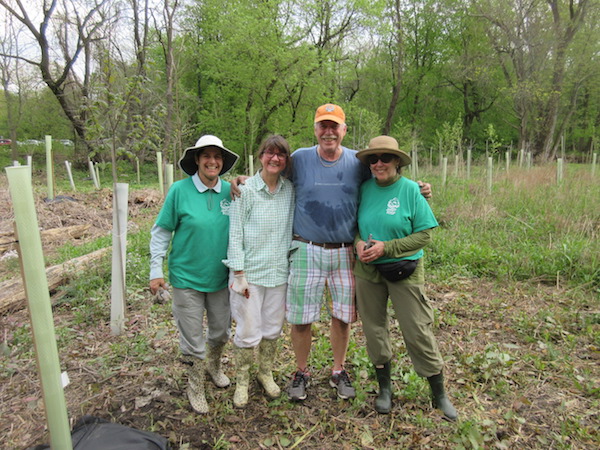 April 29, 2017 – Harwood Park wetland, Scarsdale – It's a project that brings out residents across generations. On a warm spring day Scarsdale families, Village officials and staff came to the Harwood Park wetland adjacent to Brewster Road near the High School to take part in the third annual community planting day. Over the course of the day, more than 100 volunteers planted over 300 young native trees and shrubs donated to the Village by the New York Department of Environmental Conservation (NYDEC) as part of its "Trees for Tribs" program. The contributed inventory of native plants included White Oak, Beach Plum, Cranberry shrubs, Silver Maple and Sandbar Willow.

The "trib" that is the focal point of this planting effort is South Fox Meadow Brook which is a tributary of the Bronx River. The brook runs through the Harwood Park wetland. Prior to initiating the reclamation program three years ago, the Harwood wetlands area had been used as a site for piling snow cleared from Village roads during the winter and was otherwise generally notable for the benign neglect with which grass, shrubs and trees on the site grew, decayed and fell. Harwood Park is neglected no longer. Three years ago, using the South Fox Meadow Brook as a focal point, an initial effort was made to reclaim the banks of the brook and the surrounding wetland by planting hundreds of trees and shrubs donated by NYDEC.



The results of that first effort are clearly visible in the growth of the plantings from 2014. NYDEC has been enthusiastic about Scarsdale's planting effort and according to Madelaine Eppenstein of Friends of Scarsdale Parks, NYDEC contacted the FOSP this year to see if Scarsdale was interested in doing additional plantings. The answer was an equally enthusiastic "yes" and organizing today's event was undertaken by Brian Gray, Superintendent of the Scarsdale Department of Parks, Recreation and Conservation.

Mayor Dan Hochvert, long a FOSP supporter, and Trustees Finger, Pekarek, Ross, Samwick and Veron participated in the planting at various times during the day joining the more than 100 resident volunteers and Village staff who toiled in the balmy April air for the benefit of the Village.
Article and photos by former Scarsdale Mayor Jon Mark