Emily Sherwood, President of the Scarsdale Foundation Thanks the Community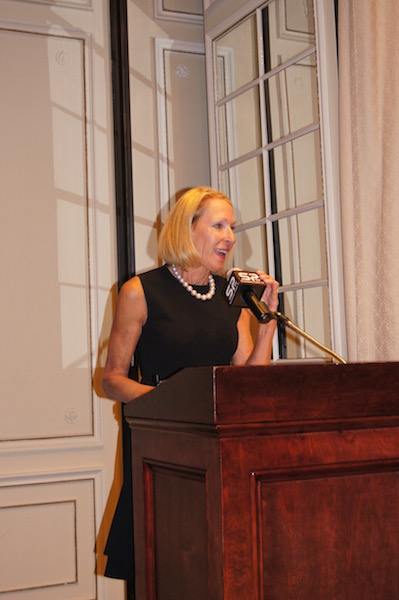 This letter was sent to Scarsdale10583 by Emily Sherwood, retiring President of the Scarsdale Foundation:
To the Editor: As I retire from the Scarsdale Foundation board after ten rewarding years of service, I wanted to express my gratitude to this amazing community for its abundance of support and compassion for those less fortunate. Thanks to the many generous donations that we have received this year, we have been able to send 11 needy Scarsdale elementary students to our local Rec Camp, while providing $124,000 in scholarship aid to college sophomores, juniors and seniors. The needs of our Scarsdale students who struggle financially to attend college are more pressing than many may realize, and our scholarship awards help to lessen the burden of excessive student loans and other forms of student and parental debt.
Special thanks go out to our corporate sponsors whose generosity during 2016-2017 is so gratefully acknowledged: Houlihan Lawrence; the Scarsdale Rotary Club; United Way of Westchester and Putnam; Christie-Spencer Corp., and Scarsdale Improvement Corp. In addition, we so appreciate our Salute Page sponsors - Advocate Brokerage Corp., Platinum Drive Realty; and Scarsdale Security Systems, Inc. – who help us to promote our annual Scarsdale Bowl Dinner, which this year honored Bob and Kathy Steves for their extraordinary voluntary public service in the community.
There is much work that the Scarsdale Foundation quietly undertakes that may not be widely recognized. We administer some 20 funds that have been established for myriad purposes: educational assistance; community service; SHS awards; as well as the Scarsdale School Personnel and Family Assistance Fund. We also provide grants upon request to community organizations in need. This year we provided a $50,000 grant to the Scarsdale Public Library for its renovation project, as well as smaller grants to the Teen Center and Scarsdale Woman's Club. And in May we presented the Foundation's scholarship award to 2017 recipient Zoe Ewing at the High School Awards Ceremony
I feel fortunate to have worked with so many outstanding civic leaders on the Foundation board for the betterment of our community, and I want to extend special thanks to the 2016-2017 board for their dedicated and thoughtful participation: Evelyn Stock, Vice-President; Susie Rush, Treasurer; Randy Guggenheimer, Assistant Treasurer; Jane Veron, Secretary; David Karp; Seth Ross; Tom Giordano; and B.K. Munguia. You are the A Team in my book!
Thank you all for making Scarsdale the kind of place of which we can be proud!
Emily Sherwood
President, Scarsdale Foundation 2016-2017
www.scarsdalefoundation.org