Who Deserves the Scarsdale Bowl?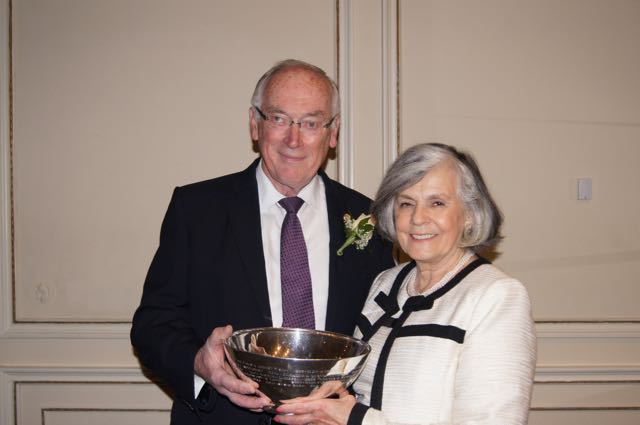 The 2018 Scarsdale Bowl Committee will begin its work in early December to select the 2018 recipient of the Scarsdale Bowl and is seeking recommendations from the community for a possible honoree. The Scarsdale Bowl, under the sponsorship of the Scarsdale Foundation, has been awarded annually since 1943 to an individual, or in rare instances a husband and wife, who has given "unselfishly of his/her time, energy and effort to the civic welfare of the community." The founding donors of the Bowl believed that "many who serve generously and voluntarily, without office, honor or publicity, are those deserving of having their names permanently inscribed on the Scarsdale Bowl."
Terri Simon is serving as chair of this year's Scarsdale Bowl Committee. The members of the committee serve staggered two-year terms. The newly appointed Class of 2019 includes Karen Brew, Leanne Freda, Jack Scott Miller, Deb Morel, Dan Moretti, Jill Serling and John Spiro. The continuing Class of 2018 includes Norman Alterman, Diane Baylor, Kate Conlan, Lee Fischman, Mona Longman and Margaret Smith. Seth Ross, Scarsdale Foundation trustee, will serve on the committee as the liaison, and Robert Jeremiah is serving as secretary/treasurer. Randy Guggenheimer, president of the Scarsdale Foundation, is an ex officio, non-voting member.
The Scarsdale Bowl will be awarded at a dinner on Wednesday, April 25, 2018, at The Fountainhead in New Rochelle. The ceremony will pay tribute to the 2018 honoree and to the spirit of volunteerism, central to the civic life of the Scarsdale community.
The Bowl Committee welcomes community input. It will hold its first meeting December 3, 2017, and requests that residents contact any member of the committee with suggestions of potential recipients. Recommendations are requested by November 10, 2017, although suggestions will be accepted at any time before the December 3 meeting. Suggestions should be emailed to the Committee chair at terrisimon103@gmail.com. Questions may directed to Terri Simon at 914-723-5004.
Additional information about the Scarsdale Foundation and the Scarsdale Bowl can be found at www.scarsdalefoundation.org.