Local Artists Decorate War Boots to Benefit Soldiers Abroad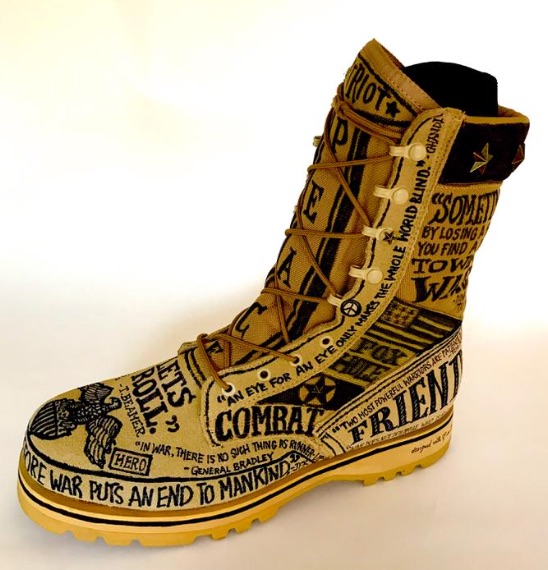 Two local former creative directors have collaborated to create decorated war boots to benefit soldiers in service abroad. These boots will be auctioned off to support iPads for soldiers, a group that brings overseas soldiers closer to their families and loved ones, by collecting donations to purchase iPads for them.
Nanette Koryn and Larry Dalton created their first pair of boots in 2014 when they each designed a boot for the Footsteps to Freedom exhibit that was shown at Art Basel in Miami. At the time, artists from all over the country were commissioned to design one of these real combat-worn boots, and the proceeds went to iPads for soldiers. The showcase was called, "Footsteps to Freedom. ... You take steps everyday and the next time you do, consider walking a mile in the boots of soldiers."

The boots were auctioned for thousands of dollars and the funds were used to purchase the iPads. Koryn's first work, decorated with daisies, is shown on the organization's website.
This year, the two purchased a new boot and collaborated on a labor of love.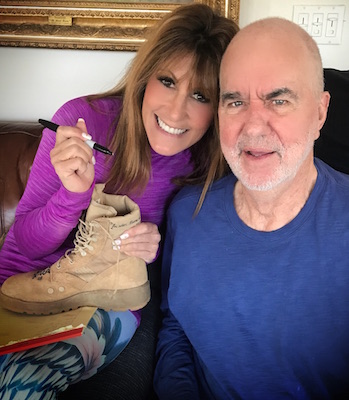 Larry is now battling ALS and the degenerative disease has caused him to lose the use of his very artistic hands. But his mind remains as sharp as a tack. So the two had a lot of fun researching the quotes and laying out the design together. Nanette held the the sharpie, but they both held it together in creative heart and spirit.
They created a simple typographic design with various "war quotes", some historic and others well-known, from the current vernacular, covering all the nooks and crannies of the boot.
The quotes range from peace-promoting ones, "An eye for an eye only makes the whole world blind" (Ghandi) and the iconic anti-Vietnam message created by Mothers for Peace in the early seventies, "War is not Healthy For Children And Other Living Things".... to more hawkish ones like, "Locked and Loaded," as well as "Let's roll" (Todd Beamer on United Airlines flight 93)..... and one from the Donald himself.
Learn more about this important effort here:
Here is a quote from a soldier who donated his boots to the artists in 2014:
In these boots I have bled. These are the boots that carried me through in times of great despair. I am SGT Andrew Burge and these are my boots. In these boots I have traveled farther than many men. I have been shot in combat wearing these boots, but these boots brought me back to my feet and allowed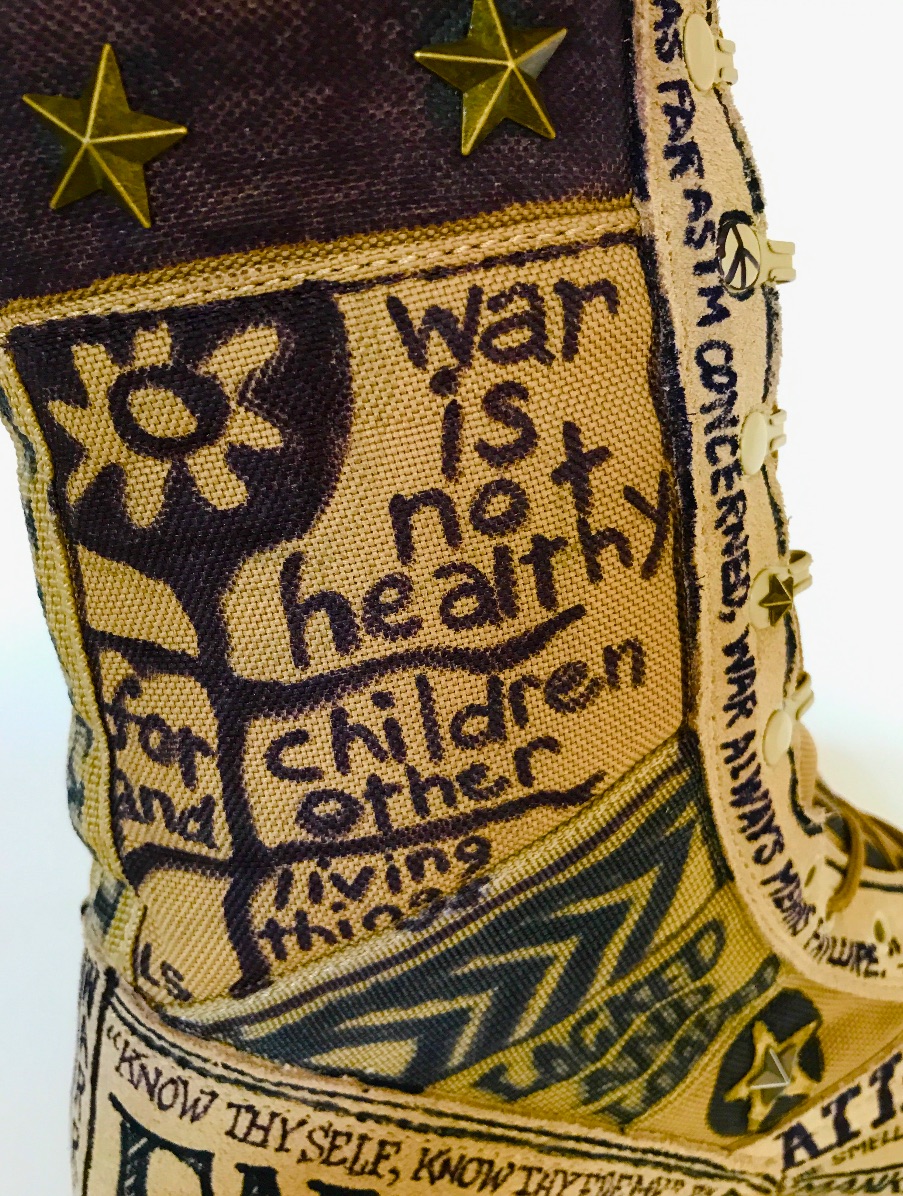 me to fight on. These boots have been there during some of the worst times in my life and have been there during some of the best times of my life. When I gaze upon these boots it takes me back to a time of unforgettable pain, suffering, and loss. The friends I will never see again, the explosions that I thought would remove my lifeless body from these boots, and the memories of looking down at these boots through tears and sorrow as names of soldiers are called out, but they are not present for duty because they have made the greatest sacrifice a soldier can make. I have prayed to these boots, "please keep me moving, don't let me stop, let me make it through just one more time, please don't fail me now." Oh the stories these boots could tell. But I love these boots. These boots are a constant reminder of not only the bad but the good as well. I see these boots and I see the faces of friends long gone and relive the memories of good times in the worst conditions. I feel the camaraderie that only brothers in arms can feel, the bond that never goes away. These boots are a reminder of the unselfishness of soldiers and measures we are prepared to go to in order to preserve the safety of one another and our loved ones back home. We are the other 1%, the less than 1% of the American population who is ready and willing to accept the call to arms and protect the nation from any who wish it harm. In these boots I bore witness.