Two Beloved Scarsdale Employees Receive Thomas Sobol Service Award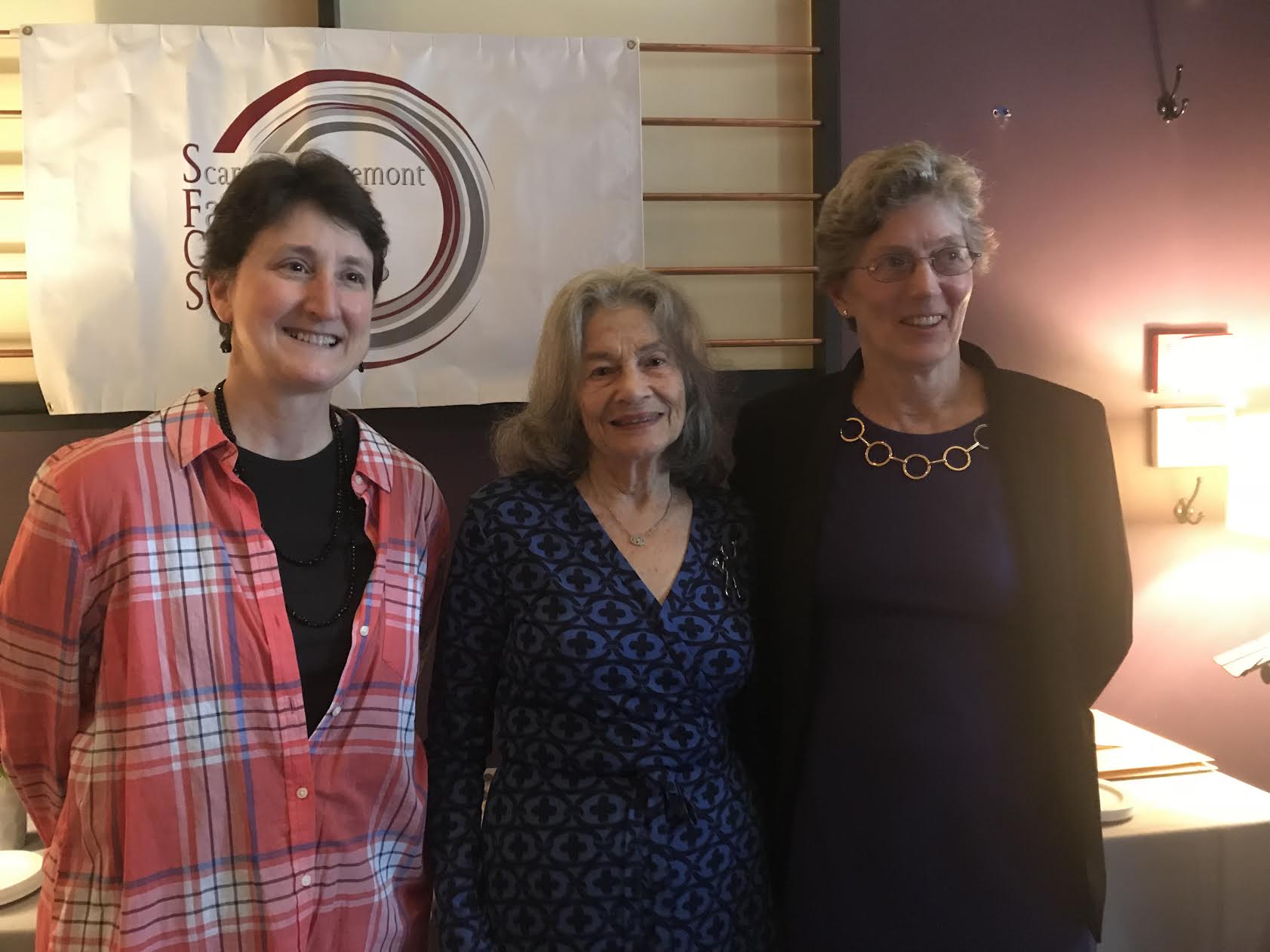 Two longtime Scarsdale employees, Mary Lou McClure, Scarsdale Village Chief Financial Officer and Custodian of Taxes, and Maggie Favretti, a Scarsdale High School social studies teacher, were on honored for their service on Tuesday with the Thomas Sobol Award. This is the second annual presentation of the award, which is sponsored by the Scarsdale Edgemont Family Counseling Service (SFCS) and honors the legacy of Dr. Thomas Sobol, an extraordinary educator and a visionary in his field.
Held at the Harwood Building in Scarsdale Village, the presentation opened with remarks from Susan Greenberg, SFCS board president, who talked about Dr. Sobol's impact on the Scarsdale school community and why the award is given in his name.
"We are honoring two special employees of the Scarsdale Village and Scarsdale School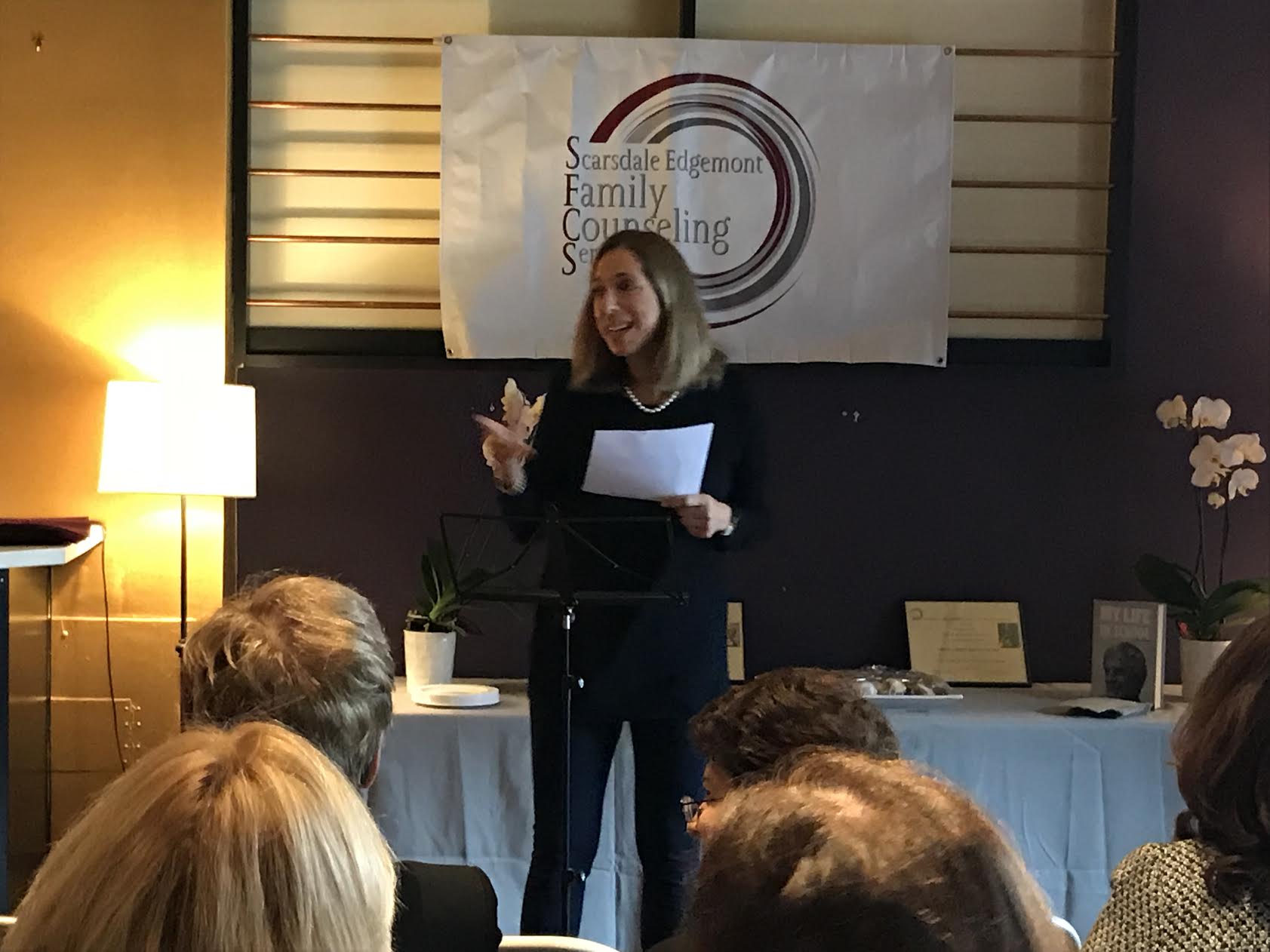 District because Tom believed in collaboration between the village and school district," she said.
Following Greenberg's remarks, Bill Miller, director at large for SFCS, expounded upon the educator's emphasis on collaboration and went on to introduce McClure and Favretti as "two people who personify the legacy of Thomas Sobol, who saw public service as his calling."
Stephen Pappalardo, Scarsdale Village Manager, presented the first award to McClure, who he described as someone with "intelligence, professionalism, work ethic and integrity" and the "ultimate team player." As a Scarsdale Village employee, McClure administers all matters relating to finance and supports the preparation of the annual Village operating and capital budgets.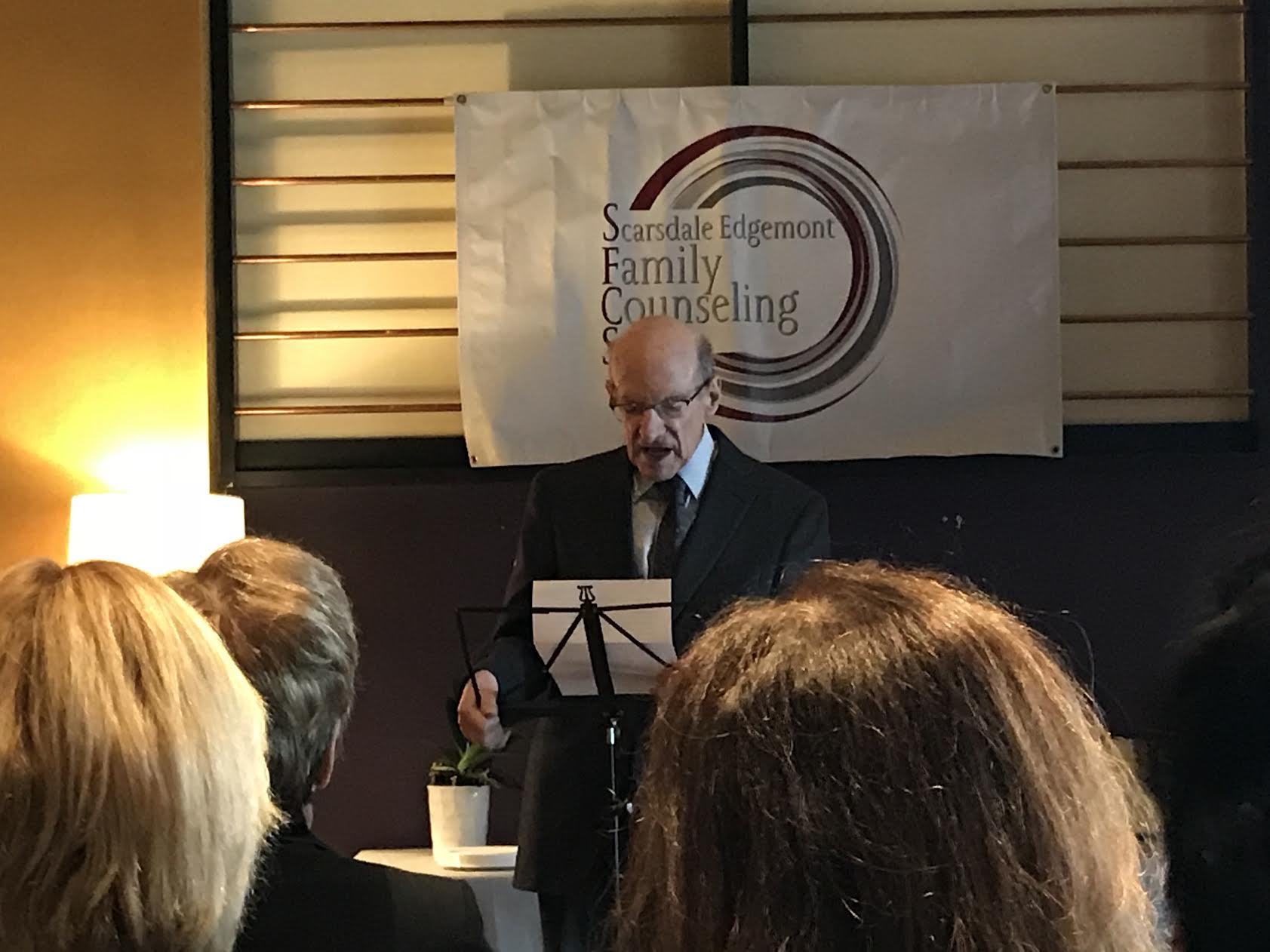 Her hard work has helped the Village Board adopt consistently responsible annual operating budgets and maintain Scarsdale's Aaa bond rating. Always looking to improve operational efficiencies, she helped to upgrade the Village's Financial and Enterprise Resource Planning system and implement online bill payment and online recreation registration.
"In considering a worthy candidate for this award, I thought of Dr. Sobol's modest brilliance and innovative top-down support for bottom-up education reform," he said. "Mary Lou's consistent and continued pursuit of more efficient and effective service enhancements to benefit the Village and greater Scarsdale community, and her modest, professional, collaborative, and unassuming manner is consistent with Dr. Sobol's approach."
Next, Dr. Thomas Hagerman, Scarsdale Superintendent of Schools, took the podium to honor Maggie Favretti. He commented on her intellect, her dedication, and her "genuine belief that as educators, we can improve the world around us." As a teacher, Favretti has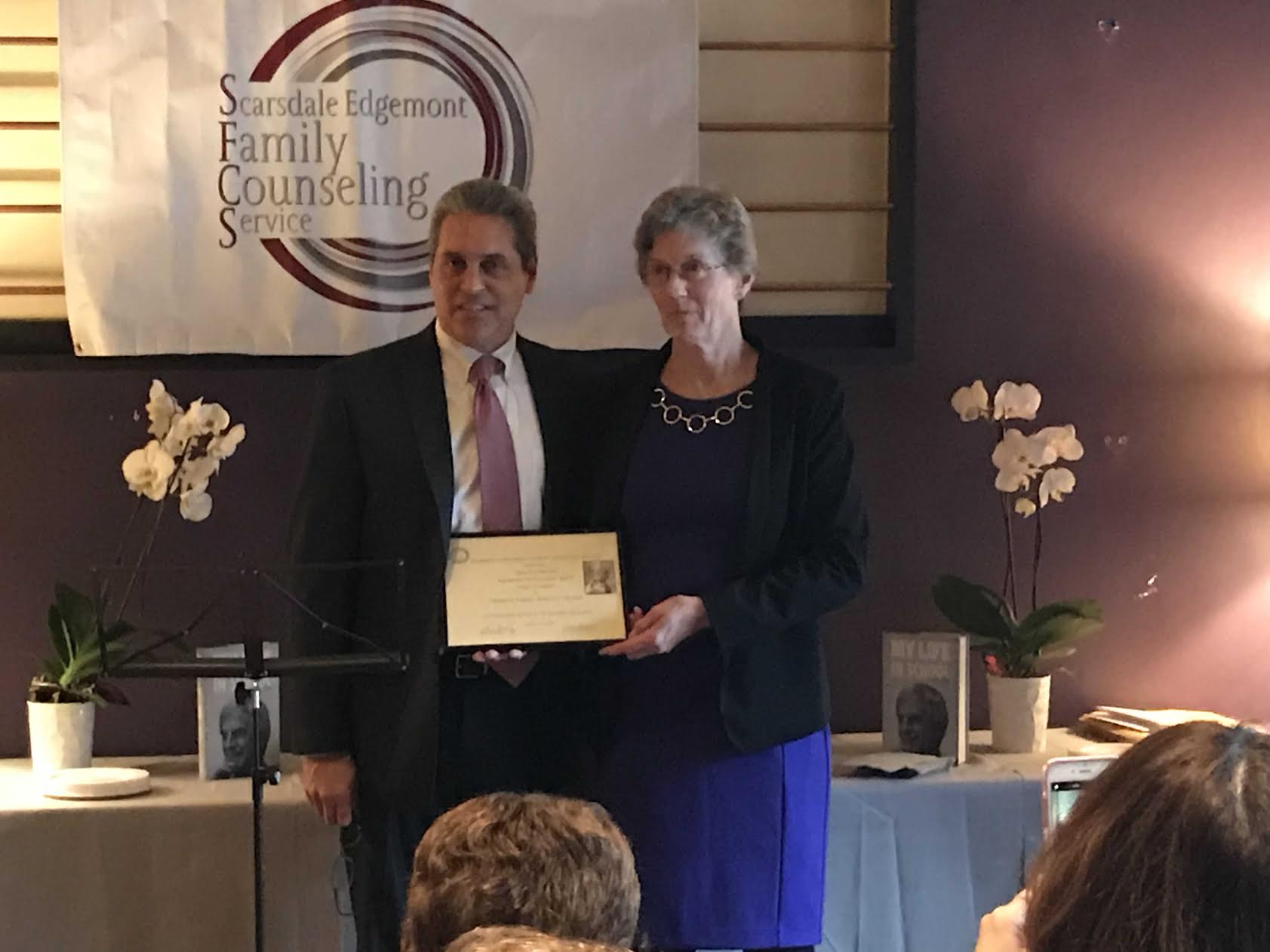 contributed much to Scarsdale High School and her students, most notably developing interdisciplinary teaching and world history programs and serving as an adviser to various school clubs.
"Maggie has done a wonderful job of connecting student learning to real world situations," Dr. Hagerman said. Outside of SHS, she has published short works about the commodification of the American landscape, women's poetry during the Enlightenment, food history, and local history, and served on committees for the World History Association, the College Board, and various historical associations.
"Maggie has connected with countless students, families, and community members," Dr. Hagerman said. "We are delighted that she is this year's recipient of the Sobol Award." He also announced that sadly, it would be Favretti's last year working in the Scarsdale School system and that he had no doubt she would bring the same passion and energy to her future endeavors.
After the award presentations, Harriet Sobol, the wife of Dr. Thomas Sobol, spoke fondly of her late husband's accomplishments and about his devotion to the Scarsdale community.
"It's a wonderful way to remember him," she said. "He would have been happy to see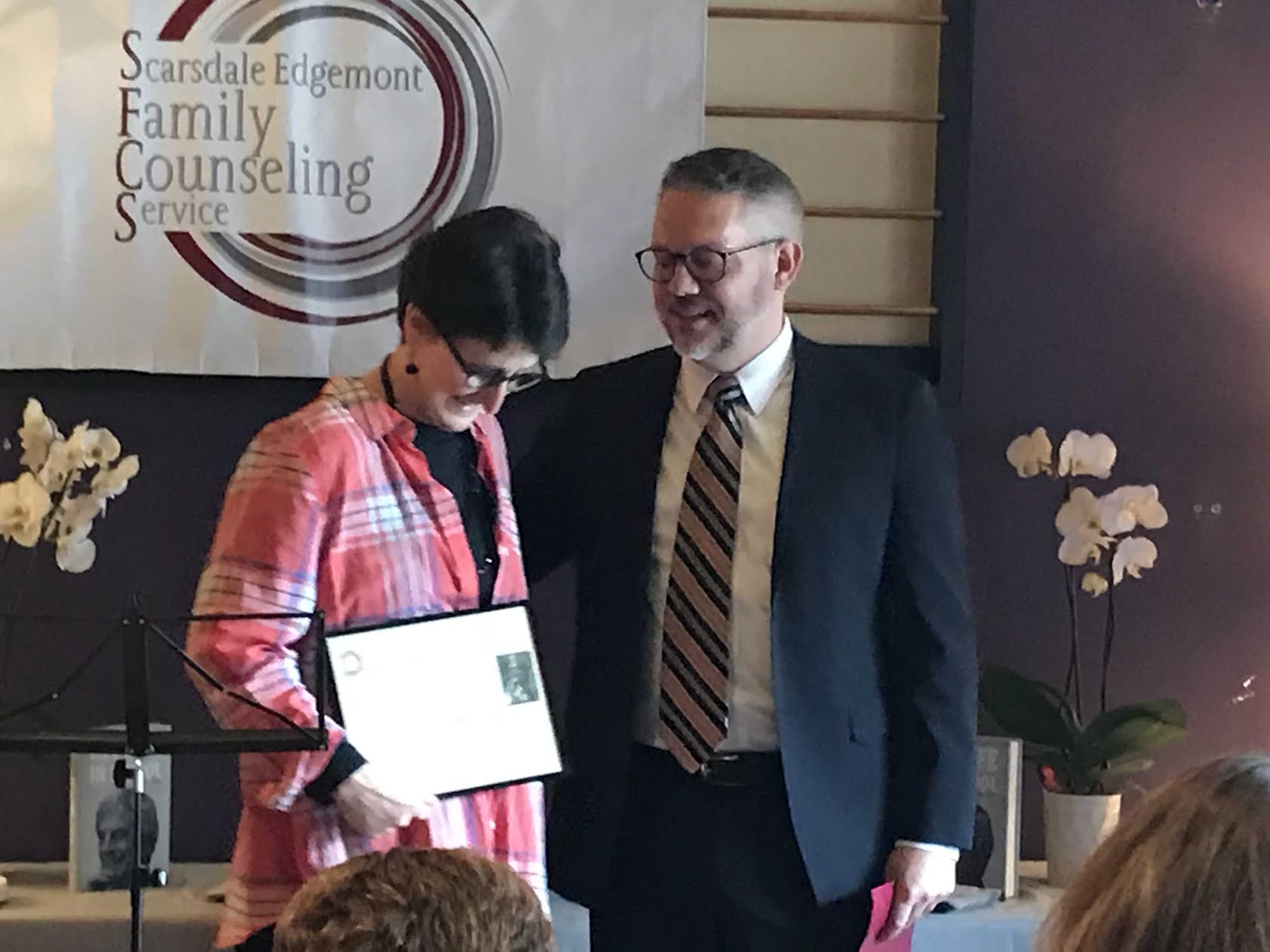 people being rewarded for going above and beyond their responsibilities."
Dr. Sobol was known for going above and beyond throughout his career, as Superintendent of Schools for Scarsdale from 1971-1978, the New York State Commissioner of Education from 1987-1995, and as a Professor of Education at Columbia Teachers' College until his retirement in 2006. During his time in Scarsdale, Dr. Sobol was influential in the development of the Scarsdale Community Youth Service Project, a unique collaboration between the Village and the Schools and administered by SFCS, contributing significantly to the well being of students in the middle and high schools. Later he served as a board member of the SFCS and was the recipient—with his wife Harriet—of the SFCS Open Door Award for service to the community. Dr. Sobol passed away on September 3, 2015, after a long and courageous battle with Parkinson's Disease.