17 Minute "Walk-Out" Planned at SHS to Honor 17 Lost in Parkland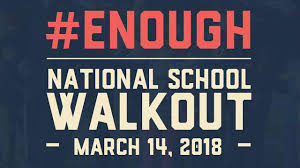 The tragic shooting at the Parkland High School has empowered thousands of students across the country to march against gun violence and remember the victims of the tragedy. Many Scarsdale High School students have expressed interest in marching to show solidarity in their support against gun violence. Currently, a student government-sponsored "walk-out" is scheduled to take place in the middle of the school day at 10:00 AM on March 14th. During this time, students can opt to leave their classrooms and walk-out for a total of 17 minutes to honor the 17 deaths in the Parkland shooting. Teachers who have classes during the walk-out will remain in their classrooms.

Sneha Day a senior at SHS who is an organizer of the march, says "The walkout will both show our solidarity with students and staff at Marjory Stoneman Douglas High School and protest Congress's lack of action in passing gun reform and/or mental health laws since the Sandy Hook shooting. Walking out demands change from Congress to keep us safe in the place we learn everyday"
Many students believe the march is critical to solving the nationwide epidemic of gun violence. Young Democrat member Jack Greenspan has praised the march, stating "The march will bring attention to the issue of gun violence, a problem that plagues schools and communities from all over the country. We need to find a solution, whether it be gun control, mental health reform, or anything in between. However, the first step to creating a solution is by opening up a discussion on the issue, and this is what we hope to do by marching".

While the majority of students have voiced support for the cause and the march, some SHS students have voiced concern due to its political nature. The national march has been marketed as a march for gun control, a belief held by many, but not all SHS students. The President of the Young Republicans club Luka Masic has voiced concerns about what marching might mean as a conservative. "The National Walkout is an explicitly anti-gun and partisan demonstration....a walkout that coincides with the national one and is sanctioned by the administration is one that is incredibly divisive. It forces students to pick a side and likely face judgement from their peers based on their decisions".

Principal Bonamo has acknowledged this issue, stating in an email to students and parents "We must be careful not to support any specific political messages as an institution", however conservatives are still wary of the underlying political tone.

Sarina Fard, a sophomore at SHS, supports the walk-out but cautioned that students ought to be open minded on the issue. "To make a difference in this upcoming walk-out for gun violence and to win people's hearts and minds, it is critical that we don't judge them and be hostile toward them".
At the minimum, the march does allow a platform for dialogue between the two sides on how to address the issue of gun violence. Hopefully, common ground can be found to find the best solution to end the needless violence.