BCRF's Hot Pink Luncheon Coming Up on November 30th
Details

Category: Good Work
Published on

31 October 2016

Written by

Joanne Wallenstein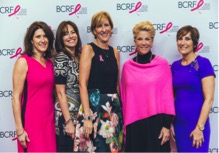 BRCF's Upcoming Westchester HOT PINK Luncheon #BeTheEnd:

The Westchester community will be hosting its 10th Annual Breast Cancer Research Foundation HOT PINK Luncheon on Wednesday, November 30th at Brae Burn Country Club in Purchase. The event was originally created by lifelong friends and Scarsdale residents Shelly Kivell and Kim Meyers. "Our vision was to bring an information rich program to our Westchester friends and family. It's an incredible opportunity to hear directly from experts in breast cancer research while also raising money to fund ground breaking science" recalls Meyers.
And raising money, they have. Since inception the event has netted nearly $1.5 million, enabling the group to establish a $250,000 Westchester Women's Grant that is awarded annually as part of BCRF's overall mission: to advance the world's most promising research.
This year the group is thrilled that breast cancer survivor and Good Morning America anchor Amy Robach will open its event. The program will also highlight experts Larry Norton, BCRF Scientific Director, Memorial Sloan Kettering Cancer Center and Stuart Aaronson, Icahn School of Medicine at Mount Sinai. Attendees can participate in a unique interactive Q&A about research trends in breast cancer diagnostics, treatment and prevention.
What began as a predominantly "Scarsdale-centric" event, the Westchester Hot Pink Luncheon has grown in size, scope and leadership. Co-chairs and committee members now represent women from throughout the county but there remains a strong contingent of Scarsdalians at the helm including Marla Mehlman, Linda Plattus, Lisa Bezos, Allison Fehrenbacker, Kim Meyers, Monica Fried, Ruth Suzman, Stephanie Tessler and Elizabeth Chabner Thompson. These women emphasize that Cancer Divides, We Unite. Help be the end to breast cancer.
Click here for reservations and/or donations to BCRF.
Scarsadale's Dani Lever Named Press Secretary for Governor Andrew Cuomo
Details

Category: Good Work
Published on

26 October 2016

Written by

Joanne Wallenstein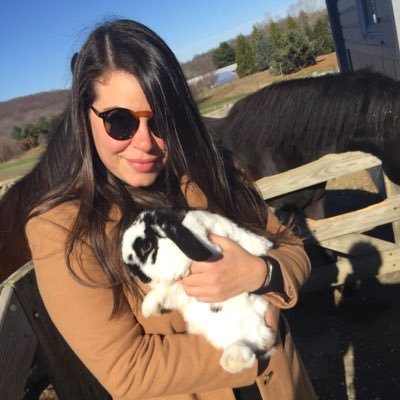 Scarsdale native Dani Lever has been promoted from spokesperson to press secretary for NYS Governor Andrew Cuomo. She is the first woman to serve in that role under Cuomo.
Lever, 29, is replacing John Kelly, who left the administration Friday for the private sector.
Lever started in Cuomo's office in 2014 after serving as press secretary for former city Comptroller Bill Thompson's failed mayoral campaign.
Lever, who grew up in Quaker Ridge, graduated from Solomon Schechter and the University of Wisconsin-Madison also worked for state Attorney General Eric Schneiderman, President Obama's 2012 campaign, and Clinton Foundation. She is the daughter of Joel and Debbie Lever of Bradford Road.
"Over the last three years, Dani has proven to be an invaluable member of our team and an effective messenger for the governor and his work to move New York forward," said Cuomo Chief of Staff Melissa DeRosa. "She's tough. She's smart. And — as any reporter in New York knows — she's tenacious. "
Her predecessor John Kelly left the administration after nearly two years for a position at software company CA Technologies.
Scarsdale Foundation Awards Scholarships and Calls for Community Support
Details

Category: Good Work
Published on

13 October 2016

Written by

Joanne Wallenstein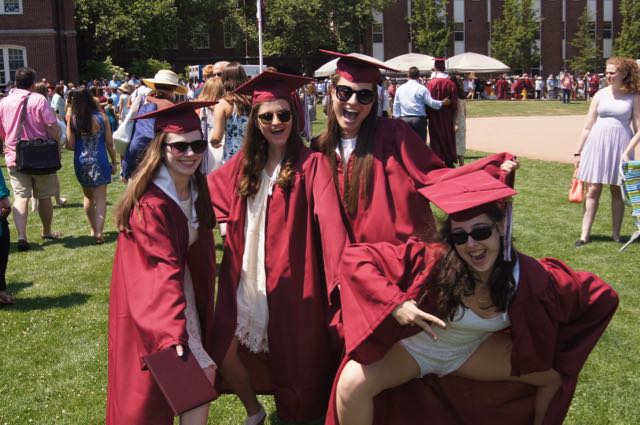 The Scarsdale Foundation is pleased to announce that it has awarded $118,000 in scholarship monies for the 2016-2017 academic year. These need-based financial stipends, awarded annually to college students who have graduated from Scarsdale High School or were Scarsdale residents during their high school years, are intended to offset some of the college expenses of students who are going into their sophomore, junior and senior years.
In the face of spiraling tuition costs (more than $60,000 a year at many private schools, and often $40,000 a year at state schools), the Foundation expects no letup in the number of applications for assistance. "Scarsdale families are not immune to devastating setbacks in life," said Scarsdale Foundation President Emily Sherwood, "Many of our scholarship families have experienced job loss, economic downturns, divorce, crippling health issues, and death. These families need our help to send their children to college."
The Scarsdale High School PTA Scholarship Fund for College provides scholarships for its graduates who are entering their freshman year of college. But these same students – and others – require help for their remaining years of college. The Scarsdale Foundation steps in to provide that support.
The Foundation applauds the generosity of the local business community as well as grantors who stepped forward to offer financial assistance to the Foundation's general fund: Houlihan Lawrence; Scarsdale Concours d'Elegance; Scarsdale Rotary Club; United Way of Westchester and Putnam; Christie-Spencer Corp, and Scarsdale Improvement Corp.
In addition, many individuals and families provided earmarked support for the Foundation's scholarship fund, allowing the Foundation to offer $118,000 in scholarships to Scarsdale students entering their sophomore, junior, and senior years of college.
President Emily Sherwood stated, "The Scarsdale Foundation - dedicated to the betterment of the community in its broadest sense - is grateful for the opportunity to assist our needy families in town, thanks to the generosity of our local businesses, grantors, and individual donors."
The Foundation is embarking on its 2016-2017 fundraising campaign for this critically important scholarship initiative. Foundation trustees encourage Scarsdale families to make a tax-deductible donation for student scholarships or even a bequest directly to the Foundation, a 501(c)(3) organization. Checks may be sent to the Scarsdale Foundation, PO Box 542, Scarsdale, NY 10583, or credit card donations may be made via PayPal on the Foundation's website, www.scarsdalefoundation.org. Please address all questions to President Sherwood at sherwood06@gmail.com.
"Please join the Scarsdale Foundation in sending the message that Scarsdale cares about the education of all of our children!" said President Sherwood.
Scarsdale PBA Holds Charity Event at Fenway Golf Club
Details

Category: Good Work
Published on

18 October 2016

Written by

Joanne Wallenstein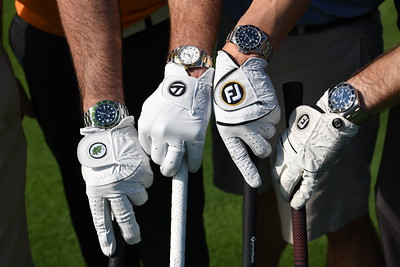 The Scarsdale PBA lucked out with beautiful weather for their Charity Golf Outing at Fenway Golf Club on Monday October 17th. 136 golfers participated in the event, which sold out in just three weeks. The dinner that was held following the outing was attended by 300 guests.
The PBA wishes to thank all the sponsors for their support, especially the following:
Twin Oaks Construction, (Dinner Sponsor)

Mercedes Benz of White Plains

Zachy's Wine and Liquor

Jay Canell

Bret Fischer

Scott Eichel

Robert Tucker

During the event, the PBA held a raffle for a $10,000 watch that was donated by Wilson and Sons Jewelers. Proceeds from the event will be donated to the Juvenile Diabetes Research Fund and St. Judes Children Cancer Hospital.
Thanks to Jon Thaler for the photographs. See more here: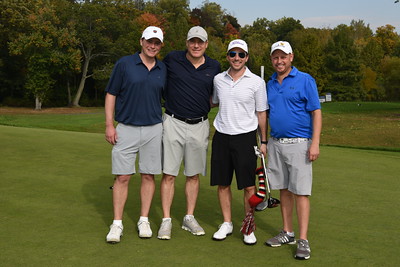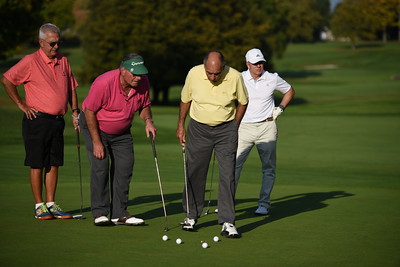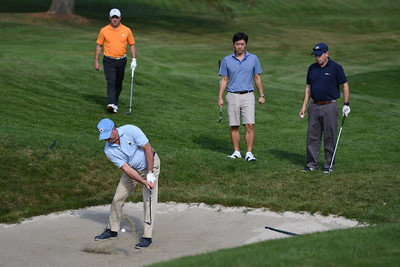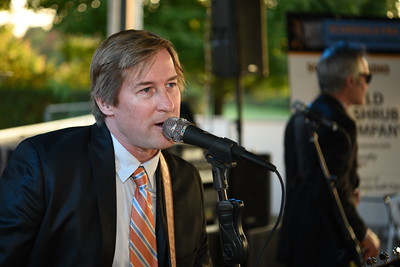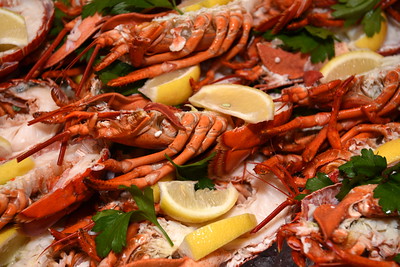 Team WeRun Raises Funds for Westchester Medical Center in Healing Half Marathon
Details

Category: Good Work
Published on

06 October 2016

Written by

Joanne Wallenstein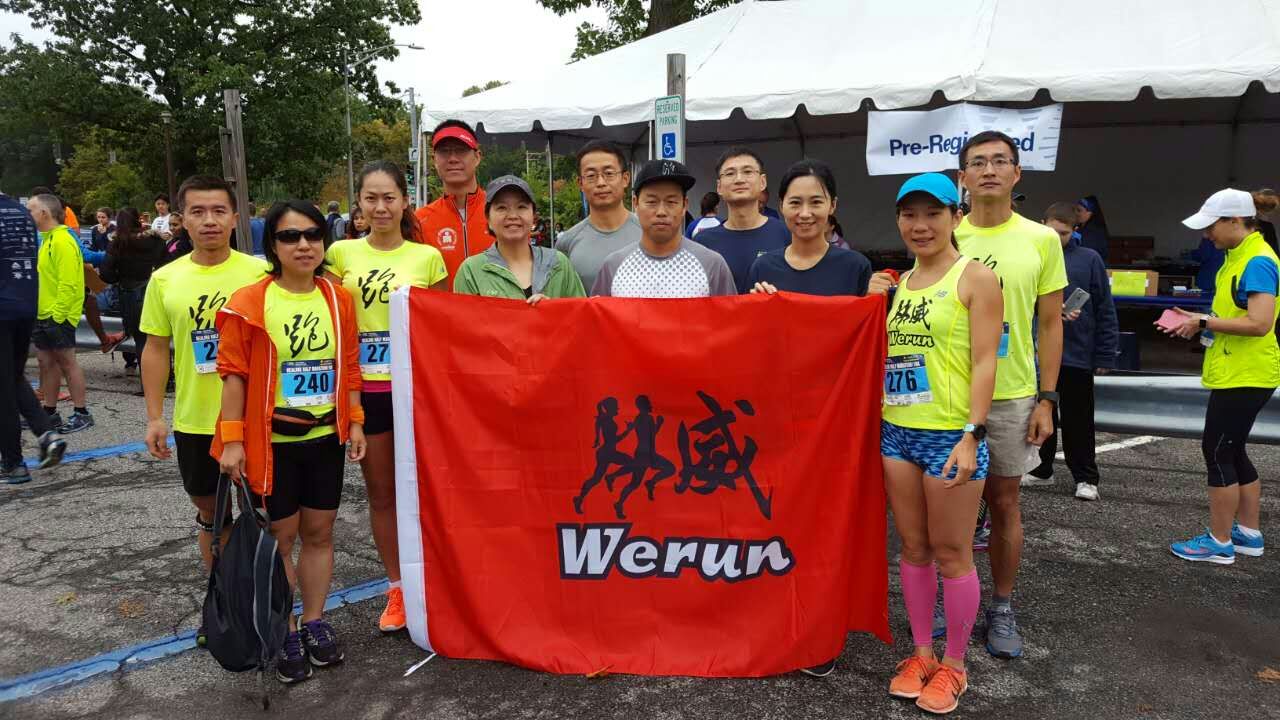 On Sunday October 2 the Westchester County held its 12th Healing Half Marathon and 10K race, to benefit the Westchester Medical Center. This race runs south along the scenic Bronx River Parkway, starting from the County Center in White Plains with turnaround point at Scarsdale for 10K runner and at Yonkers for half marathoners.

This year the top fundraising team was a young running club, called, WeRun, who raised 993 for Westchester Medical Center. Captained by Lisa Tan, WeRun was the largest team, with 17 runner including 14 half marathoners and 3 10K runners. Team members trained hard during the sultry summer and most finished their first ever half marathon run.

Scarsdale and Edgemont winners included:

Mr. Andy Zhang, Half Marathon, Overall Top 3; Age Group 40-49, Top 2;
Ms. Chen Zou, Half Marathon, Female Age Group 40-49, Top 3;
Ms. Hongwei Zhou, 10K, Female Overall Top 5; Female Age Group 40-49 Top 4

The club was initially formed for the annual Scarsdale 15K/4M Run in Scarsdale in early spring. They currently have about 50 active and nearly 140 general members. Members are from Scarsdale, Edgemont, Eastchester, White Plains, Mamaroneck, New Rochelle, Pelham and other towns in Westchester. Among them there are one triathlonist (ironman), one 100-mile cyclist and seven marathonists participated Chicago Marathon, New York City Marathon, Boston Marathon or other marathons.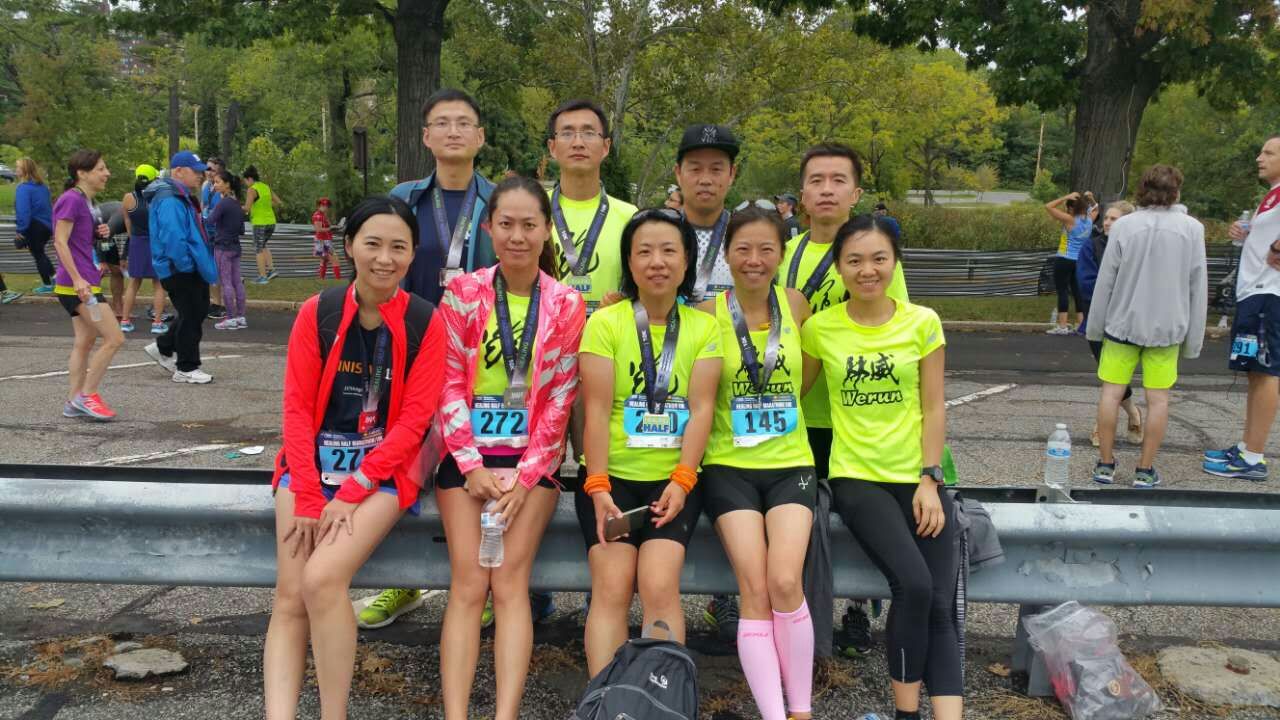 The club runs every Saturday morning practice along the Bronx River trail. They exchange training experience and race information, and welcome all seasoned and novice distance runners. For more information, email Lisa Tan.