Learn About the Non-Partisan System at the CNC Organizational Meeting
Details

Category: Good Work
Published on

29 November 2016

Written by

Joanne Wallenstein
The public is invited to learn more about Scarsdale's Non-Partisan System for selecting candidates to run for Village office on the Scarsdale Citizens' Non-Partisan Party slate at the annual organizational meeting of the Citizens Nominating Committee (CNC) on Sunday, December 4, 2016, at 7pm, in the Third Floor Meeting Room of Scarsdale Village Hall, 1001 Post Road, Scarsdale, NY 10583. Scarsdale Public Television will record the meeting.
The CNC consists of 30 Scarsdale residents who are volunteers elected by Scarsdale voters to represent their neighborhood election units [Edgewood, Fox Meadow, Greenacres, Heathcote or Quaker Ridge]. Ten people are elected each November to serve staggered three-year terms. The volunteer group meets from December to January to interview and evaluate potential candidates to run for Village office on the Citizens' Non-Partisan Party slate. This year the CNC will nominate individuals to run for the office of Mayor currently held by Jonathan I. Mark and for three openings on the Scarsdale Village Board. Trustee William Stern will be finishing his second two-year term and both Trustees Matthew J. Callaghan and Carl L. Finger will be completing their first two-year terms. The General Village Election is on Tuesday, March 21, 2017.
Scarsdale's Non-Partisan System has been operating successfully for over 100 years, following a contentious election in 1909. A complete history can be found on the Scarsdale Citizens' Non-Partisan Party website at www.scarsdalecitizens.org. The goal of the Non-Partisan system is to attract qualified citizens who would otherwise avoid campaigning, but would be willing to run for office in elections that are generally uncontested. The CNC's deliberations and due diligence on all potential nominees is kept confidential to further encourage well-qualified volunteers to apply for a spot on the Non-Partisan slate. Potential candidates also have the option to run for office outside of the Non-Partisan system under provisions of New York State law.
Are you interested in running for Mayor or Trustee? Do you know someone who would serve the Village of Scarsdale well? Contact any CNC representative listed on the Procedure Committee website at www.scarsdaleprocedurecommittee.org; or inform the CNC Chair, Lena Crandall, at (914) 725-9721 or Lena.Crandall@verizon.net.
Concours D'Elegance Donates $15,000 to Community Organizations
Details

Category: Good Work
Published on

23 November 2016

Written by

Joanne Wallenstein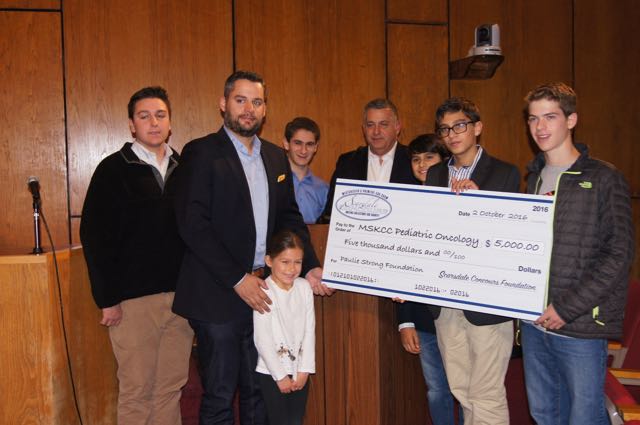 Three community organizations each received checks of $5,000 from the Scarsdale Concours d'Elegance, the vintage car show that was held in Scarsdale Village on Sunday October 2. Larry Patrizio and a group of student board members presented the checks to representatives from each organization at the meeting of the Scarsdale Board of Trustees on November 22. The proceeds were raised from the Concours' 13th annual antique car show. Beneficiaries included Scarsdale Family Counseling Service, #Paulie Strong Foundation, founded in memory of Paul Ulysses Jimenez who passed away from rhabdomyosarcoma at age 10 and the Warrior and Family Assistance Fund.
Presenting the checks were Larry and Daniel Patrizio, Sidney, Leif and Charlie Waller, Jacob Goodman, Jonah Schneider and Shelley Krohnengold.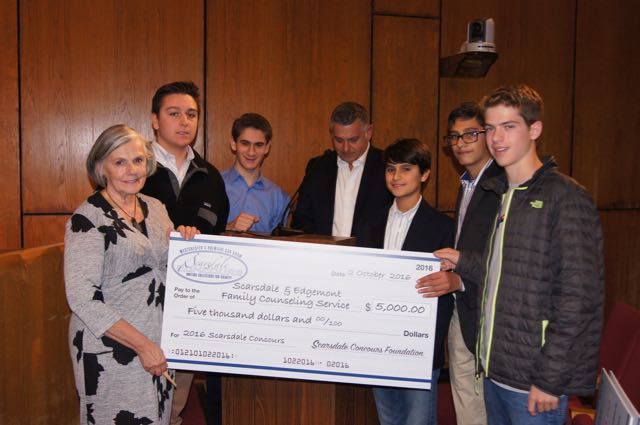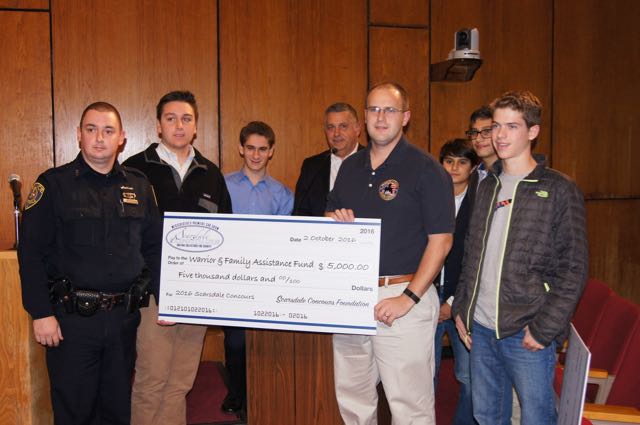 Gilda's Club Holds Fourth Annual Stair Climb
Details

Category: Good Work
Published on

09 November 2016

Written by

Joanne Wallenstein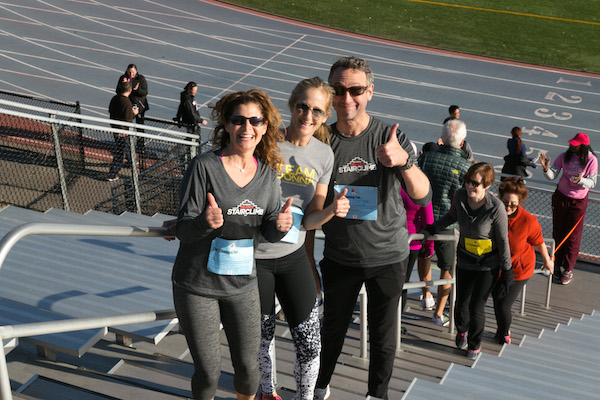 More than 100 Gilda's Club Westchester supporters climbed the stadium bleachers at White Plains High School on Saturday, November 5 for the non-profit's 4th Annual Gilda's Stair Climb, a fun and unique fitness event where participants climb flights of stairs in a test of endurance. The Stair Climb offered several climbing options to accommodate various fitness levels: 24 floors, 48 floors, 72 floors, or 96 floors. Participants climbed individually or formed teams with friends and family. All proceeds will help Gilda's Club Westchester provide free emotional and social support to individuals and families impacted by cancer to ensure no one will have to face cancer alone.
Gilda's Club Westchester provides emotional and social support to individuals and families impacted by cancer through support groups, short-term counseling, health and exercise workshops, and social opportunities completely free of charge. For more information, visit gildasclubwestchester.org.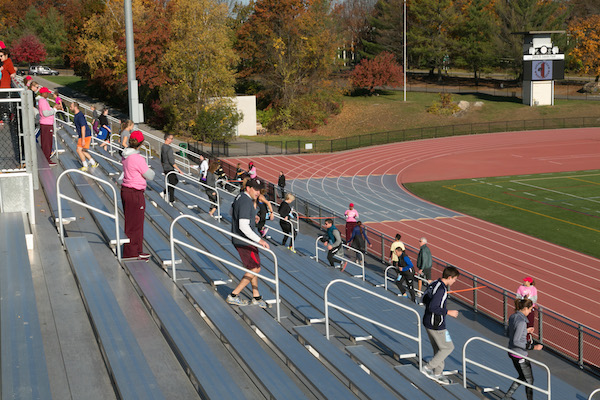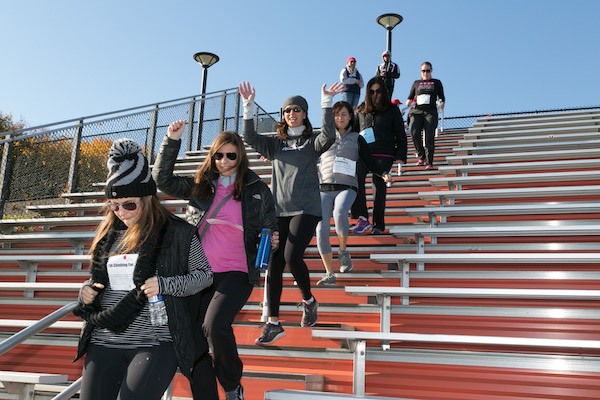 Quaker Ridge Kids Donate 387 Lbs. of Candy to Operation Gratitude
Details

Category: Good Work
Published on

14 November 2016

Written by

Joanne Wallenstein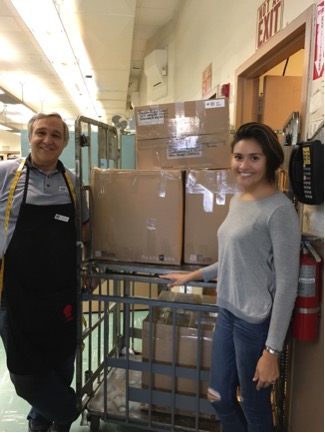 Though taking candy from children is usually frowned upon, teaching kids the value of giving back by donating their excess Halloween candy in support of U.S. Troops and First Responders is a win-win for kids and parents.

This Halloween, the Quaker Ridge School PTA collected and shipped 387lbs of candy to Operation Gratitude for inclusion in Care Packages to U.S. Service Members deployed overseas in harm's way and to First Responders serving here at home. "We were overwhelmed with the amount of donations received. A huge thank you is owed to William DeLuca, at the Heathcote USPS office for helping us safely package and ship such a large order," said Vanessa Siderow, Quaker Ridge School parent and volunteer.

Americans spend an estimated $2.5 billion dollars on a whopping 600 million pounds of Halloween Candy each year. In 2015 alone, 294 tons of that candy was sent to Operation Gratitude for distribution through its Care Package Programs.

"Operation Gratitude has shipped more than 1.6 Million Care Packages that include items such as DVDs, handmade scarves and hygiene products. Halloween candy is a wonderful addition to these packages," says Operation Gratitude's founder, Carolyn Blashek. "The candy is a great morale boost for the troops, and a means to create positive interaction with local children. Equally important is that the Halloween Candy GIVE-Back Program provides every American child the opportunity to learn about service and generosity."

About Operation Gratitude
Operation Gratitude is a 501(c)(3) nonprofit, volunteer-based organization that seeks to lift spirits and meet the evolving needs of the U.S. Military and First Responder communities, and provide volunteer opportunities for Americans to express their appreciation to all who serve our nation. To date, Operation Gratitude volunteers have assembled and shipped more than 1.6 million care packages. For more information, click here.

BCRF's Hot Pink Luncheon Coming Up on November 30th
Details

Category: Good Work
Published on

31 October 2016

Written by

Joanne Wallenstein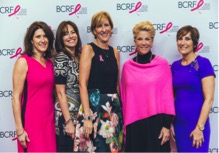 BRCF's Upcoming Westchester HOT PINK Luncheon #BeTheEnd:

The Westchester community will be hosting its 10th Annual Breast Cancer Research Foundation HOT PINK Luncheon on Wednesday, November 30th at Brae Burn Country Club in Purchase. The event was originally created by lifelong friends and Scarsdale residents Shelly Kivell and Kim Meyers. "Our vision was to bring an information rich program to our Westchester friends and family. It's an incredible opportunity to hear directly from experts in breast cancer research while also raising money to fund ground breaking science" recalls Meyers.
And raising money, they have. Since inception the event has netted nearly $1.5 million, enabling the group to establish a $250,000 Westchester Women's Grant that is awarded annually as part of BCRF's overall mission: to advance the world's most promising research.
This year the group is thrilled that breast cancer survivor and Good Morning America anchor Amy Robach will open its event. The program will also highlight experts Larry Norton, BCRF Scientific Director, Memorial Sloan Kettering Cancer Center and Stuart Aaronson, Icahn School of Medicine at Mount Sinai. Attendees can participate in a unique interactive Q&A about research trends in breast cancer diagnostics, treatment and prevention.
What began as a predominantly "Scarsdale-centric" event, the Westchester Hot Pink Luncheon has grown in size, scope and leadership. Co-chairs and committee members now represent women from throughout the county but there remains a strong contingent of Scarsdalians at the helm including Marla Mehlman, Linda Plattus, Lisa Bezos, Allison Fehrenbacker, Kim Meyers, Monica Fried, Ruth Suzman, Stephanie Tessler and Elizabeth Chabner Thompson. These women emphasize that Cancer Divides, We Unite. Help be the end to breast cancer.
Click here for reservations and/or donations to BCRF.