Police Report: Stolen Purse, Identity Thefts and a Squirrel in the House
Published: Wednesday, 01 March 2017 11:28
Traci Dutton Ludwig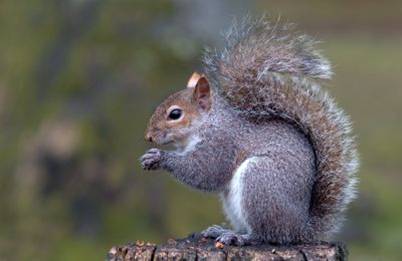 Death: Norman J. Merksamer, 87, of Lincoln Road, died at home Feb. 25.
Stolen purse
A Deerhurst Road woman parked her car on Gaylor Road while attending church for one hour on Feb. 25. She left her handbag in the car. Someone smashed the car's window and stole the handbag from the front passenger seat. It contained at least one credit card.
Identity theft
On Feb. 20, a Hamilton Road woman reported someone attempted to open a Victoria's Secret credit card in her name. The application – twice attempted – was declined because the woman already had a credit card in her name for that store. On the second application, the suspect tried to change the cardholder address to an address in the Bronx.
On Feb. 25, a Cooper Road resident reported his wife's Delta Skymiles account got hacked, and someone used 210,000 of her Skymiles to purchase ten Amazon gift cards totaling $1,000. The cards were delivered to an address in Salem, Missouri. Delta's fraud department is following up.
Things out of place
A Swarthmore Road man reported coming home and finding wood shavings all over the house and things out of place Feb. 20. At first look, patrol thought an animal had gotten into the house and chewed a wooden step. While checking the interior, patrol saw a squirrel exit an upstairs bedroom and run out the front door.
Mail
On Feb. 22, an Edgewood Road woman reported receiving mail at her house welcoming people, whose names she does not know, to the neighborhood. She has been receiving this mail for the past five years. The woman was concerned this mail might be related to something suspicious in the future. Police advised her to notify the post office and continue to monitor her accounts.
Cigarette
A Willow Lane man reported a neighbor's construction worker flicked a cigarette onto his front lawn Feb. 22. The man said he has observed other village code violations committed by the workers and reported them to Village Hall personnel. The construction manner said there has been an ongoing feud with the neighbor. He said he has also spoken with Village Hall regarding alleged violations. Patrol advised him to speak with his workers to avoid any unnecessary strife with the neighbor and to prevent village code violations in the future.
Keys
Police summoned highway department workers to help retrieve keys from a storm drain located at Spencer Place and Chase Road Feb. 23.
Photos
A person saw a white woman in a dark Honda Pilot taking photos of kids playing on Bradley and Carmen roads Feb. 23. When patrol got the scene, the woman was gone. Patrol questioned other parents at the park about the report. At least one parent said the woman had been taking pictures of her own children and not doing anything wrong. The parent said she recognized the woman as a frequent visitor to the park with her children.
Too fast
While patrolling Weaver Street at 3:30 a.m., Feb. 24, police saw a car speeding down the road. The car turned into a shopping plaza's parking lot and turned off its lights. Police stopped to talk with the driver. The driver allegedly appeared "very nervous ... and continuously changed his story about why he was in the parking lot." Police checked the man's ID to confirm there were no active warrants for him. He told police he had just gotten off probation for possessing stolen property.
Search
Scarsdale police helped Eastchester police look for three male suspects in an assault incident that occurred at Post and Summerfield roads in Eastchester Feb. 26. The suspects were not found. The scene was stable – with medics, Eastchester police and Eastchester firefighters on scene – before Scarsdale police officers departed.
911
A Popham Road woman called 911 and then hung up Feb. 25. Police contacted the woman. She confirmed everything was fine at her residence. She advised she tried to contact the police department's non-emergency number, but she did not know the number; so she called 911 in an attempt to get the correct number.
Kids
A resident reported seeing a group of kids gathering and lighting a small fire in Colonial Acres Park Feb. 24. Police dispersed the kids from the park and did not see any active fires.
Police dispersed a loud youth party on Horseguard Lane after neighbors complained of noise at 8:30 p.m., Feb. 25. No adult supervision was present; so police asked the kids to call their parents and arrange for rides home.
Dogs
Police found a small brown dog loose on Brewster Road Feb. 24. The owner, on Kensington Road, was identified. The owner's wife said the dog had escaped the backyard fence. She thanked police and said she would make sure the dog did not get loose again. A verbal warning was delivered.
A loose dog wandered into a Copper Beech Lane house Feb. 25. Patrol identified the dog's owner, who lived nearby. The owner came to pick up his dog. He was advised about village code regarding dogs at large.
Cars and roadways
On Feb. 20, patrol observed a branch resting in wires at Post and Richbell roads. Con Edison was notified.
Police called Con Edison and taped off an area of Hampton and Chesterfield roads with fallen wires Feb. 22.
Police called the highway department to remove a dead raccoon from Fenimore Road Feb. 23.
The highway department was informed about a possible sinkhole forming on Boniface Circle Feb. 23.
On Feb. 24, an anonymous passerby reported a worker was flagging cars "in an irate manner" around a vehicle parked at a construction site near Carstensen Road and Rectory Lane. Police checked out the complaint and saw only legally parked vehicles and free flowing traffic, without any 'Irate" flagging.
Police called a tow for a disabled car at Post and Fenimore roads Feb. 26.
Parked cars were blocking traffic flow on Barker Lane Feb. 26. Patrol asked drivers to move their cars to one side of the street. The drivers complied.
No car accidents were reported in the village this week.
Village code
Workers arrived at a Seneca Road job site at 8:40 a.m., Feb. 20. A neighbor complained. Police advised the foreman he could not begin work before 10 a.m., as per village code.
Police advised a door-to-door solicitor that he need a permit to solicit in the village Feb. 20.
Neighbors complained about a barking dog on Wildwood Road Feb. 22. The homeowner brought it inside after learning about the complaint.
Lost and found
A person found a Wells Fargo debit card on Bell Road and brought it to police Feb. 24. The cardholder was identified and notified. He said she lost the card the day before, thanked police and asked police to shred the card.
Firefighters
Firefighters stood by for Con Edison at the site of an outdoor gas odor on Dell Road Feb. 23.
A burnt out fan motor caused an odor in a Madison Road laundry room Feb. 23. Firefighters disconnected the fan and advised the homeowner to call an electrician.
A burning odor in a Walworth Avenue house was caused by residue from a cleaning agent left on a stove when the stove got hot Feb. 23.
A worker in a Saxon Woods Road house accidentally got locked inside an interior closet, with an inward swinging door, Feb. 24. Firefighters had to force open the door to release the worker.
Firefighters helped emergency medical personnel get inside a Garden Road house to check the welfare of a person Feb. 24.
Firefighters helped a Harvest Drive resident identify smoke detectors in need of service inside her house Feb. 24.
Firefighters helped a Brewster Road resident get back inside his house after accidentally being locked outside Feb. 25.
Brookby Road was closed because of an arcing wire Feb. 25. Firefighters stood by for Con Edison.
Firefighters stood by for Con Edison at the site of a gas leak on Aspen Road Feb. 26.
This week firefighters responded to three false carbon monoxide alarms and 10 false fire alarms, caused by device malfunction, a latched smoke detector, cooking smoke and shower steam.
This report covering police and fire department activity from Feb. 20-26 was compiled from official information.

This police report is sponsored by Scarsdale Security who does more than just security. Contact them about remote video for your home or business. Call 914-722-2200 or visit their website.
BLOG COMMENTS POWERED BY DISQUS