Early Morning Fire Guts Home on Black Birch Lane
Published: Sunday, 05 March 2017 07:20
Joanne Wallenstein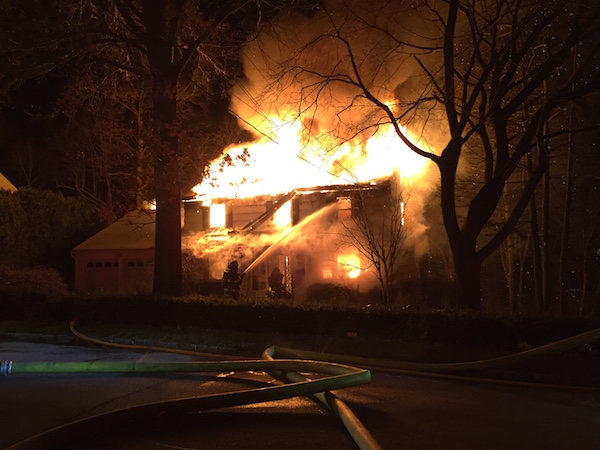 (Updated at 12:51 pm Sunday) Fire broke out at a house at 29 Black Birch Lane in Scarsdale at 4 am on March 5. Firefighters arrived to find the house engulfed in flames and smoke. There were no reported injuries but the house appears to be totally destroyed.

Fire Chief Jim Seymour provided the following report after the fire was put out:
"We were dispatched at 4:04 am this morning to a possible structure fire at 33 Black Birch Lane. Just prior White Plains the Fire Department was dispatched to a street behind Black Birch for a reported fire. When White Plains arrived on the street behind Black Birch, the called in stating they could see a house fire in Scarsdale. Our Fire Department arrived at 4:07 and found the second floor of 29 Black Birch lane fully involved. Shortly after our arrival the roof in the rear of the house began to collapse and the building was too dangerous to enter. The fire was darkened down within the first hour and we remained on the scene until around 9:40 am putting out hot spots. The Westchester County Cause and Origin team is investigating. No one was home at the time and it appears the home was under some interior renovations. About 50 firefighters were on the scene. Mutual aid from White Plains, Hartsdale and Greenville assisted at the scene."

A Village Press Release says: "The Scarsdale Building Department has contacted the owner's project architect and will be working early this week to get the site properly secured and demolished as soon as possible, as the structure appears to be a total loss."
BLOG COMMENTS POWERED BY DISQUS