Police Report: Black Birch Lane House Fire, Stolen Car and Foot Chase, Fake Driver's License
Published: Wednesday, 08 March 2017 10:45
Traci Dutton Ludwig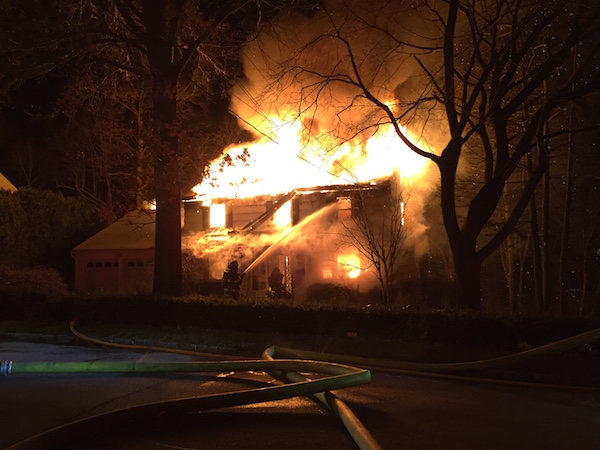 Fire destroys Black Birch Lane house: A Hillair Circle resident saw flames coming from an unoccupied Black Birch Lane house at 4:30 a.m. on March 5th and called 911. White Plains police notified authorities in Scarsdale, and firefighters sand police rushed to the scene. They immediately saw fire coming from the rear and roof of the wood-frame house. White Plains firefighters assisted in knocking down the fire with hose lines and extinguishing it. Firefighters attempted to make contact with possible occupants. The house appeared to be empty as it was vacant of furniture. It was too fully engulfed in flames to attempt entry. Firefighters evacuated neighbors from nearby houses and learned the house was unoccupied during a renovation. Hartsdale, Greenville, Fairview and New Rochelle fire departments assisted. Off-duty career firefighters from Scarsdale, volunteer firefighters, Con Edison, Scarsdale Volunteer Ambulance Corps and police assisted as needed. At 5:45 a.m., mutual aide was released. Scarsdale firefighters continued to overhaul the structure.

Several attempts were made to notify the homeowner. The property was condemned by the building department. A valid building department was on file with the village. It was issued on Nov. 29, 2016, with an expiration date of Nov. 29, 2018.
Suspect flees from stolen car, claiming he "stole it back" for owner
On Feb. 28, a call about an abandoned car on Post Road led to an arrest of a New Rochelle man charged with four-degree criminal possession of a vehicle. At approximately 12:30 p.m., police arrived at the corner of Post and Dickel Roads, where they saw a parked 2001 Hyundai Elantra. While approaching the car, the license plate reader sounded an alert indicating a stolen car. Officers confirmed this information and learned the car had been reported as stolen out of Mount Vernon on Feb. 27. Patrol approached the car to investigate further. It was unoccupied, turned off, with the key in the ignition. A Post-it note was attached to the driver's side window, stating "out of gas brb." Shortly thereafter, the driver – Andre Reid, 27, of New Rochelle – returned to the car carrying two gas cans and a funnel. Police asked him if the car was his, and Reid quickly replied, "Yes." Police asked what happened, and Reid then said the car was not his. He alleged he was "watching it for a friend." Police asked Reid for an ID, but Reid said he could not provide one. He offered to fetch his ID and bring it back to show police. Police asked Reid to turn and face the police car, but Reid "suddenly took off." Patrol shouted several times for Reid to stop, but Reid kept running. Two officers chased Reid down Post Road, behind an apartment building, back across Post Road, down Farley Road, over a stonewall and through back yards of White Plains residents. Assisting units continued to look for Reid and a foot pursuit concluded on Walton Avenue in White Plains, where detectives took Reid into custody. At headquarters, Reid provided information about himself that prompted police to call Scarsdale Volunteer Ambulance Corps to take Reid to White Plains Hospital Center. An officer accompanied Reid to the hospital in the ambulance, and another officer in a patrol car followed behind.
The stolen car was processed on the scene and towed to the police impound lot. While police were searching the car, they found a check made out to another man. The check was photographed and vouchered as evidence.
At approximately 9 p.m., Reid was discharged from WPHC and brought back to headquarters. There, he told police that the car belonged to his uncle and had been stolen by one of his friends. Reid said he noticed the car last night and stole it back from his friend to return it to his uncle. He said he drove the stolen car to get to White Plains on Feb. 28, but the car ran out of gas.
Reid said the check in the car belonged to his friend who initially stole the car, "so he stole the check as well."
The district attorney's office was consulted. Bail of $15,000 was recommended. At 10 p.m., Reid was arraigned in Scarsdale Village Justice Court. Bail was set at $20,000 and a return court date was set for March 1. Unable to post bail, Reid was taken to Westchester County Jail.
Man arrested for fake driver's license
Abner C. Garcia-Gonzalez, 29, of Monsey, NY, was charged with second-degree possession of a forged instrument March 2. The arrest was the result of an incident that occurred on Feb. 7, during which Garcia-Gonzalez presented police with a fake Maryland driver's license during a traffic stop for speeding on Post Road. Visual analysis of the license and follow-up with Maryland's Department of Motor Vehicles confirmed the license was fake. Sometime after Feb. 24, police called Garcia-Gonzalez to initially advise him of their investigation. He was asked to come to headquarters to straighten out the irregularities with his license. He was read his Miranda Rights, and then told police if their questioning was about his driver's license, "his boss" told him he should have a lawyer present. Patrol asked him again if he wanted to talk, and he said, "I want to talk to a lawyer." At that point, all questioning was stopped and Garcia-Gonzalez was advised to return with his lawyer. The district attorney's office was consulted and an arrest warrant was issued based on the evidence provided. Garcia-Gonzalez returned with his lawyer on March 2 for arraignment. He was released on $100 bail, and it was stipulated that he must surrender his passport by March 3.
DWI arrest
On March 4, police arrested Felix A. Bisono, 38, of Yonkers, on charges of driving

while intoxicated (first offense), speeding in zone and refusal to take a breath test. Bisono attracted police attention when his 2014 Acura sped past a speed patrol on Post Road at approximately 10:45 p.m. Bisono was clocked by radar at 63 mph. Police performed a traffic stop at Post and Rugby Roads. While talking to Bisono, police noticed a strong odor of alcohol on Bisono's breath. Bisono said he was coming from Mamaroneck Avenue in White Plains. He alleged he "did not have anything to drink; I'm driving." Bisono failed field sobriety tests. He refused to submit to an alco-sensor pre-screening test or a Datamaster test to measure his blood alcohol level. He was taken to headquarters and arrested. His car was impounded. He was released to a friend on $250 cash bail.
Stolen jewelry
An Aspen Road woman reported a few small bowls containing jewelry had gone missing from her house March 2. The bowls and jewelry allegedly disappeared while a plumber and a plumber's assistant were working in the house. The woman said she called the plumber to retrieve a pendant that had been accidentally dropped down her bathroom sink. After the pendant was retrieved, the assistant allegedly asked the woman what she was going to do with it. The woman said she answered him by motioning to the adjacent bedroom and stating she would put it away later. While the plumber was still in the bathroom, the woman asked him some questions about the shower. During this time, the woman claims to have "turned her back on the assistant." After realizing some bowls of jewelry were missing from her dresser the next morning, the woman called police.
Car break-in
A small blue purse containing a black wallet was stolen from a parked car on Sage Terrace at approximately 5:30 p.m., Feb. 28. The car was parked for approximately five minutes while the driver went to a nearby house to pick up her son. The purse was left in the unlocked car. The wallet contained credit cards, an insurance card, a driver's license, reading glasses, rosary beads and $20 cash. The driver said she saw a group of kids walking on the street, near to where her car had been parked, but she could not provide a description.
Identity theft
A Cooper Road man reported someone opened a fraudulent Vanguard brokerage account in his name March 1. Vanguard was notified, will put the account on hold and investigate. According to the police, the man was the victim of a similar incident in January. Approximately one year ago, the man's company experienced a security breach, and employee information was compromised.
Harassment
On March 2, a Fox Meadow woman reported being harassed by a man with whom she specified, in December, she no longer wanted to have any contact. The man was told by police, at that time, to refrain from contacting the woman, and he said he understood. On Feb. 27, the woman received an email at work from the man. In the email, the man claims to be in the same industry and is requesting services from the woman's company. The man, in fact, is unemployed and the information in the email appears to have been copied from the woman's company's website. The email had originally been sent on Jan. 18, but it ended up in a spam folder. It was released to the woman and her supervisor on Feb. 27. The woman emphasized she did not want the man to contact her. Patrol left the man a voicemail. At approximately 8 p.m., the man appeared at headquarters. Patrol informed the man that the woman does not want any contact with him. He said he understood.
Threat
A Greenacres Avenue man reported that a contractor from a fireplace company threatened him during an argument over the phone March 2. While patrol was gathering information about the incident, the man received an email from the company's manager. The manager apologized for the interaction and promised to refund the entire amount owed for the cancelled order. The man said he was satisfied with the result and did not need any further assistance.
Assistance
Police provided traffic control on Weaver Street while pedestrians were being evacuated from the Jewish Community Center on Wilmot Road Feb. 27.

Police and Scarsdale Volunteer Ambulance Corps helped a man having a panic attack on a Metro North train Feb. 27. The man was taken to White Plains Hospital Center for treatment.
Visitor?
A Fox Meadow Road woman called police to report an elderly woman had wandered into her house Feb. 27. The elderly woman was described as approximately 80 years old, with bleached blond hair and a heavy French accent. The Fox Meadow Road woman asked the elderly woman her name, and she said, "My name will come to you." The elderly woman then asked how the woman and her son were doing. The elderly woman then allegedly left the house and left in a gray compact sedan. The woman asked police to check on her house because she lives alone.
Banging noise
A Vernon Road resident reported a banging noise at her house at 9 p.m., March 1. She requested that patrol check the house. Patrol found a large glass windowpane had fallen to the ground from the house's side porch. Further inspection suggested that the clasps holding the windowpane in place had broken, causing the window to fall. There were no signs of criminality.
Dismissal
A man called 911 to report a Mamaroneck Road school was not releasing his daughter at 2:49 p.m., March 3. Patrol spoke with school officials who stated the man was not following the school's dismissal procedures. No further police intervention was necessary.
2:30 a.m
A Brookby Road caller reported a black Toyota Sienna parked in front of his house with hazard lights flashing around 2:30 a.m., March 5. Patrol spoke with the driver who said he had just dropped off a friend on a nearby street and stopped to enter a destination in his GPS. Police determined there was nothing suspicious.
The doorbell of a Windward Lane house was sounding off and on around 3:15 a.m., March 5. Police determined the doorbell was malfunctioning and applied a temporary solution. The homeowner said he would call a technician the next morning to have the bell fixed.
Pipes
A Brite Avenue homeowner reported running water from her backyard faucet March 5. Patrol saw no signs of criminality and advised her to contact a plumber to address what might be a problem with the pipes.
Cars and roadways
On Feb. 27, police issued a summons to the owner of an illegally parked car on Circle Road.
Parked cars were facing the wrong direction on Claremont Road Feb. 27. At patrol's request, drivers moved their cars to park them legally.
A license plate reader detected a car with a suspended New York registration at Brite Avenue and Fenimore Road Feb. 27. The cause was "insurance not in effect." Patrol issued the driver summonses, removed the car's license plates and had the car towed to a location in Yonkers.
Patrol issued a summons to the owner of an illegally parked car at Sherbrooke and Heathcote roads Feb. 28.
Police notified Verizon about a fallen wire on Secor Road Feb. 28.
The tire of a driver's tow-behind stump grinder fell off the vehicle on Mamaroneck Road March 1. A tow truck arrived and removed the disabled stump grinder.
Police issued summonses to three drivers for passing a stopped school bus on Popham Road at 3:45 p.m., March 1.
Patrol moved a fallen tree branch to the side of Tory Lane and Brite Avenue March 2.
Luggage left by the side of Post Road had been placed there for trash pickup March 2.
A driver got a flat tire on Heathcote Road at 11 p.m., March 3. Patrol stood by until AAA arrived to address the situation.
Eleven car accidents were reported in the village.
Animals
Police picked up two loose dogs from Post Road and returned them to their Barry Road owner March 2.
On March 5, patrol observed a dead raccoon on Huntington Avenue. The highway and sanitation departments were informed.
Lost and found
A woman found a wallet and cell phone and gave them to police Feb. 27. Police identified the owner, who said she would pick up her items from headquarters.
On March 3, a village doctor reported losing an envelope containing $11,200 cash, representing patient fees. While investigating the report, police learned the doctor found the envelope among his personal belongings. There was no further need for police assistance.
Firefighters
Firefighters stood by for Con Edison at the site of a gas odor near a Garth Road excavation site Feb. 27.
Firefighters shut the gas supply to a White Birch Lane stove and called Con Edison after gas readings were detected in the house Feb. 28.
Firefighters confirmed a stove was malfunctioning in a Bradford Road house Feb. 28. Firefighters advised the homeowner to refrain from using it until it could be serviced.
Firefighters shut gas to a malfunctioning cooktop and stove in a Church Lane house March 1. Firefighters advised the resident to call for service.
A faulty motion sensor was causing lights to flash inside a Catherine Road house March 1.
Firefighters helped a Cushman Road resident locate a chirping smoke detector in the resident's house March 1. Firefighters advised replacement.
A natural gas condition in a Tyler Road boiler room resulted in elevated carbon monoxide levels throughout the house March 1. The residents were evacuated, and Con Edison was called.
The highway department was called to remove a fallen tree limb blocking fire hydrant access March 3.
Reported smoke at a Wildwood Road house was coming from a dryer March 3. Firefighters unplugged the dryer, allowed it to cool down and recommended replacement.
A gas odor in a Chesterfield Road house was determined to be caused by gasoline spillage on the garage floor March 5.
This week, firefighters assisted at five car accidents in the village and on parkways. They responded to four false carbon monoxide alarms and 17 false fire alarms caused by device malfunction, cooking smoke, wood dust and shower steam.
This report covering police and fire department activity from Feb. 27 through March 5 was compiled from official information.



This police report is sponsored by Scarsdale Security who does more than just security. Contact them about remote video for your home or business. Call 914-722-2200 or visit their website.

BLOG COMMENTS POWERED BY DISQUS