Police Report: Car Break-ins Target Griffen Avenue and Brittany Close
Published: Wednesday, 15 March 2017 08:07
Traci Dutton Ludwig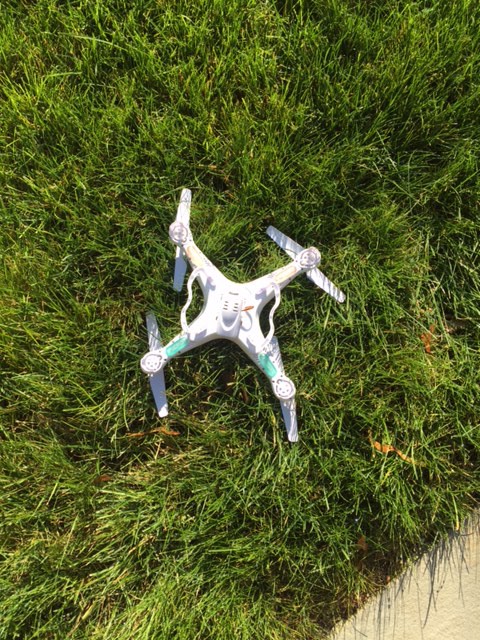 A man's wallet was stolen out of his unlocked parked car at Quaker Ridge Golf Club on Griffen Avenue March 9.
On March 10, a Brittany Close resident reported someone entered two unlocked cars parked in her driveway and stole a garage door opener from one of them. The resident noticed the glove compartments were open in the cars, and items had been removed and placed on the front seats. One car was a white Mercedes-Benz, and the other car was a black Cadillac Escalade. According to video footage that captured the incident, two men parked outside the resident's house in a white Mercedes-Benz around 6:15 a.m. The men were wearing hoodies and sneakers. They are captured on video, as they got out of their car and approached and entered the resident's cars.
Identity theft
On March 7, a Black Birch Lane man reported someone withdrew fund from his business account by presenting 10 bogus checks. The checks varied in amounts ranging from $1,740.53 to $2,340.78. The man stated he wrote a check to a stationery vendor for $121.99, but that check never reached its destination. The counterfeit checks followed the missing check in their sequence numbers.
On March 9, a Greenacres Avenue man reported fraudulent credit card accounts were opened in his name. The man said he was in the process of acquiring necessary documents and would be out of town for a week. Police advised him to notify the credit reporting bureaus and review his credit report as soon as possible.
Postal fraud
A Brite Avenue man reported someone fraudulently placed a postal hold on his mail March 11. It was done in person by a third party.
Domestic matter
On March 10, a Quaker Ridge mother and her adult daughter were arguing over a "banking matter." The daughter called police for assistance. On scene, police talked to both parties, each of whom calmed down and assured police the argument was over.
Phone scam
A Clarence Road resident reported someone called her, alleging to be an Internal Revenue Service agent March 8. She hung up the phone, suspecting it was a scam. She reported it to police.
Doorbell
On March 6, a Colvin Road resident reported two to three teenagers were ringing her doorbell around 6 p.m. By the time the resident answered the door, the teens were observed walking down the road. One was described as wearing a knit hat and a black jacket.
Light
On March 9, a Haverford Road man complained he thought the street had inadequate lighting. He alleged that the darkness on the street contributed to a burglary attempt in December. Patrol checked the street and determined no lights in the area were out.
Suspicious visit
On March 10, a Berwick Road woman reported a man entered her house, claiming to be there on Village business and took pictures of her house. She was alarmed because Village Hall claimed no one was out on assignment to take pictures of her house. According to a worker who let the man into the woman's house, the man arrived in a newer model minivan. He advised he needed to check for an underground oil storage tank and wanted to see the basement. The worker accompanied the man into the basement, where the man took several photos of the boiler room and its exterior walls. The man then allegedly walked around the perimeter of the house with a metal detector, searching for a buried tank. Based on descriptions of the man's actions in the house, it was determined that the man was there on possibly legitimate business, just mistakenly at the wrong house. Patrol spoke to a neighbor with surveillance cameras and requested that the video footage be preserved for future follow-up.
Drone
On March 11, two men inadvertently flew a drone into a Park Road backyard. The men rang the homeowner's doorbell, asking to retrieve the drone. The homeowner called police. Patrol escorted the two men into the backyard so they could retrieve the drone.
Scofflaw
Police identified a car parked on Chase Road that had accumulated $620 in unpaid parking fines March 9. The driver was informed to settle the matter in Village Justice Court as soon as possible.
Cars and roadways
A woman called police at 7:30 p.m., March 7, because she was concerned her husband might have been drinking vodka before he got into his 2004 Jaguar to drive to a location in Scarsdale or White Plains. Police checked out the husband's possible destinations but did not find hm. At 8:15 p.m., the woman called police to say her husband had returned home without incident.
A caller reported a "dead rat" on a Rochambeau Road sidewalk March 8. Police informed the highway department.
The highway department was informed about a large pothole on Garth Road in need of repair March 8.
Parked cars were obstructing traffic flow on Garden Road March 8. Patrol asked drivers to move their cars to correct the situation.
A person sitting in a car parked on Rock Creek Lane was determined to be an investigator on an assignment March 8.
Parked cars were obstructing traffic flow on Cohawney Road March 8. Patrol asked driver to move their cars.
A caller reported an erratic driver in a gray Infiniti almost hit her and her children in a stroller while they were standing on the corner of Post and Popham roads March 9.
Patrol called a tow truck for a car with a flat tire on Bypass March 9.

Patrol removed debris from Post Road March 10.
An unknown car reportedly drove into a Park Road driveway March 11. Police determined the driver was a food delivery person who mistakenly went to the wrong address.
Ten car accidents were reported in the village this week.
Civil matter
On March 8, a Claremont Road woman complained that her neighbor's tree contractor was dumping debris on her yard. After police arrived on scene, the contractor offered to "fix any grass which was misplaced during [the] work."
On March 9, patrol helped settle a verbal dispute between a Sage terrace resident and a property surveyor who was working on the property and who had allegedly been "rude."
Firefighters

Firefighters forced open the elevator in the Christie Place parking garage to release a person accidentally trapped inside March 6. The elevator was placed out of service and appropriate service providers were contacted.

Construction workers made a small, outdoor fire on Manor Lane March 6. They said they were burning scrap wood to keep warm. Firefighters extinguished the fire, and the fire inspector issued the workers a warning.

Firefighters made entry into a Nelson Road house to let a locked-out homeowner back inside March 6. Police were on scene to verify the homeowner's identity.

Firefighters shut off leaking water from a broken pipe at a Cooper Road house March 6. Police secured the front door upon leaving.

Firefighters stood by for Con Edison at the site of a gas leak on Meadow Road March 6.

A Lebanon Road house was registering elevated carbon monoxide levels March 8. Firefighters stood by for Con Edison. A fault cooktop was identified.

A fire started in the chimney of a wood-burning stove in a Herkimer Road house March 8. Firefighters put out the fire and identified several safety hazards. They recommended servicing the stove.

A dumpster was on fire at a Kelwynne Road house March 9. Firefighters extinguished it and tipped over the dumpster to overhaul its contents. The cause of the fire was undetermined, but it was not deemed to be suspicious.
This week, firefighters assisted at seven car accidents in the village and on parkways. They responded to 15 false fire alarms, caused by device malfunction, carpet installation, dust, cooking smoke, burnt food, steam and accidental manual activation.
This report covering police and fire department activity from March 6-12 was compiled from official information.

This police report is sponsored by Scarsdale Security who does more than just security. Contact them about remote video for your home or business. Call 914-722-2200 or visit their website.
BLOG COMMENTS POWERED BY DISQUS