Police Report: Drunk Drivers, Bomb Scare and Signs
Published: Wednesday, 22 March 2017 10:56
Traci Dutton Ludwig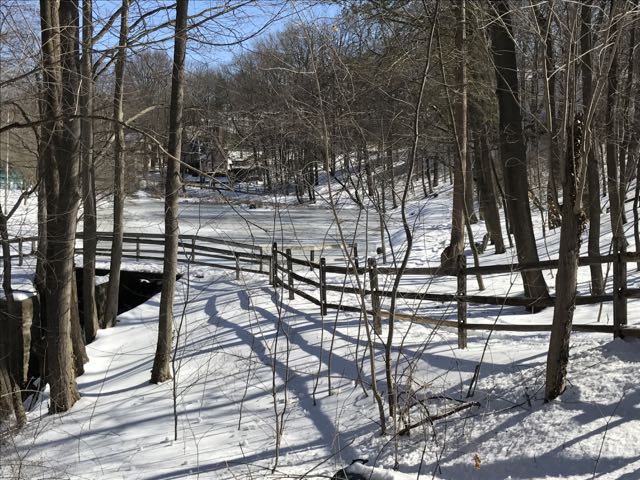 On March 15, police responded to a one-car accident involving a 2001 Ford Ranger on Mamaroneck Road. The car was off road and had struck a utility pole. The car's engine was off and the keys were on the center console. The driver – Glenn Trimpert, 46, of Kendall Park, NJ – was sitting in the driver's seat. His eyes were glassy and blood shot. A strong odor of alcoholic beverage was on his breath. He told police he had consumed "four beers." He said he did not know where he was coming from, where he drank the beers or where he was at the time of the accident. He failed the field sobriety tests that police asked him to perform. An Alco-Sensor pre-screening test indicated Trimpert had been drinking. A Datamaster test revealed Trimpert's blood alcohol content to be .17%. Trimpert was arrested on charges of driving wile intoxicated (first offense) and driving with a blood alcohol level of at least .08 of one percent. Trimpert's car was towed to the police impound lot. Trimpert was released on $100 cash bail and ordered to appear in Village Justice Court on March 22.
While conducting DWI traffic enforcement on Post Road at 4 a.m., March 19, police noticed a 2004 Ford Focus cross over the pavement markings. Patrol conducted a traffic stop at Fenimore and Oakstwain roads. The driver – Misty Ruiz, 32, of Hartsdale – had bloodshot eyes and smelled of an alcoholic beverage. She told police she had consumed three shots of "Fireball" several hours earlier. An open bottle of Modelo beer was in her car's cup holder. She was asked to perform field sobriety tests, and she failed them. An Alco-Sensor pre-screening test indicated the presence of alcohol on Ruiz's breath. A Datamaster test revealed Ruiz's blood alcohol content to be .13%. Police asked her if she had any drugs or weapons on her person. She replied that she had cocaine inside her bra. She was asked to remove the cocaine and give it to police, which she did. She was arrested on charges of driving wile intoxicated (first offense), driving with a blood alcohol level of at least .08 of one percent, criminal possession of a controlled substance and having an open container of alcohol in a motor vehicle on a highway. Ruiz was released on an appearance ticket and ordered to appear in Village Justice Court on March 22.
Bomb Scare at Edgemont High School
At approximately 8:45 am on Monday March 20, the Greenburgh Police were notified of a bomb threat at Edgemont High School. The Greenburgh Police, members of the Special Operations Unit, EMS, the Mobil Command Center, the Greenville Fire Department and the Westchester County Police Explosive trained K-9 unit all responded. Students were evacuated while the building was searched. No explosive device was found and the school was reopened at 11:15 am.
Domestic matter
A Quaker Ridge mother and her adult daughter were arguing March 13. The mother said the daughter would not stop talking and would not leave her alone. The daughter said her mother's doctor was not returning her calls. Both women agreed to stay away from each other for the rest of the night.
Dog bites
A Dobbs Terrace mother reported a dog ripped her jeans and attempted to bite her March 16. According to the mother, she was putting her children in the rear passenger seats of her car while the car was parked in front of her house. As she proceeded to walk around the rear of her car toward the front driver's side, she encountered an elderly woman walking a black and white, medium-sized dog near the front of her car. Making visual contact, the elderly woman shouted, "Wait until I pass." The mother said she did not understand the elderly woman's comment and continued to walk toward her driver's door. At that time, the dog lunged at her from six t eight feet away and attempted to bite her left shin. The dog's teeth punctured a hole in her jeans and ripped a four-inch tear in the denim. The elderly woman advised she would get the mother new jeans and left the scene with her dog. The animal control officer is following up.
While standing outside the Popham Road CVS with her children, a mother's foot was bitten by a dog March 19. The mother was standing with her back to the entrance doors when an elderly, petite, white woman exited the store with a small, black and white, furry dog. The dog made contact with the mother's foot and proceeded to bite it. The attack left a visible mark. The mother advised the elderly woman that the dog bit her, but the elderly woman left the scene without comment and without exchange of contact information.
Harassment
On March 17, an Old Lyme Road housekeeper said she encountered a white man who gave her a "bad attitude" while she was walking to a bus stop on Od Lyme Road. The man crossed the street and began grabbing his private area in front of her. The woman then called police and boarded the bus. She said she did not want to make a formal report, but she wanted to alert police to the incident.
Dispute
A Bee-Line bus driver and a passenger were having a dispute at Post and Fenimore Road, and someone called police March 19. The dispute was instigated by the "long duration of time it took the passenger to pay his bus fare as he entered in White Plains and planned on traveling to Mount Vernon." After the passenger paid the fare in full, the argument continued because each man felt the other was "out of line and inappropriate." The driver said he did not want the passenger to ride his bus and provided him with a transfer ticket. The passenger left the bus and waited in an "orderly" manner at the bus stop.
Roof
A neighbor reported the roof of a Walworth Avenue rental house appeared to be collapsing March 14. The building department inspected the roof from inside the house and did not find any obvious concerns. The homeowner said he would have the roof inspected. He told his tenants to not use the third floor until the roof could be inspected.
Footprints
A Roosevelt Place woman saw footprints in the snow leading to and from a first-floor window near he front door March 15. Furthermore, the woman told police she thought she heard a car in her driveway at 5 a.m. Patrol offered to perform extra ridebys of the house.
On March 17, a Stratton Road homeowner reported finding footprints in the snow that led from the start of her horseshoe-shaped driveway, to the back of her house, to the other side of her driveway.
Snow
A Kathy Lane woman alleged her neighbor "was not fulfilling [his] snow removal obligation" March 16. The neighbor told police he hired someone to remove the snow as soon as possible. Patrol advised both partied that their dispute was a civil matter.
A Birchall Drive resident could not move her car up her steep driveway due to snow and ice March 16. Patrol advised her to leave the car at the end of the driveway. The resident's daughter went to the house and drove her mother up the driveway, to the house, in the daughter's SUV.
An Ogden Road woman reported hearing a loud banging noise around 10 p.m., March 17. Police determined it was snow falling from the roof.
Falling tiles
A caller reported "a brick" fell from the roof of a three-story Garth Road building onto the side of the 7-Eleven store March 18. Actually, several terra cotta roof tiles fell and broke when they hit the sidewalk. It was not a brick, as reported. Firefighters used a ladder to examine the roof and remove other broken or compromised tiles. The area was taped off to prevent pedestrian harm. The owner of the building was instructed to address the manner with the building department.
Help
Police helped a woman with a stroller cross Post Road because heavy snow was obstructing the crosswalk March 16.
A Greenacres Avenue man accidentally got locked out of his house March 17. Police helped his open the door to get back in his house.
Fireplace
A caller reported a possible bonfire in a School Lane driveway March 18. Police observed a portable fireplace in the driveway. The fire had already been extinguished with snow and water. The homeowner said she had taken her son and his friends outside to roast marshmallows.
Signs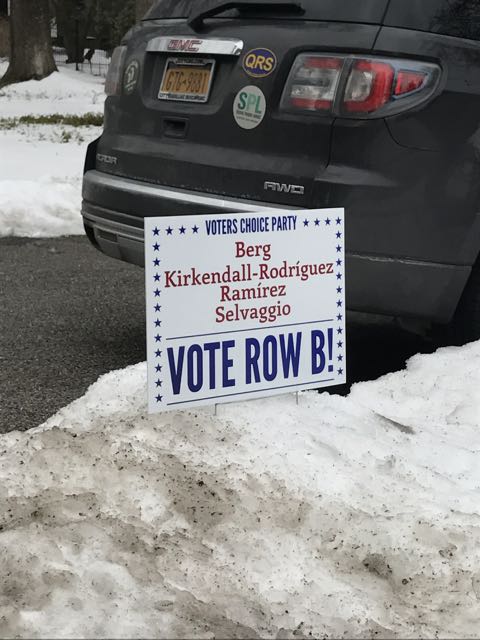 Callers reported seeing political signs on village property at both the intersections of Mamaroneck Road and Palmer Avenue and Heathcote ad Drake roads March 19. Patrol confirmed that village code forbids the posting of election signs on village property without permission. Patrol removed the signs.
Scofflaw
Police noticed a gray Mercedes-Benz parked on East Parkway and a Ford SUV parked on Scarsdale Avenue, each with scofflaw violations Mach 16. Each driver told police their unpaid parking tickets ($750 and $370, respectively) would be taken care of at Village Hall that day. The drivers moved their cars before tow trucks arrived.
Cars and roadways
Police issued a Lee Road resident a parking summons for parking his car on Lee Road during a snow emergency March 14. The resident does not have a driveway and therefore had to park on the street. The resident said the car would be moved within the hour.
Police helped several people get their cars unstuck from snow banks March 15.
A driver ran out of gas on Mamaroneck Road March 15, Heathcote Gulf was responding with gasoline, as per the driver's instructions. Patrol stood by until help arrived.
A truck driver transporting food for Chik-Fil-A got lost and pulled into the parking lot of Scarsdale Middle School. March 16. Police helped the driver find his way back to I-95.
A car was improperly parked too close to a curve on Carstensen Road March 16. Patrol contacted the owner who promptly moved the car.
A car got stuck in a snow bank on Crossway March 16. The driver called roadside assistance for help.
Seven car accidents were reported in the village this week.
Wild animals
Police shot a sick raccoon on Parkfield Road and placed the carcass in a garbage bag for sanitation pickup March 13.
A raccoon was on an Oakstwain Road house March 15. The homeowner asked patrol to provide trappers' numbers.
A squirrel was loose inside a Post Road house March 18. The homeowner was able to remove the squirrel without requiring help from police.
Lost and found
On March 13, a Richbell Road resident reported abandoned surveying equipment outside his house. He said it had been there for days. Police vouchered the equipment at headquarters.
A money clip with money attached found on Spencer Place March 13. It was vouchered at headquarters.
Firefighters
Firefighters helped a Crossway homeowner with a defective carbon monoxide detector March 14.
A gas odor was detected in a Kent Road house March 14. Firefighters stood by for Con Edison.
A contractor reported damage to a Brewster Road gas main March 17. Con Edison was on scene to evaluate.
Firefighters shut down a malfunctioning boiler in a Carstensen Road house and ventilated the structure March 18. Con Edison was dispatched to the scene, ad the homeowner was advised to call for repair.
An electrical switch was sparking in a Fenimore Road house March 19. Firefighters isolated the switch and disconnected it from power at the panel. The homeowner was advised to call an electrician for repair.
A falling chunk of ice hit a Brookby Road gas meter ad pressure reducer March 19. As a result, gas started to migrate into the house. Firefighters shut down the burner unit, and Con Edison responded.
This week firefighters assisted at two car accidents in the village and on parkways. They responded to six false fire alarms, caused by device malfunction and cooking smoke.
This report covering police and fire department activity from March 13-19 was compiled from official information.

This police report is sponsored by Scarsdale Security who does more than just security. Contact them about remote video for your home or business. Call 914-722-2200 or visit their website.
BLOG COMMENTS POWERED BY DISQUS