Drunk Driver Arrested After Car Chase Ends In Rollover Accident
Published: Wednesday, 12 July 2017 11:23
Traci Dutton Ludwig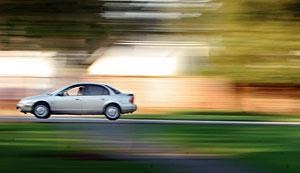 DWI arrest
At 4: 26 a.m., July 9, police arrested Jayron M. Whitted, 30, of Mount Vernon, on charges of operation of a motor vehicle while intoxicated (with a prior conviction), use of a leased vehicle without an ignition interlock device, first-degree aggravated unlicensed operation of a motor vehicle, driving with speed not reasonable and prudent, unlawful fleeing a police officer in a motor vehicle and failure to obey a police officer. Whitted's 2009 Acura was observed traveling at a high rate of speed and crossing pavement markings on Post Road by a police officer conducting DWI enforcement there. The officer activated lights and sirens in an attempt to conduct a traffic stop. Whitted's car began to slow down, hit the curb, then accelerated at a high rate of speed. Three police cars pursued the car along Post Road until Boulevard, when a sergeant instructed the officers to cease following the car. Approximately two minutes later, Eastchester police reported a vehicle rollover accident at Post Road and Hilldale Place. Police confirmed it was the same car that had been fleeing Scarsdale officers. Eastchester police reported the driver – later identified as Whitted – crawled out of the car and ran down Club Way. Police canvassed the area and eventually found Whitted running in the vicinity of Park and Leewood drives. He was covered in sweat and had several visible cuts on his arms. His breath smelled of alcohol; his speech was slurred; and his eyes were bloodshot and watery. Eastchester EMS transported Whitted to Westchester Medical Center, accompanied by police officers. While at the hospital, Scarsdale police read Whitted his DWI Warning, and Whitted refused to submit to a blood rest to determine his blood alcohol level. Judge Joachim Alemany, from Scarsdale Village Justice Court, responded to the hospital and arraigned Whitted at bedside. Whitted was subsequently remanded to Westchester County Jail. A check of Whitted's records indicated an active bench warrant issued out of New York City for "failure to make a payment" as part of a conditional discharge for a DWI conviction. Whitted's personal property was removed from the car, and the car was towed to the police impound lot. Whitted was placed under constant police supervision while at the hospital and later handed over to Westchester County Correction officers.
Arrest on warrant
New York State Police contacted Scarsdale police on July 9 to advise they were in custody of Jonathan Hirsch, 44, of Pleasantville, whom they learned had an active bench warrant issued out of Scarsdale. The warrant was issued for failure to appear in court. Patrol picked up Hirsch from a traffic stop by New York State Police troopers in Greenburgh. Judge Alemany was consulted, and bail was issued for $1,000, with an appearance ticket for July 12. Bail was posted by Hirsch's wife, and he was released.
Missing property
A resident of the Ambassador, on Saxon woods Road, told a staff member she could not find her handbag and an unspecified amount of jewelry in her room July 5. The staff member called police to investigate; however, the resident became agitated by patrol's presence and said she wanted to speak with her family first.
Identity theft
On July 5, a Claremont Road resident reported someone ordered a computer from Staples and had it delivered to her house using her identity credentials. The resident made arrangements with Staples to return the computer. Police are investigating.
On July 7, a Chateaux Circle resident reported someone opened fraudulent credit cards at Best Buy and P.C. Richards in her name. The person used the cards to make two fraudulent purchases at a Best Buy store and three fraudulent purchases at a P.C. Richards store. Both store were in Elmhurst. Both accounts were closed, and the woman is monitoring her credit report.
Welfare check
On July 3, police checked the welfare of a Gilmore Court man after the man's father called police stating he had concerns because he had not been able to reach his son. The son was in good condition and did not require police assistance.
A caller asked police to check the welfare of a former health care aide on Larch Lane July 9. The aide was fine. She told police she was attempting to limit contact with the man who requested the welfare check. She said the man's concerns were "somewhat intrusive," and she "does not wish future contact." Police advised the man.
Outdoors
A man dressed in black was walking on Murray Hill Road at 2:30 a.m., July 3. He told police he was "just out of for a walk." Patrol advised him to walk on the opposite side of the road, against the flow of traffic, for his safety.
Police checked the welfare of a man wearing pajamas and socks lying in his Heathcote lawn July 3. He was OK.
Gas pump
A driver accidentally drove away from the Gulf gas station on Scarsdale Avenue with the fuel pump still attached to her car July 4. The driver said she was un aware of the pump's attachment because she drove away only after filling her tank, paying and saying goodbye to the gas station attendant. The incident caused damage to the gas pump but did not damage the woman's car. The gas attendant said he did not know why he failed to removed the gas pump after filling the driver's car with gas. He did not know how to reattach the hose and said he would call his manager.
Concerns
A Popham Road caller reported her husband had been drinking and was out driving on the road in a black Durango July 5. Police notified Eastchester police. Multiple units checked the area but could not find the car or the allegedly intoxicated man.
Stove
An elderly Wakefield Road woman called police, sating her stove knob fell off and she needed help putting it back on July 6. An officer helped replace he stove knob and verified that all knobs were in the "off" position.
Gasoline
Numerous callers reported a white man with long dark hair buying gas from Heathcote Gulf and walking north on Palmer Avenue July 7. Police spoke with the man, who said he was purchasing the gasoline to run a generator at his house.
Smokers
A caller reported two boys going into the woods, "possibly engaged in illegal activities" July 7. Patrol talked to the boys, who said they had gone into the woods but were not in possession of anything illegal. Patrol cautioned them about the penalties for smoking marijuana. They boys left the area without incident.
Waiting
Police observed a man sitting in a parked car with the car's light off on Farley Road at 3:20 a.m., July 8. The driver said he was waiting for a phone call from a girl he knows. He could not provide patrol with the girl's last name. Patrol saw a large amount of cash in the car's center console. The man said the cash was from his job as a valet. There were no obvious signs of criminality.
Cars, roadways, trees
A caller reported a tree fell in the parking lot of Scarsdale Baptist Church but did not cause any damage cars July 3. The tree was on private property, so no further police action was required.
A car belonging to a Central Taxi driver was parked on top of a Con Edison manhole on Ferncliff Road July 3. Police contacted the owner who moved the car.
A caller reported a bicyclist almost hit his car on Post Road July 3. The caller was concerned about the cyclist's safety. Police canvassed the area for the cyclist but could not find him.
A traffic light at Walworth Avenue and Fenimore Road was stuck on "flash" July 4 and July 5. Police contacted an electrician for repair.
Police found a car door ajar on Carman Road at 1:49 a.m., July 5. The owner examined the car, said nothing was out of place and closed the door.
A car was found parked on Brookby Road with its lights on at 2:30 a.m., July 6. Patrol turned off the lights and secured the car.
A grandfather accidentally locked his car keys in a parked car with his two-year-old grandson inside on East Parkway July 6. Police, firefighters, Heathcote Gulf and Scarsdale Volunteer Ambulance Corps arrived on scene. The car door was opened and the child was reunited with his grandfather unharmed.
A tree leaning on wires on River Road was removed by Con Edison July 7.
Seven car accidents were reported in the village this week.
Animals
A caller reported a sick squirrel on Roosevelt Place July 4. Police went to the scene and observed the squirrel lying still and having shortness of breath. It was not showing classic symptoms of rabies. While police were there, the squirrel died at the scene. Exercising caution, police placed the dead animal inside a garbage bag for sanitation pickup.
A Johnson Road resident reported a squirrel loose in her house July 6. Police could not find it.
A Taunton Road woman reported a dead blue heron on her front lawn near the bushes July 6. Police noticed the bird's body had a torn wing. Police deduced the bird was struck and died there as a result of its in injuries.
Using microchip information, patrol found the owner of a lost dog in the village July 7. Dog and owner were reunited.
A neighbor complained of a barking dog on Palmer Avenue July 8. Patrol contacted the dog's owner who said she would contact the dog walker to address the situation in her absence.
Village code
Police issued summonses to landscapers using gas-powered leaf blowers on Harvest Drive July 3, Cushman Road July 4 and Greenacres Avenue July 6.
Teens were setting off fireworks on Fox Meadow field July 3 and July 4. Police advised each group of teens that fireworks were illegal and no one was allowed on school grounds after dark. In both cases, the teens cleaned up the fireworks' residue and left.
Solicitors on Windmill Lane only had a permit to solicit in White Plains July 5. Patrol advised them they were in Scarsdale, and the solicitors left.
At 7:30 a.m., a worker on Huntington Avenue was told village code prohibited the use of power tools before 8 a.m. on weekdays.
Police told a magazine salesman he needed a permit to solicit in the village July 6.
Police issued a summons to the company that placed handbills on cars' windshields in Freightway Garage July 7.
After neighbors complained of noise, police asked a Brite Avenue party host to lower the sound the party at 11 p.m., July 8. The party host agreed to lower the noise, and she said the party was ending.
After neighbors complained of noise, a Tisdale Road homeowner said he would lower the volume of music he and his friends were listening to on the back deck at 2 a.m., July 9.
A man was issued a summons for using power tools to install drywall in his garage on Carstensen Road at 8:40 a.m., July 9.
Lost and found
A Weaver Street woman reported losing her wallet somewhere in the village July 3. It contained a driver's license and credit card.
On July 6, a woman reported losing her Volkswagen car key on East Parkway sometime around June 21.
Firefighters
Firefighters helped a Tisdale Road resident get back in her house after she accidently locked herself outside July 3.
A gasoline can caught fire in the backyard of a Heathcote Road construction site while a worker was using a gasoline power washer July 6. Firefighters extinguished it with a dry powder extinguisher and a garden hose. Workers said one of them tried to refuel the power washer while it was still running and the can and device caught fire. The burst of flames caused one worker to get burned on his face. The worker was taken to the hospital with injuries.
On July 10, a bag of trash caught fire in a Boulevard driveway. Firefighters extinguished the fire and overhauled the area.
This week, firefighters assisted at two car accidents in the village. They responded to 17 false fire alarms caused by device malfunction, cooking smoke and construction dust.
This report covering police and fire department activity from July 3 – 9 was compiled from official information.

This police report is sponsored by Scarsdale Security who does more than just security. Contact them about remote video for your home or business. Call 914-722-2200 or visit their website.
BLOG COMMENTS POWERED BY DISQUS