Police Report: Connecticut Woman Arrested for Drunk Driving in Village, Apple Care Scam Fools Residents
Published: Wednesday, 08 November 2017 14:49
Traci Dutton Ludwig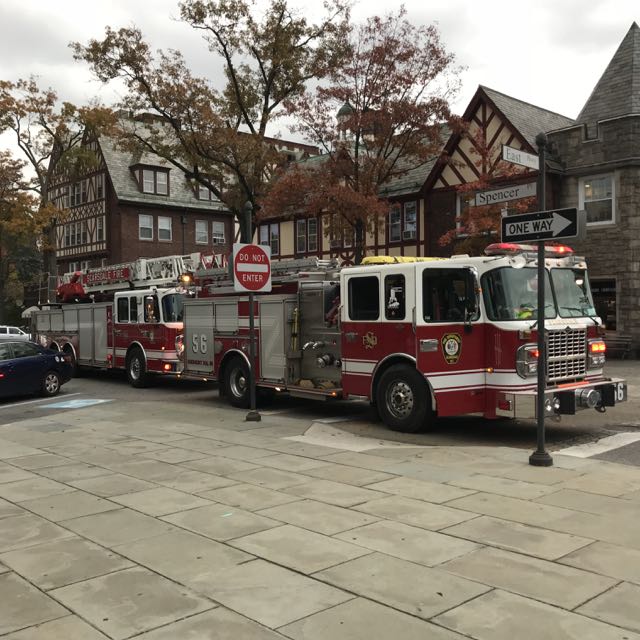 DWI Arrest: On Nov. 6, police arrested Dewanda Ross, 40, of Stamford, Connecticut, on charges of operating a motor vehicle while intoxicated (with a prior conviction), aggravated DWI with blood alcohol content of .18 or more (with a prior conviction), use of a car without an ignition interlock device, unlawful possession of marijuana, moving from a lane unsafely and operating a motor vehicle without insurance. Patrol pulled over Ross's 2012 Honda on Weaver Street at approximately 4 a.m., after her car repeatedly crossed the double yellow line and entered the oncoming lane of traffic. She told patrol she had consumed one beer several hours ago. Her speech was slurred and slow, and her breath smelled of alcohol. She made several statements that did not make sense, such as, "My car is married." She failed field sobriety tests, and an alco-sensor test indicated alcohol on her breath, at a measurement of .21 of once percent. She was arrested and taken to headquarters. There, a small bag of marijuana was found in her purse. A Datamaster test administered at headquarters measured Ross's blood alcohol content at .25 of one percent. Records indicated Ross had been arrested for DWI and convicted in 2012. She was released on $100 cash bail with an appearance ticket for Scarsdale Village Justice Court, returnable Nov. 6.
Identity theft
On Oct. 30, an Olmsted Road man reported someone opened a Bank of America account in his name in March. The account was closed due to possible fraud by the bank.
Lost check
On Oct. 31, a Heathcote Road woman lost an endorsed insurance check issued to her from Hartford Insurance Company. She believes she lost the check somewhere in the village, and an unknown person cashed it at an unknown location. She did not know which bank cashed the check, but the insurance company said they would issue a copy of the cashed check to her within a week.
Scams
An Overlook Road woman reported being the victim of a scam Nov. 2. She told police someone called her, impersonating an Apple support technician. The person told her viruses had infected her computer, but the computer could be cleaned and protected. The person offered to do this for the woman in exchange for payment made by Apple gift cards. In total, the woman purchased ten Apple gift cards and provided the card numbers to the person. In total, the woman lost $1,000 in the process. Police advised the woman to cease all communication with the scammer.
On Nov. 2, a Bradford Road woman was contacted by a person alleging to be employed by Apple, regarding an alleged problem with the woman's computer. The person advised the woman to enroll in "Apple Long Term Care" in order to repair the problem. The woman was instructed to purchase eight Apple gift cards to use as payment for the program. She bought the gift cards, scanned them, and sent them to the person. After doing so, she realized she had been scammed.
On Nov. 2, a Sage Terrace man reported he received several voicemails regarding an alleged security breach with Apple computers. He was instructed via voicemail to stop using his computer. He then called an alleged representative from Apple Care, and the alleged representative instructed him to purchase iTunes gift cards in denominations less than $100. The man purchased four batches of gift cards total, photographed them and emailed them to the alleged Apple Care representative. The first batch was to pay for technical support services for virus cleaning. The second batch was to replace the first batch, which was said to be blocked from access. The third batch was to pay for a new router, which a technician was supposed to install in the man's house. The fourth batch was allegedly for undisclosed services related to the router. After the technician failed to show up at the man's house, the man realized he had been scammed.
Tents
A Butler Road woman reported someone might be living in a tent in a wooded area behind her house Oct. 31. Two tents were found on county property, so Westchester County police were notified and briefed on the matter. Police searched the tents and found no inhabitants. One of the tents contained numerous personal items in damaged states. Some items were moldy. Police removed the tents and items and discarded them. Police will monitor the area.
Landlord/tenant
As part of an ongoing dispute between a Stratton Road landlord and her tenant, the landlord disconnected the tenant's Wi-Fi Nov. 1. The tenant claimed it was stated in his lease agreement that the landlord was supposed to supply Wi-Fi for the tenant. The landlord said her lawyer said she "had every right to disconnect the Wi-Fi." The tenant was not able to show patrol a copy of the lease agreement. Later that evening, the landlord reported the tenant was leaving doors open to the house. The tenant told police a door was once left open during the tenant's process of moving personal items out of the house.
Contractor
A Walworth Avenue homeowner fired her contractor last week and signed a contract with a new contractor Oct. 31. The new contractor was doing work under the permit bearing the former contractor's name Nov. 1. Police advised the building department and told the new contractor to file new permits under his own name.
Leak
On Nov. 3, a man reported someone approached his mother "about a leak in front of her house." The man said her saw the individual on surveillance cameras he had installed at his mother's house. Police spoke with the man's mother and her caregiver. The caregiver informed patrol that the man who came to the house changed the water meter and repaired a small leak. Everything was in good order. Police attempted to contact the man to inform him.
Domestic matter
A man came to headquarters after midnight, stating his wife had exited their vehicle on Tompkins Road and might need assistance Nov. 4. The man's wife was found walking home near Brewster and Olmsted roads. She was coherent and in good condition. She said she "needed some air and wanted to walk home."
Checks
On Nov. 4, a Garth Road woman received two checks in the mail for services not yet rendered, and she believed the checks might be related to a fraud attempt. She did not cash the checks.
Outside
On Nov. 4, a caller reported a man walking around outside and possibly confused on Gaylor Road. The man was a resident who accidentally locked himself outside. While patrol was on scene, the man's wife came home with keys, and the couple went inside their house.
Doorbell
A Chesterfield Road resident reported someone rang her doorbell and fled Nov. 5. Police canvassed the area but did not find anyone.
Suspended registration
While conducting traffic enforcement on Post Road Nov. 5, police encountered a car with a suspended registration. Police conducted a traffic stop. The driver was issued summonses for the suspended registration, aggravated unlicensed operation of a motor vehicle, operating a motor vehicle without insurance and an uninspected motor vehicle. The car was towed to a private house in Mount Vernon, as per the driver's request. Police removed the license plates and vouchered them at headquarters.
Cars and roadways
An electrical house service wire fell on a Spier Road resident's parked car Oct. 30. Police advised the resident to stay away from her car until Con Edison arrived and addressed the situation.
Con Edison was notified about additional fallen wires on Church Lane and Richbell, Heathcote and Wildwood roads Oct. 30. They were notified about branches in wires on Kensington and Butler roads Oct. 31.
A car without license plates was parked on Madison Road Oct. 30. The registered owners said he was in the process of selling it to a Madison Road man. The Madison Road man was instructed to park it in his driveway until he was able to register it.

A deer was struck by a car at Harvest Drive and Rural Road Oct. 30. It died, and the highway department removed it from the roadway.
A car battery died near the intersection of Post and Mamaroneck roads, in close proximity to the driver's house, Oct. 30. A jump-start attempt was not successful. Police helped the driver push the car to the driver's house to get it off the roadway.
Scarsdale and Westchester County police used a push bar to push a disabled truck off the Bronx River Parkway, pending the arrival of a mechanic, Oct. 31.
An unspecified "dead animal" was reported on Fox Meadow Road and picked up for disposal by the sanitation department.
A parked Toyota Prius on Nelson Road was found with its engine running and its lights on Nov. 3. Police turned off the engine and lights and secured the car.
Wires were arcing near trees on Griffen Avenue, in the jurisdiction of Mamaroneck, Nov. 3. Police and firefighters stood by for Con Edison and Mamaroneck public safety personnel.
A public street light pole fell on Garth Road Nov. 3. Patrol secured the area until the highway department could repair it.
Police called tow trucks for disabled cars on Hutchinson Avenue and Crossway Nov. 3.
Patrol helped a driver replace his wheel and tire after the wheel came off the car after the driver exited the Bronx River Parkway at Ogden Road Nov. 4.
Police taped a fallen cable wire to a utility pole at Chase and Crane roads Nov. 4.
Nine car accidents were reported in the village this week.
Dogs
A Brewster Road dog bit a man Nov. 3. The man went to the hospital Nov. 4, and a nurse called police requesting proof of the animal's vaccination paperwork. Police went to the dog owner's house. The owner confirmed his dog had bitten the man, but he thought no injuries had occurred. The man said the dog was up to date on vaccinations, but he did not have paperwork in his possession. He asked his daughter to call the animal shelter in Bradenton, Florida, from where the dog had been adopted, to request paperwork.
Patrol reunited a dog owner with her dog that had broken free from its harness and was found loose on Wayside Lane Nov. 5. Patrol issued the owner a summons for having a dog at large.
Village code
Police issued an Obry Road homeowner a summons for draining pool water in the roadway Nov. 1.
Police issued a warning to the owner of a barking dog on Griffen Avenue Nov. 2.
Two dogs were barking outdoors on Crest Lane Nov. 4. Patrol called the owner. She said she would come home and put the dogs inside the house.
After neighbors complained of noise, a Cornell Street party hostess turned off outdoor music speakers at 11 p.m., Nov. 4.
The host of a Madison Road party quieted music and conversation after neighbors complained at 11:50 p.m., Nov. 5.
Lost and found
A passerby found a wallet on top of a parked car on East Parkway Nov. 1. It belonged to the registered owner of the car. Police returned the wallet to its owner.
A woman visiting her daughter n Fenimore Road reported losing her Canadian passport, possibly in a taxi, Nov. 5.
Firefighters
Firefighters stood by for Con Edison at the site of fallen or sparking electrical wires on Heathcote Road Oct. 30.

Firefighters helped a bicycle owner remove his bike from the rack on East Parkway after the key broke off inside the bicycle lock Oct. 30.

Firefighters shut gas and power to a malfunctioning and sparking cooktop in a Greenacres Avenue house Oct. 30.

A Nelson Road woman accidentally got locked out of her house Oct. 31. Firefighters verified her identity and helped her get back in the house.

Firefighters stood by for Con Edison at the site of an outdoor gas odor and possible gas leak into the storm sewer on Dell Road and Rock Creek Lane Nov. 1.

Low levels of carbon monoxide and haze were ventilated out of a Broadmoor Road house Nov. 1.

The cause was determined to be smoke testing of the public sanitary sewer system.

Firefighters stood by for Con Edison at the site of an outdoor gas odor on Tompkins Road Nov. 1.

Light smoke in a Mamaroneck Road house was caused by the installation of a new oil burner Nov. 1.

Firefighters shut gas and water to a leaking boiler in a Heathcote Road house, pending repair, Nov. 2.

A boiler malfunctioned and released steam into a Fairview Road house Nov. 2. Firefighters shut the system, ventilated the basement and advised the homeowner to call for service.

Firefighters stood by for Con Edison at the site of a gas odor inside an East Parkway building Nov. 3.

A car was leaking a small amount of gasoline in Freightway garage Nov. 3. Firefighters cleaned up the spilled gasoline and helped the driver plug the leak for a temporary fix.

The elevator in the Christie Place parking garage malfunctioned Nov. 4. Firefighters placed it out of service and notified village personnel.

A plumber sweating pipes in an Oak Lane laundry room caused elevated readings of carbon monoxide Nov. 4. Firefighters ventilated the space and stood by for Con Edison.

An Axtell Road resident reported a "roaring fire sound" inside the chimney and possible flames shooting out of her chimney Nov. 5. Firefighters used a chimney bucket to remove fire from the fireplace, extinguish and cool the wood in water. They examined the chimney and found no fire or hot spots. Remnants of an animal nest were found inside the chimney. This was probably the cause of the roaring sound the resident heard. Firefighters recommended having the chimney professionally cleaned and serviced.

A car started inside a Greenacres Avenue garage caused elevated levels of carbon monoxide in the garage. Firefighters ventilated the space.
This week, firefighters assisted at four car accidents in the village and on parkways. They responded to 22 false fire alarms caused by device malfunction, cooking smoke, leaking water, steam, dust, leaking water and smoke testing of the public sanitary sewer system.
This report covering police and fire department activity from Oct. 30-Nov. 5 has been compiled from official information.



This police report is sponsored by Scarsdale Security who does more than just security. Contact them about remote video for your home or business. Call 914-722-2200 or visit their website.

BLOG COMMENTS POWERED BY DISQUS