Police Report: Yonkers Man Arrested for DWI
Published: Tuesday, 21 November 2017 18:08
Traci Dutton Ludwig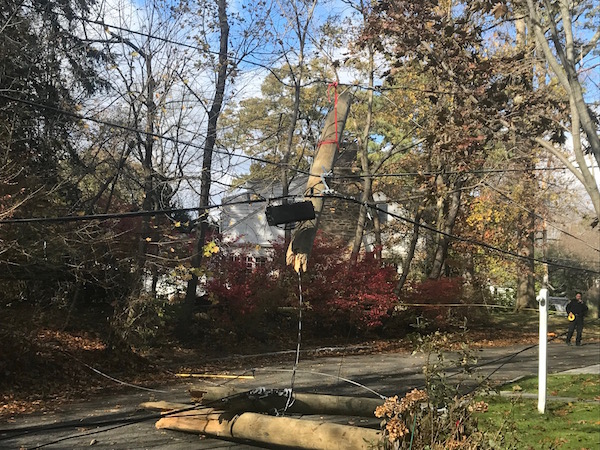 DWI arrest: On Nov. 19, police arrested Craig S. Pearson, 51, of Yonkers, on charges of driving while intoxicated (first offense) and refusal to take a breath test. Pearson was stopped by police at the intersection of Old Lyme Road and Normandy Lane. Upon being stopped, Pearson told police he and his husband had just gotten into an altercation, but he was unable to provide details. While speaking with police, Pearson had difficulty answering simple questions. Patrol smelled alcohol and asked Pearson if he had been drinking. He said he had not. Patrol asked Pearson to step outside the car to perform field sobriety tests. Pearson appeared unsteady on his feet upon exiting the car. His eyes were red and watery. Pearson was unable to perform the tests successfully. Upon attempting to perform an alco-senor test, patrol noticed that Pearson was not blowing into the device, thus failing to provide a breath sample. Pearson was placed under arrest for driving while intoxicated. At headquarters, Pearson was placed under constant supervision because he refused to answer multiple questions during the process of suicide screening and because he was emotional. Pearson presented with minor facial injuries, so police called Scarsdale Volunteer Ambulance Corps to assess his condition. A medic advised that Pearson was not in need of immediate medical care. At headquarters, Pearson did not provide an adequate sample to complete a Datamaster test to assess his blood alcohol level. His car, a 2015 Kia, was impounded for safekeeping.
Dead on Arrival
On Nov. 13, Inez Lilien, 77, of Sycamore Road, died at home in her sleep.
Harassment
A Quaker Ridge woman reported being harassed by her husband Nov. 13.
Message
On Nov. 17, a Brambach Road woman asked police to deliver a message to her sister-in-law, who was parked outside her house, allegedly waiting to speak with the woman and the woman's husband. The woman did not want to speak with her sister-in-law. After police relayed this message, the sister-in-law left.
Language barrier
Police helped resolve an unproductive verbal exchange between a customer and a Garth Road business owner Nov. 17. Due to a language barrier, there was difficulty with an order. Police managed to resolve the confusion.
Cars and roadways
On Oct. 13, a tire fell off a truck while the driver was making a delivery on Garth Road. Police stood by to provide traffic control around the disabled truck, while the driver awaited help from a tow truck.
As a courtesy, patrol called a tow truck for a car with a flat tire on Secor Road Nov. 13.
A caller reported a person on a bicycle holding onto a green pickup truck on Bypass Nov. 14. Police searched the area but did not find the truck or the bicyclist.
A concerned citizen reported aggressive driving by a young man in a Mazda on Mamaroneck Road and Crossway. Police went to the registered owner's house. The owner said her newly licensed son had been driving the car. She said she would speak with him about the caller's concerns and about the importance of safe driving.
Police saw a parked car with an open trunk at Chase Road and Spencer Place Nov. 15. Patrol found the car's owner and advised him to secure the car, which the owner did.
On Sept. 15, police noticed a 2012 Hyundai with a headlight out on Bell Road. After initiating a traffic stop, a DMV check revealed that the car's registration had been suspended for an insurance lapse. Police issued appropriate summonses to the driver, who was from Yonkers. Police removed the car's license plates and arranged for a tow company to tow the car to the driver's house.
The property manager for a Sage Terrace house reported an unknown car parked in the driveway Nov. 16. Police tracked down the owner of the car, who was a neighbor. The owner said she temporarily parked her car in the Sage Terrace driveway because a moving truck was blocking access to her driveway. She moved the car and said she would not do it again.
A driver reported being followed by a black sedan with Florida license plates, driven by a heavyset white man, Nov. 17. The man allegedly got out of his sedan on Depot Place, engaged in a verbal argument with the driver and hit the driver's car with his hand. Police went to Depot Place, but neither party was there.
Patrol removed an errant traffic cone from Post Road Nov. 17.
A car was blocking a fire hydrant on Bell Road Nov. 17. Police got the driver to move the car.
While a disabled compact excavator was being loaded onto a tow truck on Crane Road, the excavator damaged Crane Road's pavement Nov. 17. The operator of the excavator agreed with police that his paving company, out of Yonkers, would repair the damage he caused, following coordination with the Village.
People pushed a disabled car into the parking lot of the public safety building on Post and Mamaroneck roads Nov. 17. Dispatch called a tow truck for assistance.
A Johnson Road resident accidentally left her car door ajar, while parked outside her house, Nov. 17. Police informed her, and she secured the car.
The highway department was notified about large leaf piles blocking the roadway on Sherbrooke Road Nov. 18.
Police removed a fallen branch from Saxon Woods Road, and they notified the highway department about a fallen tree on Overhill Road Nov. 19.
Police used cones to block a section of Vernon Road, pending Con Edison's work to address a branch resting on wires, Nov. 19.
On Nov. 19, police and firefighters closed Forest and Eastwoods lanes because of a fallen tree and snapped utility pole with fallen wires. Firefighters assisted with crowd control and kept the public away from potential hazards related to the fallen wires.
Police notified Verizon about a fallen wire on both Chesterfield Road and Hickory Lane Nov. 19.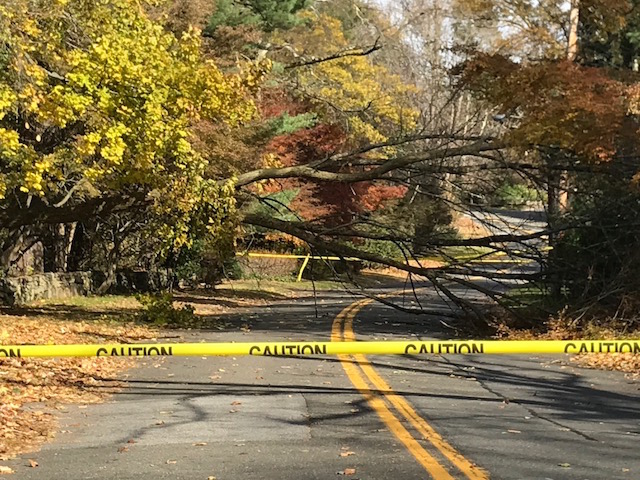 A tree fell on a Post Road house Nov. 19.
Patrol issued a summons to a driver with a suspended registration and a suspended license Nov. 19 after the driver passed a patrol car on Bypass. The suspensions were the result of unpaid parking violations out of White Plains. Patrol removed the car's license plates and allowed the driver to arrange a private tow to return his car to his house in White Plains.
Eight car accidents were reported in the village this week.
Civil matter
A Boulevard resident reported his neighbor was digging up property without permission Nov. 13. Patrol spoke with the building department and learned the neighbor had a permit to replace his driveway. Patrol informed the resident that everything was in good order.
A Carman Road man reported a problem with a microwave delivery Nov. 18. The man said he paid in full for delivery and installation of the microwave. However, the delivery crew said they did not have enough experience to install the microwave. They offered to take back the microwave, and the company offered to reschedule the delivery with a more experienced crew.
Dog
A highway worker found a loose dog on Birchall Drive Nov. 15. The dog belonged to a Birchall Drive resident. With assistance from police, the highway worker made arrangements to take the dog back to its owner's house.
Lost and found
A Sprague Road resident reporting losing his wallet somewhere between New York City and his house Nov. 15. The wallet contained $25, a driver's license, credit and debit cards and miscellaneous personal papers.
A passerby found a Bank of America debit card on Huntington Avenue, near Greenacres School, Nov. 16. Attempts to locate the owner were unsuccessful. Police are holding the card at headquarters for safekeeping.
On Nov. 18, a woman reported losing her wallet after using it to pay for a book at Scarsdale Public Library. She said she might have left it on the counter, but an employee said no one turned in a lost wallet. It contained $100 cash, a driver's license, an insurance card, a registration card, health insurance cards and multiple credit cards.
Firefighters
Firefighters stood by for Con Edison after verifying a gas leak at a curb valve on White Road Nov. 16.
The Ambassador residential facility, on Saxon Woods Road, was without power Nov. 18. The generator was not large enough to supply power to the entire building, and critical patients, in need of electrically powered health care equipment, were moved to areas with power. Firefighters assisted building staff and stood by until Con Edison corrected the problem.
This week, firefighters assisted with one car accident and responded to a total of 28 calls in the village.
This report covering police and fire department activity from Nov. 13-19 has been compiled from official information.

This police report is sponsored by Scarsdale Security who does more than just security. Contact them about remote video for your home or business. Call 914-722-2200 or visit their website.
BLOG COMMENTS POWERED BY DISQUS