Police Report: Unlocked Cars Invite Rampant Theft. Lock Car Doors and Remove Valuables.
Published: Tuesday, 19 December 2017 17:13
Traci Dutton Ludwig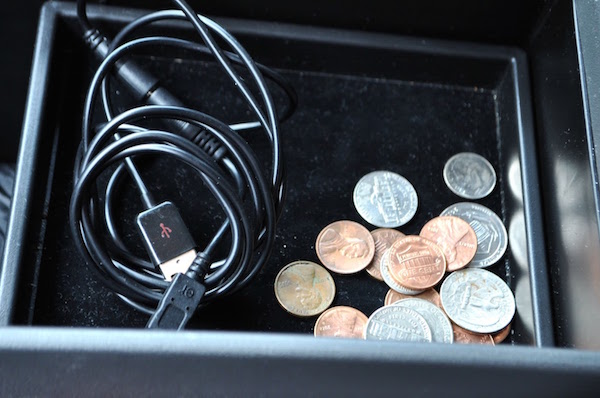 The village was riddled by thefts from unlocked cars this past week. Police urge residents to take precautions by securing cars and removing valuables from plain sight, in order to prevent crimes of opportunity.
Approximately $10 in change were stolen from an unlocked Honda parked in a Church Lane driveway overnight Dec. 10 to 11. Police are following up by investigating a fingerprint found on the driver's side door.
Two recently purchased video games were stolen from an unlocked Lexus parked in a Rodney Road driveway overnight Dec. 10 to 11.
Two unlocked cars were entered overnight, Dec. 10 to 11, in a Windsor Lane driveway. A phone charger, five one-dollar bills, a driver's license and breakfast bars were stolen from one car. Designer sunglasses and approximately $20 in change were stolen from the second car.
On Dec. 11, a Rochambeau Road woman reported her parked and unlocked Land Rover was entered and tossed overnight. A roll of quarters was stolen.
On Dec. 11, an Edgewood Road man reported his unlocked BMW was entered the previous night, but nothing was stolen. A Christmas card on the passenger seat had been ripped open and remained lying on the passenger seat. An iPod, money order and loose charge were in the car, but curiously, they were not stolen.
While conducting patrol on Windsor Lane Dec. 11, police discovered the contents of a Buick Enclave, parked in a driveway, were disturbed. Patrol notified the owner, who said he had not left the car that way. Approximately four dollars in change and an iPhone charger were stolen.
On Dec. 11, a Nelson Road resident reported her unlocked car had been entered overnight. The center console and glove box were tossed, but nothing was stolen.
Approximately eight dollars in loose quarters were stolen out of a parked, unlocked car on Madison Road Dec. 11.
Approximately $15 in change was reported stolen out of an unlocked, parked car on Nelson Road Dec. 11.
A Carstensen Road resident reported her car was entered sometime between 11 p.m., Dec. 10 and 7 a.m., Dec. 11. Nothing was reported stolen.
On Dec. 12, a Barry Road resident reported her unlocked Volvo was entered overnight. The glove box was tossed, and loose change and bills, valued at $10, were stolen from the car.
On Dec. 12, a Hamilton Road woman reported her Honda Pilot was broken into the previous night. Her glove box was "detached," but nothing was stolen. She said the glove box door was already broken, before the incident occurred.
On Dec.12, a Tunstall Road woman reported quarters were stolen from her unlocked car overnight. The glove box was also tossed.
Nothing was reported stolen from an unlocked car that was entered on Crane Road sometime between Dec. 10 and 12.
Criminal mischief
A Walworth Avenue man reported his front door and siding had been egged overnight Dec. 15 to 16. Later, he realized his 2016 GMC Arcadia's tires had been slashed and his car's back windshield and taillight had been broken. Damage was estimated at approximately $2,000. An expensive handbag was left untouched in the trunk of the car so police do not think the crime was motivated by an intent to commit a larceny.
Packages
On Dec. 14, a caller reported seeing two men take a small package from a Brambach Road porch and drive off in a car when approached. The caller described the men as two black males. The caller provided police with a photograph of the men's car. Police are following up.
On Dec. 15, a Walworth Avenue woman reported three packages were delivered to her house, addressed to an unknown person who does not reside at her address. Police are following up.
Stolen purse
On Dec. 11, a Tennessee woman visiting her daughter in Scarsdale reported that her purse was missing. She last saw it in an Uber car in New York City. She contacted the Uber driver, but he said he did not find anything inside his car.
Shoplifting
A shoplifter was caught putting merchandise into her purse and attempting to leave an East Parkway store Dec. 13. The store manager stopped the shoplifter and called police. The manger declined to press charges and told the shoplifter she was no longer welcome in the store. Police escorted the shoplifter out of the store.
Threatening email
A Chase Road man reported his business partner, who is a Connecticut resident, received a threatening email at his work email address Dec. 11. The email demanded that the partner send a quantity of .8 Bitcoin, a virtual currency, to the email's sender. Otherwise, it was stated that the email's sender would send a hit man out for the Chase Road man. The Bitcoin payment was supposed to be in exchange for "information about the person who ordered the killing."

Scam
A Post Road man reported receiving a scam call from an unknown person Dec. 12. The person claimed to be a drug dealer who had the man's wife in custody. The person demanded money in order to release the wife. The man called his wife and confirmed she was ok. The call was a scam.
Domestic matters
Police served two orders of protection to a Fox Meadow man Dec. 15. The man then gathered some personal belongings from his house and left. Patrol notified the man's wife that the orders had been served.
On Dec. 17, police helped a Fox Meadow couple work out an arrangement to stay in contact with each other while the wife is away on a business trip. The couple said they have been experiencing marital problems, and the stress level between them is high.
Homeless
Police encountered a homeless man walking on Post Road, near Oxford Road, at 12:52 a.m., Dec. 12. The man declined assistance in reaching a shelter and said he wanted to walk to a gas station. A warrant check revealed the man was wanted in South Carolina for aggravated assault, but he was not wanted in New York. Several hours later, the man called 911 and was picked up by Eastchester police. He was taken to White Plains Hospital Center for an unknown mental disorder.
Doorbells and suspicious men
An Eastwoods Lane caller reported a white, bald man, approximately 30-40 years old and wearing a colorful jacket and backpack, rang his doorbell around 3:15 p.m., Dec. 12. When the caller got to the door, the man was seen leaving the porch. The man approached the caller's car, parked on the street, and attempted to open the door. Before he did, the man allegedly "looked side to side." The car door was locked, and a neighbor came outside; so the man left the area. The caller attempted to follow the man but quickly lost sight of him and called police.
A Greenacres Avenue woman reported observing a "husky" male, wearing a heavy winter coat and winter hat, ring her doorbell at 7:30 p.m., Dec. 15. After she did not answer the door, the man got into a late model Volvo and left.
A suspicious man was seen looking into a car before running into the woods on River Road at 11:30 p.m., Dec. 12. The man was described as white, approximately 5'6" tall, in his 20s, with a beard, black pants and a puffy jacket.
Delusions
A man diagnosed with a delusional disorder went to headquarters and claimed he was abducted and brainwashed in 1996. He claimed the company that brainwashed him was extorting money from him as well. The man declined to file a report after police advised him to contact a lawyer about possible financial loss. Police contacted one of the man's family members, who lives in Scarsdale. Police helped the man make arrangements for a taxi to take him to his relative's house and later to the train station.
Too late
In the early morning hours of Dec. 15, an East Parkway caller said she was trying to locate her husband, who was expected to arrive at the Scarsdale train station at about 10:30 p.m., Dec. 14. Patrol responded to the scene and began gathering information. During patrol's interview, a taxi drove by with a person who appeared to be the "missing" husband in the back seat. The taxi dropped off the husband at home. The husband was in good health, but stated that he had fallen asleep on the train. He woke up in White Plains and took a taxi home. All was in good order upon patrol's departure.
Lights
A Palmer Avenue resident complained about "a lot of lights" on Rock Creek Lane at 2:30 a.m., Dec. 16. Patrol canvassed the area and noticed exterior lights on multiple houses. However, patrol deemed the lights were not causing a hazardous or offensive condition.
Ice
A caller reported a little boy was walking on ice on the library pond on Olmsted Road Dec. 16. The boy was allegedly being supervised by an adult. Due to the dangers of walking on a frozen surface of a pond, police responded to the scene. No one was there when patrol arrived, but footprints indicated the ice had been walked upon.
Cars and roadways
Police issued a parking summons to the registered owner of a car parked in a handicapped spot on Olmsted Road Dec. 11.
On Dec.11, a Brook Lane man found miscellaneous car parts in his yard. According to a neighbor's account, a car slid down the road in the Dec. 9 snowstorm and struck the man's bushes and a tree. Police vouchered the car parts as evidence and searched the area for a damaged car. However, no damaged cars were found.
Police helped an elderly man find his way back to his New Rochelle house after getting lost on Weaver Street after visiting his sick brother in the hospital Dec. 11. Since it was snowing, police helped the man get into his house safely.
A Broadmoor Road woman reported concerns about getting in and out of her driveway due to construction vehicles digging up a sewer line in front of her house Dec. 13. Police and Village Hall advised contractors they must always move their vehicles to allow the woman and her guests to enter or exit the driveway.
On Dec. 13, a Post Road driver advised patrol her car had turned off and would not start. Patrol advised the driver that her fuel gauge needle was pointing at "E," thus suggesting the car might have run out of gas. The driver said she thought "E" meant "enough gas," and believed she had enough fuel to get home. The driver called AAA and was advised a tow truck was en route with an estimated time of arrival in one hour. Due to extreme cold weather, patrol allowed the driver to wait in the rear passenger area of the patrol car.
A pedestrian crossing sign fell down at Chase Road and Christie Place Dec. 15. Patrol notified the highway department for repair.
Patrol called a tow for disabled cars on Wilmot and Mamaroneck roads Dec. 15.
Police removed a broken piece of asphalt from Popham and Overhill roads Dec. 16.
Village code
Landscapers were seen dumping branches and woodcuttings in a wooded area at Sycamore and Secor roads Dec. 16. The branches had been removed from a Sycamore Road house. Police issued a summons for "littering in public places" to the owner of the landscaping company.
After a neighbor complained, police told a Ferncliff Road man to lower the volume of music playing at an adult gathering Dec. 16. The man complied.
Dog
On Dec. 11, police reunited a lost Sprague Road dog with its owner. Police reminded the owner of Scarsdale Village code regarding dogs at large.
Lost and found
A Putnam Road man reported losing his car's license plates somewhere in the village Dec.14.
On Dec. 17, a caller found a Liebeskind brand wallet containing cash, credit cards and a Deutschland ID card, from Germany. The wallet was found on East Parkway. The caller brought it to the police substation on East Parkway, and police vouchered it for safekeeping at headquarters.
Firefighters
On Dec. 12, A Ridgedale Road resident reported symptoms of possible carbon monoxide exposure. Firefighters and Con Edison checked the house and found no evidence of carbon monoxide or explosive gas. Scarsdale Volunteer Ambulance Corps checked the woman and determined her symptoms were the result of a previous medical condition.
While responding to a false alarm in a Tunstall Road house, firefighters noted wood and shoes stacked next to the boiler in a the basement Dec. 13, Firefighters advised the residents to move items away from the boiler because it was a fire hazard.
Firefighters assisted at a car accident on the Hutchinson River Parkway Dec. 13.
Firefighters stood by for Con Edison at the site of a possible gas leak at a Secor Road range Dec. 17. Con Edison determined there was a delayed ignition on the oven, causing the release of unburned gas. Con Edison placed the range out of service and advised the resident to call for repair.
This report covering police and fire department activity from Dec. 11-17 has been compiled from official information.

This police report is sponsored by Scarsdale Security who does more than just security. Contact them about remote video for your home or business. Call 914-722-2200 or visit their website.
BLOG COMMENTS POWERED BY DISQUS