Scarsdale Family Killed in Plane Crash in Costa Rica
Published: Sunday, 31 December 2017 19:56
Joanne Wallenstein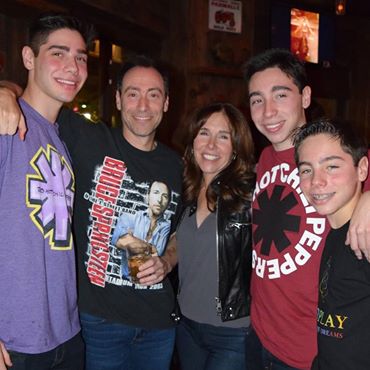 A family of five Scarsdale residents died in a plane crash in Costa Rica on New Year's Eve day at 12:16 pm local time. Bruce and Irene Steinberg and their three sons Matthew, William and Zach, all of Greendale Road, were among 12 people who died when their plane crashed en route from Punta Islita to San Jose Costa Rica. The other victims were a family of four from Florida, a Backroads travel guide, the pilot and co-pilot.
The Nature Air Cessna 208 Caravan crashed shhortly after takeoff in a mountainous area near the Pacific coastal beach town of Punta Islita in the Guanacaste peninsula. It burst into flames. The cause of the crash is remains under investigation.
Stephen Beaudreau, a retired Spanish teacher living in Costa Rica contacted
Scarsdale10583 and said the following about the cause of the crash:
"They aren´t saying anything at the moment. Reporters did ask the authorities if they thought it was due to mechanical failure or the plane being overweight, but they just replied that they couldn´t say anything at this time. They did, however, report strong wind gusts in the area, but that is pretty normal for this time of year, and pilots are used to flying in those conditions. It was also sunny and clear. It seems that the plane was able to take off, but shortly after take off crashed into a hillside near the airport, and burst into flames."
Liz Einbinder, a spokesperson for Backroads sent her comments to Scarsdale10583.
Zachary, (SHS '16) was a student at Johns Hopkins University, Will, (SHS '17) attended the University of Pennsylvania and Matthew was a student at Fieldston. The Steinbergs were members of Westchester Reform Temple and Sunningdale Country Club. Bruce Steinberg was a senior investor at Bridgewater in Connecticutt. The community is in shock and all are mourning this tragic loss.

Family friend Karen Asher Metviner said, "We loved their family. Zach was my son Joseph's best friend and will miss him every day. The world is a sadder, more lonely place without them. Our hearts are aching. No one should have to bury their children, but grandchildren as well - and a whole family - it's an unimaginable nightmare."
Scarsdale Schools Superintendent Thomas Hagerman sent out the following message to the community on Monday January 1:

Dear Scarsdale Schools Community:
By now you have likely heard the very sad news that all five members of the Steinberg family died in a plane crash yesterday. This tragedy is hard to process for a variety of reasons, not least among them the loss of an entire family in one instant.
Zachary graduated in 2016 and William in 2017; third son Matthew was at Fieldston. Irene Steinberg was actively involved in giving her time to the District, chairing the High School's College and Career Center. The Steinbergs' recent graduation dates and rich involvement in the District created a variety of connections which intensify the grief we feel.
School counselors will be available for any students who need support when we return to school tomorrow, and we will add resources if the need arises. In addition, District alumni who are home for the holiday break are invited to visit with our counseling staff. If you are aware of someone who is struggling with grief, please alert a member of the counseling staff or the administrative team so that we may reach out.
May we transform the sense of loss we feel as we welcome the new year into a deep gratitude for the life and love we enjoy every day.
Sincerely,
Dr. Thomas Hagerman
Superintendent of Schools
State Assemblywoman Amy Paulin, who lives in Scarsdale, sent her condolences:

I would like to offer condolences to the Steinberg family today following the tragic deaths of Bruce and Irene Steinberg, who were killed along with their sons Matthew, William and Zachary in a plane crash in Costa Rica on Sunday.
I can't imagine the overwhelming grief the Steinberg family is feeling today. While I didn't know the Steinbergs personally, they were Scarsdale residents. I know my community – I have lived in Scarsdale for decades – and I know that it is at times like this that we will pull together to help this family in any way possible.
The Steinberg family will be in our hearts and prayers today. While we celebrate the possibilities that come along with the New Year, let us not forget this family and the lives that were cut short.
The UJA Federation of New York issued this statement:

UJA-Federation of New York mourns the loss of our dear friend, Irene Steinberg, and her family, who tragically died this weekend. Irene and her family have been long-time UJA supporters and Irene most recently served as an area chair of the Scarsdale women's campaign. The family was generous, kind, and loved being part of the Scarsdale and Jewish communities. Irene worked tirelessly on behalf of UJA, helping us support vulnerable New Yorkers and was an extraordinary person -- devoted mother and wife and loyal friend. She and her family will be sorely missed.

Bereavement Support will be offered at Westchester Reform Temple at 255 Mamaroneck Road in Scarsdale this week from 1:30 and 3:30 pm on Tuesday, Wednesday, and Thursday. A memorial service will be held for the family at Westchester Reform Temple on Sunday January 7 at 2 pm.

Please share your memories of the Steinberg's in the comments section below: