Police Report: Bradley Road House Burglarized During Homeowner's Vacation and Petty Thieves Target Unlocked Cars
Published: Wednesday, 14 February 2018 15:14
Traci Dutton Ludwig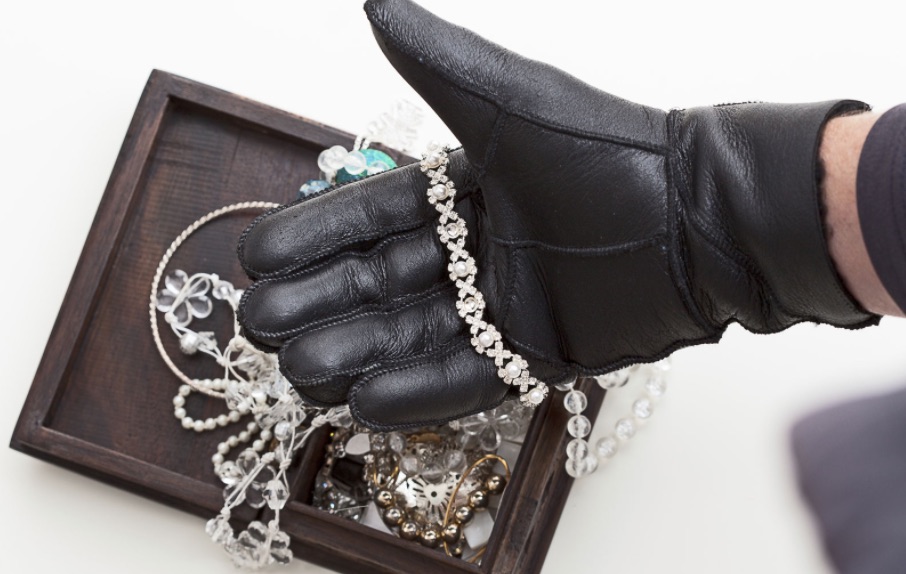 On Feb. 7, a Bradley Road couple reported their house had been burglarized sometime while they were on vacation from Jan. 24 through Feb. 7. Upon returning home, they discovered three open windows on the ground floor. The master bedroom and guest bedroom had been ransacked. A jewelry box containing miscellaneous pieces of jewelry, assorted coins and approximately 15 bottles of wine were stolen. Police spoke with a neighbor who had been inside the house to raise the thermostat temperature prior to the couple's return. The neighbor said she did not recall seeing open windows or experiencing a dramatically cold temperature in the house.
Car Break-In
A Brookline Road man received an alert from an exterior motion camera at 4 a.m., Feb. 7. The camera recorded what appeared to be a man wearing a hooded sweatshirt and a backpack attempting to gain entry to three cars parked in the driveway. Since the cars were locked, the suspect was not successful. While examining the scene, police found a backpack in bushes near the driveway. It contained a check belonging to another Brookline Road resident. Police went to the check owner's house and determined, with the homeowner/check owner, that his cars had been entered overnight. In addition to the check and backpack being stolen, approximately $60 in coins and bills was stolen. Police are following up.
During the overnight period from Feb. 6-7, a roll of quarters was stolen from an unlocked 2018 Chevrolet Suburban parked in a Pinecrest Road driveway. The roll of quarters was worth approximately $12, the owner said. Police are following up with a neighbor who has a security camera near the vicinity of the car break-in.
A Forest Lane woman reported her parked 2016 GMC Acadia had been entered overnight Feb. 6-7. Approximately $20 in loose change and bills, two gold-rimmed Ray Ban sunglasses and a $20 Starbucks gift card were stolen. The car had been unlocked overnight.
On the morning of Feb. 7, a Forest Lane woman received a call about possible fraudulent used of her debit card in New York City. Several hours later, she realized the card had been stolen out of her unlocked, parked car overnight.
Identity Theft
On Feb. 2, someone used a Kent Road man's Bloomingdales credit card to purchase a coat worth over $1,000. The man canceled the card after learning about the transaction, but on Feb. 8, the $1,000 coat arrived at the man's house. He reported it to police and said he would return the coat to Bloomingdales.
Scam
A Herkimer Road teen listed a pair of Adidas Yeezy sneakers on eBay. A person contacted the teen about the listing and offered $600 for the shoes, which was well above the shoes' average selling price of $500. The person allegedly sent payment of $600 and then accidentally sent a "double payment" of $400. The teen then received two emails which appeared to be from "PayPal," but which were actually fraudulent. The first email appeared to be a "payment received" acknowledgment. The second email advised that a "double payment" had been received. The buyer of the shoes then advised the teen to cancel the transaction by following the instructions in the email and send $400 to an address in Nigeria via Western Union.
Taxi
A taxi driver dropped an intoxicated passenger off at a Leatherstocking Lane address after 2 a.m., Feb. 5. Shortly thereafter, the passenger called the driver back and asked him to pick her up again. Upon his arrival, the passenger was lying in the grass. The driver called police because he was concerned about the passenger's welfare. The passenger told police she lived in Harrison and got dropped off at the wrong address. She said she needed help getting a ride home. Police called Bluebird Taxi to pick her up and drive her home.
Mailbox
On Feb. 10, a Meadow Road mailbox was found ripped from its wooden post and lying on the ground approximately 10 feet from its normal location. The wooden support pole was also found lying on the ground.
Mail
On May 5, a Jefferson Road man reported he did not receive his pay stub and W-2 form as expected, Police advised him to contact the post office to determine if the mail had been lost or misdelivered.
Skater
A caller reported a person skating on the pond on Duck Pond Road Feb. 6. Patrol warned the person he was on private property and needed to cease his skating. The person complied and left.
Sidewalk Hatch
On Feb. 6, numerous people complained about an open sidewalk hatch on Garth Road. Patrol spoke to the business owner and advised him to close the hatch or mark the area with a green safety fence, rather than just an orange safety cone, Feb. 6. The owner said he would speak with his employees.
Bicycle
Police observed a bicycle locked to a street sign on Woodland Place Feb. 9. It had been there for several days. Police placed a note on the bicycle, advising the owner to move it by Feb. 12. Otherwise, it would be impounded.

Notification
A caller from Cornell University was attempting to reach the Edgewood parents of a girl who was taken to the hospital Feb. 10. She was unable to reach the girl's parents and asked for police to help. Police attempted to notify the girl's parents but no one was home.
Altercation
Two female residents at a Post Road group home got into a verbal dispute during a counseling meeting regarding ongoing issues in the house Feb. 10. Police advised the women to stay away from each other to avoid further arguments.
An elderly Aspen Road man was unhappy that a caretaker, hired by his daughter, was in his house Feb. 11. Patrol spoke with the daughter and she arrived at the house to resolve the matter.
Water
Overflow from a storm drain was causing a Chase Road storage basement to flood Feb. 11. The store owner contacted his landlord, and police notified the highway department and firefighters, in order to address the inch of water already in the basement.
Suspicious
On Feb. 5, a Crane Road woman reported two suspicious incidents that happened in the past. The woman reported a man wearing dark clothing repeatedly knocked on her door on Jan. 24. When she did not answer the door, he walked to her recycling bin, looked at her recyclables and left her property. She also reported that a man knocked on her door soliciting dog food, which she declined, Feb. 2.
A Rock Creek Lane woman reported a man rang her doorbell and walked around the perimeter of her house while her 16-year-old daughter was home at 3:25 p.m., Feb. 7.
A Mamaroneck Road caller reported an unknown car parked in his driveway Feb. 9. When approached, the driver allegedly sped off. Around the same time, patrol noticed the same car turn around in the parking lot of Weinberg Nature Center and then drive down Barker Lane, which is a dead end. Patrol thought the driver's behavior was strange but did not conduct a traffic stop. Patrol ran the license plate of the car and it came back clean.
A man was reported to be standing in the woods near the sanitation department at Secor Road and Palmer Avenue at 9 a.m., Feb. 11. Police questioned the man. He said he was on surveillance detail of a subject in the area. Police confirmed the man's identity and verified his story. Additional concerned callers reported seeing the man there at 5:30 p.m. later that day.
Cars and Roadways
A passing truck pulled down phone wires on Walworth Avenue Feb. 5. Police notified Verizon for repair. The driver apologized for the inconvenience.
A caller reported a person sitting in a running car with tinted windows at Sycamore Road and Secor Lane Feb. 5. The driver identified himself to police as a member of law enforcement working on a case.
A man sitting in a dark sedan at the bottom of a Rock Creek Lane driveway alarmed a boy who came home from school at 3 p.m., Feb. 5. The man was identified as a private investigator working on a case. A similar complaint was made against the investigator at 8:22 p.m., Feb. 6.
Police issued a summons to the owner of a car parked in a "no parking" zone on Edgewood Road Feb. 5.
Police advised the highway department to repair a broken manhole cover on Freightway Road Feb. 6.
Multiple legally parked construction vehicles were making the roadway narrow on Ferncliff Road Feb. 6. Patrol asked one of the drivers to move his vehicle to the opposite side of the road to facilitate traffic flow.
A locked BMW was found idling in Freightway Garage Feb. 7. Police contact the registered owner's wife who came to the garage and turned off the car's ignition.

Drooping bamboo branches over Post Road were cut back to facilitate traffic flow Feb. 7.
Con Edison was notified about a fallen wire on Sprague Road Feb. 7. Police secured the area with police tape.
Patrol removed fallen branches from Ridgedale, Springdale and Paddington roads and Harvest Drive Feb. 7.
Mount Pleasant police asked Scarsdale police to contact the owner of a 2014 Subaru involved in a hit-and-run accident in their jurisdiction Feb. 7. Patrol contacted the owner, a Popham Road resident, and stayed on scene while she contacted Mount Pleasant police.
A Garth Road restaurant's dumpster was placed in front of parking meters Feb. 8. Patrol asked the manager to move the dumpster.
Police taped off the area around a fallen tree and wires on Leatherstocking Lane Feb. 8. Con Edison was notified.
Verizon was notified about low-hanging wires on Popham Road Feb. 8, Herkimer Road Feb. 9 and Heathcote Road Feb. 10.
Police issued a parking summons to the owner of a Jeep parked with both passenger side tires on the lawn of a Dolma Road resident Feb. 8.
A caller reported a "large ditch" on Saxon Woods Road Feb. 8. Patrol placed traffic cones in the broken roadway and notified the highway department.
Patrol helped a driver push a disabled car from Popham Road onto Scarsdale Avenue where the car was able to roll to the Gulf gas station there Feb. 9.
A River Road woman reported her driveway was covered with ice and she was afraid of sliding onto the Bronx River Parkway while attempting to pull out Feb. 9.
Patrol blocked one lane of the parkway and assisted the woman in exiting her driveway.
A caller reported a person sitting in a Jeep with tinted windows on Palmer Avenue Feb. 10. The driver identified himself to police as a private investigator working on a case. Police advised the investigator to move his car since it was not legally parked.
Police placed a traffic cone in a large pothole on Heathcote Road and notified the department of transportation. Police also marked and addressed potholes on Post Road later that day.
Five car accidents were reported in the village this week.
Village Code
Police advised a Walworth Avenue resident to move a school bond campaign sign out of village property and into the resident's yard Feb. 5.
Patrol notified an electrician about a loose traffic light at Palmer Avenue and Wynmor Road Feb. 5.
Police advised a Mohican Trail solicitor that he needed a permit to legally solicit in the village Feb. 5.
A Tisdale Road contractor was issued a summons for performing loud work with motor-driven equipment before 10 a.m., Feb. 10.
A caller complained about a barking dog on Meadow Road Feb. 11. Patrol made the dog's owner aware of the complaint. The dog was quiet when patrol was at the house.
Lost and Found
A woman found in ring in front of CVS on Popham Road Feb. 10. She gave to lost ring to police at headquarters, where it was vouchered as lost property.
Firefighters
According to Scarsdale Fire Chief James Seymour, the fire department responded to 32 incidents last week, which included at least one car accident and the following notable events.
Firefighters assisted a Con Edison mechanic check for a possible natural gas leak in a Carman Road house Feb. 6.
A furnace malfunctioned and released carbon monoxide in a Sprague Road house Feb. 10. Firefighters notified Con Edison, and Con Edison shut down the furnace.
Approximately three to four inches of water accumulated in a Farragut Road basement, putting the hot water heater's pilot light underwater. Firefighters shut gas to the water heater and furnace and turned off appliances at the circuit breaker. Firefighters set up pumps to pump water out of the basement and release the water at the street. Firefighters advised the homeowner to call a plumber, an electrician and his insurance company.
This report covering police and fire department activity from Feb. 5-11 was compiled from official information.

This police report is sponsored by Scarsdale Security who does more than just security. Contact them about remote video for your home or business. Call 914-722-2200 or visit their website.