Saturday Morning Storm Update: 1,533 Outages Reported in Scarsdale
Published: Saturday, 03 March 2018 07:16
Joanne Wallenstein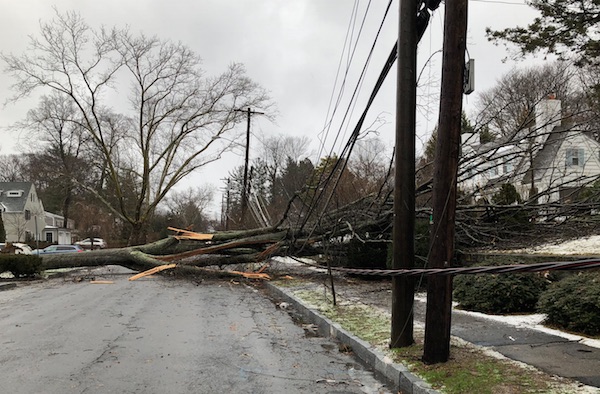 (Updated at 10:30 am) As of 10:30 am, the State of Emergency remains in force in Scarsdale to allow time for Con Edison to cut power to the downed lines that may still be energized.

According to Village Manager Steve Pappalardo, "Public Works crews continue to work clearing trees, removing wood and opening roadways not impacted with downed power lines. Con Edison has assigned a line cutting crew to the Village who are working to safely cut electrified power lines, utilizing the Village's inventory of street closures, so Village crews can remove the trees and begin opening these roads. In addition, a Village Building Inspector is currently inspecting the safety of certain homes damaged by felled trees.They have not provided an estimated time when the work will be completed."

In addition, he warns residents to stay away from power lines: ..."Please be reminded that if you must go outside, to stay away from any power lines or wires, and do not remove any barricades or Police tape. Please call the Police Department at 722-1200 if barricades and tape need to be restored at any location.

(Saturday morning 3/3) The March 2 storm has crippled Scarsdale and Westchester County. Con Ed reports that one sixth of their Westchester customers are without power and in Scarsdale, 1,533 separate outages have been reported. As of Friday night, 33 Village roads were closed. The State of Emergency that prohibits driving or parking or walking on Village streets remains in force.
All Scarsdale Recreation programs for today are cancelled. Scarsdale Public Library is closed for today.