Monday Morning Power Outage Update
Published: Monday, 05 March 2018 07:44
Joanne Wallenstein
Good Morning Monday! Though as much of a third of Scarsdale remains without power, schools are open today, Village Hall will reopen, the library is open and it's business as usual (almost).
The State of Emergency, which barred cars and pedestrians from using Village roadways was officially lifted on Sunday night, but the Village Manager reports thay many Village roads are still hazardous and traffic lights are out. There are trees and power lines down in many locations. The Village warns that "a non-functioning traffic light serves as a mandatory stop sign, whether a stop sign is posted or not."
Over the weekend it appears that Village crews removed many of the trees blocking major roads, which eased traffic. Many smaller roadways are still blocked by downed trees and wires. However, the public works crews are unable to touch the power lines --so power has not been restored to those who were knocked out on Friday afternoon.
Village Manage Steve Pappalardo reports that 200 Con Edison crews are headed for Westchester on Monday morning, and that Con Edison's goal is to bring power back to 57,000 customers in Westchester by Tuesday night. Let's hope! The Village has also promised a complete list of outages on their website. So far it does not appear to be up and we don't have a count of how many homes are without power.

Here's what else has been reported:
The Scarsdale Library will have extended hours and welcomes anyone who wants to get warm and charge their devices.
School are fully operational and will resume their normal schedule including after school activities and the Board of Education meeting on Monday night March 5.
For those whose child's bus stop is blocked by trees or fall wires, the school asks you to call the Bus Transportation Office at 721-2433 and 721-2434 to coordinate pick up.
We received many great photos from all over town this weekend.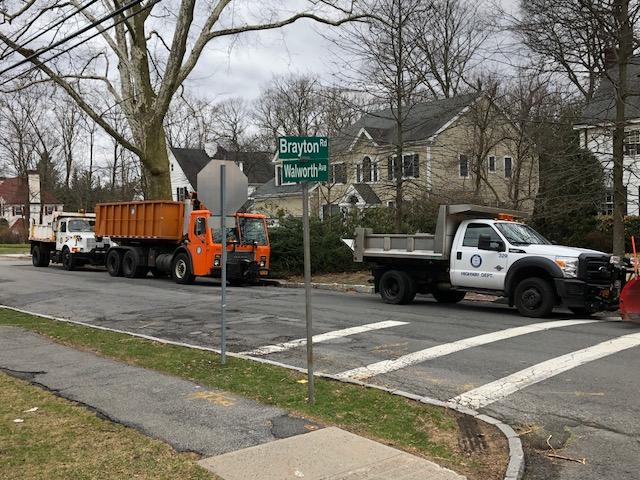 Guy Gurden was happy to see Walworth Avenue cleared by Village Crews. However, the trees are still suspended on the wires.


Kelwynne Road, behind the middle school is also blocked – check out this photo. Traffic into the school will undoubtedly need to be re-routed.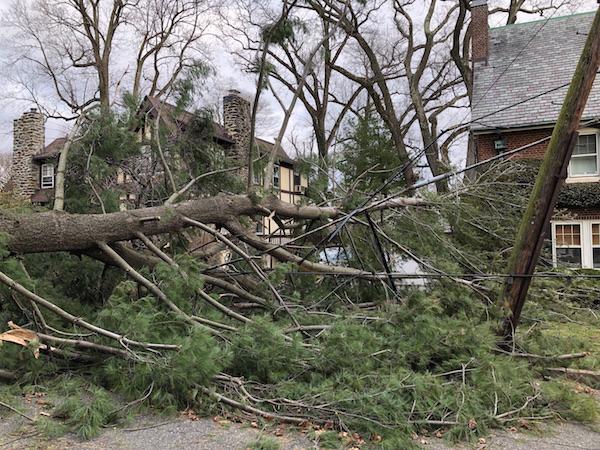 Greeenacres Avenue was also still blocked on Sunday night: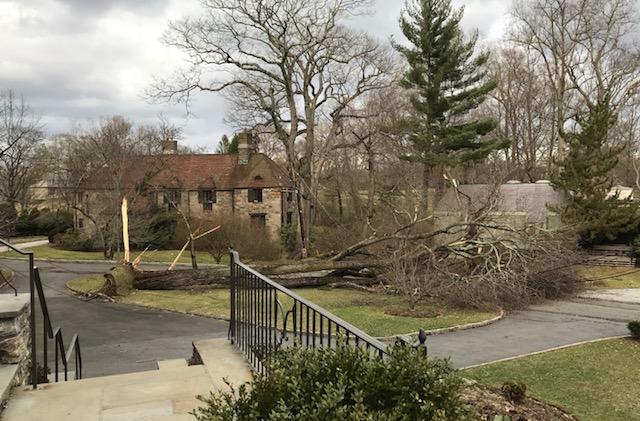 Melanie Spivak shared her story of a large tree that fell in front of her house on Bradford Road, taking down the utility pole and live wires with it. The wires fell on her driveway and blocked the roadway. She called 911 and the police to tell them the wires were on fire but no one came. According to Spivak, "I spent Friday and Saturday trying to contact Con Ed. I finally got through by social media- Facebook messenger and tweeting. They gave me an Emergency Ticket and then sent a man out to assess the situation. He told me my situation was " really bad"! So now he is instructed to watch the tree. He's been there more than 9 hours so far."
Late Sunday she reached the command center in Scarsdale who told her the street was "clear," though the wires remain on the ground. There are now two Con Ed employees stationed on Bradford Road to monitor the wires.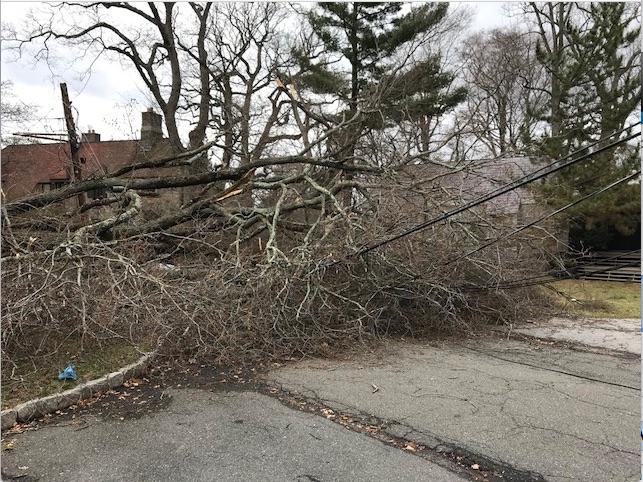 If you see Con Edison trucks making repairs, let us know in the comments section below or send us a photo at Scarsdalecomments@gmail.com.