Police Report: Nor'Easter Puts First Responders to the Test
Published: Wednesday, 07 March 2018 14:42
Traci Dutton Ludwig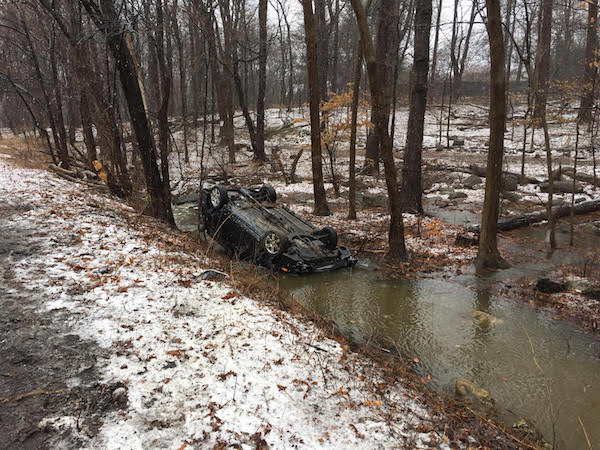 Bringing persistent rain and damaging winds, a powerful nor'easter put the village's first responders and resources to the test March 2. The storm took out a considerable number of trees and utility poles, many of which also brought down electrical wires. The Village declared a state of emergency due to risks associated with the overwhelming number of closed roadways and live wires on the ground. Village public works' crews, firefighters, police and Con Edison teams assigned to the village worked tirelessly to restore safe conditions to the Village. In response to continuing power outages in some areas, the Scarsdale library extended its hours and became a makeshift warming station, with electricity, WiFi and free coffee. The Scarsdale Volunteer Ambulance Corps headquarters also opened its door to residents seeking warmth and electricity during the days following the storm. SVAC president David Raizen invited residents to use SVAC's facility, on Weaver Street, for "warmth, phone charging, warming a meal, showers, TV and Internet" from 7 a.m. until 10 p.m. However, no pets were allowed at SVAC or the library. In addition, residents with power or generators opened their doors to neighbors or Facebook friends whose homes remained without electricity into the week.

Identity Theft
On Feb. 28, Scarsdale police were contacted by a police detective in Derry, New Hampshire, in reference to an unauthorized withdrawal that occurred on Dec. 5 from the Bank of America branch located on Christie Place. Scarsdale police went to the branch and interviewed the manager and a teller who was working on the day of the incident. Upon review of a photo of the person who made the withdrawal, the bank manager and teller said they did not recognize the person as a regular customer. Scarsdale police passed along this information to the New Hampshire detective.
Package
On March 3, a Harvest Drive woman reported a package arrived at her house addressed to an unknown person. She did not order the package. Later that day, a man rang her doorbell and requested the package. The woman's housekeeper gave the package to the man. The man was last seen leaving the scene in a white, four-door sedan, driven by a woman.
Trash Cans
A Woods Lane woman reported a neighbor placed trash on her property Feb. 26. Patrol spoke with the alleged owner of the trash, who said she had temporarily moved trash off her property so her house could be photographed for a real estate listing. Patrol reviewed village code regarding trash and sanitation pickup, and all trash was moved back on the appropriate property.
Door
An Authenreith Road resident reported his neighbor's door had been open for at least an hour Feb. 28. Patrol checked the house and confirmed nothing was out of place before they closed and secured the door.
Pedestrians
An Uber driver walked into headquarters to report he saw a woman walking on Post and Kingston roads after midnight Feb. 28. The driver thought the woman might be in distress. Patrol went to the area and found the woman. She said she had a dispute with "a taxi driver dropping her off at the wrong location" and then allegedly "kicking her out." She said she was now walking to her final destination. After patrol spoke with the woman and expressed concern, the woman called a friend to pick her up.
On March 3, police called a taxi for a woman who wanted to go to a hotel. A language barrier existed, but the woman had a hotel key card that facilitated communication.
Phishing
A Brite Avenue resident reported receiving calls and texts from various numbers, seemingly with the purpose of obtaining personal information Feb. 28. Patrol advised him to block the calls or change his phone number if the calls and texts became too annoying.
Phone
A 90-year-old Olmsted Road woman reported she had lost phone service and was afraid she might lose power and not be able to charge her phone and contact emergency services if needed March 2. Patrol confirmed the woman's house had power and that the woman's cell phone was charging before patrol left the house. Patrol notified Verizon about the disruption in the woman's landline service.
Family Function
A man walked into headquarters on March 2, and he reported he was hosting a family function the next day. He told police an individual known to him would not be welcome at his house. He told police he would advise the individual. Patrol told the man he could call them if the individual showed up at his house.
Parking Ticket
A Hathaway Road woman reported she attempted to pay an Eastchester parking ticket online and was concerned that the website she used might not have been legitimate March 3. She said she canceled the credit card associated with the transaction. Patrol advised her to monitor her credit history for any unusual activity.
Damaged Cars, Houses
A large tree branch, from a village-owned tree, fell on a 1998 Toyota parked on Ogden Road March 2. The owner of the car and the highway department was notified.
A falling tree damaged a 2015 Ford on Saxon Woods Road during the windstorm March 2. The owner of the car was a resident of Saxon Woods Road. No injuries were reported.
A tree fell on a 2017 Honda Civic in a Popham Road parking lot March 2.
Two village-owned trees fell onto a Harvest Drive property March 2. The trees damaged the resident's retaining wall, pool, patio and patio roof. Police notified the highway department.
A tree uprooted and fell on Fenimore Road March 2. It took down phone and cable wires, caused a hole to break in the sidewalk and damaged a homeowner's rock wall. The highway department was notified.
A village-owned tree fell on a Rock Creek Lane house March 2. The building department responded to evaluate the safety and integrity of the house.
A falling tree on Walworth Avenue heavily damaged A 2015 Honda CVR March 2. The owner of the car called police for assistance. The car was towed to an auto body shop since it was no longer roadworthy.
A private tree fell on a Weaver Street house, causing significant damage, March 2.
A private tree fell on a 2010 Ford on Cooper Road, on private property, March 2.
A Woods Lane woman said a tree fell on her house and car March 2. She did not request a police report.
A falling tree severely damaged a Lorraine Place house, prompting firefighters to shut all utilities to the house, March 2. The residents were evacuated, and police provided rides for security purposes.
Trees fell on houses, all on private property, on Mamaroneck, Taunton and Ferncliff roads March 2. Firefighters and the building department were notified to check the integrity of the structures.
Cars and Roadways
Police picked up a fallen street sign at Butler and Hampton roads and gave it to the highway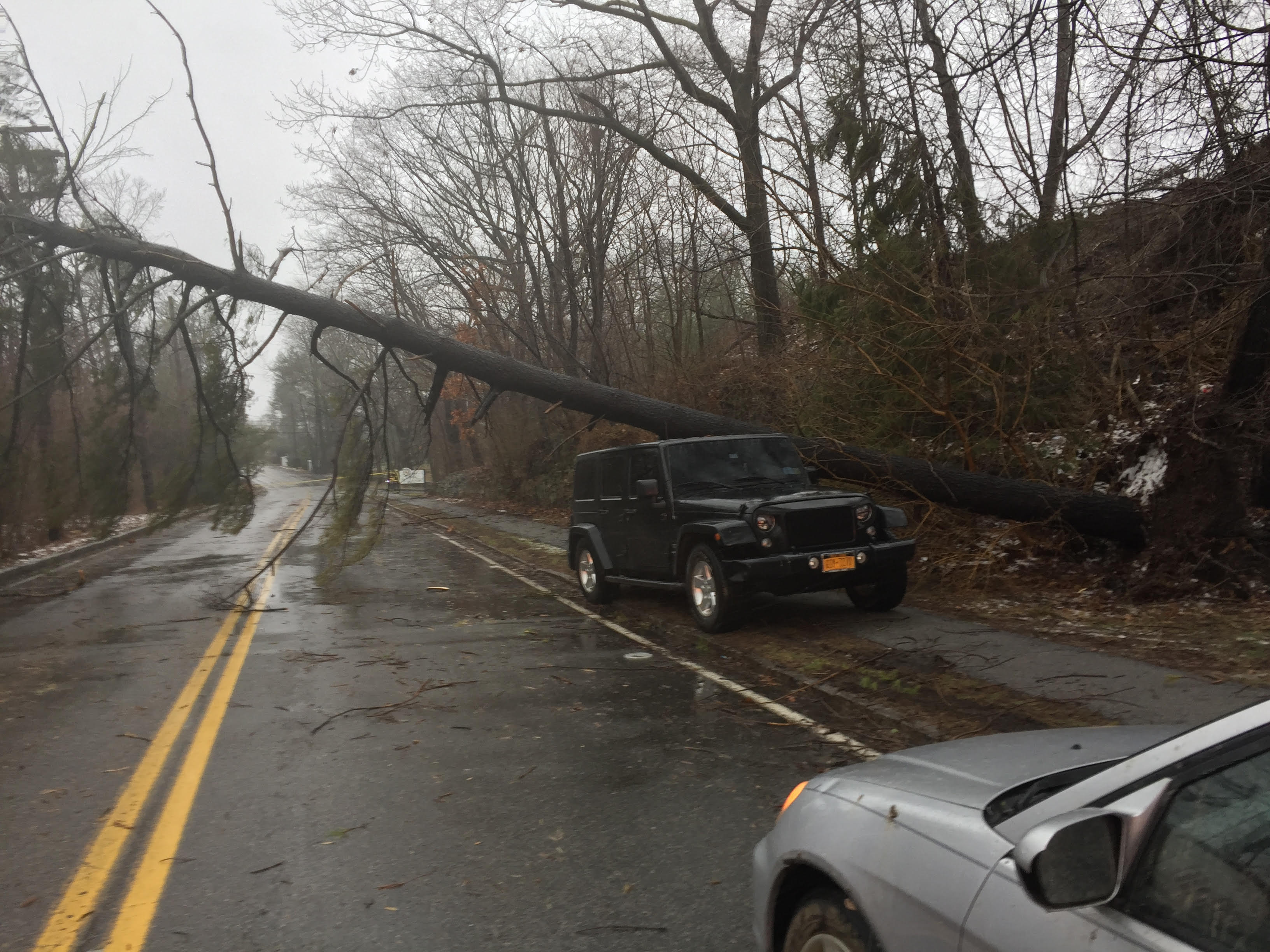 department for replacement Feb. 26.
An electrical transformer exploded on Olmsted Road and residents on Olmsted Road and Tory Lane lost power Feb. 26. Con Edison was notified.
Patrol stood by while a driver changed a flat tire on Post Road Feb. 27.
Two legally parked cars were making the roadway a bit tight on Tompkins Road Feb. 27. Police located the car owners and asked them to slightly move their cars to open up space and ease traffic flow.
A Richbell Road resident parked his car in a neighbor's driveway while construction vehicles were using his driveway Feb. 28. The neighbor did not recognize the car and called police. Patrol sorted out the confusion and the resident moved his car.
On Feb. 28, police advised the highway department of a pothole in the crosswalk between East Parkway and Christie Place. A pedestrian reportedly tripped in the pothole but was not injured.
A sign for the Bronx River Parkway had fallen into Butler Road Feb. 28. Police removed the sign from the ground, propped it up against a rock and notified Westchester County police.
A hand truck fell onto the road at Post and Crane roads Feb. 28. Shortly thereafter, a truck driver returned to the scene to retrieve the fallen hand truck.
Six car accidents were reported in the village this week.
Storm Incidents
A street sign blew over on East Parkway March 2. Patrol removed the loose sign from the roadway and notified the highway department.
A car sustained a flat tire after driving into a pothole on Post Road while trying to avoid a fallen branch March 2. Patrol helped the driver move her car into the parking lot of Village Hall where she waited for a tow truck to arrive.
On March 2, police and the highway department responded to reports of fallen trees, branches or utility poles on Mohican Trail, Oak Way, Boulevard, Crossway, Sage Terrace, Brittany Close, Lorraine Place, Gilmore Court, Harvest, Birchall and Rural drives, Weaver and Cornell streets, Woods, Morris, Normandy, Forest, Deerfield, Oak, Wayside and Church lanes, Palmer, Brite, Griffen, Greenacres, Walworth and Grand Park avenues and Barry, Post, Secor, Corell, Oxford, Mamaroneck, Garden, Heathcote, Crane, Sherbrooke, Cushman, Donellan, Fox Meadow, Fenimore, Brewster, Aspen, Claremont, Boulder Brook, Saxon Woods, Rodney, Stratton, Jefferson, Richelieu, Hamilton, Paddington, Tompkins, Shawnee, Duck Pond, Wildwood, Brookby, Lincoln, Brambach, Lakin, Oxford, Cambridge, Mayflower, White, Richbell, Bradford, Kelwynne, Olmsted, Whig, Overlook, Dolma, Popham, Park, Lockwood, Putnam, Spier, Dunham, Eton and Lee roads. In some cases, trees and poles took down phone and/or electrical wires. Some fallen electrical lines resulted in burning wires and power outages. Patrol closed roads, taped off dangerous areas and notified Con Edison, firefighters and the highway department as needed. Temporary stop signs or generators for traffic lights were erected at intersections affected by power outages. Roads with dangerous live wires were monitored for safety.
Animals
A Cambridge Road woman reported a hawk picked up a squirrel and dropped it after the woman yelled at the hawk March 1. The squirrel was injured but alive, the woman said. She was concerned it might be suffering. Patrol observed a motionless squirrel lying in the woman's backyard. Patrol offered to provide contact information for local trappers, but the woman declined further assistance.
On March 1, a woman walked into headquarters and reported she was knocked over by a large yellow Labrador being walked on a leash on Rodney Road Feb. 22. At the time, she allegedly fell to the ground and had muscular pain. However, after symptoms did not improve, the woman consulted a doctor and discovered she actually sustained a fractured tibia. She said she did not know the dog's owner, but she would attempt to obtain that information from a possible witness.
Village Code
On Feb. 28, police issued a summons for a noise violation to a Cushman Road property owner after a loud generator was found to be running on the property at 9 p.m.
On March 3, police observed a generator running at a Cushman Road construction site with no workers present. Patrol notified the builder, who is a Scarsdale resident, of the condition. On March 4, a caller complained the generator was still running. The builder said the generator was necessary to keep the site from flooding during the power outage in the area. Patrol said that after the village's state of emergency was over, the builder would have to comply with village code and obtain a permit to operate the generator. The building department was scheduled for follow up. However, in the meantime, the caller complained again – immediately after the state of emergency was rescinded around 8 p.m., March 4. The caller urged police to take enforcement action. Police then contacted the builder and requested that he shut down the generator. The builder said he could not comply due to the risk of potential flooding during the ongoing power outage. Patrol issued the builder a village code violation.
Lost and Found
Keys were found near the intersection of Huntington Avenue and Sage Terrace March 3. They contained a Mount Vernon library ID card. Police called the library and obtained the name of the library cardholder. Police called and left a message for the person.
On March 4, a Morris Lane woman reported losing a flash drive from her purse sometime between Feb. 22 and 28. The drive contained a summary of a movie, written by the woman, she said. She told police she was in Colorado until Feb. 26, but her purse was secure at all times. Patrol advised her to reach out to police agencies in Colorado.
A person reported losing a license plate somewhere in the village March 4.
Firefighters
According to Scarsdale Fire Chief James Seymour, the fire department responded to 118 documented incidents this week, including two small fires and a car accident involving a rollover.
From Friday afternoon, March 2, to Saturday evening, March 3, 89 documented incidents were related to the rain and windstorm.
Additionally, Seymour estimated that firefighters responded to an additional 75-100 storm related incidents that did not go through the normal reporting and dispatch channels. The majority of all storm related calls were for fallen and/or burning wires and transformers, fallen trees, trees striking houses or cars, flooding and alarm activations due to power outages.
Seymour shared the following narratives related to fire department activity this week.
On Feb. 26, firefighters were dispatched to an Oak Lane house for an odor of gas in the basement. Upon arrival, Con Edison was already on scene. Firefighters found high levels of carbon monoxide throughout the house and an odor of something burning. They checked an exterior storage area beneath a patio and discovered recyclable materials were smoldering with fire and heavy smoke. Firefighters extinguished the fire, overhauled the area and ventilated the house. The Westchester County cause and origin team was called to the scene. The house was ventilated of all carbon monoxide. The homeowner reported that an appliance repair person had been at the house earlier to fix the stove and dishwasher. The repair person returned to the scene and said he turned some electrical breakers on and off while trying to isolate power to the dishwasher. The repair person showed firefighters an electrical breaker that he said had been tripped. When he turned it on, a fan noise could be heard and then the breaker tripped again. That electrical breaker was labeled patio storage. The cause and origin team determined the fire was accidental and the result of an electrical failure.
On Feb. 26, a hot tub on a Meadow Road patio, located approximately two feet from the house, caught fire. Firefighters extinguished the fire with a hose line. A nanny and children smelled smoke, noticed the fire and evacuated the house before calling 911. The hot tub was destroyed by the fire. There was no fire extension to house, and no apparent heat damage to house. An interior check found no readings of carbon monoxide inside house. The homeowner last used the hot tub approximately one month ago. Electrical service and circuit breakers to the hot tub were "on," but the tub itself was "off." The cause of the fire was determined to be an apparent electrical malfunction.
Firefighters responded to a car accident with injuries on the Hutchinson River Parkway March 2. The car accident resulted in a vehicle rollover into a stream. Upon arrival, firefighters found a car resting on its roof in approximately 12 inches of water. Two occupants had gotten out of the car themselves and were in care of Scarsdale Volunteer Ambulance Corps. Firefighters used equipment to block the scene until patients were loaded into the ambulance. An expedited response was requested due to possible hypothermia. Westchester County police released firefighters from the scene and were standing by for vehicle removal.
This report covering police and fire department activity from Feb. 26 – March 4 has been compiled from official information.

This police report is sponsored by Scarsdale Security who does more than just security. Contact them about remote video for your home or business. Call 914-722-2200 or visit their website.