Scarsdale Fire Department Lauds Firefighters for Rescue at Construction Site and Promotes Two to Captain
Published: Monday, 04 September 2017 08:01
Joanne Wallenstein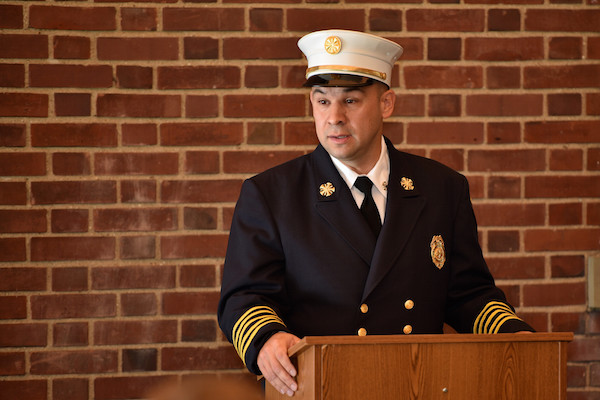 On Thursday August 31 the Scarsdale Fire Department held a ceremony at Crossway Firehouse to recognize firefighters for exemplary service and to promote two longtime firefighters to the rank of captain.
Nine firefighters received a unit citation award for their work rescuing a construction worker who fell 10-15 feet at a building site at 18 Heathcote Road in January 2017. The worker had fallen into the foundation of the home and needed to be lifted to ground level with a technical rescue system.
Firefighters honored were:
Captain Daniel Brown
Firefighter Brian Robinson
Firefighter Michael Dwyer
Firefighter Brian Kelly
Firefighter John Constantino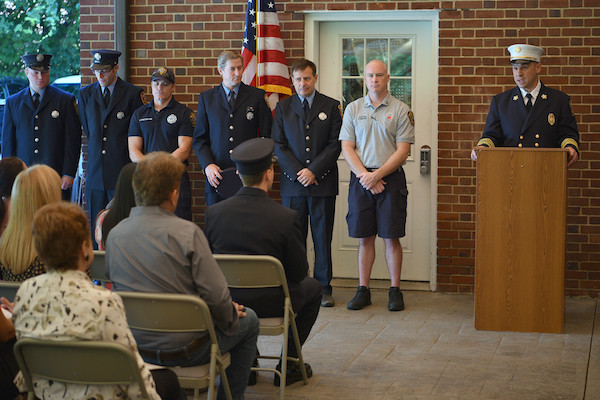 Firefighter Jamie Polockow
Firefighter Jonathan Maxwell
Firefighter Brian Becker
Firefighter Michael Owens
In addition, promotions to the rank of Captain were awarded to Christopher DiMichele and Christopher Mytych. They were promoted due to the retirement of Captains Allan Gleason and Jeffrey Gaskin. DiMichele has been with the department since 2006 and will now serve as the Scheduling/Relief Captain, while Mytych has been with us since 2008 and will serve as the Departments Training Captain.
Welcoming comments were made by Mayor Dan Hochvert, Fire Commissioner Matt Callaghan and Village Manager Steve Pappalaordo.
Full details from Chief James Seymour are included below. Photos from Jon Thaler.
Here is the account of the January rescue at 18 Heathcote Road: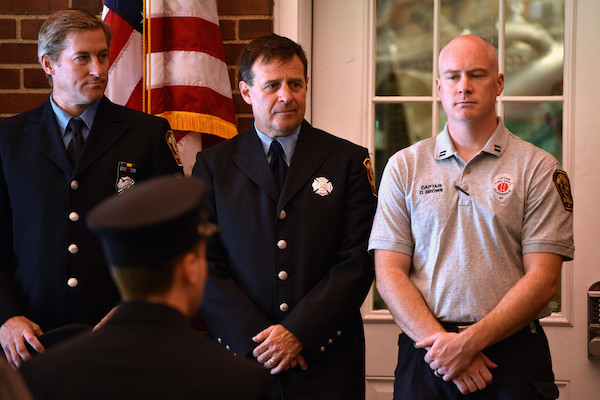 On January 16, 2017 Fire Department units were dispatched to 18 Heathcote Road for a construction worker who had fallen 10-15 feet. Upon arrival units found a private dwelling under construction which consisted of a finished foundation, approximately 15 feet below ground level and the beginning stages of framing on the ground and second levels. Construction materials consisted of heavy steel columns, "I" beams, and Q decking.
Upon further investigation, the crew located a worker laying on the ground at the bottom of the foundation being attended to by the Scarsdale Ambulance Corps. The worked had apparently fallen 15 feet to the bottom of the foundation and had sustained injuries to his upper extremities. Under Captain Dan Brown's direction, Firefighters Brian Kelly, John Constantino and Jamie Polockow were sent into the foundation to look for an exit route and to help further assess the situation. Firefighters Kelly and Polockow quickly discovered that there was no exit at foundation level and that the victim would need to be lifted to ground level in order to extricate him from the structure.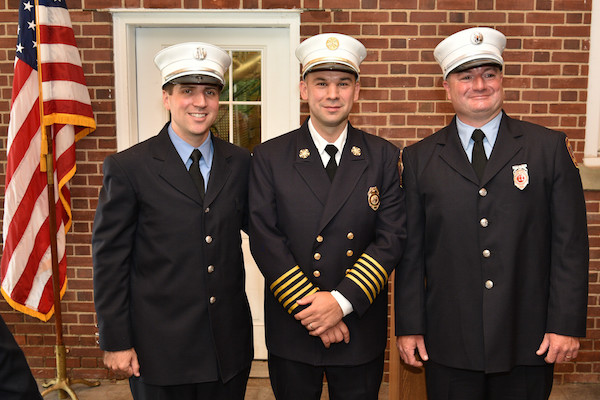 Captain Brown assigned Firefighters Kelly, Constantino and Polockow to begin patient packaging. They were responsible for securing the patient to a back board and stokes basket in preparation for a vertical lift. Firefighters Brian Robinson, Michael Dwyer, Jonathan Maxwell, Brian Becker and Michael Owens were tasked with setting up a rope rescue system using our technical rescue rope equipment. While Firefighters Robinson and Dwyer set up a "high point" Firefighters Maxwell, Becker and Owens began to rig both a main line and belay line and established an anchor point for both line systems. Once both the main line and belay line were constructed and the patient was properly packaged, Captain Brown assigned FF Owens to maintain the main line, FF Maxwell to maintain the belay line and FF's Robinson, Dwyer and Becker as the haul team all while Captain Brown watched the overall operation and acted as the edge man.
Due to Captain Brown's decisive decision making and the knowledge and abilities of his crew, the injured worker was packaged properly and lifted to safety, where once at ground level was quickly carried to the ambulance for transport to the hospital.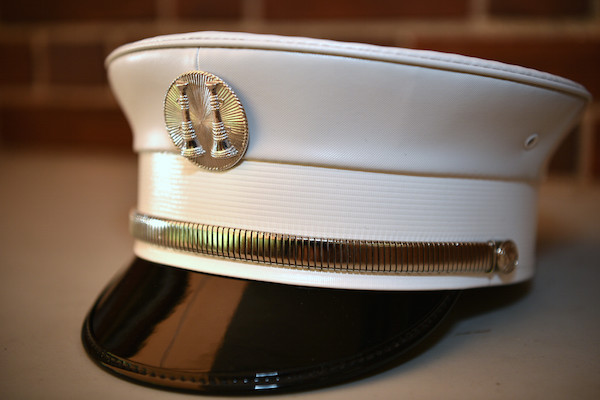 BLOG COMMENTS POWERED BY DISQUS