New Fitness Center at SHS Rivals Facilities at D1 Universities
Published: Thursday, 12 October 2017 12:32
Joanne Wallenstein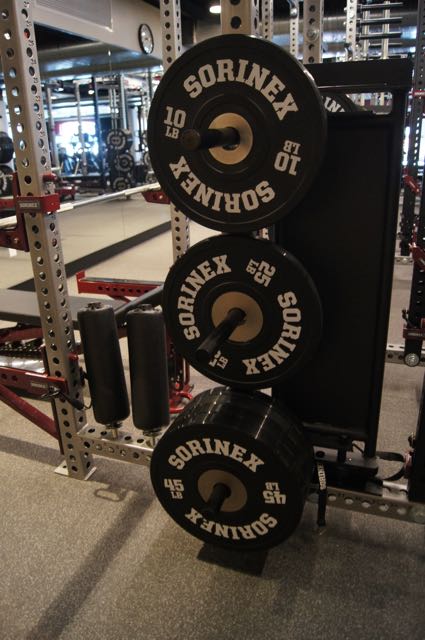 Wow! I toured the new fitness center at Scarsdale High School and I was impressed. This facility was so nice it could convert the most stubborn couch potatoes into fitness freaks.
After much discussion about the challenges of converting the basement of the high school – below the new gym – into a state of the art fitness facility, it's clear that this evolved into a successful project and a real asset for Scarsdale High School.
First of all the space is big – 6,000 square feet. And despite its location in the basement, it is above grade and a wall of south facing windows brings in plenty of natural light. In several areas of the room, the ceiling grid has been eliminated to accommodate the height of the machines. In addition to all the exercise equipment there is also a roomy floor area with special rubber flooring to facilitate yoga, pilates and stretching exercises.
SHS Athletic Director Ray Pappalardi explained that the vast facility and impressive training equipment can accommodate three classes of students at a time. Though it just opened at the beginning of school it is already being well used by everyone from sports teams and physical education classes to those with mobility challenges who find that the machinery can be accommodated for many purposes.
Pappalardi demonstrated use of the equipment starting with the Tire Lift for weight training saying that it teaches students to "lift the tire in a functionally appropriate way." The room is filled with all sorts of innovative equipment that Pappalardi says would rival the facilities at a Division 1 university.
We learned about the glut-ham machine and saw four racks of strength training equipment, each with three stations. There are rowing machines, treadmills that incline and decline, three types of elliptical trainers, octane climbing steps, cybex functional trainers and rows of stationary bicycles with video screens, similar to Pelotons.
We also saw "The Tank" which looks like a heavy cart on wheels that is pushed and pulled for strength training.
The facility is fully wired and has large video screens that can be used for instruction. Students will soon be able to use their personal devices to monitor their exercise and performance. Pappalardi noted that this feature allows students to measure themselves and work out to achieve their own personal best rather than gage themselves against group performance.
Pappalardi thanked the Scarsdale Foundation and Maroon and White for their contributions and the Madoff family for their generous donation that was used to purchase the exercise equipment.
It's an outstanding facility. If you get the chance, take a tour.
BLOG COMMENTS POWERED BY DISQUS