SHS Girls Varsity Soccer Player Named to 2017 All State Team
Published: Wednesday, 06 December 2017 17:12
Joanne Wallenstein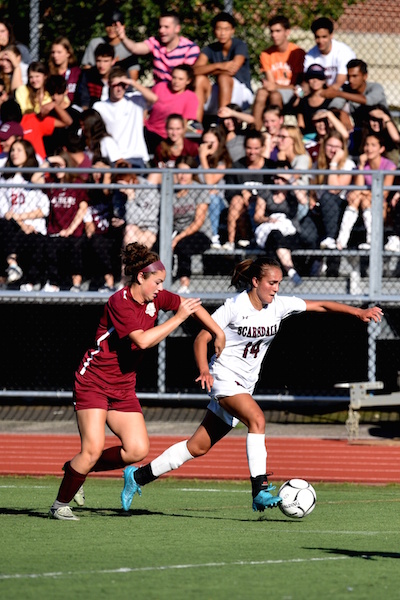 Allison Stafford, a junior at Scarsdale High School, has been named fifth team All State for Class AA by the New York State Sportswriters and Coaches Organization for Girls Sports. She's the first SHS girls soccer player to be named All State since 2011 and is one of only four Section 1 female soccer players to receive the honor in 2017.
Class AA consists of the largest high schools in New York State and Section 1 is comprised of high schools in Westchester, Rockland, Putnam and Dutchess counties. SHS girls varsity A coach Mindy Genovese, whose team comes off the latest in a string of successful seasons stated "Allison is tenacious, competitive and intense, with a work ethic that is unmatched. While she anchored our back line last year, she stepped up in a different role this season and was extremely valuable to the success of our team."
In describing her transition in the 2017 high school season from her natural position on defense to midfielder, Stafford said "Soccer is the ultimate team sport and when my coach asked me to play a new position this year for the good of the team, I was happy to do it. While individual awards are always nice, what really made this year special was the closeness of the players on our team. We worked hard but we also had so much fun. The camaraderie we had contributed to increased effort and success on the field."
Stafford hopes to play soccer in college and has received interest from a number of college coaches. "My goal is to be accepted into a program that provides the ideal balance between strong academics and competitive soccer," she said.
Stafford plays club soccer in addition to high school soccer, and just returned from a national tournament in Raleigh, North Carolina with her club team. She added, "Soccer has taught me the value of teamwork, dedication and communication. I'm really looking forward to the 2018 high school season when I believe our team has a chance to contend for a Section 1 championship."
BLOG COMMENTS POWERED BY DISQUS