County Executive George Latimer Visits Scarsdale Village Hall
Published: Thursday, 15 March 2018 07:59
Laura Halligan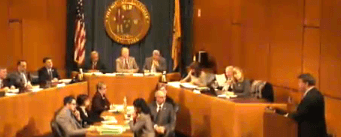 The March 13 meeting of the Scarsdale Board of Trustees began with kudos to Scarsdale Village staff for their post-storm clean up efforts, and a visit from Westchester County Executive George Latimer.

Mayor Dan Hochvert opened by acknowledging the hard work of village employees in getting Scarsdale back to normal after the back-to-back nor'easters that pummeled the region. "I think most of us know, through the announcements sent by the Village Manager, that they were working pretty close to 24 hours a day," he said. "If only Con Ed could have been half as good as our staff, they would have finished in half the time." Hochvert then invited Latimer to the podium to address the board and residents present.

Latimer began with a nod to Scarsdale's food scrap recycling initiative. He said, "It was a real pleasure to meet with you at your garbage facility... It sounds like an oxymoron, but it really showed the innovation that you have already undertaken." Since the meeting, Latimer has been looking at efforts to expand food scrap recycling throughout the county. "If we actually get (it) off the ground, I will trace it back to that day (when) I stood there with you all at the Secor Road facility."

The primary reason for Latimer's visit, however, was to discuss one of his first executive orders, which reframes the relationship between the county government and local municipalities. This new "Good Neighbor Policy" applies throughout Westchester County, and requires all county departments to present plans for any county development or initiative to affected local municipalities for public review. He said, "This restrains the county from acting until a presentation can be made to you, in public, at a scheduled meeting. Then, a 60-day review process begins to allow your board to consider what the impacts of this decision might be." If a municipality objects to a particular project, the county will be required to assess and respond to any issues raised. Latimer stated, "Historically, (the county has) moved forward regardless of what the local community thinks, but this changes that whole relationship and connection."
Following his announcement, Latimer invited any questions the board may have about the new executive order and other issues of interest. Trustee Carl Finger asked if Latimer was able to discuss ways that Westchester County can assist with sanitary sewer issues currently facing the village. Latimer responded, "There (are) some elements that have to be (addressed) by local municipalities, such as illegal hookups and things like that. The intent is for the county to solve the immediate problem – the pollution that comes out of the sewer treatment plant – if we can do that, we can solve what the state and feds are worried about."

Trustee Marc Samwick followed by asking if Latimer could expand efforts to improve utilities' performance beyond Con Ed, to providers such as Verizon. He also asked if the county would assist in getting Con Ed to focus on tree maintenance in a more proactive way. Latimer stated, "The expectation is that every community will have an assessment (of storm-related issues). I am expecting to give (Governor Cuomo)... a list of things that happened from North Salem to Pelham... as examples of things he can focus on (when dealing with the utilities). We're going to see issues of communications that failed -- there's no excuse for robocalls that were flat-out inaccurate... and the inability for them to just respond to calls. You ramp up staffing so you can have enough people on the phones."

Trustee Jane Veron then mentioned that the village had been advising residents to reach out directly to the Public Service Commission with complaints about Con Ed, and wondered how Scarsdale should collect and present relevant information. Latimer said that all comments and observations should be consolidated in order to create a more powerful and accurate sense of how Scarsdale was affected by the nor'easters and utility problems. He then said he hoped to collect all information by the end of the month, although the deadline was not set in stone.
Trustee Deborah Pekarek followed by asking about whether the county was able to consider conducting property valuations and reassessments, rather than local municipalities. Latimer stated, "About 20 years ago, it was proposed that the county do a one-time, county-wide assessment to get everyone up to speed... Ultimately, it was not done because the state would have had to pass legislation to allow the county to do something it didn't have the authority to do. But, we're certainly discussing it again." He then went on to mention that he envisions the county developing a "menu" of consolidated services that the county might provide to local municipalities, along with related costs. In turn, local governments would select those services that made sense for them, financially.

Latimer then finished the impromptu Q&A by stating, " I think I'm going to self edit myself, otherwise I'm going to add an hour to your meeting... but I'm happy to come back and formally meet with the board or others in any other setting."
* * *
Mayor's Comments

Hochvert began his comments by reviewing a recent meeting with the Scarsdale Cable TV Commission about upcoming negotiations with cable franchises and pending creation of a committee to look at expanding local content to be aired. He also mentioned his recent meeting with Rich Clark, who teaches biology at the high school, to discuss his students' plans to plant along Harcourt Woods. Hochvert explained that the meeting is a good example of the village and school staff working together, and expressed his desire to strengthen the relationship between the village board and school board. He mentioned a joint effort to solve parking and traffic problems that was discussed at a joint meeting last week. "I think of the two boards as two divisions in a company and each of us is working for our stockholders. We should find ways to work together and serve you better." Hochvert finished his comments by praising the Scarsdale Chinese Association's New Year celebration and congratulating members of the association for their volunteer efforts throughout the community. He urged residents to view the recent League of Women Voters' candidate forum, which is available via Scarsdale Public Television, and reminded all about the upcoming vote on March 20 to fill three trustee positions.
Manager's Comments

Village Manager Steve Pappalardo followed by thanking his staff for their efforts during storm cleanup and power restoration. To illustrate the true impact of the recent nor'easters, he provided residents with some storm statistics, such as:
• 126 public/private trees fell in the village right of way.
• 49 trees took down electric lines;
• 70 roads were closed immediately after the first storm
• Con Ed reported 1,865 outages on March 5.
Pappalardo said, "We've still got a long way to go, in terms of dealing with the impact of these storms. We've got to make improvements and it's got to start with Con Edison. We can do a lot, but we can't turn your power back on." He also advised residents that the village is collecting storm debris free of charge at recycling center through March 30. Residents who wish to drop off debris need to have a voucher form to prove residency; the form may be downloaded via scarsdale.com.
Trustee Comments

Trustee Veron reported that the Ad Hoc Committee on Communications discussed emergency communication efforts during the storm and recovery process. "From a communications perspective, we're trying to think of ways to best communicate with you; we want to bring information to you where you want to receive it. " She also invited the public to share their ideas and input on how to do better. In addition, Veron mentioned that the library renovation project is moving forward and construction plans are complete, and residents will receive information about library services in light of the transition to the supply field.
Trustee Matt Callaghan reported on the Teen Center's continuing work to finding new financial resources and the fire department's new technical response and rescue training program to be conducted at the village's training center on Secor Road.

Trustee Seth Ross announced that village board and committee volunteer applications are being reviewed and the personnel committee will soon finalize its recommendations on candidates to fill vacancies.

Trustee Finger, in referencing County Executive Latimer's request for information on storm- and utility-related issues, suggested that a form for resident input be created ad posted to the village website. He then reported on the proposed village budget, which includes a modest 0.25 percent increase in expenses over current year. The increases are driven by benefits and related contractual obligations that are out of Scarsdale's control. "What is proposed is a tax levy increase of 1.92 percent... The increase in expense of $149,907 is far overshadowed by the increase in health insurance expense, which is over $400,000," Finger stated.
Members of the public were then invited to comment on general issues prior to the public hearing on changes to the village tree code.
Bob Berg (Tisdale Road) began the public comment session by addressing the village response to recent storms. "Benny and his team did a fabulous job as they always do... I do have a problem with the lack of emergency facilities for our residents... A third of the village was out of power for seven to ten days, and there was no place for these people to go... The village should have worked with the school system to have the high school available... We have to provide for our residents and we need to push the school system to (help). Hochvert responded, " I have asked the same question of the schools and we get the same resistance. It is something I support you on. We'll see if we can work with them in the future on that (issue)."
Bob Harrison (Fox Meadow Road) expressed his thanks to village staff for their work during the storm aftermath. He also mentioned his support of the modified resolution for improved sanitation services, which preserves rear yard pick up of recyclables. Berg then discussed the proposed comfort station at the middle school, which was discussed at the joint BOE-BOT meeting on March 5. He suggested that the village purchase a parcel of middle school property and build the comfort station, without the complication of state department of education requirements.

After the public hearing, the trustees continued their review of various business and administrative matters. Notably, as part of her Municipal Services Committee report, Trustee Veron presented a resolution to establish modified and expanded sanitation service standards on a 12-month pilot basis. These include weekly, village wide food scrap recycling, a furniture donation partnership and holiday week pick up schedule changes. There will be no change to rear yard recycling pick up.