A Bittersweet Goodbye for Scarsdale Mayor Jon Mark and Trustee Bill Stern
Details

Category: Village Voices
Published on

30 March 2017

Written by

Joanne Wallenstein
While the election last week focused on whom will take a seat on the dais at Village Hall in the future, the March 28 Village Board Meeting was all about who will be vacating those seats upon their completion of service to the Village.
This Board of Trustees final meeting was an opportunity to toast Trustee Bill Stern and Mayor Jon Mark, both who have completed their terms, and to look back on the Board's accomplishments and experiences during the past two years.
The Mayor began with lengthy and reflective remarks, first thanking everyone in the village who helped with last week's election. He called the extraordinary turnout "heartening" and thanked all residents for their participation during the last two years.
Commenting on the decision making process at Village Hall, he said, "Our dialogue on community issues is on going. Let that dialogue be a conversation, not a shouting match," and encouraged residents to participate and to be civil.
About his term in office he said, "It's been a bumpy ride these last nine months with the fallout from the 2016 Village-wide reassessment dominating the public discourse and the time of this Board and Village staff. Life does not always turn out the way one hopes and that comes with the territory. However, I would like to think that we have tried our best to balance competing interests in serving all residents, giving all those who wished to speak or write a fair hearing and making good faith judgments along the way."
He then offered thank to each of the trustees, his mother and wife, all of which are shown in their entirety below.
Each trustee was given time to laud the Mayor and
departing Trustee Bill Stern and they had many thoughts to share. The Mayor was credited for the informative and insightful comments he made at the opening of each meeting, which provided an update on the issues of the day and summarized the Board's views and direction. Everyone noted Mayor Mark's patience, willingness to listen, respect for the community and grace under pressure.
Stern will be remembered for his passion, scientific mind and sense of humor. His advocacy for environmental issues such as leaf mulching, grass cycling, food scrap recycling and solar panels was notable as well as his support of the proposal to update the library.
About Stern, Trustee Jane Veron said, "He leads by example .... and advised me to "Dream big and others will follow." She said Stern had "unyielding determination and deeply held convictions, and said he was a gentleman with "true goodness."
She called Jon Mark " an extraordinary mayor in extraordinary and extraordinarily challenging time." She said, Mark "Poured every ounce of himself into leading with integrity," and made her proud to be part of his administration. She said Mark, "Approached every issue with a determination to examine all angles" and that he "felt an enormous responsibility to each and every one of us."
Matt Callaghan appreciated Stern's "wry sense of humor and wonderful stories." He said Mayor Mark's redemption was last week's election, with "a significant reaffirmation of the non-partisan system that has made Scarsdale the way it was for the last 60 years." He said Mark had civility and patience, which were "very important commodities."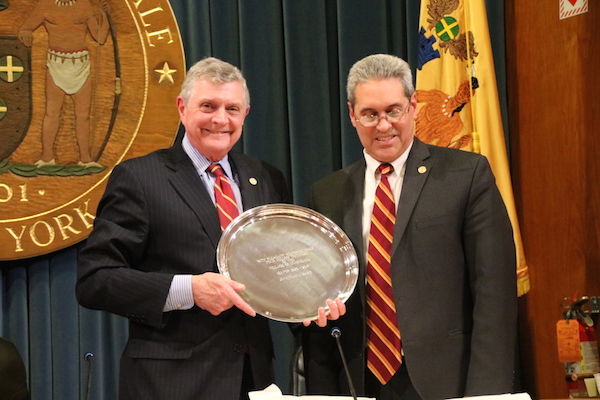 Bill Stern said "It was a privilege to serve on this board and the previous one."
He said that Jon Mark "Guided us through interesting and tough times that will have great impact on this village with "aplomb, a steady hand and fairness." He said, the Mayor "Looks at all sides of the issues and comes out on the right side. To those who are not satisfied he always offers something. It's a gift that our Mayor has."
Stern said he had left a few things on the table and hoped that the Village would encourage leaf mulching in the future. About the leaves, he said, "We used to burn them; now we collect them – in the future we should mulch them. Return the leaf to its proper resting place to provide nutrients for our lawns."
He also advocated for solar panels, saying that he had installed them on his home in 2012 and saved considerably since. He said, that since 2012 he had saved the equivalent of driving 57,805 miles or 2732 gallons of gasoline. He told the audience that federal and state credits make it free to install the panels.
He ended by asking forgiveness from anyone he might have offended.
Carl Finger said he would miss Mark and Stern who he called "a significant part of the dynamic of the board. He called Stern, "Passionate, definitive, and able to disagree without being offensive." Finger vowed to "try to emulate his (Stern's) principled, emphatic, compassionate and humorous approach.
About the Mayor, Finger said he immediately
felt connected to the Mayor as Jon Mark's mother was his teacher at Edgewood Elementary School. About Mark, he said "He has done the job in a way that I could not do. His Mayor's comment encapsulates the tone of the board in a remarkable way. It made the job a lot easier. I have learned to appreciate the Mayor's level of patience. It's a seriously important quality that he demonstrated at every meeting."
Deb Pekarek called Stern a "brilliant scientist, consummate businessman and a world traveller." She told him, "Your enthusiasm smart thinking and dedication will be missed on this board. It has been a privilege to work with you."
She told the Mayor, "You make cogent yet accessible arguments with accuracy and deep knowledge.... You have am amazing memory for small nuances of our municipal concerns. So many good things have been accomplished during your tenure. She went on to list the many initiatives considered during Mark's tenure and here is a partial list.
Gravel as lot coverage

Road repair

Grasscycling

Tree ordinance review

Metro North stairs from the platform to the village

Solar panel review

Construction of the salt shed

LED streetlight committee

New fire chief

New police chief

Montenido

Path on the BRP

Streetlight analysis

Parking meter study

Homestead tax act review

New website

Communications committee

Freightway site development
She concluded by saying, "Your love of Scarsdale is sincere and deep. You have been patient, calm, circumspect and respectful. You led with honor, grace, distinction and a delightful wit."
To Bill Stern, Trustee Marc Samwick said, "You put your heart and soul into every issue you adopt. When dealing with issues I have learned it is best to come prepared and best to be on your side of the issue. We have a better public television station because of you. You have been an advocate for sustainable causes and our programs are now serving as models for other communities in the district.
He called Jon Mark "an outstanding mayor and role model and friend." He noted that Mark had prioritized improving the roads and repaved 7 miles, or 9% of Scarsdale's roadway during his tenure. He credited Mark with passing a resolution requiring Con Edison to repair the streets they tore up, exploring development at Freightway as a way to revitalize downtown and fostering enhanced communications. He said Mark pushed the library board to come up with a fiscally responsible plan and said, "Scarsdale is a better place because of the things you have accomplished."
About the revaluation, he told Mark, "You keep your cool in heated situations. Great leaders are defined in difficult times.. In the future I will regularly ask myself what Jon would do. Thank you Jon for your outstanding management."
Village Manager Steve Pappalardo presented Mayor Jon Mark and Trustee Bill Stern each an engraved silver plate to commemorate their service.
The accolades did not stop with the Board. Many residents came to the meeting to express their thanks including Michelle Lichtenberg, Scarsdale Forum President Lena Crandall, Library Board President Terri Simon, Justin Arest, LWVS President Deb Morel, Darlene LeFrancois Haber, former Mayor Bob Steves, former Village Trustee David Lee and Jon Mark's wife, BK Munguia, who said, "Whenever you're done here tonight, I am ready to take you home." You can watch their heartfelt comments online here:
Former Trustee Bob Harrison, a perennial presence at Village Board meetings also thanked the Mayor, who joked that Bob could have "three hours" at the mic. Bob picked up where he left off at the last meeting with comments on the revaluation and funding for the teen center.
Perhaps Lichtenberg summed it up best when she said, "We've been empty nesters for twelve years. Why do we stay? Because we think of Scarsdale as our little bit of Camelot. But sometimes, like the past year, it feels more like A Tale of Two Cities... It was the best of times; it was the worst of times." She thanked Mark for acting with intelligence, integrity and grace under fire, and said we all benefited from the great job he has done.
Comments by Jon Mark, Meeting of Board of Trustees, March 28, 2017
The 2017 Election and Thanks to Residents: The Village experienced a record level of participation in last Tuesday's election. I thank the Village staff, particularly Village Clerk Donna Conkling and Police Chief Andrew Matturo and their staffs, for the efficient and professional manner with which they handled the voting logistics and process. They served with grace under pressure and provided a very public demonstration of the hard work the Village staff puts in every day in serving the residents of Scarsdale. For that they have our gratitude and appreciation.

I also want to thank all the residents who participated in the campaigns and who came out to vote. The extraordinary turnout was heartening. More broadly, thanks to all the residents who made their voices heard over the past two years -- both those who supported our decisions and those who criticized them. Making decisions that affect all of us is hard. Members of the Board agonize over the tough ones -- and we have had several in the last two years. It may not always seem that we listen to you, or take your comments into account. We do. Some of our work takes place during public meetings of our Board committees or during our public agenda meetings. But sometimes it takes place during permitted executive, closed door, sessions when we are getting legal advice or are discussing personnel matters. Either way, the comments we receive from residents make us think harder, focus more intently and are an indispensable part of our critical thinking. I thank all residents who took time to raise their voices or send us emails. While the process may not have produced decisions satisfactory to all, there is no doubt in my mind that all who did comment were heard and taken into account.


One other point: I read in the paper this morning the following observation attributed to the great jazz pianist John Lewis: "If you start off too loud, you can't converse." Our dialogue on community issues is on-going. Let that dialogue be a conversation, not a shouting match. The decision making process is well served when many points of view are expressed. As I conclude my term, we still have much to converse about. It is my hope that residents' interest in our local government prompts them to continue to participate in the conversation in a civil and informed manner -- and to volunteer to serve. That is a large part of what makes Scarsdale work and maintains our shared sense of community.

Freightway Site Redevelopment Project: One item of business on the agenda tonight that will be included in our community conversation for a significant period is worth a mention here. That is a proposal to retain a consulting firm to provide planning and community engagement services for the Freightway site redevelopment. This Board had a public meeting last Tuesday with the consulting firm – BFJ Planning – and had an opportunity to question them about their experience and proposed approach. The meeting was part of a vetting process in which the Village staff had engaged and conducted through the issuance of a request for proposal to which a number of planning firms responded. If the Board approves entering into the agreement, a process contemplated to take place over eleven months will be initiated in order to produce a proposal or proposals on how the Freightway site might be redeveloped. This effort will take into account an analysis of the Freightway site that was done more than seven years ago and include input from the community collected with the help of a Steering Committee of residents also proposed to be appointed this evening. This will be an important project that will unfold over a number of years and it is hoped that this time around the effort will result in a project that will benefit the Village both economically and aesthetically.

Concluding Remarks and Thanks: And so I come to the close of what has turned into a seven year journey starting in 2010 with my first term as a Trustee on the Village Board. It's been a bumpy ride these last nine months with the fallout from the 2016 Village-wide reassessment dominating the public discourse and the time of this Board and Village staff. Life does not always turn out the way one hopes and that comes with the territory. However, I would like to think that we have tried our best to balance competing interests in serving all residents, giving all those who wished to speak or write a fair hearing and making good faith judgments along the way. My expectation is that the incoming Mayor Dan Hochvert, Trustee-elect Seth Ross and the rest of the new Board will listen as we did, make the best judgments they can based the circumstances presented and be prepared to deal with the unexpected which while not known in its particulars can always be expected to arise.
What I will clearly miss is getting together with my colleagues on this Board generally on the second and fourth Tuesdays of every month. So, a few parting words of thanks for each of you.

Turning to what I consider the passionate arm of this Board, those seated on my left:

Trustee Jane Veron: Jane, you have thrown yourself into your first term as a Trustee with enormous energy and drive. Your initiatives have included organizing interested residents into an ad hoc committee whose efforts, along with those of Village staff, have already greatly improved how the Village communicates with the community; engaging with Village center merchants and staff to focus on steps to be taken to revitalize the downtown; becoming an effective liaison to the Greenacres Neighborhood Association; and your tireless efforts as Chair of the Board Personnel Committee personally interviewing scores of residents who responded to our call for volunteers to fill openings on Village boards, councils and committees. There should be no doubt among residents that you care deeply for this Village and the actions you have taken are in furtherance of your effort to be of service to all. Thanks for all you do.

Trustee Matt Callaghan: Matt, you too have brought passion to your role as Trustee and Fire Commissioner. Of particular note is your willingness to express your independent judgment on issues of importance that have come before this Board. In those instances when you expressed a view in contravention to that of other Board members, the fact that you were willing to do so provided a useful check for other Board members. It required us to think harder about the conclusions we were coming to and to make sure we were comfortable in the judgments we were making. It is noteworthy that in doing so you always managed to convey your thoughts in a civil tone and in a manner that moved the discussion forward. For that I thank you. Your service as Fire Commissioner was enhanced by your 35 years a volunteer firefighter. This brought an additional depth of understanding of the Department to your role as was recently demonstrated by your moving remarks at the swearing in of three new probationary firefighters. I am very pleased that your contribution has been recognized by your being voted in for a second term and extend my congratulations to you for that.
Trustee William Stern: Bill, passion might be your middle name. If there is a stereotype for PhD electrical engineers as technical nerds, you blast it out of one's consciousness. The proposed library renovation project, Scarsdale Public TV, the Cable Commission and sustainability became your issues. You supported these projects and programs with forceful certainty because you believed that implementing them would be in the best interest of the Village and its residents. To that end you were uninhibited in expressing your opinions. No one was ever in doubt on where you stood on the issues you cared most about. I will miss the candor with which you expressed your opinions and the verve with which you did so.

Turning now to the right side of the dais and what I think of as the analytic members of this Board:
Trustee Carl Finger: I could never have guessed that I would wind up serving on the Board with a former 5th grade student of my mother at Edgewood (more about Mom later). Carl, it has been a pleasure. You have brought your legal analytical skills to your work on the Board to great effect. Whether you were explaining in depth – and at length -- your vote on a particular matter, or simply helping us all think through any given topic your approach to breaking down an issue into its constituent parts helped us all in coming to consensus on a variety of issues. Congratulations on your election to a second term. It was well deserved and I look forward to observing your continued service.

Trustee Deborah Pekarek: Deb, you among us are the embodiment of the openness of our system of government. Last year you rightly fought for your position as a Trustee based on your record and were appropriately recognized with a vote awarding you a second term. One can see why from the dedicated effort you put into serving. As liaison to the Ad Hoc LED Committee, the Conservation Advisory Council, and the leadership you have shown in the past few months with respect to the County's plan to extend the path along the Bronx River you have contributed perceptive guidance. You and I go back to the days when I was Board liaison to the Greenacres Neighborhood Association, some six years ago at least. It has been a pleasure working with you over that period and my thanks for your dedication and commitment to the Village.

Trustee Marc Samwick: Marc, we had not met until we served on the Board together. In that brief time, I have come to appreciate how you have applied your financial skill in analyzing a variety of budget matters that have come before us. More than that, you look for practical solutions to questions presented always with the goal of moving toward a solution. It is clear you care greatly about the Village and there is never any doubt that each judgment you make is made in good faith with the best interest of the Village and its residents as your preeminent focus. Your commitment to service as a Trustee is also exemplary and I could always rely on you to be available at any time as a sounding board to discuss Village issues. I will miss your professionalism, your focus, your good cheer and working with you as a colleague.

Village Staff: I would be remiss if I did not also thank the hard working members of the Village staff who deliver services to residents every day. It would take a long time to name them all so I will convey my thanks to the two staff members who sit beside me at every meeting: Village Manager Steve Pappalardo and Village Attorney Wayne Esannason. Over the years it has been impressed on me that Steve and Wayne come to work each day with an unwavering sense of obligations to serve our community. I believe the same can be said of the rest of the Village staff. Your dedication to the Village and its residents comes through in how you and your colleagues go about the job of keeping our Village in the Park running. Our heartfelt thanks for all your hard work.

Two final personal notes of thanks.
Ruth Friendly: I said at the outset this was the culmination of a seven year journey. It may have been more accurate to call it a 66-year journey that began when my mother Ruth Friendly, then Ruth Mark, and my father Sandor moved to the Village in 1951. They came as so many residents still do -- attracted by the fine schools (there were two School Districts in the Village then) and the beautiful setting that is our Village. It is quite clear to me that but for that decision on their part, I would not have moved back here with my family in 1992. So thank you Mom for that move more than 60 years ago ... and thanks for watching most of these meetings on line. I did my best to smile as much as this position and circumstances allowed.

BK Munguia: Last, thanks to my wife, my partner, BK Munguia. She too played an instrumental role in prompting my service on the Board. As many of you know, BK has been a tireless volunteer in the Village almost from the day we arrived. Whether it was gardening at Heathcote School, the High School or the Girl Scout House; organizing a Girl Scout troop and a Cub Scout troop; working for the Teen Center; leading the Scarsdale Forum; and serving on the Scarsdale Foundation Board -- BK is a well-known figure for her hard work in the Village. In fact, the first time I appeared before the CNC in order to explain who I was I simply said "I'm BK's husband." I thank her for her years of service to the community which among other things included putting up with the sleepless nights I spent worrying about Village matters. BK, going forward, my Tuesday nights will be free.
Photos by Lisa VanGundy
Letter from Village Mayor Jon Mark
Details

Category: Village Voices
Published on

22 March 2017

Written by

Joanne Wallenstein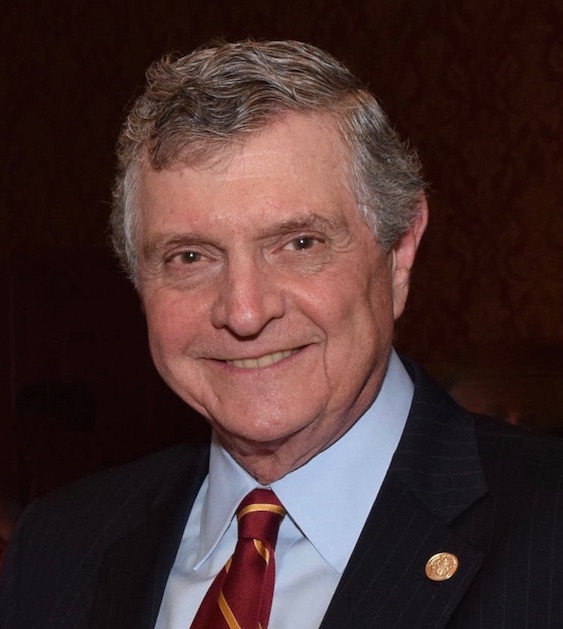 To the Editor: The Village experienced a record level of participation in yesterday's election. I wish to thank the Village staff, particularly Village Clerk Donna Conkling and Police Chief Andrew Matturo and their staffs, for the efficient and professional manner with which they handled the voting logistics and process. They served with grace under pressure and provided a very public demonstration of the hard work the Village staff puts in every day in serving the residents of Scarsdale. For that they have our gratitude and thanks.
I also want to thank all the residents who participated in the campaigns and who came out to vote. The extraordinary turnout was heartening. While governing decisions may not always please all residents, the decision making process is well served when many points of view are expressed in a thoughtful manner and when residents participate in the process. As I conclude my term, it is my hope that residents remain interested in our local government and understand the importance of volunteering to serve. That is what makes Scarsdale work and maintains our shared sense of community.
It has been an honor and a privilege to be of service to the community in which I grew up and wish all residents the best for the years ahead.
Jon Mark, Mayor
Note: We welcome your comments. Please include your real first and last names.
Peter Tailor and Indigo Chic Are Gone
Details

Category: Village Voices
Published on

07 March 2017

Written by

Joanne Wallenstein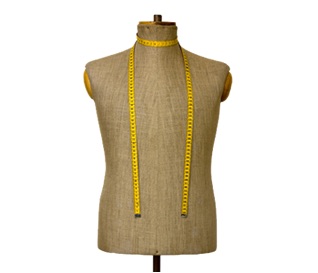 More comings and goings among retailers in Scarsdale and Hartsdale: A friend reported that she climbed the stairs in the Wilgren Building above Metro Deli to ask Lena of Peter Tailoring to do an alteration. Lena was a favorite in the community and often helped entire families get their clothing adjusted for big occasions. My friend got to the door of the shop only to find that Lena and the scores of dresses and her wonderful bulletin board of bat mitzvah and wedding photos were gone. The jumble of seamstresses, mannequins and shoes had been totally cleaned out.
A sign on the door indicated that someone named Top Tailor was now in business at the site – and the new tailor had apparently purchased the business.
We contacted Rush Wilson who owns the building to find out what happened to Lena. Rush said, "After many years of excellent service, Lena decided to retire. I spoke to her last week and she had just returned from a couple of weeks in Italy. She sounds good and rested. She sold the business to an excellent tailor and I hope everyone will give him a try."
Indigo Chic
Sadly Indigo Chic in Hartsdale is also gone. The store had great fashions for women. Perhaps they didn't get enough foot traffic or shoppers were discouraged by the lack of parking? Indigo Chic also has a location in the Rye Ridge Shopping Center – so if you're looking for them – take a drive.
The Sky Isn't Falling in Scarsdale: Rhetoric and Reality
Details

Category: Village Voices
Published on

11 March 2017

Written by

Joanne Wallenstein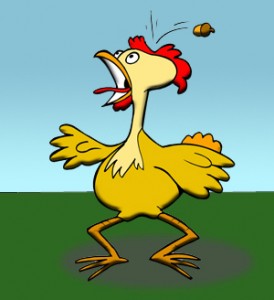 This is the opinion of site founder Joanne Wallenstein: For years, Robert Berg, candidate for Mayor of Scarsdale has been warning that the sky will fall over Scarsdale. Just this week, at the Candidate's Forum of the League of Women Voters of Scarsdale, he called the Village "a disaster" that could go into a "death spiral" if spending was not contained. He said the condition of Scarsdale's 79 miles of roads was "atrocious" and called for them all to be replaced. At the same time he raised fears that rising taxes would chase empty nesters out of town, causing more families with young children to move in and strain the resources of the school system.
Why did this all sound so familiar?
I looked back at earlier reports and found this letter that Bob wrote to Scarsdale10583 when he crusaded to organize the first NO vote on a Scarsdale School budget in 43 years in 2013. Again he appealed to older residents saying, "Stop the spending madness and stop it NOW! .... Empty nesters, in particular, should ask themselves: How long will I be able to afford to stay in my home in Scarsdale where I have lived for 20, 30, 40 years or more if my property taxes keep soaring? Unless we are fortunate enough to be multi-millionaires, sadly, for most of us, we will come to the only rational economic decision – we'll have to move away because of the excessive property tax burden, which is predominantly driven by the school budget. Forcing our empty nesters to leave town because of uncontrolled school spending is wrong on so many levels and is destructive to the very fabric of the community and to the many community organizations that depend heavily on the extraordinary time and talents provided by empty nesters. Scarsdale is not just a way station for people to leave after they have had their children educated in our schools – an education which empty nesters subsidize by more than half. Empty nesters – this is your community – you need to come out and vote "NO" and protect your financial ability to remain here."
Berg was successful in defeating the budget, and as a consequence, pressuring Scarsdale School Superintendent Michael McGill to retire a year earlier than planned.
Following the 2016 revaluation, Berg was equally as pessimistic. In the September 23, 2016 issue of the Scarsdale Inquirer, he said, "The system is not working. It's a disaster here."
And on Scarsdale10583 he repeatedly called the Ryan a "train wreck waiting to happen." He continued, "The Ryan reval mess is just not "unanticipated consequences of well-intentioned actions." These consequences were forewarned by me and others. We are not Chicken Little, and yes, the sky did fall."
So is Scarsdale a disaster?
That issue was debated at the candidate's forum on Tuesday night March 7 when several sitting Village Trustees presented facts to demonstrate that the Village is by all measures fiscally sound and well managed.
Trustee Matt Callaghan said that Moody's has given the Village of Scarsdale a AAA bond rating citing healthy reserves, low debt and a wealthy tax base. Trustee Carl Finger told the group that Con Edison would now pay to repair all roads that they tear up repairing or replacing equipment and that an audit of Optimum's contract with the Village yielded an additional $100,000 in revenue.
At Village Hall, Mayor Jon Mark disputed the claim that all of the roads need to be replaced, saying, "Note also that most of our roads are not in horrible condition. Sweeping statements that imply all 79 miles of Village roads are presently in need of re-paving tend to overstate the problem."
The most recent demographers reports of the population of the Scarsdale schools show no evidence that an exodus of empty nesters had caused the school population to exceed school capacity. In fact, for the past ten years enrollment has been relatively flat and is projected to remain at current levels for the foreseeable future.
Has the 2016 revaluation caused a train wreck? An analysis of home sales in 2016 shows that Ryan's assessments for the 2016 tax roll are equally if not closer to market value than the assessment roll from 2015.
Recent tax increases do not appear to be climbing to unsustainable levels. The latest projections from both the school and the village are quite reasonable. According to Village Manager Steve Pappalardo, Village taxes which represent about 18% of your local tax bill, are projected to go up or 2.19% or about $223 per year for a home valued at $1.5mm. The school administration is estimating a 1.4% budget-to-budget increase for the 2017-18 school year, even in the midst of a substantial capital improvement project.
Is the sky falling as Berg warns?
By all measures, the answer is no.
In fact, the only crisis that I see in town is the one caused by the use of exaggeration and hyperbole by Berg's new party to unseat the candidates chosen by the Citizens' Nominating Committee. If the Voters' Choice Party succeeds, I fear that Scarsdale will become as polarized as the rest of the country and nasty partisan politics will prevail here as they do elsewhere. Investigations, FOIL requests, attacks on volunteers and village managers and lawsuits will discourage good people from serving on Village boards and working in Village Hall.
The real risk is that we will lose our tradition of building consensus through careful consideration of the facts and civil discussion ... and that might be the disaster for all who value our unique form of governance and the special place we live.
Village Considers Hiring Consultants to Conduct an Organizational Evaluation of the Assessor's Office
Details

Category: Village Voices
Published on

01 March 2017

Written by

Joanne Wallenstein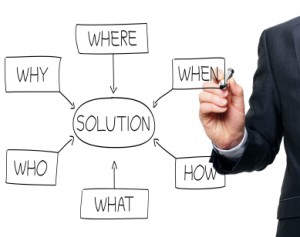 In an effort to restore public trust in the Scarsdale Village Assessor's Office after the controversial 2016 revaluation, Village Managers are proposing to retain a professional consulting company to do an organization assessment of the office. The consultants would study the current workings of the office, analyze processes, research best practices in other municipalities and make recommendations to improve their effectiveness and efficiency.
Looking toward the next revaluation the consultants would investigate technologies and methodologies to give the Village a roadmap toward selecting a vendor to conduct future revaluations. Village Manager Steve Pappalardo maintained that bringing in an outside firm to conduct the evaluation would help build community confidence in the results.
Pappalardo said that the Village had contacted four potential firms, met with three and received proposals from two. After evaluating both proposals Pappalardo recommended that the Village retain Management Partners from Cincinnati, Ohio at a cost of $34,990 for 179 hours of work. Management Partners also brought in a subcontractor, John Burin, who has expertise in assessments to assist with the job.
On Tuesday night 2-28 the Trustees invited Kevin Knutson from Management Partners and John Burin to make a presentation and answer questions. Knutson said he was a former Village Manager of Coral Gables Florida who now works at Management Partners, an 80-person firm with over 700 clients in 41 states.
He introduced John Burin who is a former city manager in Elmira, an assessor and the former owner of an appraisal company. He said his role would be to "eliminate the controversy over the revaluation," and to "Come up with recommendations on how we can do things more efficiently and transparently." The consultants would interview communities that have been successful with keeping assessments up to date and determine what software and methodologies they use to maintain valuations at market rate.
Both the Trustees and residents in attendance questioned the consultants intensively. Trustee Marc Samwick wanted to know if the outcome of the project would be specific recommendations on whether the Village should conduct another revaluation or set up a continuous process to update valuations. Deb Pekarek wanted to know if the consultants would investigate potential revaluation vendors and provide costs. Matt Callaghan asked if the consultants would provide a timeline of deliverables.
Burin came under particular scrutiny because some said that Elmira real estate was in no way similar to that of Scarsdale. He said, "We didn't have the values you have in Scarsdale in Elmira, but we did have big shifts in commercial vs. residential values. It was very controversial. Assessment offices in New York are all governed by the New York State Office of Real Property and everyone is dealing with the same thing."
Audience members questioned Burin about his experience and found that he conducted revaluations in the 1990's and was not familiar with the software that is now used but Burin said that Management Partners would provide technological expertise.
Others asked if the consultants would meet with the public to get their views on the issues.
Though the consultant's task was to analyze the organization and the processes, Robert Berg questioned the assignment saying, "We all know what the problems are." Trustee Bill Stern responded and said, "I take exception to Bob's statement that everyone knows what the problem is – everyone does not agree – there are issues that need to be dissected. Anyone who comes in with bias is not doing a service."
Berg asked, "How can we be confident if you're not familiar with the models?"
Michael Levine said, "You both mentioned efficiency. It's not an issue of efficiency and not an issue of building permits or exemptions. If you think those are the issues you're not up to speed. The issues are supervision. Problems in the department were not elevated to the Village Managers and the Board. There are issues with public trust and acceptance. How did we get to this credibility issue? That's why I think you are here."
Steve Pappalardo assured Levine that "The firm is fully aware of what happened. They are going to do an overall management study of that office. They are not going to come out with a recommendation on building the proper model. But we are going to come out with a plan to hire a new firm to do a revaluation."
The Trustees said they would mull over the meeting and come up with a recommendation after subsequent discussion.