From the Greenburgh Police:
Employee Stirs up a Fuss At Panera: Derek Riviera, a disgruntled employee did some damage to the Panera Bread Factory on Central Avenue on the afternoon of 1/18 when he came by to pick up his paycheck. Riviera was bad-mouthing the manager to another store employee when the manager asked him to "make this his last day in the store." This incited Riviera, age 21, to yell, scream and break dishes and containers. The manager asked him to leave the store and Riviera threatened to "come back and get him."

Rogaine?: A woman took four containers of men's Rogaine from the CVS store on North Central Avenue on 1/12 and left the store without paying. The woman is described as 5'2", 175 pounds, wearing a white jacket, a pink hat, blue jeans and white sneakers. She was carrying a white bag bearing a pink heart. She fled north on Central Avenue on foot and police noted that the crime matches a similar theft at the CVS on Knollwood Road on 12/10.

Larceny: Best Buy on Central Avenue was also the subject of thievery. A witness at the store was in the bathroom and heard someone opening packages in another stall. The empty packages were then placed in the garbage. The witness took the empty boxes and alerted security who stopped the offender and examined his bag as he was leaving the store. The culprit fled but police picked him up on Central Avenue where he was identified as Gilbert Trotman, age 45 of New York, N.Y. He stole over $500 in merchandise.

Car Theft: A 2008 gray Toyota Highlander was stolen from a Highland Road home during the night of January 14th. A black plastic bag was found on the lamppost in the driveway.

Fraud: A man with fraudulent identification attempted to withdraw $3,800 from the Chase Bank at 660 South Central Avenue on Saturday morning 1/16. He presented a New Jersey driver's license and a Visa card, both bearing the name Steven Lerit, along with a signed withdrawal slip. The teller noticed that the driver's license number did not match the number on file and furthermore that the license bore a phony hologram. She picked up the phone to summon the fraud department when the suspect left the bank and headed up Central Avenue. Police were not able to find the man and the bank froze the accounts of Steven Lerit in response to the incident.
Robber Arrested by Greenburgh Police
The Greenburgh Police have arrested a homeless man and charged him with the robbery of a woman on Tarryhill Way in the Fairview section of Greenburgh on Sunday night January 10th. The 59-year-old female victim was approached by a tall black man wearing a dark ski mask. He shoved her and grabbed her purse. Police arrested Ricardo Laing, age 21 on Manhattan Avenue near Grand Street and charged him with robbery in the third degree, a class D felony.

Laing has nine prior arrests and two misdemeanor convictions. He is currently on bail from Westchester County Court for Criminal Possession of a Weapon and Criminal Possession of a Stolen Firearm.

Crime Spree in Greenburgh

Greenburgh Police continued to release more unsettling news, this time about disturbing events this weekend.  On Saturday night 1/9, a 15 year-old girl who was walking home on Payne Street in Elmsford around 8 pm reported that she was surrounded by a group of 5-7 males who grabbed her and restrained her. At least one of the assailants had sexual contact with her. They subsequently let her go and she said she was not injured.

Just minutes later, two teenagers were robbed at gunpoint by three black males, all displaying weapons.  The victims who were robbed of $50.00, a cell phone and an iPod were also on Payne Street in the area of the Sprain Brook Parkway overpass.

On Sunday night another incident occurred on Tarryhill Way, which is in Fairview. A 59 year-old woman waved down police at 8 pm to report that she had just been robbed of her purse. She was walking to her car when she was approached by a tall black man wearing a white baseball cap and a dark ski mask. He demanded her bag, then shoved her and grabbed it from her shoulder.  The man fled on foot toward Maple Street.

Residents who are already concerned about robberies and burglaries in Edgemont and Fairview will undoubtedly find these latest incidents to be disturbing. The Greenburgh Police report that they are working diligently to solve these crimes and ask anyone with information to contact them at 914-682-5331.  All calls will be kept confidential.
Former Comptroller Sues Town of Greenburgh

Former Comptroller of the Town of Greenburgh, Michael Kolesar -- the Town's fourth comptroller in five years -- claims the Town Board violated his First Amendment rights when it fired him last year after he told a meeting of the Edgemont Community Council that the Town was lacking in internal financial controls.

Kolesar, who is also a former trustee in the Village of Ardsley, made the charge in a two-count complaint filed this week in federal court against Town Supervisor Paul Feiner, members of the Town Council and the Town of Greenburgh itself.  The complaint seeks unspecified compensatory and punitive damages. 

The complaint alleges that during his tenure as town comptroller, Kolesar learned that the Town had failed to report taxable income for town employees to the IRS for a number of years as they had not included allowances for uniforms and withholding for medical insurance in employee W2 forms. In February, 2009 Kolesar said he recommended contacting the IRS to report the incorrect preparation of employee W2 forms.  However, according to the complaint, the Town attorney, Timothy Lewis, told Kolesar that if he mentioned the false W-2 forms to anyone, including the IRS and the Town's bond counsel, he would be fired.

Kolesar did keep it quiet until early March, 2009, when he was invited to speak at a meeting of the Edgemont Community Council (ECC).  Kolesar said he was encouraged by Feiner to attend and "speak his mind." At the meeting, Kolesar expressed concern about a lack of "oversight and control over the revenue streams of certain departments in the Town and the lack of internal financial controls necessary to protect against waste, fraud, inefficiency, and to ensure accounting accuracy."

Kolesar's statements were picked up by the press and on March 20th Paul Feiner ordered Kolesar to provide written support to justify what he had said to the ECC.  Kolesar said he complied and was then asked to attend an executive session of the Town Board on March 24, 2009. Among other things, the suit alleges that in discussing the Town's irregular financial practices months before with Town Councilman Kevin Morgan,  Morgan told him, "You have enough C4 in this office to blow this place sky high." (C4 is a plastic explosive often used by terrorists.)

The suit says that at the March 24 meeting, Feiner asked Kolesar to resign, and when he refused, Feiner fired him. In the suit, which was filed on January 12, Kolesar seeks damages for economic losses, public humiliation, embarrassment, shame, anxiety, emotional upset and impairment of his professional career.

The case has been assigned to United States District Judge Stephen Robinson. Robinson is the judge considering another lawsuit against Feiner and Town of Greenburgh that was filed by Fortress Bible Church..  It seeks more than $4.5 million in damages from the Town stemming from Feiner's allegedly having violated federal law in getting the Town to deny the church permission to construct a sanctuary off Dobbs Ferry Road near the Sprain Parkway. A ruling in that case is expected very soon.
Ch-Ch-Ch Changes:
A quick drive around town reveals big changes have been made in our landscape in the past few weeks: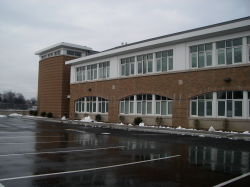 Demolished: The original Post Road Elementary School at the corner of Post Road and Soundview Avenue is now being demolished. The school, which was almost 100 years old, has been replaced by a beautiful new $38.5 million elementary school. It is a green, eco-efficient building, energy-saving building, and architects claim it is the greenest school in the state. The new 87,000 square foot school, which opened in November, 2009, was designed by the firm Kaeyer, Garment and Davidson and features a 340 seat auditorium, a 3,300 square foot cafeteria and a 10,000 square foot gymnasium. The design maximizes the use of natural light to cut electricity costs and includes solar panels to provide hot water to the facility. Heating and cooling are provided by a geothermal convection and heating system and a "green roof" has been planted to reduce storm water runoff and to cool the building.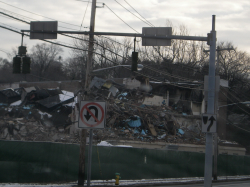 The site of the former building will include a parking lot and playing fields. Check out the entrance to the new school and circular courtyard on Sterling Avenue.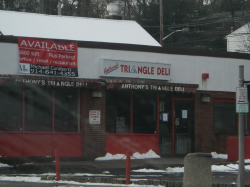 Closed: In another change to the area, the Triangle Deli, across the street from the Post Road School on Post Road has closed.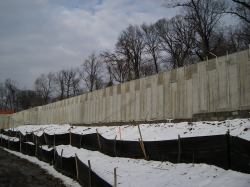 Built: If you have traveled across Weaver Street lately, no doubt you noticed the addition of an imposing concrete wall. Curious? The new wall is part of the Heathcote Manor development that will include nine residential units in five structures. The concrete wall encloses a large detention basin that borders Weaver Street and is required to catch enough storm water runoff to accommodate a "hundred year storm." Local residents, who are calling the new addition, "the great wall,"  are concerned about its size and proximity to Weaver Street. There appears to be very little space for a sidewalk or for plantings that have been promised to mask this tall concrete structure. Plans for the development were approved twenty years ago, and the work was started without an updated review.  Furthermore, hundreds of trees were clear cut to accommodate the development.  For more details on the project, go to http://www.scarsdale10583.com/shout-it-out/496-more-development-on-weaver-street.html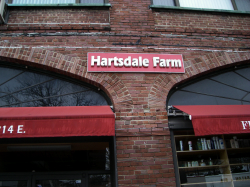 Gone: The green grocer, Hartsdale Farms at 214 East Hartsdale Avenue in Hartsdale, seems to have gone the way of Big Top and O'Porto.The store is now dark and vacant. We're hoping that the formula for success in Hartsdale emerges in 2010!