Democratic Primary, Tuesday September 12th
Details

Category: Village Voices
Published on

11 September 2017

Written by

Joanne Wallenstein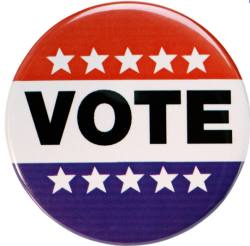 The 2017 Primary Election Information wil be held on Tuesday September 12, 2017 between 6:00 a.m. to 9:00 p.m. Democratic candidates George S. Latimer and Kenneth W. Jenkins are vying to receive the Democratic party nomination to challenge Republican Rob Astorino for Westchester County Executive in the November election. Only registered democrats are eligible to vote.
Polling locations in Scarsdale are as follows:
Election Districts Location
1, 2, 19 Greenacres School
3, 4 Fox Meadow School
5, 11, 12 Scarsdale Library
6, 7 Village Hall
8, 9, 10 Edgewood School
13, 14, 18 Heathcote School
15, 16 Quaker Ridge School
17 Crossway Firehouse
In addition to the Democrats, the Reform Party is having an "Open Primary" which allows all Non-Affiliated voters to vote in their Primary. This means that there will be Non-Affiliated voters' names in those poll books. They are only allowed to vote in the Reform Party, this does not apply to any of the other parties.
Scarsdale Fire Department Lauds Firefighters for Rescue at Construction Site and Promotes Two to Captain
Details

Category: Village Voices
Published on

04 September 2017

Written by

Joanne Wallenstein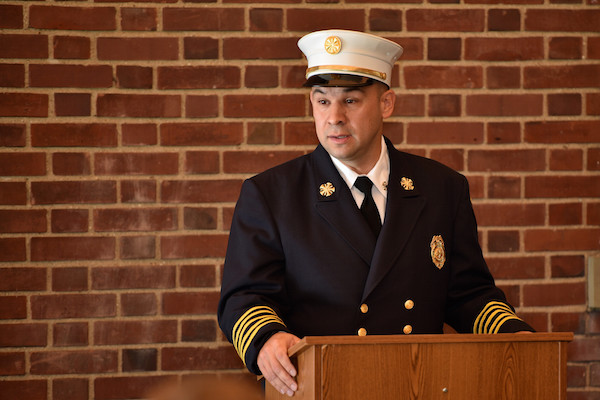 On Thursday August 31 the Scarsdale Fire Department held a ceremony at Crossway Firehouse to recognize firefighters for exemplary service and to promote two longtime firefighters to the rank of captain.
Nine firefighters received a unit citation award for their work rescuing a construction worker who fell 10-15 feet at a building site at 18 Heathcote Road in January 2017. The worker had fallen into the foundation of the home and needed to be lifted to ground level with a technical rescue system.
Firefighters honored were:
Captain Daniel Brown
Firefighter Brian Robinson
Firefighter Michael Dwyer
Firefighter Brian Kelly
Firefighter John Constantino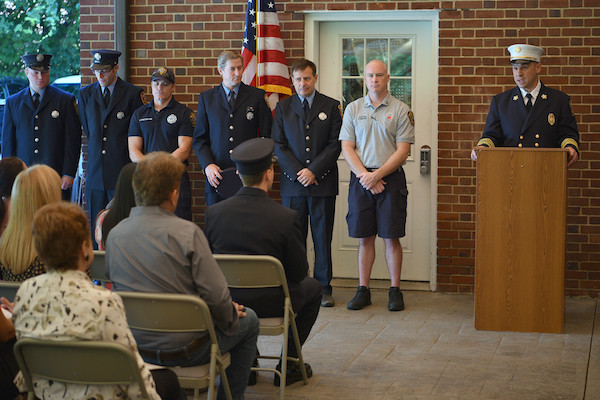 Firefighter Jamie Polockow
Firefighter Jonathan Maxwell
Firefighter Brian Becker
Firefighter Michael Owens
In addition, promotions to the rank of Captain were awarded to Christopher DiMichele and Christopher Mytych. They were promoted due to the retirement of Captains Allan Gleason and Jeffrey Gaskin. DiMichele has been with the department since 2006 and will now serve as the Scheduling/Relief Captain, while Mytych has been with us since 2008 and will serve as the Departments Training Captain.
Welcoming comments were made by Mayor Dan Hochvert, Fire Commissioner Matt Callaghan and Village Manager Steve Pappalaordo.
Full details from Chief James Seymour are included below. Photos from Jon Thaler.
Here is the account of the January rescue at 18 Heathcote Road: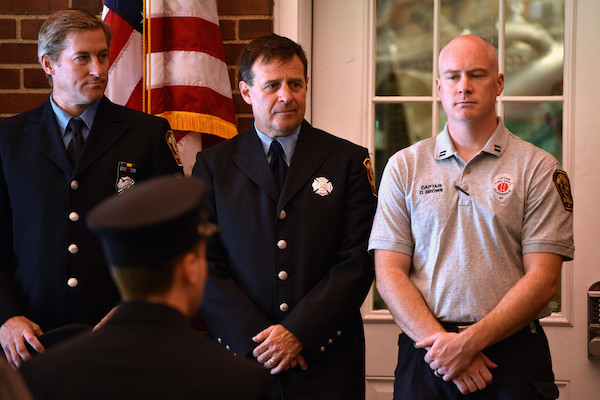 On January 16, 2017 Fire Department units were dispatched to 18 Heathcote Road for a construction worker who had fallen 10-15 feet. Upon arrival units found a private dwelling under construction which consisted of a finished foundation, approximately 15 feet below ground level and the beginning stages of framing on the ground and second levels. Construction materials consisted of heavy steel columns, "I" beams, and Q decking.
Upon further investigation, the crew located a worker laying on the ground at the bottom of the foundation being attended to by the Scarsdale Ambulance Corps. The worked had apparently fallen 15 feet to the bottom of the foundation and had sustained injuries to his upper extremities. Under Captain Dan Brown's direction, Firefighters Brian Kelly, John Constantino and Jamie Polockow were sent into the foundation to look for an exit route and to help further assess the situation. Firefighters Kelly and Polockow quickly discovered that there was no exit at foundation level and that the victim would need to be lifted to ground level in order to extricate him from the structure.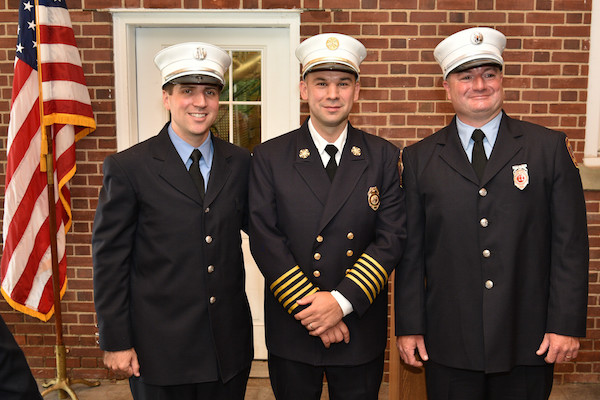 Captain Brown assigned Firefighters Kelly, Constantino and Polockow to begin patient packaging. They were responsible for securing the patient to a back board and stokes basket in preparation for a vertical lift. Firefighters Brian Robinson, Michael Dwyer, Jonathan Maxwell, Brian Becker and Michael Owens were tasked with setting up a rope rescue system using our technical rescue rope equipment. While Firefighters Robinson and Dwyer set up a "high point" Firefighters Maxwell, Becker and Owens began to rig both a main line and belay line and established an anchor point for both line systems. Once both the main line and belay line were constructed and the patient was properly packaged, Captain Brown assigned FF Owens to maintain the main line, FF Maxwell to maintain the belay line and FF's Robinson, Dwyer and Becker as the haul team all while Captain Brown watched the overall operation and acted as the edge man.
Due to Captain Brown's decisive decision making and the knowledge and abilities of his crew, the injured worker was packaged properly and lifted to safety, where once at ground level was quickly carried to the ambulance for transport to the hospital.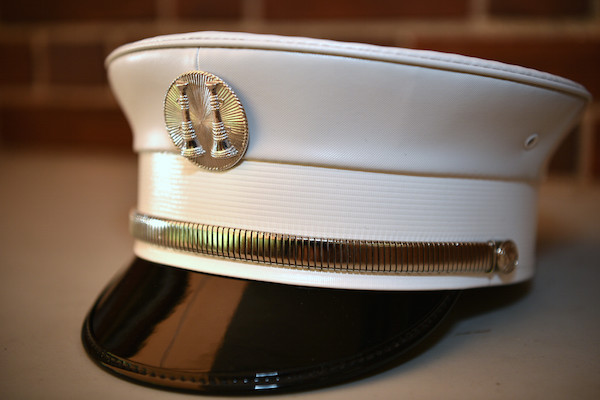 From the Village: Farmers Market, Potential Off-Street Village Parking for Merchants and Valve Gives Way on Brookby Road
Details

Category: Village Voices
Published on

09 August 2017

Written by

Jane Glaser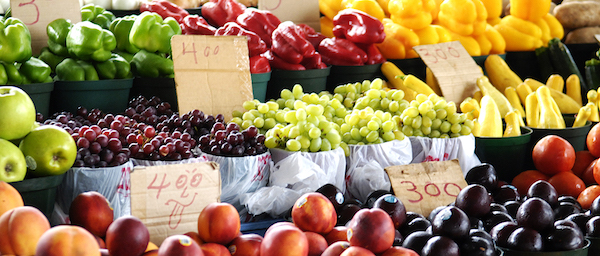 The Board of Trustees meeting on August 8th informed the public on some exciting new initiatives being taken to liven up Scarsdale Village. The first and most developed initiative thus far is a pilot farmers market. Located in Boniface Circle, the market will start on September 7th and repeat on Thursdays until October 26th. It will probably start at 12 and last until 6 or 7 o'clock. Corinna Makris, who is the farmers market manager for Peekskill, will be managing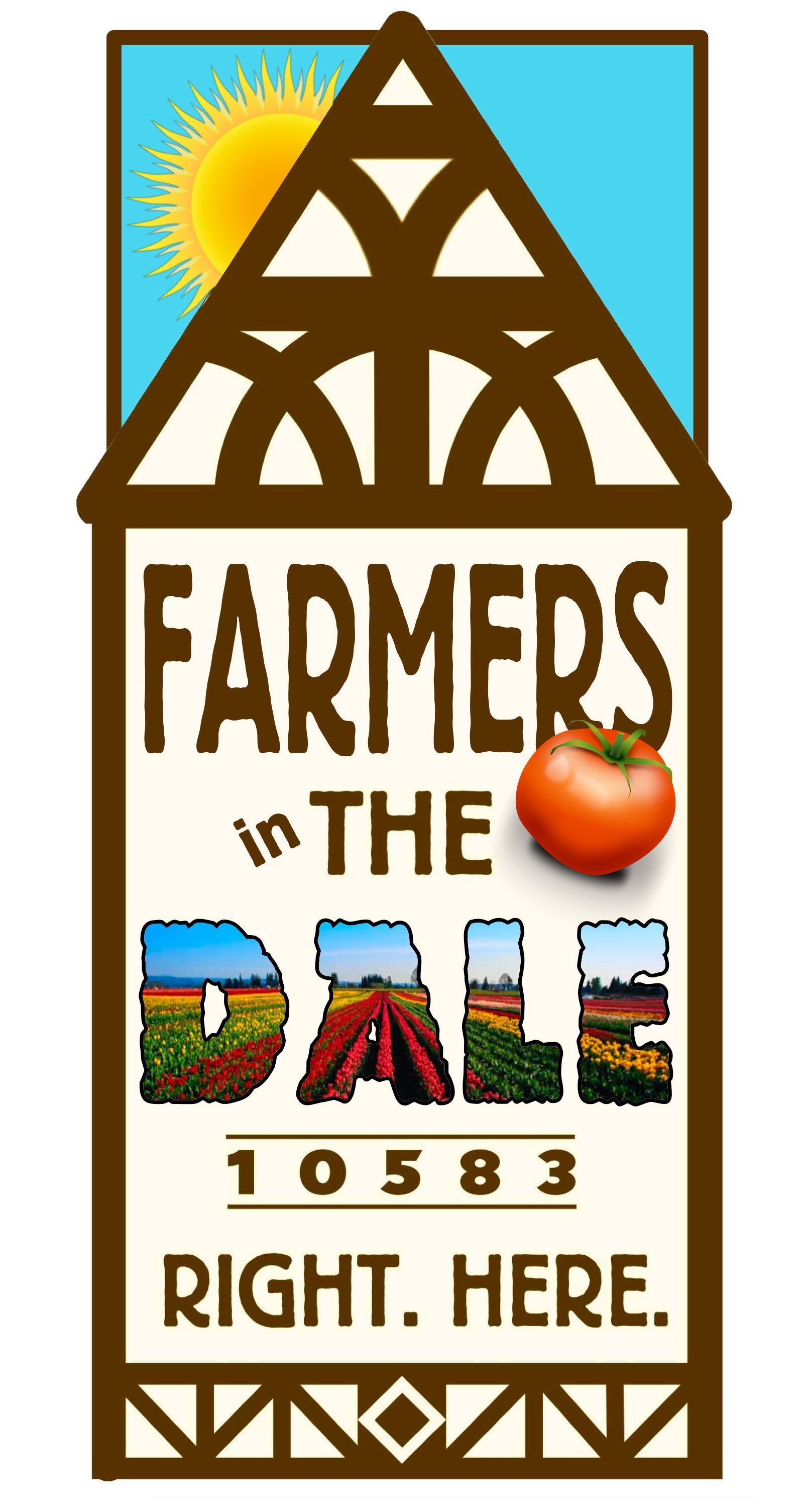 the Scarsdale market. She is in the process of generating a list of vendors who will sell their products at the weekly event. The market is still in the planning stages, so the timing and location of the pilot program are subject to change. Assistant Village Manager Ingrid Richards described that the purpose of the market is to "provide an opportunity to garner experience and resident feedback to develop a market moving forward that best meets the community needs and wants." The Board hopes to learn from this pilot market to start up a new and improved one in the spring.
While many residents seem to love the idea of a town farmers market, Bob Harrison, during the public comment section of the meeting, expressed his concerns about the timing of the market. He worried that it would not bring in many customers during fall afternoons, and as a result believed the market should start later in the day than noon. He also was concerned that the market would take away parking spots in Boniface Circle.
The other initiative in the works is economical off-street parking in the village for merchants, which could combat meter-feeding and open up parking spots for patrons. A merchant parking workshop, scheduled tentatively for late September, is the first step in making the initiative a reality. Village business owners and employees are invited to come to the workshop, which will hopefully be beneficial for both parties involved.
(Contributed by former Mayor Jon Mark) In other news, the Scarsdale water system contains myriad valves buried beneath our roads. Many of the valves are more than 50 years old. From time to time they give way and require replacement. The Scarsdale Water Department works hard doing that replacement work when it is needed. On August 8th they went to work replacing a blown valve buried at the intersection of Brookby Road and Quaker Circle.

The Transformation of Brookby Road
Details

Category: Village Voices
Published on

16 August 2017

Written by

Jon Mark
Over the course of four work days, a work crew transformed Brookby Road (between Heathcote and Mamaroneck) and Quaker Circle from a pot holed filled driving challenge to a driver's dream road with nary a bump or crack. The work crew has moved on to address other Village roads in need of repaving. Our thanks to Benedict Salanitro, Superintendent of the Department of Public Works, and Village staff for getting this work done.
Scarsdalians Search Sidewalk Sale for Deals
Details

Category: Village Voices
Published on

30 July 2017

Written by

Jane Glaser
Residents enjoyed marked-down merchandise, music and entertainment at the annual Chamber of Commerce Sidewalk Sale from July 27th to the 29th. Clothing, jewelry, and shoes flooded the streets of the Village, and shoppers were eager to scour the racks and bins for a good deal. The event boasted more than just sales; the Scarsdale Police and Fire Department parked their vehicles in the Village for kids to explore and learn about the people who keep our town safe. Highlights included the Greenburgh Nature Center's wildlife presentation and Scott Kazan's animal balloons on July 29. The event once again brought brightness and fun to the sidewalks of Scarsdale.